The social media landscape has changed dramatically over the last few years. And, all predictions point to more big changes in the foreseeable future.
Artificial intelligence is probably one the major talking points in the creator economy and among social media marketers. That being said, as you'll see when you read these social media predictions for 2023, even with AI starting to play a more dominant role, the need for authenticity will remain. As a matter of fact, considering that AI will give preference to content that drives engagement, ensuring that the type of content that you post speaks directly with social media users will become critical. From AI to authenticity to customer experience and community building, here are 10 social media predictions to keep in mind when you're revising your social media marketing strategy for the year ahead.
---
10 Social Media Trends for 2023:
---
1. AI-recommended Content
Artificial intelligence is currently dominating the conversations on social media. In 2023, though, AI will stretch beyond simply the topic of tweets and posts. Moving forward, you can expect to see increasingly more content in your feed that's been recommended by AI. As a matter of fact, Zuckerberg stated in the middle of last year that Instagram will display double the amount of AI-recommended content by the end of 2023.
For brands and creators, this means that they have a better chance of showing up in more feeds. If you focus on creating authentic content (more about that later) and leverage short-form video as a medium, for example, you can still look forward to great exposure, even if you currently don't boast the biggest network of followers.
Basically, you'll want to start posting more content that encourages engagement. Pose questions. Share memes. Stick to conversational tones. You get the idea.
While it can potentially work in favor of content creators and brands, many active users aren't particularly happy about this social media trend. However, this is the path that Facebook and Instagram are adamant to take (at least for now).
---
2. Twitter Subscriptions Are on the Table
Elon Musk has a lot to say (and tweet) about Twitter. By the sound of things, you can expect Twitter to focus on subscriptions in the year(s) ahead. It makes sense, considering his battle with the bots. Plus, it will help him to boost revenue while he works on his campaign to get advertisers back.
In May last year, Musk hinted that Twitter's future might include subscription options. In a tweet, he reiterated that the platform will remain free for casual users, but a small fee for business users is an option.
Social Media Today predicts that he'll probably make advanced Twitter analytics and insights available for a monthly fee. Combine that with better display options for professionals and he might just get the tick of approval.
---
3. More (Livestream) Shopping via Social
If you're still sitting on the fence about livestream shopping, consider the following stats: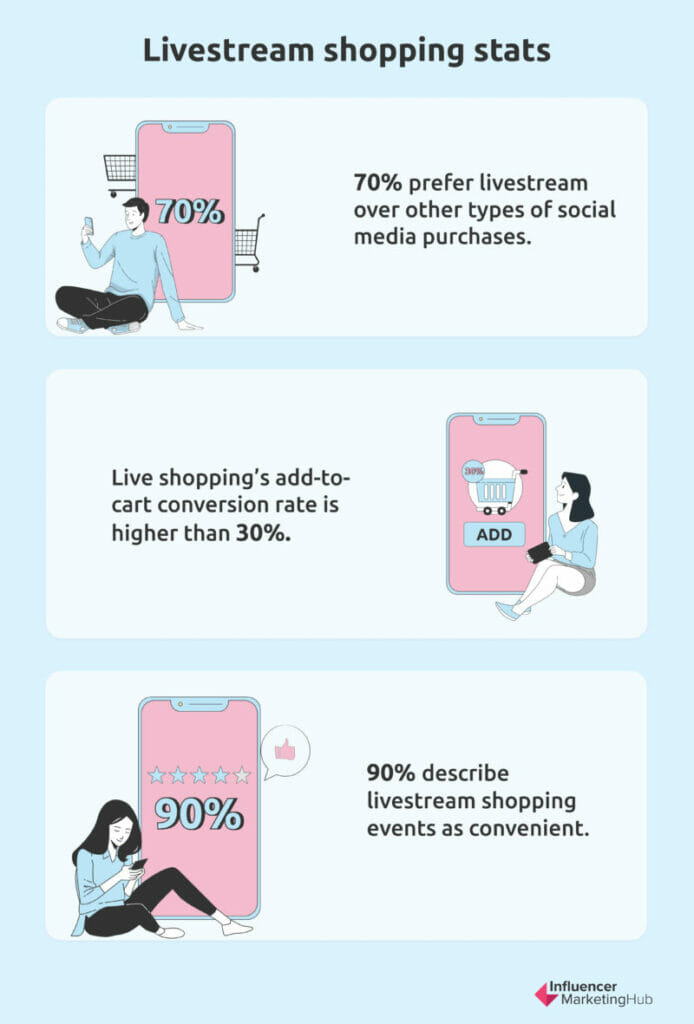 Not only will livestream shopping pick up steam, but shopping via social media sites in general. The number of social commerce buyers is expected to top 100 million in 2023.
To make social commerce even more accessible to the masses, expect to see more features. For example, last year Pinterest expanded its video capabilities with the introduction of the Pinterest TV Studio app that it made available to select creators to help them with live streaming.
Exploding Topics predicts that platforms will also launch features that will simplify conversational marketing.
However, there's still a long road ahead.
According to Hootsuite's Social Media Trends 2023 report, security is a main concern. Social buyers are worried about sharing payment info on social platforms.
This means that even with better functionality, you'll need to work hard at gaining customers' trust by, for example, sharing reviews and ratings, and ensuring that your returns and refunds policy is easy to find and understand.
However, if your target audience is mostly based in Europe or North America, Hootsuite suggests that you avoid going all in just quite yet.
---
4. Authenticity Will Remain the Best Approach
The fact that there was a "need" to create an app like BeReal is enough evidence that users want social media content to be more authentic. If you're not familiar with BeReal yet, basically it's a photo-sharing social media app that lets users post one unedited photo per day. To make the content more real, the app tells you when you can capture and share your photo (there's a random two-minute window each day).
Briana Rabiola, a social media manager, explains, "I think audiences want a peek behind the curtain. They want to take a look at the people and processes behind a brand."
Tiffany Mass, another social media manager, adds to this, "I think we'll see a bigger importance on personalization and purposeful content that meets a user's interests. It's the only way to hold a conversion rate and stand out within the sea of agency and creator-driver content."
So, in the new year, expect to see more behind-the-scenes content. It's one of the easiest ways to give your audience a better idea of who you are.
You can also include it in your employee advocacy program, if you have one. If you're not convinced that employee advocacy and social media can be merged, consider this stat: nearly 60% of employees in a formal employee advocacy program spend more than five hours per week on social media for business use.
---
5. More UGC Will be Seen
In 2023, you can expect to see more user-generated content (UGC). View this social media marketing trend as an expansion of the recurring theme of authenticity.
Moving forward, brands will turn more and more to their own loyal customers, not just for their money but also for the content that they might have created that features their brand. And, the goal here isn't to save money. No, it's all about relationship building.
Plus, it goes two ways. UGC helps brands to build deeper relationships with current customers and as it's one of the best examples of social proof, you'll have an easier time to gain the trust of new customers.
Though, what brands will want to keep in mind is that younger audiences will redefine what UGC is. On its blog, Hootsuite explains that Gen Zers are happy to classify social media posts created by micro influencers as UGC too.
This opens up even more opportunities for brands as it means that they can outsource UGC to creators without running the risk of the UGC being labeled as inauthentic. In return, freelance content creators and micro influencers can look forward to more brand collaborations.
For this to work, however, the content must still look like organic UGC. Plus, if it can be in video format, even better.
---
6. Engaged Communities Will Be a Valuable Asset
As brands will no longer rely on third-party cookies like they used to, you can expect to see them make a more concerted effort to create engaging communities. Both Alex Macura, founder of Your Digital Assembly, a collaboration of digital marketing consultants and specialists, and Mari Smith, a leading Facebook marketing expert, predict that more brands will get involved in building and maintaining digital communities on lesser-known platforms like Mighty Networks and various other well-known platforms like Discord and Slack.
Sarah Goodall, founder of Tribal Impact, a B2B social selling and employee branding agency, adds that turning to your own employees to help build an active online community is one of the most effective ways. She explains that it's more credible and scalable. They can create relatable thought leadership that your audience will prefer. As she puts it, "Your customers want more authentic relationships - they don't want to be passed from department to department. They want trusted partnerships and relationships."
---
7. TikTok Isn't Going Anywhere
It would appear that TikTok is only becoming more popular, especially among Gen Zers. According to data shared by eMarketer, more than 40% of TikTok's user base will be younger than 25 by 2023. On the other hand, less than 15% of this age group will continue to use Facebook this year.
In fact, Hootsuite predicts TikTok will "take over the world" in the new year. This bold statement is made in light of all the features, like TikTok Now and TikTok Stories, that the platform launched in 2022.
As for 2023, there are speculations that it will experiment with podcasting, while other TikTok rumors suggest that it might even enter logistics (another sign that live shopping will increase moving forward).
The key takeaway — if your target audience is Generation Z, you need to be active on TikTok.
---
8. More Short-form Video Content
TikTok started it and then other platforms jumped on the bandwagon by, for instance, creating Instagram Reels and YouTube Shorts. Jacob Styler, founder of Infinity Digital, adds that he has already seen how Twitter is also following in the footsteps by prioritizing this video format.
In 2023, keep an eye out for the following short-form video trends: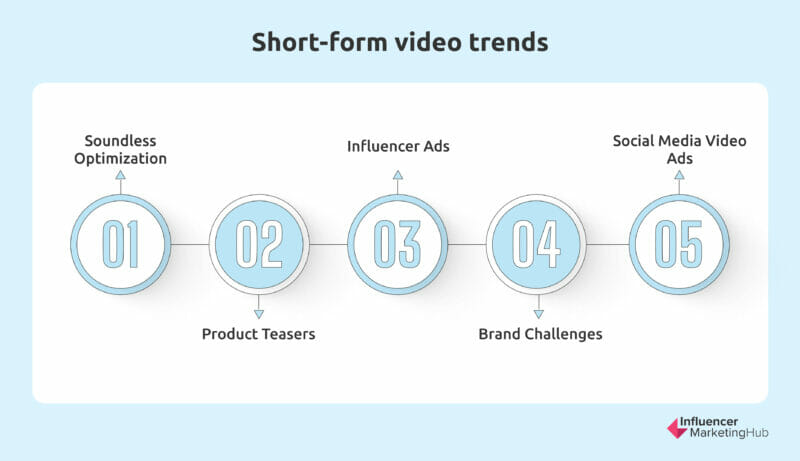 As mentioned earlier, behind-the-scenes content will become the go-to for many creators and companies. Why not leverage two trends by creating a short clip that gives viewers a sneak peek into what goes into, for example, production? And, in the light of keeping it real, share your bloopers too.
Or, how about merging three trends? Instead of producing these videos on your own, give a micro influencer a quick tour of your facility in exchange for a user-generated, behind-the-scenes, short-form video?
To help you make the most of your content, Katie Lance, a keynote speaker and social media consultant, reminds brands to repurpose their short-form vertical videos. This way, it can be used as Facebook Reels, YouTube Shorts, TikTok videos, and Instagram Stories.
---
9. B2B Marketers Will Enjoy More Opportunities
Matt Mudra from SCHERMER, an international B2B marketing agency, anticipates that LinkedIn will continue to be the preferred social media channel among B2B marketers. No real surprise there.
That said, he's hopeful that under the control of Musk, Twitter will be used more for B2B marketing. He also predicts that Pinterest and TikTok will launch more features which will make these platforms more attractive too and, perhaps, even encourage them to explore the potential of social commerce, one of the B2B eCommerce trends expected to grow this year.
---
10. Greater Utilization for Customer Care
Increasingly more brands will turn to social networks for offering customer support. According to a survey completed in 2022, more or less half of consumers that engage with brands via social media do so because of an issue relating to customer care.
And, it's not just to complain. Some simply have a question about a service or a product. As a matter of fact, the same survey found that to ask a product-related question was the main reason why consumers reached out.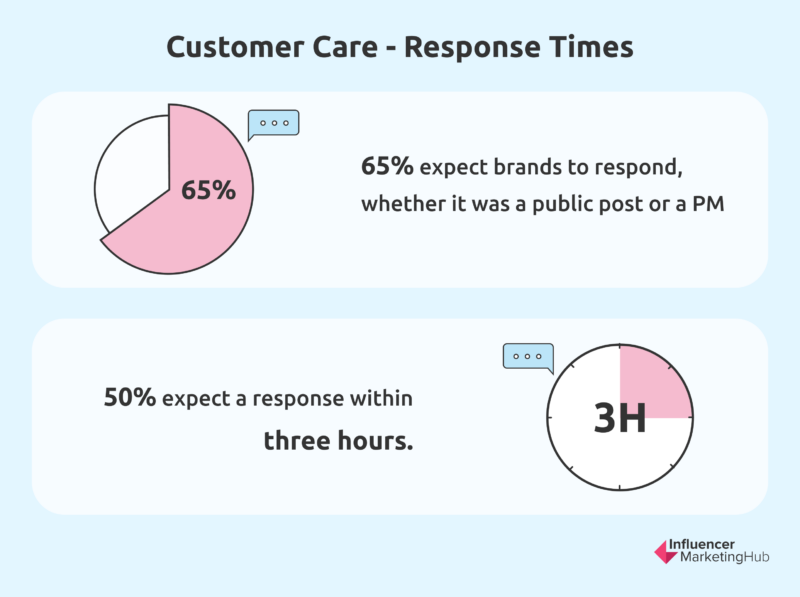 Here's where it gets interesting, more than 65% expect brands to respond, whether it was a public post or a PM. And, while brands don't have to reply right away, about 50% expect a response within three hours.
It's clear. If brands want to remain competitive, they'll need to use social channels as a two-way communication channel for all things relating to customer service too.
---
Wrapping Things Up
When it comes to crafting a social media strategy, a "create-it-and-forget-it" approach won't work. What worked one year can deliver the opposite results the next.
Sure, there are a few recurring trends like authenticity and the importance of video, but how you incorporate these trends can change, albeit in a subtle way. For example, we might not have mentioned influencer marketing per se in this article, but refer to the point about user-generated content. Micro influencers will continue to be strong allies in the coming year. Potential customers, especially if they belong to Generation Z, can just as easily be swayed by an Instagram Reel created by a micro influencer as by one posted by an everyday customer.
A social media platform to keep your eye on in 2023 is TikTok. Love it or hate it, based on the leading predictions, it will be a major player. It would also be interesting to see what happens at Twitter (maybe more for entertaining than marketing purposes, though).