We usually reserve this space for a bit of background about the company that's behind the platform in question. But a funny thing happened on the way to Socialix's review: the research yielded very little about the company's history. Crunchbase has their founding date listed as 2013, Pitchbook puts them at 2014. Interestingly, the company's two co-founders also differ on the year, according to their LinkedIn Profiles. And just to add to the confusion, Socialix's company profile on LinkedIn states 2010. The first inkling of company news that I could uncover was a press release from April of 2016 announcing the platform's launch.
This fixation on start dates may seem like nitpicking, but context is a huge part of how we approach a review. Do they have a long(ish) and demonstrated history of influencer marketing? What's their track record? Socialix is new to the scene, having launched during the year when the influencer marketing economy started to really boom. As with anything that becomes lucrative, the second wavers jumping in can usually be found at either ends of an integrity spectrum. On one end are the cynical cash-grabs, where companies rush something to market in the hopes of quick traction and maybe a buyout. On the other end are companies that see an opportunity in a fledgling marketspace, take note of others' flaws and failings, and try to improve on existing models—and I'm happy to report this is where Socialix falls.
Whether co-founders Peter Brown and Daniel Sayer started in 2013 or 2014, the fact that their platform wasn't launched until 2016 is, I think, a positive. Just knowing that 2 or 3 years elapsed before the platform went live is a good indicator that there was a lot of time and thought put into the software. And when you investigate the backgrounds of Brown and Sayer, you find the perfect match for an undertaking like this.
Brown, a former professor of computer programming who left academia a decade ago, has been coding in the real world, for real businesses, since 2007. Sayer, meanwhile, has been nose-deep in digital marketing since 2006 with skills that have evolved in parallel with the industry. Together, they've made an incredibly robust self-service influencer marketing platform. At first glance, I was tempted to categorise it as an Influencer Marketplace—but then I learned of one particularly unique feature that makes it much more than that.
---
Summary: Quick Jump Menu
---
Pricing
As is the norm, access to the platform is sold on a subscription basis and pricing is tailored to customer requirements. Going by the brands they've worked with (listed on their website), it's safe to say that Socialix isn't gunning for the Forbes 500 multinational corporations of the world—and that's good news. Their customer list includes mid to large sized companies like The Honest Company, Bluehost, and Bing. That's not to say the big players won't find something to like here; it's just good to see that robust platforms like these are inching their way towards the mainstream.
---
The Details
As I mentioned, Socialix looks—on the surface—to be yet another influencer marketplace, where brands can search through a database of influencers to recruit for their marketing campaigns. The search tool itself is offers a high degree of precision. You can find influencers by keyword, location, gender, platform, and category—and then further refine the results by specifying their age, follower counts, and engagement. If you come up empty, you can then "relax" these criteria by adjusting the "Relevance" slider downward. When the results appear, you get a nice a overview of their stats, and viewing an influencer's profile can get you pretty deep insights into their audience. If a person looks like they've got the right look and talent to match your needs, you can add them to your Socialix network to start tracking and hopefully working with them.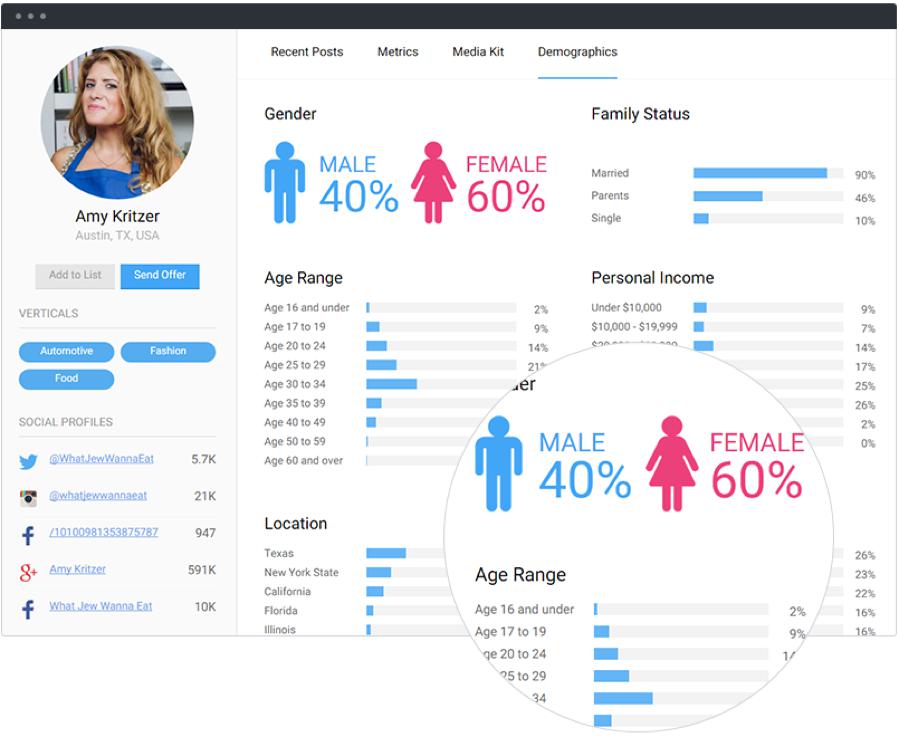 As of now, there a little more than 7,000 influencers on the platform—which is not very much when compared to competitors, though there are good reasons for the comparatively slim pickings. First, Socialix is only a little more than a year old and influencers aren't added through any kind of automation. Influencers must opt-in, if they have more than 5,000 followers on any one of the social channels the platform connects with (which is all of them). If they meet that user threshold, they still won't be added until their profile is vetted by an actual human. Even with an automated opt-in service, the talent pool grows more slowly—adding humans (and their ability to reject applications) to the mix naturally slows down the process even more.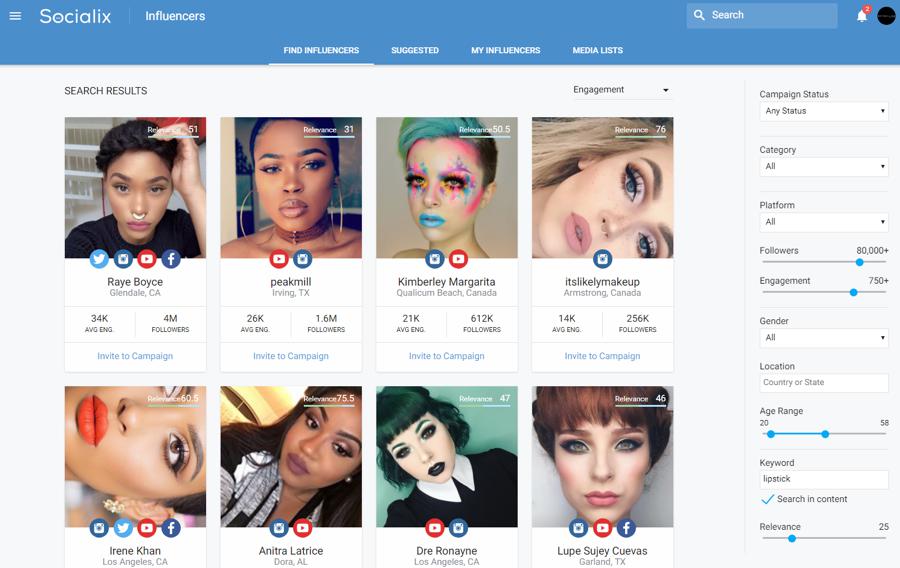 But this is where Socialix stands apart. Brands have the ability to add in their own lists of influencers to the platform and get access to the same kinds of data they get for the influencers in the Socialix network. These could be creators who they've found through other Influencer Discovery tools and are working directly with, or they could even be people who operate off a different platform entirely. Brands can invite these influencers to join Socialix, but if they don't? They can still be added to campaigns the brand is managing, where they can be tracked right alongside everyone else.
Of course, the goal for Socialix is to get those out-of-network influencers on to the platform. To do that, they've made everything pretty influencer-friendly. Payments are made within the software, with the money being paid up front into an escrow account. Brands have 72 hours to approve submitted content, at which point Socialix steps in and completes the payment. They also offer support to influencers, to assist with technical issues about the platform—but also advising on strategies to improve their profiles and deal with brands. But, really, the best way to convince influencers to sign on (or stay signed on) is to make Socialix an indispensable tool for brands. If they find they love working through the platform, then they'll start telling their influencers joining up is a requirement for getting accepted to work on their campaigns. The area where Socialix makes the strong case for itself as a platform is in its campaign management tools.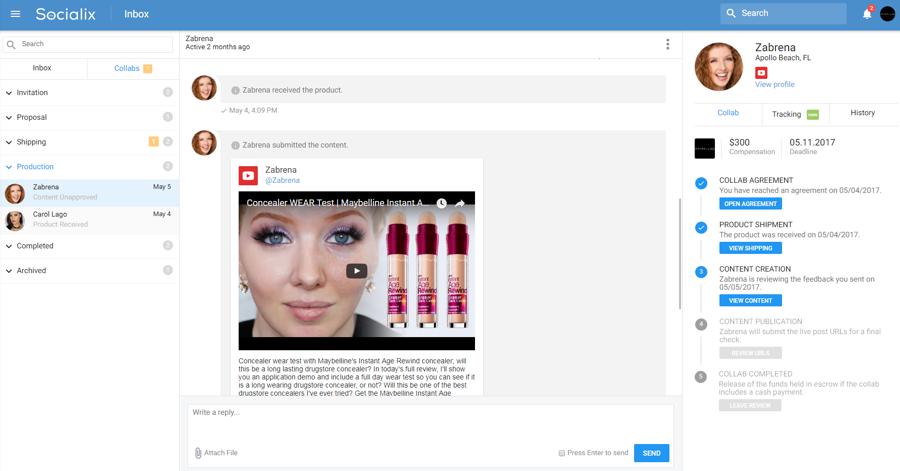 These tools, when used with influencers signed onto Socialix, are as full featured as they come. With them, brands have a centralised platform from which to manage nearly every aspect of their campaigns. Communications are streamlined into the brand's Socialix inbox, which also has a real-time chat function like Facebook's Messenger. The default view of the inbox can also be switched to a kind of "Influencer Lifecycle"—differentiating between who's in the proposal stage, who's been hired, who's submitted content, etc.—making it easy to locate and then connect with influencers at various stages of the campaign. If you're sending products out for reviews, Socialix has a built-in function for coordinating and tracking the shipments that works with most major parcel services. As mentioned before payments are made over the platform as well—nearly everything you need to manage the campaign and your influencers is included here.
I say "nearly everything" because there is one omission, and that's any sort of technological enforcement of FTC regulations around paid posts. The official company line is that their Terms and Conditions state influencers must disclose that their posts are sponsored, and it's left to brands to enforce that when they approve submitted content. At this point in history, though, Terms and Conditions are a universal joke—in July of this year, 22,000 people blindly agreed to clean portable lavatories and paint snail shells (in order to brighten up their existence) in order to access Wi-Fi hotspots run by Purple. Meanwhile, leaving the enforcement side to the brand marketers—who are looking to "organically" advertise through social media—is a bit like handing a smartphone to Donald Trump and telling him, "Just don't tweet anything stupid." I don't want this to sound like I'm singling Socialix out—most competing platforms don't do much more, and many do even less—but the Fyre Festival debacle a few months ago demonstrated what a real problem this is. And let's face it: something like a box to check confirming a post's compliance is just about the least complicated feature developers could add to their platforms. It's a weird place to draw the line.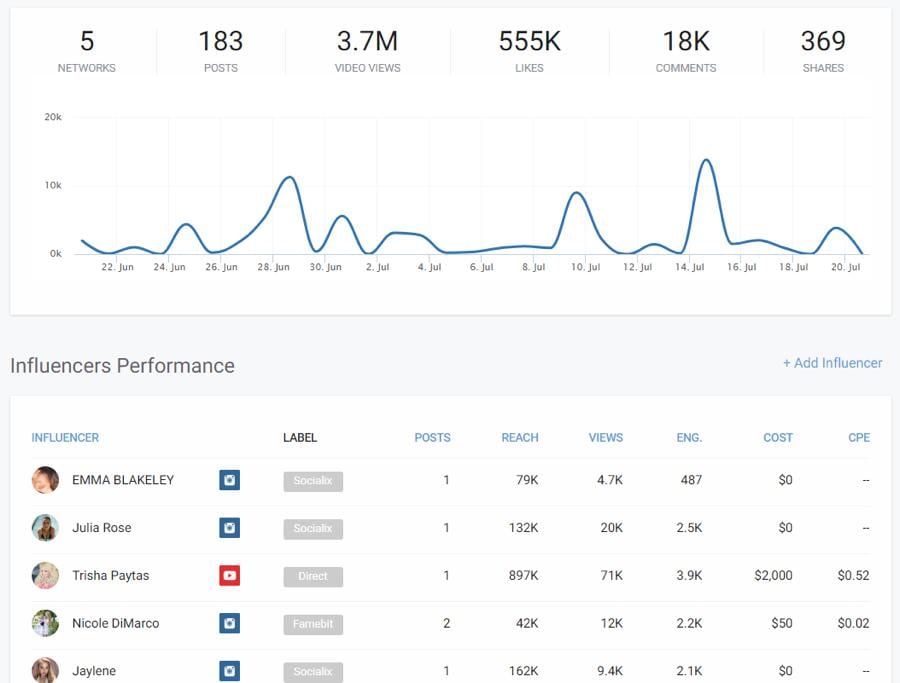 Finally, and back on the positive side of things, there's Socialix's reporting capabilities. Again, they're offering deep data dives into each influencer's audience and performance. You can view performance stats from a campaign level, and then drill down into each influencer to see what they did individually. If they were paid for their post, you can see what you spent on a Cost-per-Engagement basis, making quick work of comparing the value of each person you worked with. All told, the reporting is very well executed, a data filled cherry on top of the Socialix sundae.
---
Conclusion
I've always said, if you're going to be late to the party, you might as well make a big entrance. I'm sure somebody else has said that before me—it's an obvious cliche—but it's a maxim that hold true in most situations. Socialix arrived on the scene just at the time when everyone and their uncle was looking to throw money at software to handle the heavy influencer lifting for them. By the time the platform launched, it was already a crowded field for them. But because they took the time to do it right, Socialix is an impressive part of that crowd. Its ability to track influencers outside the platform is a big plus—especially as many larger companies are leveraging the different talent pools of multiple marketplace-style platforms (look at all the platforms we've reviewed, and then see how many of them are proud to call Microsoft a client). This allows them to run Socialix in parallel with other platforms, but still keep their reporting and analytics for campaigns centralised.
Giving Socialix a try won't complicate things in that case. And the software itself is robust enough that brands might lure their influencers over and drop the competitors. That's a pretty great way to make an entrance in my book.
Socialix
Features

Ease of Use

Reporting