Usually, the opening section of our reviews is dedicated to giving you, the reader, some context on the company and the platform we're covering. We'll tell you about its founding and the impetus behind it. If there's a cool origin story, we'll tell it. If the company has won any awards, or if they're absolutely killing their funding goals, we'll let you know. If they have big/prominent customers, we're not afraid to name drop them. But right now, at the time of this writing, the whole world is on pause. We're all locked down, quarantined in our houses (if we're lucky enough to have one), taking one day at a time—if we even know what day of the week it is.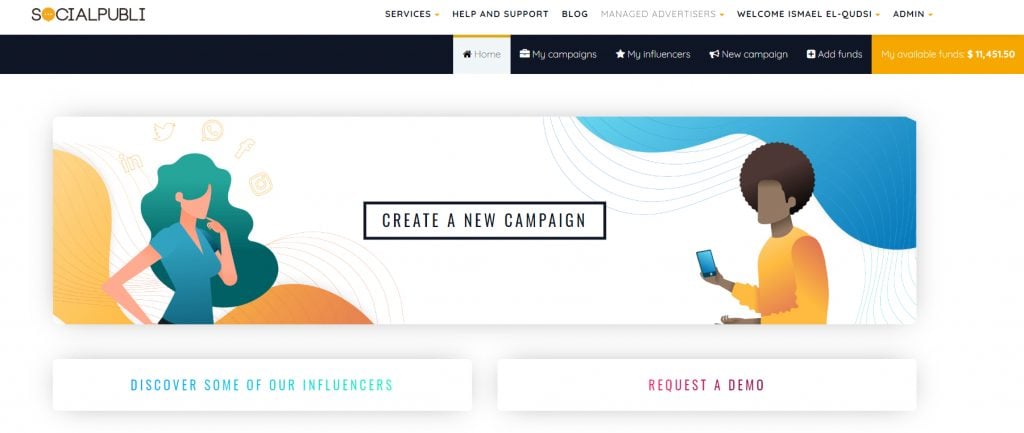 It's a pretty weird time to be writing about influencer marketing, a topic which seems—let's be honest—maybe just a little irrelevant right now. Except in writing this review we've learned that it isn't, which is why we've scrapped the whole historical overview of SocialPubli, originally written weeks ago, in favor of this revised introduction. That's because, with one move, the Spanish startup demonstrated influencer marketing can be used for so much more than feeding egos and pushing products.
On Aril 6, SocialPubli's CEO and founder—Ismael El-Qudsi—announced that nonprofit organizations involved in fighting coronavirus can get free access to the platform. These nonprofits can recruit influencers to participate in virus-related campaigns, aimed at raising awareness, spreading information, or even raising money and supplies to help those in need right now. Additionally, SocialPubli has also launched its own campaign with influencers from the platform with the intent of sharing information about social distancing and other ways to prevent the spread of the virus—going viral has taken on a whole new meaning.
As part of the program, influencers who participate will not be compensated for their time or creations—not monetarily, anyway. Influencers will accumulate points for each collaboration they take part in, and those with the most points will be featured on SocialPubli's social media accounts as they're recognized for the contributions. Influencers, often derided for leveraging their social accounts to score free stuff, are now accepting exposure as payment.
The whole initiative is a creative solution to the problem of a business suddenly seeming superfluous in the current circumstances. In addition to the self-service platform, SocialPubli is also a full-service marketing agency. They design campaigns for brands from top to bottom and recruit influencers from their pool of more than 160,000. In one act, El-Qudsi & co. reinforced the value of the industry and their expertise within it. They're doing some good in the world while also reminding you why they're good at what they do.
Imagine what they can do with software.
---
Summary:
---
Pricing
SocialPubli doesn't disclose their pricing, as they offer a mix of software and services to a wide range of customers. The platform was designed to be flexible and to support businesses of all sizes, as well other agencies. Every case is different, and so pricing is handled on a per-customer basis.
Regardless of size, customers also need to maintain a balance of at least $500 in their account for spending on campaigns. Without these funds, you won't be able to publish campaign briefs; with the $500 you can publish as many briefs as you want.
---
The Details


SocialPubli is very much an influencer marketplace—no longer a new concept—and so its form and function will be familiar to anyone who's worked with a similar tool in the past. There's kind of an established "grammar" to how the marketplace functions, which can be both a blessing and a curse for developers. Having that established structure means the overall structure and mechanics of the design are completed before you've started. The downside of this is users know what to expect, too, and they'll hold you to a high and precise standard.
That said, SocialPubli has done an excellent job of embracing those blessings while avoiding the curse: it's a clean design that delivers the marketplace experience exactly as you'd want it. Having this kind of functional predictability upfront turns out to be all the more important, as the campaign creation process is fairly detailed. It asks for a lot of information—like the description of the campaign, hashtags, required mentions, matters of workflow—before it even asks you about what you're looking for in an influencer. That's an even more in-depth set of options.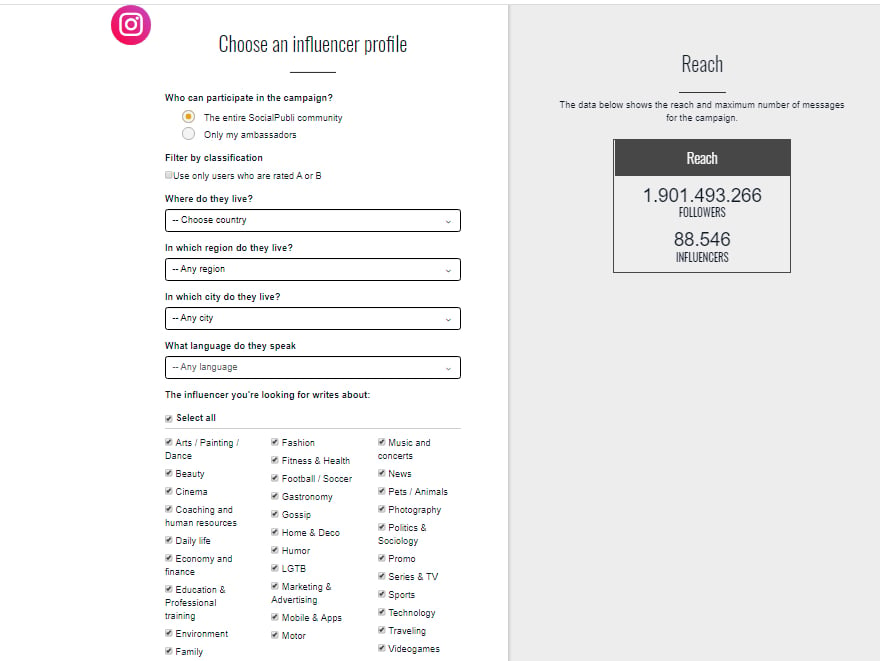 Once you're done setting all your filters, you can fill in your budget. You're not locking in a number to spend here, though: this is more about getting an understanding of what you'll be getting for your money. As you adjust the budget you'll see how the reach is affected, but mostly you'll get a nice dollars-and-cents summary to keep any budget discussions grounded.
While there isn't a full-fledged discovery engine on SocialPubli, they've still gone ahead and made a way for users to keep a list of their favorite influencers—and to make it easier to work them in the future. After a few campaigns, you'll find out which of the influencers work better for your brand than others. Add them to your list of favorites, a list which can be tapped exclusively for future campaigns. Meaning: not every brief you create has to go out to every influencer on the platform. You can also just publish to your own group of influencers like they were part of your own private talent pool.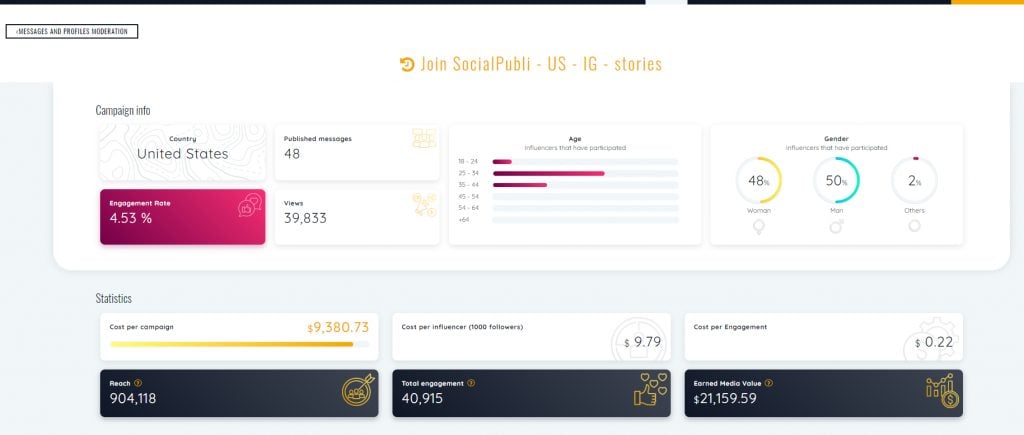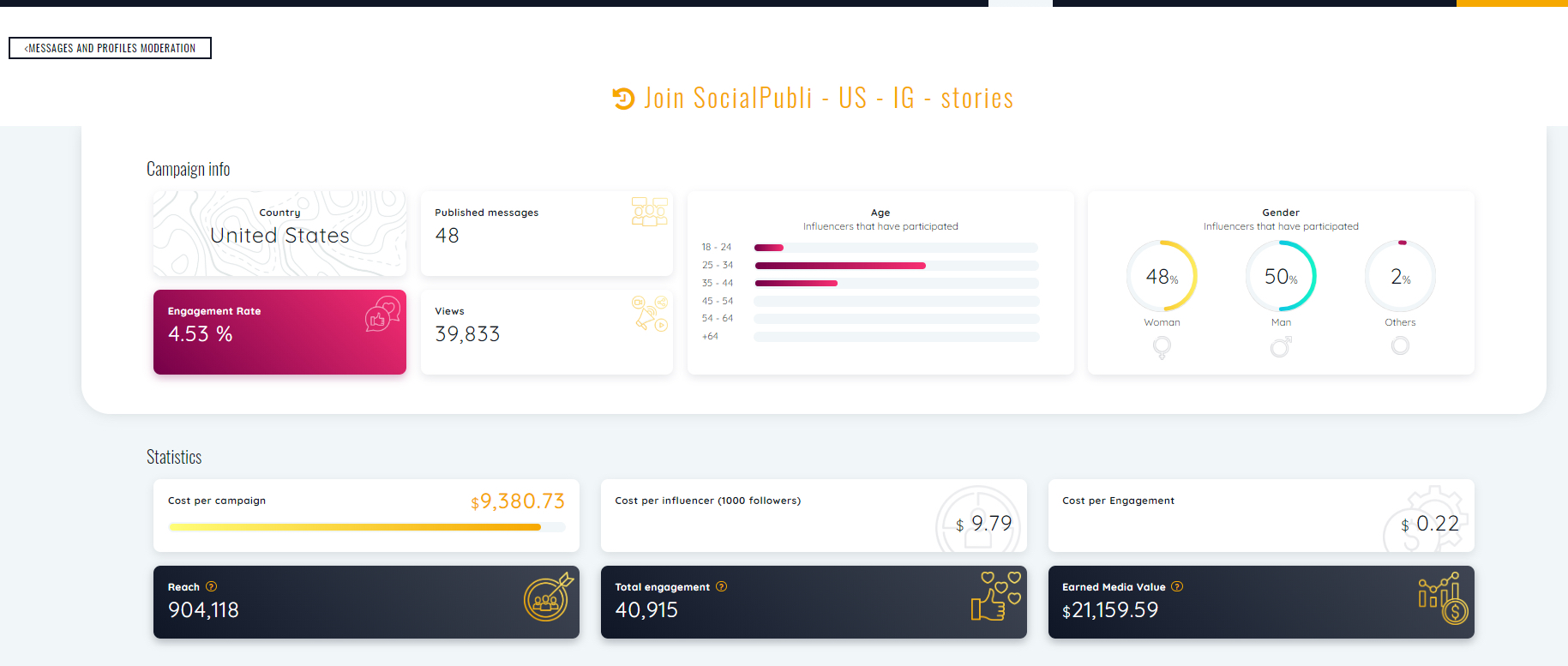 Once a campaign is underway, users can manage it through their campaign dashboard. All campaigns can be accessed here, and for each one you'll get a quick overview of where it's at—how many pieces of content are pending, how many people you've reached so far, how much of your budget has been consumed. The dashboard is an excellent tool for a surprisingly detailed bird's-eye view of each campaign.
It's from within each campaign where you'll find what is SocialPubli's biggest flaw, as it isn't as fleshed out as it could be. It's easy to see influencer applications to participate, and to deny or accept each one but there's no real data on the influencer to help you decide. You'll see their follower count, engagement rate, and asking price, but that's really it. If you click to see their profile, you're taken to their social page (as opposed to one that's housed within the platform, serving up juicy bits of data). And rather than some kind of lifecycle display, which makes it easy to track everyone's status from negotiation through publication, you'll see just a list of influencers whom you've accepted into the campaign. The list doubles as an inbox—select any influencer from the list and you're taken into a message thread, where you can get all the information you need about where they're at in the process.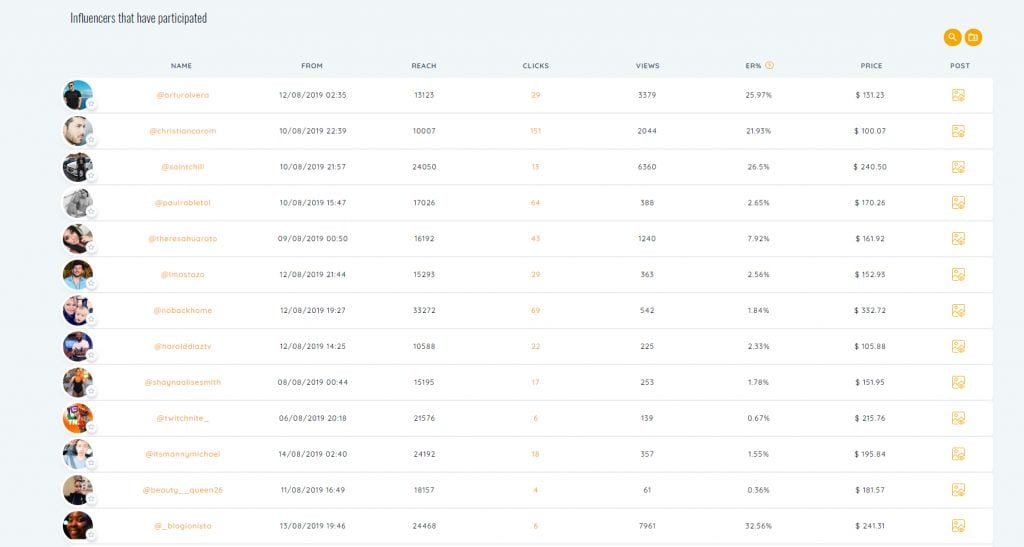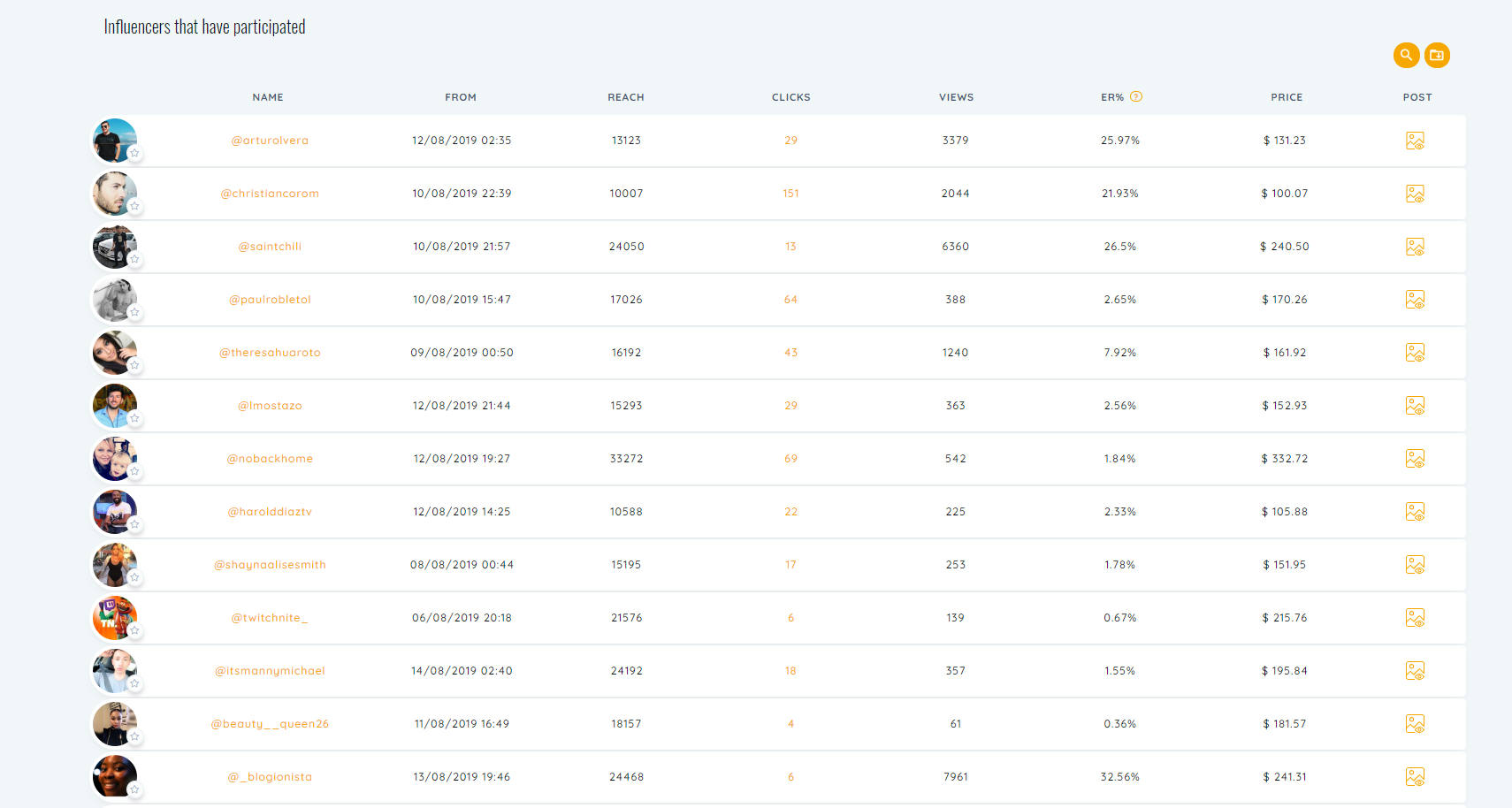 When it comes to metrics and reporting, SocialPubli again stays in familiar marketplace ground: analytics are largely based on the performance of the content rather than the details of the audience. Still, they do an excellent job of putting all those performance numbers in financial terms—and the reports look good doing it. SocialPubli's users won't be in the dark about what they're getting for their money as they learn how to more effectively spend it in the future.
---
Conclusion
SocialPubli — and its sister software, the employee advocacy tool Social Reacher—are products of a company that knows marketing. Founded in 2015, they're not exactly a new to the scene, but they still operate like a lean start-up. The team of 19 is pulling in clients like McDonald's, BMW, eBay, and Coca-Cola—the living embodiment of doing more with less. The SocialPubli platform isn't just used by brands, though. Top agencies like GroupM, Carat, and Havas rely on the self-service platform to create and manage campaigns for their clients. With a presence in Europe, North America, and South America, and an appeal to companies both large and small, SocialPubli is poised to continue growing.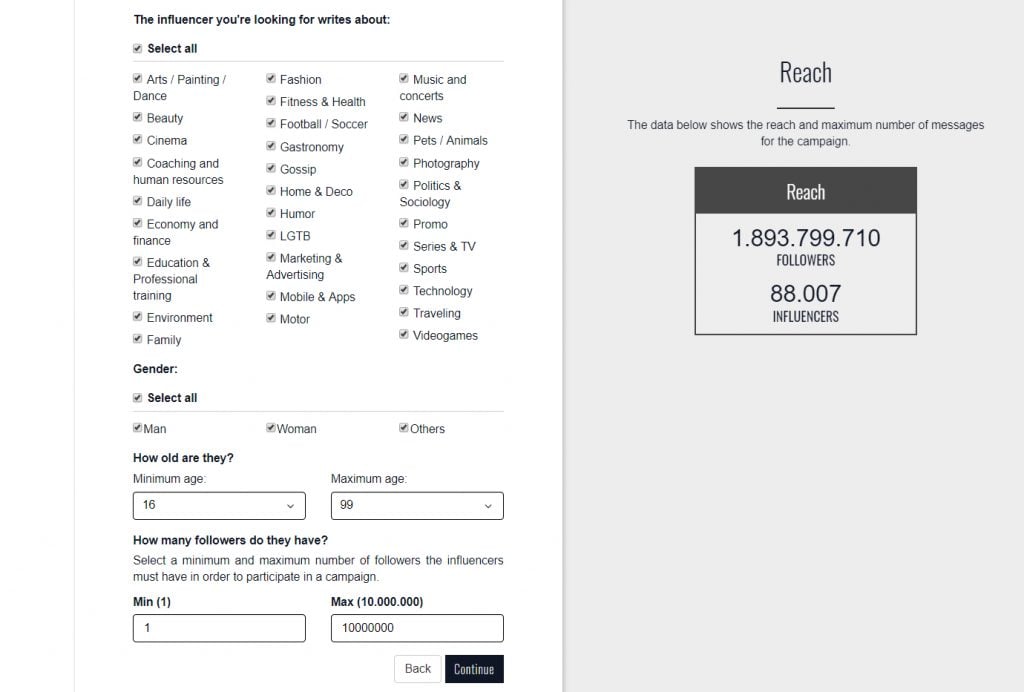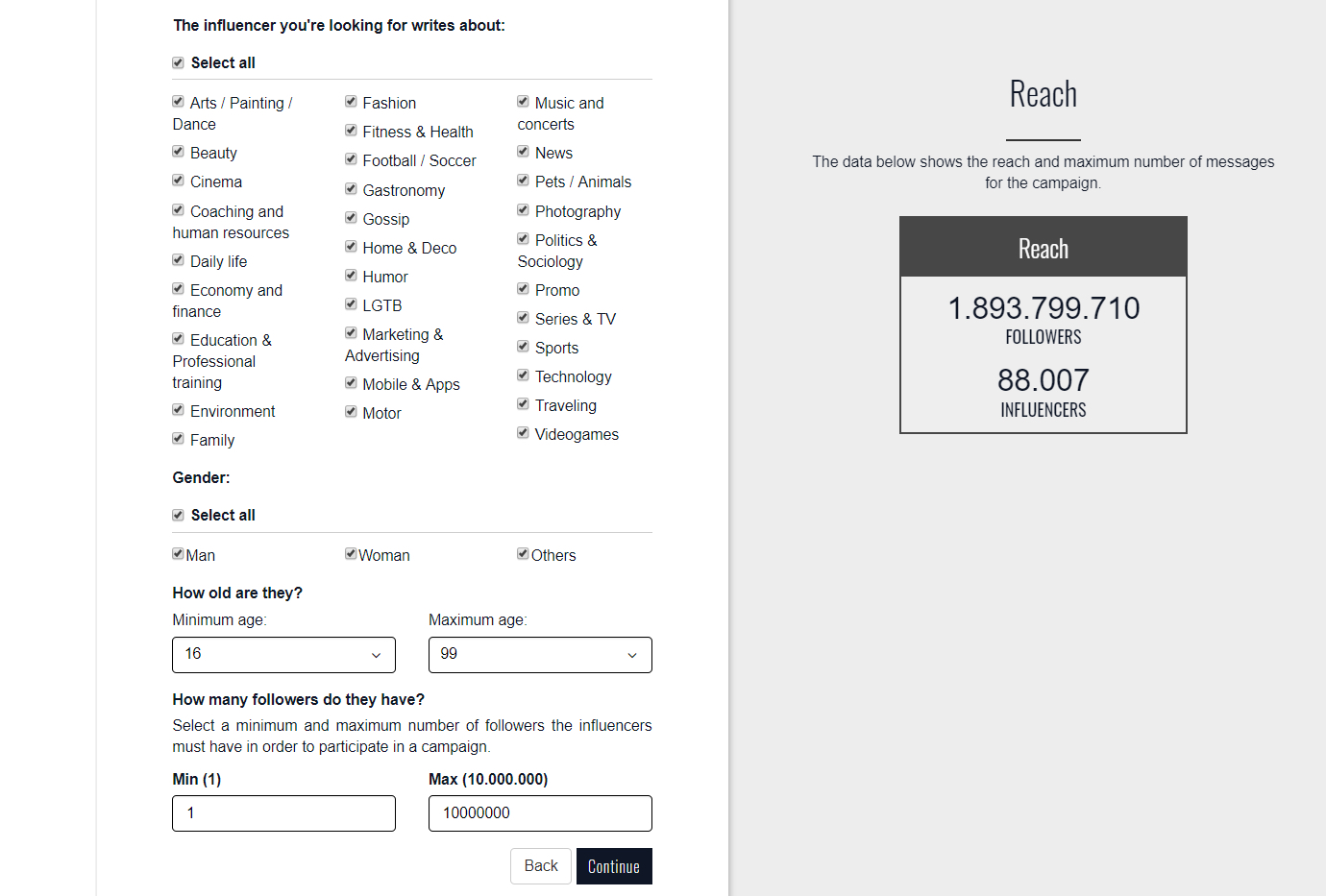 SocialPubli
Features

Ease of Use

Reporting