Best for:
Brand ambassadors, large enterprise organizations
If anyone understands the importance of marketing, it's SocialPubli Advocacy's founder and CEO, Ismael El-Qudsi. I would describe him as a 20+ year veteran of the tech scene in Spain, but according to El-Qudsi himself there is no tech scene in Spain. Not a cohesive one, anyway. As he describes it, there are a number of startup hubs around the country, but they aren't really talking to each other. And investors there are more gunshy than their Silicon Valley counterparts, often waiting three to six months before actually doling out any cash. In a climate like this, when even the funded companies are essentially bootstrapping, marketing becomes an essential part of the growth plan.
Beginning with the founding of Internet Republica, El-Qudsi's own startups have been focused on providing the services and tools designed to help companies market themselves using the most modern methods possible. Internet Republica, a digital marketing agency, begat SocialPubli, an influencer marketing platform, which begat SocialPubli Advocacy, an employee advocacy platform.
This evolution to SocialPubli Advocacy seems like a natural evolution for El-Qudsi. He knows the excitement and sense of ownership that's felt by the employees of a startup, so who better to be on the front lines of social media talking about the company? This is true for any company that's got employees excited about their jobs and the work they're doing. And this is the feedback El-Qudsi & company were getting from their SocialPubli customers: influencers are fun and all, but how about we get some kind of tool to help our own people spreading the word?
By popular demand, SocialPubli Advocacy went live in December of 2016, and now many of their Publi customers are using Reacher in parallel. But you don't need to have one in order to use the other. Not all brands can truly benefit from influencers, but employees that become ambassadors have value for any company. And by the look of it, SocialPubli Advocacy is a tool that can help brands tap that reserve of value, effectively and efficiently.
---
SocialPubli Advocacy Review:
---
Pricing
SocialPubli Advocacy is priced to fit nearly any budget. It's a SaaS tool, so there's the standard three-tiered offering of monthly subscriptions. Each of these tiers is priced per user, no company will find itself overpaying on account of their size. Additionally, the basic level is free, offering brands a way to take a test drive. The three tiers are as follows:
Freemium, 0€ — At this level, you can have up to

10 collaborators

(employees who will be logging in and sharing content), a very generous amount to start with you'll only be able to connect 2 of your brand's social media accounts. There's also access to online support.
Basic, 500€ per month —

50 collaborators,

unlimited social networks, and online support.

Corporate, 3000€ per month —

200 collaborators, unlimited social networks, and online support. Training is included.

Unlimited, Custom price with a monthly fee

— Unlimited collaborators, groups, publications, and social media accounts. You'll pay a setup fee on this level at custom pricing. This gets you full support (not just online), training, platform branding, and a customised setup for your environment.
---
The Details
For all the tech that went into the creation of SocialPubli Advocacy, it comes across as a simple platform to use. And that's a good thing. On first login, you're guided through setting up the interface itself (choosing a custom color, adding your logo, and a campaign image. Next you're adding collaborators. This can be done in one of two ways: posting a custom signup link to share on internal networks (like Slack), or emailing invites only to those you want to join. You can enter email addresses one by one, or upload them as a CSV file for bigger jobs. Finally, you'll connect your branded social media accounts, which will serve as the main sources of content you'll want your collaborators to share. Once you've gone through this, you'll be brought to your dashboard to get started with campaigns.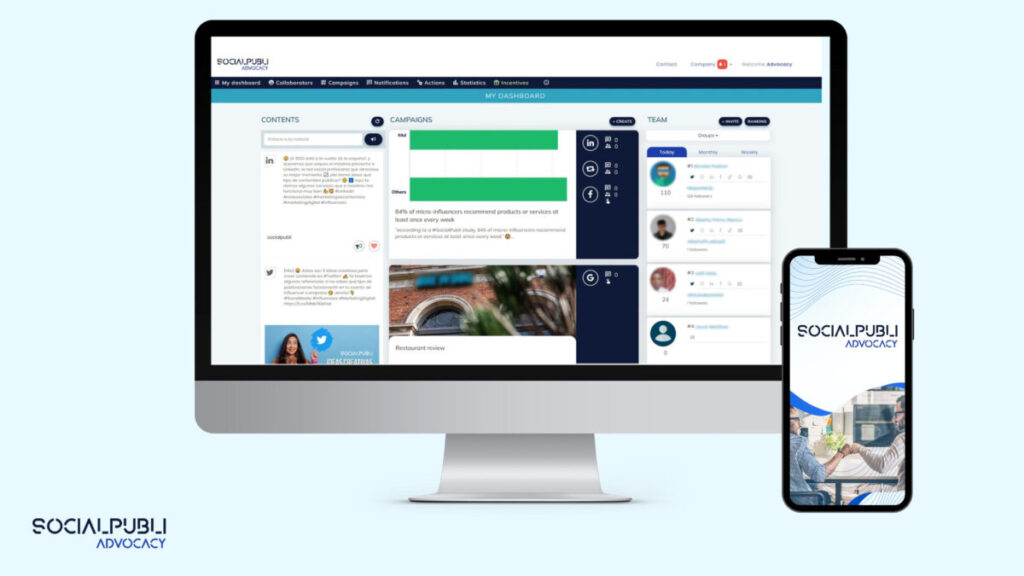 The guided tour continues here, with overlays popping up and pointing out how to work with each section of the screen. Unfortunately, it's not as effective here, as you are introduced to each element of the dashboard in what looks like a random fashion. The overlays jump from one part of the screen to tell you things—here's where you'll set up campaigns, here's where your content feed is—and none of the information seems to connect in a meaningful, here-is-your-workflow kind of way. Some of this may be due to poor translation—at several points the english instructions I was reading on screen included spanish phrases, suggesting a breakdown in what- or whoever is responsible for this aspect of the platform. You'll be better off skipping through these instructions, and just navigating the site on your own and referring to the online support documents to make sense of it.
Once you're grounded in how it wall works, though, managing the campaigns becomes easier. From your dashboard, you can select content from any of your social feeds for sharing. Choose the teams that you want to participate, and each member will be notified. You can define everything about the posts ahead of time: which social channels you want to broadcast to, the images used, the links, hashtags, and mentions. You can even write the caption, but it's best to leave that part to your employees. It's their voices you're after, anyway, so let them do their thing. They'll be given the option to write something original when they log on to participate—they can do this by logging on to SocialPubli Advocacy's desktop site, or through the SocialPubli Advocacy mobile app.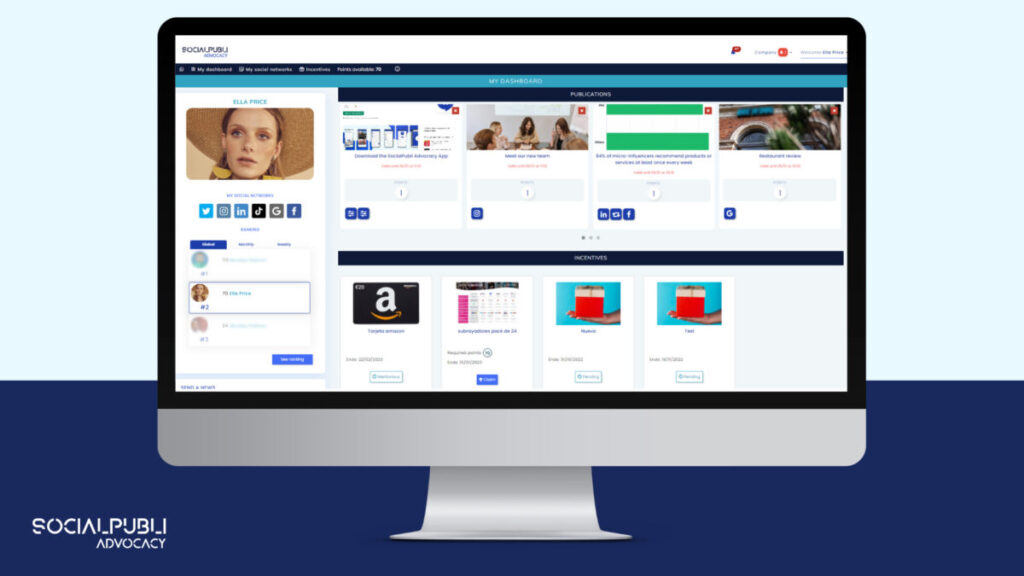 There's also a built-in module for an incentives program. Of course, you want the employees who would do this kind of promotion simply because they believe in your company, but offering them rewards is a great way to keep them participating. Rewards can be anything you want—gift cards, movie tickets, even extra vacation days. For each message a collaborator publishes they get a point, and they can redeem these points for their rewards based on the criteria you define. Maybe 10 points gets you those movie tickets, but 100 gets you a day off. Unfortunately, there's no way to base the incentives off of actual performance: you may have one employee who gets better results in terms of reach and engagement with one post than others can do with five. Those people doing more posts (and thus are more active) ought to be rewarded, but it would be better if there were a way to reward those who are measurably better at promoting the brand, regardless of how much they post. Those are the people you want posting more, anyway.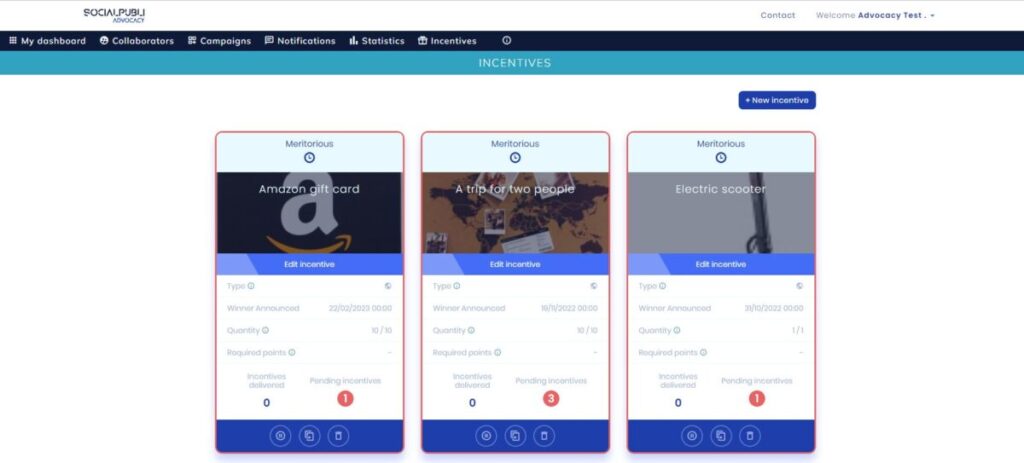 Speaking of measurements, we come to the last section of SocialPubli Advocacy: campaign statistics. These are, to be honest, pretty light. You'll get the basics: reach, engagement, and a breakdown of each collaborators messages and performance. There's demographic information, but only on the people who did the posting—there's no audience data at all. This means that you'll get only a fair understanding of how your campaign performed, and nothing to help you figure out how to improve in the future.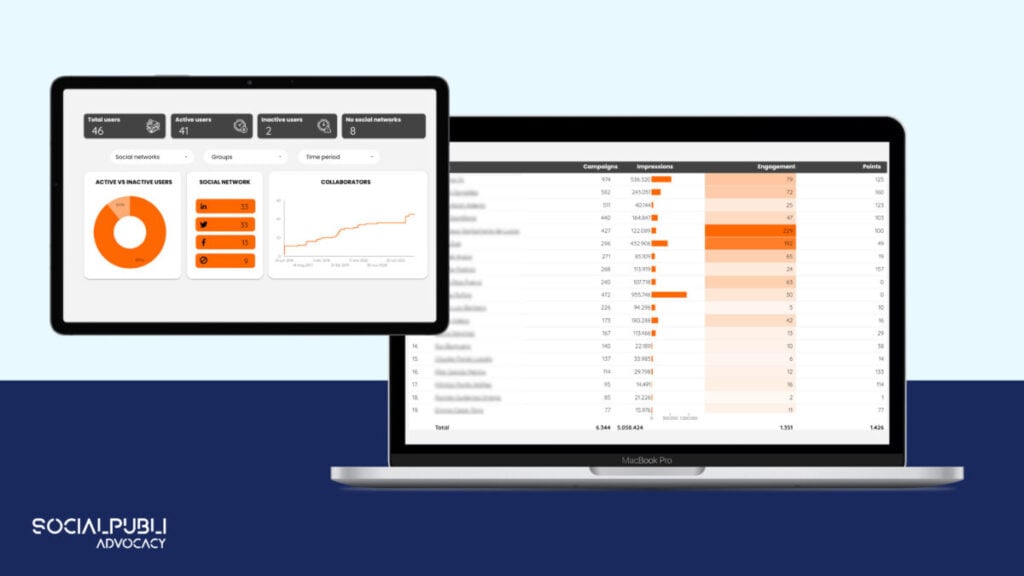 ---
Conclusion
Two years into SocialPubli Advocacy's existence, the platform seems to be fulfilling its promise of effective employee advocacy for brands. While it's a basic approach to the practice, brands will appreciate having a single platform to manage, engage, and collaborate with their employees. For some companies, what SocialPubli Advocacy offers is only a part of the EA strategy—in addition to curated content, they'll also want their employees to be free to share and say anything they feel is right to promote the brand to their audiences. If that's what you're looking to do, then SocialPubli Advocacy won't go far enough for you.
But not every company is like this. Some, understandably, want tighter controls over the messages being spread in their name. For those, SocialPubli Advocacy is a great solution. They can curate content, collaborate with employees, and manage the distribution of all this from the platform. If you're thinking about implementing an EA strategy, or looking to more effectively manage your existing one, this solution won't be much a reach for you.
SocialPubli Advocacy
Features

Ease of Use

Support

Best for:
Brand ambassadors, large enterprise organizations