Advertising Disclosure
Advertising disclosure:
Our partners compensate us. This may influence which products or services we review (also where and how those products appear on the site), this in no way affects our recommendations or the advice we offer. Our reviews are based on years of experience and countless hours of research. Our partners cannot pay us to guarantee favorable reviews of their products or services.
Since Sprout Social was founded in 2010, many new social media management platforms have entered the market. There's also been a shift in market share and popularity among the different social media channels. Many users have changed their go-to channel from Facebook to Instagram, while TikTok has entered with a big bang.
To help you stay on top of all these different networks, you need a solid software solution. Manual posting is just too ineffective. Plus, as you'll see, most tools nowadays offer loads of other features like hashtags suggestions, analytics, and comprehensive reporting. Without these features, it's nearly impossible to take your digital marketing campaigns to the next level.
While the team at Sprout Social has made sure that their product keeps up with the changes by for example including integration with TikTok, it has a hefty monthly price tag. Whether it's because of financial reasons or simply because you like to do your due diligence, here are 12 Sprout Social alternatives that you can also trial and test.
---
Top Sprout Social Alternatives:
---
Why Should You Check Out Sprout Social Alternatives?
Sprout Social is one of the most popular and professional social media management platforms on the market. While it can be used by brands of all sizes, its target audience is more towards bigger businesses with serious social media needs.
Its powerful functionality is not at the expense of user-friendliness. The interface is clear and easy to understand and attaching your social accounts is a straightforward process. You can also use the Smart Inbox to collate all your social messages, adding to the intuitiveness of the platform. This Smart Inbox feature along with its task assignment features, like posts approval, are some of the reasons why it's so geared towards bigger businesses and agencies.
Not only is it a useful tool for staying on top of your messages and tasks, but it also makes it easy to create content and schedule your posts (which are standard features that you've come to expect of tools in this category and league). One of the ways that it does differentiate itself from many of the other social media tools, like Buffer, is that it also includes social listening. While it's a popular feature, not all platforms include this.
However, here's the catch… Great power comes at a price. As you would expect, this degree of functionality will cost you. For starters, Sprout Social doesn't offer a free plan that many other tools do. Sure, it offers a generous free 30-day trial, but after that, it becomes pretty expensive pretty fast.
Here are some of the pros and cons to keep in mind before you settle on Sprout Social:
Pros of Sprout Social
The interface and publishing calendars are very easy to understand and use.

It includes detailed reporting.

It also includes social listening and other features to help with competitive analysis.
Cons of Sprout Social
It's expensive and doesn't include a free plan.

Some users have complained about its support.
---
What Are the Top Alternatives to Sprout Social?
Agorapulse

Buffer

NapoleonCat

MavSocial

SocialBee

Hootsuite
Instead of having to do the online research on your own manually, we've read the blog posts, compared the features, consulted the software review sites, and analyzed the feedback to present to you this list of possible alternatives to Sprout Social. Here are short summaries of the best alternatives to check out and how they compare to Sprout Social.
---
Super Sprout Social Alternatives
Top
sprout social alternatives
2024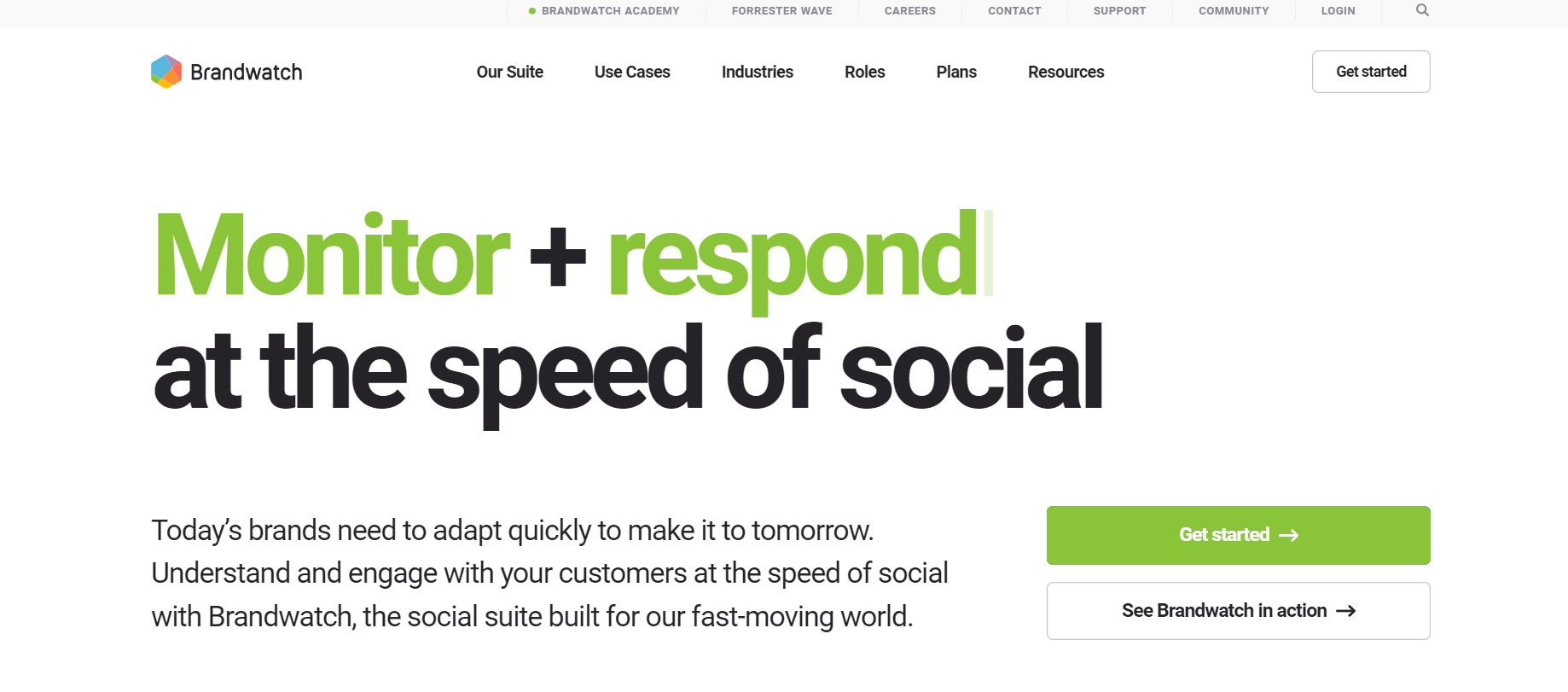 Best overall alternative.
Formerly called Falcon.io, Brandwatch is an all-in-one social media management solution that's trusted by some of the world's largest brands like Carlsberg and Toyota. It offers a comprehensive, integrated content calendar, approval flows, and an intuitive social inbox to mention only a few of its main features. Then, to help you make sense of your performance and compare it to others in your niche, it also includes actionable social insights.
Key Features:
An integrated social media content calendar to give you an overview at quick glance
A single library for all your content assets
A centralized social inbox for all your connected networks and profiles
AI-powered Iris Writing Assistant, message templates and automation rules to streamline communication
Templated and customizable dashboards to help you measure and analyze your performance across channels
AI-driven Social listening to help you keep track of trends
Channels Supported:
Facebook, YouTube, Instagram, LinkedIn, Twitter, TikTok, Google Business Profiles, and WhatsApp
Sprout Social vs Brandwatch
Sprout Social isn't the cheapest tool, but Brandwatch is even more expensive. While Brandwatch doesn't share their rates on their website, reviews state that subscriptions start from at least $800.
Also, according to online data, Sprout Social is also ranked higher than Brandwatch when it comes to usability and performance, which are two key areas. On the other hand, the same data suggests that Brandwatch users are quite happy with the product and support. Not only are they more likely to renew their plan than Sprout Social users, but they're also more likely to recommend it to others in their network.
Pricing:
You must book a meeting with Brandwatch's Support Team if you want to convert your trial account into a paid subscription. The standard plan for content and social media marketers is the Social Media Management plan. The platform's two other packages are the Consumer Intelligence plan and the Influencer Marketing plan. Brandwatch previously offered an Essentials plan that's recommended for smaller businesses. However, this no longer became available starting 2023.
---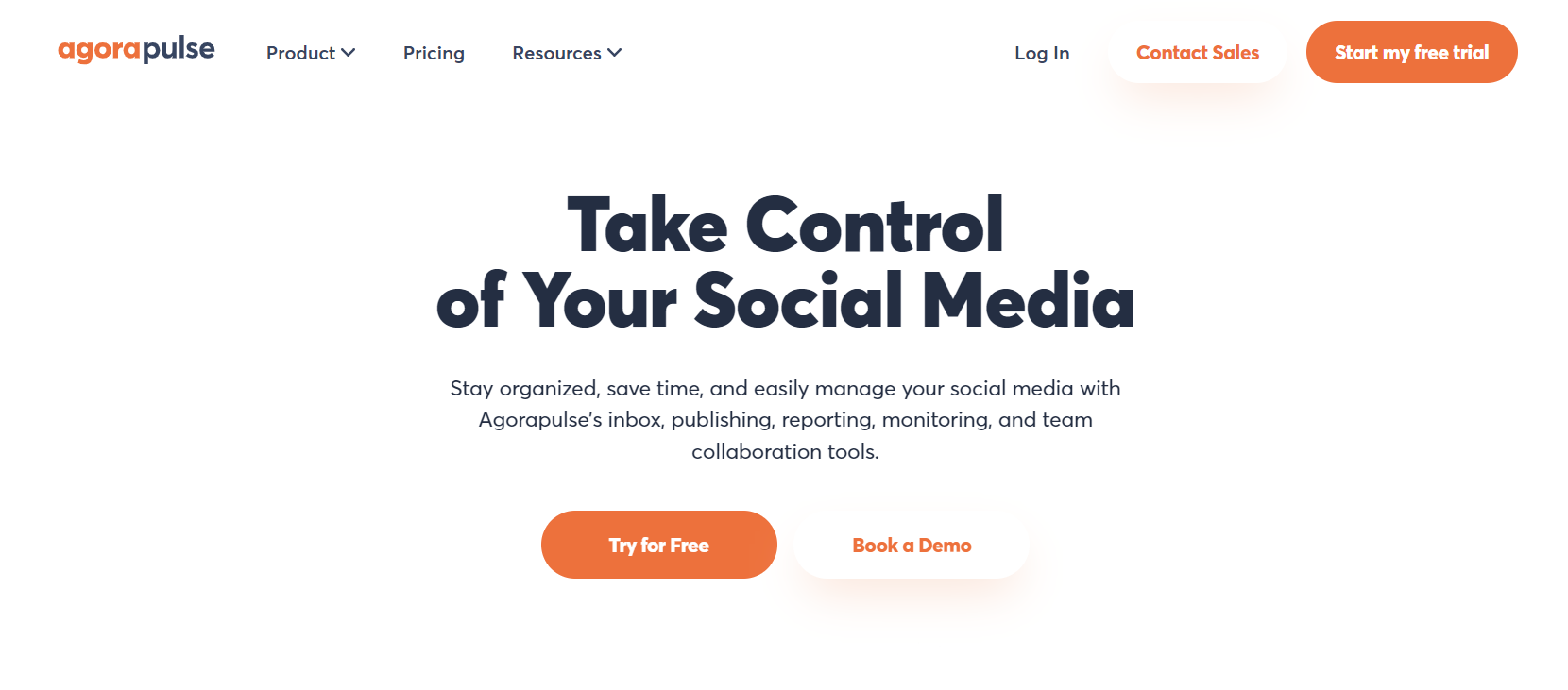 Best alternative for inbox management.
Agorapulse offers an intuitive interface and several useful tools to help with publishing, team collaboration, monitoring, and reporting. In addition to offering you the tools to help you stay on top of your content, it also includes a Social Inbox and Inbox Assistant to make managing your incoming messages and comments easier.
Key Features:
An asset library where you can store videos and images before you publish them on social media
Labels for advanced campaign tracking
Shared calendars to streamline the external content approval process
A sophisticated social inbox with advanced filtering
AI Writing Assistant and integration with Canva's AI text-to-image generator
Listening features for keeping tracking of mentions, hashtags, etc.
Custom reports with advanced reporting capabilities
Channels Supported
Facebook, Twitter, Instagram, LinkedIn, YouTube, TikTok, and Google My Business
Sprout Social vs Agorapulse
Agorapulse and Sprout Social both target the same audience — larger organizations with more heavy-duty social media management needs. They're also quite similar in terms of features as well as pricing.
You might find Agorapulse's team management features are more user-friendly. For example, it includes an Inbox Assistant, because they know that even if you have a team to help you, messages can quickly pile up (hence, the saved replies feature too). While Sprout Social also offers saved and suggested replies, it's available only in its top-tier plan.
All in all, both are full-featured social media tools that are better aimed at bigger companies, both in terms of needs and budget.
Pricing:
Agorapulse offers a free plan for one user and three social profiles, three subscription plans as well as custom pricing for enterprise clients. Except for the custom package, all paid subscriptions come with a 30-day free trial. The Standard plan costs $49 per month (yearly billing)/$69 per month (monthly billing). Meanwhile, the Professional plan costs $79 per month (yearly billing)/$99 per month (monthly billing). Lastly, the Advanced plan costs $119 per month (yearly billing)/$149 per month (monthly billing). The three plans can accommodate 10 social profiles. You pay $15 monthly to add another social profile.
---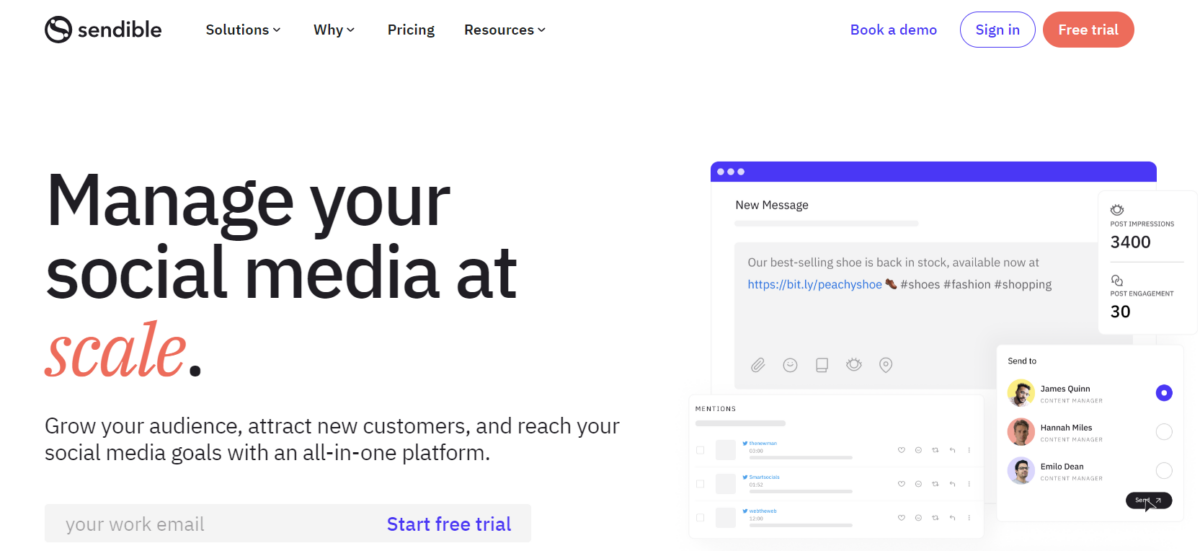 Best alternative for client-friendly dashboard.
Sendible is a pro-agency success solution, boasting dashboards that don't only ease internal approvals but also external ones through client-facing features. Through Client Connect, customers can link their social profiles with your Sendible account without sharing their passwords with you. Moreover, you can produce presentation-ready analytics reports for each client using Reports Hub.
The platform also has a social monitoring feature that tracks the public's engagement with your brand and competitors through keyword monitoring. You can then reply directly to messages without leaving Sendible.
Key Features:
Smart Compose Box to write messages customized for every social channel, set specific times for publishing posts, geotag Instagram posts, add IG hashtags to the first comment, and more
Bulk scheduler can send 300 posts at a time
Image editor and Canva access for image optimization and graphics creation
Content creation tools, such as RSS Feed Autoposters and SEO Article Creation, to receive articles with your required topic, keywords, and word count
Report Builder with over 200 metrics to choose from and covers social posts not generated using Sendible
Brand and keyword monitoring
Channels Supported:
Facebook, Twitter, LinkedIn, Instagram, YouTube, TikTok, and Google Business
Sprout Social vs. Sendible
While Sendible offers many services that Sprout Social can also deliver, Sendible has become limited in its social monitoring activities by ending its Review Sites monitoring feature. The tool can still monitor mentions of your brand, those of your competitors, and industry news. You can customize the monitoring tool's sentiment filter by keying in terms to distinguish positive from negative comments.
Sprout Social can connect your profiles to Facebook, Google My Business, Yelp, TripAdvisor, Glassdoor, Google Play Store, and Apple App Store so you can reply directly to reviews on these platforms from your Sprout dashboard.
Pricing:
Sendible has three plans billed monthly, all of which come with a 14-day trial. The Creator plan ($29 per month) covers one user and six social profiles. The Traction plan ($89 per month) covers four users and 24 social profiles. Meanwhile, its White Label plan ($399 per month) covers 10 users and 60 social profiles. Its subscribers get access to custom branding, domain, and the tool's content-hashtag library. Larger teams and agencies can contact Sendible's customer team to request a quote for a customized plan.
---

Best for team collaboration.
NapoleonCat places a lot of focus on its user interface, and, compared to many other similar tools, it's much more visually pleasing. While looks and design matter, it's never a replacement for features, and when it comes to functionality and user experience, NapoleonCat will also impress you. It's easy to get started and offers all the most important features, like scheduling and team management, and then some. For example, it can also double up as a content moderation tool and hide comments or delete spam automatically.
Key Features:
Performance analytics to help you measure and analyze your progress and results
A Social Inbox to help you manage comments, messages, and online reviews
Workflows to help you take care of publishing and moderation
A unified, easy-to-read calendar that maps out your content for the week or month ahead
Advanced statistics on how your social media campaigns are performing
Competitor monitoring
Channels Supported:
Facebook, LinkedIn, Twitter, Instagram, TikTok, and Google My Business
Sprout Social vs NapoleonCat
Sprout Social's biggest drawback is NapoleonCat's biggest pro — pricing. The real attraction of NapoleonCat's pricing is that unlike most tools, it gives you the option to pay only for what you'll use by letting you actually choose the number of social profiles and users you wish to connect.
With regards to features, both offer a social inbox, competitive analysis tools, and access to analytics and reporting. In terms of integrations, though, Sprout Social offers the added advantage of supporting Pinterest and WhatsApp too.
Pricing:
NapoleonCat uses a sliding scale that allows you to choose how many social profiles you want to manage and the number of users that you want to add. To give you an idea of what you can expect to pay, for three social profiles and one user (the minimum requirements), pricing starts at $27 per month for access to the standard features, while it will be double the price ($63 per month) for access to features like automated moderation and customized reports. To help you get to know the tools first, it also offers you a free, two-week trial.
---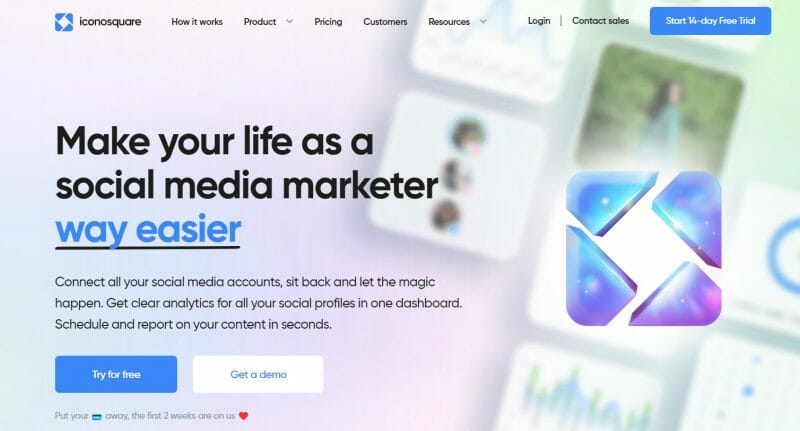 Best for analytics.
Founded in 2011 and trusted by well-known brands like IKEA and National Geographic, Iconosquare is a management, scheduling, reporting, and analytics platform. While it doesn't integrate with all the platforms, it does include TikTok and LinkedIn analytics which few do. As for publishing, it offers integration with only Facebook, Twitter, and Instagram. It might not offer as many integrations, but it does include several powerful features to help you improve scheduling like user tagging, a first comment scheduler, and best-time-to-post recommendations.
Key Features:
Quick and easy reporting to monitor and share your performance
A media library where you can upload and keep digital assets for easier scheduling
AI caption tool with subject, industry, and language options
Custom dashboards to help you keep track of the metrics that matter most to you
Competitor analysis to help you compare your performance
Channels Supported:
Instagram, Facebook, Twitter, LinkedIn, and TikTok
Sprout Social vs Iconosquare
One of the features that set Iconosquare apart from many other similar tools is that it offers in-depth analytics. The platform can generate reports on your Instagram, Facebook, Twitter, LinkedIn, and TikTok analytics. You can choose from over 100 metrics, including your community's demographics, reach, and Stories insights over a time frame, and Iconosquare will produce colorful graphs to represent your data. You can set automations so your dashboard to create and send analytics reports regularly. Your reports can also include hashtags analytics and competitor analysis. Armed with these insights, you'll get a much better picture of just how your content is performing and be able to track your campaigns' performance with pinpoint accuracy.
Sprout Social is up several notches in this department, as it offers analytics for YouTube and Pinterest. Moreover, it offers templated and custom reports.
Pricing:
Iconosquare offers only two paid plans and custom pricing for bigger social media teams and agencies. The Pro plan costs $59 per month (monthly billing)/$49 per month (yearly billing) for three social profiles and two team members. For the ability to add unlimited team members, you can check out the Advanced plan that costs $99 per month (monthly billing)/$79 per month (yearly billing).
---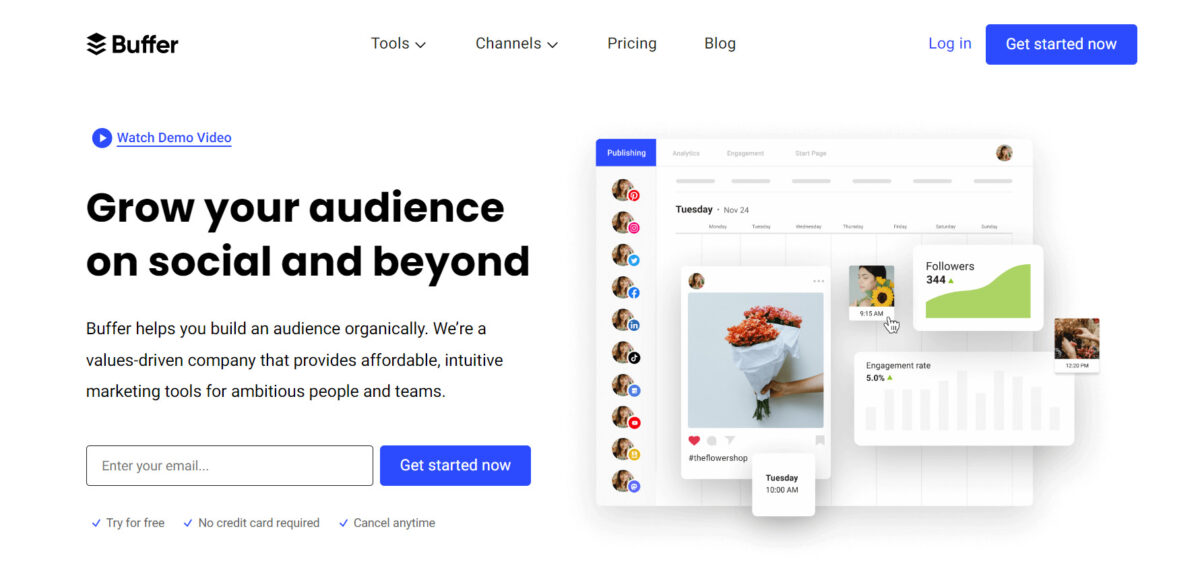 Best for beginners.
Buffer is one of the most popular social media management platforms, especially among beginners. Its main focus is on scheduling and posting and integrates with all the main social media platforms. With the help of its easy-to-navigate calendar view, planning and collaborating on your campaigns are straightforward. While content forms a key part of any digital marketing campaign, all the efforts will be in vain if you don't engage with the comments. To help you with this, they offer a number of engagement tools. You can view all the comments that still need a reply via its unified dashboard, while the smart alerts powered by machine learning will prioritize key conversations. Then, to figure out if your efforts have delivered the desired results, it offers in-depth insights and reports for Instagram, Facebook, Twitter, and LinkedIn.
Key Features:
A calendar view that lets you get a quick overview of your content across all platforms by week or month
An Instagram hashtag manager to help you create and save hashtag groups
New AI assistant for content inspiration and repurposing posts
Individual post analytics and audience demographics
Approval workflow tools to help you manage, draft and approve posts
Channels Supported:
Instagram, Facebook, Twitter, LinkedIn, Google My Business, TikTok, Pinterest, and Shopify (for analytics only)
Sprout Social vs Buffer
One of the features that distinguish Buffer from Sprout Social is the difference in pricing. While Buffer's free trial period is shorter, it does include a free plan. When it comes to their paid plans, Buffer can also work out much cheaper depending on how many channels you wish to connect (though, it sadly doesn't support YouTube).
You see, unlike Sprout Social, Buffer charges you per channel. If you're an agency, it will work out about the same as Sprout Social (but keep in mind we're talking about comparing its top-tier Agency plan to Sprout Social's entry-level Standard plan).
This makes Buffer an excellent alternative to smaller businesses. Considering that it's also easier to use, Buffer is a better tool to start with if you're still a small business that's relatively new to social media marketing.
Pricing:
Buffer offers a free plan and three subscription plans. After a free, 14-day trial, pricing is as follows when opting to be billed monthly:
The Essentials plan is $6 per month per channel.
The Team plan is $12 per month per channel.
The Agency plan is $120 per month for 10 channels.
---

Best for user-generated content (UGC).
According to their website, their goal is to create enterprise-level social media software but at an affordable price. Trusted by brands like Domino's Pizza, it's a great tool for brands with multiple locations. Included in its list of features is an intuitive campaign calendar that you can use to schedule, publish, manage and boost your content. In addition to offering a unified calendar, it also has a single inbox that eliminates the need to switch between different social accounts, making replying to messages much less time-consuming.
Key Features:
Social listening to help you track keywords for better insight into industry trends and specific topics
Real-time data for tracking the performance of your social media campaigns
Built-in stock image libraries to help with content curation
AI-run Image Recognition feature to optimize content's format and size to its destination channel and save them by categories
Saved replies for consistency and faster response times
Channels Supported:
Facebook, Instagram, YouTube, Twitter, LinkedIn, Google My Business, and Tumblr
Sprout Social vs MavSocial
Unlike many of the other alternatives that we've included on our list that beat Sprout Social when it comes to pricing, MavSocial and Sprout Social are priced similarly, that's if you don't need to add multiple users. Neither includes a free plan, but MavSocial's cheapest plan is slightly cheaper.
Integration-wise, Sprout Social supports a few more networks (TikTok, WhatsApp, and Pinterest). It also offers better reporting, according to online articles.
What makes MavSocial such an attractive tool and alternative is its strong focus on visual media. If your social media marketing strategy includes a lot of user-generated content (UGC), for example, you'll love its UGC tools. It will automate your UGC permission requests on Twitter and Instagram to free up time and avoid issues with copyright. Alternatively, you can always tap into its free, licensed stock images to create your own visual content. While Sprout Social also has media integrations and an asset library, it's merely to help you organize and edit your own visual assets that you've, for example, created via Canva.
Pricing:
After a free, 14-day trial, pricing works as follows when billed monthly:
The Pro plan costs $78 per month for three users and 30 profiles.
The Business plan costs $249 per month for five users and 40 profiles.
The Enterprise Plan costs $499 per month.
---

Best for AI-generated posts.
SocialBee offers a wide range of features to help you manage your social media accounts and schedule, publish, and analyze your posts more efficiently. It also offers a number of features to help you with the actual content creation process. You can, for example, integrate it with Canva to help with the design side and use Unsplash or GIPHY to import additional stock images, if Canva's selection of visuals isn't sufficient. For those instances when you're working as part of a bigger team, it also includes teamwork and collaboration features like approval workflows, role assignment, and a commenting system.
Key Features:
Content Categories for post organization
Native AI text and image generation
Insightful data about audience, post, and page analytics to help you optimize your posts and content
Hashtag suggestions
A built-in content calendar for a clear overview of your posting schedule
Suggestions for best time to post your content based on heat maps
Channels Supported:
Facebook, Twitter, LinkedIn, Instagram, TikTok, YouTube, Google My Business, Pinterest
Sprout Social vs SocialBee
SocialBee launched its AI post generator in 2023, which allows you to write prompts or instructions describing your desired written message or picture to create a caption or image for your post. You can type the prompt yourself or select from over 1K pre-made ones. Examples include "Write a Twitter thread about [topic]" or "Share a helpful tip or piece of advice related to [topic]").
This tool lets you set the tone of voice (such as polite, witty, informational, and so on), approximate word count (up to 100 words), hashtag and emoji inclusion, and the number of post samples from which you will choose (up to 10 for text and four for images).
Sprout Social also expanded its AI capabilities in 2023 beyond the best times to post, workflows, analytics, and customer care. Its publication tool now includes a hand with a star button that says "Suggestions by AI Assist" to help you with captions. However, it lacks the AI option for image creation.
Pricing:
SocialBee offers three subscription plans. After a free, 14-day trial, pricing works as follows when billed monthly:
The Bootstrap plan (best for solopreneurs) costs $29 per month for one user and five social accounts.
The Accelerate plan (best for startups and small businesses) costs $49 per month for one user and 10 social accounts.
The Pro plan (best for agencies and freelancers) costs $99 per month for up to 15 users and 25 social accounts.
---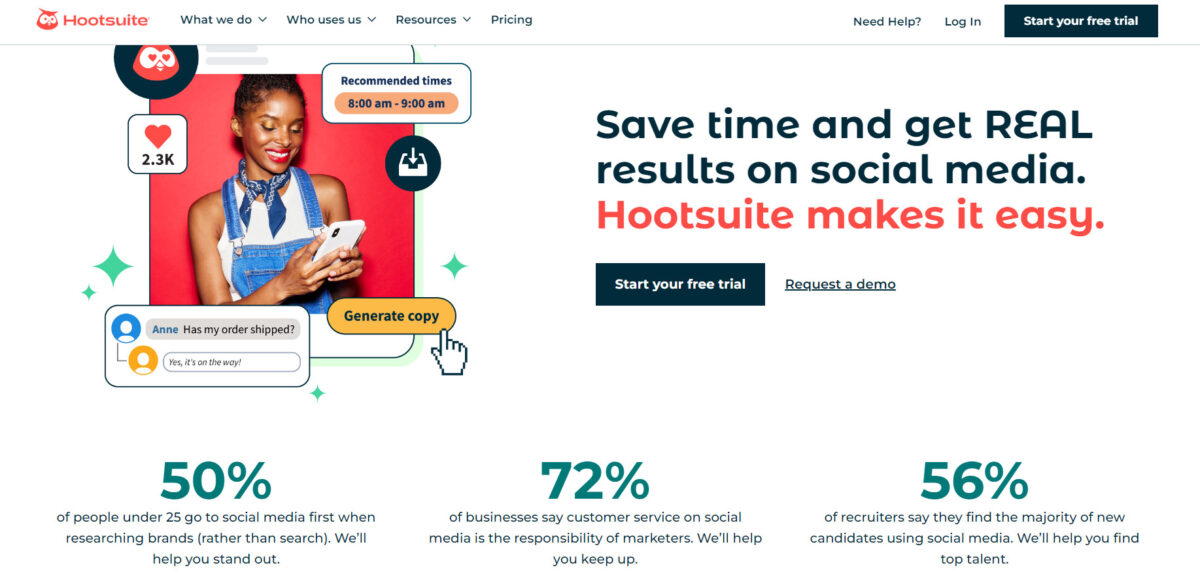 Best for enterprises.
If you're a regular reader of Influencer Marketing Hub, you'll most likely already be quite familiar with Hootsuite and its list of features. It's one of the most popular tools for social media management, especially because of its pricing. Included in its list of features are scheduling (including bulk scheduling) and publishing, content curation, analytics, team management, and detailed reporting. While it does include social listening, it's available only as an add-on and only with its most expensive Business plan.
Key Features:
A dashboard with a unified calendar view to give you a quick overview of the content that's scheduled
OwlyWriter AI for captioning, content ideas, repurposing posts, upcoming events discovery, URL shortening
Approval workflows to ensure all content matches the branding guidelines and is compliant
Automatic alerts when there's a spike in social activity
Monitoring of brand and competitor mentions
User access permission to control which features and functions team members may access
A single inbox displaying all your incoming messages across your social accounts
Channels Supported:
Instagram, Facebook, TikTok, Twitter, YouTube, LinkedIn, Pinterest
Sprout Social vs Hootsuite
While Hootsuite offers cheaper plans than Sprout Social, if you want to be able to access all its powerful features, it can get pretty expensive fast. Just like with Sprout Social, if you want to use the social listening features, you'll need to pay extra as it's available only as an add-on product.
As you would expect of tools in this price class, both offer integrations with all the main platforms. Sprout Social integrates with Twitter, Instagram, LinkedIn, Facebook, Pinterest, YouTube, TikTok, and WhatsApp, while Hootsuite integrates with all of these, except WhatsApp. That said, Hootsuite is better value in terms of third-party integrations.
One useful feature that Hootsuite offers is post boosting. This way you can make your organic posts more impactful by adding an ad spend for better visibility. Enterprise clients can also take advantage of ad campaign management features helping them to publish and manage on LinkedIn, Facebook, and Instagram.
Pricing:
Hootsuite offers three subscription plans and custom pricing for enterprise clients. The company discontinued its Free plan in March 2023. After a free, 30-day trial, pricing is as follows when opting to be billed yearly:
The Professional plan is $99 per month and includes one user and 10 social accounts.
The Team plan costs $249 per month for three users and 20 social accounts.
The Business plan costs $739 per month for five users and 35 social accounts.
---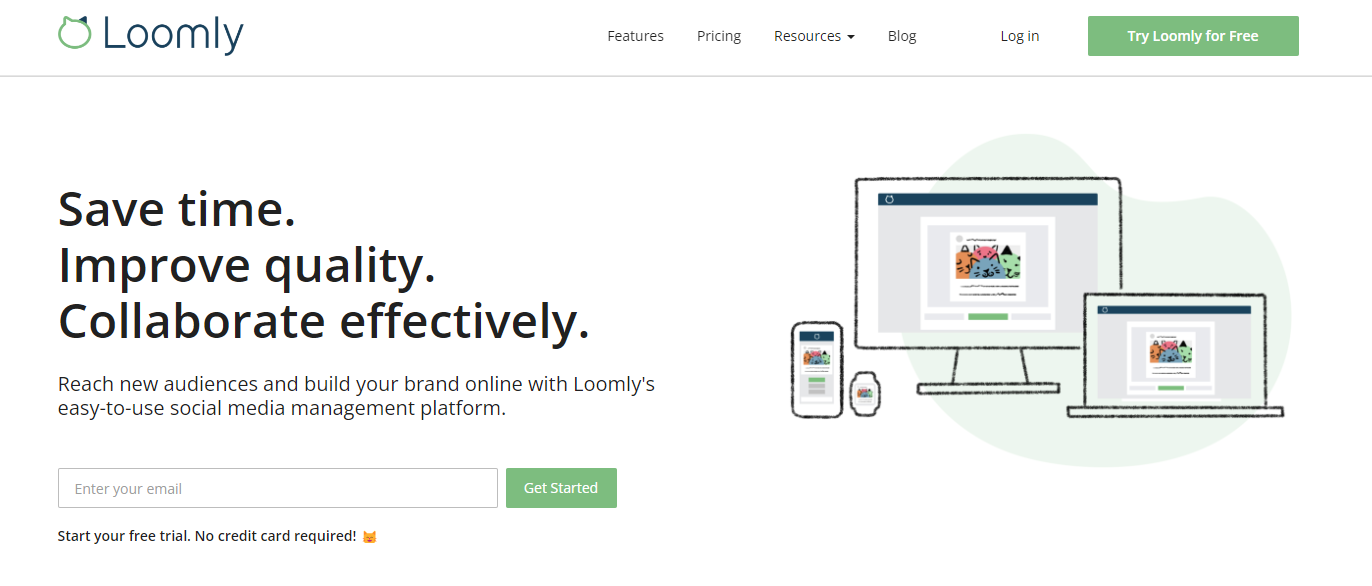 Best for guided content publication.
Loomly is primarily a social media calendar tool that you can synch with Facebook, YouTube, Instagram, LinkedIn, TikTok, Pinterest, Google My Business, and Snapchat. But more than automated scheduling, the platform aids social marketers throughout the publishing process, from offering suggestions for your social content to optimizing and previewing posts before letting team members review and approve content. Integrations with Unsplash, Giphy, and Google Drive are built-in.
Loomly eases collaboration with your work colleagues—through task assignments and notifications—and interactions with your external audience through its community management system.
Key Features:
Sourcing post ideas from RSS feeds, Twitter trends, date-related celebrations, and events
Target audience selection (for Facebook and LinkedIn)
Content optimization through Hashtag Manager, Loomly Media Studio, and UTM parameters generator
Analytics for all posts, even those published outside Loomly, and automated reporting for up to 25 recipients
Channels Supported:
Facebook, YouTube, Twitter, Instagram, TikTok, LinkedIn, Google Business Profile, and Pinterest
Sprout Social vs Loomly
Loomly claims to be a "simple, affordable, and powerful" alternative to Sprout Social due to its cheaper rates. Moreover, several features accessible only through Sprout's Professional plan or higher are available in Loomly's base plans. They include post-optimization tips, a content library, hashtag trend tools, approval workflows, and automated link tracking. You can also respond to Facebook, LinkedIn, Twitter, and Instagram messages without leaving the platform.
Content Suggestions is Sprout Social's counterpart of this Loomly feature. However, this proprietary content aggregator only crawls through social media to find relevant links to articles based on your chosen categories.
Loomly also provides content optimization support through its formatting, copy length, and optimal posting date and time suggestions.
Unlike Sprout Social, however, Loomly has no built-in social listening or monitoring tools. It only suggests third-party tools for brand intelligence (like Google Alerts) and sentiment analysis.
Pricing:
Loomly offers a 15-day trial, after which you must pick from five plans (including an enterprise plan with a customized rate) with the following rates billed annually:
The Base plan is $312 (or $35/month when billed monthly) for two users and 10 social accounts.
The Standard plan is $708 (or $79/month when billed monthly) for six users and 20 social accounts.
The Advanced plan is $1,548 (or $172/month when billed monthly) for 14 users and 35 social accounts. This plan gives access to custom branding.
The Premium plan is $3,228 (or $359/month when billed monthly) for 30 users and 50 social accounts.
---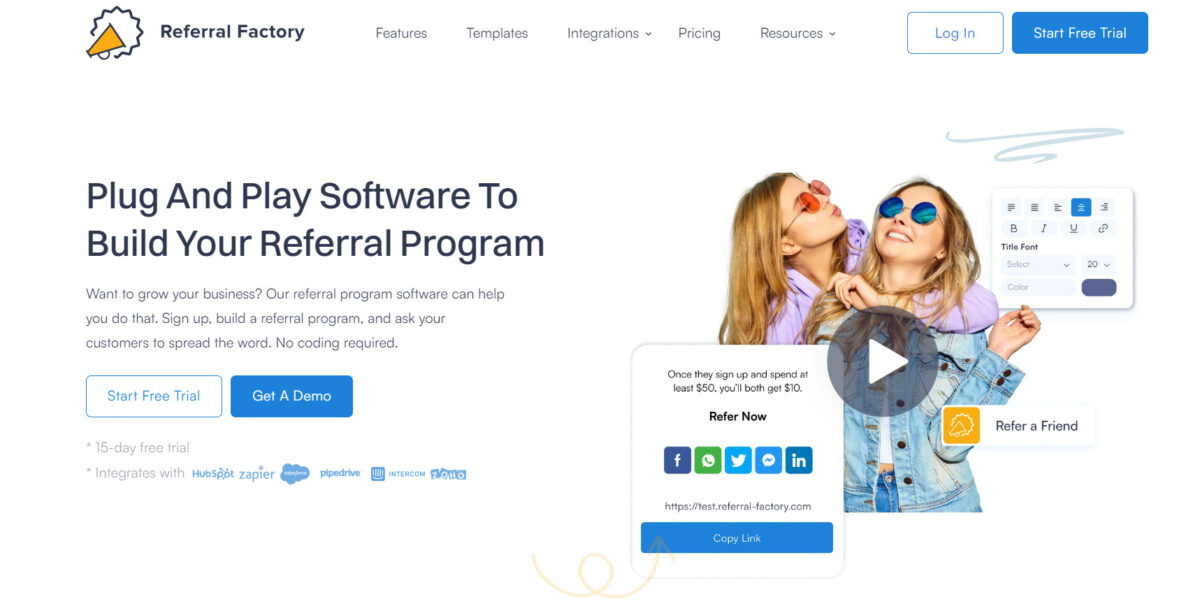 Best for referral programs.
More and more brands have begun incorporating social media to accelerate their referral marketing strategies. Referral Factory is among the leading solutions for creating, activating, and tracking referral programs, thanks to its templates and analytics. The platform, available in over 23 languages, lets you set and automate cash, coupon, voucher, and other reward types in multiple currencies across 50 nations.
To further prove its leadership in referral program development, Referral Factory—with a 4.87 average rating from over 300 reviews across various review sites—offers to send you an AI-generated referral program when you key in your name and business URL on their website.
Key Features:
AI-generated referral campaign and over 100 pre-built, customizable templates for various industries and goals (with editable rewards and incentives)
Fraud alerts distinguish between legitimate and fake referrals
Website pop-ups, widgets, and reminder emails inviting visitors and recipients to refer a friend
White label option
Referral tracking and analytics
Integrations with over 3,000 apps and CRMs, such as HubSpot, Salesforce, Pipedrive, and more
Channels Supported:
Facebook, Twitter, LinkedIn, WhatsApp, WeChat, Line, and Telegram
Sprout Social vs Referral Factory
Referral Factory's features focus on referral programs to boost customer acquisition and hasten sales. The user-friendly software auto-generates links, which you can share via email or the contact information from your CRM once you link the platform to your system. After launching your campaign, you can track the volume of your referrals, who's referring your business the most, and through which platforms you're getting the most referrals.
Sprout Social has limited referral features, including a custom URL or URL shortening feature, which lets you track where your traffic is coming from. It doesn't have automated and customizable reward functionalities, so Referral Factory is a better option if your campaigns lean more toward a referral system.
Pricing:
Referral Factory has a free trial period of 15 days. Afterward, you can choose from four plans:
The Starter plan costs $95 monthly for 500 users (a person referring or a person invited) and one campaign.
The Basic plan costs $200 monthly for 20,000 users and unlimited campaigns.
The Pro plan costs $300 monthly for 30,000 users and unlimited campaigns.
The Enterprise plan costs $1,400 monthly for 100,000 users and unlimited campaigns. The company assigns a dedicated campaign manager and lets you host your data.
The Referral Factory removes its company's branding elements under the Pro and Enterprise plans.
---
Best for AI-aided content and influencer discovery.
ContentStudio showcases AI's search capabilities through its Content Discovery tool. Once you've set your filters, the platform's AI scours the web, Twitter, and YouTube for the most effective content you can share or get ideas from for your next post. The AI compares sources based on engagement statistics and feeds you the highest ranking among them. Sentiment analysis on each article is also available. Once you've finalized your post, the platform's Content Composer allows you to publish it in over 10 social and blog networks.
Key Features:
AI-run caption generator
Best time to post
Customizable workflows with live feedback section, post preview, approval notification, and activity tracker
"Magic link" for client access
Automations, such as RSS, bulk scheduling, queueing, reposting, and more
Channel-wise analytics (up to 25 people can receive white-labeled reports via email)
Competitor analytics (comparing your and your rival's pages based on engagement, total interactions, and other metrics)
Channels Supported:
Facebook, YouTube, Twitter, LinkedIn, Instagram, Pinterest, WordPress, Medium, and Tumblr
Sprout Social vs. Content Studio
ContentStudio has an edge over Sprout Social in finding Twitter, Instagram, and YouTube personalities supporting your brand through its dedicated influencer search and discovery tool. The platform provides the influencer's engagement stats and their audience's demographic profile. ContentStudio's AI helps you find an influencer for any niche by location and estimate their asking price.
To search for influencers on Sprout Social, go to People View in your Smart Inbox so you can view and organize the social profiles of people who engage with your channels the most.
Pricing:
You can choose from ContentStudio's three plans:
The Starter plan costs $25 per month (billed monthly) or $20 (billed annually) for one workspace/user and five social accounts.
The Pro plan costs $49 per month (billed monthly) or $40 (billed annually) for one user and 10 social accounts. You can publish on three blog sites with this plan.
The Agency plan is available in three levels—small, medium, and large agencies—from $99 per month (billed monthly) or $80/month (billed annually) for five users, 25 social accounts, and permission to publish on 10 blog sites.
---
Wrapping Things Up
While pricing shouldn't be the only factor that you use as a measuring stick when you're shopping around for a social media management platform, no one (not even larger businesses) can deny that it plays a major factor. Unfortunately, that's the one big area where Sprout Social isn't the best. That being said, depending on your needs, some of the alternatives to Sprout Social can in the end work out more expensive. However, another huge con is that Sprout Social doesn't offer a more reasonably priced type of starter plan to give you the opportunity to at least learn its features while you're still growing.
You should guard against simply choosing the cheapest solution, though. After all, you need to spend money to make money, right? This is especially true when it comes to marketing. What you can't take away from Sprout Social is that it basically supports all the platforms that you'll ever wish to use. One of the fundamental rules of social media marketing is that you should build a presence where your target audience is. So, investing in a cheaper tool that doesn't offer features for that particular network might very likely end up costing you more in the long run.
The best advice is to take your time, consider all your options, and take advantage of the free trial periods that most offer.
Frequently Asked Questions
Is there a free version of Sprout Social?
There is no free version of Sprout Social. However, you can try Sprout Social for free with a 30-day free trial. With this trial, you can access your analytics, schedule posts and access reports.
Is Sprout Social similar to Hootsuite?
Sprout Social and Hootsuite are both social management platforms, but their pricing, support, and features differ. Both services offer some of the best marketing products; however, Hootsuite is better for media management and has more extensive enterprise features and integrations.
Is Sprout Social accurate?
Sprout Social is accurate and great for businesses of all sizes. Sprout Social is a reliable platform for publishing and social listening across multiple social networks with market-leading tools.
What platforms does Sprout Social support?
Sprout Social supports publishing, monitoring, engagement and analytics across the major social platforms, including:
Facebook

Instagram

TikTok

Twitter

LinkedIn

Pinterest

YouTube