Best for:
Small and Medium Brands
Storyclash might be more appropriately named than one might assume. Its own story, the one about its beginnings, clashes with the two or three common ones of its competitors. Those all are companies that developed their own IM software, either as a solution to their own business challenges or a response to general market needs. But they all started with influencer marketing.
This is not so with Storyclash. Founded in 2016, the Austria-based company began life as a social media monitoring tool (aka social listening). Storyclash did more than just allow its users to create alerts for phrases or topics they were listening for. It scraped and analyzed billions of social media posts and comments, identifying user and brand trends to help publishers fine tune their content for maximum engagement. After years of ingesting and analyzing all this data, Storyclash was sitting on an absolute mountain of it—and had an idea of how they could make more use of it.
While any discussion of influencer marketing's strengths tend to mention "authenticity," that idea fails to take into account data's role in finding influencers who fit that description. Storyclash seems to understand this; while the company touts the importance of content over vanity metrics, the platform leans on the years of data amassed through social listening. And it's all that seemingly peripheral data—about the influencers, their audiences, their content, and past collaborations—that helps brands conceptualize the right content for a given campaign, to say nothing of finding the right influencer to tell the brand story.
Storyclash's own story is still being told. The transition from social media monitoring tool to influencer platform was well received by its existing customers, and they continue to build their own loyal following (meaning: paying customers) across the German-speaking market. If that was their only goal, the story would be over—and with a happy ending. But they've got bigger plans, plans that stretch out beyond their home region, and so we're really just at Act II of their story. After seeing the platform, we're willing to bet it'll go just as well as the beginning did.
---
Pricing
Like any SaaS platform, Storyclash offers multiple plans with different levels of access to the software. Unlike most others, each its two plans is a distinct product. So, if you want all of what Storyclash has to offer, you'll need to subscribe to both—and for a minimum of 12 months.
Discovery, starts €299/mo (~$313) —

Unlimited searches, but only in 1 country, for Instagram influencers, content search (posts and stories), AI-powered influencer recommendations, lookalike searches, data insights and analysis covering influencers, audiences, and competitors, influencer relationship management



Campaign Tracking & Reporting, starts at €599/mo (~$626) —

Unlimited campaigns; track influencers on Instagram, TikTok, Facebook, Twitter, and YouTube; insights into 30+ metrics; shareable online reports with real time data; report customization.



Enterprise, $Custom/mo —

A blend of both options, custom-sized for your specific needs
---
The Details
Storyclash's focus on content is apparent from the get-go when using its Discovery tools. There's a familiar look to the search screen—a search bar sits atop many options for filtering/refining the results. But look closer at the search bar and you'll see you have the option to search either by Content or Creator. They both work the same way, but when you search by content you're able to more quickly see whether the influencers who come up in the results fit with your brand.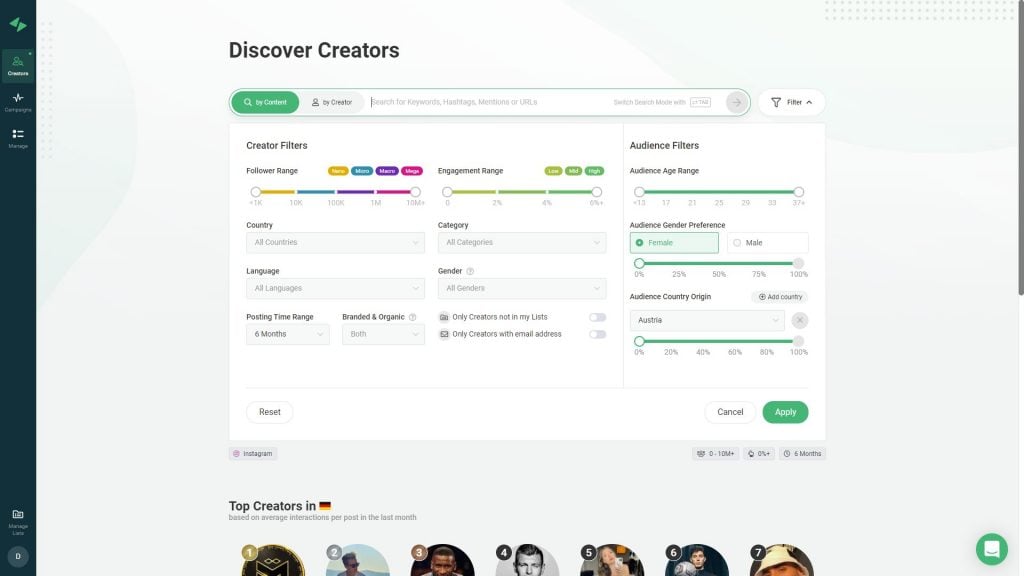 When you do a keyword search for content, the platform is exceptionally thorough. Remember, Storyclash began life as a social listening tool, so it's been scraping public profiles since its launch 6 years ago while an AI engine analyzes every piece of content. This means its not just searching captions for matches to your keyword, it's also looking at the content itself. If you wanted to find influencer who worked with your competitors, for example, the search will look for their names in the captions (or the text overlaid onto Stories), and can also recognize the text and/or logo that appear in the content itself. And when you get a list of results, you'll see—alongside the standard vanity metrics—a column labeled "Fitting Content." This tells you how many of their posts fit the criteria you chose. If you search "vegan," for example, and see that 200 out of an influencer's 300 total posts match the keyword, you've likely got a good fit.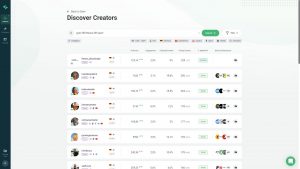 From there, you can do a deeper dive on the influencer to verify their fitness. You'll of course want to make sure their content's style matches with your aesthetic, and all the content is laid out for you in the platform itself—no having to click through to their social feeds. You can also dig into their past brand collaborations, helpful not only to see how well their sponsored posts do, but to better understand their work history (and, therefore, their authenticity). Storyclash tells you the percentage of their posts that are sponsored/brand collaborations, and also has a kind of calendar view of their past work. It's a great way to see at a glance how an influencer operates. Someone who otherwise looks great but has multiple brand deals going on at once might be spread a little too thin to be taken seriously by their audience by the time you get involved.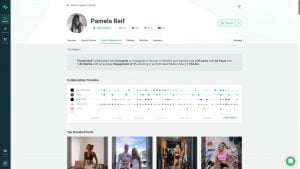 If you do find someone like this—someone who seems like a great fit but has some disqualifying characteristic—you can do a lookalike search. With this, you'll get a list of influencers whose content is similar to what you just searched for, and each result on the list is scored as to how similar they are. You'll also be able to browse through other influencer accounts that are connected to whatever person you're looking at—not just mutual followers, but taking into account how many times they've mentioned each other (another sign of an authentic connection).
Each influencer profile also contains a healthy amount of statistics and, true to form, Storyclash's focus here is on the content. You'll understand how much content an influencer posts, how often she posts it, and how each one performed. There's a breakdown of organic vs branded, analysis on the media value, and a week by week breakdown of the account's overall health. You can also unlock audience reports—these are often in limited supply, as determined by your plan—but these aren't as valuable as everything else included in an influencer profile. They offer basic demographic information without getting into the more valuable psychographics, like brand affinities and other preferences.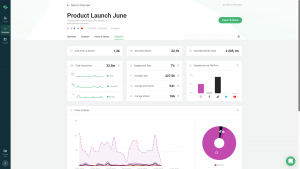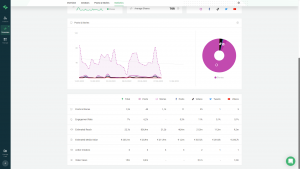 The Discovery module and the abundance of data behind it are what set Storyclash apart from its competitors in the here and now. The campaign reporting function doesn't reach the innovative heights that Discovery does, but that doesn't mean it isn't good. Its ability to generate easily shareable and self-updating reports is executed as well as we've seen on other platforms. This is no surprise; reporting like this is essentially social listening, and that's been Storyclash's bread and butter for years.
You get the overview of a campaign, showing the aggregated statistics across the entire thing, and then broken by influencer. Every bit of content that's featured in your campaign is ingested into the platform. Once again, there's no need to click through to another website to get the infromation you need—this includes Instagram Stories. And if any influencers standout from the others—either for good or bad reasons—the collaborative influencer relationship management tools let your team save these observations as notes.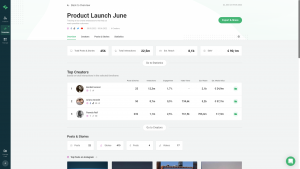 ---
Conclusion
Influencer marketing has always been tethered to social media; the two go hand in hand. The surprising thing about Storyclash isn't that they pivoted from being a social media monitoring tool to an influencer marketing platform. No, the big surprise is they're one of a tiny number of companies to do such a thing. It seems like a no-brainer, especially when your company has been monitoring and indexing as much as data as Storyclash has.
The ultimate goal for this platform is to become a 100% end-to-end influencer marketing solution. They aren't there yet, but they're very close. That they've come right out of the gate with as strong a product as they have is impressive. That their Discovery module is among the best we've seen—in terms of both its approach and efficacy—is something the team should be proud of. The campaign tracking and influencer relationship management are both very well executed as well, and the platform is very much in position to become an indispensable suite of marketing.
Storyclash
Features

Ease of Use

Reporting

Best for:
Small and Medium Brands