Since Twitch made its way into the lives of millions across the globe, it's created an entire culture based on experience and creativity. Gamers have dedicated themselves to presenting the most attractive and interesting design elements to the channels, including the wired and wacky, but also stunning. And that's where Twitch offline banners come into play.
Twitch offline banners are essential. They help build anticipation for your next stream and something that also makes your channel look professional. In this blog post, we'll share our pick of the top 12 Twitch offline banner templates we've found, what we like about each, and what they come with.
---
What is a Twitch Offline Banner Template?
Twitch offline banner templates are banners that streamers place on their channels when offline. They are designed to show viewers something more attractive than a basic offline screen. Many banner designs come with unique elements, but most include social media handles and text that is editable. The templates we feature in this blog post all comes with project files. Some can be edited online, while others are changed through Photoshop.
12 of The Best Twitch Offline Banner Templates:
---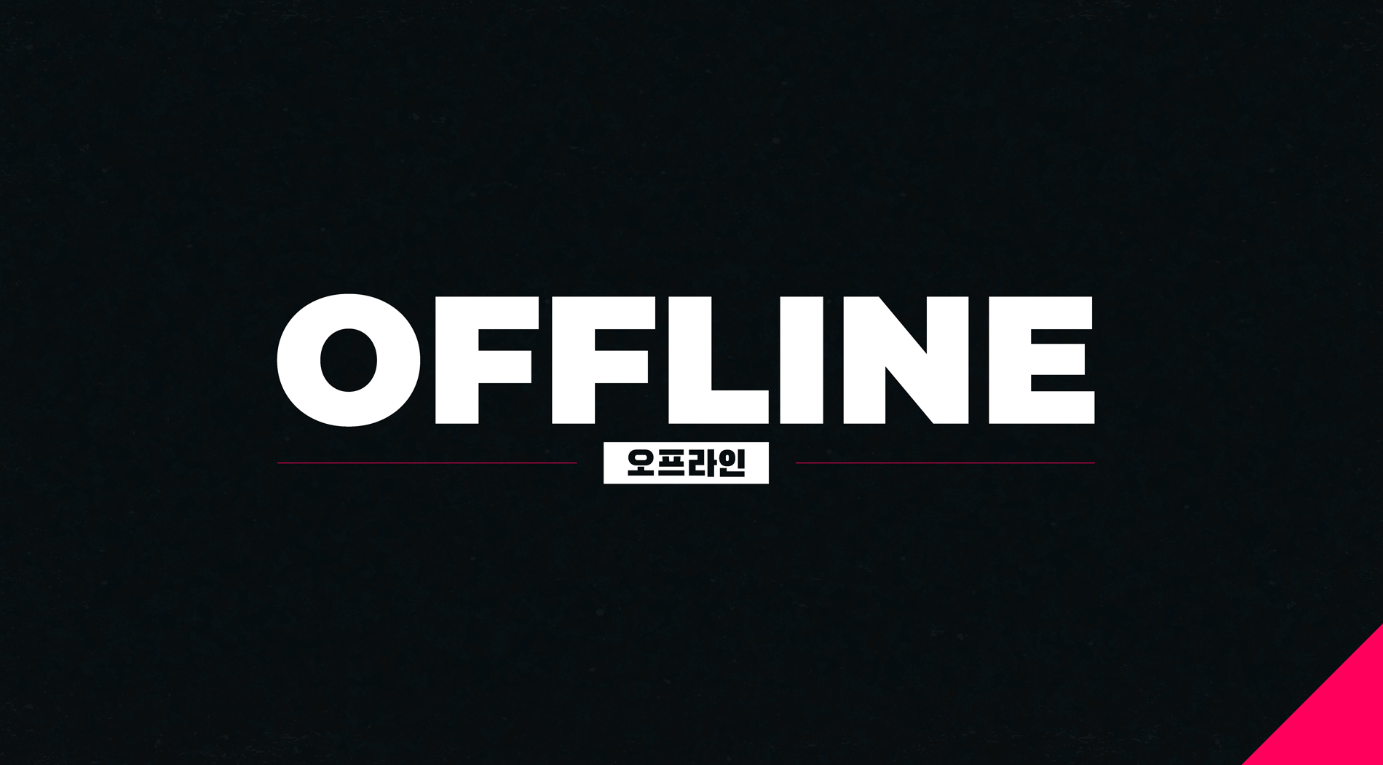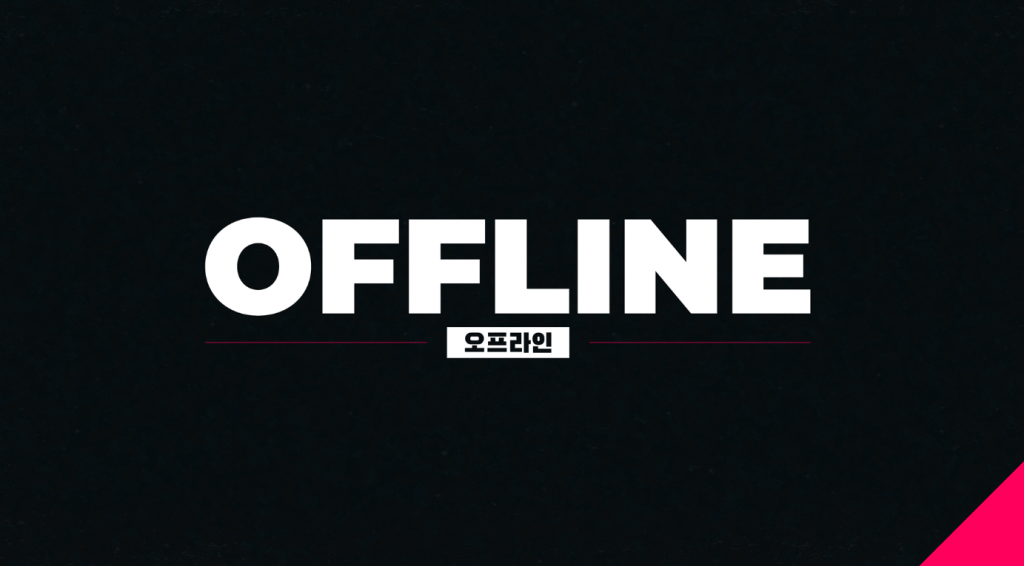 Grid is an almost-minimalist take on a Twitch offline banner template design. It comes from Nerdordie and is included on the Grid Stream Package. While the offline banner design is clean and simple, other elements in the stream package hint more at the grid concept. The strongest feature of the package is the bolded text. It's prominent and also comes with Korean translations, adding an exotic look and feel to your channel. This package comes with After Effects files for any editing you'd like to complete.
---
Titan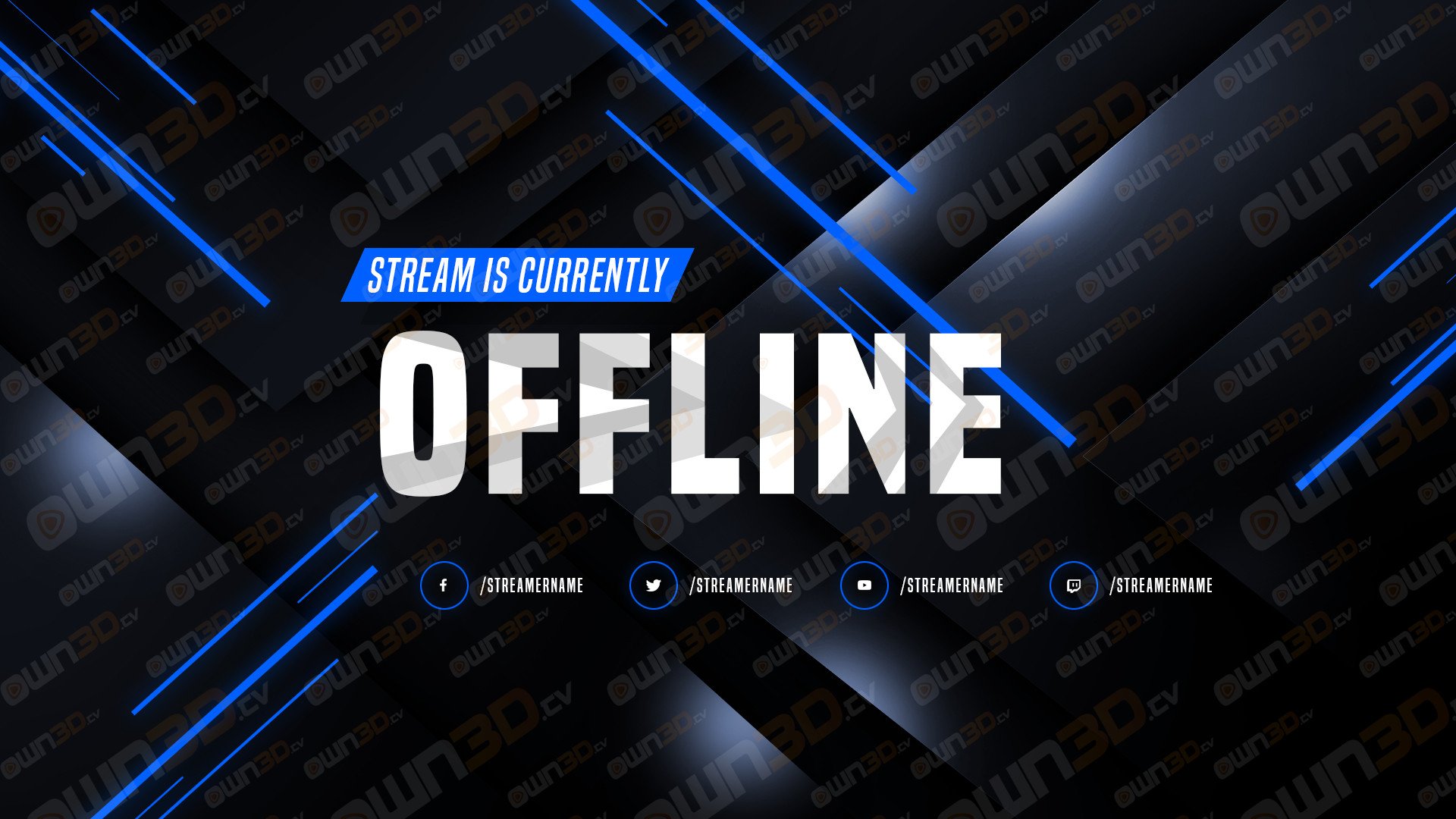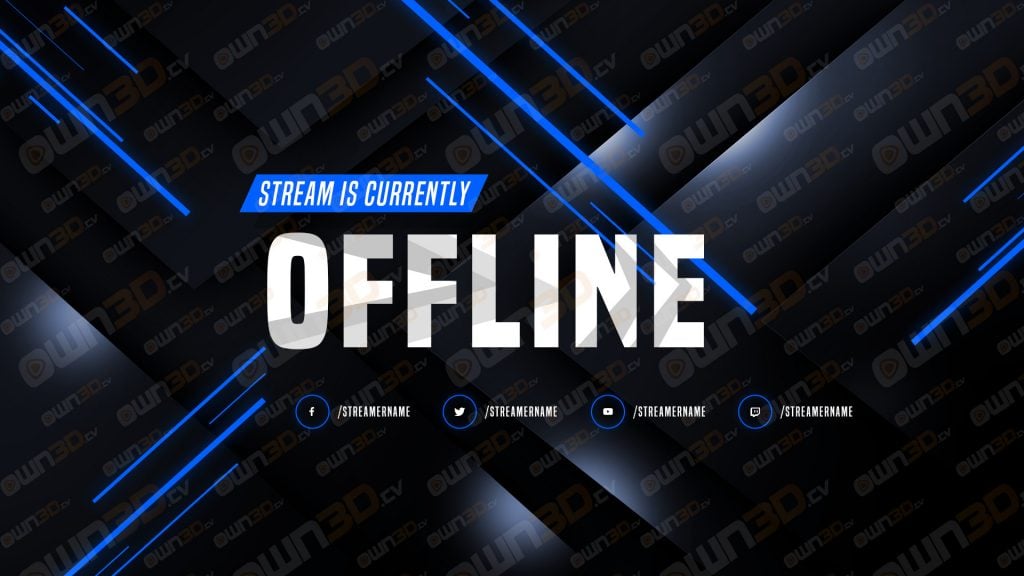 Titan is a sleek-designed Twitch offline banner that comes as part of the Titan banner set. It's a 12-pack that includes a break, starting, editing, and offline banner. Banners come in three-color options. These include yellow, blue, and red. Looking at Titan, one can't help but think of the mythical beings. And we think this banner set stays true to the concept. The font is large and bold, and it's complemented by the color theme you choose. Your banner also comes with social media handles that can be updated and project files (PSD and blanks for updating text on streaming software).
---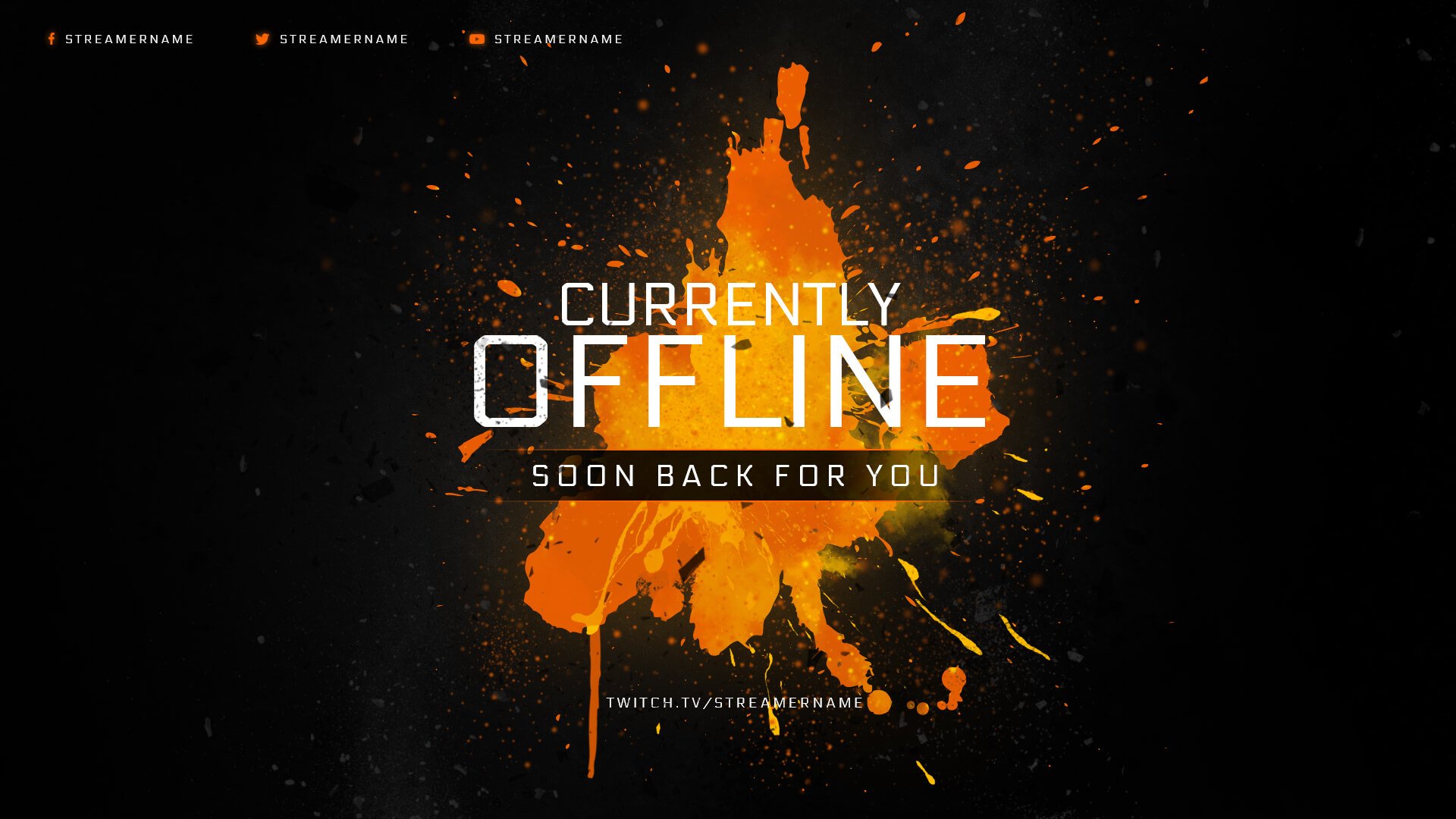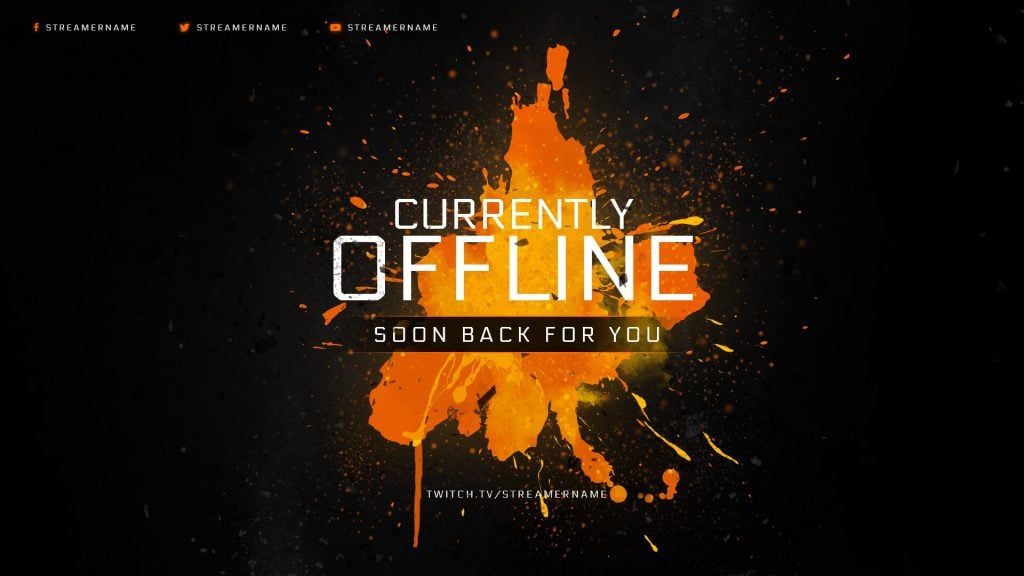 Looking at Ops, it's clear that this offline banner is designed for combat or a first-person shooter gamer. The coloring in the center of the screen is reminiscent of a frag, and the font type screams tactical combat. There's no getting around how bold this banner is, and that's due to the color combination used. The black background accentuates the burnt orange paint, and also makes the white text stand out.
Ops is one of four banners in an intermission banner set designed by Own3d.TV. The banner set includes offline, break, starting, and ending screens. It also comes with project files (in PSD) and JPG files. Own3d.TV also offers blank versions of each banner for you to add text to on your streaming software.
---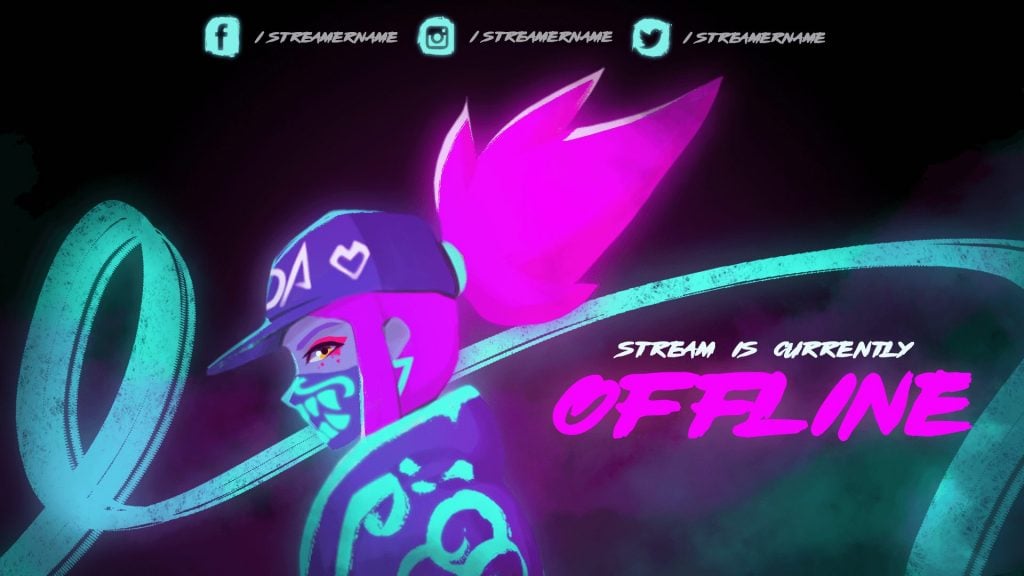 Vivid is one of the most attractive offline banner designs we've come across. The neon colors and sharp edges are hard to miss, and something your viewers will find impressive. While we think the color makes the banner, any gamer will spot the anime character and instantly be drawn to. It also includes social media handle elements that can be updated for your channel, and they are placed at the top of the screen, giving the imagery all the room it needs to wow viewers.
This offline banner comes from an Own3d.TV intermission pack. The pack includes four banners (a break, starting, ending, and offline). The pack comes with Own3d.TV expected combination of files. When purchased, you get all four banners, four blank banner versions (used to add text on top of your streaming software), high-resolution images (1920px X 1080px), and PSD and JPG files.
---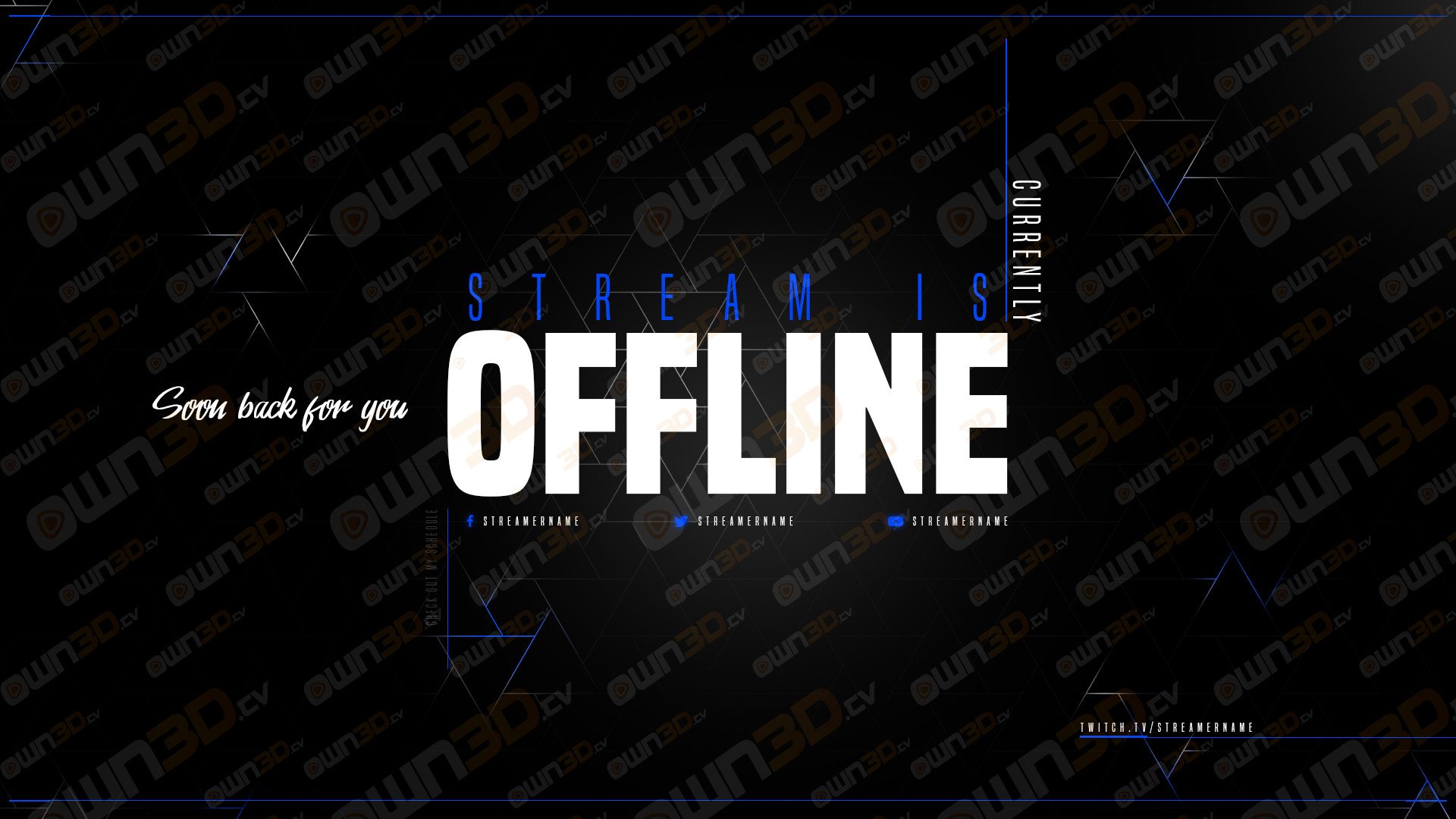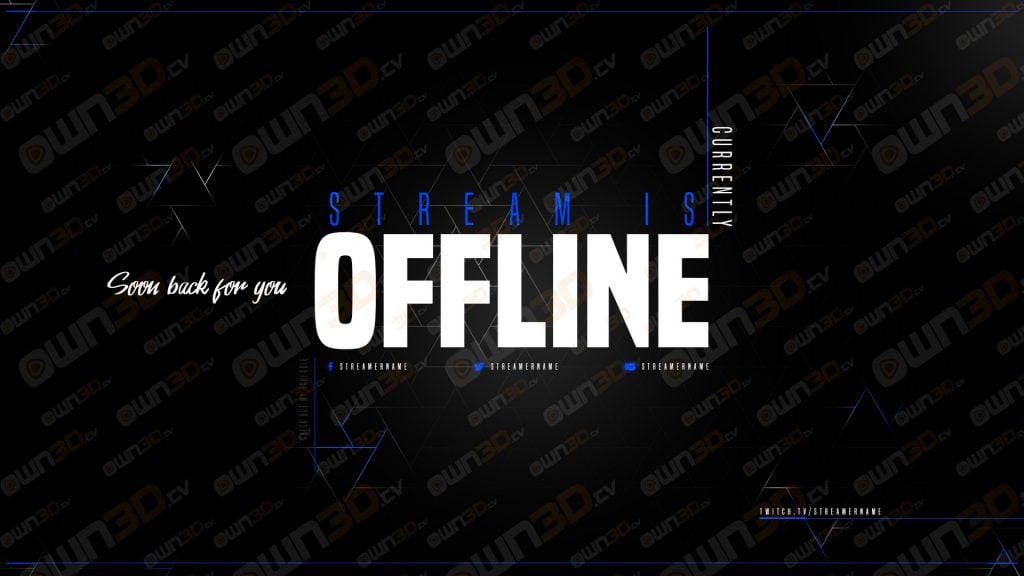 Minimal is from a 12-pack intermission banner set designed by Own3d.TV. It comes with offline, ended, starting and pause banners. While the example image may not appear as minimalistic, that's due to the watermark applied to all banners and overlay. The banner features very few colors and includes combination fonts that give it a unique look. The most obvious design elements that make this banner set work is the black background and strong, bolded text. As an Own3d.TV banner, you get the PSD and JPG files. This offline banner is sold with the pack, and it makes for a good purchase. Should you wish to tweak any design elements, you have access to project files and can easily do so.
---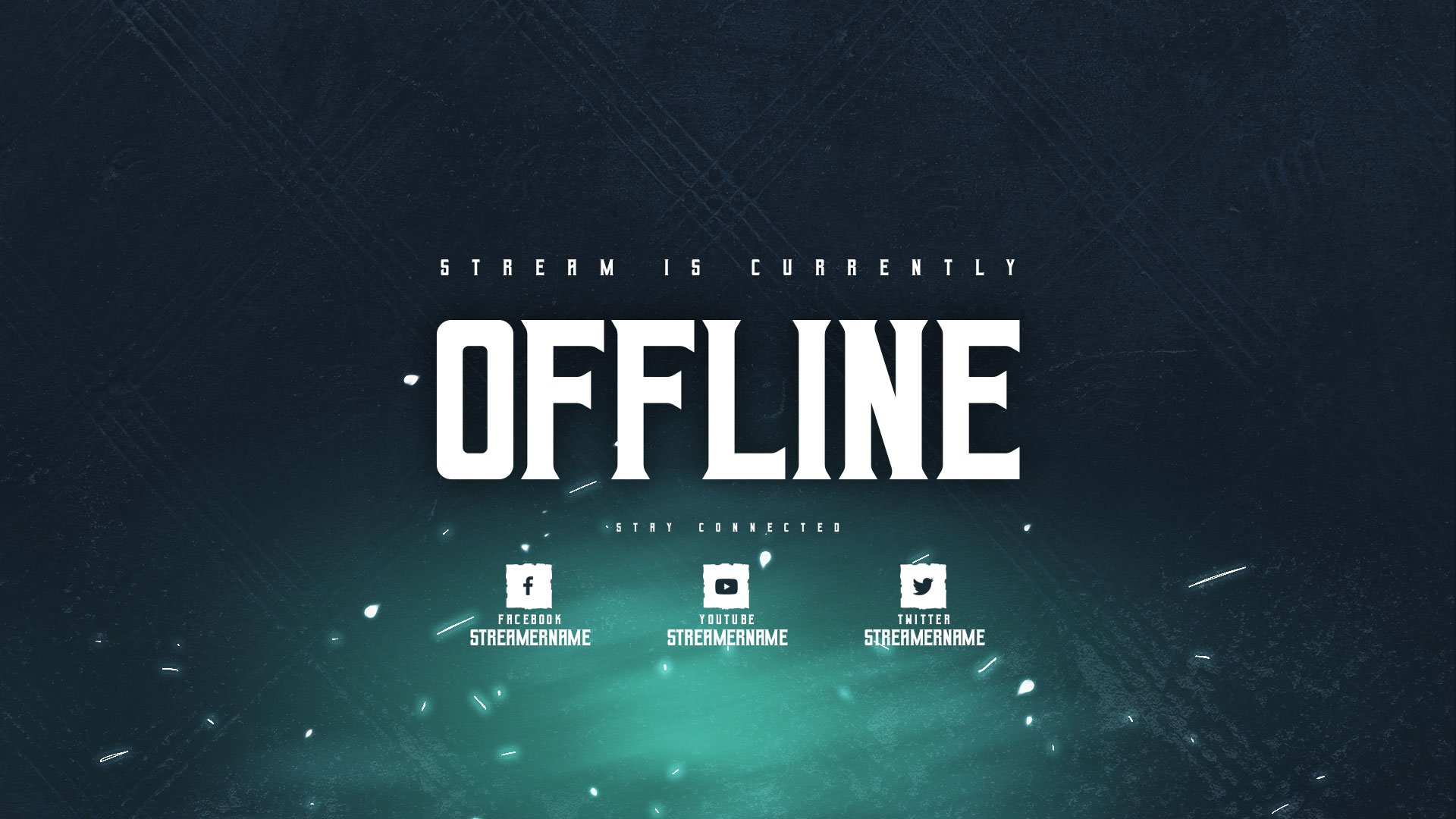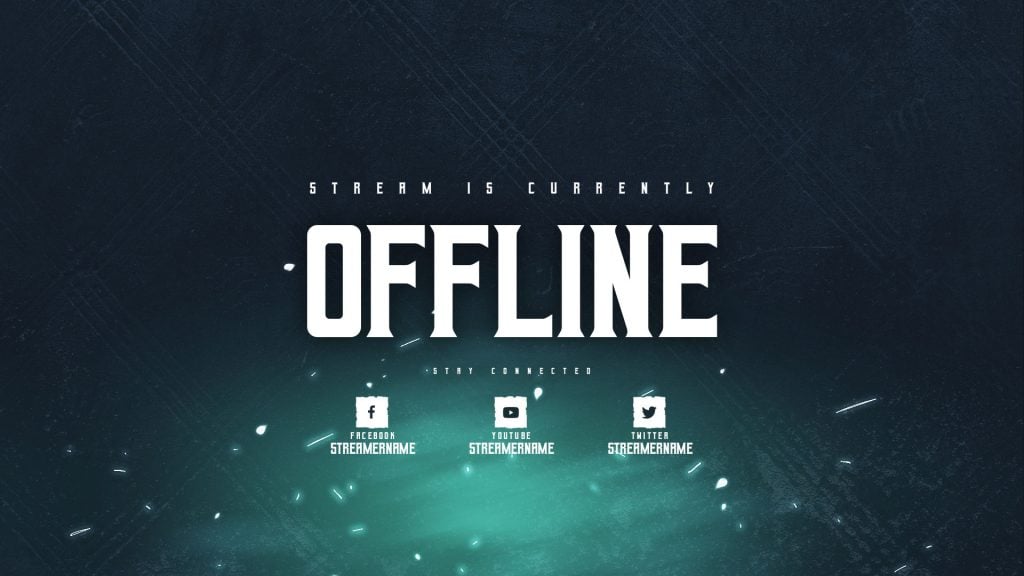 Unique comes from Own3d.TV and is part of a 12-pack intermission banner set. The banner set comes with starting, pause, ending, and offline screen which are available in turquoise, blue and red. The design is sure to catch your attention. Its combination of bolded text signifying the state of your channel, along with social media handles that are perfectly centered on-screen, drawing viewers' attention to each detail. What we like about this banner is the imagery. The color choice of red, blue or turquoise make the banner truly unique, and give it a real gamer look and feel. The banner set comes with PSD and JPG files. It also includes blank versions for editing.
---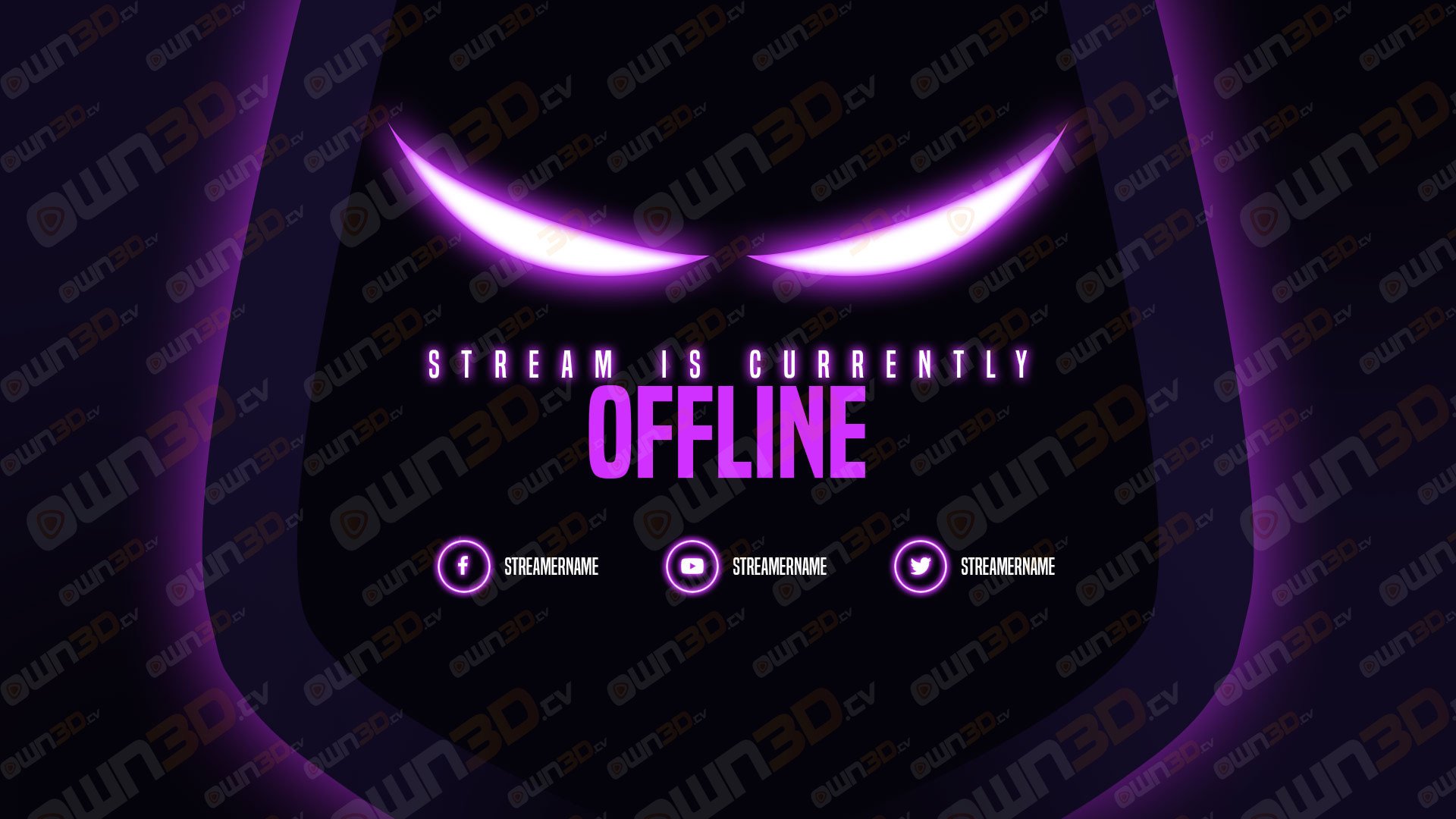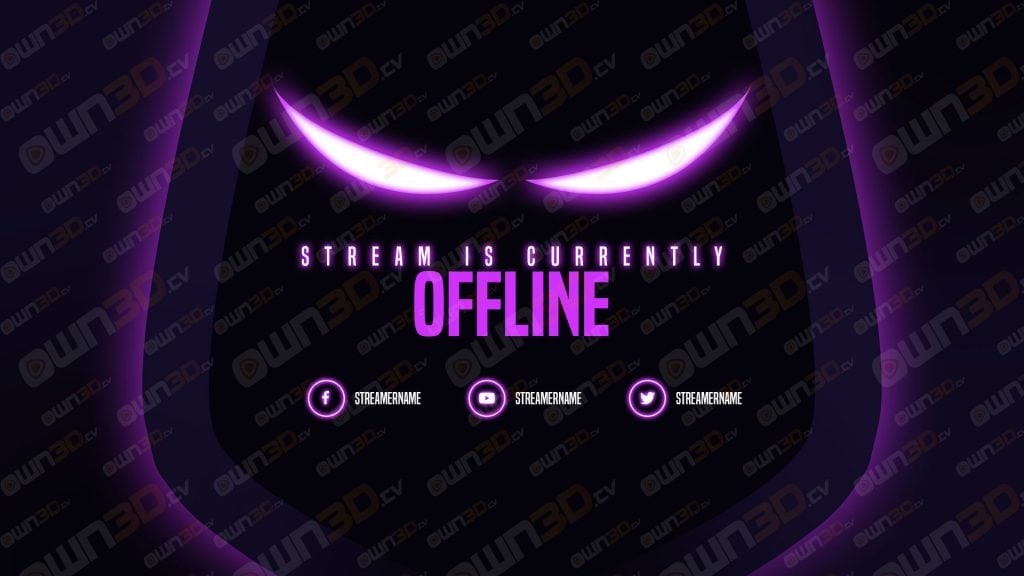 This Raven offline banner template is based on the famous Raven character from the DC Universe. It features Raven's piercing eye shrouded in darkness and surrounded by the popular purple glow she's known for. Raven is one of four banners from an Own3d.TV intermission banner set. Each banner features Raven's eyes giving off a different expression, something viewers will love. It comes with all PSD and JPG files for editing, and four blank versions to add text on top using your streaming software. Banners include a break, starting, and ending, too.
---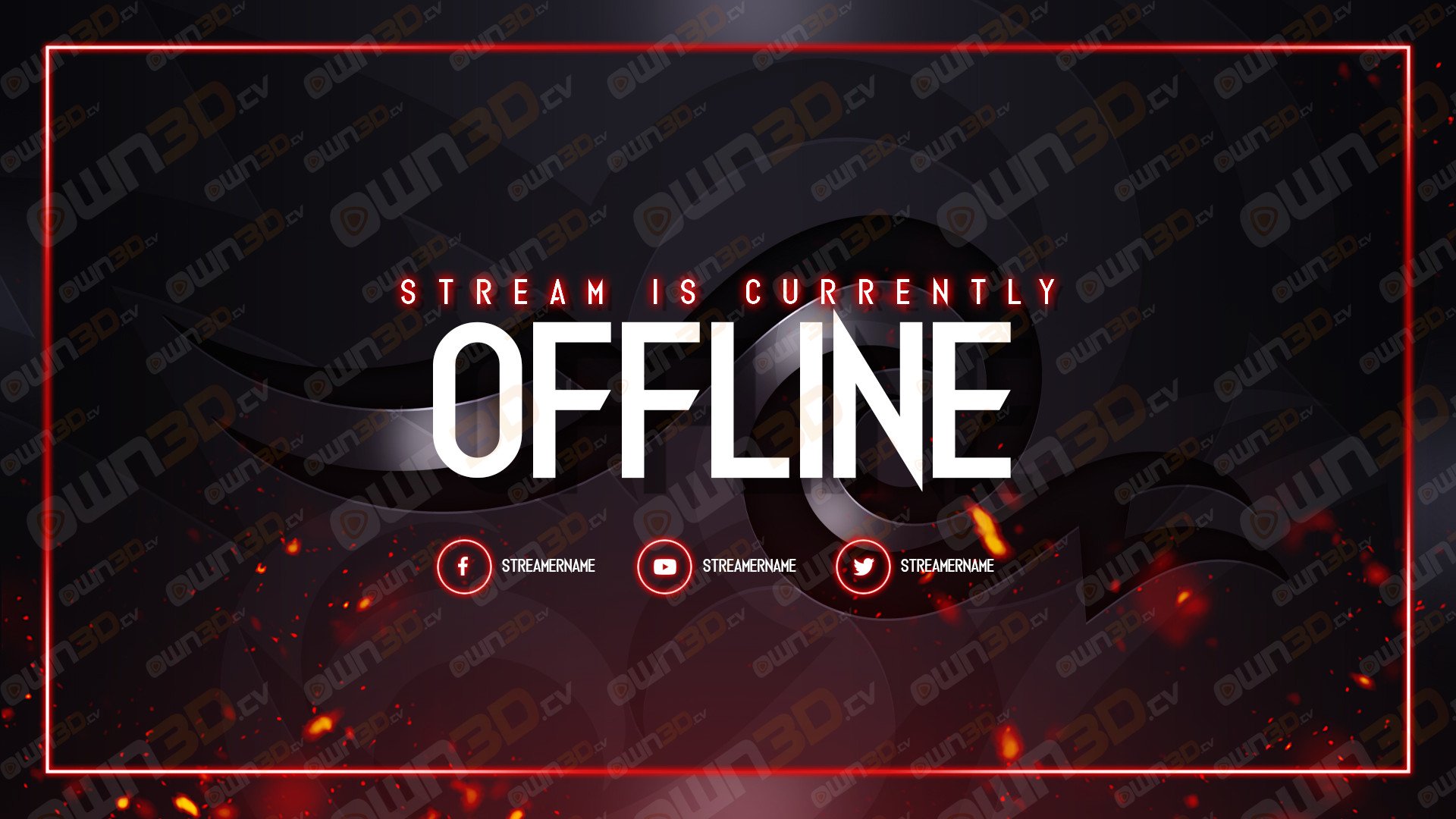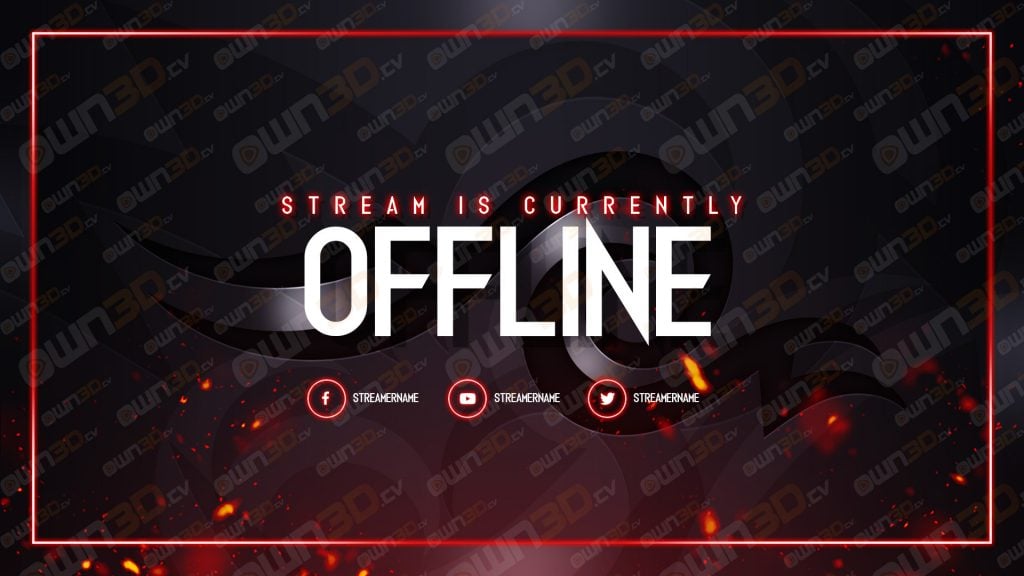 Brave is from Own3d.TV and is part of an animated stream intermission banner set. The banner is undoubtedly hard to miss and features clean lines and a color combination of reds with a touch of flame imagery, hinting at a battle scene. The animation includes a wipe from both the top and bottom of the screen, and this alternates with a left and right screen wipe when the banner is activated. The Brave banner set comes with break, starting and ending banners, all in high resolution. You also get PSD and JPG files, too. Editing is simple, allowing you to add text to on top of the streaming software.
---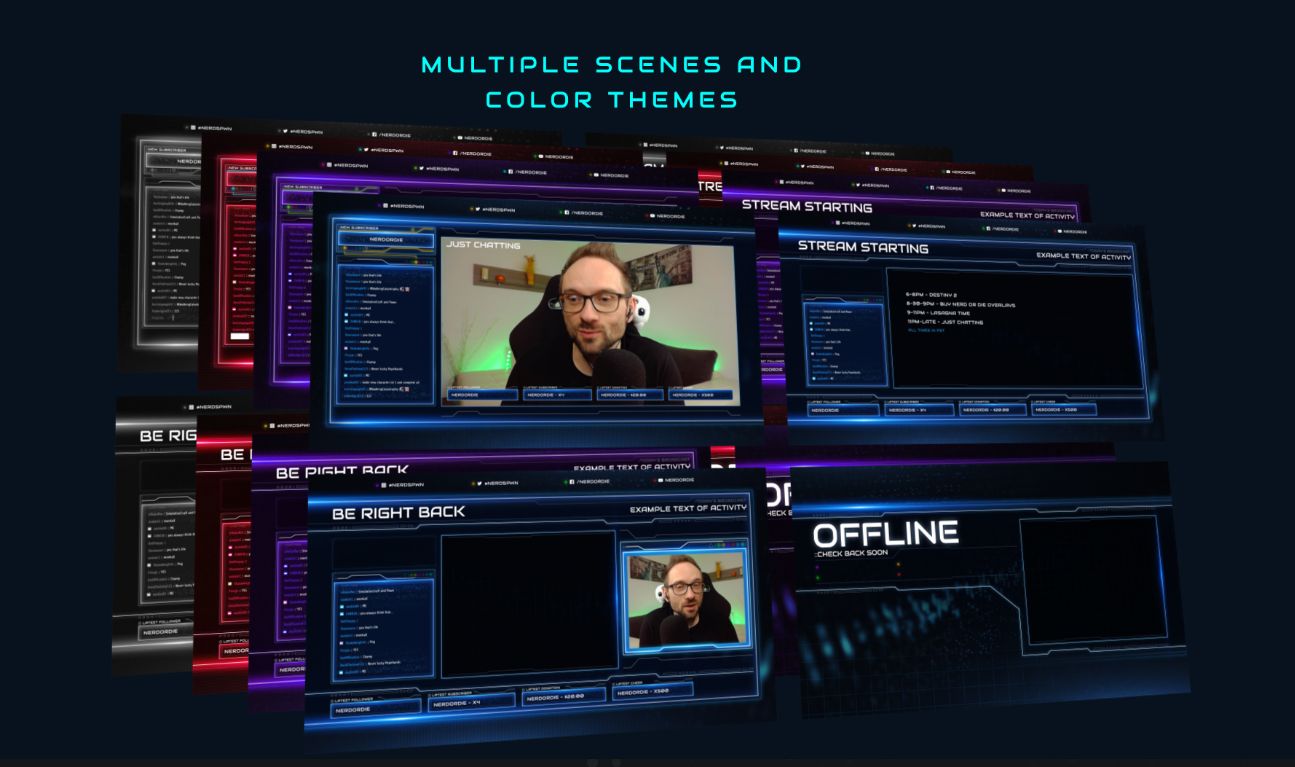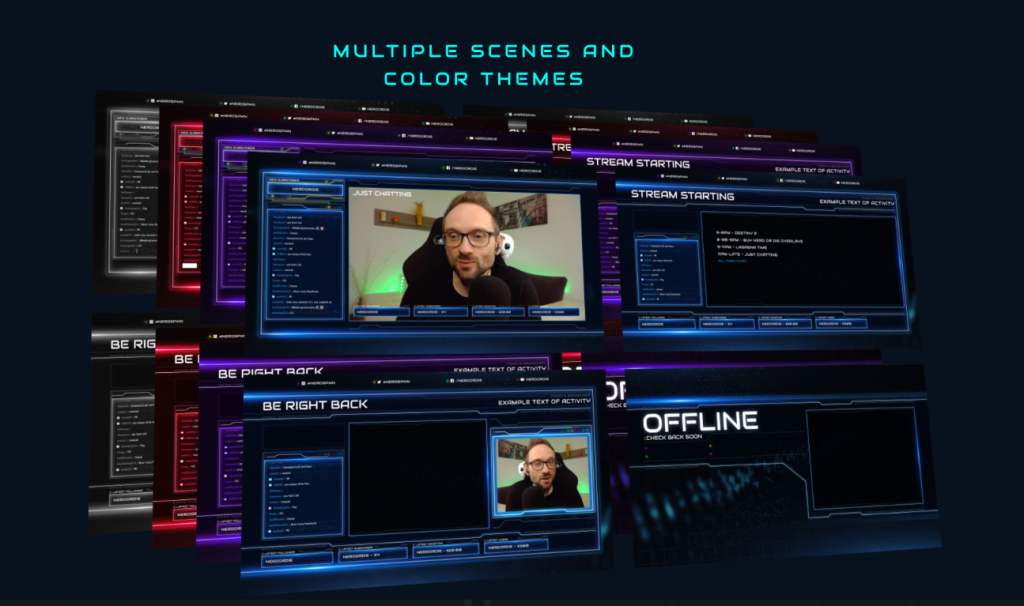 Crypto is a hi-tech-looking offline banner template that features neon-lit borders on black background. Crypto is from the Nerdordie stream package by the same name. This banner is only available as part of the Crypto package. The package comes with animated overlays and an alert package. As with all Nertdordie packages, you get the After Effects project files for further customization.
---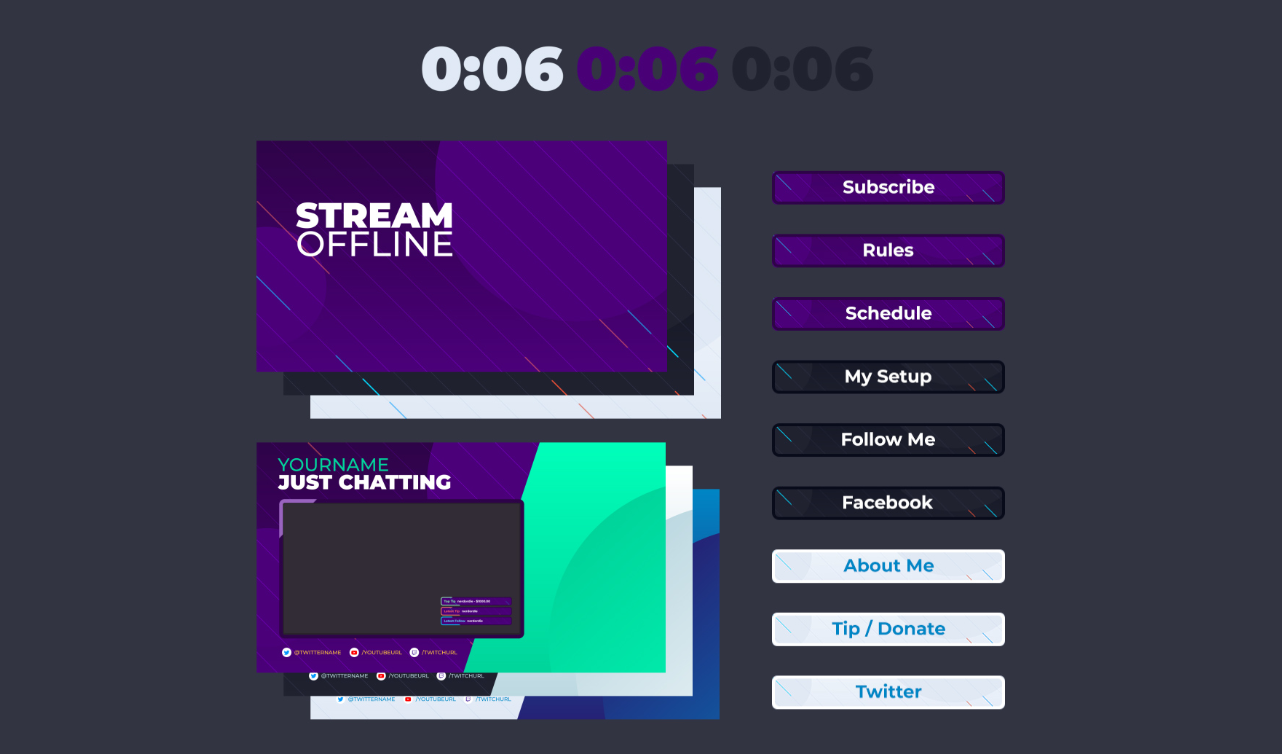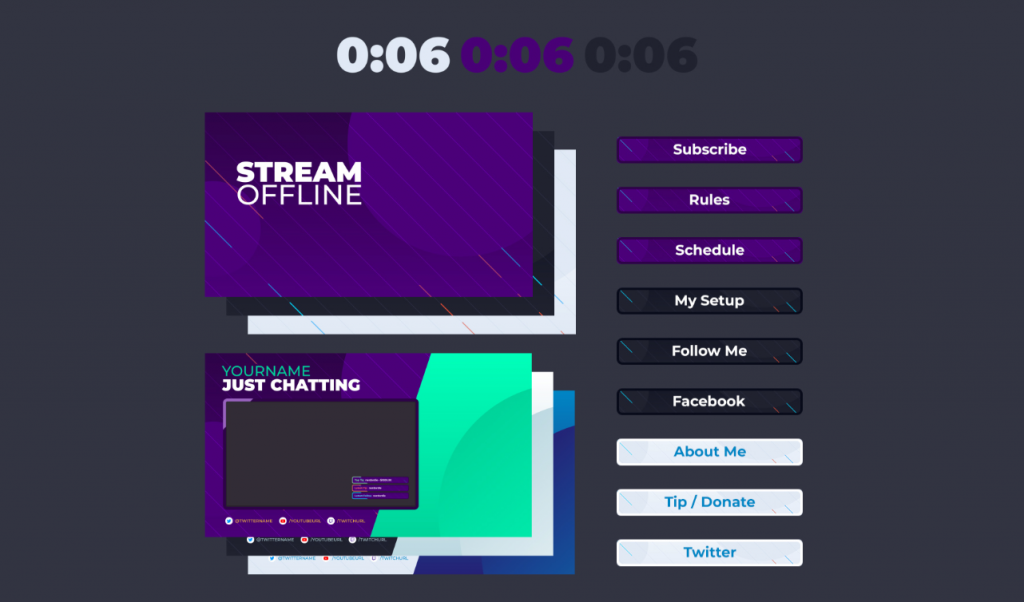 Arcade Pop is an offline template from Nerdordie and the Arcade Pop Stream Package. To get this offline banner, you'll need to purchase the package, which isn't a bad deal. The brilliant color contrast of the green and purple make the stream pack overlays pop, and you're bound to get the attention of viewers everywhere. The offline template is fairly minimalistic. It includes the common offline text, however, can be edited as this package comes with After Effects design files.
---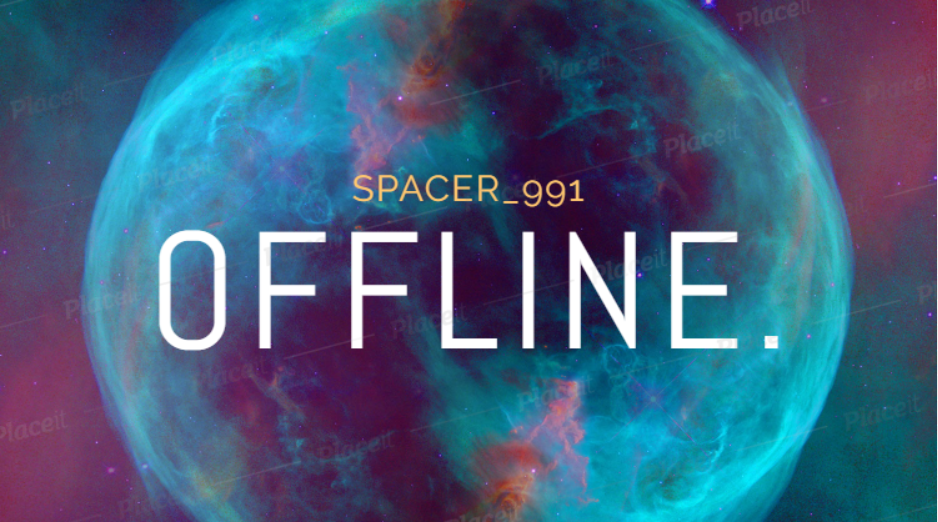 Space is a striking offline template from Placeit. In true Placeit form, all elements on the design can be changed, but we think that isn't necessary. While this design does not include many editable elements on its own, it still looks sophisticated enough to keep viewers mesmerized as they await your return. While it comes with just two editable fields (offline and channel test), you can add more. Streamers typically include their social media handles, which is always a smart idea to help promote your brand and grow your community.
---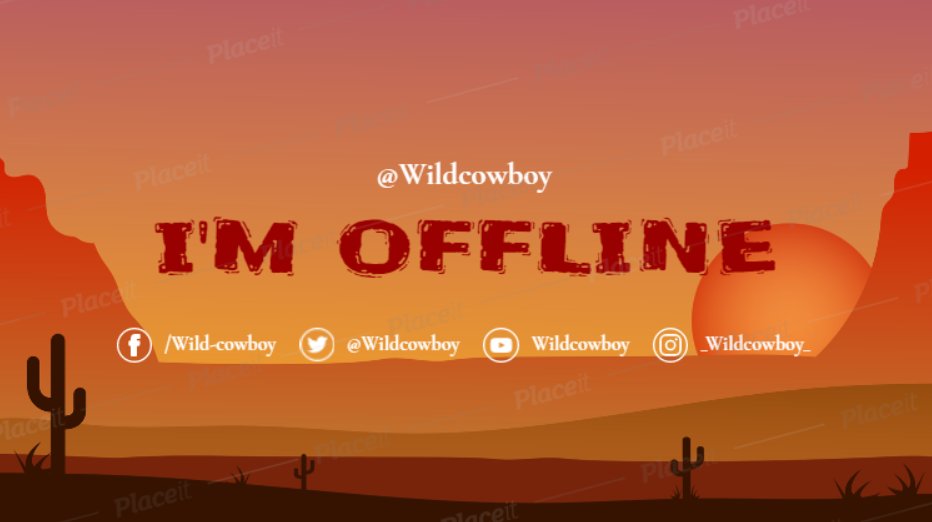 Desert is a warm-looking offline stream template from Placeit. With it, you can edit all elements, including the background. It comes with a collection of backgrounds image options that can be changed using Placeit's template editor, including a few that aren't deserts. The template allows you to add social media handles and your channel name. As a template, these elements can be moved, resized or deleted altogether to create something more custom for your channel. Placeit also gives you the chance to upload your own image as a background.
---
Wrapping up
Twitch offline banners are a must. They make your channel look professional and enhance your profile. If you're looking for templates, give these a go. You can edit almost every element to create something unique for your channel and brand.