VR is an emerging technology that's being used in various industries around the world. It's bringing more compelling experiences not only to brands but also to their audiences. While it used to be associated with gaming, VR has already become a powerful tool for education, collaboration, and enhanced productivity, especially during this pandemic, where studying or working from home has become the norm. It can inspire people and help brands make a lasting impact.
More recently, VR marketing has already made its way to the metaverse. Many virtual influencers are emerging and the face of influencer marketing is already going through significant changes.
As more companies and individuals embrace this new technology, it's starting to warrant attention from marketers and they're exploring how to leverage it to create immersive marketing campaigns that drive results.
VR technology is already making waves. Here are some numbers to prove its steady growth: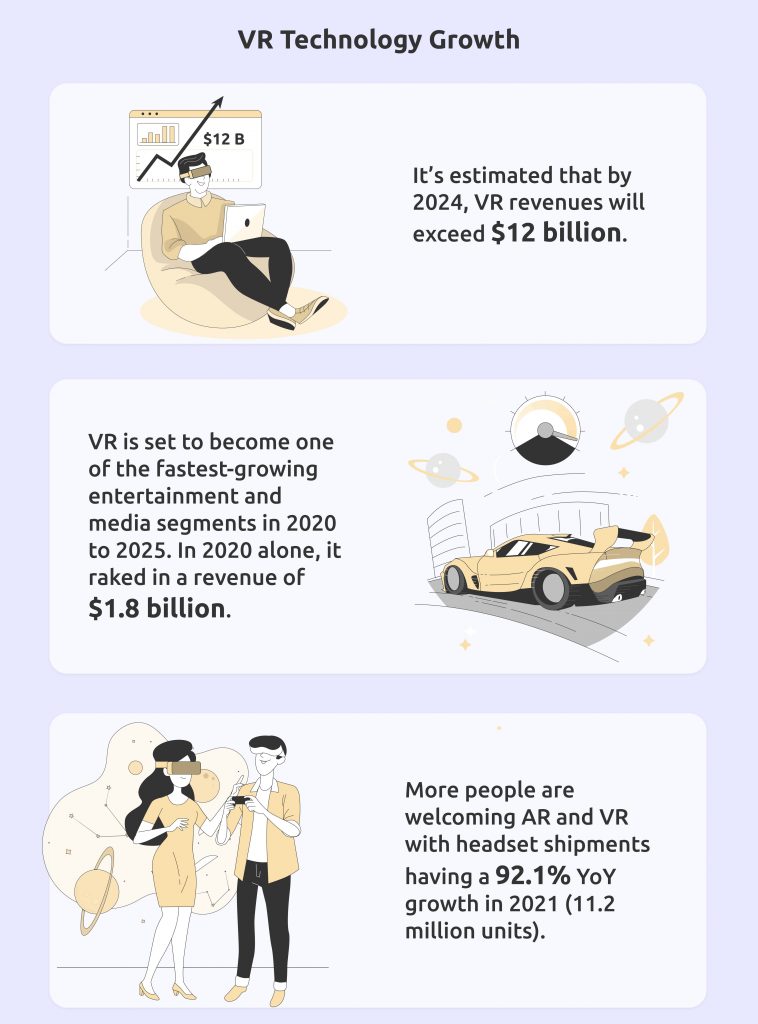 ---
Changing the Marketing Landscape with VR Technology: Top 15 VR Marketing Examples for 2023:
---
How VR is Reshaping the Marketing Industry
VR is used to up audience engagement through immersive digital experiences. From retail to event planning, brands are eager to adopt virtual reality to tell their story and make an impact.
How can marketers use the latest technology to grab their audience's attention and deliver new experiences that can make their engagement efforts more memorable?
When used to enhance marketing strategies, VR can create a lasting impression not only on its users but also on your clients. You'd create more opportunities for enhanced emotional engagement and build campaigns that are easy to execute because VR users can download or access your VR features remotely. Moreover, VR can enhance the productivity of sales teams by minimizing their workload. Using VR, companies can showcase their products or services more effectively without a sales associate having to supervise customers all the time.
However, given that this is still a relatively new piece of technology, using VR for marketing also comes with challenges. Developers and businesses that aren't familiar with the technology may find it difficult to navigate VR software development to create one-of-a-kind marketing campaigns. Additionally, it can be tricky to create meaningful shared experiences for different users.
Despite these challenges, VR proves to be a useful tool in marketing. For example, it can be used in B2B marketing to create more interesting content, organize virtual events like trade shows, and perform market research. In addition to these capabilities, marketers can use VR to create branded content, allow their customers to virtually try on their goods, enhance their marketing campaigns, improve customer service, and highlight the positive impact of their brand initiatives.
---
Top 15 Examples of VR Marketing
How are global enterprises leveraging the power and capabilities of VR technology? Here are some examples of how VR is used in marketing. Hopefully, these would inform and inspire you to look into using VR for your marketing campaigns.
1. New York Times: Using VR Tech for Storytelling
Virtual reality can be a powerful tool for bringing stories to life.
In 2016, The New York Times (NYT), through its partnership with Google, shipped Google Cardboards to their online-only subscribers. Google Cardboard, a disposable VR headset, allowed the publication's digital-only subscribers to watch a VR film entitled Seeking Pluto's Frigid Heart, giving them an intimate look of the dwarf planet. The VR film used computer-generated images to paint a more realistic and more compelling picture of Pluto.
The Times also used Google Cardboard to tell the visual, visceral story of the war's effects on children through an immersive documentary entitled The Displaced, which won the Entertainment Grand Prix at the 2016 Cannes Lions Festival. The Displaced is a multimedia journey that tells the story of three children and how the wars in their respective countries changed their lives.
By using VR technology, The NYT and its partner Vrse.works gave readers an intimate glimpse of the devastation brought about by wars and what it's like to be a child displaced by such tumultuous events.
---
2. GSK: Migraine Experience
Migraines are a debilitating condition that can affect children or teenagers and adults. It can last from a few hours to a few days and can adversely affect a person's daily life.
But what's it really like to experience a migraine? How are they different from normal headaches?
VR technology isn't just used to simulate adventures. It's also used to educate an audience.
GSK launched a virtual reality simulator called the Exedrin Migraine Experience to recreate what it's like to have a migraine. It's giving its audience a look into the lives of individuals who are suffering from this condition and what they're going through. The experience doesn't include the pain that comes with migraines but it does simulate the visual symptoms that come with migraines, such as auras and light sensitivity.
The company uses VR to educate its audience about migraine and to induce empathy for individuals who are suffering from migraine, a condition that can be difficult to explain and understand for non-sufferers.
---
3. Adidas Terrex: Delicatessen
Adidas used VR to give its audience the ultimate—although vicarious—experience of what it's like to climb a mountain. To promote TERREX, the brand's line of outdoor gear, utilized VR to simulate one of the hardest climbs on the Delicatessen route in Punta du Corbi, Corsica.
Through VR headsets, players were able to experience virtually climbing the Delicatessen summit from a climber's point of view. It also helped educate users about best practices in rock climbing while letting them enjoy the realistic outdoor scenery.
Through this VR experience, players can travel to other places and have the chance to do new or challenging activities. Delicatessen created an immersive outdoor experience and gave its audience a clearer idea of a climb's scale and what it entails.
---
4. Thomas Cook: Try Before You Fly
VR is extensively used in the travel and tourism industry to replicate travel experiences.
Thomas Cook, a travel agency based in the UK, launched its Try Before You Fly campaign, allowing users to virtually experience a vacation in select locations such as the US, Greece, Singapore, and Egypt. Using the Samsung Gear VR, potential customers were able to virtually try snorkeling in Sharm-el-Sheik, visiting the pyramids in Egypt, or having a helicopter tour of Manhattan.
Through this campaign, Thomas Cook became the world's first travel company to offer in-store virtual reality experiences to its customers. Furthermore, the campaign led to higher conversion rates for bookings, particularly for travels to New York.
---
5. McDonald's: Happy Goggles
McDonald's has leveraged the power of virtual reality to tap into the interests of its younger audience by using a Happy Meal box and turning it into a VR viewer like the Google Cardboard.
The Happy Goggles are then used to access a fun and educational game called Slope Stars, allowing children to experience virtual reality. With this move, McDonald's has made virtual reality more accessible to the public, as the VR viewer can be made at home by repurposing limited edition Happy Meal boxes.
---
6. Volvo: Virtual Reality Test Drive
Trying out a car and going through a test run can be difficult especially if you don't have a car dealership close to where you live.
Volvo used VR to let users test drive the XC90 using their phone and experience a "weekend escape" via an app. The virtual test drive puts users in the driver's seat and takes them for a ride through a mountain. This enables users to go on a virtual adventure, coupled with an immersive experience that delivers stunning 360-degree landscapes. The technology also allows users to examine the car's interior for themselves using the Google Cardboard.
Best of all, even if users didn't have a Google Cardboard headset, they can still enjoy the app's features.
This campaign led to an increased number of inquiries requesting more information and more than 20,000 app downloads.
---
7. All Nippon Airways: The Room
All Nippon Airways (ANA) harnessed virtual reality to offer its audience a virtual tour of its new business class cabin. This campaign allowed users to experience the new cabin first-hand and learn about its unique features and the expansive space it offers.
Through VR headsets, users could virtually interact with the cabin's features. They can experience the comfort and luxury that the new cabins can offer. They can close cabin doors, change the lighting, and even try ordering food. All in all, The Room provided an immersive and memorable experience to anyone who wanted to learn more about ANA and its new cabin offerings.
---
8. Patrón: The Art of Patrón
Patron, a well-known Tequila company, launched The Art of Patrón, a virtual reality experience that gave its audience an intimate look at how Patrón tequila is crafted.
Using Oculus technology, viewers were transported to the company's distillery in Jalisco, Mexico. Through a bee's perspective, people were able to see the agave fields and journey through the distillery to see the tequila production process, including how it's aged and bottled. Users also got a glimpse of Patrón's hacienda team and had the opportunity to see the sheer amount of attention and effort that goes into each bottle of tequila.
The immersive VR experience is also available through smartphones using a Google Cardboard viewer.
---
9. Lowe's: Holoroom
Imagining what a space could look like after home improvements isn't an easy feat. Lowe's, one of the world's largest home improvement stores, launched a Holoroom, a virtual environment where people can learn new DIY skills and see what a home improvement project will look like.
Using a VR headset, customers can access a design and visualization tool that will help them start a DIY project while being given detailed instructions on how to complete a task. In the Holoroom, users are able to select their preferred designs and learn skills like how to tile a shower. Through this initiative, Lowe's hopes to improve customers' confidence and motivate them to tackle DIY home improvement projects.
Furthermore, the company used the Holoroom to educate its in-store associates to teach them how to use in-store equipment. This gave the associates in-depth knowledge of the equipment and helped improve how they interact with the company's customers.
---
10. Ikea: Ikea Place
Ikea launched IKEA Place, a VR-based app that allows users to virtually place 3D models of its fixtures and furniture in their own homes.
Using true-to-scale models, users can better visualize how a specific piece of furniture would fit in and feel like in their space. The app uses camera-first experiences to help customers select the right pieces for their home based on fit, design, and functionality.
The app is currently available for download on iOS devices.
---
11. L'Oréal Paris: Makeup Genius
Using VR technology, L'Oréal lets customers play with different makeup looks through its Makeup Genius app. The app allows users to virtually try on makeup and explore curated looks. It's also one way to safely test makeup during the pandemic, as users can try out the products without having to go out and visit a store.
The app is easily accessible and works on mobile and desktop devices. With Makeup Genius, users can get personalized recommendations and receive alerts for new L'Oréal products.
---
12. Merrell: Trailscape
Merrell's Trailscape transports users to a challenging terrain and allows them to go on a mountain hike. It uses motion capture to deliver immersive 4D multi-sensory experiences while navigating a virtual world.
Through an Oculus Rift headset, players can get lost in a virtual terrain that offers tactile elements like rope walkways and a range of mini-crises like landslides. Merrell released Trailscape to support the launch of the brand's Capra hiking boots. With this campaign, Merrell tapped into the interests of its adventurous audience, bringing novel experiences closer to them.
---
13. Topshop: VR Catwalk Show
Donning Oculus Rift VR headsets, fashion enthusiasts were transported to the front row of Topshop's AW14 show during the London Fashion Week. Using the headset, shoppers accessed a 360-degree virtual world complete with a live runway feed and backstage passes.
Partnering with Inition UK, Topshop gave their customers the opportunity to get a virtual seat and experience the show in real-time, allowing them to look at the models and check out the celebrity attendees. The campaign's goal was to bring the brand's London Fashion week show in front of a larger audience.
---
14. Matterport: Virtual Real Estate Tours
The real estate industry has capitalized on virtual reality technology to reinvent how potential buyers can see a property and make them feel as if they're actually occupying the space being shown.
Matterport uses 3D virtual tours to provide clients with a realistic and immersive 360-degree view of a space. With Matterport, real estate agents can easily create engaging virtual guided tours that can potentially help them close more deals. Furthermore, by being able to provide interactive tours, agents can gain a competitive edge.
---
15. London Natural History Museum: Virtual Museum
The London Natural History Museum (NHM) has utilized VR to create interactive educational content. Using an online tool that operates using 3D technology, the NHM lets users explore the Hintze Hall, Darwin Centre, and Earth Hall from the comfort of their homes.
You can start a virtual self-guided tour to view the galleries and access audio guides narrated by acclaimed naturalist Sir David Attenborough. Through Google Arts and Culture, you can view the Wonder of Nature exhibition, learn more about the life of Hope, a blue whale, and explore various museum highlights.
---
Bringing Marketing to the Future with VR
Virtual reality and other digital immersive technologies are changing the way we approach and perceive brands. Various industries, like healthcare, tourism, and real estate, are taking advantage of the unique experiences that these technologies can deliver to create more compelling marketing campaigns.
The world of VR brings about unlimited possibilities, from transporting us to remote places to allowing us to virtually walk a mile in someone else's shoes. It's exciting to see how far it'll go and what new experiences such innovations can bring in the near future.
Frequently Asked Questions
What is extended reality?
Extended reality (XR) is an umbrella term for immersive technologies that blend virtual worlds with real-world environments, creating immersive experiences for users.
What are the different types of digital realities?
There are three main types of digital realities. These are:
Augmented reality

(AR) – virtual information (text, images, objects) is overlaid on real-world settings. AR is commonly used in phone apps and can be accessed using AR glasses or smart devices (phones or tablets). App filters are an example of AR application in the real world.

Virtual reality

(VR) – delivers an immersive experience by creating a digital environment. A VR experience can be accessed using VR headsets and is commonly used for training and education in various industries.

Mixed reality

(MR) – Also known as hybrid reality, MR blends digital elements and their real-world counterparts in such a way that allows users to interact with the digital elements. To experience MR, you need an MR headset or a smartphone camera.
What industries use VR?
There are several industries that are using or benefitting from the use of VR. These include:
Education

Healthcare

Real estate

Manufacturing

Tourism

Gaming

Automotive

Logistics

Construction

Retail