Influencer Marketing is fast becoming a vital aspect of any marketing strategy. Its adaptability makes it suitable for every business from well-known brands to startups, as well as for seamlessly linking online and live events. This increased involvement of Influencers in marketing strategies has, however, led to several examples of these campaigns going wrong. When brands have been seduced by follower numbers alone, and have not chosen an Influencer with real affinity for their brand image and campaign. The Pepsi debacle is the latest example and is explored in our previous article. At Buzzoole our aim has always been to connect great brands with compatible Influencers, as without this kinship and co-creative atmosphere Influencer campaigns can result in failure and poor word of mouth. We explore below examples of what happens when brands ignore the need for suitable Influencers for their campaigns, and get star-struck by numbers.
---
Summary: Quick Jump Menu
---
1. Inconsistency
Microsoft were convinced they had hit the jackpot (or rather paid it) with a recommendation from Oprah Winfrey, however her real affections were betrayed when her tweet extolling the virtues of the new Microsoft Surface were sent from Twitter for iPad. According to Forbes, Microsoft spent an estimated $1.5 to $1.8 billion on a marketing campaign to roll out Windows 8, the biggest product launch in the industry's history. The motives behind this particular campaign are fairly clear, an endorsement from Oprah Winfrey for that winning seal of approval as well as reaching beyond a tech-focused audience, however these aims fell flat. Instead of giving the tech company a strong endorsement for their new product, it very publicly raised issues with it. For instance that, unlike for the iPad, there is not a Twitter App for the Surface (at least at the time of Oprah Winfrey's Tweets). Further, it showed that their advocate, and top influential Influencer, was more comfortable - or so it seems - with their competitor. Maybe Apple will be considering Oprah for their next campaign.
---
2. Controversy
Influencer Matteo Achilli, founder of online platform Egomnia and once dubbed Italy's Mark Zuckerberg, was chosen by fashion brand Manuel Ritz to promote their brand on social media and included in part of their 2016 #ManuelRitzClan campaign due to the renewed attention following the release of the film 'The Startup'. Achilli launched the beta version of his social network, promoted as an alternative to LinkedIn and Facebook, in 2012 while still at Bocconi University in Milan. His 19-year-old entrepreneurial spirit caught the attention of the Italian media and later received international attention, which led to the film based on his life 'The Startup'. However, this film led to journalists to do some digging on the now five-year-old company, and a backlash ensued against the inaccuracy and over-dramatisation of the over-hyped potential of Achilli and his company. This ensuing controversy surrounding their chosen Influencer caused a negative backlash for Manuel Ritz. Matteo Pogliani's research shows that this press did not translate to positive engagement for their campaign.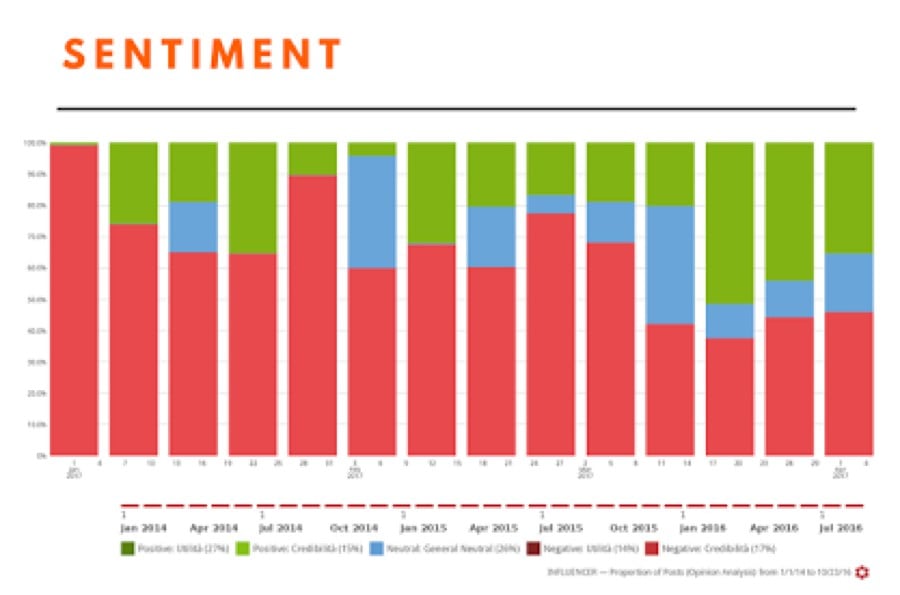 If you choose a top, well-known Influencer to be the face of your brand - make sure you are happy with being associated with them through thick and thin. Remember that with this close collaboration, their controversies become yours. In the end, Manuel Ritz's top Influencer provided more risks than benefits and he did not add positively to their Influencer Marketing campaign. Remember to delve into the stats, and not assume news headlines will bring your company sales.
---
3. Missing the Facts
Diclegis did not choose an Influencer suitable to their brand when they chose a top reality star for their Influencer Marketing campaign. Instead of long-tail Influencers discussing their real experiences of the product, we got a posed photo and a caption that missed the medical facts. This is an example of where the campaign brief steps in. It is best to advise your Influencer to maintain tone of voice, but ensure details (such as medical side effects) are included. Kardashian's post about Diclegis, a treatment for morning sickness, did not include complete medical information which is further than a bad campaign, it's unethical advertising and medical practice. A health focused Influencer would have written a more re-assuring post due to their expertise, expertise that would also have prevented the absence of important medical information.
---
4. Brand and Influencer Affinity
Volvo are also facing the awkward consequences of partnering with an Influencer who does not suit their brand image. While it is great for a brand to reach out to those beyond their traditional audience in marketing, it is a difficult aim to achieve. An Influencer is meant to bridge this gap, not enforce it as the Instagram page of Chriselle Lim reveals only too well.
Stunning photo after stunning photo is interrupted by clearly staged and sponsored posts arranged to show off the Volvo in all its glory. It is noticeable that each photo includes a full-view of the Volvo - hardly a natural shot. The copy on these posts is too focused on Volvo's product image, and not Lim's style. This is the opposite of the 'co-creation' that is what makes word of mouth campaigns great. Other sponsored posts on Lim's feed fit seamlessly with her other content, and therefore in general are received positively by her audience.
Another example where the match was just not right is Gap with Sarah Jessica Parker, for campaigns from 2004 until 2005. Parker is best known for her role as fashion icon in the Sex and the City series, which flies in the face of Gap's image of simple quality. This lack of brand affinity did not help Gap's declining sales or add positively to their brand image.
Further, sometimes these ambassadors that lack affinity may be involuntary, such as the aptly named 'The Situation' - Mike from The Jersey Shore. After the reality star was constantly featured in their clothing, Abercrombie and Fitch offered him money to stop wearing their clothes. This shows the power of an Influencer relationship, and the lengths brands will go to to avoid an ambassador that lacks affinity with their image - even if it is an unofficial one. Definitely a 'situation' for the Abercrombie and Fitch brand.
---
5. Influencer Authenticity
The infamous Scott Disick Instagram photo is an example of how not to be influential online. The Instagram star posted an image of him with his BooTea Shake, with a caption including the instructions 'Here you go, at 4pm est, write the below' and then the rest of the brand orientated copy. Due to this mistake, the post did get a lot of traction, and cynically this may have been the idea, but more likely this was an embarrassing mistake for Influencer and brand alike. It revealed the machinery behind an already clunky post, and avoids the key benefit of Influencer Marketing - co-creation for engaging copy.
In which Scott Disick copied and pasted the email from the skinny tea marketing team onto his Instagram caption pic.twitter.com/ocVdxi4jaZ

— its me frankie (@frankiegreek) May 19, 2016
Even Burger King have learned that getting a trusted (albeit A.I.) voice to parrot your marketing mantra verbatim will not be greeted well. Great Influencer Marketing is not just a case of getting a popular online persona to post and boast about your product. Afterall, from the wise words of Donald Draper: "Endorsement is lazy". Instead, it takes time and effort to create a cohesive campaign with suitable Influencers that will enhance your brand image and awareness.
---