Although most consumers who go to Amazon think they are buying items from the eCommerce giant, Amazon has over 1.9 million partners worldwide who use Amazon as a marketplace to sell their goods. However, most aren't manufacturers or creators producing the goods themselves. Instead, most Amazon sellers need to find stock to sell through other means. As a result, one of the most popular ways you can operate on the platform is to find wholesale suppliers for your Amazon business.
According to Amazon, a wholesaler cannot legally speak to you without verifying your business license and tax identification number. If you don't yet have these, you will need to research the necessary process in your country to obtain them before approaching potential wholesaler suppliers.
---
How to Find Wholesale Suppliers for Your Amazon Business:
---
Ways to Earn Money on Amazon
In How to Make Money on Amazon in 2023, we found ten ways to invest and earn money on Amazon: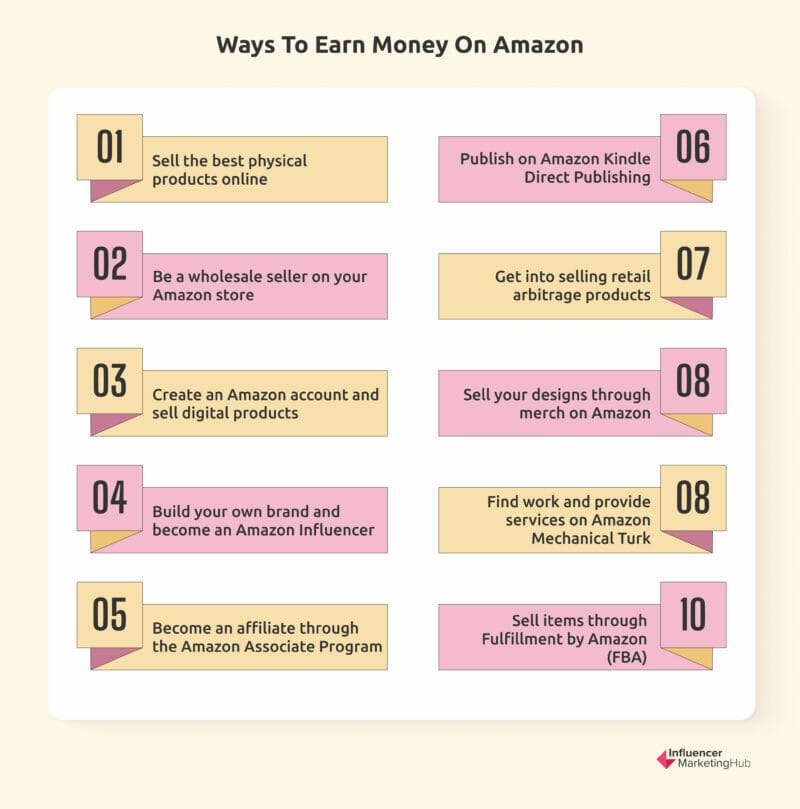 Unless you intend to manufacture or create original products or attempt some form of retail/online arbitrage, most Amazon sellers tend to purchase stock from wholesale suppliers to resell. This can lead to intense competition when many others do the same, so you must find a way to differentiate your products or customer service from everybody else.
---
What is a Wholesale Supplier?
Before we go any further, we should clarify what we mean by wholesale suppliers. They have always been in the middle of the traditional retail model. The standard retail model has three steps:
Manufacturers/producers – the businesses that create goods

Wholesalers – the middlemen/intermediaries between manufacturers and retailers

Retailers – the companies that sell goods to the end consumers
Nowadays, you will find variations of this model, and some producers sell directly to retailers or consumers. However, you will still find many wholesalers willing to sell to retailers, both online and in traditional brick-and-mortar stores.
Wholesale suppliers buy goods directly from manufacturers in bulk and typically sell them to retailers (including operators of Amazon stores) in smaller quantities for a profit. Retailers, in turn, sell in even smaller amounts (often single items) to consumers.
Manufacturers like this traditional model because it reduces the level of marketing they have to do. They only have to promote their products to a few wholesaling customers rather than every possible retailer (and in a place like Amazon, that could potentially mean a considerable number of stores), never mind having the hassle of selling their products directly to consumers.
Often wholesalers negotiate significant discounts, and even exclusive product licenses, with manufacturers to ensure that smaller retailers or consumers don't try to bypass them and go direct to the producers.
Like any other retailer, Amazon sellers often have the choice to repackage the products they buy from the wholesalers or attempt to resell them as they are, but in smaller quantities
Everybody involved in the buying and selling process expects a cut for their efforts. Therefore, the more parties involved, the greater the markups added to the original cost price of the goods, and the more the end consumer will have to pay.
---
Advantages of Wholesaling on Amazon
There are many selling models that sellers can follow on Amazon. The six most popular models are: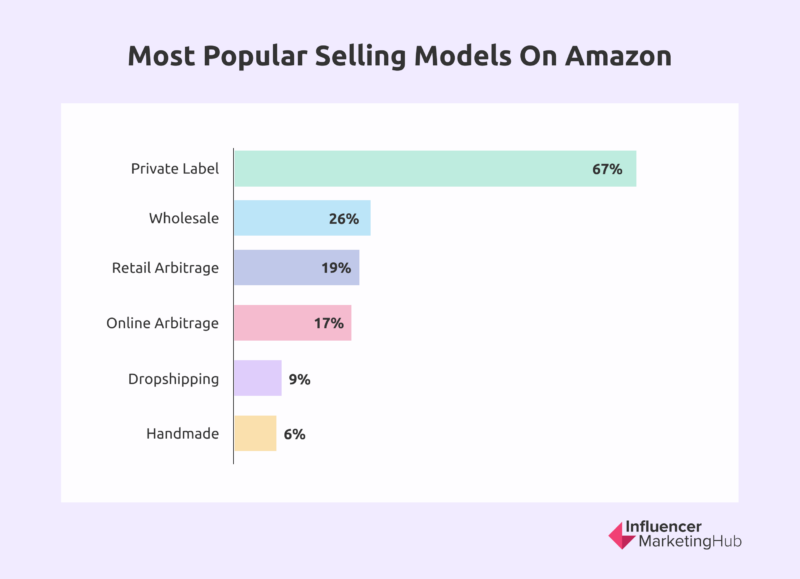 Note that some Amazon sellers use more than one model; hence the above totals add up to more than 100%. Also, there is some overlap between the models. For example, many Amazon sellers who use dropshipping also use wholesalers. Also, sometimes you might negotiate with wholesalers for private label products rather than with the manufacturers directly.
Purchasing and reselling products can be a lucrative income stream for many Amazon sellers. First, however, you must ensure you buy from a reputable wholesale business. Don't just opt for whoever is advertising the lowest prices for products you could sell.
Another advantage of reselling wholesaling products is that you are more likely to find repeat supplies than if you engage in some form of retail or online arbitrage (buying items cheaply from other retailers or online and reselling them as your own). Retailers and other online sellers are far more likely to run out of stock than distributors handling more significant quantities of a product line.
---
Steps to Consider When Sourcing Wholesale Suppliers for Your Amazon Business
While Amazon has no problem with you sourcing products from wholesale suppliers, you need to be careful if you want to sell as a wholesaler on Amazon's platform. Selling bulk items at a wholesale discount is not allowed in Amazon stores.
However, if you are thinking about following the wholesale model on Amazon to obtain resalable stock, you would typically go through the following steps.
1. Decide on the General Type of Product You Want to Sell
The first step to sourcing wholesale suppliers is deciding the types of goods you intend to sell on Amazon. Do you want to focus on one or a few niche products or brands, or would you prefer to market a variety of products? You may already sell products on or off Amazon and be looking for complementary products to add to your range.
We look more closely at finding a suitable product niche in our Guide to Selling on Amazon. There we stress the importance of obtaining sufficient product knowledge to offer winning products to your customers. This is particularly important if you opt for Fulfillment by Merchant (FBM), where you are responsible for providing all the customer service to the consumers who buy your goods. If you don't have in-depth knowledge of the products you'll sell, obtaining some samples is advisable before you commit to selling them through your Amazon store.
2. Either Look Through Catalogs from Potential Suppliers OR Select Your Preferred Product Type and Look for Somebody Supplying It
Once you have a general idea of the products you want to sell, you can look through catalogs and online listings from potential suppliers. Although you may still find a few old-style printed catalogs, nowadays, you will find many more goods online. You may have to do a Google search to find what you want.
If you really have no idea what you want to sell, you could do this stage first to give yourself inspiration for suitable product types.
You will need to look for the minimum order size and any other supplier requirements. You need to be able to buy a sufficient quantity to ensure you can meet your orders, but not so much that you are swamped by unsold inventory you can't afford.
Sometimes, however, the opposite approach may work better, particularly if you already know the product type you want to sell. Here, you search for wholesale suppliers of the intended product category. You might begin this process by looking at the types of goods that appear in Amazon's Best Sellers list and trying to source similar products yourself. It would be worth doing an Amazon product search for that item (as your potential customer would) to see how many alternatives pop up in Amazon search results. There is little point in selling a popular product line if there are multiple pages of similar products unless you can afford to bid high for Amazon PPC ads.
3. Consider Logistics and the Fulfillment Models to Follow
If you're selling on Amazon, you will need to think very carefully about the logistics of moving stock from wholesaler suppliers to you and then onto your customers. You will need to decide whether to use Fulfillment by Merchant (FBM) or Fulfillment by Amazon (FBA). With FBM, you are responsible for dealing with your inventory – storing, picking, packing, and delivering. You are also responsible for customer service. With FBA, however, you pay Amazon to take care of most of these details.
However, even if you've opted for FBA, you will still have to organize the purchase of inventory from your suppliers. Therefore, you need to ensure that potential suppliers have systems in place to provide merchandise when you need it and can adjust stock levels quickly at peak sales times.
There is one FBM situation where you don't have to worry about handling inventory at all, however. You can outsource the procuring, storing, and shipping products to the supplier when using dropshipping. For example, when a customer places an order, you send the order to the dropshipper and then inform your customer that the products are on the way. You can then leave it up to the dropshipper to fulfill the order. Some dropshippers take responsibility for customer service, too, although that will vary depending on the supplier's policy.
4. Research Costs and Fees
The last thing you need after you've signed a contract with a wholesale supplier is for them to send you an unexpected bill for hidden costs. So, read the fine print and determine each supplier's costs and fees. If it isn't apparent from their printed information or website, ask before you commit to anything. You need to know everything relating to cost per unit, minimum order quantities, discounts, membership fees, or anything that will affect the total amount you will have to pay.
Many wholesalers offer discounts when you purchase over a certain amount. So, you will have to weigh this up with the likelihood of you selling the greater quantity and any extra storage costs you may face accordingly.
5. Research the Reliability of Potential Wholesale Suppliers, Particularly Concerning Product Quality
Unfortunately, not all suppliers are equal – even if they are wholesaling identical goods. And if you sell online via your Amazon store, you will probably have to pay a reasonable sum upfront. What happens if the products are of poor quality and customers start returning them? Can you, in turn, return faulty products to the supplier for a refund?
Nowadays, you will find many online reviews for potential suppliers. Take time to read these and check that they have positive ratings. If you're likely to spend a considerable amount, you might even want to contact past customers to check whether they genuinely had a positive experience. In particular, look for complaints about shoddy products and poor customer service.
---
Where to Find Wholesale Suppliers for Your Amazon Store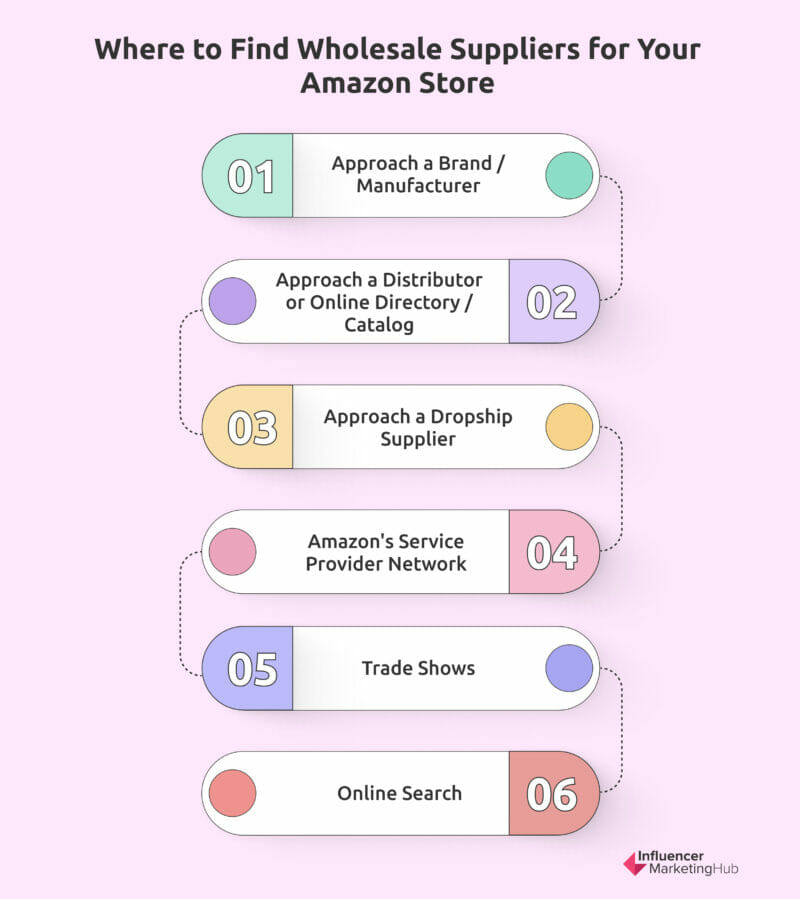 1. Approach a Brand / Manufacturer
You might be able to approach a brand/manufacturer directly to gain stock for your store. In this case, you're technically missing out on the wholesaler part of the chain, as the brand would be wholesaling its products directly.
Sometimes, brands set official policies regarding who can resell their stock. You will have to work through their requirements to gain approval if that's the case. Amazon may ask to see the necessary paperwork to ensure you are a legitimate seller. Also, Amazon will want to ensure that you aren't attempting to sell counterfeit goods through their platform, making false claims about their authenticity.
You will probably find this easier to achieve with smaller brands, who are generally more likely to communicate with small sellers than large multinational brands. For example, it is improbable that you can sell iPhones in your Amazon store by approaching Apple directly.
One way to find suitable products is to look for items from relatively unknown brands that already sell well on Amazon. Once you have a list of potential brands, search for their contact details and website in Google. Then, reach out to them to establish their requirements for you to set up a wholesale account.
2. Approach a Distributor or Online Directory / Catalog
Many brands appoint official distributors or importers for their products. They may be the only companies permitted to wholesale the brand's products in a country.
In other situations, distributors collate catalogs of products they will supply without exclusive rights. As a result, you may find several distributors supplying the same products in catalogs or online. In that case, you should compare their prices and selling conditions.
Often you can find a local distributor for a product that interests you, meaning that you don't have to concern yourself with importing the product. You may feel more comfortable paying for a shipment of inventory from a local distributor than from an unknown company in China.
Even eBay now acts as a leading wholesale supplier for many product categories. Other known retail brands, such as Costco, have wholesale divisions too.
3. Approach a Dropship Supplier
As we mentioned above, dropshipping is another way to purchase and resell goods through your Amazon store and other online channels. You can find many dropshipping distributors online through a simple Google search. For example, Wholesale2b lists over 1 million dropship products. In addition, they offer dropship integrations for managing and processing your orders with 100+ suppliers, making it easy to import products to your existing eCommerce website or numerous marketplaces, including Amazon.
4. Amazon's Service Provider Network
Amazon has a listing of third-party software partners with whom you can automate, manage, and grow your business. Some of these help you find potential wholesale suppliers for the products you want to sell.
5. Trade Shows
Although rarer since the arrival of Covid-19, you can still meet potential suppliers and distributors at a trade show. You may find it easier to meet and speak with a representative of a wholesale supplier in person, where you can more easily create a positive impression, than through an email or other impersonal approach.
One advantage of trade shows is that you can see products in use and may have the opportunity to test them out.
6. Online Search
If all else fails, go onto Google or your favorite search engine to find potential wholesale suppliers who you can approach about building a business relationship.
---
Wrapping Things Up
More than a quarter of Amazon sellers find their stock by working with wholesale suppliers. They allow you to purchase large quantities of products to resell at a much lower price than retail. Typically, you should be able to negotiate a better price the more you buy of a product. In addition, sourcing from wholesale suppliers is usually straightforward. You just need to spend the time researching where you can find reliable suppliers of products you believe you can sell through your Amazon store.
However, you will need to take notice of any minimum order quantities your suppliers set. You should ensure that you aren't buying more than you can reasonably sell, particularly if the products are perishable or likely to go out of date quickly.