Influencer Marketing is a new term for a practice that has been part of marketing for a very long time. From celebrity and professional endorsements, through to sponsorship deals with sports stars and teams, not forgetting embedded marketing in the form of product placement in movies and TV shows. The premise was - and still is, to some degree - that people would associate your brand with a trusted authority, or an aspirational person or lifestyle. Instead of your marketing focusing almost exclusively on variations of "Buy our product", your marketing now included getting customers interested in your product and brand through association, with an element of trust included.
The internet, and to a larger degree social media, has shifted the dynamics of influencer marketing from a practice where celebrities had all the power, to one where the familiar man-in-the-street shares some of the power. It's not hard to imagine that influencer marketing - in both its traditional and modern form - grew out of a desire to amplify the trust inherent in word-of-mouth endorsements: a friend, family-member, or colleague suggesting you try a specific product based on their own experience with it. Word-of-mouth has always been one of the most natural forms of marketing, but its reach was often limited without the use of technology.
Influencer marketing relies on technology - and a combination of reach, relevance and resonance - to amplify word-of-mouth, either through
organic (unpaid) word-of-mouth, traditionally coming from micro-influencers, and
'paid' endorsements, using a combination of macro-influencers, brand advocates, and brand ambassadors.
Paid endorsements do not always involve an actual monetary transaction. They can include a free product in exchange for a review, or free access to a high-profile event in exchange for access to an influencer's personal audience. Both forms of influencer marketing have seen increased usage over the past six to seven years, but several shifts and changes in consumer behaviour, technology, and regulations over the last 24-months have positioned influencer marketing for phenomenal growth in the coming year.
---
Summary: Quick Jump Menu
---
Ad-Blocking Software
Although ad-blocking software has been around for more than 7-years, it is only over last 3-years that it has become almost mainstream. Since 2014, the number of ad-blocking users in the US has jumped from under 40-million, to a little under 70-million. Globally, more than 300-million users are blocking ads on their mobile device, and these numbers will continue to climb.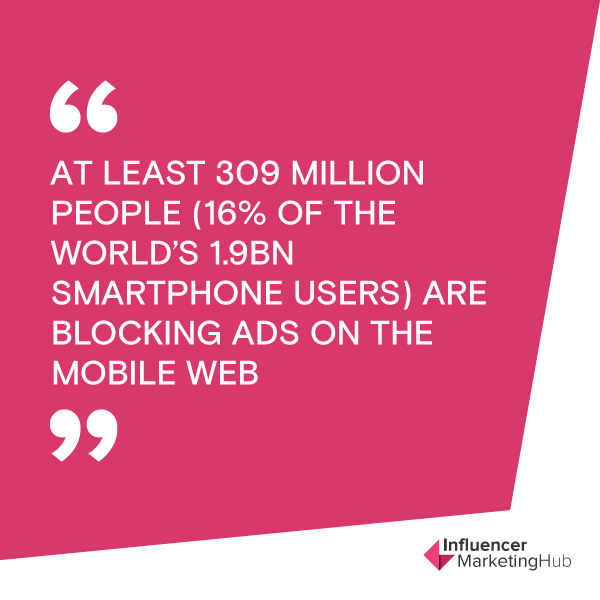 The biggest impact of ad-blocking software is on publishers who rely on revenue from ads displayed on their website. But advertisers too will find it more difficult to reach the right people, at the right time. The only way for advertisers to negate the effects of ad-blockers is to increase their social media advertising, add native advertising to their marketing efforts, or make use of influencer marketing. And only influencer marketing is accessible to most industries, while offering great ROI.
---
Authenticity and Reach
A Hubspot survey in 2016 found that most internet users feel online ads have become more intrusive and annoying in the last 2-3 years. Which is why many of them resort to installing ad-blockers. When done right, influencer marketing isn't intrusive or annoying, and the format makes the content feel like an authentic endorsement. Even more so if the influencers you partner with are not traditional celebrities. While there is nothing wrong with using celebrity influencers, this does come at the expense of your marketing budget, and the feeling of genuine authenticity.
Although auditing an influencer's audience size is quite straightforward, there is never any guarantee on actual reach. But with the right planning, you extend your reach over many different devices, websites, social networks and apps. This can have a remarkable impact on your reach, and the ability to be seen by the right people, at the right time, and in the right place. But reach on its own isn't what is driving the interest in influencer marketing, it is also relevance and resonance: knowing that even if your influencer content isn't reaching a massive audience, it is an audience to whom it is very relevant, and one that will react positively because they trust the influencer sharing the content.
---
Regulations and Transparency
Not all countries have clear regulations in place to govern influencer marketing, but it is the responsibility of influencers, brands and agencies to ensure they follow these where applicable. The growing use of influencer marketing means that more countries will look at implementing regulations, and strictly enforcing them, such as the Federal Trade Commission in the US began doing during 2016.
This won't have a negative effect on influencer marketing. Quite the opposite actually, since the regulations promote transparency. Even though all influencer marketing now needs to carry a clear disclosure, the audience also becomes more aware that reviews need to be impartial, and not make any false claims. And this can have a positive influence on trust for both influencers and brands.
---
Video, Video, Video
The prevalence of video could have a further positive impact on influencer marketing, especially with most social networks now also supporting live video. A year ago Facebook announced that 100-million hours of video are watched on the network each day, while Snapchat was hitting 10-billion video views a day. These are the most recent statistics for both networks, but it is unlikely that these numbers haven't grown since then.
Short video reviews and other influencer video content should become more common, with influencers now able to show your product in use, rather than just write about it. Visual content has always been more appealing than plain text - explaining the popularity of influencers on Instagram - but video content is even more dynamic than a still image, and we should expect to see brands with a strong influencer marketing strategy making good use of live video soon. Although it requires even more care in terms of regulatory compliance, video - especially live video - has the benefit of appearing to be even more authentic than other forms of content.
---
Technology and ROI
A 2015 study by Tomoson found that brands were making $6.50 for every $1 spent on influencer marketing. But back then, a very short 2-years ago, measuring the success, reach and return on investment (ROI) of influencer marketing was complicated and tiresome. With more brands making use of influencer marketing, analytics platforms specialising in measuring influencer campaigns have become more common. These include the all-in-one Traackr, Snapchat focused Snaplytics, and top-tier content monetization platform rewardStyle.
[ebook title="How To Measure Influencer Marketing ROI" text="The Complete Brand Marketer's Guide" button="Get The Free eBook" img="/wp-content/uploads/2016/11/img_bg_2.jpg"]
Paired with influencer marketplaces, these tools not only make it easier for almost any business to connect with influencers, but to now get meaningful insight into the benefits generated by the relationship. ROI should not be measured only in terms of engagement - how many likes, comments, shares, etc. influencer campaign content generates versus the influencer's regular content, and versus competitor content - but also how much revenue can be attributed to specific campaigns, measured through the use of specific QR codes, coupons and coupon codes, and through unique trackable links.
---
Rise of the Power-Middle and Micro-Influencers
For a long time, influencer marketing - in all forms - was only accessible to large brands with big marketing budgets. This was because influence was often linked to celebrities. As social media and the internet came to be considered channels of influence, size of audience - and potential reach - came into consideration.
But that too has shifted, and brands are now finding that the best engagement often comes from micro-influencers (fewer than 10,000 followers), and 'power-middle' influencers (10,000 to 250,000 followers). Although these influencers don't have a large audience, they have built their audience by being engaged. And the audience pays attention to these influencers because they can relate to them, and feel they can trust them.
Typically you should expect to see a 2-5 percent engagement rate from the audience of celebrities and mega-influencers; since these are 1M+ sized audiences, 2-5 percent is not insignificant, though resonance is often low. With micro-influencers and the 'power-middle', engagement ranges from 5 percent through to 50 percent, with high relevance and resonance making up for the smaller reach.
---
Accessible to all Industries
Finally, influencer marketing is tipped to become mainstream in 2017 because, unlike other forms of native advertising, it is accessible to all industries, even niche ones. Thanks to blogging, social media, influencer marketplaces, and more powerful analytics tools, small businesses and niche industries are now able to find influencers, and build campaigns that are affordable and easy to manage.
We too often think of influencer marketing in terms of big brands and, in many instances, to those linked to apparel. But there have always been influencers in every industry, from B2B to B2C, with hobbyists thrown in for good measure. What wasn't always possible was connecting to these influencers, and using their influence in a meaningful way. Finding and connecting with influencers, and building and managing highly effective influencer campaigns has never been easier, making 2017 the year to implement and build-up your own influencer marketing campaign. And with 48% of marketers expecting an increase in their influencer marketing budgets this year, you can definitely expect to see more creative campaigns across all industries.