Advertising Disclosure
Advertising disclosure:
Our partners compensate us. This may influence which products or services we review (also where and how those products appear on the site), this in no way affects our recommendations or the advice we offer. Our reviews are based on years of experience and countless hours of research. Our partners cannot pay us to guarantee favorable reviews of their products or services.
It's estimated that the global influencer market size will be worth $21 billion in 2023, providing ample opportunities for brands to partner with AI influencers. Both human AI influencers and virtual influencers offer unique advantages to brands. Human AI influencers are some of the most reliable sources for the latest industry news, trends, and insights. They also play a key role in spreading knowledge and building networks that foster innovation and development in the AI and machine learning (ML) fields. On the other hand, virtual influencers can help brands create more interactive campaigns and personalized experiences. For instance, brands can partner with a virtual influencer and incorporate them into AR experiences.
As AI continues to shape the influencer marketing industry, brands can benefit from exploring partnerships with top AI influencers. Whether you're planning to work with human thought leaders or AI-generated influencers, this guide can help kickstart your search for the best AI influencers for your brand.
---
Top 10 AI Stars to Follow in 2024 + Tips to Find the Right AI Influencers for Your Brand:
---
Top 10 AI Stars and Influencers to Follow in 2024
This list features both AI-generated virtual influencers and human thought leaders who give their audience an in-depth look into the latest developments in the fields of artificial intelligence and machine learning.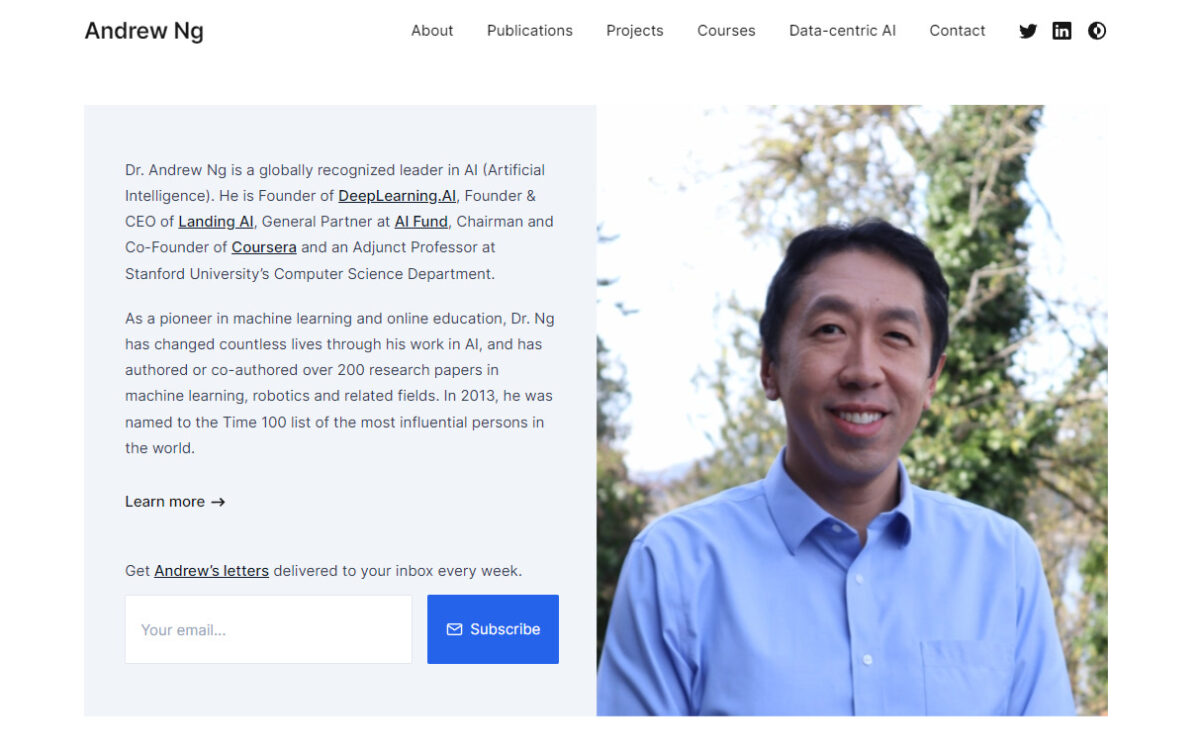 Nr. of Followers: 870,000 followers on X (@AndrewYNg)
Coursera co-founder, former Chief Scientist of BaiduAI Group, and co-founder and head of Google Brain, Dr. Andrew Ng is one of the most prominent voices in the AI community. He regularly shares insights on AI, updates on ongoing projects, and the latest happenings in the AI field. He also shares his opinions on emerging developments and tackles relevant topics like AI and ethics, the current limitations of AI tools like ChatGPT, and how people can learn more about the different aspects of AI like deep learning. If you want to learn more about the future of AI and how you can be an innovator in the field, Dr. Ng has written a thought-provoking article on the subject, which was recently published on the MIT Technology Review website.
---
Who is talking about #AI? And who should be included in this global conversation? Heading to eastern Taiwan to meet with a (large) group of mostly rural and aboriginal high schoolers to have a dialogue with them about #AI and more importantly, the future they should be part of. pic.twitter.com/Ac3DiPXXpq

— Fei-Fei Li (@drfeifei) March 28, 2023
Nr. of Followers: 433K followers on X
Dr. Fei-Fei Li is a Stanford University professor and co-founder of the university's Human-Centered AI Institute. Her extensive work in the field makes her one of the world's leading figures in AI. Aside from updates about her ongoing projects, Dr. Li's X feed is rich with insights about AI's potential. For brands interested in leveraging human-centered AI and learning about the societal implications of AI, you can read about Dr. Li's take on topics like democratizing AI and ethical challenges in ML.
---
<not_an_april_fool_joke>
By amplifying human intelligence, AI may cause a new Renaissance, perhaps a new phase of the Enlightenment.
But prophecies of AI doom are also causing a new form of medieval obscurantism.
</not_an_april_fool_joke>

— Yann LeCun (@ylecun) April 1, 2023
Nr. of Followers: 568K on X
Yann LeCun is considered to be one of the pioneers of AI. As a Turing Award laureate, he is credited for his contributions to advancing convolutional neural networks in the 80s. LeCun's research focuses on AI, machine learning, and robotics, and he has made significant contributions to AI developments in companies like Meta. On his X feed, LeCun shares insights, resource materials, and tutorials, making information more accessible and easier to understand. This allows his audience to delve deeper into the technical aspects of AI and its potential impact on society.
---
Some personal news: I am joining OpenAI (again :)). Like many others both in/out of AI, I am very inspired by the impact of their work and I have personally benefited greatly from it. The future potential is especially exciting; it is a great pleasure to jump back in and build!🪄

— Andrej Karpathy (@karpathy) February 9, 2023

Nr. of Followers: On X, @karpathy has a substantial following of nearly 790,000 users
Andrej Karpathy served as Tesla's Senior Director of AI, where he worked on neural network training and the development of Tesla's self-driving capabilities. He is also one of the founding members of OpenAI. As a prominent figure in the industry, he shares updates on Tesla and OpenAI, as well as his insights on AI and developments in the field. Karpathy also shares resources, such as links to his YouTube channel, which has 233,000 subscribers. On this channel, he posts content, such as coding and computer vision, that helps make AI more accessible to his audience.
---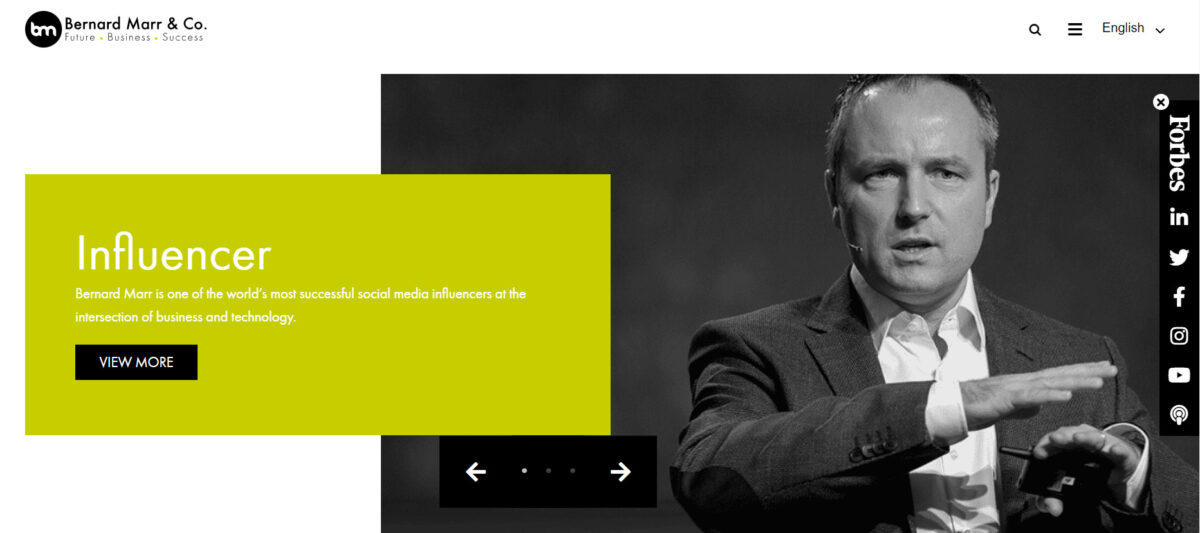 Nr. of Followers: On X, (@BernardMarr) he has amassed over 138,000 followers
Futurist and business and technology advisor Bernard Marr is one of the world's most popular influencers in the field. He's also an author who has published several books on AI, big data, Web 3.0, and machine learning. Marr (@BernardMarr) shares updates about his projects and events, as well as insights on how technology is transforming our societies. In his role as a business and tech advisor, Marr specializes in business strategy, data and AI strategy, and digital transformation. He has also served as an advisor to a diverse range of clients, including government organizations, startups, and global brands like Oracle, Google, Microsoft, and Amazon.
---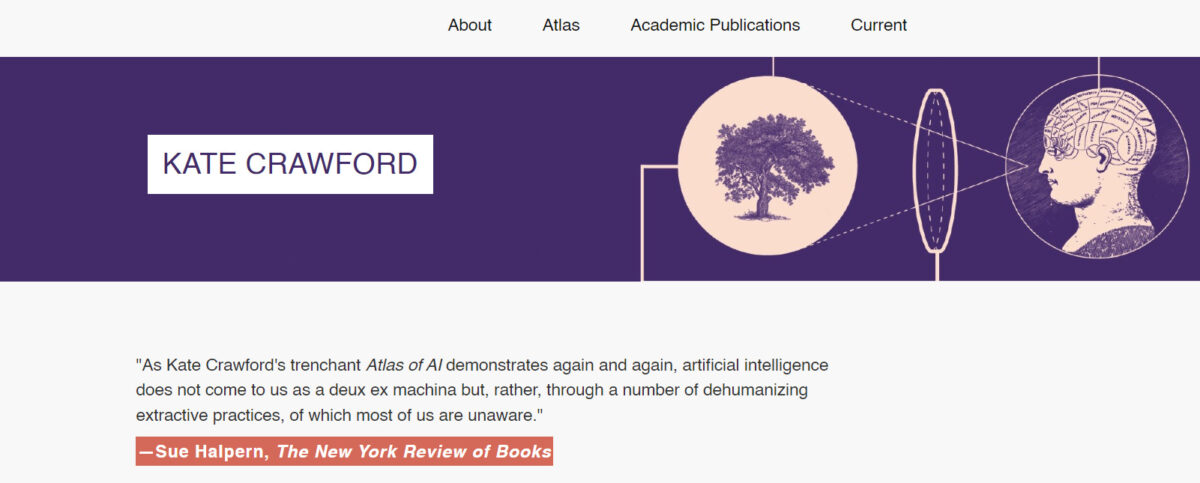 Nr. of Followers: On X, @katecrawford has over 82,000 followers
Kate Crawford is a leading scholar whose extensive research covers the sociopolitical and environmental impacts of AI, ML, and large-scale data systems. She is a Research Professor at USC Annenberg and has co-founded several interdisciplinary research groups, such as the AI Now Institute at NYU. She shares insightful posts about the ethical implications of AI, news about topics like facial recognition technology, and updates about some of her projects. One of her notable projects is the Anatomy of an AI System, which talks about Amazon's Echo and the resources used in AI.
---

Nr. of Followers: 2.7 million followers on Instagram
Miquela, or Lil Miquela, is an AI-generated influencer who has amassed a large social media following. Created by tech company Brud in 2016, Miquela is considered the world's first computer-generated social media influencer. Over time, she has collaborated with several brands, such as Prada and Moncler, and has helped usher in a new era of influencer marketing.
---
Nr. of Followers: 7.3 million followers on Instagram and 21 million followers on TikTok
Known for posting funny and entertaining clips featuring its friends and adventures, Nobody Sausage has collaborated with major brands and campaigns, including Netflix, Adidas, Decathlon, Bershka, Gold Apple, and Hugo Boss' Be Your Own Boss campaign.
---

Nr. of Followers: 240,000 followers on Instagram
Dubbed the "world's first digital supermodel", Shudu has been making waves in the high fashion industry. Shudu is a CGI model created by British photographer Cameron-James Wilson. Her account showcases snapshots of her daily life and collaborations with renowned brands such as Balmain, Vogue, and Women's Wear Daily.
---

Imma is a digital creator who has nearly 400,000 followers on Instagram. Created by Aww Inc., a virtual human AI company in Japan, Imma is considered Japan's first virtual human and model. On Instagram, Imma posts about collaborations, daily activities, and virtual fashion features. Imma's extensive portfolio of brand partnerships includes collaborations with IKEA, Valentino, and Porsche Japan.
---
---
Choosing AI Stars and Influencers for Your Brand
With the abundance of influencers in today's digital landscape, it can be challenging to find the perfect AI influencer for your brand. Whether you want to uncover new growth opportunities, establish your brand as a leader in the AI or ML field, or launch effective campaigns, here are some practical tips to help you connect with the most suitable AI influencers for your brand.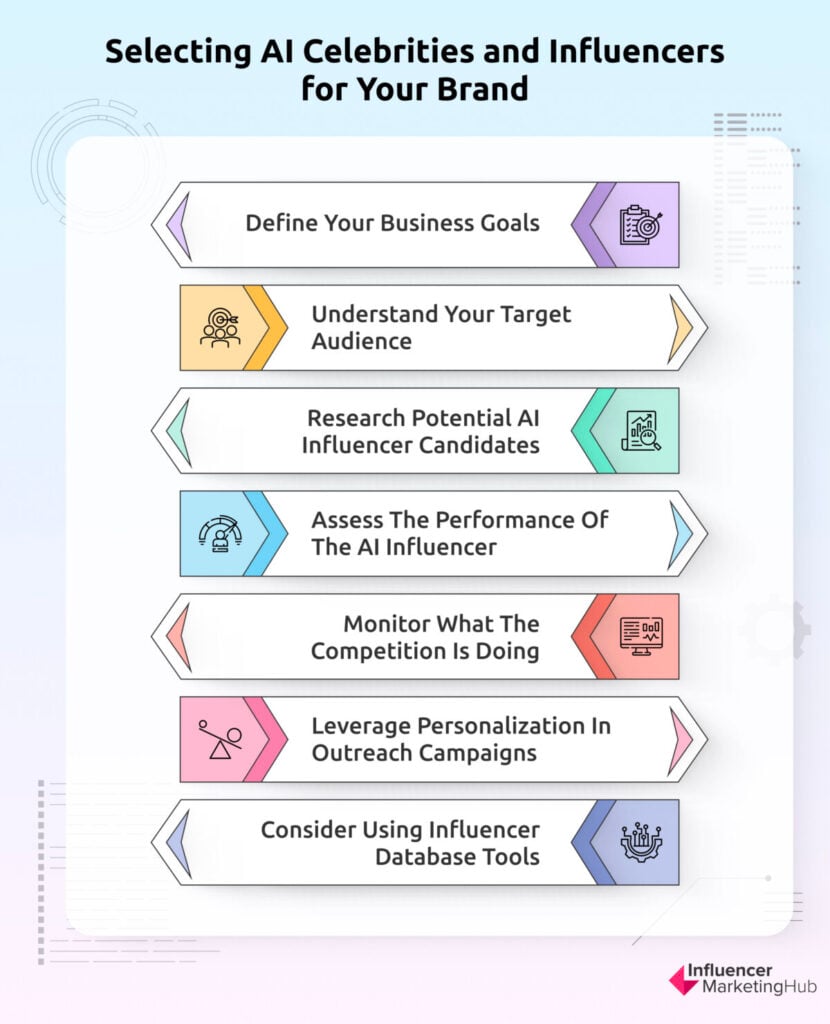 Define Your Business Goals
Your goals influence the direction of your campaigns, help set expectations, and determine how your partnership will fit into your overall marketing strategy. Ask yourself, what are you looking to achieve with influencer marketing? Do you want to build brand awareness? Drive leads and conversions? Reach a wider audience? Knowing your goals and objectives allows you to narrow down your options and find an AI influencer who is capable of meeting your goals.
Understand Your Target Audience
Your brand can benefit from an AI influencer who can communicate your brand's value and unique selling proposition. Analyze your target audience's data, including their demographics, behavior, and preferences. You can also look at a segment of your target audience and see who they follow or engage with. What niches are they into? What common trends can you identify in the content they're consuming? Choose an AI influencer whose audience overlaps with yours as this will allow you to convey your brand message to the right people.
Collaborate with Industry Experts and Thought Leaders
For businesses in the AI or ML fields, working with influencers who are experts or thought leaders in the industry can help you craft more impactful campaigns. You can leverage their expertise and highly engaged following to bring added value to your audience. Aside from social media, you can find experts or thought leaders on various channels, such as podcasts, events, or even newsletters.
Research Potential AI Influencer Candidates
One way to find the best AI influencers for your brand is to find out who is talking about you. Check their tagged posts or hashtags. See if you've been mentioned in any of their posts. This makes it easier for you to connect with influencers for potential collaborations. You can also look for AI influencers who are already focusing on your niche or industry, as they can help you convey your brand message more effectively.
Note that follower count doesn't always translate to high engagement rates and that AI influencers also come in several types. For instance, if you're looking to tap into a niche audience, then a micro or nano influencer with a highly engaged following might benefit your brand more than a mega influencer with a huge following.
Assess the Performance of the AI Influencer
Check their metrics and study their profile to determine their community's authenticity and engagement metrics, such as the number of likes, comments, and shares. Higher engagement rates typically indicate an active and engaged audience.
Monitor What the Competition Is Doing
Conducting thorough research on your competition is crucial for gaining a better understanding of their actions and evaluating the effectiveness of their strategy. This research not only helps you make more informed decisions when selecting the most suitable AI influencer for your brand but also prevents potential conflicts of interest during a campaign.
Leverage Personalization in Outreach Campaigns
AI influencers receive a lot of partnership requests. Make sure that your message stands out by personalizing it. This requires conducting additional research into the influencer's background, including their body of work and interests. Incorporating this information into your communications will help show that you've made the effort to understand the influencer, what they're doing, and how they can fit into your marketing strategy.
Consider Using Influencer Database Tools
Finding the best AI influencers for your brand can be a time-consuming process. So, you may want to use influencer marketing tools with search and discovery features or automated recruiting capabilities to speed up the process.
---
Wrapping Up
AI influencers now play a significant role in how brands position themselves and approach influencer marketing. Whether you choose to collaborate with human AI influencers or virtual influencers, it's crucial to understand your brand's audience, goals, and objectives when selecting the right AI influencer. When done effectively, partnering with AI influencers can establish your brand as a leader in the AI or ML field, engage your audience, and create personalized experiences.
Frequently Asked Questions
What are AI influencers?
The term "AI influencers" can be used to describe two different things. The term may be used to describe AI-generated influencers like Miquela or humans who play a key role in transforming the fields of artificial intelligence and machine learning, such as OpenAI's Sam Altman or Coursera's Andrew Ng.
Why should brands work with AI stars and influencers?
AI-generated influencers offer new growth opportunities for brands. They can pique the audience's curiosity and interest and give brands new ways to connect with their target audience. On the other hand, partnering with AI and tech key opinion leaders allows brands to connect with authoritative sources of information and gain a competitive edge in today's ever-changing business landscape.
Who are some of the top AI influencers and which brands are working with them?
Below are some of the top AI-generated influencers and their brand partners:
Miquela – Pacsun, Calvin Klein, and Prada

Imma – IKEA, Dior, Nike, and Puma

Nobody Sausage – Netflix, Adidas, and Bershka