A common misconception many people have when they shop online is that when they purchase items on Amazon, they are buying from Amazon. And sure, often you are buying products from the world's largest retailer. However, often you are actually purchasing stock from Amazon sellers, the thousands of independent people and businesses trading in the Amazon marketplace, via the Amazon platform. Amazon itself has an inventory of about 12 million items across all its categories and services. It purchases these from suppliers it refers to as Amazon vendors and then resells them to consumers. However, you will also find an additional 338 million Amazon sellers who use Amazon as a marketplace, selling directly to consumers themselves.
One tactic some Amazon sellers use is selling Amazon Private Label products. This isn't as popular as it used to be, partly due to competition from the share numbers of sellers on Amazon along with reduced interest by Amazon and negative scrutiny by regulators, however, it is still commonplace on the platform and is a viable option for many businesses.
---
Operating as an Amazon Private Label Business:
---
What is Amazon Private Label?
In practice, there are four common business models for selling on Amazon: retail arbitrage, wholesale, creating your own product, and Amazon Private Label.
Amazon Private Label involves finding a product, preferably with high sales and few reviews, buying it at a good price, and relabeling it as your own. You effectively take a quality product that perhaps hasn't been marketed well, upgrade its presentation, and then sell it under your brand's labeling. Some manufacturers specialize in selling goods to Amazon (and other) sellers using the Private Label model, but you aren't restricted to using these manufacturers' products.
---
Amazon Uses the Private Label Model Itself
In most cases, the Private Label model will be used on Amazon by small to medium-sized businesses looking for products to sell on the platform. But even Amazon sells a selection of Private Label products through its global online platforms.
Despite the Wall Street Journal suggesting in July 2022, that Amazon would kill off its private brands, Amazon continues to embrace the practice. Dana Mattioli of The Wall Street Journal claimed:
"Over the past six months, Amazon leadership instructed its private-label team to slash the list of items and not to reorder many of them."
Yet while Amazon slashed some slow-moving items, it still sells products it labels as Amazon Basics, as well as other private label brands' best-sellers. Indeed, by the end of 2022, Amazon still had as many best-sellers using the Private Label model as it had for the previous two years. Amazon Basics had 1,338 best-sellers, similar to 2021 and 2020. Amazon considers a best-selling product to have made it into the top 100 in any category or subcategory on the platform.
The bestselling Amazon brands include Amazon Basics, Amazon Essentials, Simple Joys by Carter's, Amazon Commercial, Amazon Basic Care, Goodthreads, Amazon Elements, and Pinzon.
However, the number of products labeled as Amazon Basics is close to the number of products badged as all the other brands combined.
Amazon has become more transparent recently, tagging its products with an "Amazon brand" or "Exclusive to Amazon" badge in the search results. While some of Amazon's brands (such as Amazon Basics and Amazon Essential) clearly belong to Amazon (even if the products are Private Label and originate elsewhere), some brand names, such as Goodthreads and Simple Joys by Carter's, don't indicate any Amazon ownership and could easily be mistaken as belonging to an external seller.
---
How to Use the Private Label Model to Sell on Amazon
For many potential Amazon sellers, the hardest task is finding products to sell on the platform. You could begin your decision-making process by reading our Guide to Knowing What to Sell on Amazon in 2023. This includes a list of the top 20 Amazon bestsellers across every major product category for each of the Amazon global marketplaces. At the time of writing, the top seller overall (in terms of estimated monthly sales) is Amazon Basics 4-Pack AA Alkaline High-Performance Batteries, 1.5 Volt, one of Amazon's Private Label products.
Overall, the five most popular categories for sellers on Amazon are:
Home and Kitchen – 32% of sellers have products in this category
Beauty & Personal Care – 23%
Toys & Games – 20%
Clothing, Shoes & Jewelry – 18%
Health, Household & Baby Care – 17%
It's important to remember, however, that when you opt to sell Private Label products on Amazon, you aren't selling somebody else's brand. Instead, you are merely selling somebody else's product, under your brand. And if you haven't already built up a brand name you are simply yet another competitor selling identical products, without existing name recognition. Amazon has an advantage when it uses the Private Label Model (at least with its better-known brands) as people already know who Amazon is. The actual batteries that Amazon sells in the Amazon Basics range may be identical to those sold by many other sellers, but potential purchasers recognize the Amazon Basics brand, trust it, and make their purchasing selections accordingly.
---
Benefits of Using the Amazon Private Label Model
One common benefit of using the Private Label model to sell on Amazon is that you typically won't have as large an upfront cash outflow as other methods. It is much cheaper to buy products and adapt them to your brand than it is to create a product from scratch. You may have to commit to purchasing larger quantities than with wholesaling, retail arbitrage, or manufacturing, however, as you must make it worthwhile to design and prepare suitable branded packaging.
---
Selecting Products for Your Amazon Private Label Sales
Obviously, you have to have the "right" products to sell on Amazon using the Private Label model. You aren't making them, or even searching for producers to make products of your design.
Instead, you will need to find quality products, at an acceptable price that will fit within your price range and aren't too distinguishable as being near-identical to other products.
Ideally, you will want products that will resonate with the types of people currently buying your products, so that the new products can feel part of a range.
Perhaps the easiest way to visualize Private Label products is to think about supermarket home brands. While some supermarkets may pay suppliers to create products specifically for them, many home brand products are merely rebranded versions of other suppliers' goods. In other words, supermarkets create a Private Brand, and then source products from other firms, many of whom also sell the (often identical apart from packaging) market-leading products to these same supermarkets. Indeed, if you were to analyze many of the home brand products of competing supermarket chains, you would struggle to differentiate the products from competing ones if they weren't in their packaging.
To succeed with Private Label product sales on Amazon you should concentrate on rebadging comparatively new products. You don't want potential customers writing off your products as things that they have seen hundreds of times before. By focusing on newish products, you will have fewer competitors selling the same products. Keep an eye on Amazon's "Hot New Releases" for possible ideas. Many of our suggestions for Finding Wholesale Suppliers for Your Amazon Business are just as valid for suppliers of Private Label products.
It is often advisable to avoid the most popular, competitive product categories. Amazon may succeed in selling rebadged generic products like batteries, but it is unlikely that you will find sufficient points of difference, apart from price. And you will also find it virtually impossible to compete with large competitors, including Amazon, on price alone.
It will be worth testing whether a potential new product for your brand would sell before fully committing to it. For example, examine possible keywords you would use to promote it, along with the keyword terms used by your potential competitors (particularly anyone else selling that product via Amazon). Remember that you are unlikely to be working in isolation. Others are likely to be considering reselling promising products (either by wholesaling, retail arbitrage, or private label sales). It may be worth investigating some of the eCommerce Tools & Software Platforms we have reviewed to help you discover data relating to your competitors on Amazon.
---
Don't Always Go for the Cheapest Producer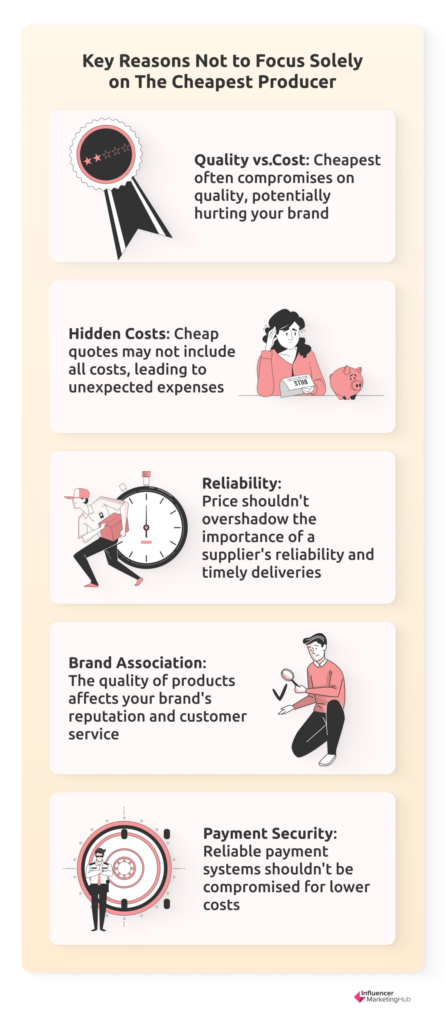 You may come across multiple similar products that interest you enough to rebadge as yours. In this case, it will be tempting to go for the seller that can provide you with your goods at the cheapest price – you do have to be able to repackage the goods and sell them as yours for a profit, of course. However, as in much of life, remember the maxim "Buyer Beware". The cheapest is not always the best.
Often you will find products being sold by manufacturers who regularly provide items for Private Label sales. They are familiar with the process, are happy with you "repurposing" their products, and may even agree to prepackage the products in your branding if you commit to buying a certain quantity. Often you can get the best deal by going to several manufacturers (or even online wholesalers) and asking for quotes at their best prices. Make sure that you are clear on what is included in any quoted price. Read any fine print, so you aren't shocked by any surprises.
You will want to ensure that a manufacturer/supplier has a reputation for being reliable and delivering products on time and according to specifications. Ultimately these products will bear your name and you will be responsible for customer service (unless you use FBA, even then, you don't want Amazon to become upset because of frequent claims about "your" product being of unfit quality.)
You will also want to set up safe payment systems for your suppliers, using something like Alibaba's Trade Assurance or PayPal to assist with your payment processing.
---
Consider Your Packaging and Promotion
Although you may only have a limited budget for packaging you will need your private label products to stand out for people browsing on Amazon. The best way to set yourself apart from competitors despite having similar products is to have custom retail packaging.
As mentioned above, you may find manufacturers prepared to customize their standard packaging to incorporate your brand's logo and colors. Alternatively, you may have to design all of the packaging yourself, and maybe even manually repackage inventory upon receipt.
You can experiment with various styles, texts, patterns, and themes to come up with the perfect personalized packaging design for your product. Experiment to find something eye-catching and different compared to other similar products others are trying to sell on Amazon. Consider different materials, colors, and finishing.
Depending on your target market, you might consider using sustainable packaging options, and this may even allow you to charge a premium price for your products, compared to competitors using standard packaging.
You will need to promote your Private Label products on Amazon. We have written a Comprehensive Guide on Amazon Advertising Optimization. Before you consider advertising, however, you will first need to perfect your product listing, ensuring that you utilize appropriate search term optimization. You will want your listing to match customers' search queries as closely as possible, using the right keywords. Your product listing will need to be complete and informative, including high-quality images, detailed product descriptions, and once you've made some sales, customer reviews. Regularly monitor your product performance and adjust your product listing as necessary.
---
Wrapping Things Up
Private Label sales on Amazon are unlikely to lead to a sudden cash influx, with thousands of buyers suddenly switching to your brand's product. However, they provide opportunities for a steady cash flow, with people buying your products over time. Most brands that engage in this process tend to opt for the types of products that generate regular repeat sales, rather than large one-off purchases. You should look at increasing your Amazon Private Label sales to have a long-term impact on your business, rather than as a form of short-term profit making.