The digital space has proven to be a lucrative channel for businesses, and you can earn a sizable income by becoming a seller on Amazon. However, starting out as a seller can be fairly daunting, and you may not want to shell out thousands of dollars for your capital and inventory before becoming familiar with how to sell and earn on the platform.
That's why retail arbitrage has been one of the more popular business models on Amazon, and many sellers have made their fortune by putting it into practice. Here, you will learn all about retail arbitrage on Amazon, how it works, its pros and cons, and how it compares to other prevalent business models on the platform.
Download Amazon Advertising Guide
---
The Ultimate Guide to Amazon Retail Arbitrage:
---
What is Retail Arbitrage and How Does It Work?
Retail arbitrage is the practice of purchasing goods from local retail shops and selling them on an online platform for a profit. Oftentimes, sellers purchase products from bargain bins, clearance racks, or discount aisles and sell them for their original price. They may also opt to sell an item at a slightly higher price than how much it would cost in a retail store.
However, arbitrage isn't only present in e-commerce. It's also seen in the stock market, bond market, and commodities market. This model is able to regulate prices of goods and services across all industries.
Now, you're probably thinking— why would people choose to purchase items online at a higher price when they could go to a nearby store and get it for less? This may be because the product's price varies based on where it's being sold. For example, a book may retail for $5 in one location, but it may sell for $10 in another. If a seller is able to offer the best price online and remain competitive in their pricing, a consumer would be more likely to purchase from them.
Additionally, consumers are almost always willing to pay extra for convenience. E-commerce platforms have redefined shopping for consumers all over the world, allowing people to buy anything and everything from wherever they are. If buying the product they want online can save them a trip to the store, which reduces shopping time, customers would be willing to pay a little extra. Delivery services are also typically quick and efficient, so customers can receive their products in no time.
---
Amazon Retail Arbitrage
Retail arbitrage is one of the easiest business models to follow for beginners starting out on Amazon. Being the leading e-commerce platform in the world, Amazon has a vast seller base using retail arbitrage. Retail arbitrage sellers are crucial to the way Amazon operates, and they make products on the platform sell more efficiently. In fact, 19% of Amazon sellers use retail arbitrage as a business model.
How Do Retail Arbitrage Sellers Earn on Amazon?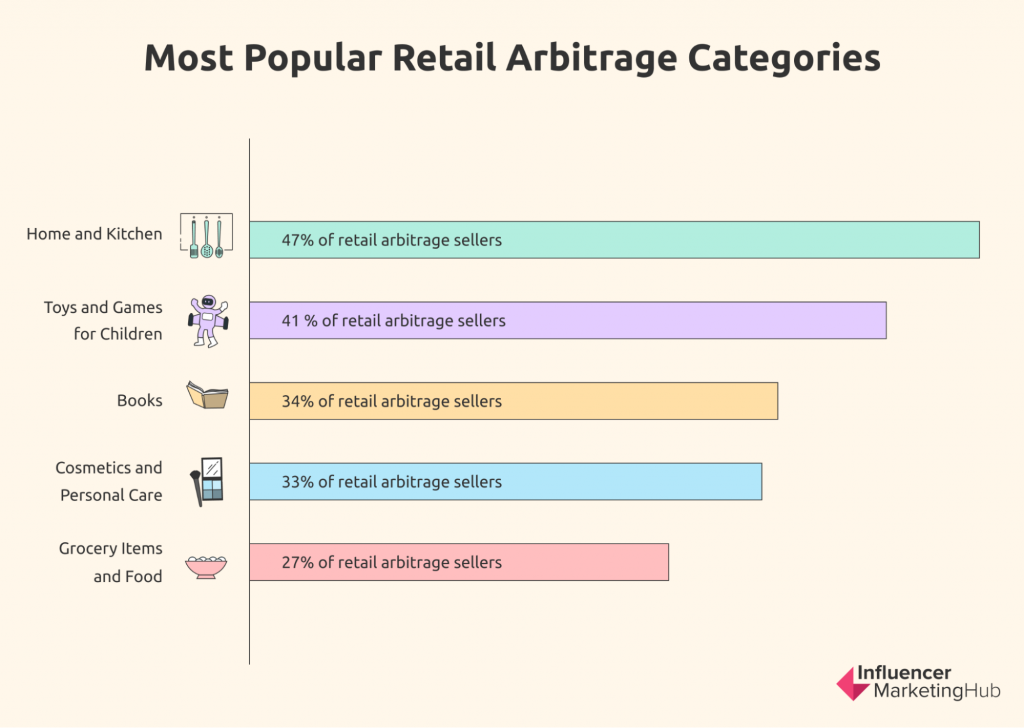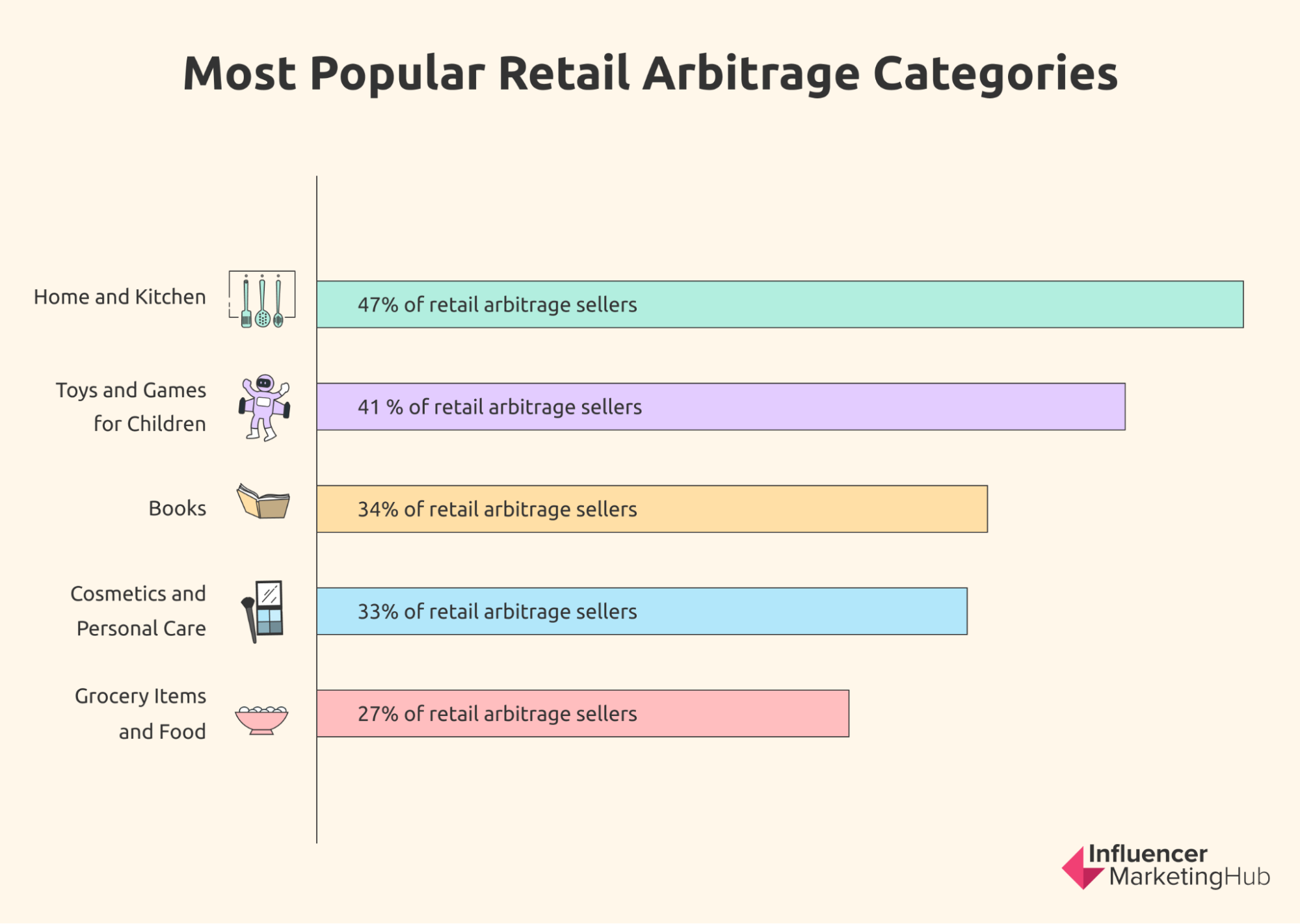 To determine their earnings from a product, retail arbitrage sellers need to subtract the product cost and Amazon's fees from the product's selling price. However, you should note that while retail arbitrage is among the easiest and least expensive ways to sell on Amazon, it's also one of the least profitable.
Now, retail arbitrage sellers offer a variety of products, mostly under these categories:
Home and Kitchen - 47% of retail arbitrage sellers

Toys and Games for Children - 41 % of retail arbitrage sellers

Books - 34% of retail arbitrage sellers

Cosmetics and Personal Care - 33% of retail arbitrage sellers

Grocery Items and Food - 27% of retail arbitrage sellers
As a retail arbitrage seller, you should expect to spend roughly 20 hours per week managing your platform. This includes listing and looking for suitable products, communicating with customers, working on order fulfillment, and running ads.
---
How to Begin Selling Using Amazon Retail Arbitrage
Now that you know what Amazon retail arbitrage is, here are the steps you should follow to begin selling on the platform.
Open your own Amazon seller account
When you first open your Amazon seller account, you'll be given two options. You can either opt for an individual seller account or a professional account.
---
Individual seller account
This type of account is free. However, you would have to pay Amazon $0.99 for each sale. Additionally, you will only be able to sell a maximum of 40 products using your account, and you'll need to pay Amazon an extra 15% of your total sales.
If you're looking for a simpler, more basic selling experience, an individual seller account is highly recommended. This type of account is also easier to manage, but it's more limited than professional accounts.
---
Professional accounts entail a $39.99 account opening fee. This is also the amount of the monthly fee to keep your account running. However, unlike individual seller accounts, professional accounts can list more than 40 products, and it won't require an Amazon fee for each sale.
Another bonus that Amazon professional accounts offer is the Fulfillment by Amazon (FBA) feature. By opting for the FBA feature, all you have to do is send your products to Amazon's warehouse, and their team will take care of storage and fulfillment. This service doesn't come for free, but it's incredibly convenient and reduces the amount of work a seller needs to do. Additionally, the FBA option ensures quality and timely packaging and shipping, which can boost your platform's trustworthiness with your customers.
---
Look for products to sell
Sourcing products for retail arbitrage requires a lot of time and patience. After all, you would need to look for inexpensive products that can be sold for a profit, and you will be up against large chains that already offer competitive prices.
To make sourcing easier, look for products during clearance sales. You may also try looking at product reviews across Amazon. If an item has over a thousand reviews, it's safe to assume that it has been sold over a thousand times. This means the item either has many buyers or is fast-moving, which is indicative of its profitability.
You should also have the Amazon seller smartphone app on hand. This would enable you to compare prices with other sellers. With the app, you can scan product barcodes and see real-time product listings across Amazon. Make sure to also factor in Amazon's fees and potential shipping charges before selecting a product to sell, so you can maximize your resources.
Additionally, while you may be looking for items with the cheapest prices, you need to ensure that they're still of high-quality and are functional. Customers want to receive the best value from you, and compromising on quality will mar your reputation as a seller.
---
List your products on your account and begin selling
Once you've already been able to source products, you can begin listing them on your platform and selling them. Make sure you optimize your product listing on Amazon so you could reach your targeted customers. This includes using keywords, inputting complete product information, and adding high-quality images of your products.
If you opt for Fulfilled by Amazon, your products' visibility across the platform would be boosted. You can also do price matching to keep your prices competitive. To know how much profit you stand to gain from your products, remember to subtract Amazon's fees and other costs related to your product from your actual selling price. If your profit comes up negative, you must make adjustments to your selling price.
---
Monitor reviews and manage your platform
Once a customer purchases a product, they are likely to leave reviews. Make sure you offer the best possible service to get a positive review. Hire a customer service representative who can immediately respond to feedback and answer any queries. Additionally, it would be wise to monitor your competitors' reviews to see how they're performing and adjust your seller strategy accordingly.
---
The Pros and Cons of Amazon Retail Arbitrage
Amazon retail arbitrage poses certain advantages and disadvantages.
Pros
An inexpensive way to become a seller on Amazon
As mentioned, retail arbitrage is one of the least expensive Amazon business models. Roughly 49% of Amazon retail arbitrage sellers shell out $1000 to start selling on the platform, and a small percentage of sellers have shelled out $500. Compared to other business models on the platform, this isn't too big of a capital.
Effective to gain short-term earnings
Retail arbitrage doesn't require you to build your brand. You can immediately list a product on the platform once you procure it and figure out its pricing. This allows you to sell faster on the platform, which translates to getting profit quicker.
---
Cons
Although retail arbitrage is inexpensive, 62% of retail arbitrage sellers have reported earning only roughly $5,000 a month, while 25% earn less than $500 monthly. Additionally, almost half of the retail arbitrage sellers on Amazon have said that it has taken them around six months to get a profit with this business model.
Risky because of regulations from brands
Amazon is a massive platform, and it works with millions of brands, both big and small, to stay up and running. Brands are even protected by Amazon's Brand Registry Protection, which offers extra security and control over product listings. Products that have been restricted by their brands may be flagged by the platform, which means you wouldn't be allowed to sell them if you're unauthorized to do so.
---
Different Types of Business Models on Amazon
Aside from retail arbitrage, there are five other business models prevalent on Amazon. Some sellers opt to do either private label, wholesale, online arbitrage, drop shipping, or handmade.
This is the most prominent Amazon business model, with 67% of sellers on the platform reporting to use private label selling. Sellers rebrand a product that is manufactured by their brand and sell them on the Amazon platform.
In this business model, wholesalers purchase products in bulk. By doing so, they're able to buy a sizable amount of products at a lower price. They can then sell these items across Amazon individually at their regular price, which allows them to secure a profit. Additionally, they may also opt to sell their items for wholesale prices if a buyer is interested in purchasing a certain amount.
This is similar to retail arbitrage, except it happens on online platforms. Sellers purchase discounted products from one website and resell them on another e-commerce platform for a profit. 17% of sellers on Amazon follow this business model.
Drop shipping is one of the most convenient business models for sellers because they don't need to keep their inventory on hand. Instead, sellers display product listings on their platforms. Orders from customers immediately get sent to the seller's supplier. This reduces storage fees, and it prevents the seller from having to shell out money to procure their items.
Sometimes, Amazon sellers sell handcrafted goods across the platform. This business model is often chosen by artists or specialists, and the price of their products depend on the materials used and the effort put in creating the product. Products that fall under this category are usually jewelry, artwork, decorative items, and clothes.
All business models come with a considerable amount of risk, but Amazon retail arbitrage is excellent for both beginners who are looking to start selling on the platform and pros who are looking to make a quick profit. Following this guide will help you as a retail arbitrage seller.
Frequently Asked Questions
What is Amazon retail arbitrage?
Amazon retail arbitrage refers to the act of purchasing discounted products from other retailers and reselling them at a competitive price. For example, you can find a product for $10 at the discount aisle of your local WalMart, and sell it for $20 on your Amazon store.
Is retail arbitrage the only business model on Amazon?
No. There are other business models on Amazon such as private label, wholesale, online arbitrage, drop shipping, and handmade. However, retail arbitrage is one of the easiest business models to adopt, especially for beginners.
Is retail arbitrage legal?
Retail arbitrage is legal. The first-sale doctrine states that any product that has been legally purchased can be resold by the owner, as long as it remains unchanged from its original condition. This means that any product
You may be asking yourself, "is retail arbitrage legal?" Fortunately, it is. According to the first-sale doctrine, once you purchase a product legally, you then have the right to resell that product, as long as it is sold in an unchanged condition. So if you buy it and sell it as new, the product must be in new condition.
How much do you stand to earn from retail arbitrage?
While retail arbitrage is one of the simplest Amazon business models, it's also one of the least lucrative. Sellers on the platform can earn anywhere from $300 to $2,000 per month.
How does retail arbitrage compare to the other business models on Amazon?
Retail arbitrage is best for getting short-term earnings, and it's relatively inexpensive to commence. Those who use it as a business model for their Amazon store would not need to set aside much for capital, and there is less risk involved in arbitrage than in other business models.