In search of the best Twitch animated WebCam overlays? You've come to the right place. We've scurried the web to find 20 worth looking at. In this blog post, we'll spill the beans on each, sharing how their animations work and what each overlay comes with.
Twitch overlays are graphics designed to give your channel a unique look and feel. They are added to your stream and come in a wide range of designs. Twitch animated WebCam overlays are designed especially for your WebCam. Animations can be created in a variety of ways, including the use of GIFs and AVI files. More advanced animated overlays incorporate notifications, making your stream more interactive for viewers.
---
20 of The Best Animated Twitch Overlays:
---
The Best Twitch Animated WebCam Overlays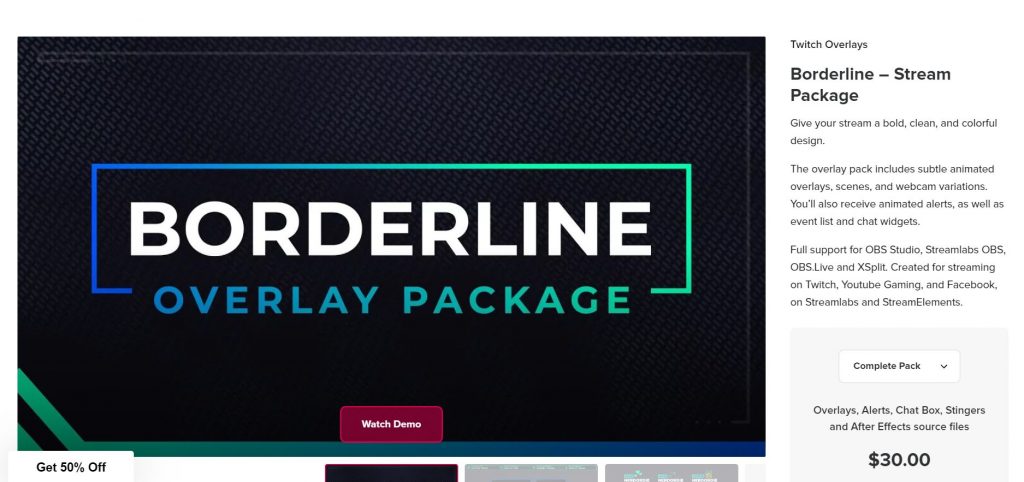 Borderline is a clean and beautifully-designed WebCam overlay. Its animation is a subtle but noticeable colour gradient change that takes place periodically. The overlay also comes with panels for recognizing top and new donations, and new subscribers.
This WebCam overlay is part of the Borderline Stream Package from Nerdordie, and you'll have to purchase the package to use it. The package includes all the elements you need to make your channel look awesome. You'll have access to animated and static overlays, five colour variations, SLOB .overlay files, a StreamElements one-click setup link, WebCam frames, screen designs for introductions, be right back, just chatting and ending scenes.
You also get profile panels, a chat widget and a complete alert package which you can edit by colour, opacity, language, font, and more. And if you're so inclined, all After Effects project files are included for any custom design changes you'd like to make.
---
Valo is a slick, modern-looking Twitch animated WebCam overlay. It comes in four design options. These include two with bordered and two borderless overlays. Both boarded overlays include animated neon pink accents that slide vertically and in opposite directions. The first overlay with a border features panels, where the second does not.
Borderless overlays are similar. One comes with panels. The panel-less overlay features a less intrusive animation that appears in the bottom of your screen.
Valo is part of the Valo Series Package from Own3d and you'll need to purchase the series package to get your hands on these WebCam overlays. Choosing the series pack will get you a collection of animated stream overlays, stream alerts, stream transitions, and a stream talking banner. Valo Series Package also comes with static files or all elements, stream panels, a Twitch profile banner, desktop wallpaper and Streamlabs OBS import files.
---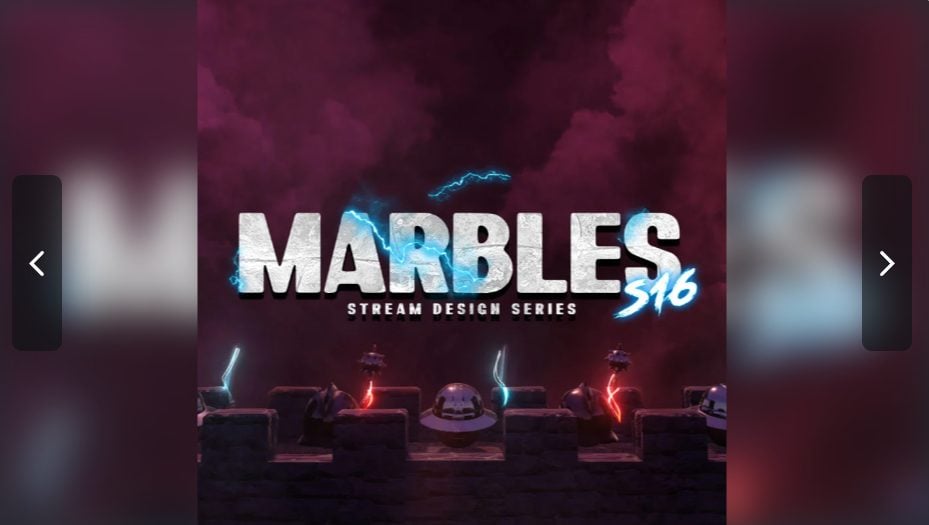 Marbles is part of the Own3d Marbles Series Package and, regretfully, isn't sold separately. It sports a lean and minimalistic design topped off by a crown. This WebCam's animation comes in the form of a light reflection on the crown, one that shines from right to left. It's a smart take 'owning' one's channel and status as a king of your throne.
As with all Own3D animated packages, Marbles comes with a collection of animated stream overlays, stream alerts, stream transitions, and a stream talking banner. You'll also receive static files for all elements, stream panels, a Twitch profile banner, desktop wallpaper, and Streamlabs OBS import files.
---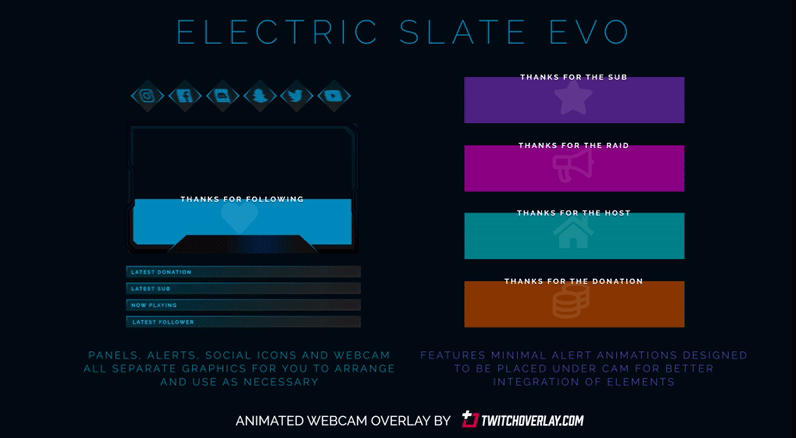 Electric Slate Evo was designed by Twitchoverlay.com. It's an upgrade of the static Electric Slate and a welcome one. The overlay comes with two WebCam frames, five panels, six social icons, and five alerts. Panels are designed to appear beneath your cam to fit into your WebCam frame. They can also be used as standalone features.
Electric Slate Evo comes OBS-compatible and you can personalize banners and your avatar using included PSD files. Animations come in the form of raised metres for new subscribers, raids, donations, and followers.
---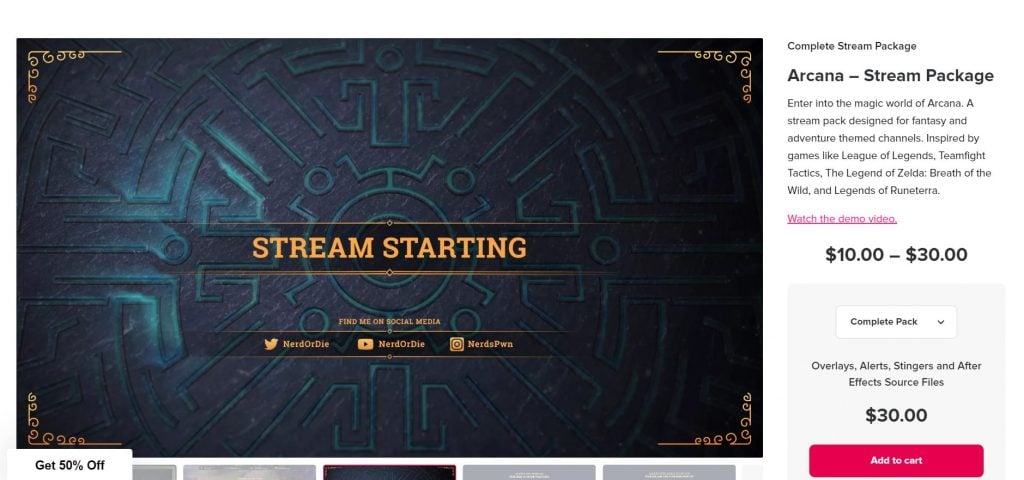 Arcana is one of the simpler but unique designs to make our list of animated WebCam overlays. It comes in one design and with an animated rune that charges up when a notification appears. This overlay is from the Arcana Stream Package from Nerdordie, so you'll need to invest in the package to access the WebCam overlay. The great news is that doing so is worth it. Arcana comes with blue, gold, and white colour options.
Alerts can also be elevated with your personal choice of sound effects. Runes have 12 colour options, giving ample room to find one that best suits your channel. You also get all After Effects files for personal edits, an alert package and a series of overlay files and scene screens.
---
Glitch 2 is a futuristic WebCam overlay. It comes from Nerdordie, is part of the Glitch 2 Stream Package, and is not sold separately. We like how the WebCam stays true to its name, showing each alert as a glitch that appears. Alerts are displayed within your WebCam frame, making for a smart integrated look and feel. Alerts also come with custom icons for each type of notification, and that makes for a nice touch, keeping your stream lively as you engage with your audience.
The Glitch 2 Stream Package comes in white, neon pink blue and neon green, and you have the same colour options for your WebCam overlays. As with all Nerdordie stream packs, you receive overlay and alert packs, along with an event list and source files for personalization.
---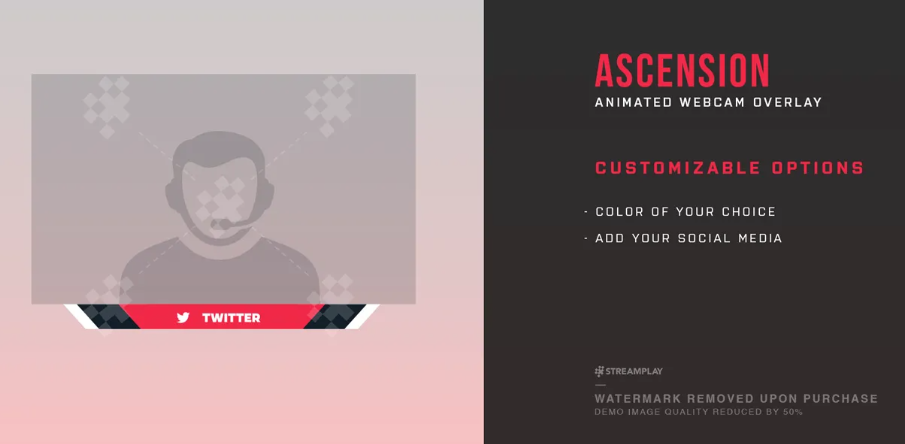 Ascension was designed by Streamplay.com. It offers a rotating social media handle panel. While not as elaborate as other Twitch animated WebCam overlays on our list, it's a good choice for the more minimalistic streamer. You can edit social media handles and add any colour to personalise this overlay.
---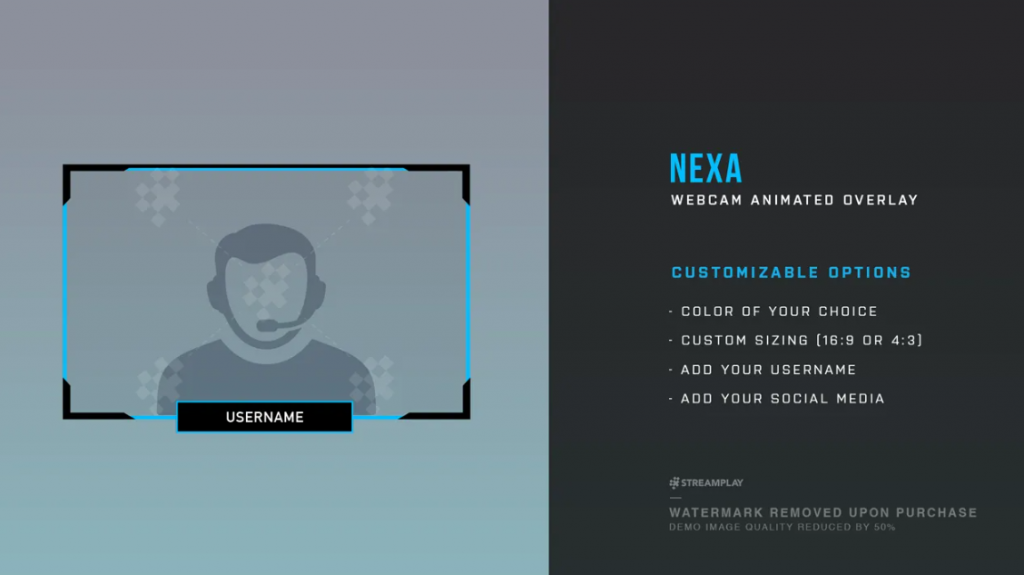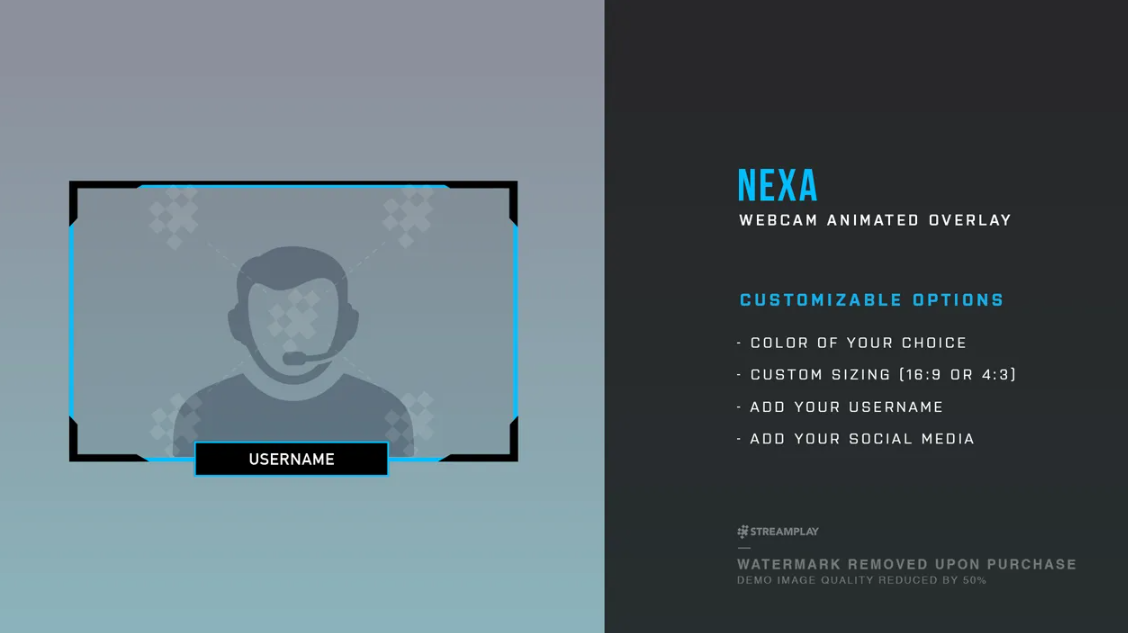 If you like Ascension then you'll love Nexa. Nexa comes with a little more animation and a WebCam overlay border. Animation is twofold. You get rotating username and social handles, along with a cool accent that runs along the border of your text panel. As with Ascension, Nexa comes with After Effects files, giving you the chance to edit it to your heart's content.
---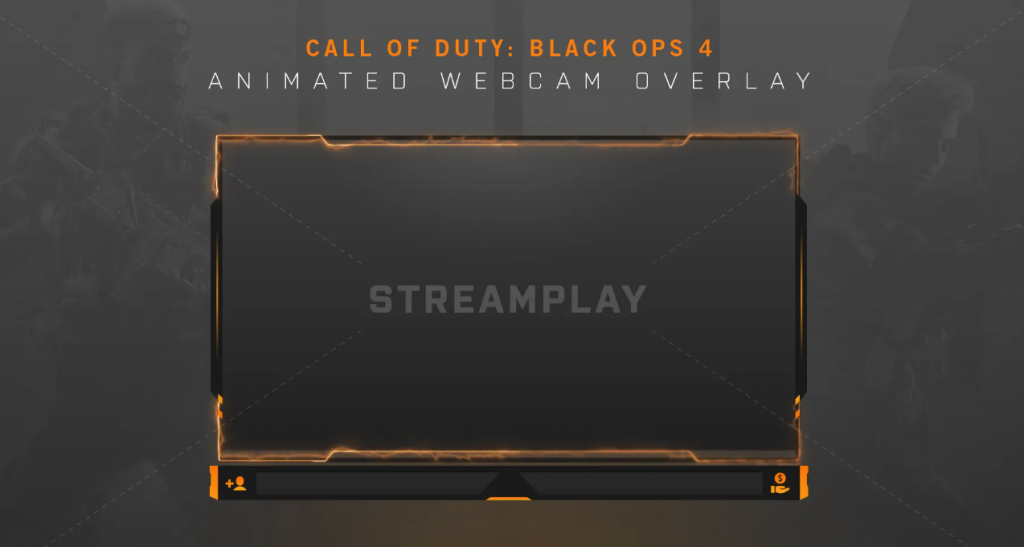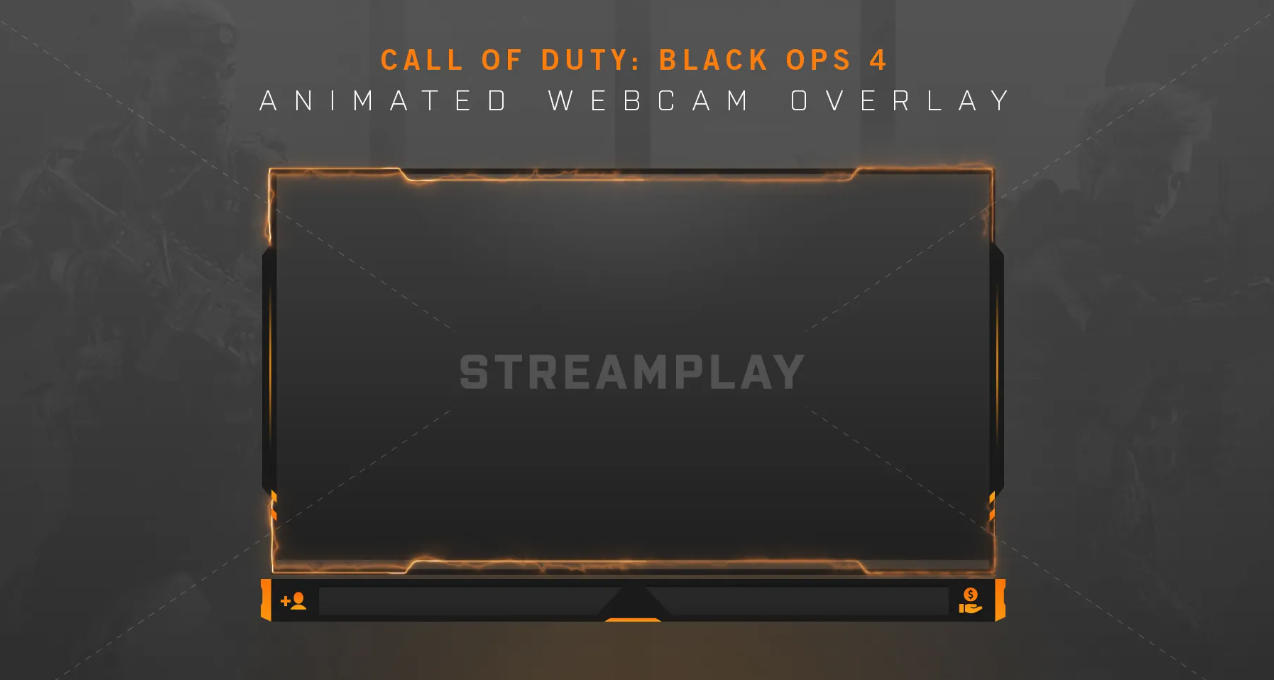 Call of Duty Black Ops was designed for the game by the same name. It comes with an engulfing surge of current that takes over the entire border. The overlay features two label panels that appear at the bottom of the WebCam frame. These can also be removed. As a Streamplay animated WebCam overlay, you get the non-animated overlay along with video and After Effects files for editing.
---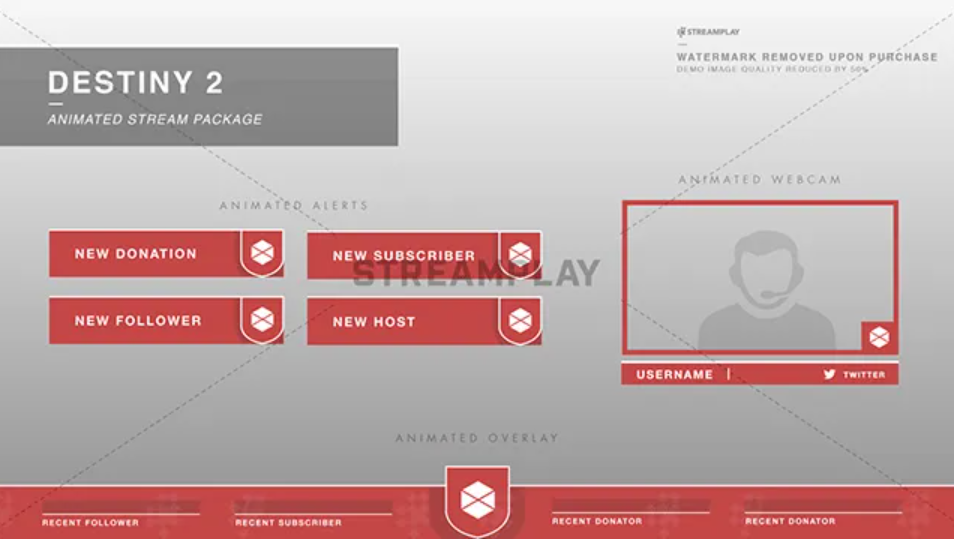 Destiny 2 is one of Streamplay's more sophisticated overlays. It features alerts that appear in your main overlay and are animated. In true Streamplay style, you have room for a gamer tag and a social profile handle. Destiny 2 comes with stream-ready files, graphics and After Effect files for easy editing.
---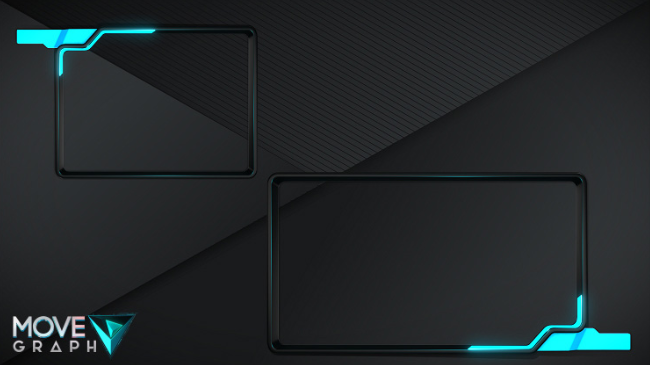 Optic Blue is likely to spark a sense of nostalgia. It's available from Move Graph and based on a clean, sleek, neon look -- one that will remind audiences of Tron. Optic Blue's animation is in the form of an energy current that runs from the bottom right-hand corner to the ends of the neon turquoise accent. This overlay comes in two sizes and in both .WebM and .mov files. You also get static images.
---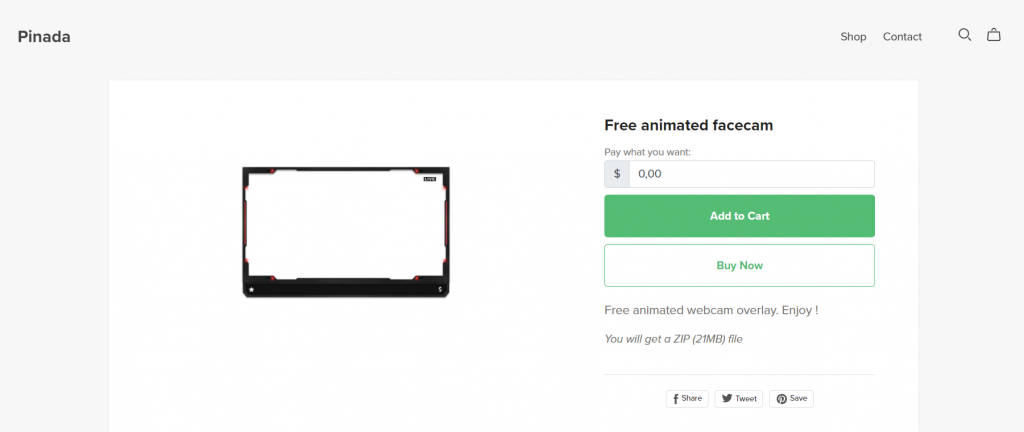 If you appreciate minimal animation, Facecam may be perfect for you. It's a clean WebCam overlay with accents strategically placed along the border of your WebCam. Accents glow in different colours and this overlay is designed for editing through pintools.com, allowing for colour changes.
---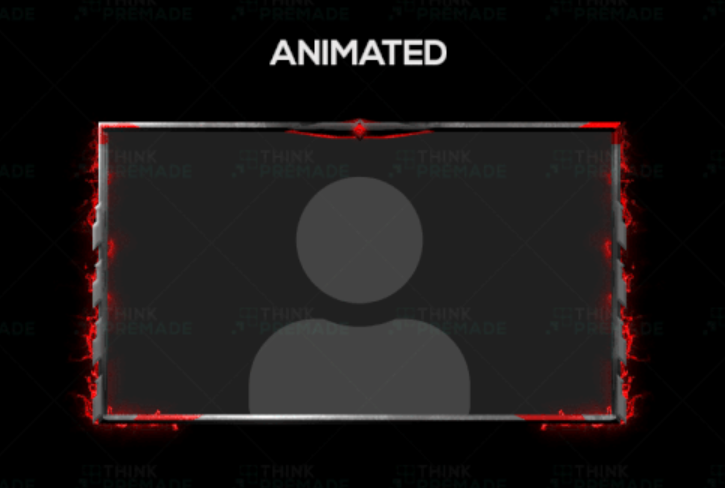 Creed is a Think Premade WebCam overlay. It includes two animations in the form of a constantly burning fire and glint of light that mimics a reflection as it runs from left to right of the border. It comes with multiple colour options. You can also add a username to the top via your streaming software, and this overlay comes in .WebM file format.
---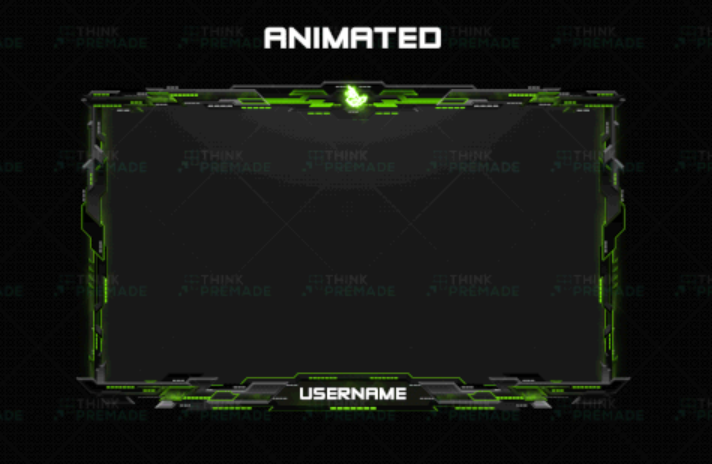 Helix offers a more complex look and feel, but makes for an attractive overlay. Its animation includes a burning flame positioned at the top-centre of your WebCam view. It also includes an energy surge that runs down the left and right borders, and status bars that load in the bottom left and right corners. There's room for your name at the bottom of the overlay. This animated Twitch WebCam overlay comes with a free static image, 10 colour options, and an AVI file.
---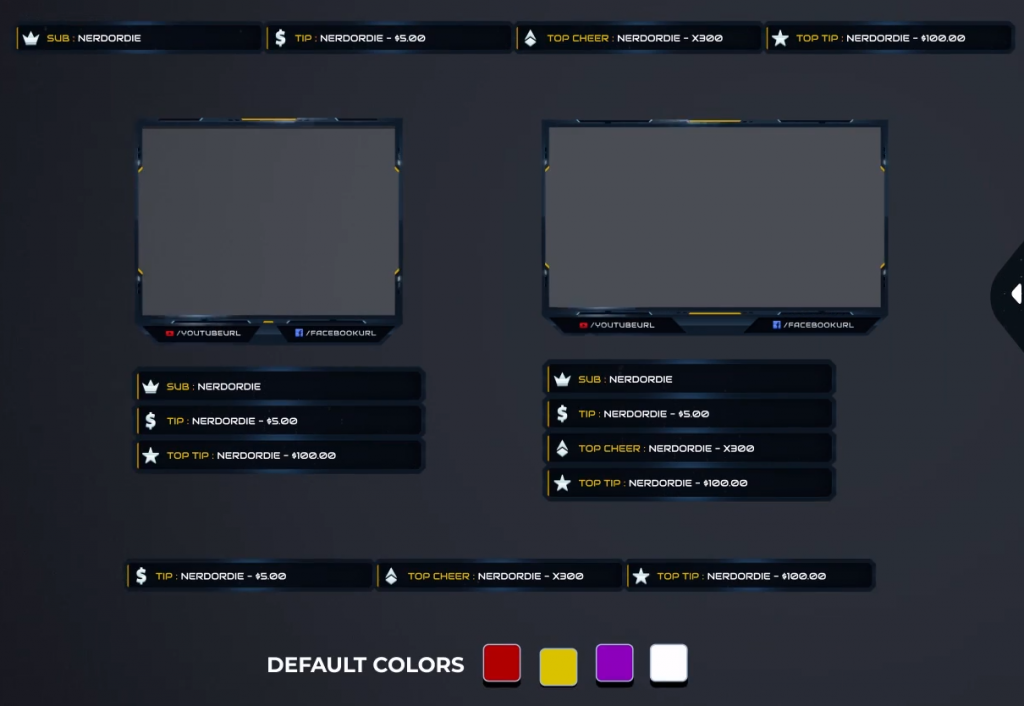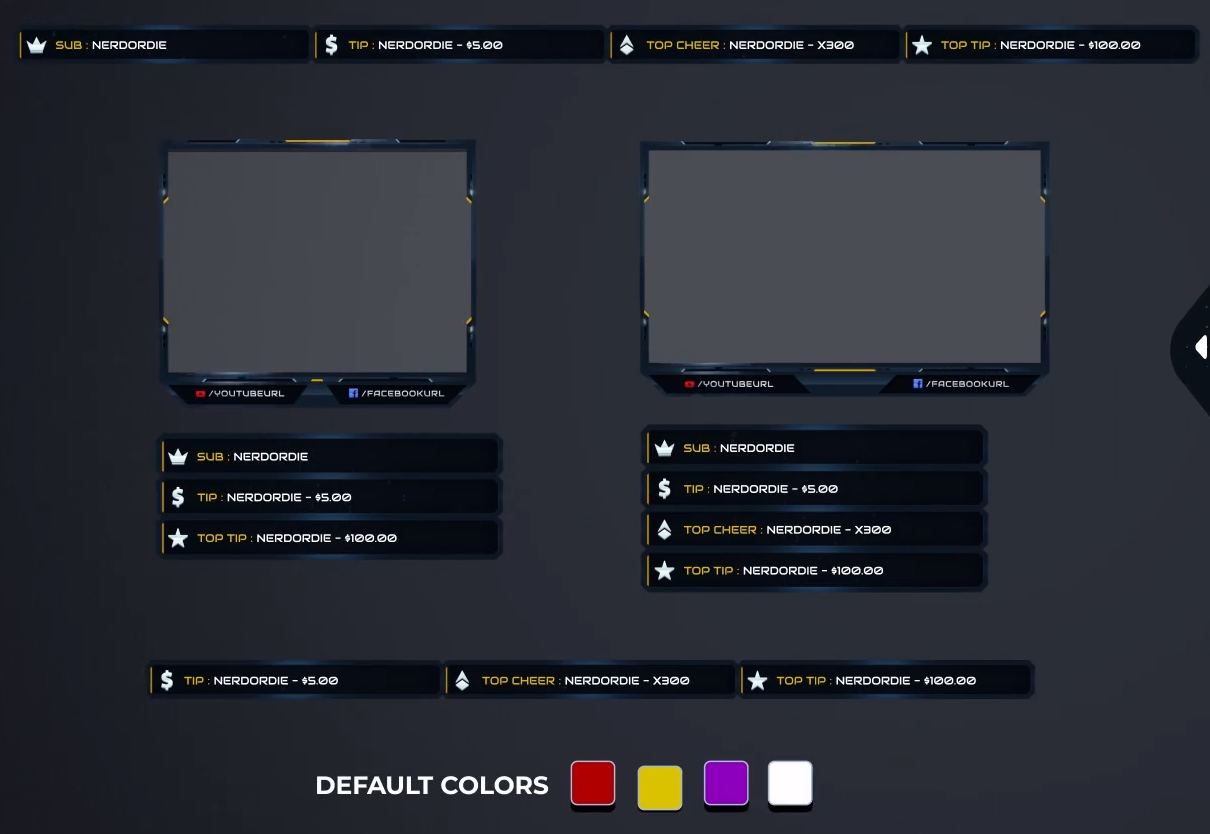 Stealth is a Nerdordie WebCam overlay that's part of the Stealth Stream Package and comes with mesmerizing animations. You get reflections that run from left to right along the border, accent colour changes, and status bars that load along the left and right borders. The overlay also includes panels that are displayed below the cam window. It comes in red, yellow, purple and white colour options. As a Nerdordie product, you get overlay and alert packages with all source files for edits.
---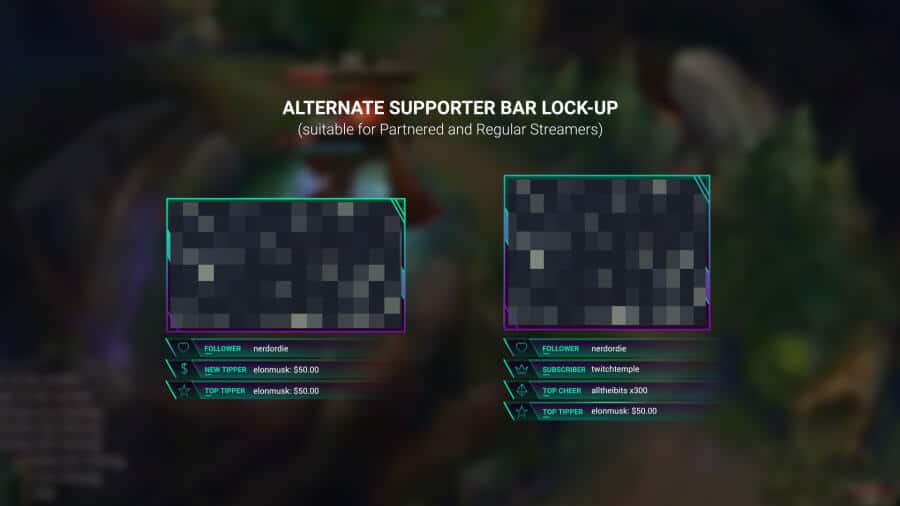 Clearview has a distinct colour gradient and animation feature audiences will enjoy watching. It includes shifting bars that run vertically and in opposite directions, while its border colours gently transform, getting lighter and then returning to their original hue. It is part of the Clearview Stream Package, and to use it you'll need to purchase the complete package. As with all packs from Nerdordie, you won't be disappointed with your buy. You'll get alert and overlay packages with editable files.
---
Clean Dark is a rugged-looking animated WebCam overlay from Own3d. It's in the Clean Dark Steam Dark Design Series. The solid look and feel are likely to be the first design elements fans will notice. You receive four types of overlay designs (two bordered and two borderless). We like this overlay because it's designed to give streamers more attention with animations that are present but subtle in the form of small, glowing orange border accents.
---
80s Retro is a standalone WebCam overlay designed to give you the feels. It includes everything that made the 80s cool, from the strong neon purple and turquoise colour combination to an animated grid that appears at the bottom of the WebCam, something that's reminiscent of a Star Wars opening reel. 80s Retro includes a PNG file that can be edited (contact Twitchoverlay.com support).
---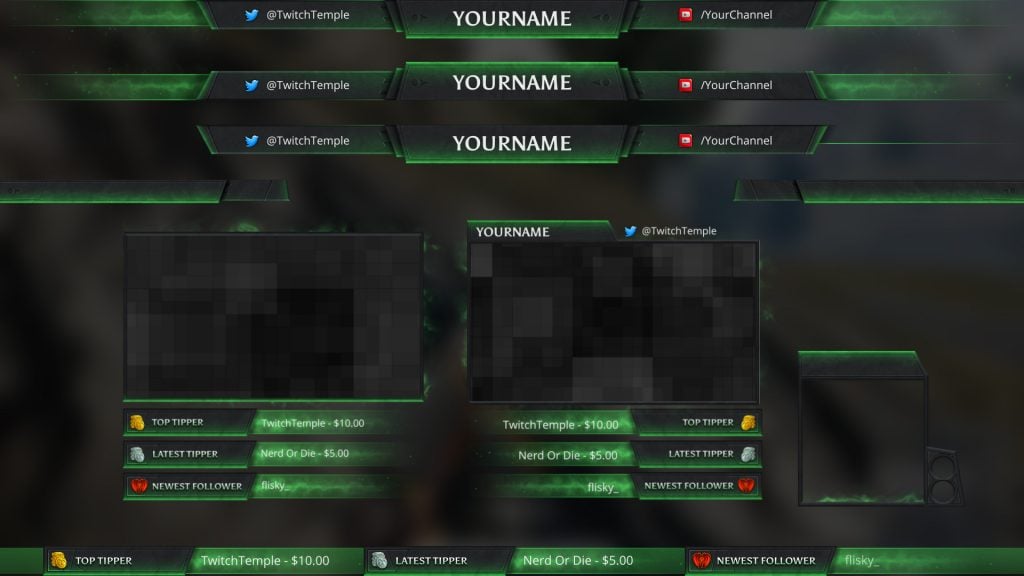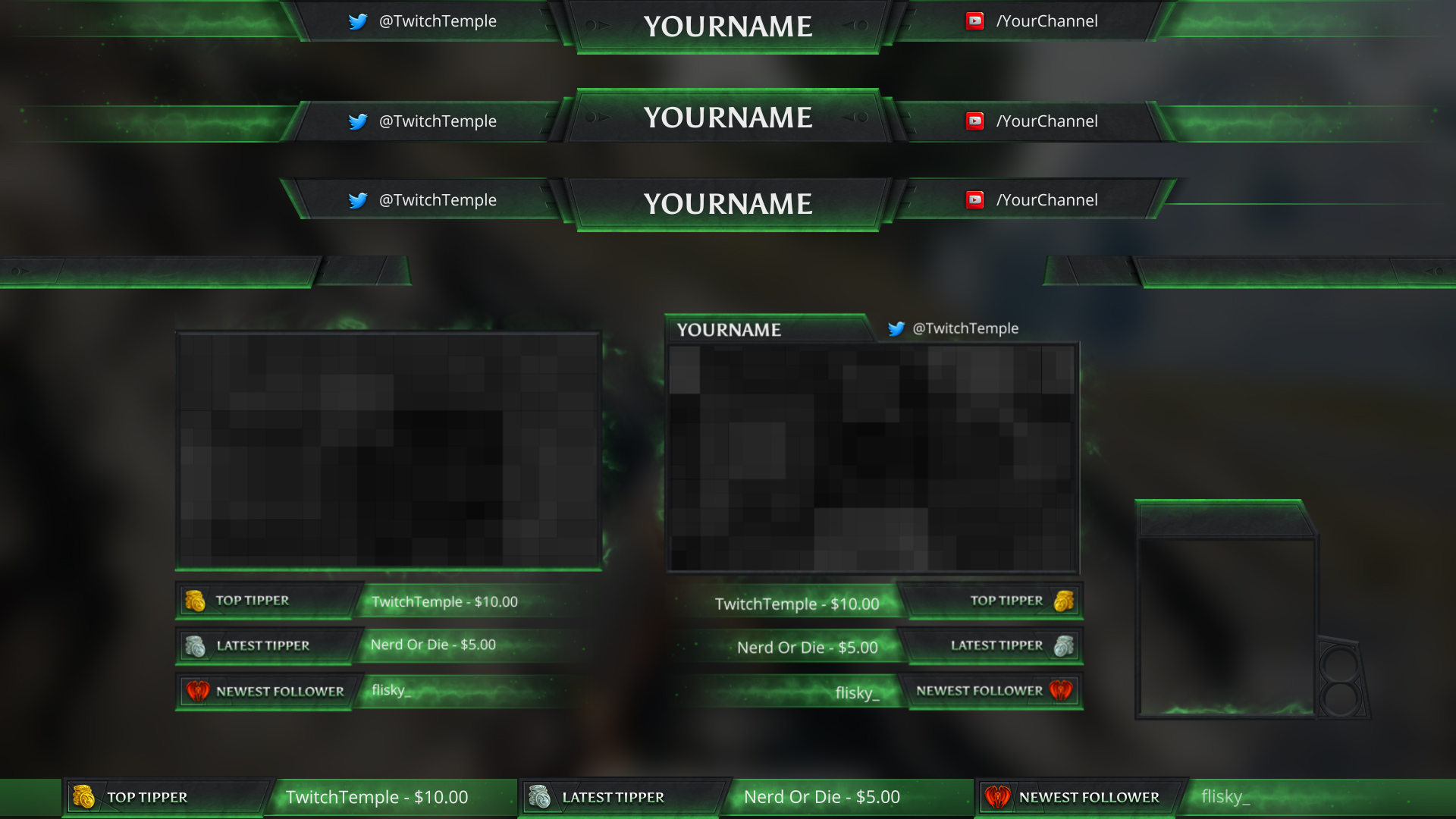 Stone Fire is a Twitch Temple animated WebCam overlay and one of the more advanced to make our list. With it, you can add custom alert sounds for cheers, new followers, hosts, new tips, top tips, and new subscribers. You also get free blank panels to create your own designs.
The animation includes vapour that emanates from the top, left and right of the overlay border. There are two overlay options (bordered and borderless).
---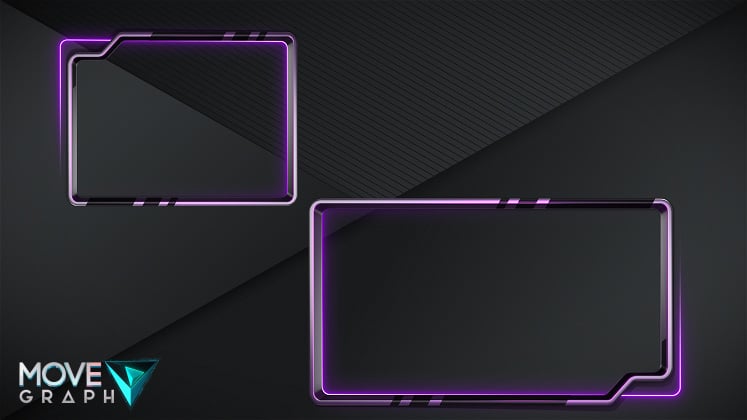 Like Optic Blue, ITOC Purple uses a strong neon light design theme. In this case, the colour is purple and the animation is more subtle. Reflections slowly run from the bottom to the top of the overlay border, while neon lights steadily pulsate. ITOC Purple comes with two .mov and .WebM files and is OBS-ready.
---
Wrapping Up
There are tons of Twitch animated WebCam overlays available today. As you search for yours, enjoy the process. They come with multiple colour options, features and animation effects, so take the time to find one (or a couple) that resonate with you and your audience.