Are you looking for a smart way to grow your business? Look no further than referral marketing. Referrals have been the backbone of growth for companies like Tesla, PayPal, Virgin Mobile, Revolut, Starbucks, Dropbox, HSBC, and more.
These companies used referral marketing as a cost-effective way to acquire new customers and out grow their competitors over the last decade. Think about it, you don't need to spend a lot of money on advertising to acquire a new customer, instead, your satisfied customers will do the marketing for you!
According to Nielsen, 92% of consumers trust recommendations from friends and family over any other form of advertising. This means that leads that are referred to your business will be more likely to convert, more likely to spend more, and more likely to refer other friends.
In this article, we're going to show you how to accelerate the growth of your business by launching a referral program. We've interviewed the most experienced referral marketing experts to make sure we're bringing you the best advice and tactics around.
We're confident that if you follow our step-by-step guide on how to build a referral program, your customers will be singing its praises after it's launched 👏
---
Build A Referral Program Your Customers Will Love [15 Steps]:
---
1. Why Referral Programs Are So Powerful
The effectiveness of online advertising has been declining over the last decade for various reasons. The rise of ad-blockers and cookie blockers has made it difficult for brands to reach potential customers while browsing — this impact is evident in the decreasing engagement rates of your digital ads. Additionally, fierce competition for ad space and the rise of AI content creation tools has led to consumers' social feeds being flooded with content, which makes it harder than ever for your business to stand out from the crowd.
Launching a referral program is fast becoming the only way to stand out in 2023 because it allows you to get personally introduced to a potential customer, rather than hoping a potential customer spots your advert in their busy social feed.
By automating the process of incentivizing customers to refer their friends and family, you can amplify the reach of your businesses with minimal effort. What's even more powerful is that these referred leads are usually free (if your referral program is set up correctly). You should only be paying out a reward once a referral is successful, for example by converting into an actual paying customer.
Overall, referral programs offer a risk-free marketing channel that is loved by both businesses and customers alike.
"Referral marketing programs can generate high-quality leads without the risk associated with traditional online advertising." - Kirsty Sharman, founder of Referral Factory.
According to statistics, leads that are acquired through a referral program are 2x more likely to convert than leads acquired through other online advertising channels. This is because referrals build trust and credibility with potential customers before they even make their first purchase. Additionally, the Wharton School of Business found that customers acquired through referrals have a 16% higher lifetime value than non-referred customers, meaning they will spend more money with your brand over time.
---
2. Why Customers Love Referral Programs
Customers love referral programs because it actually feels good to share something valuable with someone else. If you offer a good service or product to your customers, you'll find that they are more than happy to refer you… if they are prompted and given an incentive to do so.
"83% of satisfied customers are willing to refer products and services. But, only 29% actually do." —
Texas Tech University
By building your own referral program you're essentially automating asking your customers to refer their friends and rewarding them for doing so. If your customers spread the word about your business and help you grow, you get rewarded with revenue and they get a reward for helping you grow your bottom line.
It really is a win-win!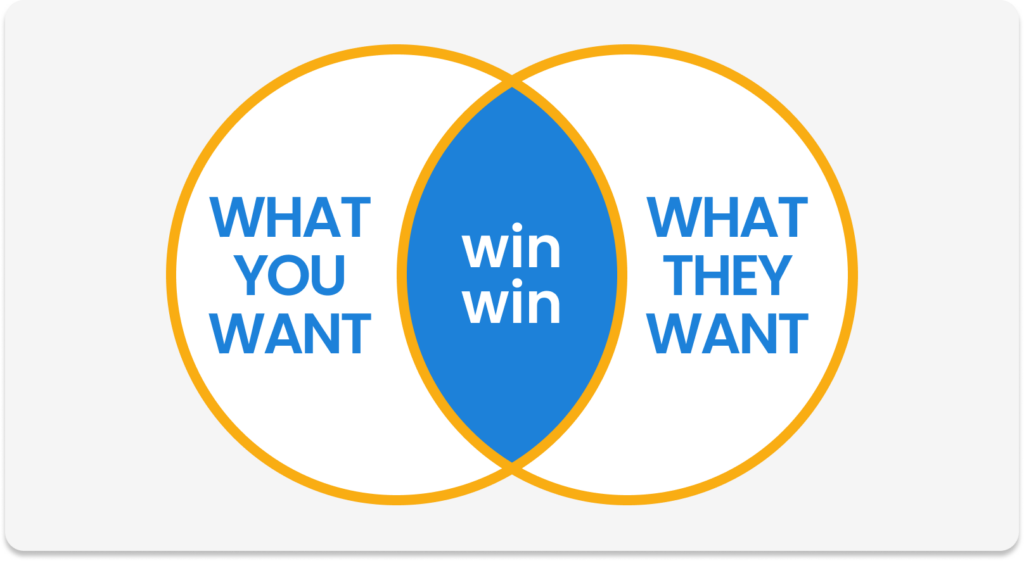 ---
3. How To Build Your Referral Program: 15 Steps To Follow
Building your referral program is easier than you think, thanks to the rise of no-code referral software tools that give you many of the features you need, right out of the box. If you go back ten years it was extremely difficult and expensive for marketers to set up their own referral programs, as you had to hire a developer and really know what you were doing. There were no such things as referral program templates back then!
Now that there are more tools/ templates/ help guides out there, it's easier than ever to build and launch your own referral program. If you're ready to get yours up and running, we suggest you follow these 15 steps to build a referral program your customers will LOVE.
Let's get started.
Step 1: Make sure your business is ready for a referral program
Before you start building your referral program, make sure that your business is ready for it. This means ensuring that you offer a product or service that your customers love and are willing to refer to others. Take a look at your customer reviews, feedback, and testimonials to gauge how satisfied your customers are with your business. Consider the number of people you can convince to refer, and make sure that number is enough to justify the time to set up your referral program.
You'll also want to look at the size of your customer and fan base - if that's still below 500 you might not have enough people to ask to refer yet. Keep focusing on other paid marketing channels until you have at least 500 people to ask for referrals.
If you have a high satisfaction rate and a big enough base to ask for referrals, then you're ready to move on to the next step.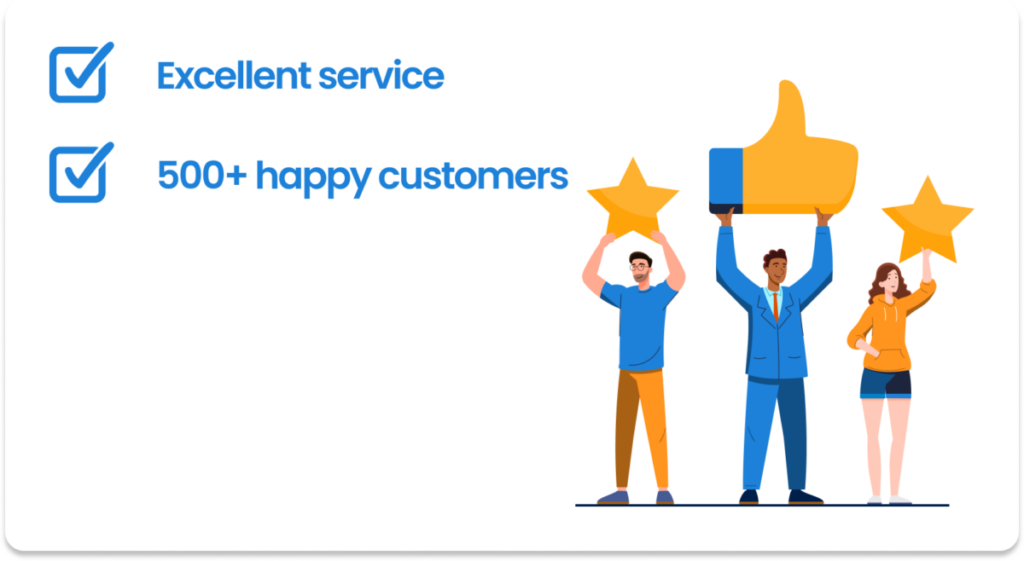 ---
Step 2: Calculate how much you can pay for a successful referral
Before you start offering rewards for successful referrals, you need to figure out how much you can actually afford to pay for each new customer that gets referred to you. This will depend on your profit margins, customer lifetime value, and how much you're willing to invest in your referral program.
You can use a simple formula to calculate your referral reward value, such as estimating the revenue each customer will generate in their first month, and offering that as a flat rate per successful referral. Or, if your business works on larger one-time purchases, you can offer 10% to 20% of your profit margin, again by taking the average and making it a flat rate.
Offering a reward as a flat rate makes your referral program much more tangible, and makes communicating your referral program much simpler. This is important: people see more value in a reward that has an actual value — $100 trump's %10 when it comes to referral rewards.
If you want to use a more complex formula to calculate this value, then you can use the process below to guide you.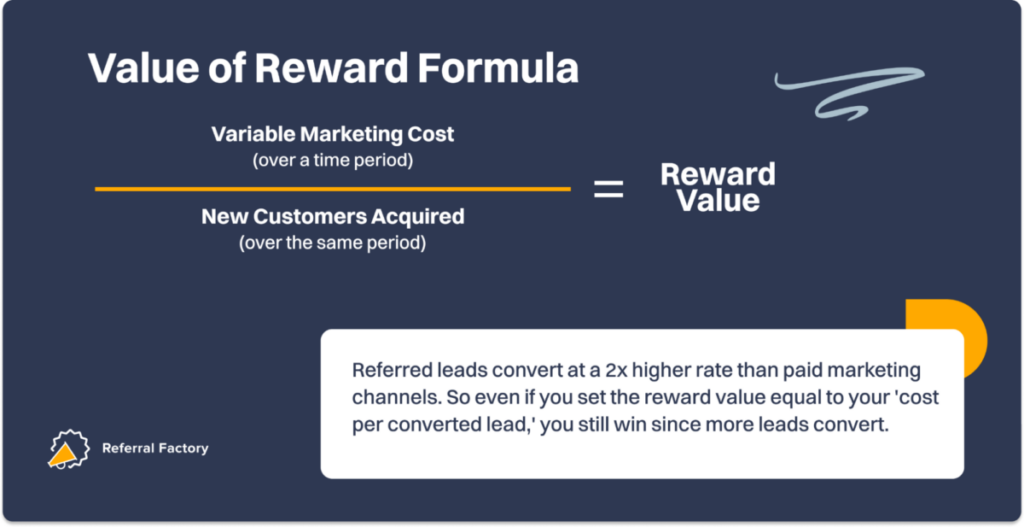 ---
Step 3: Choose the reward and incentive for your referral program
Once you know how much you can afford to pay for a successful referral, it's time to choose the reward and incentive for your referral program — the cost of these should equal the budget you decided on in the previous step.
Some popular rewards and incentives include Amazon gift cards, Digital Visa cash cards, discounts, free products or services, upgrades, access to exclusive events, and store credit. Choose rewards and incentives that are valuable to your customers and motivate them to act.
Think about what reward or incentive will increase people's excitement about your referral program, essentially turning them into brand advocates for your business. Ultimately, the best referral rewards and incentives depend entirely on your business and your customers' preferences, so take your time when thinking about how to incentivize the right actions with each reward you offer.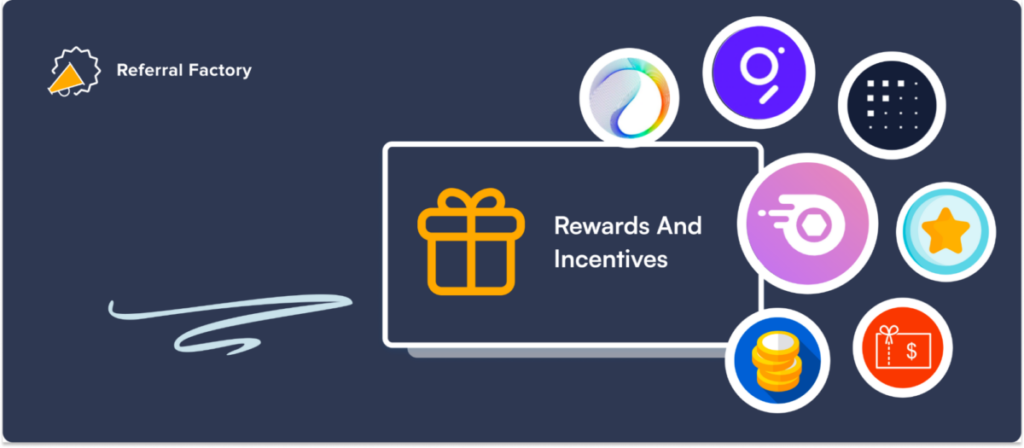 ---
Step 4: Choose if you want to issue referral links or referral codes to your customers
Referral links and referral codes are two different ways to track referrals, and it's important to choose which one you want to use for your referral program. Referral links are unique links that are assigned to each customer, and when someone clicks on that link, they'll see an invitation page that acts as a personalized introduction to your business. Think of it like a landing page for each of your referrers. Here's an example: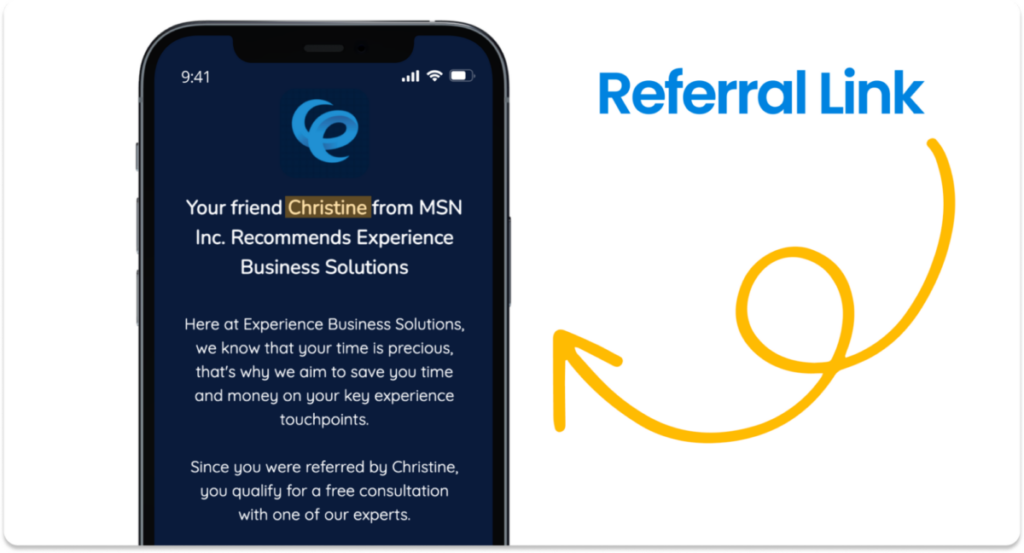 Referral codes, on the other hand, are unique codes that customers can share with their friends and family, and when someone uses that code to make a purchase, the referrer gets credit for the sale. This method is often used in e-commerce, but it tends to have a lower conversion rate than personalized landing pages, which warm up the referred leads before they arrive at your door to make a purchase.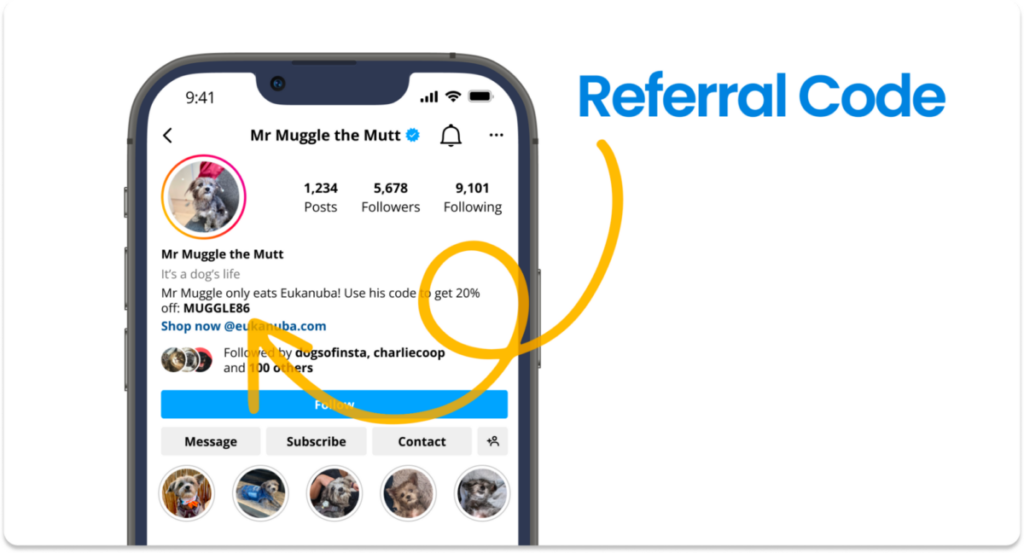 Consider which option is best for your business and your customers.
---
Step 5: Choose the right software to build and host your referral program
To set up your referral program, you'll need to choose the right software to build and host it. There are many options available, including Referral Factory, Refersion, and Ambassador. Each of these platforms offers different features, and it's important to choose one that fits your business needs and budget.
First, you want to choose a platform that's easy to use for both you and your customers referring. You'll also want to make sure that the software you choose offers advanced customization options so that you can create a referral program that is 100% on brand too. Look for software that is no-code if you're a solo marketer or have limited resources because referral programs can get technical fast if you don't have a no-code tool running under the hood.
It's also important to make sure that the software you choose offers easy reward management — with the option to issue your own rewards too. Experts agree that rewarding in your own currency—whether that's a discount or some exclusive perk—increases retention as much as it drives new growth. Most tools come with easy integration options into third-party rewards platforms either built into the software or via Zapier, so you should have a few reward options to choose from.
Referral tracking is also important — an analytics dashboard can help you learn as your referral program grows and make it easy to see which customers are driving the most referrals. Make sure you track all the steps in your referral program, keeping a close eye on the reach of each customer's referral link, the referrals they have generated, and how many of those have converted into actual revenue for your business.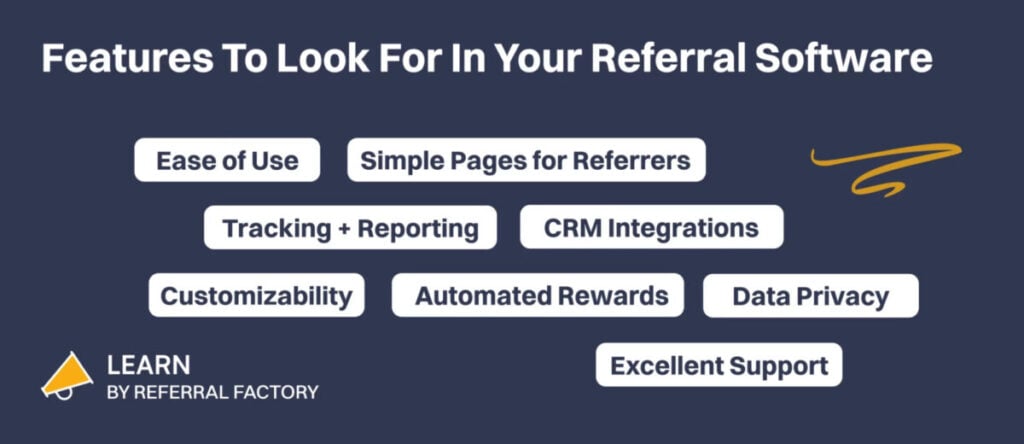 ---
Step 6: Create all the pages for your referral program
To make your referral program easy to understand and use, you'll need to create all the necessary pages for it.
This includes a page where customers can register for their referral links or codes, if you want people to opt-into your referral program 👇
You'll also need to create the page that acts as each users referral link once they register, this is the page people share with their friends to promote your business 👇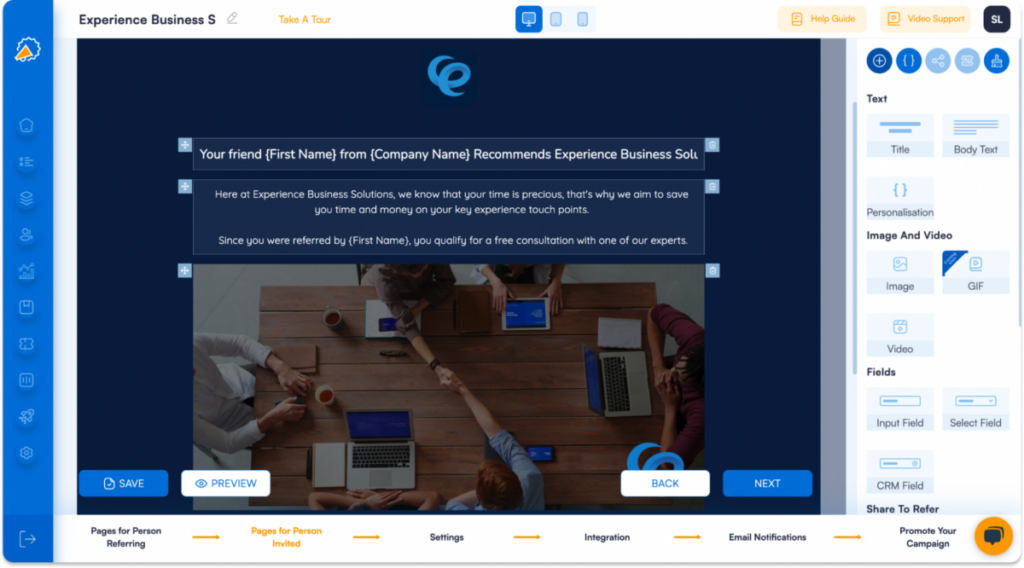 And a page where each person can track their referrals 👇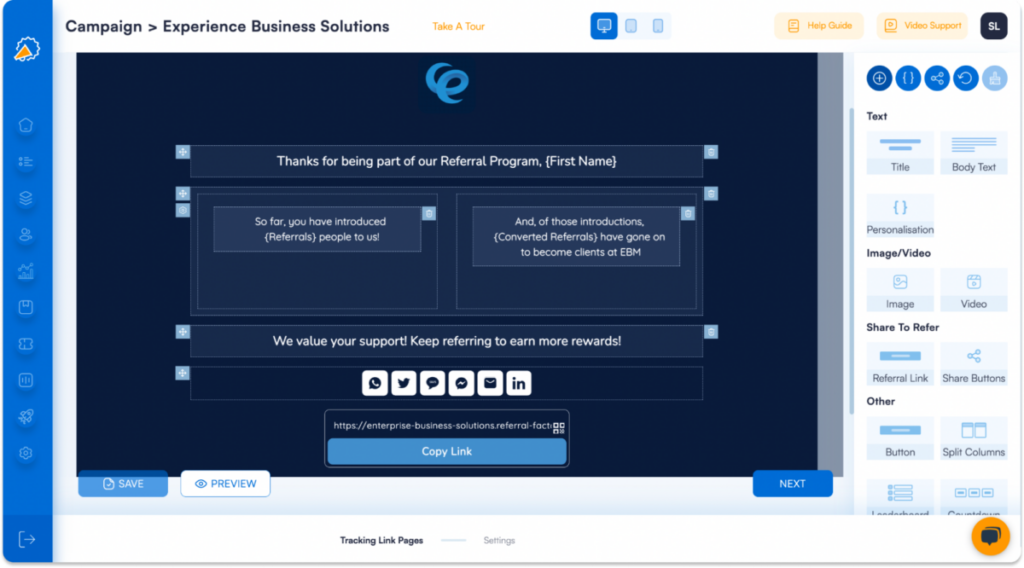 Make sure these pages are clear and represent your brand style and personality. On each of these pages, you'll want to add text, images, and even videos where it works. Communicate clearly what action you want each user to take, and why they should do it. If you create a great user experience on these pages, people will feel much more comfortable participating in your referral program.
Remember that in most cases, these pages will be viewed on mobile because people open their friends' messages on their phones. Make sure everything is optimized for mobile view and the sharing experience from these pages is 🔥🔥🔥
---
Step 7: Create all the email notifications for your referral program
Email notifications are an important part of any referral program, as they keep customers informed and motivated to continue referring friends to your business. You'll need to create emails that go out to customers when they sign up for the program, when they refer someone, and when that someone converts into an actual paying customer or whatever you consider as a successful referral. You should also think about setting up reminder emails that prompt people to refer with a fun reminder every 1-2 months.
Don't forget to create email notifications for the people being invited too: when they join your campaign, and other triggers they may have along their journey... to becoming your customer 😉
These emails should be friendly, informative and encourage customers to keep referring. Here's an example of an email notification for the person referring: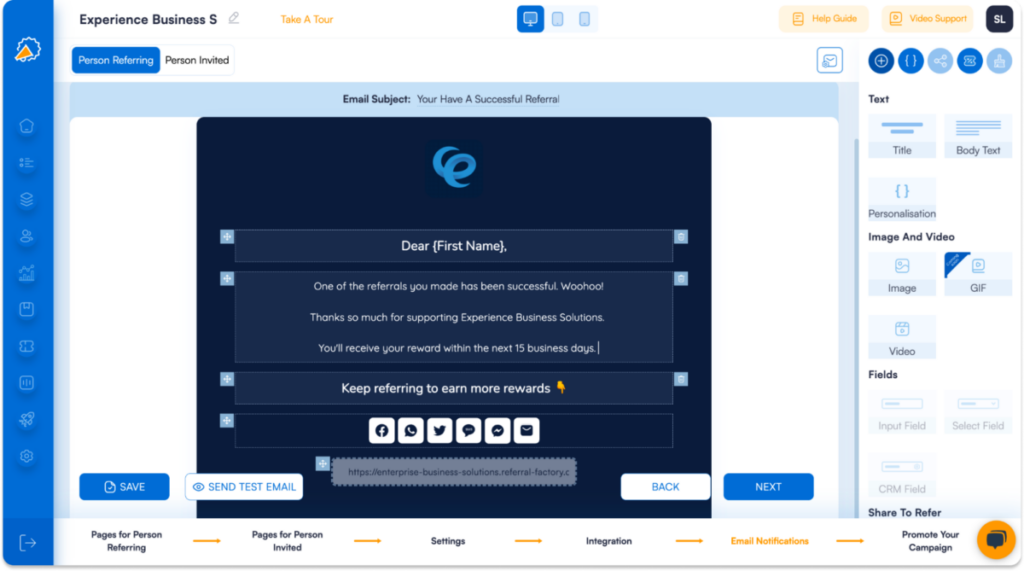 ---
Step 8: Set up the automation for your referral program (if you're using referral software, this is often called an "integration")
If you're using referral software, you'll be able to set up automations for your program by connecting an integration. This automation helps you grow your referral program without creating more manual work for you to manage it.
For example, you want to make sure each referred lead is sent into your existing workflows, so that when that lead converts you can automatically update your referral program to qualify the referral. In most cases you'll also want to automate syncing your contacts so that a referral link can be generated for each one — it makes sense to keep each user's link with their customer records so that you have easy access to it for all future communication.
You could be connecting your CRM (like HubSpot, Salesforce, Zoho, Pipedrive, Intercom, Service Titan, Monday.com). Or you could connect your payments partner like Stripe. In some cases, people even connect Airtable or Google Sheets to their referral programs, if they are using these as tools to manage their contacts.
Most referral software makes automation pretty simple through integrations but do make sure the tool you choose also offers automation when issuing rewards because that can become a time-consuming task as your referral program grows.
Once you've set up all the necessary integrations, make sure to test them thoroughly before launching your program. It's easier if all the data is synced from the start!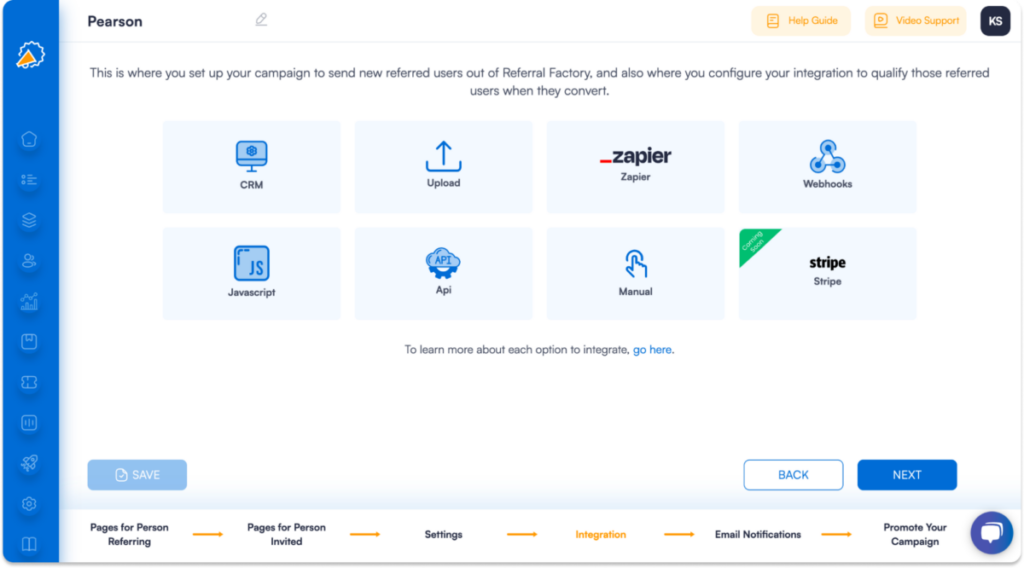 ---
Step 9: Set up the rewards for your referral program
Since you've already chosen your rewards and incentives, you'll need to set it up so that you can deliver it to the customers that send referrals your way. With most referral software tools, you'll get rewards automation out of the box, you'll just need to set up your rules so that it works for your referral program.
Here's one example of a reward rule: for every 1 converted referral = give the referrer 1 reward.
Make sure you have a clear plan together for issuing rewards and that you communicate this to customers. And note that It's ok to put a delay on the rewards you issue if you're worried about people requesting refunds or canceling. It's actually quite normal for businesses to only issue rewards 30 or 60 days in arrears.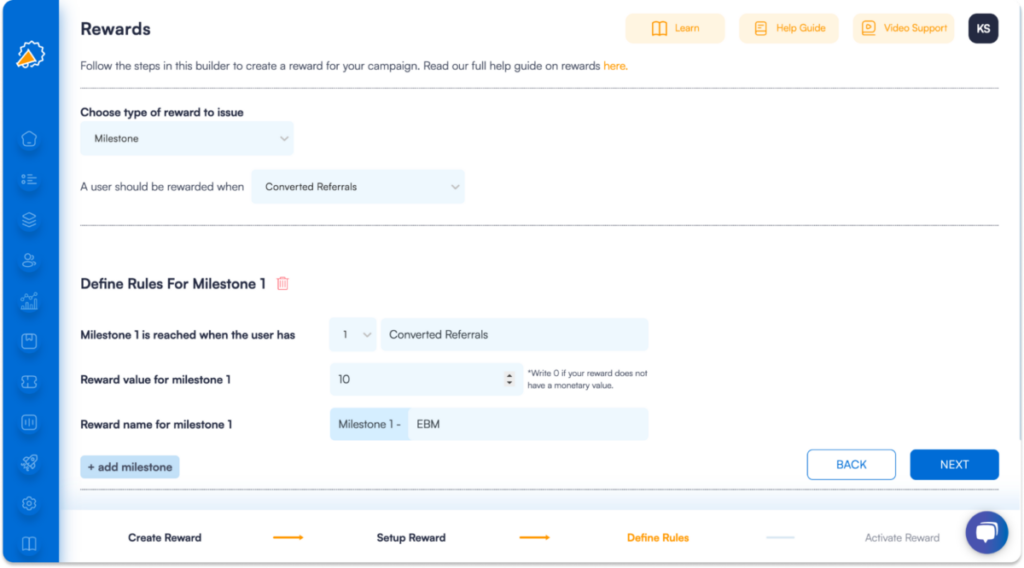 ---
Step 10: Launch and test your referral program internally
Before launching your referral program to customers, it's important to test it internally with your employees and team, or even with your friends! Make sure everything is working properly and that you're able to track referrals and rewards accurately.
This will help to prevent any issues or confusion when you launch the program to customers and can give you great insight into whether the call-to-action is clear. Once your referral program is live, it acts like a website, so making changes becomes more difficult as you have to edit a live campaign.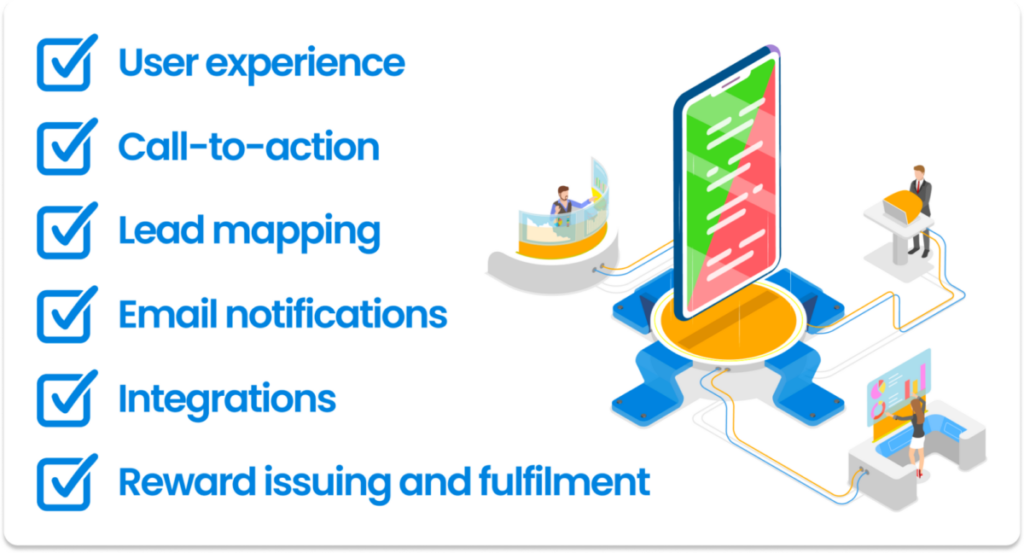 ---
Step 11: Promote your referral program by emailing your customers and prompting them to refer
Once you've tested your program internally, it's time to promote it to your customers. This is often the most neglected part but also can be the most impactful. So, make sure you put the appropriate effort into promoting your referral program! Send out a once-off email blast to your customers and fans, announcing your program and inviting them to refer. In this email, you can explain how they can participate and earn rewards for referring friends. Use clear, concise language in your email and include a call-to-action to encourage your customers to start referring their friends and family.
Here's an example of a good launch email: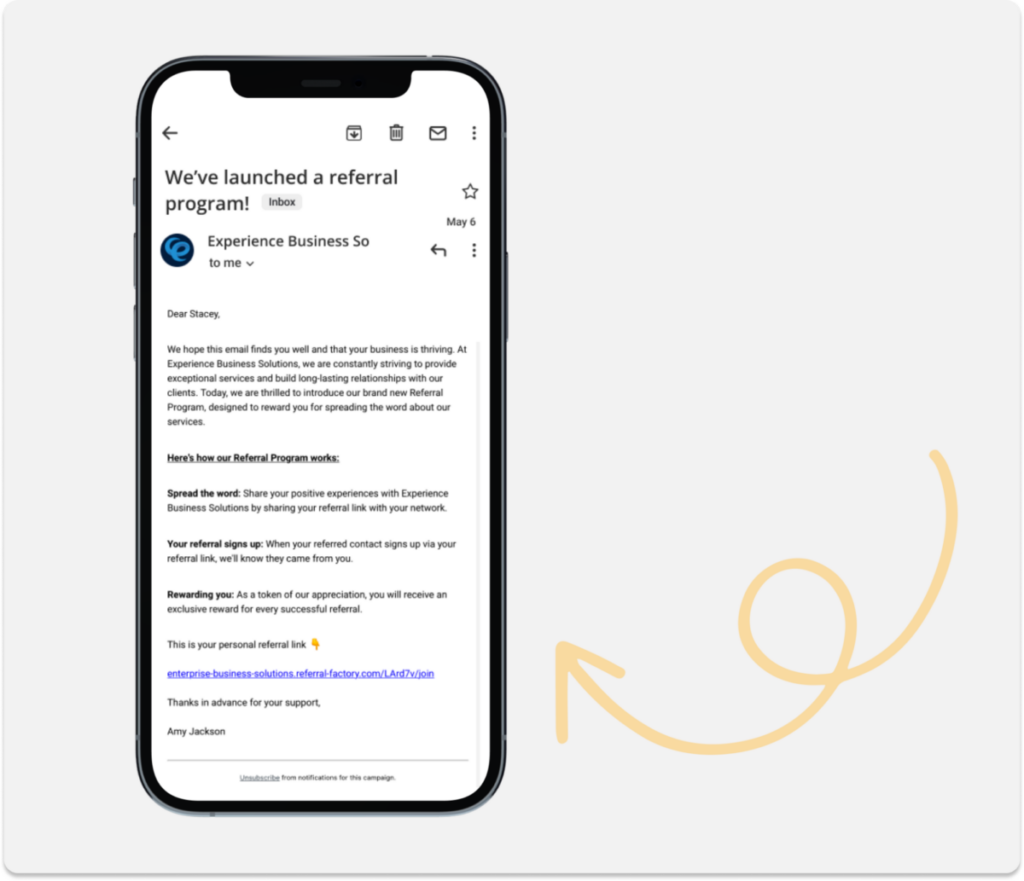 ---
Step 12: Add your referral program to your website
Make sure to add your referral program to your website so that customers can easily find it. You can add a widget to your website, so anyone browsing your site can spread the word about your business. You could even add a pop-up that triggers when customers browse your site. The more visible your referral program is, the more likely customers will be to participate.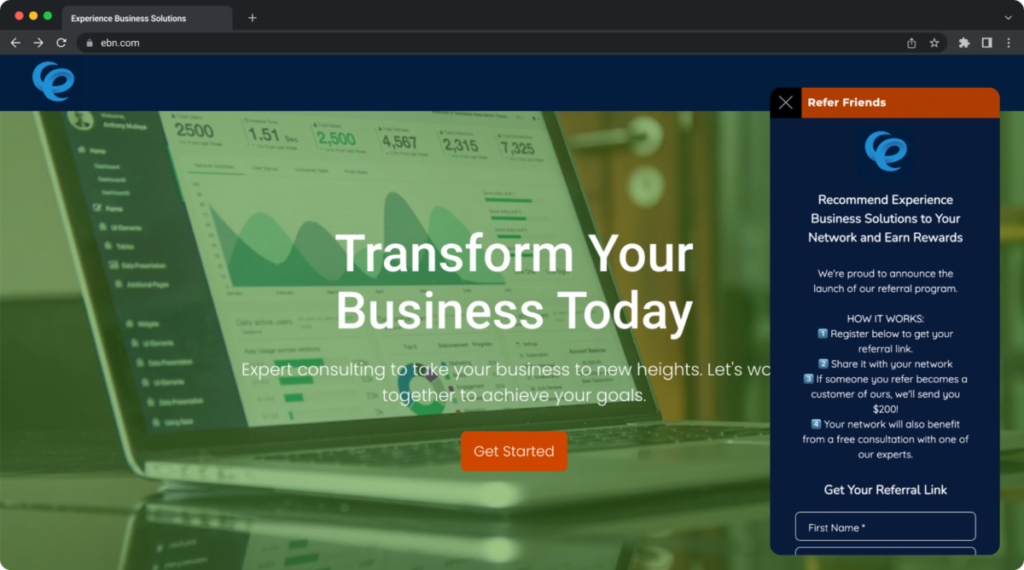 ---
Step 13: Train your team to actively ASK for referrals
Your team is one of the most important parts of your referral program because they connect you to your customers. Let's face it, referral marketing works best when human-to-human relationships are leveraged. For example, after your customer has had a positive experience with one of your team members.
Make sure to train your team on how to ask for referrals and encourage them to promote your program in their email signatures and conversations. Encourage them to mention your referral program during customer interactions and to make it a regular part of their automated communication process.

---
Step 14: Think of other ways to promote your referral program
In addition to promoting your program via email and on your website, there are many other ways to spread the word about your referral program. For example, you could create social media posts about your program, include a note about your program in your customer newsletter or even create a video explaining your program. The more creative and diverse your promotional efforts, the more likely you are to reach a wider audience and generate more referrals.
You can also embed your referral program in your most trafficked blog posts. If you work hard to create amazing blog content that people will find when searching the web, then it makes sense to embed your referral program into blog posts so that you can make the most of that valuable search traffic. When you get new blog readers who are already interested in your niche, that is a perfect opportunity to prompt them to refer friends too.
Here's an example of a referral program, for Referral Factory, it's like referral inception 😂

---
Step 15: Track and monitor the analytics of your referral program
Finally, it's essential to regularly track and monitor the analytics of your referral program. This will help you to see which referral sources are most effective, how many referrals are coming in, and how much revenue your program is generating. Use this information to make adjustments to your program and improve its performance over time.
To effectively manage your referral program and track referrals, it's important to have accurate data on the referrals and rewards. Look for referral software that offers automated referral tracking and reporting or analytics. This will save you time and help you make data-driven decisions on how to evolve your referral program. Some of the metrics you want to track include the incoming volume of new referred leads, the conversion rate of your referred leads, who your top referrers are, and what social channel your referrers are sharing their links on.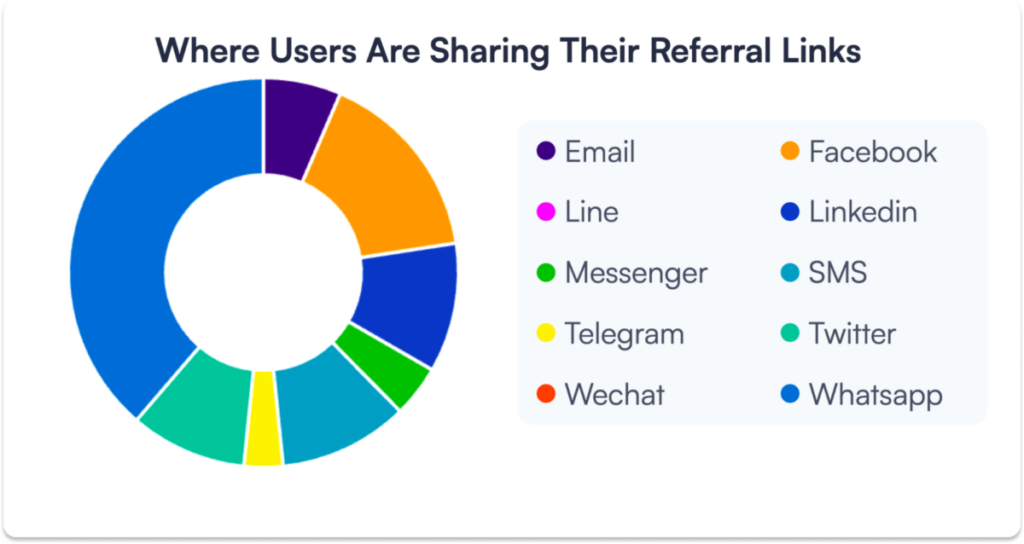 ---
4. The Key to a Successful Referral Program
Most people think that the key to a successful referral program is a killer reward for the person referring. This is important, yes, but it's not the secret key you need to unlock success.
Case studies across industries show that choosing the right 'incentive' or 'offer' in your referral program is actually way more important than choosing the right reward. The incentive is what you offer the person being invited or the 'friend'.
Getting the incentive right is critical because, the person referring will feel more motivated to refer their friends if they can offer them something special. This makes it feel more like sharing or recommending your business than selling your product or service to their friends.
A great incentive makes the person referring feel more comfortable promoting your products and services to their friends. People love to give offers and deals to their friends, it boosts their ego, and makes their friends happy too!
The incentive is also a great motivation to push the person invited to actually convert and become a customer of yours, based on their friend's recommendation.
So, in a nutshell...
The key to a successful referral program is having a great incentive. This means that the person referring is more likely to share their referral link with more friends, and the person being invited is more likely to act.
This is why it's so so so important to nail the 'offer' or 'incentive' on your referral program. Nailing the incentive is the most important thing you can do to promote the right kind of referral marketing behavior and will lead to a successful referral program.
An offer can be anything from a free month, a free consultation, a waived call-out fee, a small voucher, a fancy bottle of wine, an upgraded account, a discount, or anything similar – think of it as a perk for being referred.
---
5. Real-Life Examples Of Successful Referral Programs
Dropbox's referral program is a prime example of how incentives can drive customer acquisition. With their "give and get" strategy, Dropbox rewarded both the referrer and referee with extra storage space when they signed up through a referral link. This automated system helped Dropbox acquire over 4 million users, proving that referral programs can be an effective marketing tool.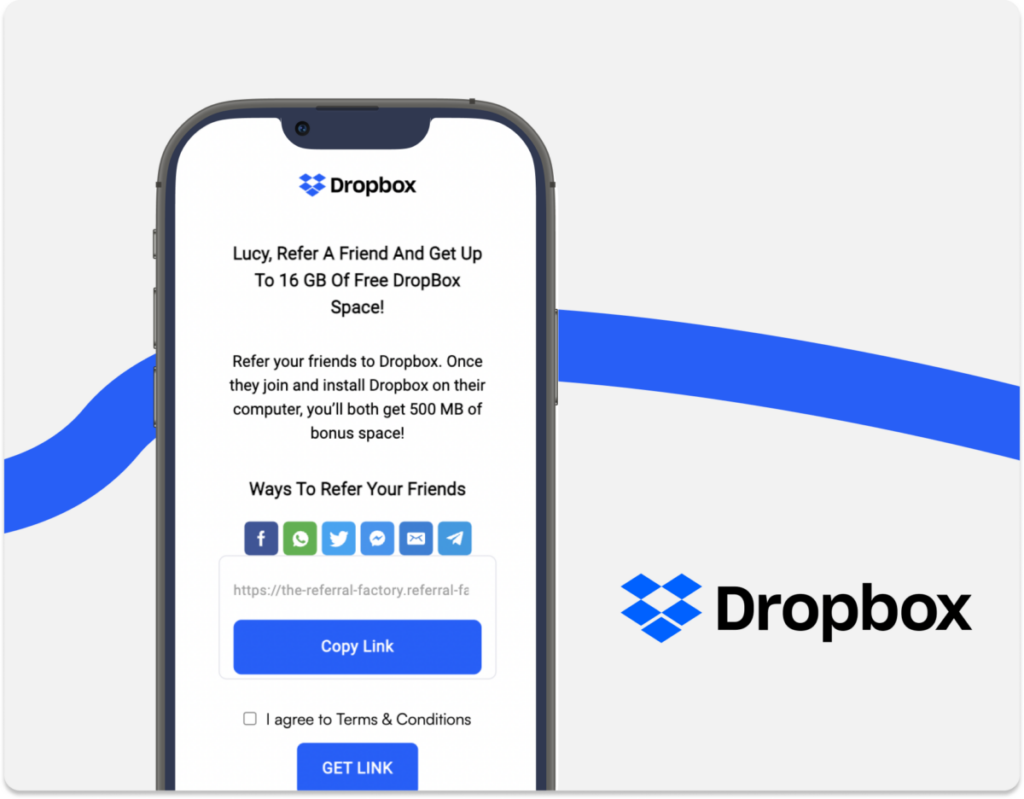 A give and get that was simple and powerful. In times that are economically tough (like 2023 when this program was launched), people in the UK needed basics more than luxuries. This is why Radius used a reward and an incentive that would encourage their customers with what they really needed – fuel. Give £50 of fuel, get £50 of fuel.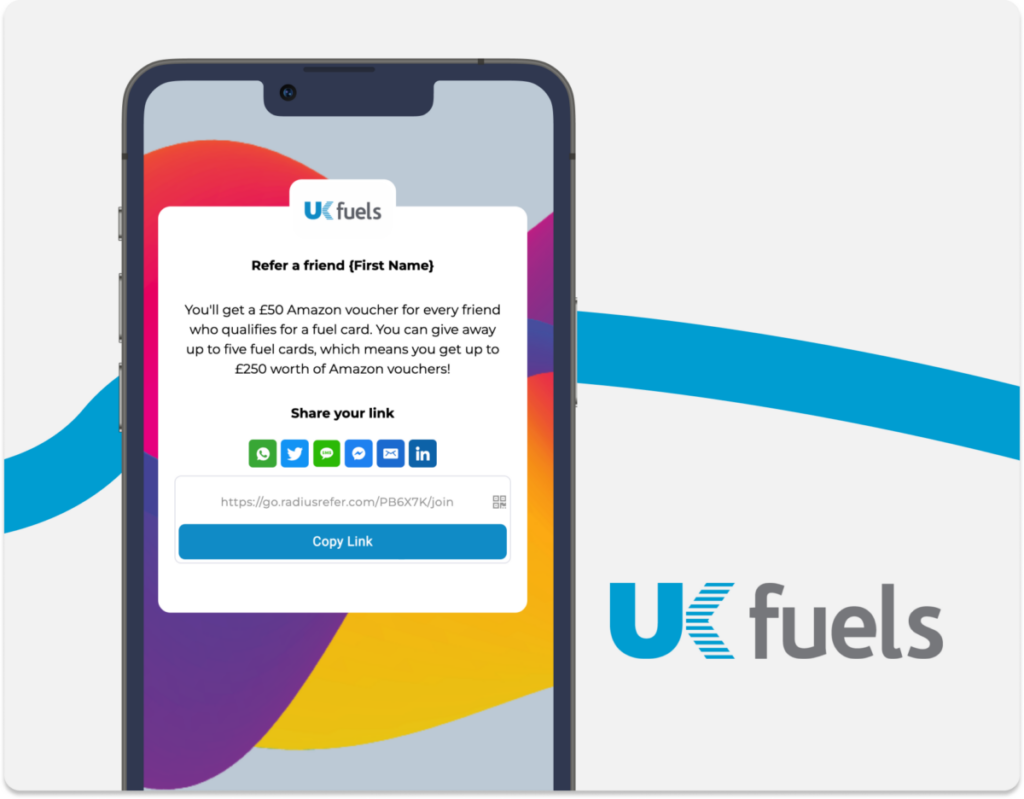 MVSN TV ran an influencer program with the aim of getting people to download their app and stream their event. They gave 200 influencers a unique referral link and rewarded them for referring people and generating downloads. These 200 influencers shared their links on social media and generated 9 067 leads of people who wanted to download the app to live to stream the event.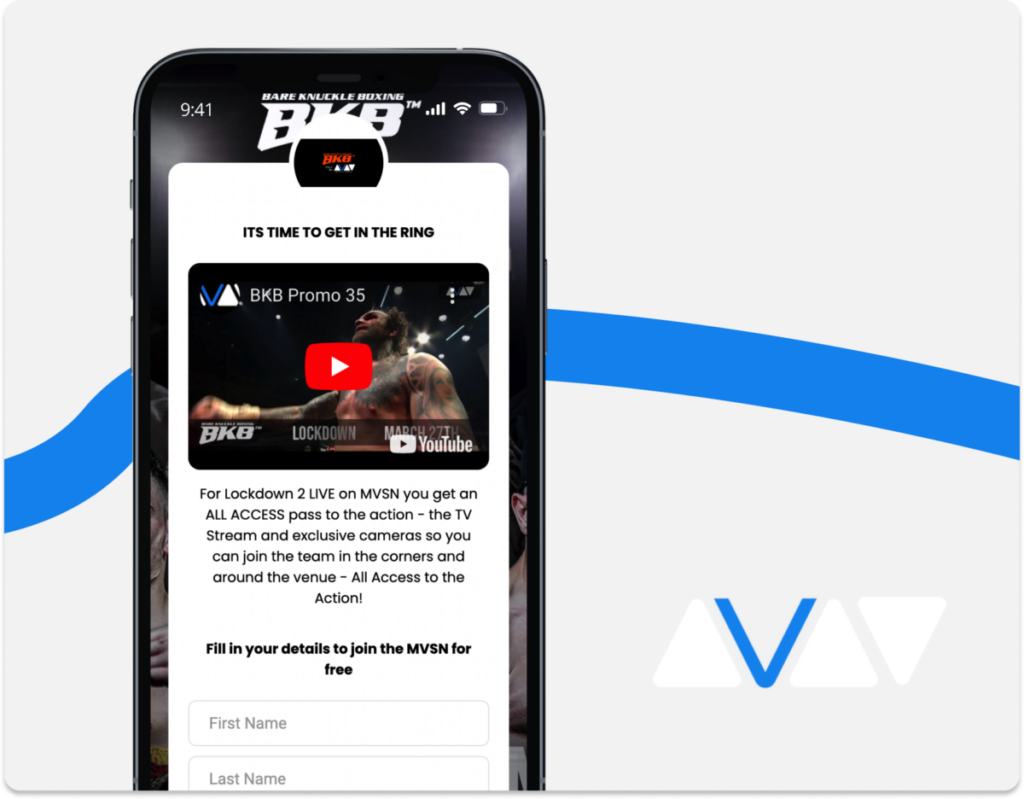 A classic give-and-get campaign from Our Bus. Share your referral link with a friend and you'll each earn $15 towards a bus trip in the future! We all know that people already love to share their love of travel, so this is a great niche to actively find ways to increase word-of-mouth spread.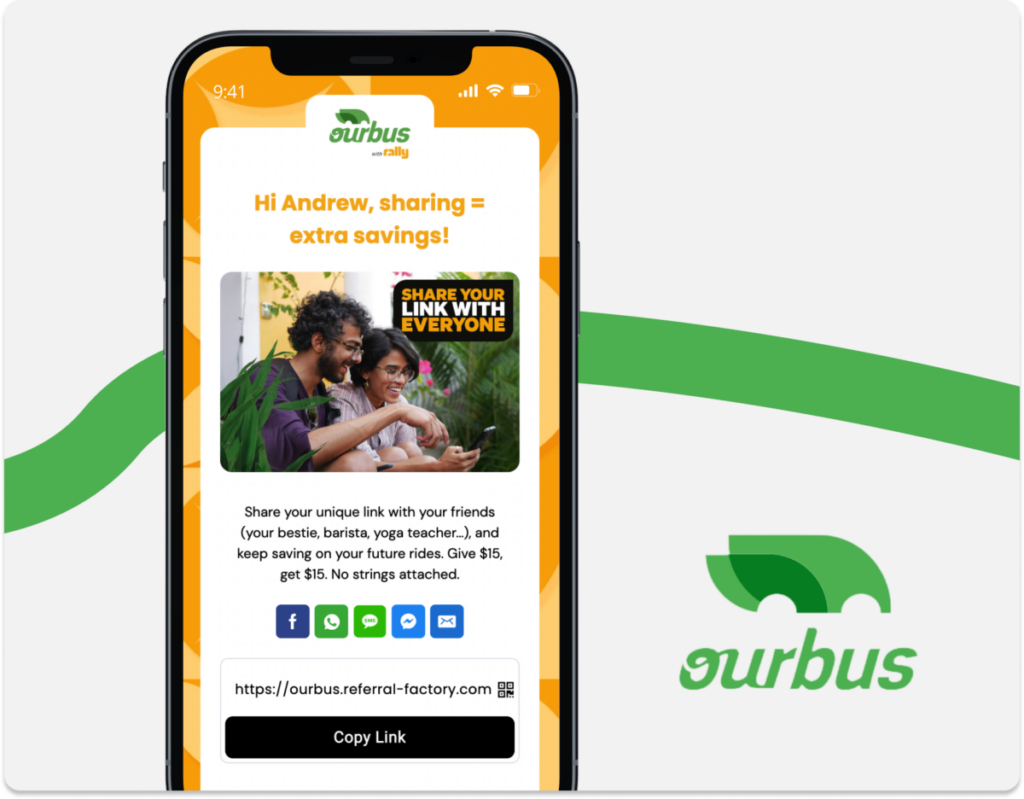 ---
6. Fun Examples Of AI-Generated Referral Programs
Marketers can do almost anything with AI these days. So, why not build a referral program too? To generate your own referral program using AI, check out this tool.
Here are some fun examples of referral programs created using AI 👇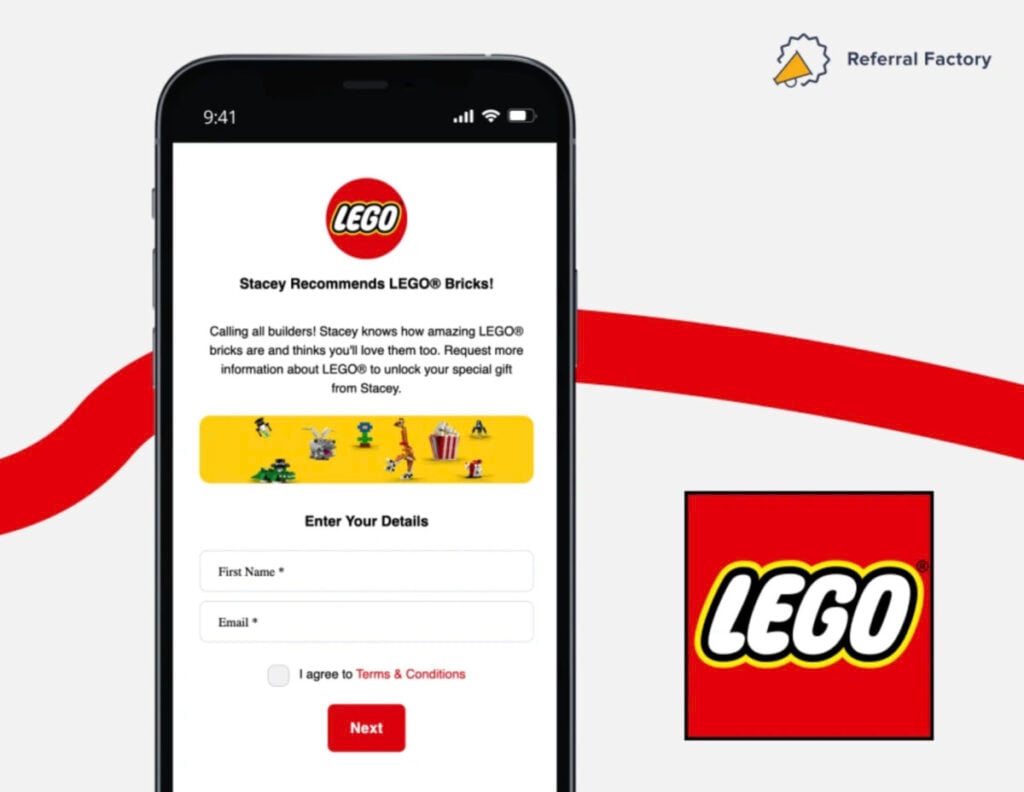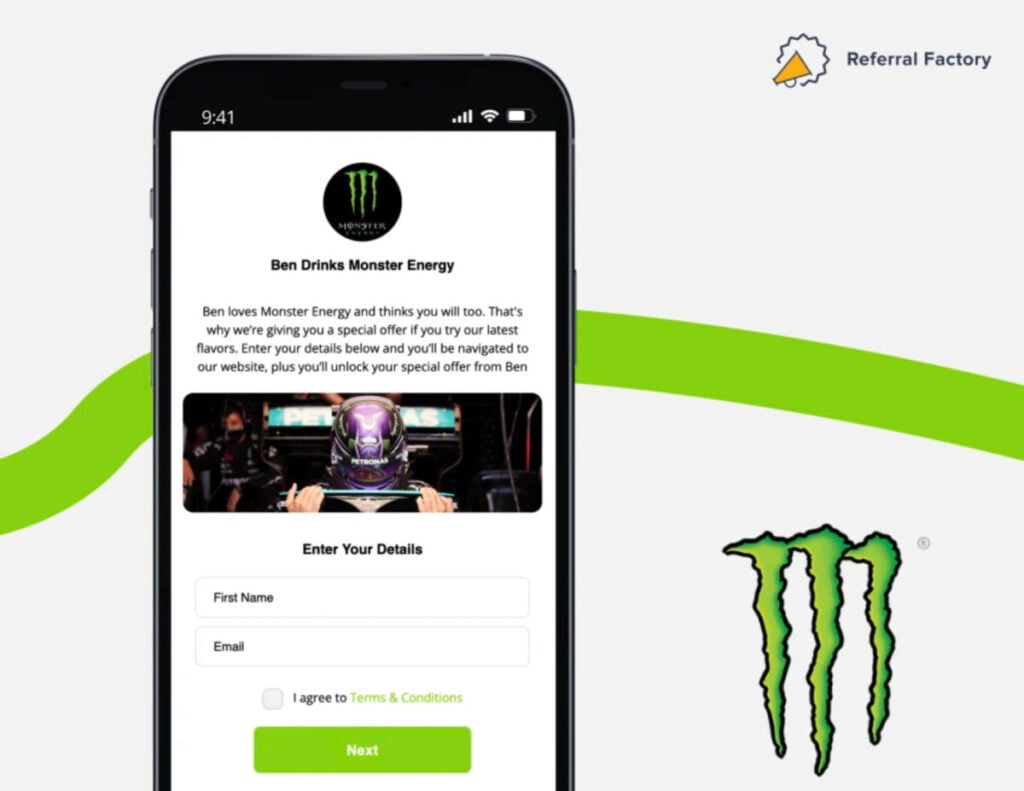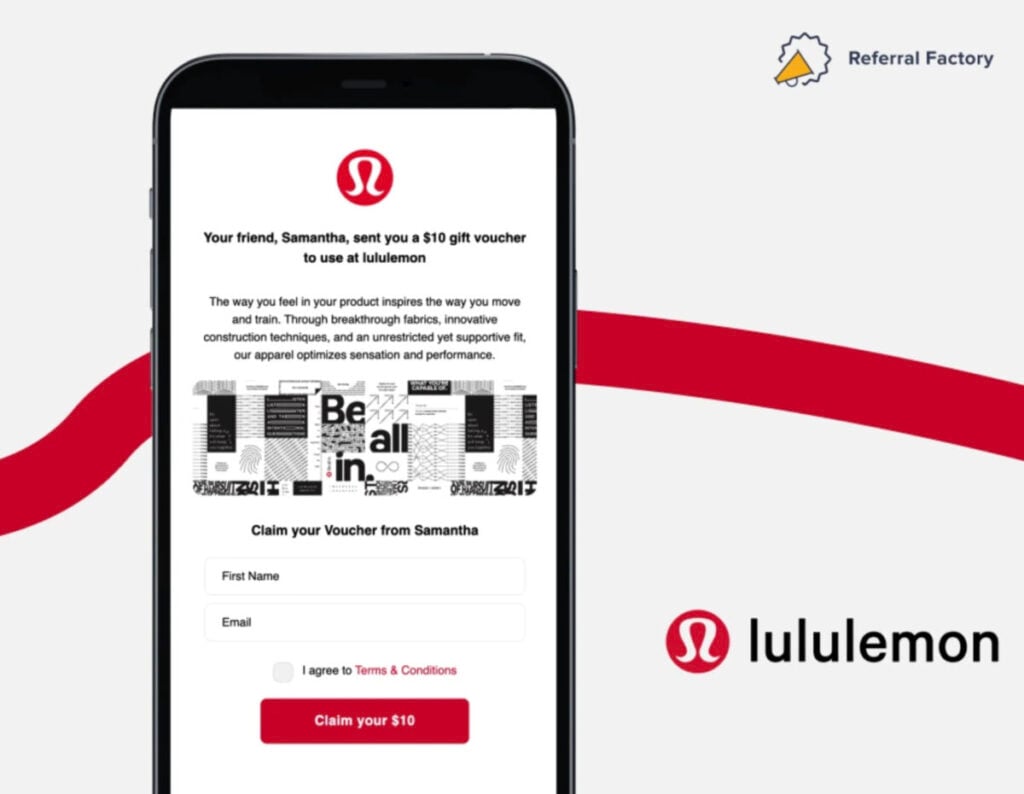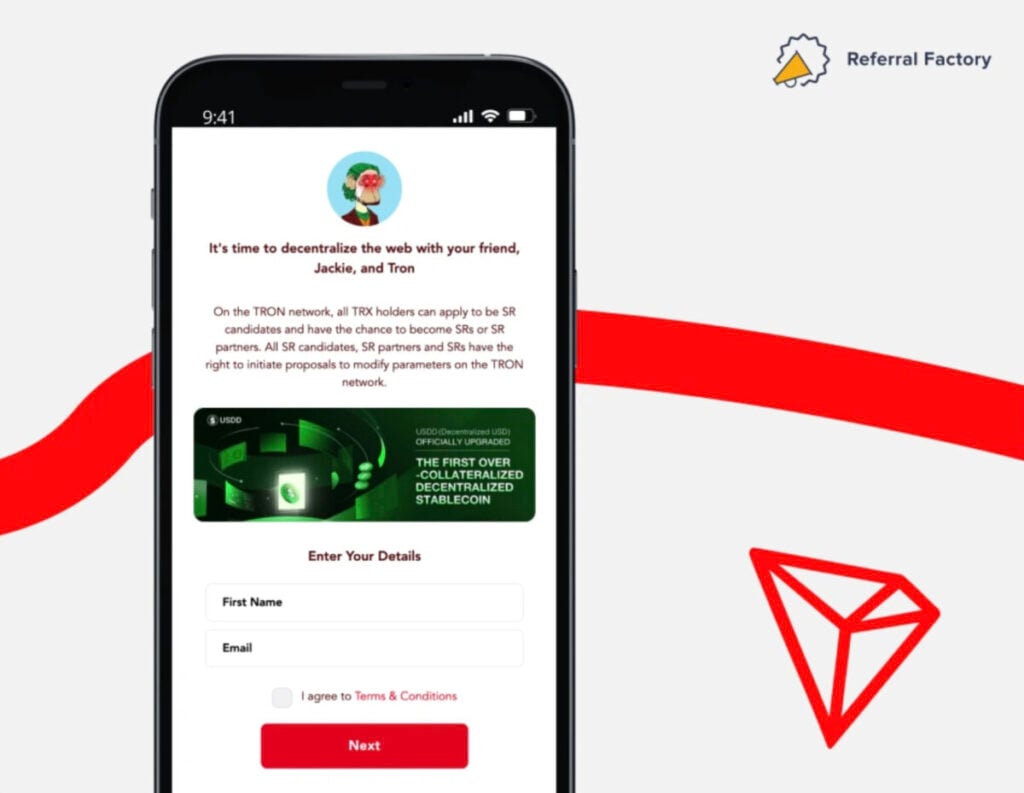 ---
7. The Most Important Things To Get Right With Your Referral Program
If you've ever heard of the 80/20 rule you'll know that 20% of your input drives 80% of your results. That's why we want to help you get the most important aspects of your referral program right. If you nail the following things, you'll be more likely to succeed with referral marketing:
Make sure your referral program is double-sided. In other words, reward the referrer but also incentivize the person invited. We've already discussed incentives and rewards, but this is such a crucial factor that it bears adding it again. The right incentive and reward are the fuel to your referral program, this is what motivates the person referring and the person invited to take action. Not only does it mean more referrals, it also increases conversion!
Go easy on your budget and only reward for successful referrals. In other words, reward your referrers when the lead they generate for you converts into an actual paying customer. This also lowers your risk as a business; if you only pay out a reward when a referral is successful you'll essentially eliminate any referral program fraud that could creep in. Moreover it drives the right behavior from the people referring, as there is no reason to refer people that won't actually buy from you.
Use referral links, not referral codes. This is a much debated topic in the industry but we're standing firm with our advice. Codes are often more manual for both the person referring and their friend, and mistakes can happen. Plus, using links means that every user's referral link (which is a page), acts as a powerful personalized introduction to your business.
Don't neglect a great promotion strategy for your referral program! The biggest reason we see referral programs fall flat is that businesses don't promote them. If you don't actively spread the word about your referral program, no one will know it exists, and no one will refer their friends. Make sure you promote your referral program on your website. and in your employee's email signatures Send once-off emails to your database of contacts to ask them to refer. And, set automated reminder emails to keep your referral program top of mind. You can even sync your CRM contacts to your referral program, so that every future touch point with your customers is an opportunity to ask them to refer friends.
There are 100 other things to get right when building and launching your referral program, but if you focus on these four, you'll be one serious step closer to success. Most marketers have too many things to do and too little time to do them — that's why we suggest starting with the most important things that will influence your referral program's success.
---
8. How Many Referrals Can You Expect to Generate?
When launching a referral program it's important to set your expectations realistically. The more people you have to refer, the more likely you are to get a high number of referrals. But, if you're starting off with a small base of customers (or referrers), then you should, of course, expect fewer referrals.
Here's a referral calculator, built on real-life referral marketing data, to estimate how many referrals you could potentially generate by launching a referral program.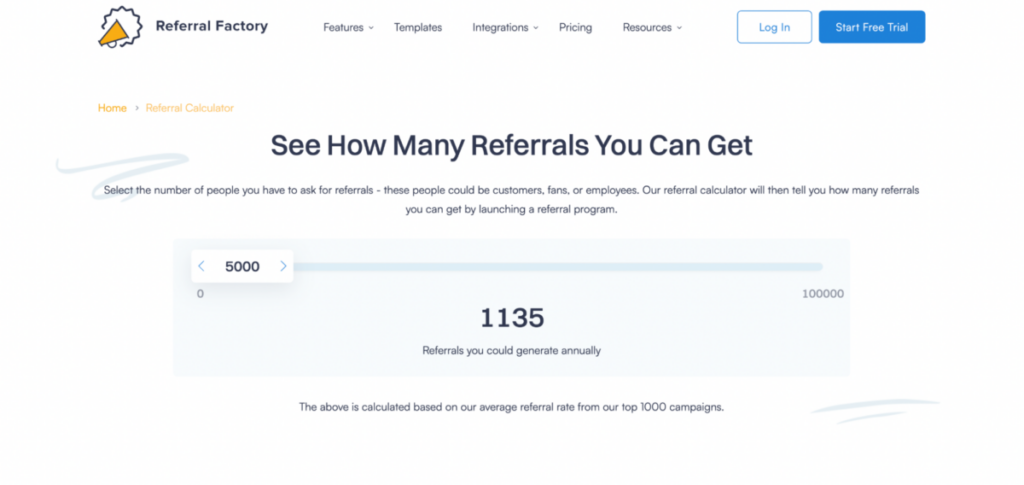 ---
9. What Are Popular Rewards to Offer for Referrals?
Offering rewards is an effective way to encourage customers to refer your brand to their friends and family. Discounts or coupons on future purchases are a popular reward among customers, as they offer tangible savings that can be used at a later date. Amazon vouchers are also popular because customers can use them like real-world currency to purchase almost anything online and they can be applied as a credit inside someone's Amazon account, making it really convenient to use, no matter what the reward amount is.
In most cases, people prefer being rewarded in a currency they can use on something they actually need. This is another reason why Amazon vouchers were voted the #1 reward of choice by customers participating in referral programs in 2022.
Another option for rewards is offering free products or services after a certain number of successful referrals, which not only encourages more referrals but also rewards loyal customers who share their positive experiences with others.
Customers love feeling valued and appreciated by the brands they support, so providing them with rewards they actually want is an important part of ensuring your referral program's success. When choosing the rewards and incentives for your referral program don't start by asking "what do we have in the stockroom?". Rather put yourself in your customers' shoes and think about what would motivate you to refer your friends.
The better your rewards, the more likely people will be to refer their friends and network 👏