Handing out promotional products to employees, clients, and prospects is no longer an "if to give" decision but a "when and what to offer" one. The proper selection of company swag directly adds to your company's goal to stand out with a clear, well-thought-out statement. Swag can take many shapes, but its primary goal is clear. A thoughtfully chosen item that expresses gratitude while keeping your company subtly in the customer's mind.
---
38 Inspirational Company Swag Ideas for 2023:
---
What Is Company Swag?
Advertising executive David Ogilvy created the term "swag" in 1946 to describe any gift or item given to members of a group, such as clients or employees. Nowadays, company swag is also known as promotional products, corporate gifts, or freebies.
Company swag has many uses at work. The goal is to increase brand recognition, boost sales and reach new markets. Consumers recall products when they see the company name or logo, linked to psychological theories of recognition and recall.
Typically, companies give swag at external events (for clients and prospects) such as trade shows. It can also be a part of internal events (for employees) such as milestone celebrations. Investing in well-designed and high-quality swag can establish positive company culture and foster good relationships with both internal and external prospects.
---
Swag for Employees: Creating Positive Company Culture
Studies show that companies with positive company culture have a turnover rate of 13.9% versus 48.4% for those that don't. As a result, businesses invest more resources to keep their workplaces healthy and appealing. Company swag contributes to this happy work environment.
Unifies internal teams
Company swag can help internal teams bond, especially if your company is large or spread across the globe. Many employees working for large corporations often feel overlooked or underappreciated. Something as simple as giving swag, like a shirt for each department, helps a lot. It boosts employee morale, instills pride in their work, and fosters camaraderie with their coworkers.
Bolsters company values
Employees who are unclear about the company's mission are often less engaged. But, if you are creative and intentional with your company swag, you can reinforce your company's mission and values.
Sports teams do this all the time. Cleveland Cavaliers' uniform has an embroidered "All For One" rallying cry hidden on its sleeves. This simple but powerful message instills pride and keeps players focused on their mission every time they put on their jerseys.
Strengthens employer brand
Swag given during recruitment events leaves an impression on prospective hires. If you want to attract people into working for your company, your swag should reflect that. Potential employees and new hires will notice and appreciate high-quality swag. Being seen as a brand with cool swag is good for your company's reputation, too.
Welcomes new hires
There's nothing like a "welcome swag kit" to make a new employee feel at home in their new workplace. Complimentary company swag is a great way to put your new hires at ease.
---
Swag for Customers and Prospects: Adapting Marketing Strategies
Valuable swag works behind the scenes as a constant reminder of your business. The right kind of swag not only increases ROI but also allows your brand to show off its personality.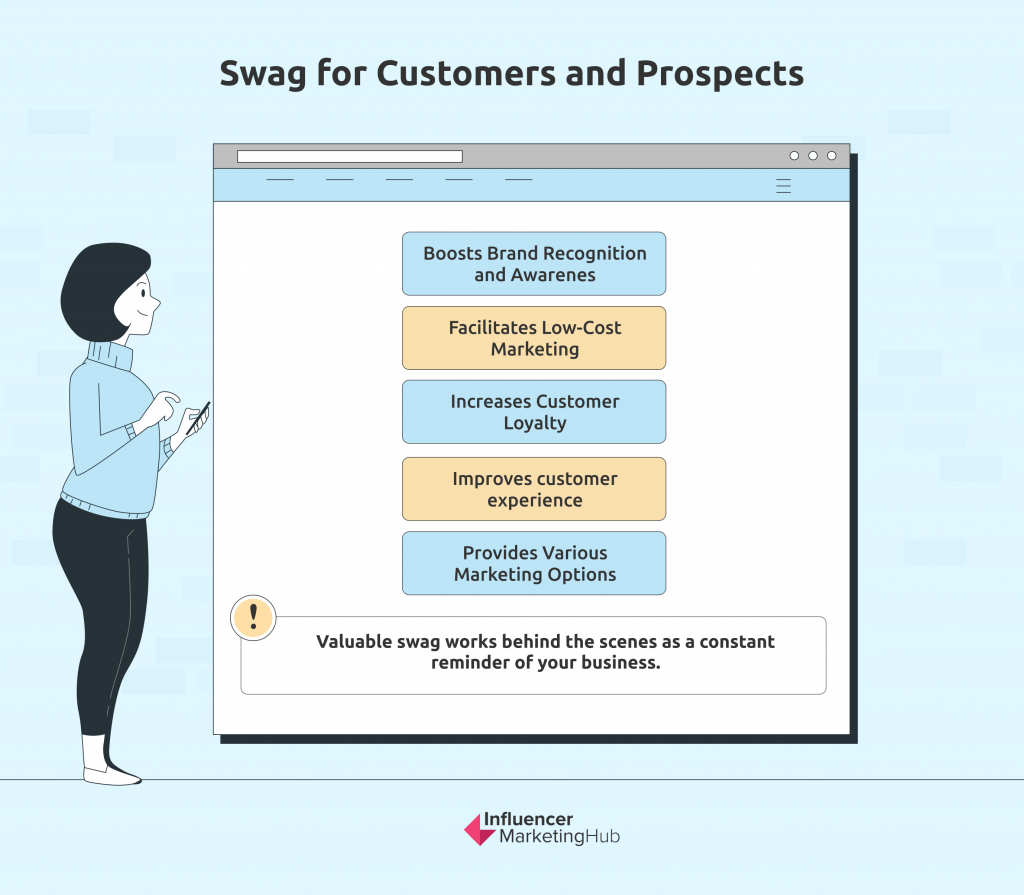 After all, everyone loves getting freebies. Building a relationship based on "you gave me this, so I'll give you something in return" can lead to repeat business or referrals.
Boosts brand recognition and awareness
89% of consumers can recall the brand on a promotional item they received within two years. Humans gravitate toward what is familiar. Seeing your company name a few times more than your competition when deciding between two brands can make all the difference.
The more items with your company's name or logo circulate, the more people recognize your brand. This broadens your reach and provides repeat exposure, increasing brand awareness.
Also, positive emotions associated with receiving a freebie add another layer to this marketing tactic. People who have a favorable view of your brand are more likely to refer your business to others.
Facilitates low-cost marketing
The Advertising Specialty Institute compared the cost per impression (CPI) for promotional products to other marketing methods. Swag consistently outperformed other options due to its lower costs and higher ROI.
It is easy to see why swag is valued when each item generates brand impressions and costs less than $20.00. Also, bulk purchases allow you to reach more people for less.
Increases customer loyalty
Satisfied customers aren't necessarily loyal. A great product or service alone cannot inspire loyalty. But, giving out swag can help you build it with your customers.
Furthermore, freebies for existing customers, like employee swag, are always appreciated. When you give them a gift, it makes them feel like you see them as people and not just numbers on your list.
Improves customer experience
Because it engages all five senses, swag enhances the customer experience. Depending on the item, you can see, smell, hear, feel, or taste the product, evoking positive memories and impressions.
Provides various marketing options
The wide variety of products available as swag makes it a highly adaptable marketing platform. You can aim for broad appeal and large audiences, or you can target specific demographics of your target audiences.
Choosing The Right Company Swag
Studies show that the average American household owns 30 promotional items. The figure varies depending on the country's region and the respondent's age, but the fact remains that promotional products are ubiquitous in households. That's a lot of marketing power.
Keep the following in mind when choosing the right swag for your company.
Quality

. Is the recipient aware that they receive something significant? A perceived high-value item makes your customer or employee feel not just their worth but also your brand's value too.

Pass-Along Rate

. Is this something that your customer would recommend to others? Company swag is also a brand ambassador, so the more people receive your swag, the more exposure your brand receives.

Memorability

. How quickly does the swag make your customer remember your company? Choosing a transportable gift keeps your company in the minds of your customers even when they're not at home.

Environment

. Is the swag long-lasting or eco-friendly? Providing eco-sustainable items can benefit your customers for a long time. It also enables your company to show its view on important global matters, like caring for the environment.

Creativity

. Does the item reflect your brand's personality? Custom swag items give you freedom over a message you want to impart to your target audience. The message can be serious, humorous, socially conscious, or any tone you want it to be.
---
28 Spectacular Company Swag As Seen On Social Media
Inspire your next swag, merch, gift bag, or giveaway with these promotional swag ideas.
Github
This GitHub swag kit, which prominently features Octocat, is a favorite among software developers and techies.
Ralph's Coffee
Ralph's coffee and canvas tote have one thing in common: they're both tastefully made.
Smashmallow
Smashmallow created this fabulous company swag kit with other brands. The giveaway increased the campaign's reach because social media likes and shares were required to enter.
Evernote
Evernote swag is a premium work essential swag bundle. With these promotional products, you can provide your employees with high-quality work-from-home items.
FullStory
Socks are timeless, especially when they're as cute as the ones FullStory give to their clients.
Purple Rock Scissors
Purple Rock Scissors creates a treasure trove of swag boxes with outstanding packaging, showcasing their creative skills.
commonsku

Not only is the swag bag impressive, but it also provides a message of summer and love, and it doesn't get better than that.
Everwell
Everwell's self-care swag proves how the company genuinely cares for its clients and employees. Self-care products are trendy on social media, making them an excellent giveaway gift set for startups and growing businesses.
Visible Mobil
Visible Mobile provides excellent swag and merch to their customers, as evidenced by the hashtag #visibleperks on Instagram. One of their satisfied customers snapped up this awesome Marvel-themed welcome kit.
Sun Bum
Sun Bum loves giving themed swag. They made limited-edition USA Sonny's commemorating the Olympics in Japan, which they dropped around town.
Whole Foods
Whole Foods regularly creates swag bundles to celebrate their annual sale. They also hold social media giveaways, increasing the demand and urgency for the swag items.
ClassPass
Besides its generous freebies, like free workout for a month, ClassPass occasionally teams up with other brands – like Kinship and IPSY – to create awesome swag bundles. In this case, an excellent Glam Bag Plus.
Ridgid Tools
Ridgid Tools manufactures high-quality, purpose-built tools for skilled trades. The company also hosts the most interesting giveaways throughout the year.
WeWork
Stickers, mugs, and t-shirts are common swag items. WeWork infuses these staples with their brand of creativity, resulting in products that elevate their brand.
TK Events
Even with their team building swag box, TK Events promotes their tagline "experiences without boundaries." And it shows in the "Lockdown sucks, but YOU rock" party goodies.
Care/of

Care/of often gives their followers a chance to win free swag. The company frequently collaborates with like-minded businesses to create a more outstanding swag kit, like this wellness giveaway.
North Point Printing
North Point Printing Hot Box is a fun and creative swag box. Kids and adults alike will enjoy the Life in Color Hot Box items.
Loblaw Digital
Loblaw Digital makes adorable swag packs. Quirky and distinctive design make their swag more appealing than just ordinary branding.
Workday
Although #MountainDay may have looked different in 2020, Workday employees around the world were still able to show off their fabulous work swag.
On The Mark Nutrition
On the Mark Nutrition chose insulated shakers for their swag that complement their brand. Because their customers can use the branded shakers to make nutritional smoothies, the item is relevant, practical, and well-suited to their needs.
Panera Bread
Panera Bread gives branded dog bandanas with a clever slogan for their swag. They also create organic social media content when their followers use the hashtag #panerapups and post photos of their pups wearing this adorable swag.
Later Media
Later Media commemorates all types of monthly celebrations with giveaways. During the Mental Health Awareness Month, social media managers receive their special branded water bottle.
Legal Back Office
Legal Back Office uses witty text on their swag facemasks for their customers. Afterall, lawyers have a sense of humor too!
Mailchimp
How cool is Mailchimp's two-headed horse tote? It's amusing, creative, and colorful. More importantly, it's one of the limited-edition swag items they've created for their employees.
Indeed
Indeed sent a special baby swag bundle for one of their employees who welcomed a new bundle of joy. This type of swag conveys the message that the company is family-oriented.
Trello
Trello employees receive a Taco figurine on their work anniversary. The app's stickers are also everywhere. But the best thing is that the company also gives hats that fur kids can use too.
The Sill
Aside from their trademark "plants make people happy" t-shirt, The Sill has a few other plant-loving customer swag items. Beanies, sweatshirts, bottle sprays, and, of course, plants are regulars on their swag collection.
Papa Gino's

Papa Gino's not only sells arguably the best pizza in New England, but it also has the coolest swag. Last Christmas, Papa Gino's gave five lucky customers personalized ice scraper mittens.
---
10 Cool Company Swag Ideas
Here are ten other great ideas for employee and customer swag.
A cable organizer can save you from having a meltdown caused by tripping over your laptop charger and knocking it to the floor. It's also an excellent item for employees working from home.
Your employee's pets have crashed so many Zoom calls by now that they are practically part of the company. Sending branded pet accessories shows your company values its workers' families, including their furry kids. Pet swag includes collapsible bowls, tennis balls, chew toys, and tees.
Giving your customers and employees self-care gifts is the height of TLC. Packed scented soaps are thoughtful swag that the recipients can use at home or on the road.
Customized planners are handy. Every time your customers write on it, they'll remember your generosity and the product or service your company provides.
Sometimes, you need special swag items for special people. Let your vendor engrave your logo on the box of gourmet chocolates to impress your company VIPs.
A branded candle is a great way for your clients to remember your company. Every time they use it to relax, they'll think fondly of you.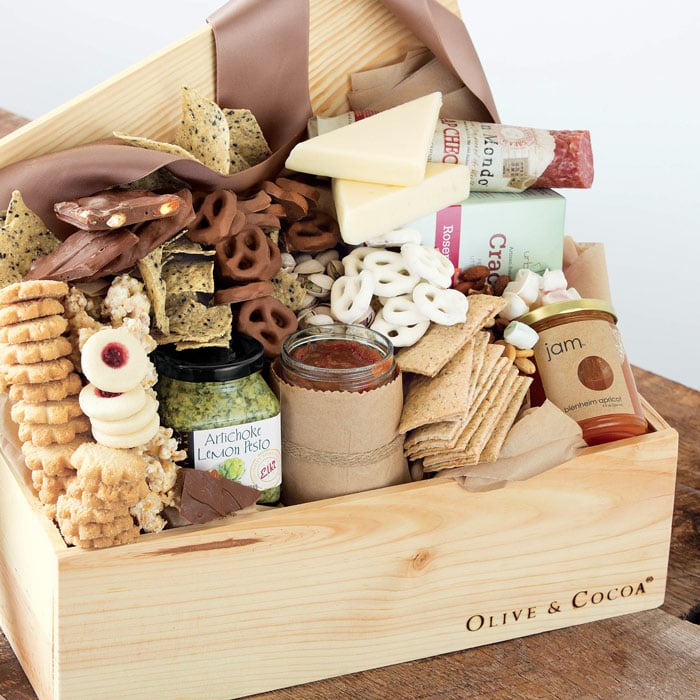 A sweet and savory treat box can be a sophisticated way to thank employees and customers. Because it's a box of goodies, there's something for everyone.
A lunch bag makes it easier for your employees to bring their food from home, which can help them save money.
Nothing says luxury like a thick, fluffy robe. Give your employees a personalized robe to keep warm and cozy.
You can never be too careful these days. With a phone UV sanitizer and charger, your employees and customers' smartphones will always be germ-free.
---
Top Company Swag Vendors
Swag vendors exist to help companies create promotional items. Here are some of the best suppliers in the market today.
Swag.com
Swag.com is a leading supplier of luxury corporate gifts. The shop sells branded versions of different name-brand products like North Face and quirky items like BBQ rubs.
Zazzle
Zazzle is an online design platform that heavily focuses on aesthetics.
Customers can choose to design their message. They can also tap into a catalog of pre-made templates designed by independent designers.
Allied Shirt
Allied Shirts, as the name implies, sells high-quality apparel. The shop has standard designs, custom designs, and pre-made templates to personalize. Allied Shirts has no minimum order size, which is great for small businesses.
Packed With Purpose
Packed With Purpose partners with eco-friendly, women-founded, and minority-owned businesses. Most products are made in small batches to help small, local businesses.
Printfection Swag Management
Printfection offers drop shipping, printing, giveaways, and order fulfillment services. The shop can also handle the shipping of swag items to your employees, customers, leads, and event attendees.
Etsy
While Etsy isn't primarily a swag site, it has significant promo products potential. Many sellers and crafters offer customizable gifts. The site allows businesses to order unique, non-bulk quantities, ideal for event favors or team gifts.
Frequently Asked Questions
What is company swag?
Company swag is promotional merchandise used by businesses to promote their brand. Companies reward employees with swag to show their gratitude. They also give freebies to customers and prospects to increase brand awareness, boost engagement, and drive sales.
What are the benefits of giving company swag to employees?
Company swag for employees:
Unifies internal teams
Bolsters company values
Strengthens employer brand
Welcomes new hires
What are the benefits of giving company swag to customers and prospects?
Company swag for customers and prospects:
Boosts brand recognition and awareness
Facilitates low-cost marketing
Increases customer loyalty
Improve customer experience
Provides various marketing options
What are the things to consider when choosing the right swag?
Choosing the right swag needs to pass the following requirements:
Quality
Pass-along rate
Memorability factor
Environment
Creativity
Where can you shop for company swag?
The best swag vendors are the following:
Swag.com
Zazzle
Allied Shirts
Packed With Purpose
Printfection
Etsy