Customer experience (CX) is becoming increasingly more important, in some instances even more so than price. Basically, if you can offer an efficient service that makes it convenient for your target audience to shop at you, you'll turn leads into brand loyalists. Plus, your customers won't mind if you charge more for your service or product than your competitors. A frictionless customer experience is something consumers are willing to pay for. According to eCommerce statistics, nearly 80% of consumers feel that the experience a brand offers is just as important as its actual products or services. This is good news especially for smaller eCommerce businesses that can't necessarily compete on price against other giants.
One way to improve the overall CX is with the help of conversational commerce. Basically, just initiate a casual conversation with your audience. After all, isn't that how most good things in life start? If you're not implementing conversational commerce yet, continue reading as we explore what it entails and share a few real-life examples for inspiration.
---
A Quick Guide to Conversational Commerce (Real-life Examples Included):

---
What's Conversational Commerce?
In short, conversational commerce (aka conversational marketing or chat commerce) uses communication platforms and messaging apps, like WhatsApp and Facebook Messenger, to market products, communicate with consumers, and offer support at each stage of the sales funnel. You can, for example, use it to direct them to the right page on your site or share instant answers.
Not only are these tools more convenient (and cheaper) for consumers than phone calls, but it also empowers businesses to help several customers at the same time round the clock. Plus, with some creativity and extra effort, you can also personalize the support. So, there's no reason for the conversation to feel cold and robotic. You can still make it feel natural.
It also doesn't need to be as in-your-face as pop-ups. Sure, some chat bots will open up immediately as soon as a customer lands on your website, but it won't require immediate action. Website visitors can open the chat bot whenever they have a question and are ready to start a conversation (instead of the other way around).
---
Most Popular Types of Conversational Commerce
As mentioned, there are various conversational commerce platforms that you can use to start a conversation. Instead of trying to use all of these, the most effective strategy is to identify the ones which your target market uses most often and plan and build your marketing strategy around them.
Messaging apps
Messaging apps, such as WhatsApp, WeChat or Messenger, are used to send messages instantly. To give you a better idea of their popularity, according to WhatsApp statistics, WhatsApp alone has about 2 billion active users as of the beginning of 2022. One of their big benefits is that you can also use them to send emojis, memes, and GIFs to make the conversation more informal, personal, and natural.
Chatbots
In short, a chatbot is a computer program that was designed to interact with users automatically. It's typically categorized as either artificial intelligence (AI) or rule-based. An AI chatbot will use natural language processing, machine learning, and sentiment analysis, while a rule-based chatbot will use conditional rules such as if/then statements to share answers.
They can offer a number of benefits to both brands and customers. Brands can use it to help multiple users simultaneously 24/7, while customers need no training on how to use them and don't need to install any apps.
Live chat
If you prefer the idea of using an actual human agent, live chat software is a good option to explore. It's quite cost-effective as an agent can take care of a number of conversations at the same time. Plus, customers don't need to listen to hold music and are free to continue with other tasks. Some of the top live chat software solutions that you can check out are:
Crisp

Zendesk Chat

Help Scout

Tidio

Tawk
---
How to Get Started with Conversational Commerce
Conversational commerce might be a mouthful, but it's actually pretty straightforward to get it set up. Here are the main steps the help you get started:
1. Identify your goals
Every brand has its own reasons for using conversational commerce. Are there any specific issues that your business or customers have that you wish to solve with this strategy? As you'll see when looking at the examples listed later, it doesn't necessarily need to be just to generate sales. From gathering more leads to offering post-sales support, there are various ways that you can use conversational commerce.
2. Research, research, research
Just like with many other business processes, research is a key step. Start with competitor research. Are there any other brands in your niche that are using conversational commerce? How are they using it and what software solution have they picked?
Then, you can turn your attention to researching the actual tools. After you've made a shortlist of potential tools, it's a good idea to take advantage of free trials. Most software companies offer some type of free trial. You can also ask for a demo before you sign up for a trial. This way, you'll get even more value out of the trial period.
While looking at real-life examples of how others have used conversational commerce, remember to keep in mind your target market too. Perhaps previous customer reviews have identified issues that can be solved with a chatbot? For example, if your customer support team gets bombarded with questions about the warranty offered, you can use a chatbot to redirect customers to the relevant info.
3. Evaluate its performance
After you've selected and launched a solution, you'll still need to keep track of KPIs and metrics to ensure that it's working right. This way, you'll know where you need to start making changes to get the best value for money.
---
9 Real-life Examples of Conversational Commerce
To help you get started, here are some good examples of how other brands have used conversational commerce. From fashion to furniture, all industries can find unique ways to use it.
1. Gerber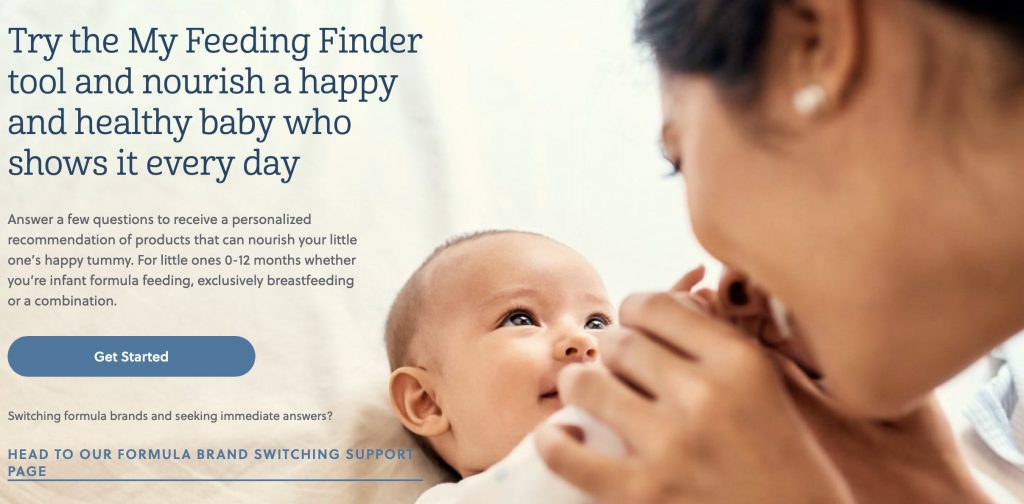 Gerber has created the "My Feeding Finder" tool to help parents of newborns find the right formula. Considering that their target audience has little time to waste, they've ensured to make the whole process as seamless and efficient as possible.
After you've answered the questions and they've generated recommendations, they also give you the option to chat about the recommendations to receive even more personalized advice. All in all, it's one of the best examples of how you can use something seemingly impersonal and turn it into a real personalized experience.
In addition to the "My Feeding Finder", they also give their audience the option to reach them via SMS, Facebook Messenger or webchat. All of these are available 24/7. Alternatively, if they prefer a more personal experience, they can also book a virtual appointment with an expert.
---
2. American Leather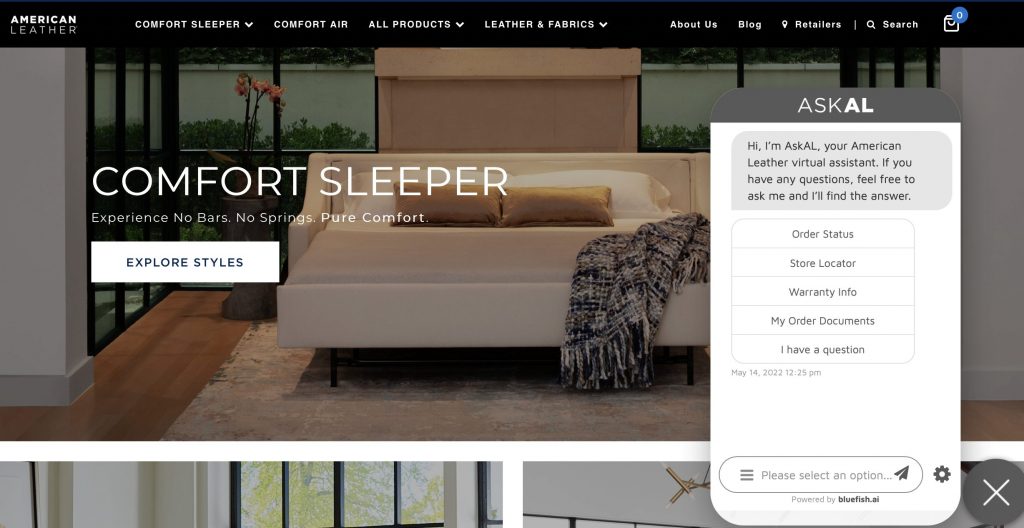 Two of the core values of American Leather are speed and customization. They were created on the belief that customers shouldn't have to wait 10+ weeks for customized furniture. With the help of conversational commerce, they also managed to incorporate these two values into their customer experience.
They've affectionately dubbed their virtual assistant, AL. It's powered by bluefish.ai and can be used for presales and post-sales support. When you open the chatbot, it offers a list of options to help you get started quickly. From order status to pricing, it will quickly direct you to the web page where you can find all the info. While it's basic, it's an example that in some instances the simplest approach is the most efficient.
---
3. Natori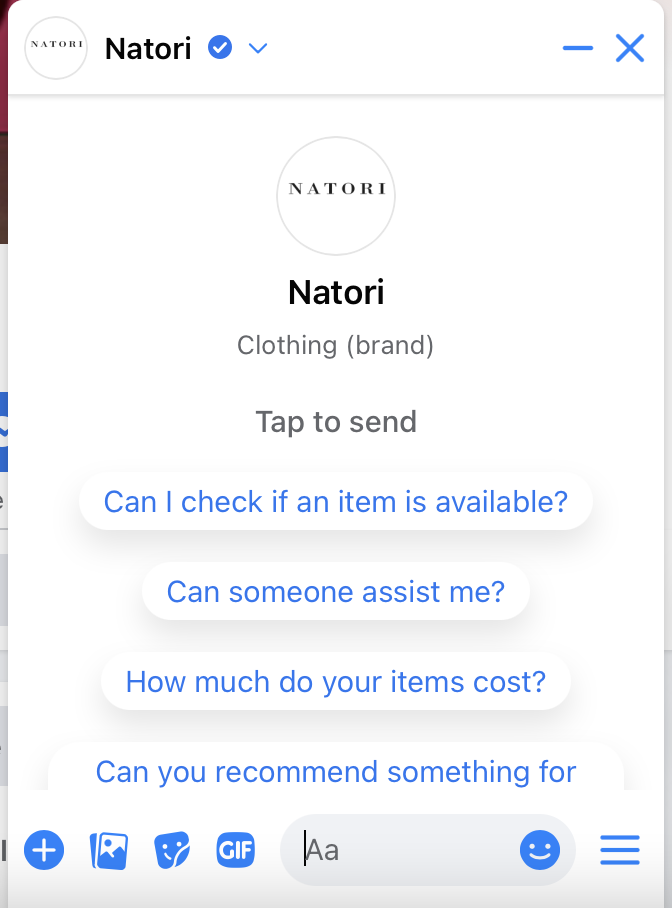 Natori is a family-owned, woman-founded clothing brand. Their use of Facebook Messenger is a good example of how you can personalize the experience for visitors. In addition to using standard responses like "Can someone assist me?", they can also share recommendations. All you need to do is let them know what you're looking for in particular and they will look into recommendations for you.
---
4. Kettlebell Kings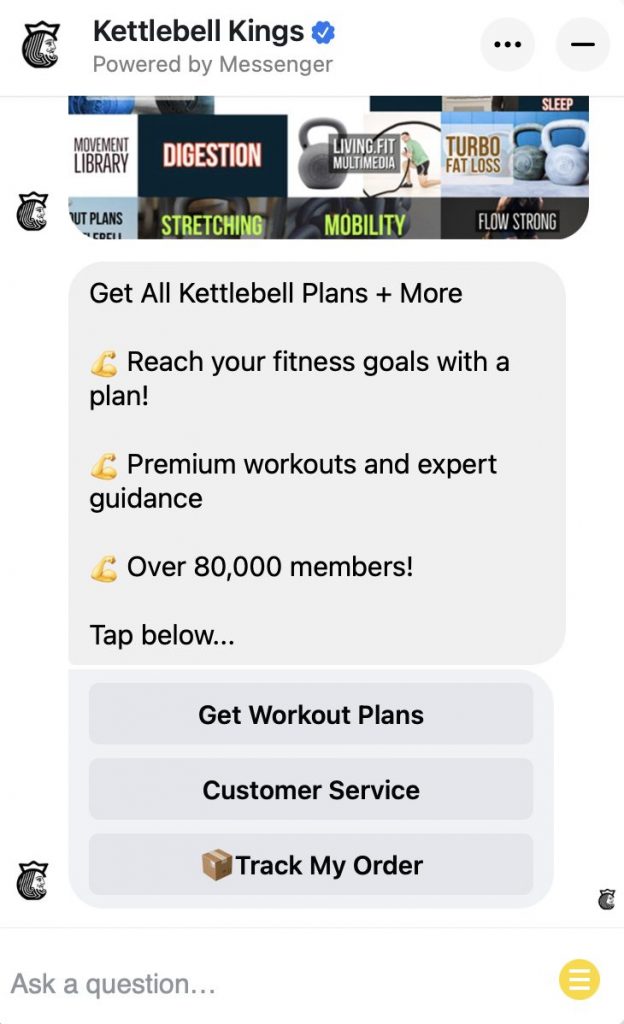 Kettlebell Kings shows that you don't need to use conversational commerce just to push a sale. While they sell kettlebells and other equipment, they also offer workout plans. Via their chatbot, they also give you the option to create an account to access content. All in all, it's a great example of how you can use conversational commerce to share lead magnets and grow your subscriber list.
---
5. H&M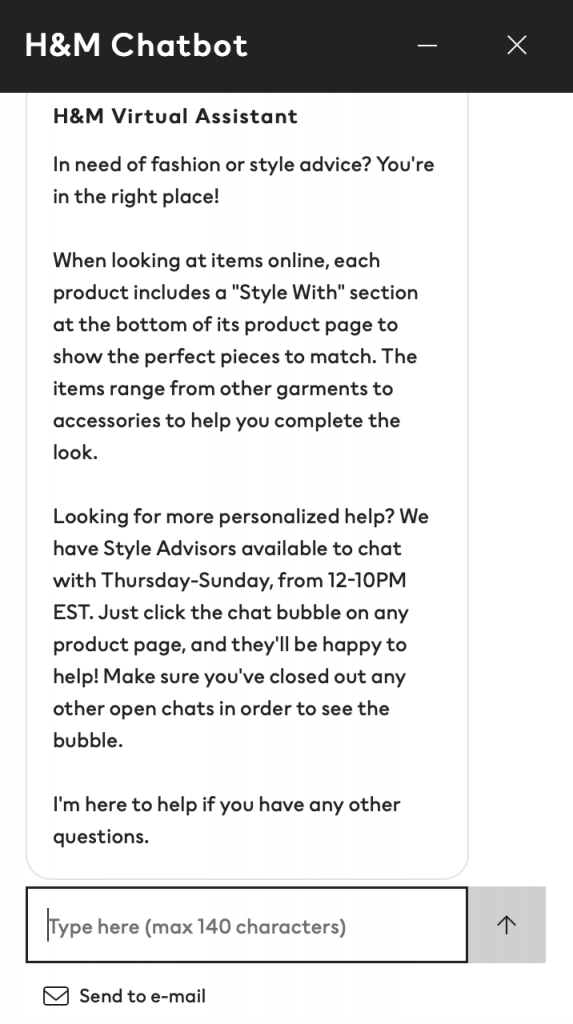 H&M has taken their conversational commerce strategy to a whole new level and is a great example of the level of personalization that you can offer. They've created a virtual assistant that shares styling advice. Not only does it make the customer experience more personal, but it's also potentially a great opportunity for upselling.
---
6. Umzu
Umzo's use of conversational commerce is a great example of how you can use it for product discovery specifically. If you have a big range of products or you're selling a relatively new type of product, you can take a leaf out of their book. They've gone the route of creating a quiz. Users are asked to answer a few basic questions which help them to share relevant products.
---
7. Lego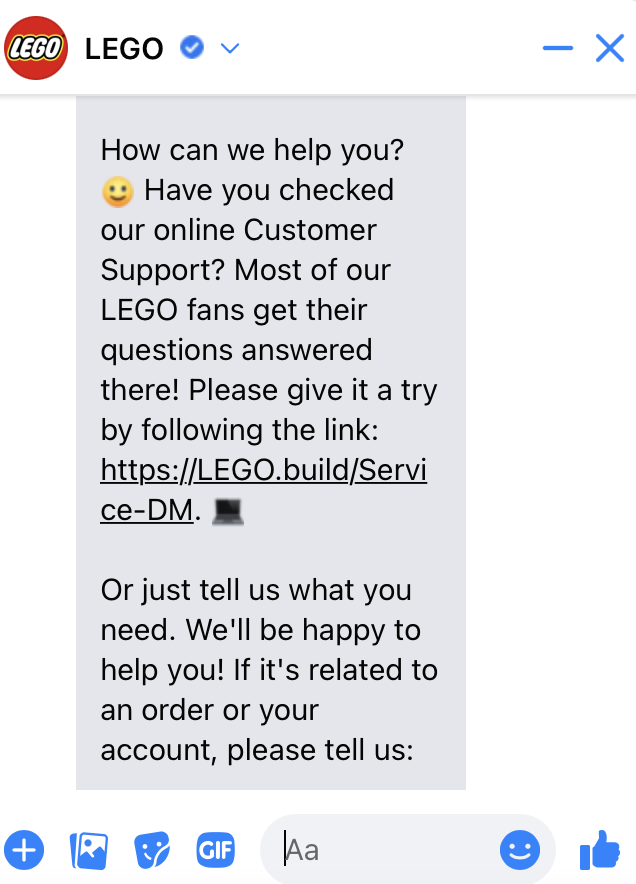 Lego's use of conversational commerce is a good example of how you can use it to direct visitors to the right page. Though, they also offer visitors the chance to type in their own question.
---
8. Dollar Shave Club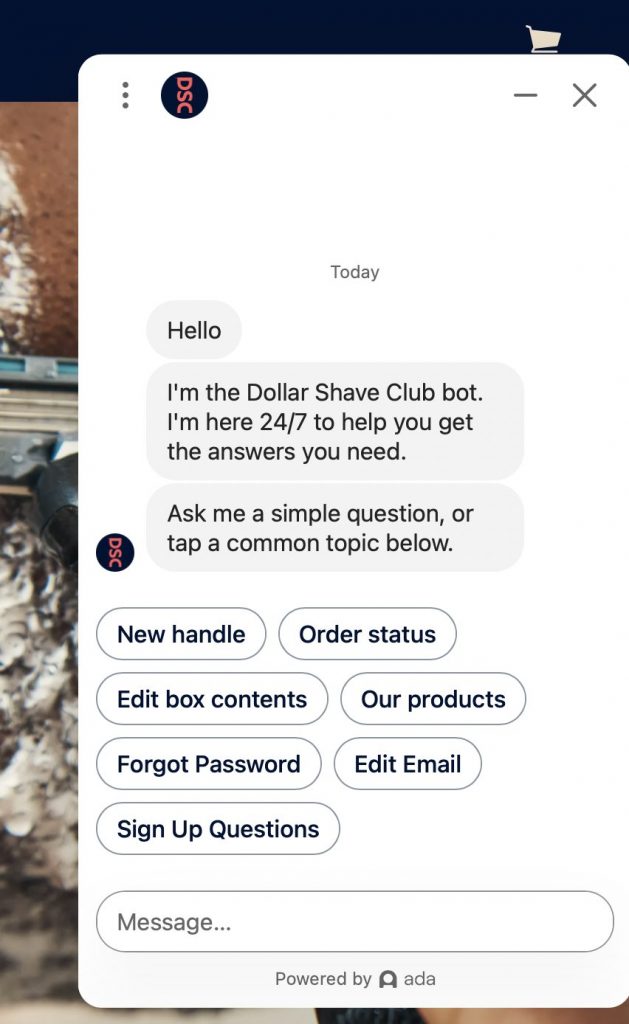 If you're a regular reader of the Influencer Marketing Hub blog, you're probably already familiar with Dollar Shave Club. They're one of the eCommerce businesses to check out in 2022 and a great example of how you can implement a subscription model successfully. Every two months, their subscribers receive a box filled with shaving and grooming essentials like hair products and colognes. Not only is the product highly customizable, but it also uses a range of clever content and social media marketing strategies to grow its list of subscribers.
Much like its product offering, it keeps its 24/7 chatbot simple. Users can either tap on one of the common topics listed or ask their own question. By providing quick answers to FAQs, the buying process becomes more convenient helping to increase customer satisfaction.
---
9. Clinique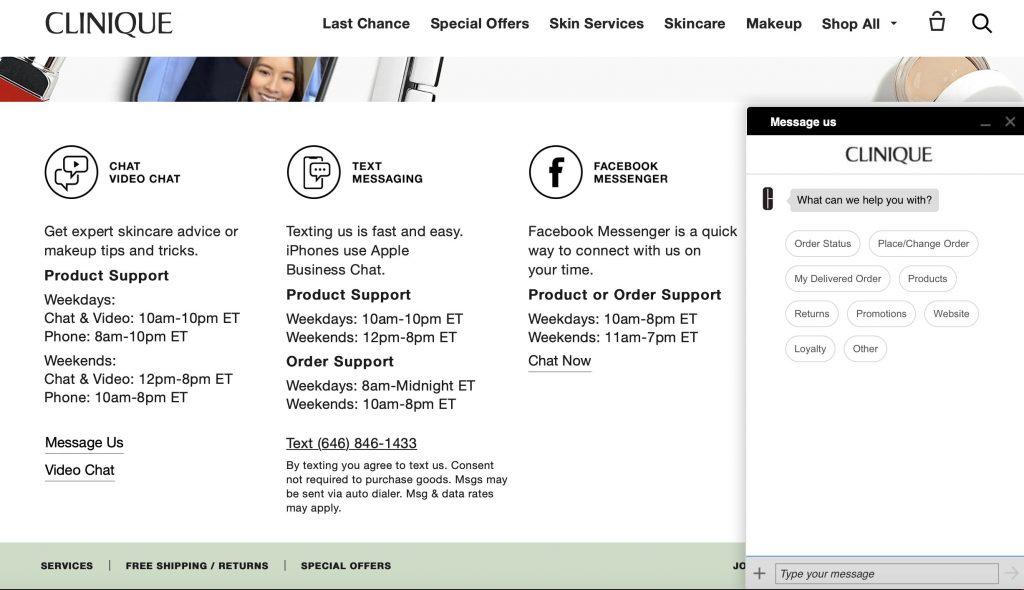 Clinique has turned to conversational commerce to offer additional product support. It's a great example of how brands can use conversational commerce tools to offer personalized product recommendations. In fact, it's a service that you kind of expect when you're paying premium prices.
Users have the option to use Facebook Messenger, text messaging or video chat. In this case, the option to include video chat is especially powerful. Not only is it more personal, but considering the type of products that they sell, the use of video is ideal for sharing skincare advice and makeup tips.
---
Wrapping Things Up
You need to be where your target audience is. While an official business website is still a must, you should offer your potential customers various other ways to reach you, whether that's via WhatsApp or WeChat. With the right wording, it also gives you the opportunity to add that personal touch that might be more difficult to create if you relied on your website content alone.
After all, most of us are continuously on the go and multitasking. Even if we wanted to, it's highly unlikely that we'll be able to sit patiently while waiting for a sales rep to take our call. Though, with conversational commerce, consumers can ask their question and let the virtual assistant hang in the background while they get on with life and everything else.