Influencer marketing has come a long way - it is now one of the best forms of marketing in which brands can grow their customer base and advertise products in a legitimate and trustworthy manner. In our piece, State of the Creator Economy, it's evident that creators have changed the way advertising works. With the development of social media platforms like YouTube, Instagram, and TikTok, there is big money and significant reach for brands and creators alike.
---
Best Creator Management Platform to Increase the Value of Your Brand:
---
Who Are the Content Creators?
Social media creators based in the U.S. have earned over USD$4 billion on YouTube and about USD$460 million on Instagram. These numbers point to how lucrative and engaging the market is and how important it is for brands to get the right creators to associate with their products or service.
So who is considered a content creator?
Anyone, professional or hobbyist, who uses digital platforms to share their unique content belongs to the Creator Economy. The start of Web 2.0 brought about the trend—instead of simply using the Internet for information gathering and storage, people have begun posting their own content and expressing themselves through various social media platforms. If you share anything you have created online, from video tutorials, infographics, art, lifestyle sneak peeks, photos, and hot takes, you are considered a creator in your own right.
---
What is a Creator Management Platform?
Many creators logically transition toward being influencers. They have the skillset and knack for creating digital content; it's easier to become an authority on a niche when you have the means and audience to interact with regularly. Moreover, audiences build a parasocial relationship with influencers. This unique affinity between creator and audience enables influencers to recommend brands and advertise products effectively—influencers maximize social proof.
But even though influencer marketing is, and will likely maintain its relevance as a marketing strategy, it's a very nuanced industry that might be challenging to optimize for brands. For one, there is no single formula a company can follow concerning vetting and creating influencer content. It's also hard to monitor creator collaborations if a brand wants a multi-channel approach.
Content creator management is an innovative solution for researching influencers, vetting, and making the brand-creator relationship more optimized. Creator management platforms allow marketers to establish connections with creators via social media.
---
Why Should You Use a Creator Management Platform?
It's tedious to keep on top of all influencer marketing processes. Here are several ways that a creator management platform can prove advantageous to your brand: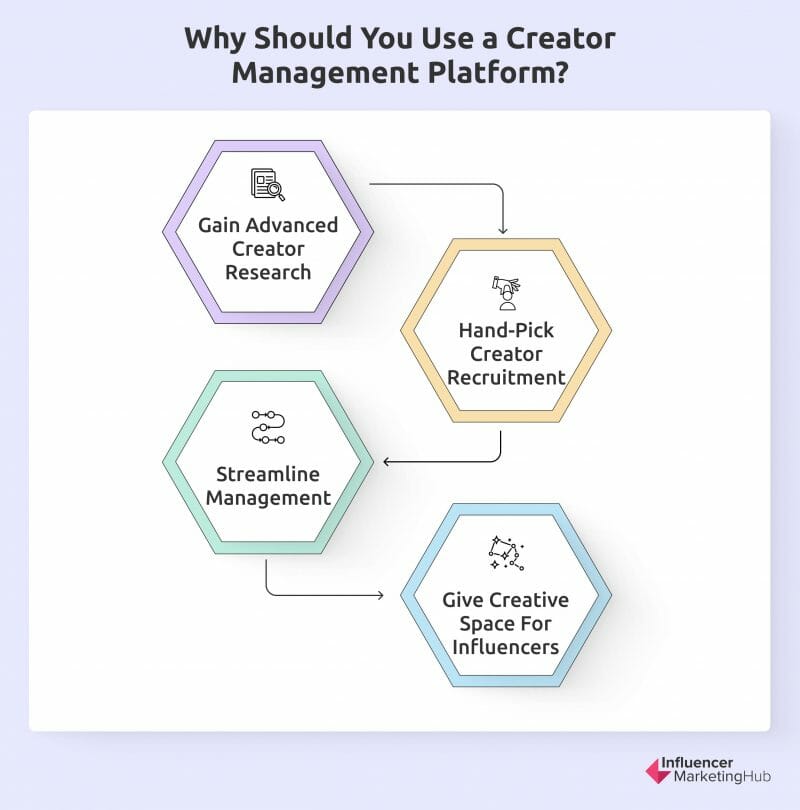 Gain Advanced Creator Research
The very first step into influencer marketing is finding the right creator to engage for the brand. There are no set rules on this, and there's really no fixed guarantee that a given celebrity or YouTube star could bring results for your bottom line. However, certain metrics and stats can show which influencers could likely give you the returns.
That's what a creator management platform can provide: the fine-tuned search for creators who best suit your brand identity. Based on hashtags, keywords, and target audience, a management tool can provide the advanced search you need to find local and international creators and influencers.
Hand-Pick Creator Recruitment
A creator management platform takes the guesswork away when vetting and collaborating with influencers. You have a medium of organized materials, communication means, and all the tools you need to engage content creators.
Inbound tools will make content creation, scheduling, publishing, and analytics hassle-free. These built-in features lessen the trouble because the brand and the creators could use a single platform to brainstorm and produce relevant content.
As your pool of creators expands, marketing success will largely depend on how well you manage the team. Even an up-and-coming brand would need a handful of creators to conceptualize and create social media posts. A creator management platform has customizable templates, scheduling means, and other pre-set tools that can support your creator team's productivity. It helps make content creation more efficient.
Give Creative Space For Influencers
Without a creator management platform, a lot of communication and approval would easily fall into the cracks. This might affect your influencer campaign's success, especially if there are bottlenecks to approval of concepts, voicing out trends, and other content-related concerns.
Marketers can reach out and regularly touch base with their chosen influencers via a creator management platform; they can give the "what" details of campaign messaging and make post approvals relatively faster than going via email or other modes of communication. You can use your creator's unique voice while at the same time keeping tabs on the quality of content they share relating to your brand.
---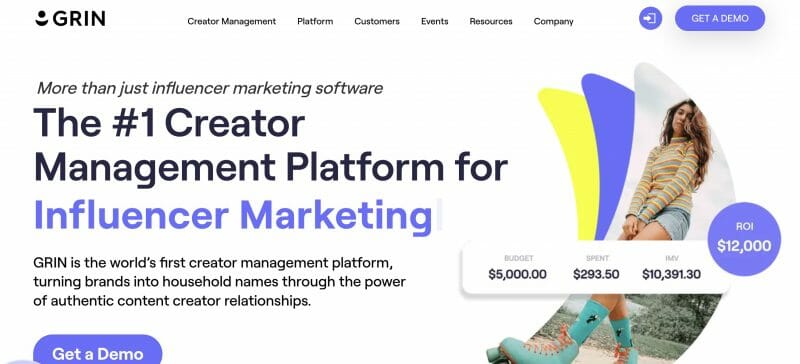 If you ask which platform we would suggest, we wholeheartedly recommend GRIN.
GRIN is the pioneer behind the creator management platform model that has proven successful in helping businesses grow their influencer marketing campaigns. Yes, it is the first of its kind in the influencer marketing sphere.
The platform has been around since 2014, but it is still the undisputed best. It supports every brand's journey by becoming the most trustworthy name in its industry. Having worked with the fastest-growing brands, like Allbirds, SKIMS, Warby Parker, and more - GRIN has made each brand's audience bigger.
What sets GRIN apart from the rest is how they find the most authentic influencers and creators. The highly intuitive platform helps eCommerce companies research and strategize their social media campaigns via creators. From influencer discovery to outreach, management, and campaign analytics, the platform delivers all the inbound tools you need to conduct each phase of the work seamlessly.
GRIN has the following features:
GRIN makes influencer discovery convenient - it has a searchable database from major channels, YouTube, TikTok, and Instagram. You have access to up to 100 million influencers. About 37 million of these creators include their respective email addresses, which you can message directly from the platform's built-in messaging system.
Some brands prefer a reverse approach, where creators could reach out to them instead. GRIN makes it possible, too, with the landing page feature. Marketers can create a landing page and publish it on social media. It's a recruitment tool that will always be accessible to interested individuals. Of course, this will result in further vetting on the brand's part; but it is a convenient way to lessen individual emailing back-and-forth with potential influencers.
Whatever approach your company adopts, GRIN facilitates a targeted outreach. You will only contact verified and relevant content creators and influencers. GRIN also has built-in SMS and Slack communications as well for faster outreach, in case the creator is not a frequent email user.
---
Influencer Data Segmentation
GRIN has all the bells and whistles for influencer marketing but is designed in a way that is user-friendly and interoperable with other platforms.
For instance, the tool can review your brand's existing sales and customer information. Using customer data and juxtaposing it with your chosen influencer criteria, the platform could calculate and find potential influencers already part of your customer base. This is an excellent option for brands with a healthy customer base who want to bring more influencer content into their campaigns.
GRIN also has a social listening mechanism to check ongoing trends and preferences; hashtags monitoring and mentions can alert your brand to such updates, and a discovery tool for a criteria-based list of viable influencers.
With in-depth information on customers and non-customer creators, GRIN leaves marketers with just the decision-making process. No time-consuming research on who to email and why.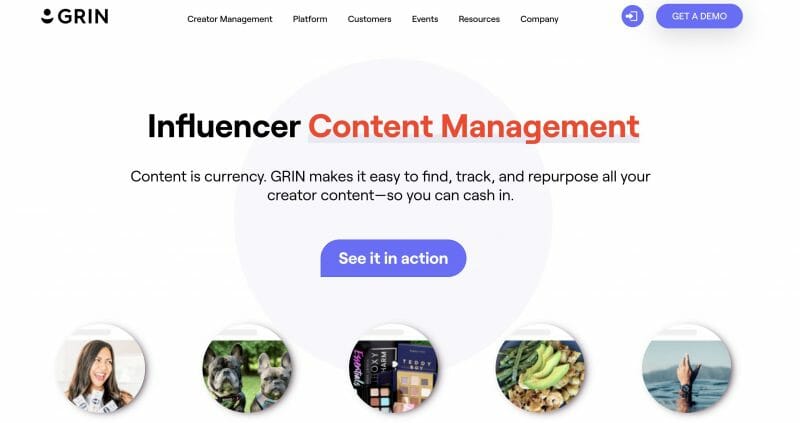 ---
Content Approval and Tracking
The platform has a comprehensive content template creator that makes content creation and production high-quality but efficient. It also pulls all influencer marketing content and user-generated content (UGC) in one place, searchable via tag, post type, performance stats, and other custom categories you may set (e.g., color).
There won't be any issues with finding a specific post or lagging with team approval. Most importantly, GRIN lets your brand stay on top of all your existing content and UGC; easy access enables smooth day-to-day posting and repurposing, and you can showcase authentic content that will boost brand credibility.
---
Influencer marketing involves showcasing your products. Marketers can manage and ship products to creators through the platform, create discount codes and affiliate links, track sales gathered from the influencer commissions, and other customizable shopping perks for creators and their audience. Brands will have a straightforward way of sending products without delays, another factor in proving the brand's trustworthiness.
With GRIN, you have an all-in-one content management plus product shipping tool. eCommerce software, including Shopify, Magento, and WooCommerce are integrated.
---
Campaign and Audience Analytics
Through GRIN, you have an updated set of analytics on your creator programs - from the campaign level down to the individual influencer or creator level. The custom report builder features accurate numbers on how effective the campaign is.
Audience analytics in terms of engagement and mentions enable brands to tweak any issue and maximize marketing costs. Given that most adults spend an average of 3 hours a day on social media, this is prime information to have that could help brands promote only the most relevant, entertaining, and valuable types of content to their niche audience.
Tracking the performance over time lets brands determine what type of promotion, posts, and products work best in engagement and conversion rates. The data is not only beneficial for the business itself, but influencers could also find it helpful to know how much concrete results and value they bring to the table. While there's merit to being as authentic as can be, influencers can also leverage such metrics and improve their own creative process as they go.
---
Pricing
GRIN offers a slew of features and capabilities, and it tries to customize the platform to every business they cater to as much as possible. Hence, they first ask questions about your company before setting the price for the platform. The bespoke pricing enables GRIN to serve small, mid-sized, and enterprise-level companies. You will be discussing details about the company size, current influencer program if any, and the company's influencer marketing direction. From there, the platform can make certain features available and scale the tool according to what your brand could use effectively.
Some argue that other options are better because GRIN has no free trial option. Yes, it's a risk to commit to a given fee immediately. But with consistently high user ratings from reputed crowdsource sites like G2, GRIN is worth considering if you are ready to scale your influencer marketing.
---
Conclusion
GRIN makes the most of your brand's influencer marketing program. As the pioneer in offering a full-service creator management platform, GRIN has consistently brought results for businesses, whether small or large-scale. It offers all the relevant features that a top-tier marketing management software could possibly have while making the user interface and tools easy to use. GRIN is integrated seamlessly into other marketing and communication tools and makes social media posting and monitoring fool-proof for marketing staff.
The platform has built-in communication, shopping, posting, and analytics features. Moreover, they have an extensive database of influencers from around the world across industries. The creator economy is fast evolving— brands need the freshest ideas and the most genuine approach to stay connected to their target customers. You can refine the brand message through an effective influencer campaign while keeping authenticity in place.
A solid creator management platform like GRIN can let marketers focus on strategic decisions and running the business rather than get stuck on tedious emailing and researching that won't produce the same kind of growth as an AI-powered and bespoke approach. GRIN is not perfect, but it sure is close to it. The platform can solve time, content quality, and operational issues you may encounter in influencer marketing. With it, you can directly connect with the best creators, develop content alongside them, and build a compelling connection with their audience, ultimately growing your brand awareness and sales.
Frequently Asked Questions
What is a creator management platform?
Creator management platforms are an up-and-coming solution for researching influencers, vetting influencers, and optimizing the brand-creator relationship. Creator management platforms allow marketers to establish connections with creators.
What is the best platform for creators?
The best platform for creators includes YouTube, which has over 2 billion users. Users watch around 1 billion hours of YouTube content. Other platforms for creators include TikTok, Instagram, and more.
What does Creator management do?
Creator management includes any task or process involved with brand-creator relationships.
What is creator economy platform?
The creator economy is an online economy facilitated by software and online platforms. Creators can earn revenue from the content they create, whether that be videos, ebooks, or more. Creator economy software platforms include: YouTube, TikTok, Instagram, Facebook, Twitch, Spotify, Substack, OnlyFans, Tiki and Patreon.