From "Just Dance" to a sugary sweet collaboration, Lady Gaga teamed up with Oreo in 2021 to create customized and limited-edition "Chromatica Oreos"—named after the singer's latest album. The Oreo makers stamped images of the album on each neon pink biscuit stuffed with green creme, offering a unique and personalized feel from the superstar. Gaga fans emptied grocery shelves, selling out boxes nationwide.
The partnership resulted in mass fan anticipation and generated tons of online memes, getting new eyes on the nearly century-old beloved snack. The Gaga-Oreo partnership illustrates how brands can hand the megaphone to influencers, creators, and celebs to get the word out about their products. It also shows how the influencer can promote themselves through a partnership.
So, how do you find influencers that are a partnership match made in heaven? A content creator marketplace is an excellent starting point.
---
How Creator Marketplaces Bring Brands and Influencers Together to Form Winning Partnerships:
---
Why brands get turned off from influencer marketing
With more than 50 million influencers or creators worldwide, there's plenty of fish in the marketing pool. But all these options make it difficult to find the right match for your brand. Some common roadblocks that prevent campaign success are:
Taking educated guesses. After manually recruiting verified creators, you may find your values don't align, or their terms don't work for your business model. A manual process also relies more on guessing than numbers, which could result in a mismatched partnership.
With a content creator marketplace, you bypass the guesswork and dig into stats that give insight into potential partners, like:
Audience demographic

Online presence

Content performance

Alignment with your brand's goals and values
Bumping into fraudsters. A 2021 study by Statista found that approximately 49 percent of Instagram influencers participated in follower fraud (buying fake followers). This growing trend is difficult to identify simply by looking at a profile.
A marketplace uses first-party data to avoid inviting fraudulent players to your program.
Here you'll find verified creators with:
Real interest in working with brands like yours

Real followers

Genuine engagement
Burning through resources. Manually searching, vetting, and engaging with influencers takes a good deal of time and money. A lack of knowledge about where to find the right partners can also lead to missed opportunities.
A marketplace does all the heavy lifting, so you can focus on nurturing your partnerships. You can use marketplace automation to:
Search for influencers

Assess partners

Contact partners
---
How content creator marketplaces can connect you with the right influencers
A content creator marketplace is a centralized network of content creators and brands. Creators sign up to work directly with brands. In turn, brands publish their campaigns so that a network of highly-engaged influencers see them.
Creators and brands have the option to contact the other party if they think it's a good fit. A valuable marketplace allows brands to assess partners according to their audience size, demographic, content type, and social media channels.
Marketplaces also allow brands to tap into niche markets. BBQGuys—a leading ecommerce retailer of premium grills, BBQ smokers, and outdoor living products—wanted to reach new customers beyond the typical suburban dad griller using influencers. The brand's target market included urban dwellers, LGTBQ+ couples, and outdoorswomen. BBQGuys used a marketplace to recruit a mix of micro- and mid-influencers (75,000 to 250,000 followers) connected to these markets.
Identifying segments of the audience not typically seen as "BBQ masters" was challenging for BBQGuys. But using a marketplace to engage with the right micro- and mid-influencers helped them spread brand awareness and get closer to their target audience.
Marketplaces like impact.com for Influencers and Creators allow brands to develop mutually beneficial relationships with influencers. Here, both parties collaborate to drive revenue for a campaign. Marketplaces also allow creators to build authentic brand trust with followers, and creators get compensated for these efforts.
Using a marketplace gives your brand access to
First-party data that protects influencers' information

Partners genuinely interested in promoting your brand

Creators that align with your brand's values
---
How brands and influencers benefit from a content creator marketplace
Creator marketplaces open a stream of advantages for both brands and influencers. Brands get the opportunity to connect with creators who share similar goals and audiences. On the other hand, influencers can find brands that match their values, content, and aesthetics. Let's take a deeper look into the pros of marketplaces for brands and creators.
Benefits for brands
Many brands compete to get the best social media influencers. To establish relationships with partners, brands should connect with them and negotiate contracts for sponsored posts. Then there are the additional tasks of tracking return on investment (ROI) and the success of campaigns. However, a marketplace simplifies the entire process with the following benefits: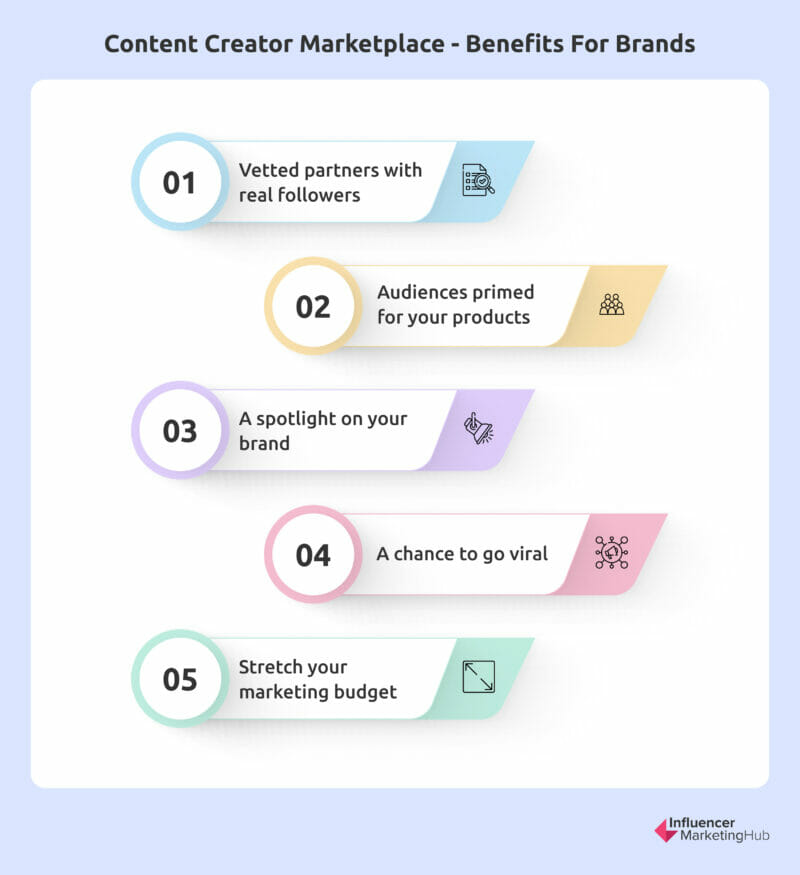 Vetted partners with real followers.

Fake followers are a growing issue. Brands hiring partners with a questionable following jeopardize their reputation and risk revenue loss. A good marketing platform assesses the authenticity of creators, reassuring brands that they're getting the real deal.

Audiences primed for your products.

This step is especially important if your brand is in a niche industry. A vegan meal prep company should strategically partner with people that cater to veggie-loving followers. A creator platform helps refine your search to find specific types of partners.

A spotlight on your brand.

These platforms put your brand in front of a receptive audience aligned with your offerings. Creators have a wide network they can reach. Since followers trust influencers, they're more inclined to accept recommendations.

A chance to go viral.

Influencers usually stay on top of trends, so working with the right ones breathes new life into your marketing strategy. This increases your chance of reaching a new audience. Take TikToker and accidental content creator Nathan Apodaca. One day his truck broke down on the way to work, so he grabbed his skateboard. He posted a TikTok video of his commute while listening to "Dreams" by Fleetwood Mac. He happened to swig from an Ocean Spray cranberry juice bottle on his ride. The video hit

46 million views

, and

ignited a trend for Ocean Spray, with

Mick Fleetwood

recreating the scene after seeing the video. One simple video triggered a wave of genuine content and billions of media impressions, giving Ocean Spray's brand awareness and sales a massive boost.

Stretch your marketing budget

. Creator platforms have built-in campaign tracking to create reports and measure analytics to see how a campaign performs. If a particular campaign doesn't bring in the return you want, you can simply end the campaign. Additionally, you'll be able to view which individuals are most effective at promoting your brand.
---
Benefits for influencers
A good marketplace gives creators access to many brands across different verticals interested in partnerships. Marketplaces help influencers find brands that empower them to communicate authentic messages to their followers.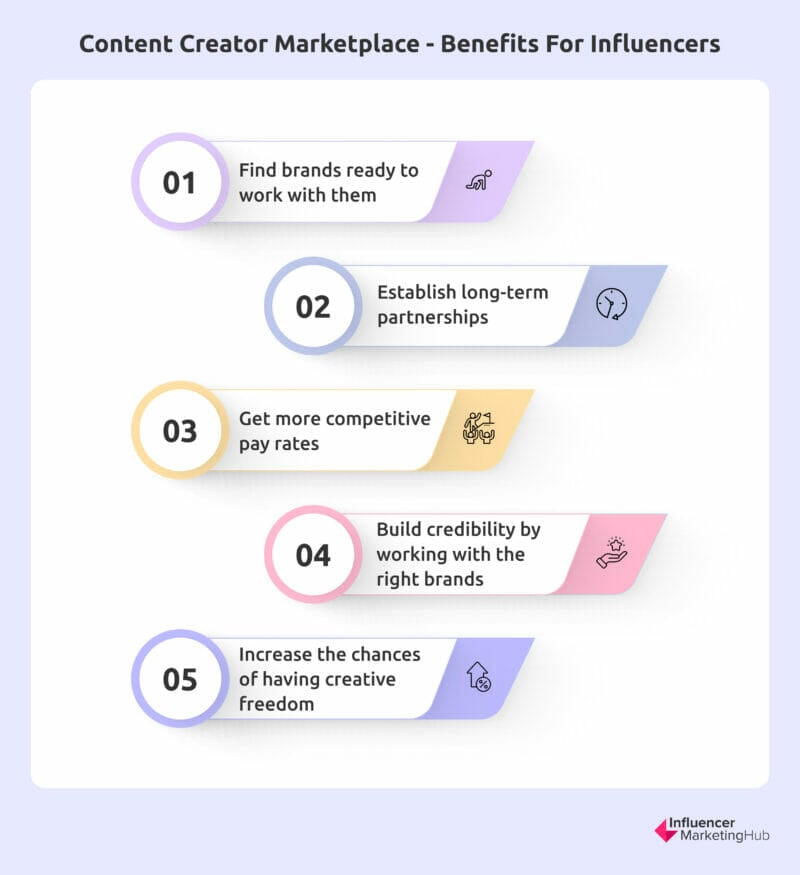 When influencers join a marketplace, they can:
Find brands ready to work with them.

Getting lucrative, sponsored posts via top brands can be challenging for creators. It takes a lot of outreach to marketing managers to land gigs. Instead of sending individual emails to brands, influencers can use a marketplace to get exclusive access to top brands. When they join a marketplace platform, they become part of a comprehensive database of influencers, and brands can easily access them.

Establish long-term partnerships.

A creator platform gives influencers a chance to build relationships outside of those in their social channels or their website. Automated outreach makes it easy for creators to contact brands and vice versa.

Get more competitive pay rates.

When using a marketplace, pricing isn't set in stone. For example, influencers with fewer followers but a higher engagement rate can earn more from brands. This is why using a creator marketplace with clear contract terms is essential. Creators can negotiate terms to ensure they get paid their worth.

Build credibility by working with the right brands

. Partners experience a snowball effect when they work on a successful campaign. New brands take notice, they get more partnership offers, and they can subsequently earn more for each campaign. In this way, creators gradually build up samples of posts, which encourages brands to reach out to them directly.

Increase the chances of having creative freedom

. Although brands want influencers to share their content, some still view it as theirs—not the influencers'. Some keep tight reins on what gets posted, which may cause conflict. Marketplaces help facilitate negotiations to ensure creators get enough creative control while brands still get represented in a way they're comfortable with.
---
Breaking down different audience sizes
Celebrities can become influencers, but so can your cupcake-baking neighbor. Many marketers think they need a big-time celebrity to build a successful campaign. But a recognizable face and a large following won't necessarily convert to sales.
Those with smaller followings can significantly impact audiences at a fraction of the cost. In 2022, the average Instagram post from a micro-influencer cost $100 to $500 per post while celebrities charged $10,000 upward.
In market share, creators with smaller followings give big-scale influencers a run for their money. Here's how it breaks down:
Audiences recognize genuine content creators with real connections making small-scale influencers a marketing powerhouse.
Take micro-influencer Jessica Neistadt, who has 54,000 followers on Instagram. She says,
"At the base of my content is transparency. I want to share this because it's honest, it's real, and something no one ever talks about."
Even Gen Zs prefer micro-influencers over celebrities. They see these creators as superfans that bring real, earned credibility to brand endorsements.
Jessica continues,
"I think it will also be partially interesting to you guys, as well as something that is both cathartic and therapeutic for processing, for me."
---
Is your brand ready to join a content creator marketplace?
The influencer market grew from $9.7 billion in 2020 to $13.8 billion in 2021, and in 2022 it expanded to a whopping $16.4 billion. There's no stopping this momentum, so getting in with a solid marketplace is a great way to secure ROI.
Creators need a clear understanding of what a brand wants to accomplish so they can set out to achieve their milestones. Additionally, they want to be compensated fairly and on time. Marketplaces allow for easier collaboration and payments through automated processes.
Here are some things brands should look out for when choosing a marketplace:
Automation of the entire influencer life cycle:

A good platform covers all stages of the influencer life cycle, including discovery and recruitment, contracting and payment, tracking, engaging, protecting, monitoring, and optimizing. A comprehensive creator platform provides all of this in one easy-to-use platform.
The ability to opt into a network.

An opt-in creator network of prequalified partners helps brands quickly find the right creators. Brands can proactively discover partners by searching and browsing robust data points.




You also have an opportunity to receive inbound interest by extending surveys that stipulate campaign criteria and allow qualified individuals to come to brands. Brands use this tool to find influencers more efficiently. Less time vetting and pursuing creators gives you greater confidence in the partnerships you choose to establish.

Access to verified influencers.

Real people express an interest in working with brands, and they authenticate their accounts on the platform. Opt-in marketplaces are chock-full of verified, vetted hand-raisers who want to partner with brands. Accessing partners from a marketplace also helps brands avoid recruiting fraudulent creators.

Access to first-party data and data compliance

. First-party data about influencers inside the marketplace helps brands make decisions based on numbers, such as performance metrics, engagement rates, comments, likes, and impressions. Data should also comply with social networks' terms of service and application programming interface (API) guidelines.

Access to authorization (OAuth) on a creator's social media accounts.

In addition to providing data access and added security, OAuth allows the marketplace to update performance metrics for collaborations in real time. Brands understand how their campaigns perform immediately instead of relying on a partner's performance reports. This automation leaves little room for human error and miscommunication.

The ability to recruit creators beyond the platform's network

. Features like extended search connect brands with influencers who don't belong to the marketplace—and invite them to join their program alongside their marketplace-recruited influencers. In this way, brands grow their network of partners and effortlessly expand their influencer marketing program.

Automation to easily engage with influencers.

Research from a

WARC and impact.com study

shows how traffic conversion improves the longer a brand works with an influencer. Content creator marketplaces facilitate long-term relationships between brands and their prospective partners. To grow and maintain influencer-brand relationships, a marketplace should have direct messaging, fair contracting, and performance insights that help brands achieve goals and monitor key performance indicators (KPIs).

Easy ways to pay creators. On a content creator platform, automating payments becomes simple and secure. These platforms trigger payments when influencers achieve predetermined milestones for their brand partners. For example, you can pay a creator a percentage of sales driven for a particular pair of leggings. Both brands and creators can track if the contract terms are being met. Partners get automatically credited when they meet these terms.
---
How influencers can join content creator marketplaces
Influencers want the opportunity to work with brands that align with their values and give them access to lucrative partnerships. A great marketplace allows creators to partner with brands they relate to and ensure they get compensated fairly.
Here are five things creators and influencers should consider when looking for a content creator marketplace:
#1 Access to a wide range of partnership opportunities.

Most creators prefer to work with a platform that provides them with a wide network of brands. A marketplace introduces creators to collaborations they uniquely qualify for. Influencers can filter those opportunities based on compensation type—including flat fees, non-cash/gifting, performance, or bids. They can also select the social platforms that align with their content strategies.

#2 The ability to negotiate terms and get paid on time.

This tool is especially important for creators who don't have much experience in the industry. Creators just starting out may not know what to charge as their going rate. The best creator platforms allow influencers to negotiate terms and determine which platforms they want to monetize. They can take control of their brand partnerships and correctly align compensation to value. Once creators finish a campaign, they easily get paid via their preferred method.

#3 Organization tools.

Creator marketplaces keep partnerships on track with clear deadlines and easy-to-follow tasks. A solid marketplace also offers native messaging features that allow partners to communicate directly with brands. Once content goes live, the platform automatically pulls in social metrics.

#4 Reporting tools.

Reporting tools give insight into which content performs well with audiences and which platforms don't perform well. Many creators find this data useful because it helps them decide what content to post. These reporting tools also correctly attribute certain actions to influencers so they get paid.

#5 Education around FTC Guidelines and ASA guidelines.

The Federal Trade Commission (

FTC) compliance

(U.S.) and the

ASA's guide for influencers

(U.K.) laws state that creators need to add clear labeling for sponsored posts, advertisements, or gifted items. These posts should be marked by #sponsored, #ad, or #gifted, respectively. A good platform will make an effort to inform creators that they need to comply with these laws.
---
Get ahead with workflow automation and accurate data
Both brands and creators recognize the importance of using automation tools to streamline partnerships. According to WARC and impact.com, 43 percent of brands use a marketplace to find the best-fit influencers, and 50 percent of influencers let brands find them through an influencer marketing platform.
Tracking and access to data give both parties insight into campaign performance and allows brands to only pay creators when they generate value. The value that creators generate can be measured across multiple metrics:
Cost per action (CPA)

Cost per click (CPC)

Cost per lead (CPL)
Automation also eliminates unnecessary manual processes. Instead, you can focus on working with partners to create authentic, interesting, and valuable content. Automation tools give brands the opportunity to scale and grow relationships faster through clear communication, tracking, and automated payments.
---
The marketplace features that every marketer needs
There are many marketplaces out there, each offering different features. These are the main features you should look out for when choosing a marketplace:
Comprehensive creator database

: Find partners with various demographics and audience sizes

Advanced search and filters:

Find influencers in your specific niche or industry

Regular updates

: Access new creators in the marketplace

Enhanced data views:

Analyze profiles and review posts to check their value and audience engagement

Hand-raising:

Locate individuals genuinely interested in your products or services.

Complete data compliance:

Strict first-party data protocols to protect your influencers' privacy
---
Get started with a content creator marketplace
Partnering with the right influencers isn't always an easy task. There are many factors to consider. You need to find verified creators that share similar audiences and interests to build lucrative partnerships. Luckily, a content creator marketplace takes the guesswork out of finding, recruiting, engaging, and paying influencers that will bring value to your bottom line.
impact.com for Influencers and Creators is a great place to start. Gain access to the world's largest opt-in marketplace of more than 100k registered and vetted creators. Contact [email protected] to get started.
Author Bio: