Purchasing real estate in Decentraland is key for investors who intend to expand their portfolio into the virtual space. Decentraland is the first and most established virtual land ownership platform for gamers, creators, and prospective business people.
Land in the metaverse has the potential to be equally as valuable as land in the actual world. Every portion of land bought is an NFT, which means it can't be duplicated.
If you're interested in learning more about the Ethereum-based metaverse, keep reading on to learn all you need to know before deciding to own a property in Decentraland.
---
Decentraland Real Estate:
---
What Is Virtual Real Estate?
When it comes to assets, the value of real estate is unmatched. In virtual worlds, virtual real estate is a type of intangible land. In the same way that real property is sold in plots, virtual land may be purchased using the currency of the platform it is located in. Buying virtual property is now possible in several virtual worlds. The most popular of these platforms is Decentraland.
---
What Is Decentraland?
Decentraland is a virtual platform that allows users to buy and sell virtual land. A wide range of products is available, from digital skyscrapers and fast transit systems to movie theaters and hotels.
Decentraland, as its name implies, is coined from the terms "decentral" and "land." This implies that the platform is entirely decentralized, making it an excellent choice for anybody interested in exploring virtual worlds in the metaverse. Opportunities are also open to people who are not yet familiar with cryptography and augmented reality.
When Facebook changed its corporate name to Meta, Decentraland saw a surge in popularity. After Facebook's decision, "metaverse" became a common term for the notion of virtual worlds.
---
The Digital World Inside Decentraland
Parts of Decentraland, referred to as parcels, are scattered over the land. Each parcel is 52 feet wide and 52 feet long. A parcel is the smallest quantifiable area of land that you may possess. Several pieces of land can be bought together to form an estate.
Upon visiting this virtual world for the very first time, you'll appear at Genesis Plaza, also referred to as the central plaza since it's located at the heart of Decentraland. As a result, Genesis Plaza is one of the most significant locations on the platform. Note that a property's location and size of land have an impact on its pricing. Your property will cost more if it's closer to an area where lots of activities are conducted.
The LAND token serves as proof of ownership of a user's purchased land. It also contains the unique coordinates of a particular plot of land as well as a description of the contents of the virtual property.
Decentraland has a total of 90,601 plots of land. You don't need any technical expertise to construct your Decentraland plot as you see fit. A simple drag-and-drop interface allows you to create various kinds of structures on your property.
Users own and control the whole virtual environment. A DAO or Decentralized Autonomous Organization governs Decentraland. Anybody in the community can vote on proposals.
If you're looking for some distinctive clothing for your avatar, you can get it at the marketplace. Wearables are made by both brands and individuals alike, which users can use for enhancing their avatar's appearance.
---
What Is MANA?
Decentraland's cryptocurrency is called MANA. In essence, it powers Decentraland's economy. ERC20 tokens may be used to acquire LAND and pay for items and services on the platform. As a governance token, MANA allows its holders to have an influence on how the Decentraland protocol will develop in the future. You may purchase MANA tokens on a cryptocurrency exchange.
To purchase LAND on Decentraland, you must spend MANA. When it comes to the current value of MANA tokens, the currency's worth is rapidly increasing. In just four years, MANA has gone from a low price of $0.007883 on October 3, 2017 to approximately $5 in November 2021.
---
How Does Decentraland Work?
Every piece of land is an NFT, known as LAND. In other words, Decentraland's real estate transactions are NFT transactions. Following each purchase, customers are offered the opportunity to create a virtual city on their land.
Landowners can tap into their imagination to develop their property. Animation skills will also come in handy in building and developing your 3D space.
Decentraland's Estates feature allows you to manage many parcels of land. Meanwhile, districts are made up of land parcels that share a common theme. A district can be created by community members sharing similar interests, allowing a group of like-minded individuals to interact and socialize with one another. Users can have a say in how their neighborhoods grow thanks to Agora's voting system. Decentraland districts that are currently active include Vegas City, Fashion Street, Decentraland University, E for EVERYONE, EcoGames, MusicHub, Sports Fan Zone, and the Decentraland Museum.
The infrastructure of Decentraland's protocol has three levels, all of which are built using Ethereum smart contracts. The consensus layer, the first layer, tracks and documents ownership of land purchases.
Assets such as photos, voice conversations, and audio are rendered and distributed via the second layer, also known as the land content layer. Decentraland's peer-to-peer transactions and other types of interactions are enabled through real-time layering.
---
How to Buy MANA
MANA can be found on a variety of cryptocurrency exchange platforms, but buying from Binance offers the most benefits in terms of speed, costs, and accessibility of funds. A step-by-step guide on how to buy MANA is provided below.
1. Register on Binance
Binance is one of the most popular platforms for cryptocurrency trading. Binance's growing assortment of cryptocurrencies is a significant factor in the site's success.
To register, download the Binance app, or go to its official site. You would be directed to a page for registration. There, you can input the necessary details to get your account set up.
---
2. Ensure the safety of your Binance account by enabling 2FA
2FA, or two-factor authentication, is an optional additional layer of protection. In addition to a username and password, a user can enable 2FA through Google or phone verification.
Following your sign-up, you can go to your dashboard to enable 2FA. You can also click your profile and then "Security". You'll have multiple options for two-factor authentication, including phone number and email address verification, security key, and Google Authenticator.
---
3. Select how you wish to purchase MANA
On the Binance website, click on the "Buy Crypto" link on the top left. This will show you the options available to buy MANA in your country. These options include:
This is the best way to buy MANA if you're a newbie. Binance accepts both Visa and MasterCard.
MANA can be purchased through a bank deposit. Binance accepts Visa and MasterCard as payment methods.
Buy MANA directly from other users with Binance's peer-to-peer service.
---
How to Store MANA Tokens
In other to keep your MANA tokens safe, you have two options. If you want to keep MANA for a lengthy period, hardware wallets are the best option. Offline wallets are inherently safe and can hardly be hacked. The Ledger Nano S and the Ledger Nano X, which enable cryptocurrency storage, are the most advanced hardware wallets available to store MANA.
MANA tokens can also be saved in software wallets, which are ideal for short-term storage. MetaMask is one of the best hot wallet options for storing MANA tokens.
---
✅ How to Buy LAND in Decentraland?
Now that you know what Decentraland is and how to purchase MANA, here's a step-by-step method for buying land in Decentraland through its marketplace.
💡 Visit the Decentraland Marketplace
Start by visiting the Decentraland marketplace, where you may either sign in or create an account. With a digital wallet, signing up is simpler. If you don't already have a digital wallet, you can use MetaMask or Trust wallet. The "LAND" tab is where you'll find all the land parcels currently available for purchase.
---
💡 Choose a Plot of LAND
Choosing a plot of land is the next step. This involves looking carefully at the various options available. At the Decentraland marketplace, you can examine nearby locations and their closeness to popular attractions.
Click on a virtual property to learn more details about it. Land prices in MANA, its availability, and the owner's name are all shown here.
---
💡 Purchase the Property
You may either make an offer on the land or purchase it at the current market price once you have found the property you want. The "buy" and "bid" buttons allow you to place an order and complete a purchasing transaction.
Ethereum or the native token MANA are the two currencies accepted on Decentraland. Don't forget to have enough cryptocurrency in your wallet to execute the transaction. When funding your wallet, also keep in mind the cost of gas and transaction fees.
---
💡 Wait for Confirmation
The confirmation page will appear when you hit the "buy" button. The transaction will now take a few seconds to several minutes to complete.
Within a few minutes of confirming your purchase, your Land NFT will be in your wallet. You may view your land on the OpenSea platform using a MetaMask wallet or Trust wallet.
---
Factors in Picking a Virtual LAND
Buying virtual land is just like buying real-world land. You'll want to keep in mind that the location of the land is the most essential part of your purchase.
The finest places to stay in Decentraland tend to be around the Plaza, notably the Genesis Plaza. The cost of plots near the Plaza isn't the only thing to consider. When purchasing a plot of land, you should also think about factors like how near you are to a road or a neighborhood.
When you click on a land plot on the map, you'll see the property's "Highlights." This lets you know how many parcels away you are from a road or district. If you want to build on your land, you may consider purchasing a plot of land that includes multiple smaller pieces merged together. Due to the high demand for larger lots, your options may be limited.
---
How Much Is Decentraland LAND?
In 2021, the price of a property in Decentraland soared. Currently, plots of land are selling for an average of $3,000.
Popular metaverse platforms have seen a significant increase in the cost of digital land in the past year. The price of a property in Decentraland is anticipated to climb even more in the future.
---
Reasons Why Decentraland Real Estate Is a Wise Investment
Here are two main reasons people want to invest in Decentraland real estate.
1. To generate profit
Many people are interested in digital real estate investments because they wish to make a profit from reselling the land. Now that the price of virtual property has snowballed since its initial introduction, it has become yet another potential source of profit for investors everywhere.
Keep in mind that, as with all other types of investment, investing in virtual real estate deals can have its cons, such as lack of predictability. Also, be careful while purchasing land in some areas since the prices might be too exorbitant for the value.
2. To set up a community
Token ownership allows users to create digital communities and shared spaces as well as the ability to cast a vote to have some say on the platform's policies.
---
✅ How to Profit from Decentraland
Thanks to various opportunities on Decentraland, earning money as an investor is possible. Take a look at the top five ways you can make money as a virtual landowner.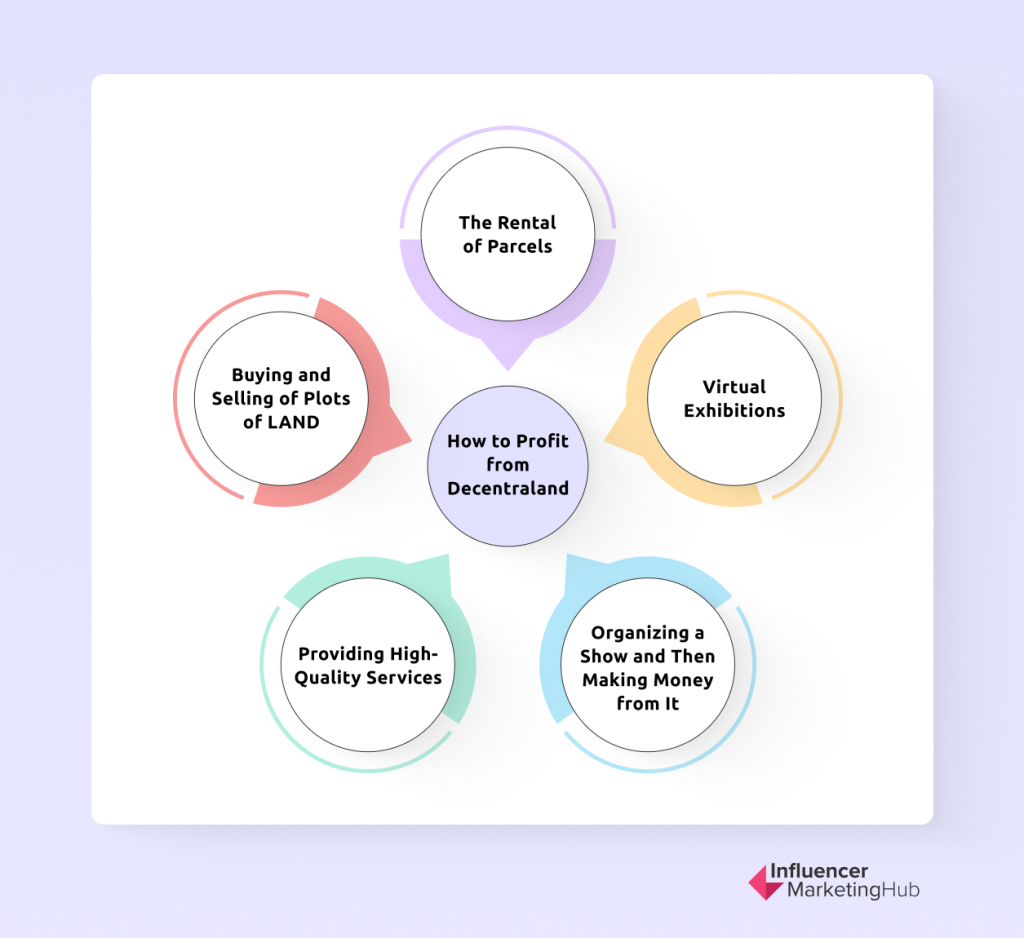 💡 The Rental of Parcels
Parcels are rarely developed or built on by their owners. You can still possess a plot even if you don't develop it. Renting out your home instead of developing it yourself is an excellent option to earn on Decentraland.
Renting out your property can be profitable, particularly if you own various parcels next to each other. With the LAND Estates feature, more plots can be developed when they are linked together. The vast majority of developers also choose to build to rent. These homes' valuations might explode if rental revenue rises.
💡 Buying and Selling of Plots of LAND
In Decentraland, you can make a lot of money by selling off land portions at a profit. Locating buyers interested in your property is your first step. After you've found them, all that is left is to negotiate and seal the deal. As the supply of available land decreases, the market for buying and selling would likely become more profitable.
💡 Providing High-Quality Services
On Decentraland, people need different services, and you can make money on the platform by providing these services. For instance, you may design games for people or you can design templates for specific constructions and houses.
Parcel owners can purchase and upload these templates. Designers of both the interior and exterior parts of a home or building can post their offerings on websites. It is also possible for businesses such as advertising companies to advertise their products or services on Decentraland.
💡 Organizing a Show and Then Making Money from It
If you have a plot of land, you can build memorable places and experiences for people on Decentraland. This is possible when innovative entrepreneurs and skilled programmers work together.
Parcel owners can create unique experiences and shows that others will love. Innovative entrepreneurs can charge a premium for their products in the future and develop game-changing technologies.
💡 Virtual Exhibitions
Creating a virtual exhibition is an excellent way to showcase your talents. It doesn't matter if you're selling clothes or new video games, Decentraland creates an opportunity for you to make money off it. For example, you may use the virtual world for advertising your clothing lines and other products.
---
✅ Pros and Cons of Investing in Decentraland Real Estate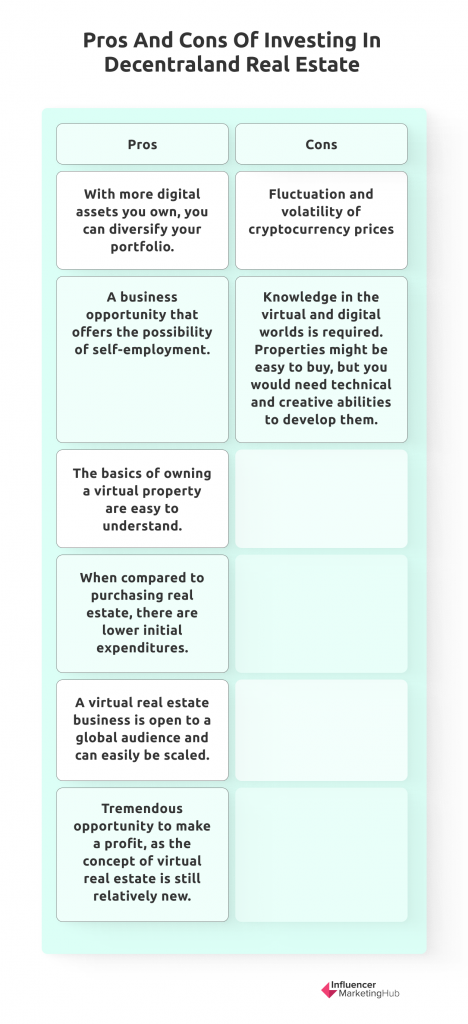 Every new online venture comes with its pros and cons. Here are some advantages and demerits you should keep in mind before investing in virtual real estate.
Pros
😊 With more digital assets you own, you can diversify your portfolio.
😊 Tremendous opportunity to make a profit, as the concept of virtual real estate is still relatively new.
😊 A business opportunity that offers the possibility of self-employment.
😊 The basics of owning a virtual property are easy to understand.
😊 When compared to purchasing real estate, there are lower initial expenditures.
😊 A virtual real estate business is open to a global audience and can easily be scaled.
Cons
😞 Fluctuation and volatility of cryptocurrency prices
😞 Knowledge in the virtual and digital worlds is required. Properties might be easy to buy, but you would need technical and creative abilities to develop them.
---
Is Buying LAND in Decentraland Worth It?
The future of Decentraland depends on the thousands of users that visit the platform daily. Users have complete control over the platform's ecosystem, which is a feature that attracts investors.
Users who rent out the land they purchased keep all of the money they earn. This ensures profit accumulation without enormous fees from the platform. In terms of long-term investment, buying virtual property in Decentraland is worth it.
The concept of metaverse is still fairly new for a lot of people, so now is a good time to acquire property in Decentraland. Facebook and other Web 2.0 companies and brands are beginning to devote time, money, and expertise to Metaverse development and accessibility. However, investing in any virtual property comes with risks, so remember to exercise caution and make proper research before investing.
---
In Closing
For now, any investment in Decentraland or other metaverse platforms has the potential of being profitable. What's more, buying property in Decentraland is a fairly straightforward process.
If you have any intention of diversifying your digital portfolio, now is the time to consider buying a plot or more from Decentraland as the metaverse is still rapidly expanding.
Frequently Asked Questions
Is it possible to acquire land in the Metaverse?
Decentraland is one of the many platforms that allow you to purchase virtual land. Third-party markets allow you to buy metaverse real estate as well, such as via OpenSea.
In the Metaverse, how much does land really cost?
When virtual real estate was first being sold, users can purchase them for less than a thousand dollars. Currently, the lowest-priced virtual properties are going for around $13,000.
Do I need a wallet to join Decentraland?
It is recommended you have a digital wallet to join Decentraland. Your digital wallet stores your MANA tokens, which you can use to purchase digital goods such as wearables and avatars.