Perhaps the hardest decision to make when writing an article on digital marketing stats is to decide what counts as digital marketing. Most of the other areas we cover at the Influencer Marketing Hub have relatively tight definitions. It's obvious what counts as influencer marketing, email marketing, affiliate marketing, or social media marketing, for instance. The concept of digital marketing is more nebulous, however. Does it encompass all the above terms? What about websites, landing pages, and whitepapers? And how do we handle television advertising in this digital age? You must understand the boundaries of digital marketing before a list of digital marketing stats can make any sense.
We have previously examined the topic of What Is Digital Marketing? In that post, we viewed digital marketing as "the use of strategy, planning, and a keen understanding of your market to create targeted digital media that drive awareness and education for your brand and product/services, and ultimately sales." Using websites, landing pages, social media, paid advertisements, downloadable content, and other digital tools can assist brands in engaging target markets and realizing digital marketing goals.
We identified eight primary digital marketing channels you can use to communicate with your target market and leverage to grow your brand. We've also added a few stats about the role AI will play in marketing moving forward.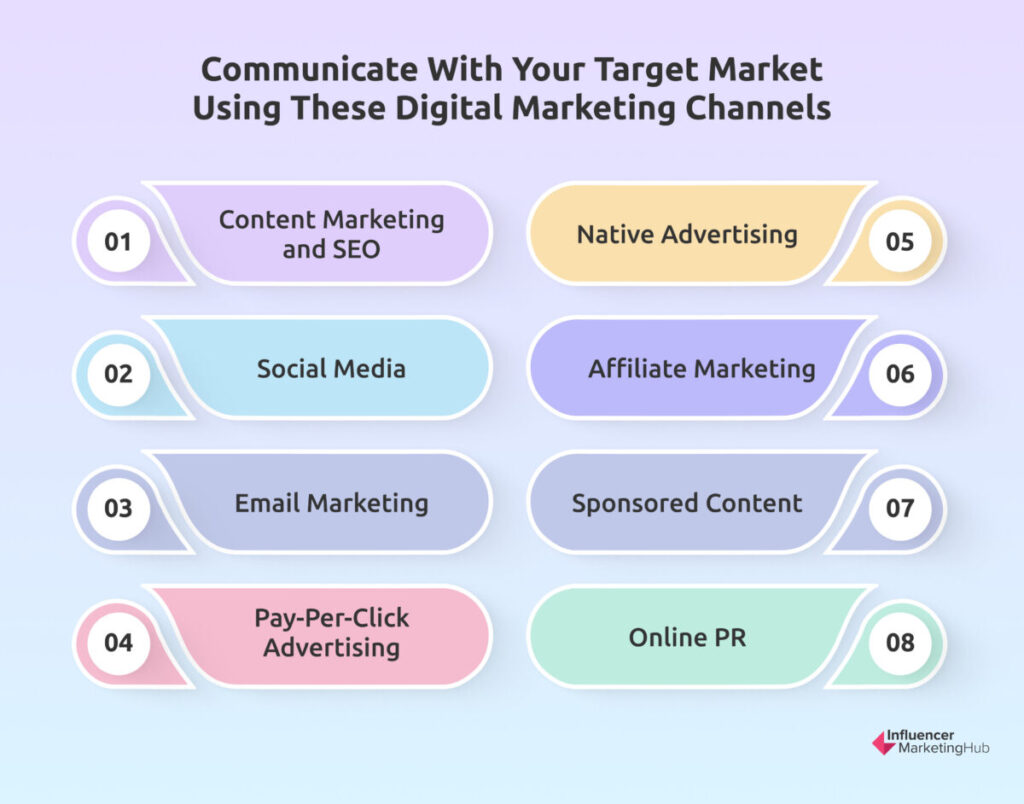 ---
Top 28 Digital Marketing Stats to Blow Your Mind:
---
Content Marketing and SEO Stats
1.Ranking #1 in Google Generates a Typical CTR of 39.8%
First Page Sage has calculated the click-through rates (CTR) for the various positions in Google's search engine. With over 270 million visitors per month, Google is clearly the largest driver of commerce in the United States and, indeed, much of the world.
Despite ads usually appearing before organic search results, most people bypass the ads, opting to check out the organic results. Therefore, the CTRs for the best organic positions are much higher than for the advertising slots. Of course, if you can't make the front page of Google organically, you will receive better click-through results from your ads than your organic pages.
First Page Sage's results indicate the need to have your content appear on the first page of Google for your most important search terms. They found that the CTR for the various positions were:
Search Position 1: 39.8%

Search Position 2: 18.7%

Search Position 3: 10.2%

Search Position 4: 7.4%

Search Position 5: 5.1%

Search Position 6: 4.5%

Search Position 7: 3.4%

Search Position 8: 2.6%

Search Position 9: 2.4%

Search Position 10 (if present): 2.2%
These CTRs compared favorably to those for the top four ad positions:
Ad Position 1: 2.1%

Ad Position 2: 1.4%

Ad Position 3: 1.3%

Ad Position 4: 1.2%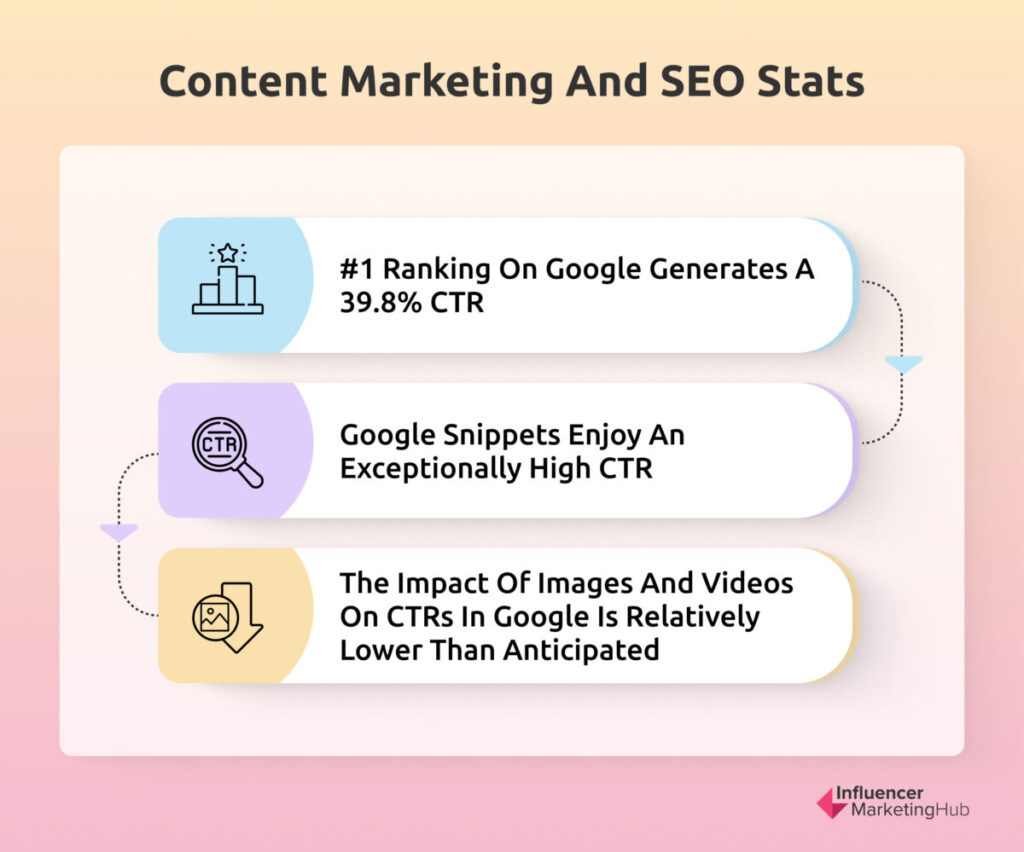 ---
2. Snippets Have a Very High CTR on Google
If you can create content that Google considers worthy of being a snippet, it is very much worth your while. According to First Page Sage's results, snippets have a very high CTR, with the first snippet performing better than the first search result:
Snippet 1: 42.9%

Snippet 2: 27.4%
---
3.
Images and Videos Have Less of an Impact on CTRs in Google Than You'd Expect
Perhaps surprisingly, having your images and videos appear in a high Google position doesn't guarantee high CTR rates. First Page Sage found the following CTRs applied:
Image results: 1.4% - 4.9%

Video results: 2.3% - 6.4%
---
Social Media Stats
4. Blogs, Social Media Shopping Tools, and Influencer Marketing Boast the Highest ROI
When compiling its State of Marketing Trends 2023 Report, HubSpot found that the top marketing channels were blogs, social media shopping tools, and influencer marketing. According to their data, these three have the highest ROI.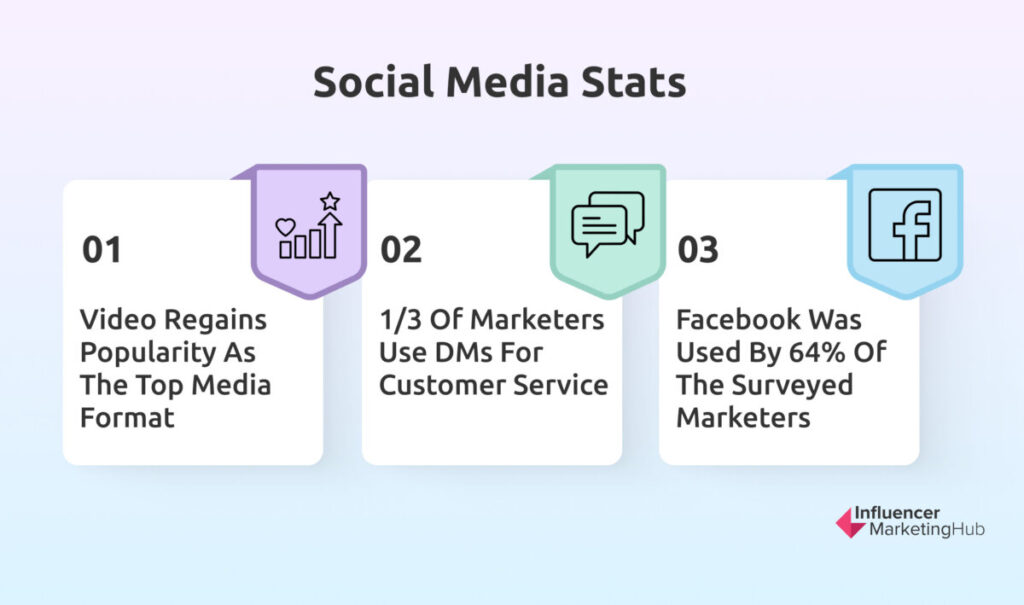 ---
5. Video Is the Most Popular Format
Unsurprisingly, HubSpot's study found that video is once again the most popular media format. This is the fourth consecutive year that marketers have listed video as the most effective format. Even less unsurprisingly is that the vast majority (90%) will either maintain or increase their investment in short-form video.
---
6. Pre-produced Video and Livestream Video Growing In Popularity
Salesforce's State of Marketing 8th Edition echoes the popularity of video. Their data found that pre-produced video and livestream video are at the top of the marketing mix.
In 2022, both pre-produced and livestream video enjoyed a growth rate of 89%. What makes this even more impressive is that livestream video's growth rate was up by nearly 20% from the previous year. Much of this growth can be attributed to consumers searching for more ways to interact online.
---
7. About a Third of Marketers Use DMs for Customer Service
Social media is being used more and more for customer service. According to HubSpot's data on consumer trends, 20% of Gen Zers and 25% of millennials have contacted a brand about customer service via social media.
As such, marketers have started to embrace this channel for customer service too. Their 2023 State of Marketing Report found that 29% of marketers are already using social media direct messages (DMs) for customer service, while 15% plan to use it for the first time in 2023.
Considering that 30% of millennials and Generation Z consumers have purchased a product directly via social media recently, we can also expect to see a lot more brands starting to sell their products on social media channels like Facebook, TikTok, and Instagram.
---
8. Facebook Is the Most Used Social Platform by Marketers
According to the same report shared by HubSpot, Facebook was the platform that most marketers used in 2022. 64% of the marketers surveyed used Facebook, followed closely by Instagram with 58% and YouTube 57%. Moving forward, Facebook will remain the most popular social media platform that marketers will use in 2023. Considering that most marketers also feel that Facebook has the best ROI, it makes sense.
That said, HubSpot's study found that more than half of marketers (56%) will increase their investment in TikTok in 2023. Compared to all the other social platforms, this is the highest increase.
---
Email Marketing Stats
9. 78% of B2B Brands Use Email Newsletters
Although email marketing is a comparatively old style of digital marketing, it is still seen as valuable by many firms, coming in as the third most popular content marketing activity in the Content Matters 2022 Report. Every year, you will find reports predicting the demise of email marketing – yet it doesn't appear ever to happen. Email marketing remains as popular as ever, despite all the new digital channels that have emerged since the term "email" became popular in 1993.
The concept of email marketing is much older than its name, indeed older than the internet. The first message was sent from computer to computer on ARPANET in October 1969, and the first form of an email as we know it occurred in 1971, with Ray Tomlinson creating ARPANET's networked email system using the @-symbol as part of a user's address.
That said, HubSpot's report found that email open rates decreased across the board by more than 12%. Plus, a quarter of marketers fear that their marketing budgets will be reduced, if a recession were to happen in 2023. In this case, many admit that email marketing will face a strategic budget cut, along with paid social media content and in-person events.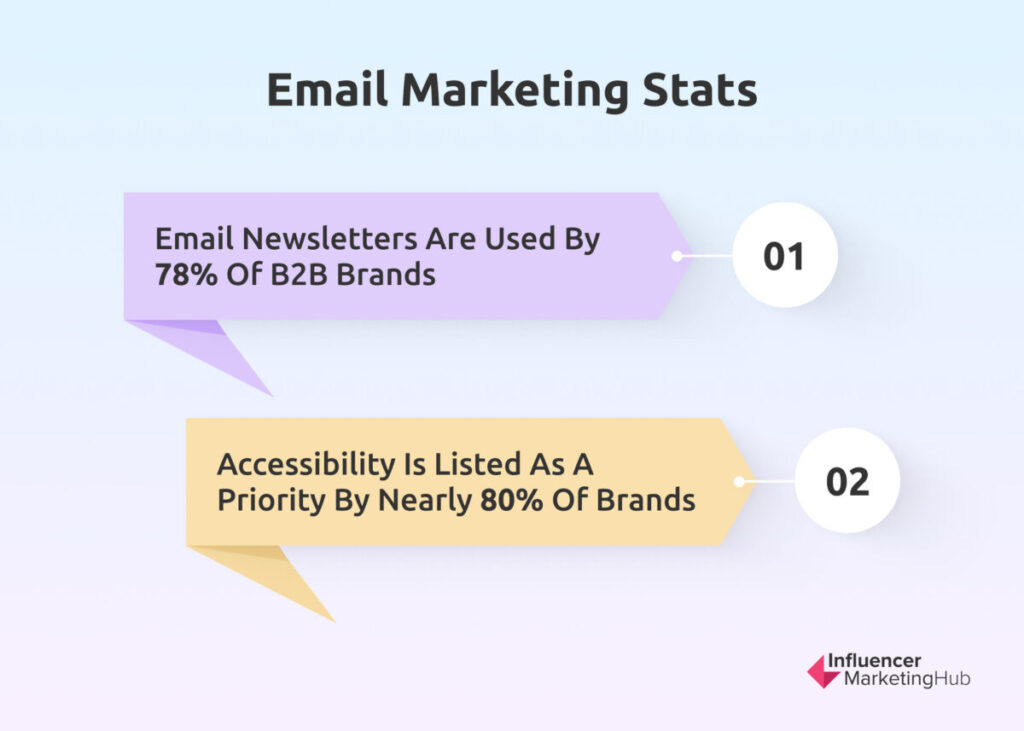 ---
10. Nearly 80% of Brands List Accessibility as a Priority
HubSpot's data found that 77% of brands feel that making their emails more accessible is important. However, fewer than 10% admit that they implement best practices to make their email messages more accessible.
---
Pay-Per-Click Advertising Stats
The first online advertisement came as part of AT&T's "You Will" campaign in 1994. Since then, there have been billions of online ads.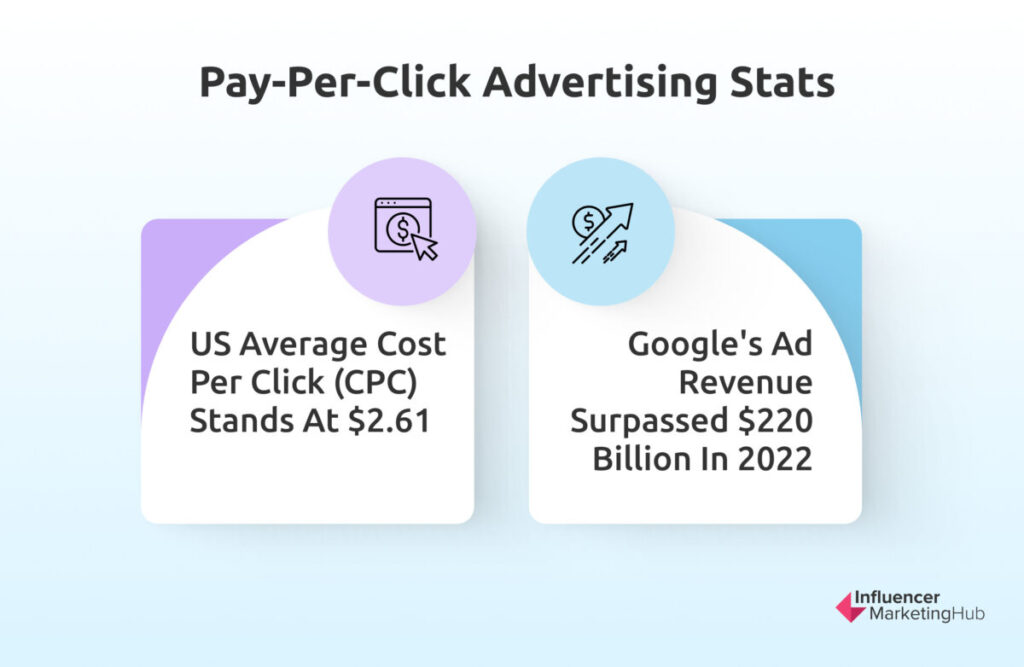 11. The Average CPC Is $2.61 in the US, Almost Double That in the UK
According to Statista's data, the average monthly cost-per-click (CPC) in Google Ads search advertising in the UK was $1.48 in 2022. While it was the highest among 38 other European countries, it was still much lower than in the US. Over in the US, the average monthly CPC in Google Ads search advertising was $2.61, which was also the highest in North America.

---
12. Google's Ad Revenue in 2022 Exceeded $220 Billion
Advertising is undoubtedly profitable for Google. Statista reports that Google's advertising revenue in 2022 was $224.47 billion. While it wasn't up by that much from the previous year, it's up by a sizable amount from 2020 when it totalled $1146.92 billion. It's also a colossal boost from the $0.07 billion Google earned from advertising in 2001.
---
Native Advertising Stats
Native advertising involves paid ads that match the look, feel, and function of where they appear. For example, native ads on social media look like any other social media post on the relevant platform. Some brands include sponsored ads on their website that look similar to the other content on the site. Native ads look very much like editorial – although they do, of course, tell a carefully crafted message. Native ads succeed because they don't look like ads, even if they carry a Sponsored message above them.
Typical native ads include in-feed ads, search and promoted listings, and content recommendations.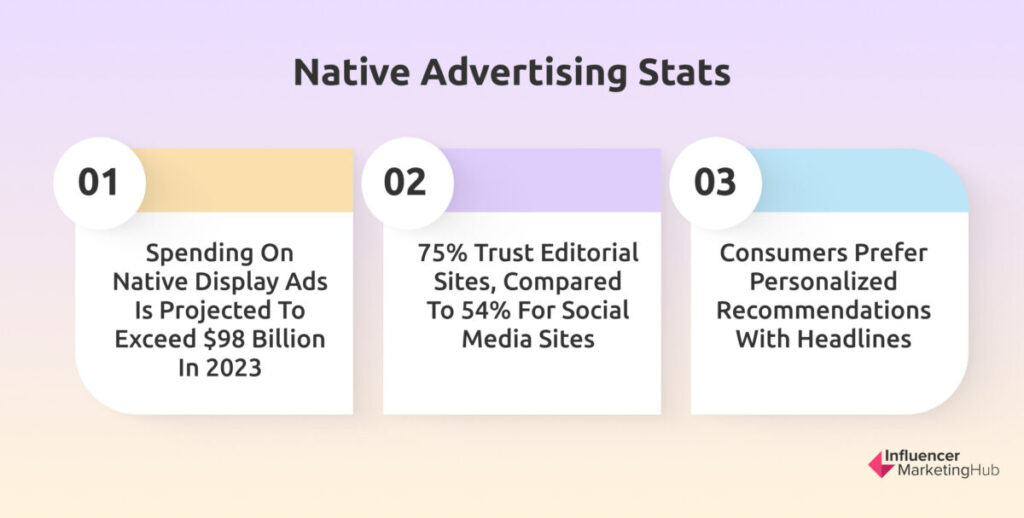 13. Native Display Ad Spending Will Reach Over $98 Billion in 2023
eMarketer predicts that native display ad spending in the United States will add up to $98.59 billion in 2023. This works out to a year-over-year growth of 12.5%.
---
14.Online Content on Editorial Sites Is More Positively Perceived Than on Social Media Sites
An Outbrain-Savanta study found online content on editorial sites (e.g., news and lifestyle sites) to be more positively perceived than social media sites. For example, 75% of the respondents said they trust editorial sites compared to 54% who trust social media sites. This trust is particularly notable among household decision-makers. Conversely, ads on social media were the least trusted across sites.
---
15. Consumers Prefer to See Their Recommendations Personalized with Headlines
Another finding of the Outbrain-Savanta study was that household decision-makers are significantly more likely to prefer personalized recommendations (59%) and headlines (58%) than non-decision makers (54% and 52%).
---
16. Native Ads Considered the Least Intrusive Ad Type, Social Feed Ads the Most Intrusive
The Outbrain-Savanta respondents were given four types of ads and asked to rank them from most to least intrusive. The percentages ranking each type as most intrusive were: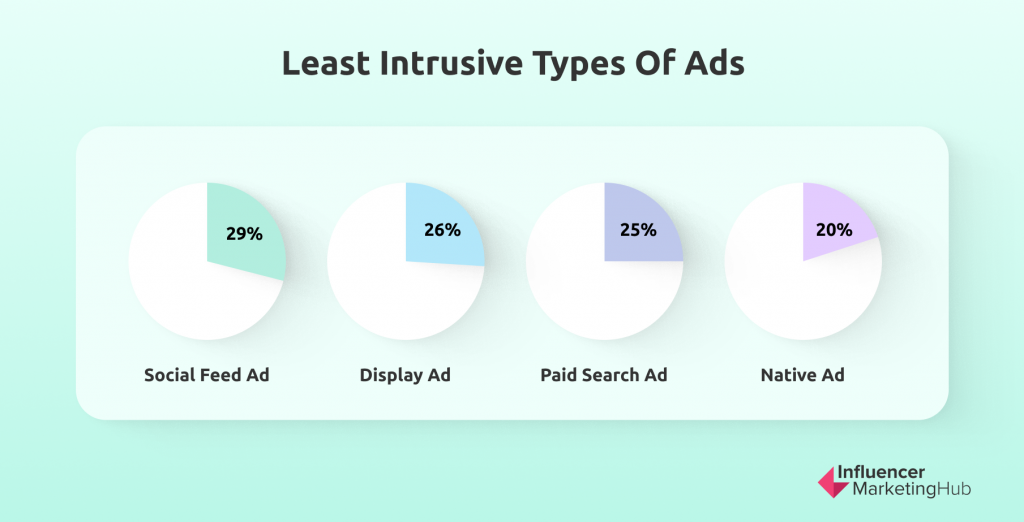 ---
Affiliate Marketing Stats
We have written extensively about affiliate marketing on the Influencer Marketing Hub. In addition to our Ultimate Guide to Affiliate Marketing, we also have a more in-depth article detailing the Top Affiliate Marketing Statistics. To help you understand just how huge affiliate marketing is, here are some additional stats to consider.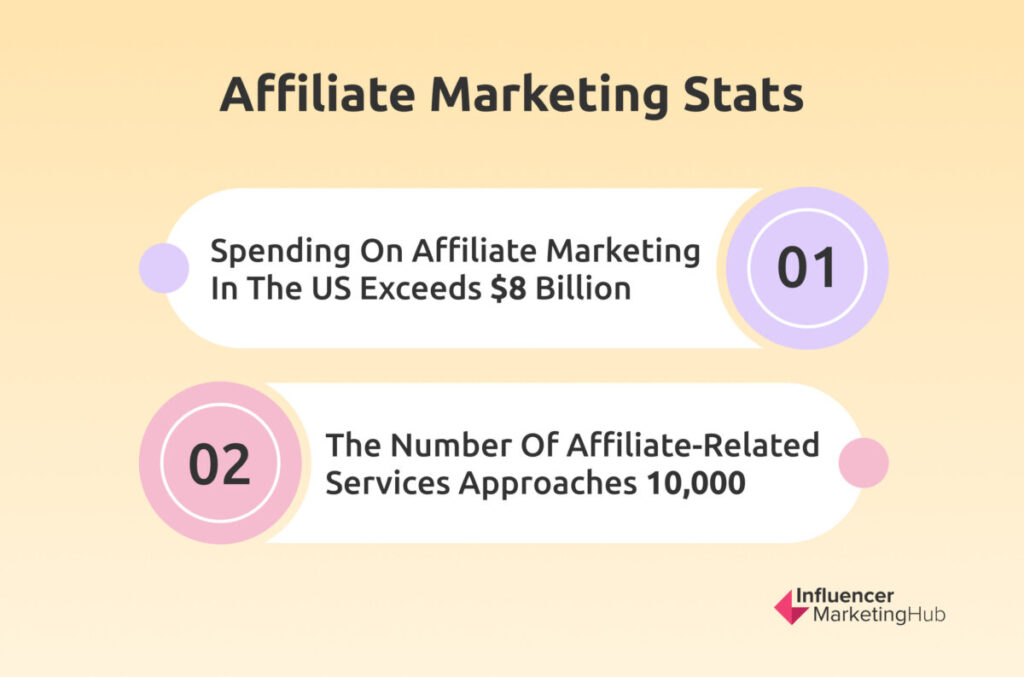 17. Affiliate Marketing Spending in the US Is Over $8 Billion
According to Statista, affiliate marketing spending in the US added up to $8.2 billion in 2022. In a span of only five years it nearly doubled, up from $5.4 billion in 2017.
---
18. There Are Nearly 10,000 Affiliate-related Services
According to The State of Affiliate Marketing Benchmark Report (2023), in 2023 there are about 9,600 services and companies related to affiliate marketing across the world. This estimate is based on online directories and includes agencies, platforms, and apps. North America has nearly half the share.
---
Sponsored Content Stats
The difference between content marketing, native ads, and sponsored marketing can be subtle, making it challenging to isolate separate sponsored content statistics. However, it is probably best summed up by this image from the Influencer Marketing Hub:
19. 18% Monetize Content by Selling Ad Spaces
According to a study completed at the end of 2022 among professionals working in content marketing, 18% monetized their content by selling ad spaces.
---
Online PR Stats
20. 89% of PR Pros Highlight the Importance of Personal Relationships With Journos
Research completed by PRophet and The Harris Poll reveals that 89% of PR professionals feel that personal relationships with journalists are more important than ever. However, more than half (53%) feel that they lack the capacity to maintain these relationships.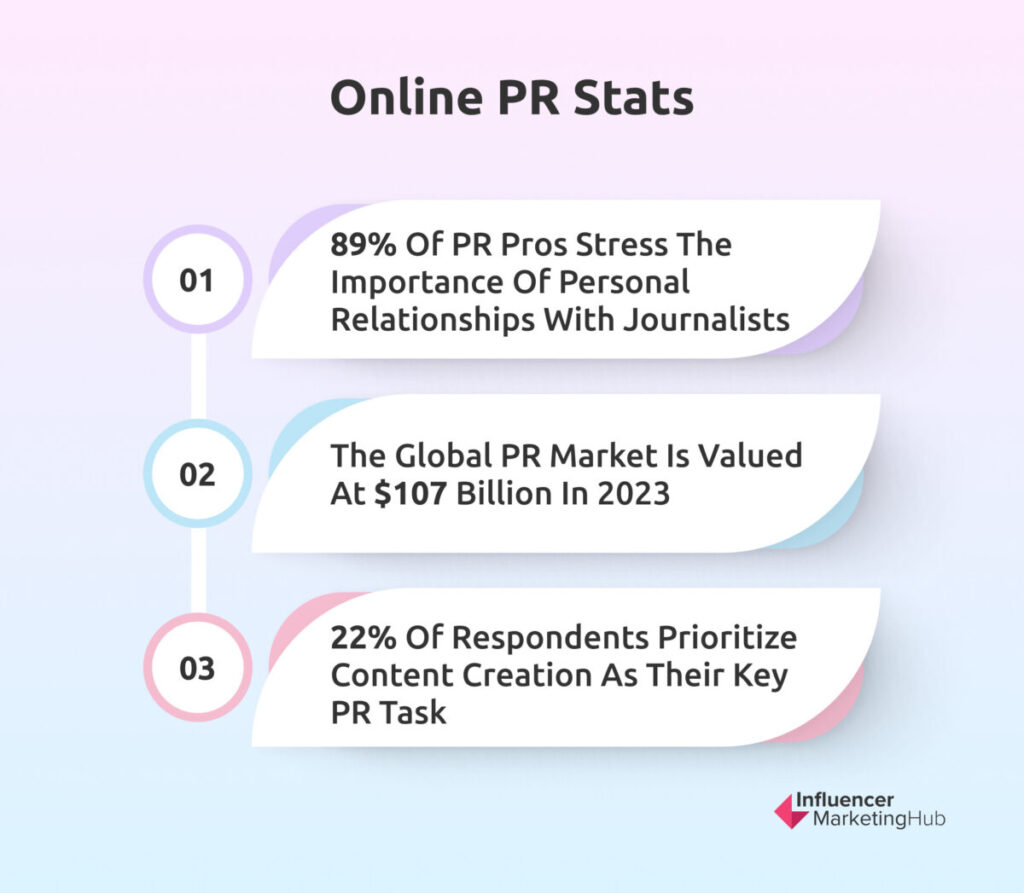 ---
21. Global PR Market Worth $107 Billion in 2023
According to Statista, the global PR market will be worth about $107 billion in 2023. This is an increase of nearly 7% from the previous year. By the end of 2027, the industry is expected to surpass $133 billion.
Edelman once again topped the global ranking of PR agencies by yearly fee income. In 2022, this amounted to over $1 billion.
---
22. Content Creation Is the Most Important PR Task
Cision found in their 2023 Comms Report that 22% of their respondents considered content creation to be their single most important PR task. This was followed by analytics and reporting (21%) and attribution and ROI (17%). Previously, media outreach was their second biggest concern. However, three years later and only 14% indicated media outreach and influencer management as their second most important concern.
---
AI in Digital Marketing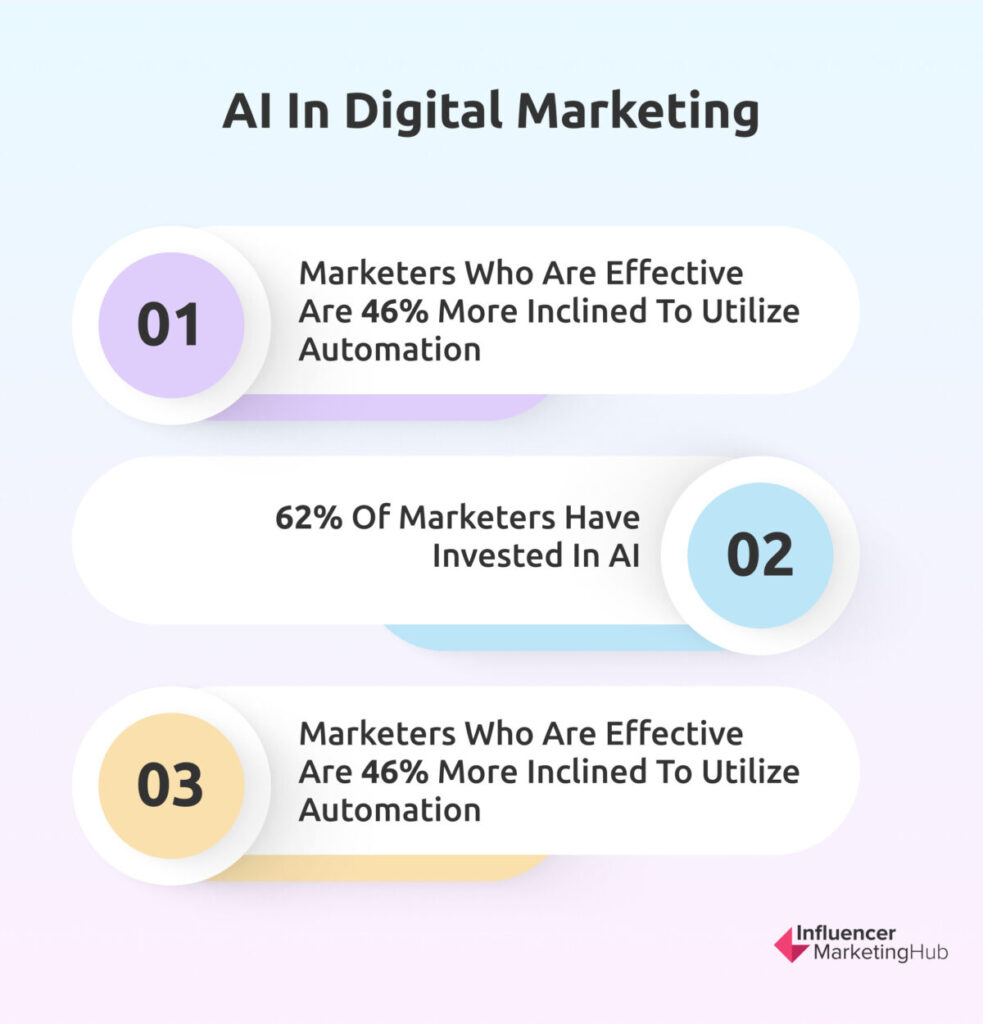 23. More Than Nine in 10 PR Pros Believe AI Will Transform Their Approach
According to the research completed by PRophet and The Harris Poll, 92% of PR pros feel that AI is worth exploring. What's more, 90% believe that it will leave them with more time to dedicate to higher value tasks.
Both Erica Parker, MD of Media Communications Research Practice at The Harris Poll, and Aaron Kwittken, CEO and founder of PRophet, highlight that this shows that the industry is ready to see how AI can help them complement their expertise and free up time to focus on other activities like sourcing and targeting journalists.
---
24. Effective Marketers Are 46% More Likely to Use Automation
HubSpot has found that effective marketers are 46% more likely to use automation than marketers that have admitted that their strategies are ineffective. Salesforce's data suggests that this could even be higher and, according to their stats, 70% of top-performing marketers have a fully defined AI strategy in place.
Considering that the HubSpot's research found that 42% of marketers stated that their workload has increased from 2021 to 2022 and that it's expected that they'll run nine campaigns per quarter in 2023, embracing automation and AI tools will be the smart move.
To put it differently, the average marketer spends on average six hours each day on manual, admin, or operational tasks. Much of this work can be entrusted to AI. This will help to free up a few hours each day that they can instead devote to other more complex tasks.
---
25. 62% of Marketers Have Invested in AI
Salesforce research reveals that 62% of marketers have invested in AI to help them deliver more data-driven, personalized experiences. To put this number into better perspective, 90% have invested in a CRM system, while 89% have invested in an account-based marketing (ABM) platform.
---
26. 90% of Marketers Use AI for Customer Interactions
When Salesforce asked marketers how they are using AI, the vast majority (90%) revealed they use it for automating customer interactions. Other popular use cases include:
Automating data integration (89%)

Personalizing the customer journey across channels (88%)

Reporting and other process automation (88%)

Bridging online and offline experiences (87%)
---
Other Noteworthy New Digital Marketing Trends
Experimenting with new marketing tactics is one of marketers' biggest priorities. Here are some other trends emerging in digital marketing.
27. A Quarter Will Use Interviews for the First Time
HubSpot's research found that 25% of marketers plan to use interviews for the first time in 2023.
---
28. Half Have a Web3 Strategy
Just over half (51%) of marketers have a Web3 strategy in place. According to Salesforce data, this mainly involves virtual products, AR use cases, and cryptocurrency. Of the 49% that don't have a strategy yet, 46% plan to create one in the future.
Frequently Asked Questions
What is the success rate of digital marketing?
The success rate of email marketing? Email marketing is a key part of digital marketing. The average open rate across all industries is 80%, and the average click-through rate is 2.78%
What are statistics in digital marketing?
Statistics in digital marketing show the importance of digital marketing. Here are some key digital marketing statistics:
Ranking #1 in Google Generates a Typical CTR of 39.6%

Snippets Have a Very High CTR on Google

Image and Videos Have Less of an Impact on CTRs in Google Than You'd Expect

91% of Brands Use Social Media
What percent of marketing is digital?
Digital and affiliate marketing grew dramatically in 2021. Digital spending outperformed expert predictions, with digital advertising accounted for 64.4% of overall ad spend that year. That far surpassed the expected 50%.
What are the 4 P's of digital marketing?
The four Ps of marketing are product, price, place and promotion. These Ps of marketing are called the marketing mix. These Ps are the most important parts of planning and marketing a product or service.