We have previously written about What is the Digital Shelf and Why It Is So Important. We found that the digital shelf includes all the online places where shoppers can discover, research, and buy something online. It consists of all the digital touchpoints where a shopper can discover all they need to know about products that interest them online.
According to Dataimpact by Nielson, the main components of the digital shelf are:
Out-of-stock rates (OOS)
Imagery
Pricing
Product details
The Search Function
Ratings and Reviews
Online eStore Advertising
But while understanding what constitutes your digital shelf may increase your understanding of the digital consumer, that won't increase your eCommerce sales by itself. You have to find some way to measure the success of your digital shelf, so you know what tangible improvements you can make to give potential customers a better service and encourage them to spend more using your online channels.
Digital shelf analytics can help with this. These include analyzing the data generated by the various components of your digital shelf, in such a way that you can make logical and tangible conclusions.
If you were to take things to an extreme, you would have an extensive array of digital shelf analytics relating to all your digital touchpoints and channels. However, in practice, marketers tend to limit digital shelf analytics to referring to data focusing on performance metrics relating to product pages and their most important online marketplaces.
---
Digital Shelf Analytics – What Can They Show You?:
---
Why Your Brand Should Use Digital Shelf Analytics
The easy reason for using digital shelf analytics is very similar to why brick-and-mortar stores also utilize analytics. Without them, there is a real chance that some inventory items will languish on the "back shelf" invisible to shoppers, buried in a sea of other products. While your products may not sit unloved at the bottom of a physical shelf in your eCommerce store, they are still likely to sit in a warehouse somewhere unsold and unloved – even if they are high quality and would meet the needs of many potential customers.
You can use digital shelf analytics to evaluate the digital performance of your online stores. These could include your sales website and other online channels such as Amazon or Walmart. You can use your digital shelf analytics to examine how you compare to your competitors and determine what you need to do to improve your relative performance.
For example, if you sell on Amazon, you will find the Amazon Searhttps://influencermarketinghub.com/make-money-on-amazon/ch Query Performance Dashboard as part of their Brand Analytics tool. You can use the Search Query Performance Dashboard to discover the most popular search terms associated with your branded products based on customer search behavior. In this case, the analytics don't relate to your existing online performance.
Instead, they focus on the behavior of your potential customers. You will find data relating to each relevant keyword for your brand. If you use ASIN view, this brings in data relating to searches for the precise keywords for which your products rank.
If you sell from an eCommerce store on your website, you might not have access to as much data relating to potential customer demand as Amazon can provide. However, you will find much information relating to how your site is performing compared to others in your niche.
Digital shelf metrics can tell you much about your eCommerce brand's performance. They can tell you whether you're beating the opposition in the search results and whether potential customers find your website easy to use or cumbersome, lacking in intuition. You can see which channels send you traffic, and whether that traffic is right for you and converts, rather than irrelevant people who may skim your product details before moving elsewhere.
---
Use Digital Shelf Analytics to Find Opportunities
Although much of your digital shelf analytics comes about because of past activity, it is most important when you use it to improve future results. One way you can do this is to find opportunities for sales (and other conversions) that you might not otherwise have thought of.
For example, you can track your competitors' products on Amazon. You might notice when a competing product shows up as being out of stock. That would be the ideal time for you to increase your advertising of your competing products.
Using your Amazon Search Query Performance Dashboard, you may find popular keywords you haven't previously used. Now could be a good time to tweak the copy of your product pages to (naturally) incorporate those popular keywords and then start an advertising campaign based on those same keywords.
Likewise, you might observe an increase in low ratings and poor reviews for a competitor. It would be worth examining the reason for this change, ensuring that they don't relate to a fault that may also exist in your product, and then assuming you have no similar problems, capitalize by promoting your competing product more aggressively.
---
Look Closely at Your Conversion Rate Data
No matter which online channels and marketplaces you use, you should find digital shelf analytics relating to your conversions. This will be just as true for brands selling on Amazon or eBay, or making social commerce sales via Facebook or Instagram, as it is for those who sell from their own website.
If you engage in multichannel marketing, you will have different conversion rates for each channel. You may find in some cases that the additional sales you generate on that channel are barely worth the time and effort that goes into making those sales. You may find it more beneficial to devote most of your energies to your higher-performing channels.
For example, you probably have a limited advertising budget. Therefore, you should devote most of it to driving customers to your better-performing channels with higher conversion rates. Be wary, however, of focusing exclusively on this. Some channels are much nearer the bottom of the purchasing funnel than others, and if you don't devote some of your marketing budgets to top-of-the-funnel activities, you won't have customers ready to spend lower down your funnel.
---
Typical Types of Digital Shelf Analytics
Because digital shelf analytics cover the entire online shopping experience across all relevant channels, and allied with the fact that they don't limit themselves to examining your current performance, but also look at your competitors and the marketplace in which you operate, you could easily get swamped in a plethora of data. Therefore, you need to focus your attention on the most important digital shelf metrics. We believe that these include the following.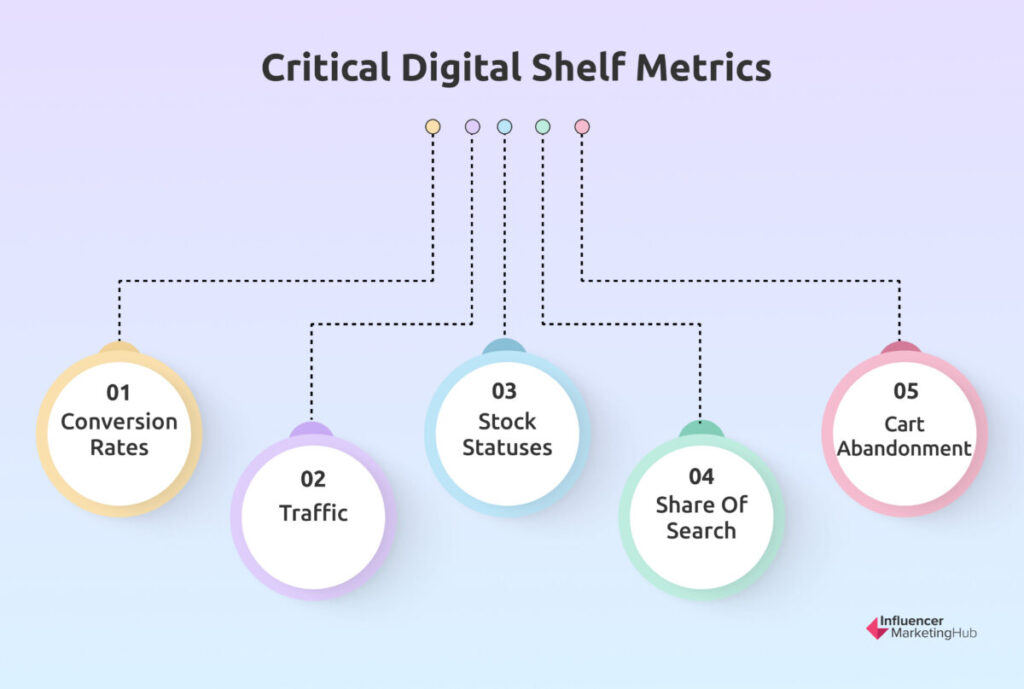 Conversion rates
Two types of online conversion rates should attract your attention:
The conversion rates you are currently achieving for your products on your existing online channels
Typical conversion rates attained by your competitors selling similar products (or products that could be worthwhile diversifying into) across a range of online channels
In markets you share, such as Amazon, you will want to ensure that your conversion rates are as good as your competitors. If they aren't you will want to examine what they are doing better than you.
It can be harder to compare performance when looking at non-competing channels, such as your online store, but you can determine which are your highest-converting pages and try to modify your other pages to match them. You will find some digital shelf analytics software that will help you compare your store's performance with those of your competitors, and again learn from their successes. What are they doing to draw people into their site, and most importantly, what makes them follow through and make a purchase?
Traffic
While conversion is undoubtedly more important than traffic, the fact remains that without traffic there would be no conversions. What you want to focus on in ensuring that you have quality traffic, i.e., the "right" people are viewing your listings and going to your sales pages. There is little point in having irrelevant traffic to your online store and external listings who are unlikely to ever purchase your products.
While it won't be hard to find traffic details for your store, there are many website analytics solutions available, you will need specialist digital shelf analytics software to discover traffic numbers for the online marketplace where you may operate.
Stock Statuses
This metric is more specific to your performance. You can't sell goods if you don't have them in stock. If somebody is looking for a product you sell, but they can't convert because you have no stock to sell them, they will immediately move on to one of your competitors.
Sometimes you may already be aware of stock shortages – they may be because a supplier can't meet your orders, or because you don't have the necessary raw materials to carry out production.
And in these cases, your options are limited because you are relying on external factors. However, sometimes you run out of stock and simply don't get around to replenishing it quickly enough.
This is where out-of-stock reports become essential – and preferably, you set some notification when individual stock items have dropped below some crucial reorder point.
It can be worthwhile, however, to keep a close eye on your competitors' stock levels, too. You can take advantage of their out-of-stock instances, by increasing the promotion of your products at those times. For example, if one of your competitors runs out of a major item that you also sell, you could increase your Amazon Sponsored Products bids, to show your product in the Buy Box on their product's page until they restock their product.
Share of Search
People search for products in many ways. For example, a potential customer may come across your online store when they do a Google search for your product type. Sometimes, however, they are already on a channel, such as Amazon or Walmart, and do their search in that channel's native search engine.
Ideally, you should examine your performance in all the major search engines your customers use. So, as well as examining your store's sales pages' results in Google searches for your product type, you should also be interested in the other marketplaces where you sell your goods. For example, when a potential customer searches for your product type on Amazon, does your product come near the top of their organic search? If not, what differs between your listing and those of the top-ranking products? How do your product pages compare with theirs, for instance?
While you could check this manually if you only sell one or two product lines, it rapidly becomes impossible to do this if you sell a range of products. Luckily you will find digital shelf analytics software that can do all the hard work for you.
Cart Abandonment
You would think that once somebody had passed far enough down the purchasing funnel to place your products in their shopping cart, then conversion would be guaranteed. However, according to Hotjar, the average cart abandonment rate is 69.99%. In other words, only three out of ten customers who fill their shopping carts make it to the checkout to complete their purchase.
Therefore, checking out your digital shelf analytics to determine your cart abandonment rate is vital to your success. If you can use the data to reduce your abandonment rate, you can markedly improve your competition's performance.
---
Wrapping Things Up
Without digital shelf analytics, you're flying blind and merely guessing how your eCommerce activities are performing. Not only does digital shelf analytics tell you the success or otherwise of your existing online store and marketplaces, but they also show you opportunities and potential weaknesses of your competitors' online operations.
Online shopping is different from traditional retail. Customers rarely follow a simple path to find your products. Instead, they encounter them through a myriad of touchpoints. And if you're not prepared, it won't take much to lose potential customers to your competition. Unlike in a physical store, where goods literally sit on a single shelf, online goods sit on multiple digital shelves. By utilizing digital shelf analytics, you can create winning strategies and rule the online space.