Emails are the center of modern life. From calendar reminders to communications with friends to work emails, your email account functions as one of the most important communication tools in your toolbelt. The best email apps manage your digital life and communications without making your life substantially more complicated. Plus, some email apps have more functionality, like to-do lists, greater customization and more. What makes each email application different? And which one is right for you? For a complete breakdown, read on!
---
7 Powerful Email Applications to Manage Your Digital Life (That Aren't Gmail):
---
Email Clients Vs. Email Services
There's a difference between email clients and email services. An email client is a type of software that will be installed on your computer or mobile device. You will use the email client to access your email, even if your email is through, say, Gmail. Some examples of this include the Mail app on your Mac computer or iOS device, or Thunderbird. You can use these third-party applications to access your Gmail account or your Yahoo account.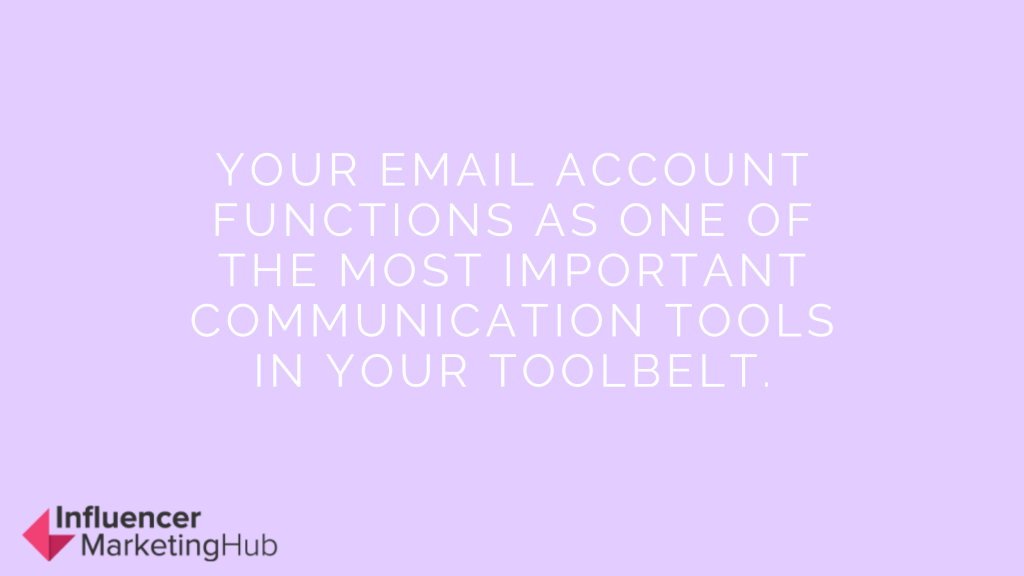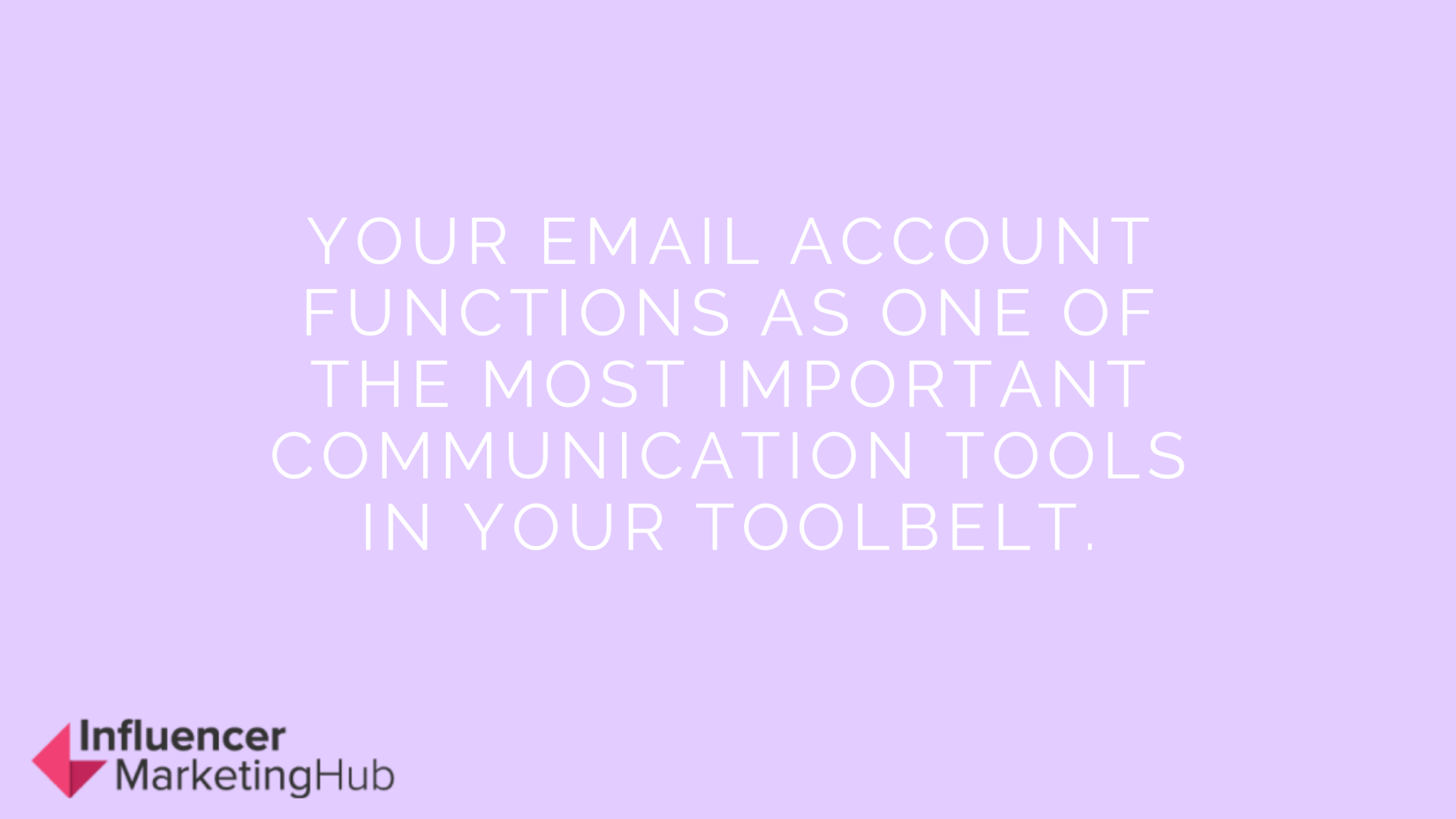 An email service, on the other hand, is what most people will use. Gmail, Hotmail, or Yahoo Mail are email services. These applications are a popular way to access email: you go to gmail.com and then access your email there. Client email applications like this allow users to access multiple email accounts as well.
---
What Makes a Great Email Application?
There are so many email apps on the market, and many people will use several different email apps depending on their capabilities and purpose. For example: you may have one service for your personal use and another work work use and a third for your side hustle. The best email application will vary person to person, and there's no perfect fit for everyone. In addition, the best email for you will depend on how you interact with the service and what you plan to do with it.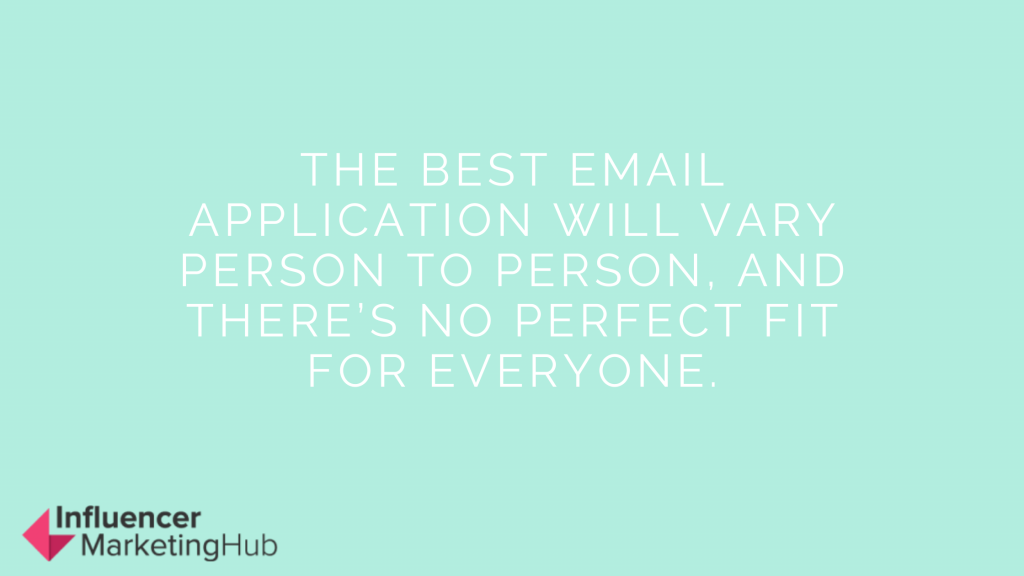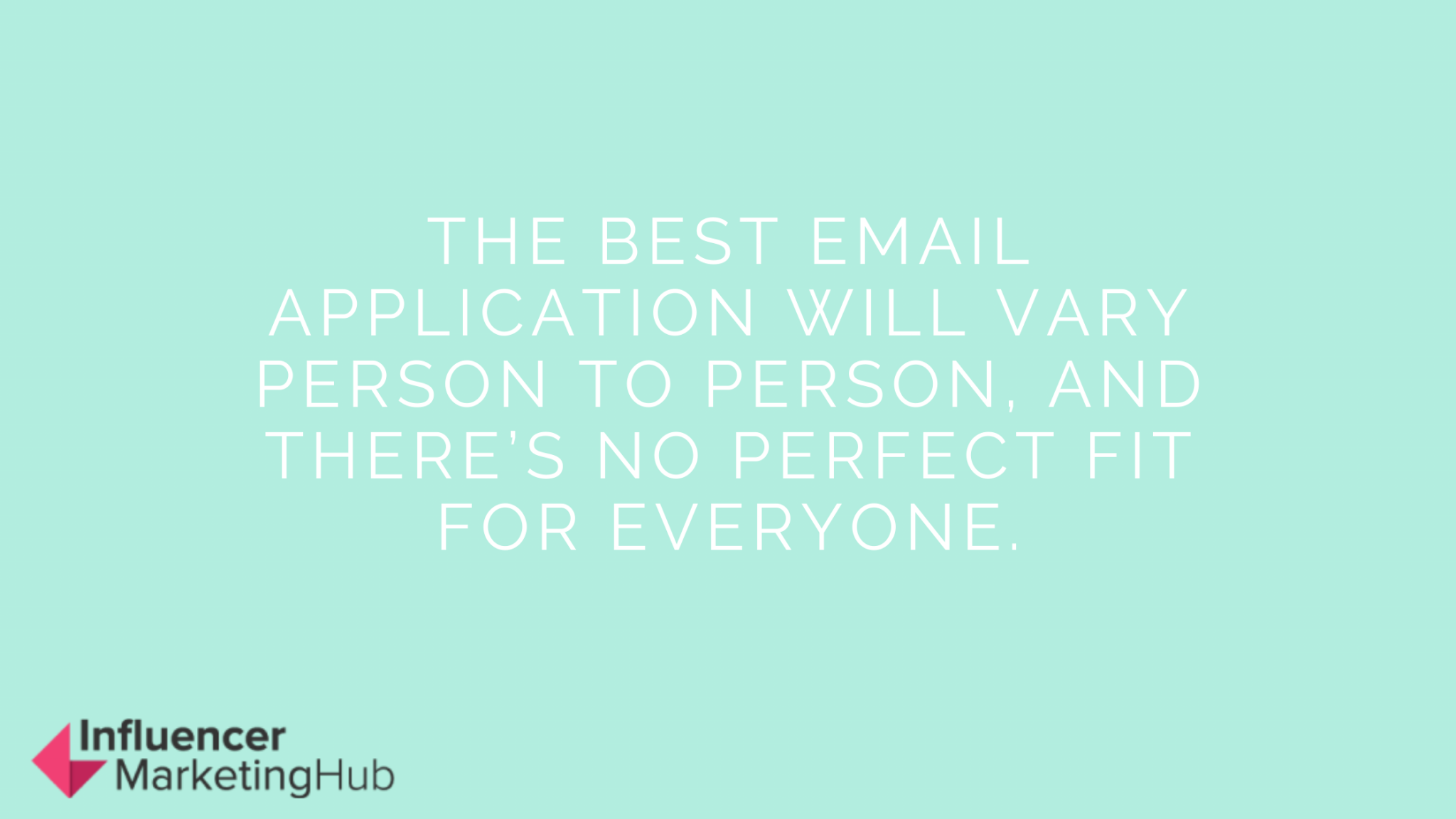 Our list will not include more business-centric email providers like IBM Notes. These business email applications work well, but they are better geared for a professional audience and organizations, not individuals. In addition, we did not add in any email clients, and we did not add in any email assistant apps. Email assistant apps work within your email to target it, or make it better in some other way. One example of this? SaneBox, an email assistant service that will sort your email as it comes into your inbox. Boomerang is another popular service that enhances Gmail.
No matter what you're looking for, take a look at our list of seven powerful email applications (that aren't Gmail).
---
The 7 Most Powerful Email Apps
Here are the seven most powerful email apps - to replace big email providers like Gmail or Yahoo Mail. Heads up: some of these email providers may cost money, especially if they do not have ads or offer special services (like encrypted emails). Don't let the cost deter you, though. Many of these providers have free plans, too.
Looking to ditch Google and move on? Keep on reading for some of our best picks (and why we like them).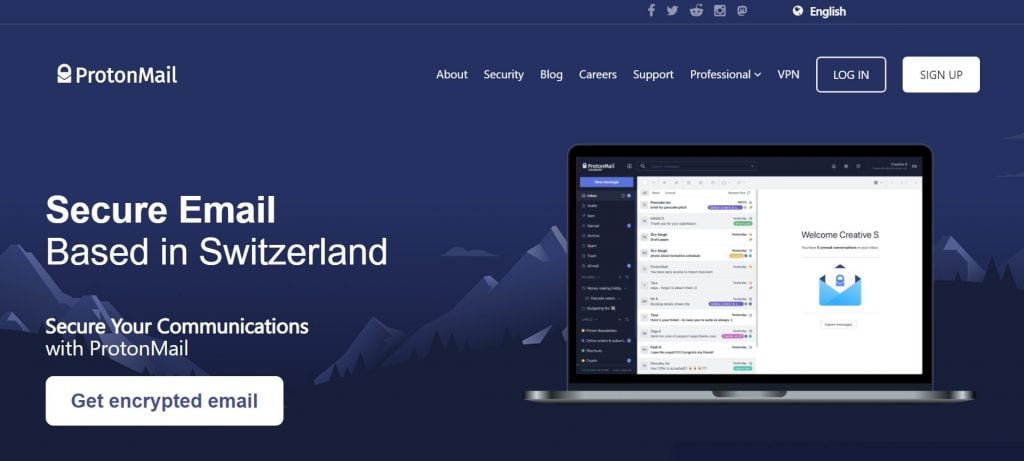 Looking to ditch Gmail because of privacy concerns? ProtonMail may be one of your top choices. This email service, perhaps best known as the email service that Edward Snowden used, focuses first and foremost on privacy. ProtonMail believes that no one should read your emails - and their email service is crafted accordingly.
This email service was founded at the CERN research facility by Andy Yen, Jason Stockman, and Wei Sun. Based in Switzerland, ProtonMail is a popular alternative to Gmail for a number of reasons, including their end-to-end encryption, modern design, and open source. ProtonMail's servers are located in Switzerland, which is an important detail because it means your data is protected by strict Swiss privacy laws.
The best part? There's a free plan for ProtonMail and their sister service, ProtonVPN. It allows you to try the service and use the email service with 500 MB storage. It's not a lot, which is a common complaint, but the company has several tiers of premium plans.
Cost: A free plan, with three tiers of premium plans.
---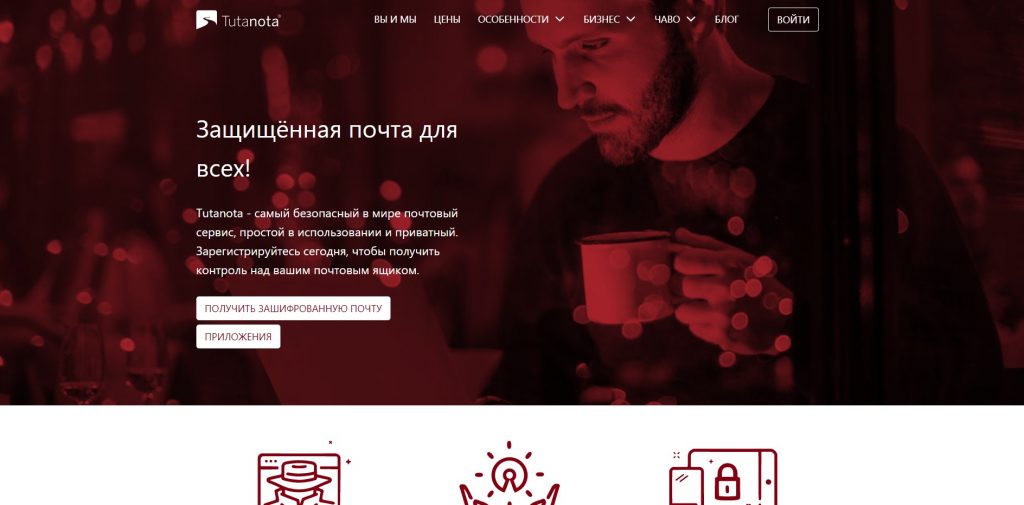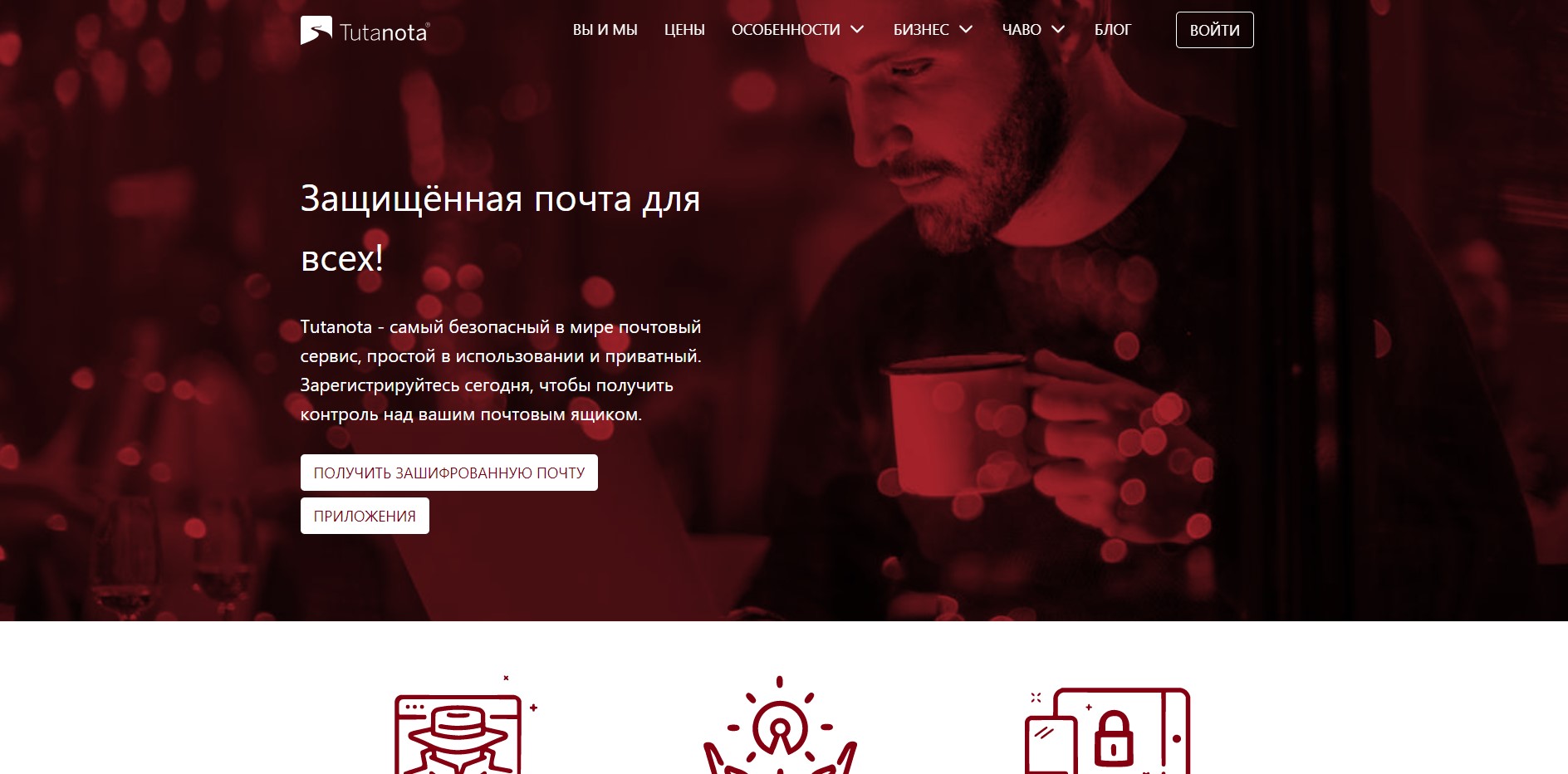 Tutanota is another popular secure email service that offers end-to-end encryption, operating under the impression that no one should be able to read your email. Much like ProtonMail, Tutanota is a popular alternative for people looking to leave Gmail. However, unlike ProtonMail, Tutanota is still a relatively newer service (founded in 2011) with fewer features and a smaller team.
Privacy conscious individuals will find a lot to love with Tutanota, too, most notably their costs. They are known to be more affordable than ProtonMail and offer some differing functions - so it depends on what you're looking for. Their user interface is clean and clutter-free and many people prefer their user interface.
One of the reasons many people opt for Tutanota over ProtonMail? Tutanota is funded exclusively through their subscriptions, and their users like their transparent revenue model. In addition, Tutanota allows users to use their own domain names (a common feature for many services, including ProtonMail). Unfortunately, the email service does not have third party integration.
Cost: A free plan, with two different tiers for premium plans.
---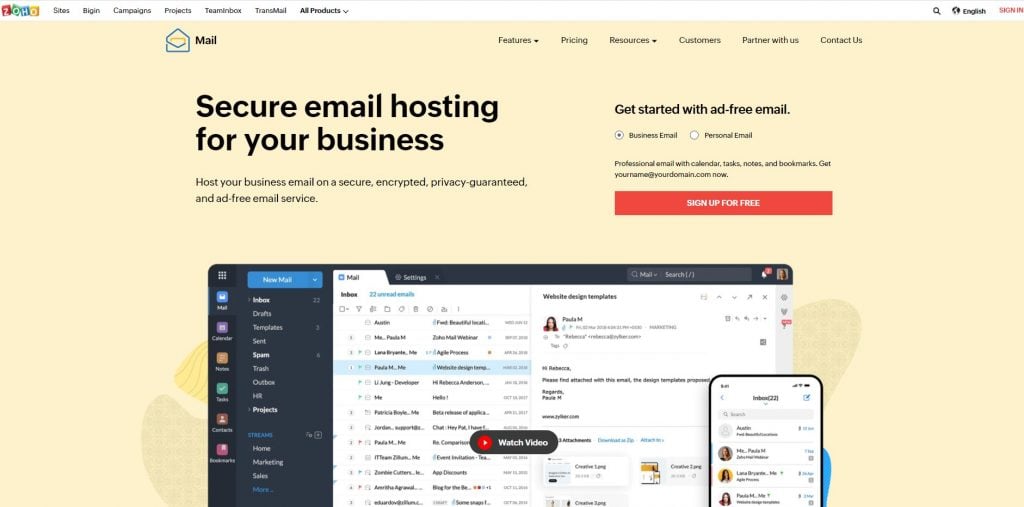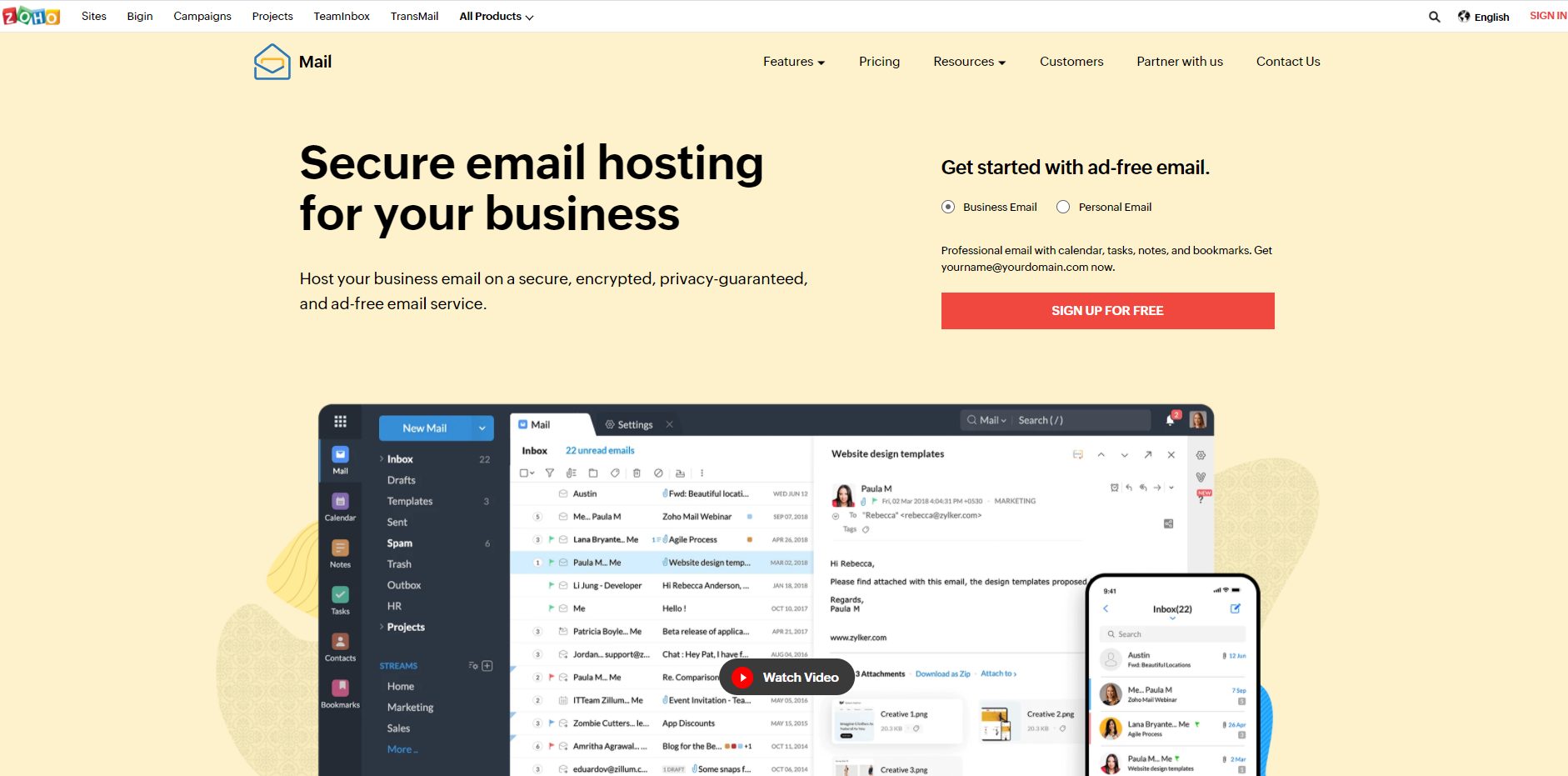 Zoho Mail is a great email service for their ad-free email service that caters to businesses and professionals. It's not just for businesses or professionals, though - individuals love Zoho Mail, too. The email comes with a calendar, tasks, notes, bookmarks and more for their individual users. Zoho Mail makes it easy to make your own custom domain as well.
Users who opt for Zoho Mail have an uptime guarantee with plenty of integrations for different products. In addition, a powerful control panel will help you gain control of your email, from individual mailbox quotas to email policies and more. You'll get up to 1 TB of storage, though storage beyond 5 GB costs added money.
Cost: The cheapest plan costs 1 Euro with more advanced options, depending on your needs.
---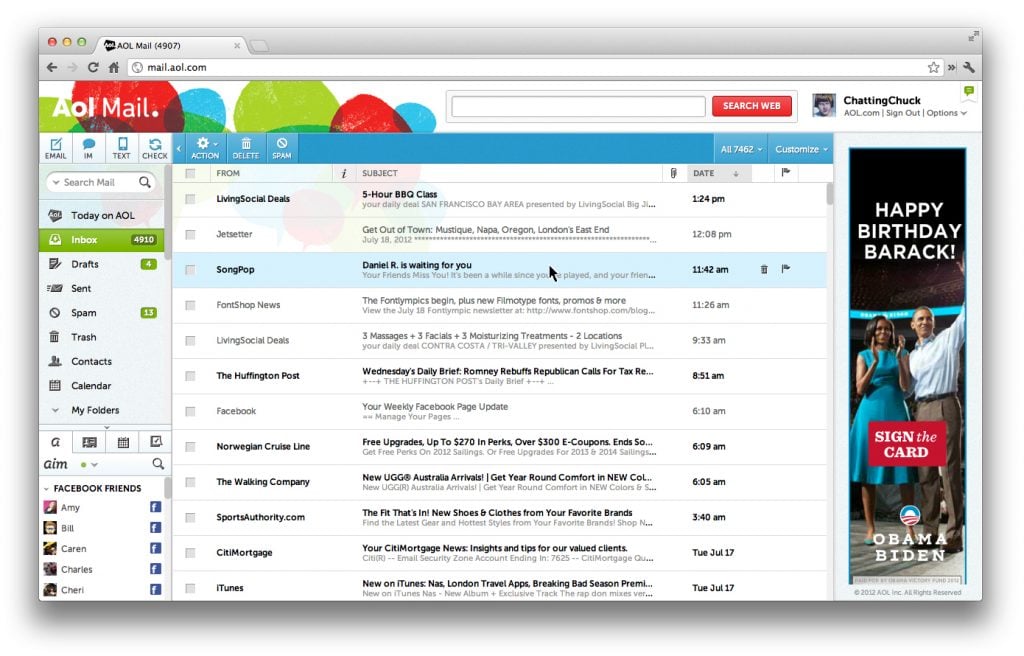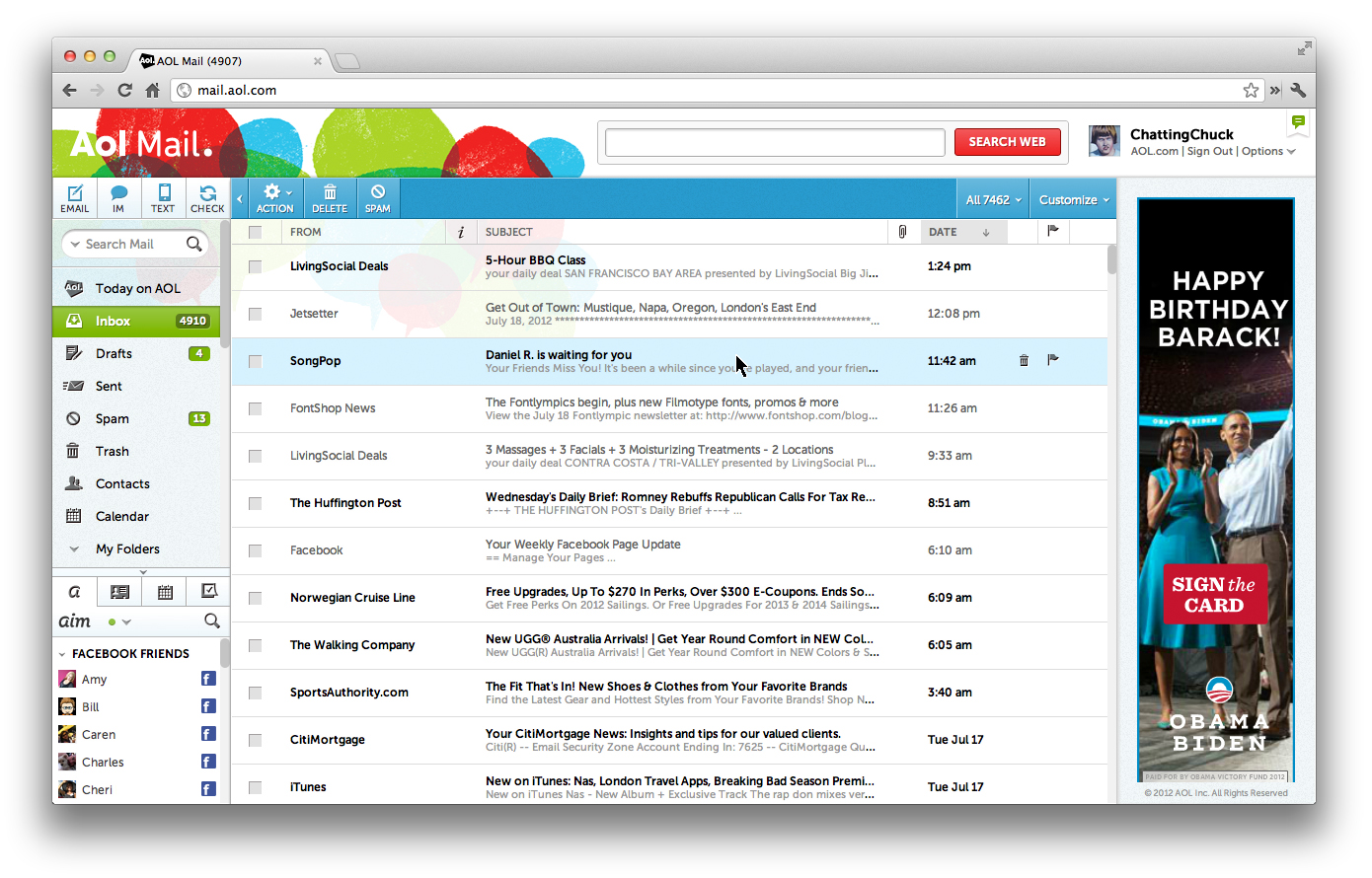 Who remembers AOL? This older email service, which used to be called AIM Mail, has become a popular alternative to Gmail. It may not be trendy, but AOL has all the features you want and need from your email service, from spam protection to virus scanning to spell checks and beyond. If you're switching over, you can import existing contacts through CSV, TXT, or LDIF formats. Plus, AOL has an integrated calendar.
The biggest downside to AOL Mail is the ads. The web app has lots of ads, and for some people, that's a deal breaker - one that many people will pay for. AOL also suffers from more advanced email management features, features that many other email services have.
Cost: Free
---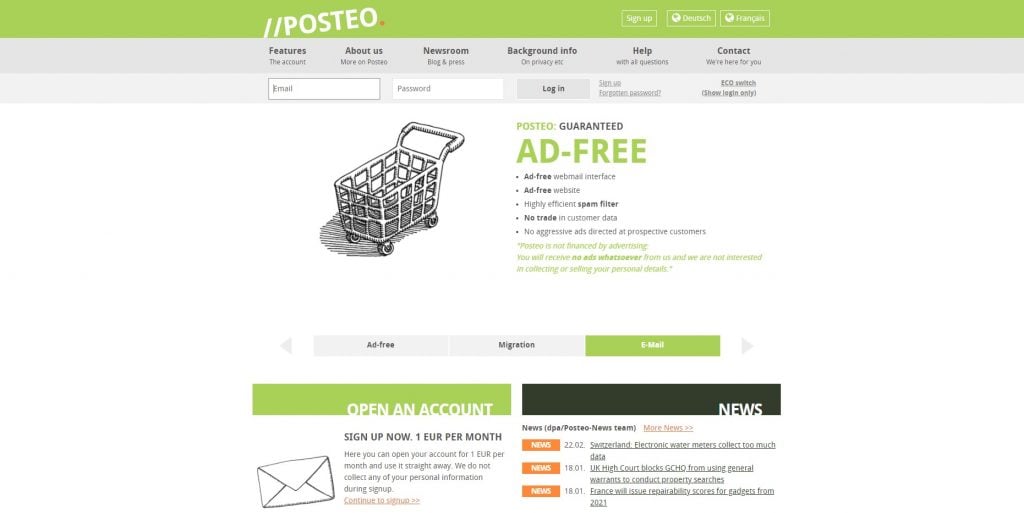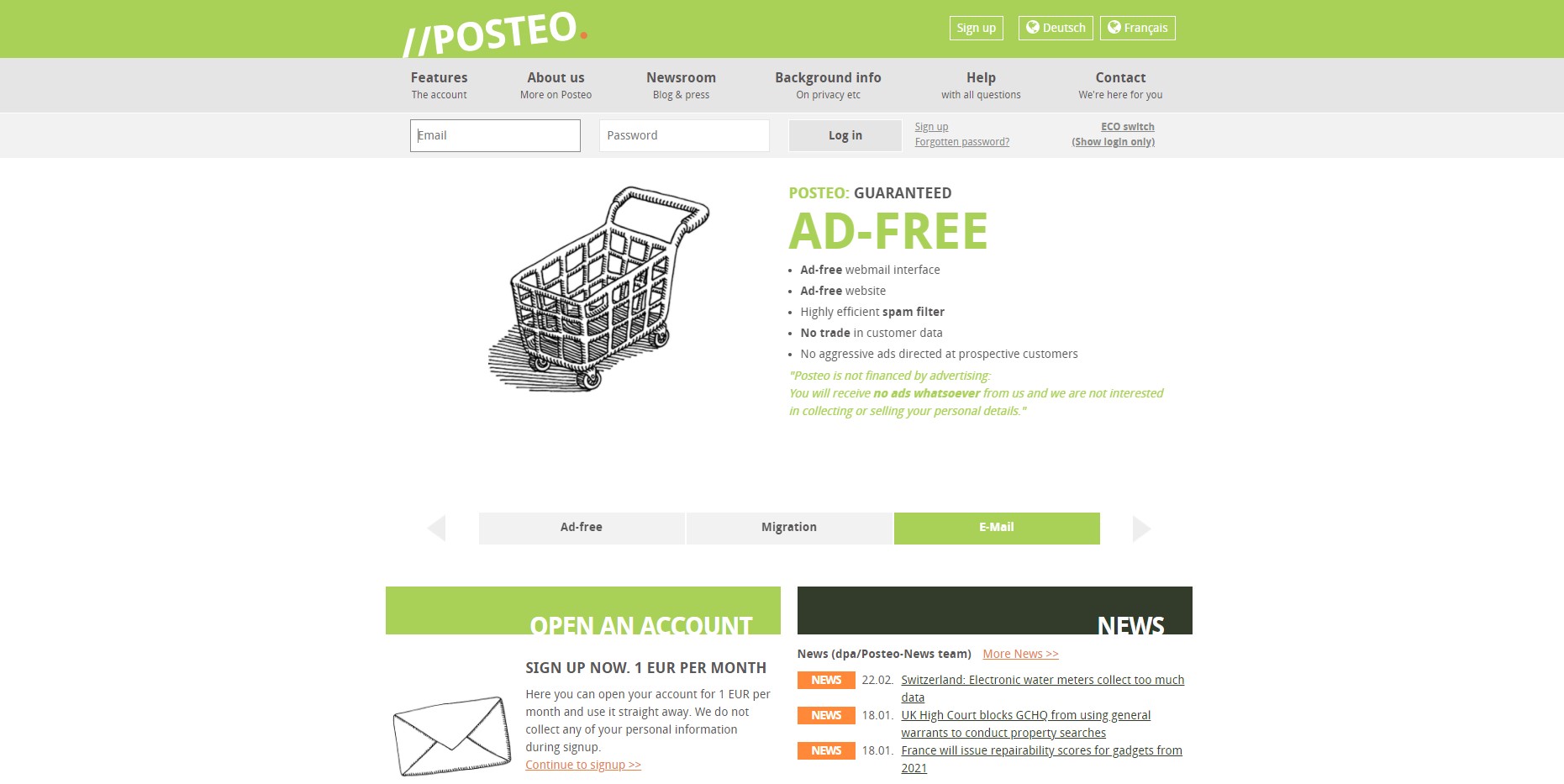 This German-based email service was launched more than a decade ago and works as a Gmail alternative for privacy-focused users. Posteo offers end-to-end encryption and offers a number of other privacy features, like stripping IP addresses from emails. Stripping your IP address means that others can't monitor your email traffic and will not be able to see the location from where you are sending your email.
Posteo, like other providers on this list, is a paid service. Unlike other options, though, there is no free account. The entry-level plan will give you 2 GB of storage for 1 Euro a month. There are more advanced premium plans, too, if you want more storage. You can pay for the account through traditional means like cards or a PayPal account, and you can opt for non-traditional routes too like sending cash in the mail.
Cost: Posteo offers a number of tiered plans, with the least expensive plan costing 1 Euro.
---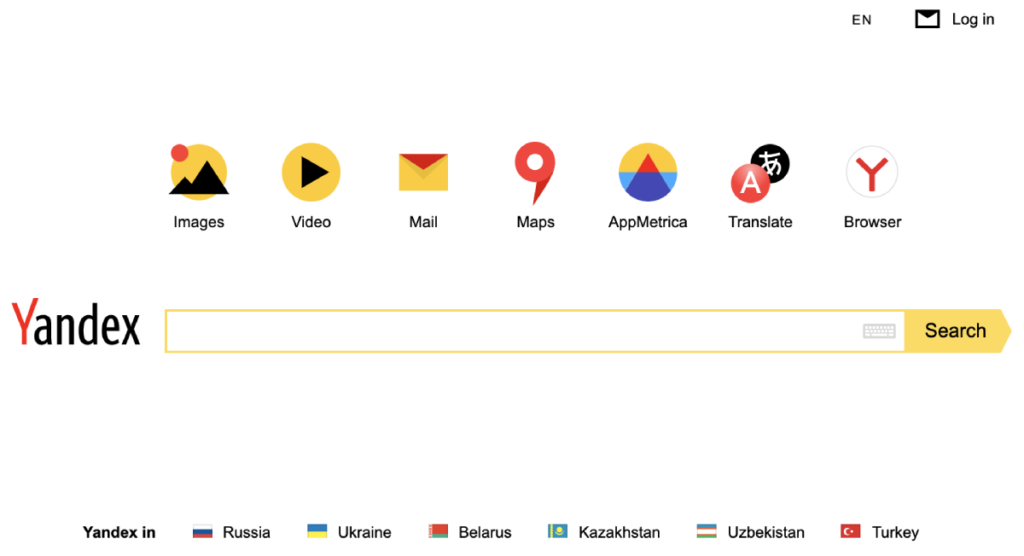 Yandex is an email provider based in Russia, and it's a foreign email service that many people use as an alternative to Gmail. The email service works on helping keep their users secure with two-factor authentication, anti-virus features, smart email folder features, and more. They are known for their security features. As a bonus, the service can also recognize Russian inflection in search queries as well.
It's not as complex as other services, and some users may be bothered by the Russian influence in the email service. In addition, the service offers limited filters for email.
Cost: Free
---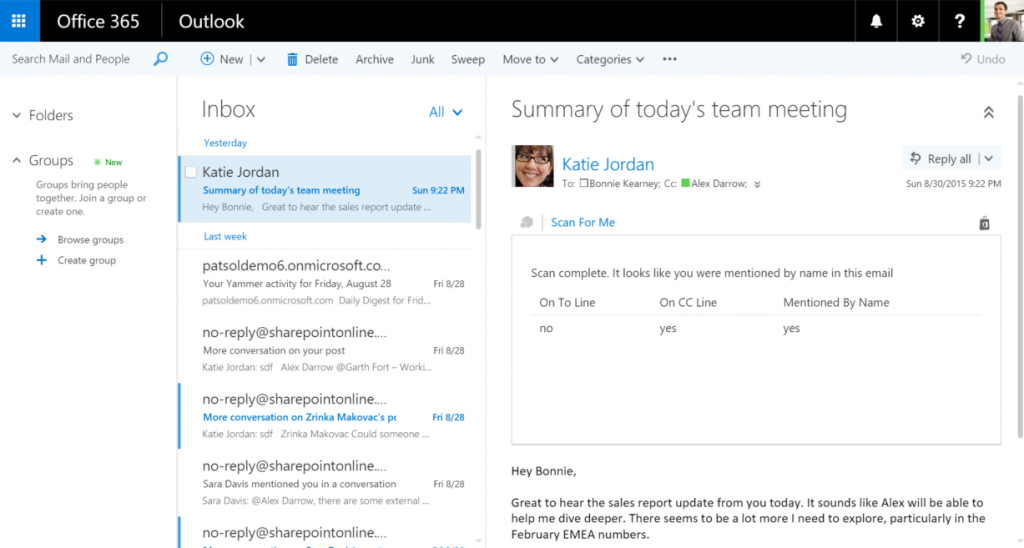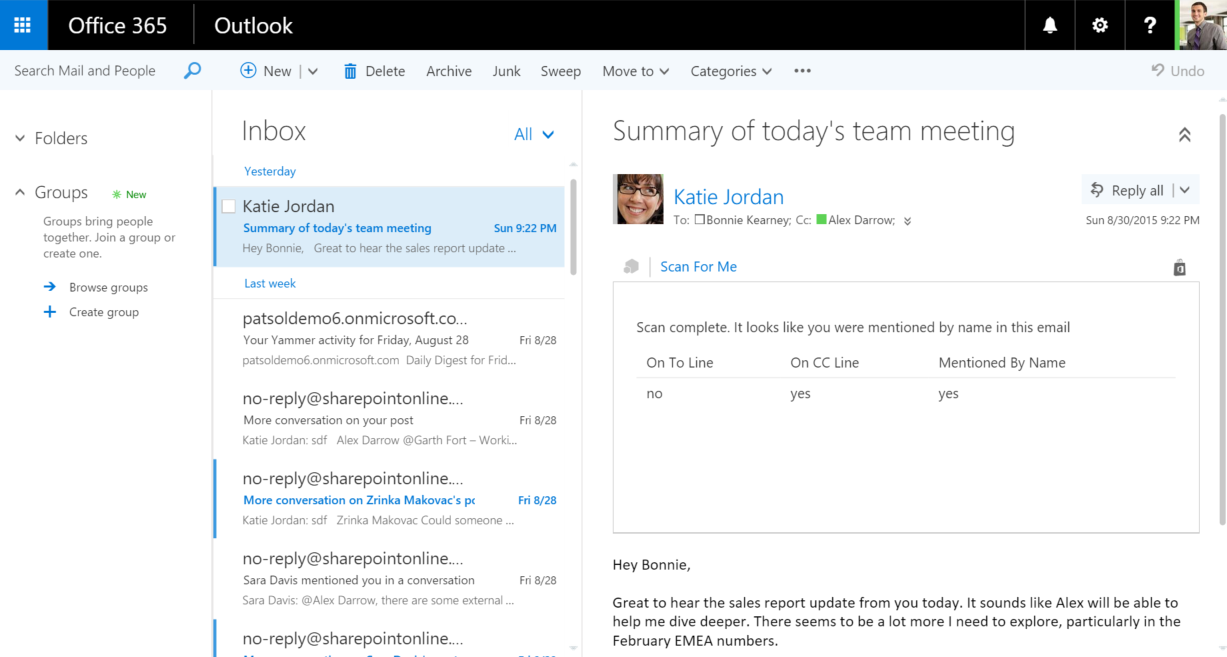 Many people may be familiar with Outlook because of their office environments. Outlook is a popular choice for many businesses, but it also makes a great choice as a powerful email app for personal use.
Microsoft moved all their Hotmail users to their new web-based mail Outlook in 2013 - and users got access to a whole new suite of contact management, task management, calendar services, and more. The new Microsoft Outlook email service also has a lot better integration with other products, like OneDrive.
Outlook has become one of the best alternatives to Gmail for users looking for an easy-to-use, powerful client. Plus, Outlook comes with nearly unlimited storage space, many integrations, and productivity tools.
Cost: free