Advertising Disclosure
Advertising disclosure:
Our partners compensate us. This may influence which products or services we review (also where and how those products appear on the site), this in no way affects our recommendations or the advice we offer. Our reviews are based on years of experience and countless hours of research. Our partners cannot pay us to guarantee favorable reviews of their products or services.
For about two years, the world was forced to take the virtual route. Now that we're free to host in-person events again, many event organizers, though, are choosing to go hybrid (in other words, hosting it in-person and virtually) over 100% in-person or virtual events.
One of the main reasons is reach. By giving your target audience the option of attending the person in person or online, you have the potential of reaching the biggest number of attendees.
Not only does it offer you the best of both worlds, but it can also help to reduce costs. You, for example, can settle on a smaller venue which can work out cheaper and there'll be less traveling too.
The challenge, though, is to ensure that all attendees get the same quality experience. With the help of one of the following top hybrid events platforms, you won't have to worry that your remote attendees will feel left out. Not only do these virtual event software solutions offer loads of engagement tools, but they will also help you to track and optimize the overall attendee experience from beginning to end.
---
Top 11 Hybrid Event Platforms:
---
11 Top Hybrid Event Solutions
Top
event software tools
2024

BigMarker has left a big mark on its users. On Capterra, a popular online software reviews platform, it's the highest rated hybrid events software solution as of October 2022. What's more, it's also made three of Capterra's shortlists in 2022 and has been named as one of the emerging favorites. To give you a better idea of just how popular it is, hundreds of products were analyzed, but less than 10% made these shortlists.
Trusted and loved by big-name brands such as CNBC and Samsung, BigMarker can be used for various types of events and also made our list of the best virtual event platforms to check out. One of the standout features that make it such a popular solution is that it offers loads of customization, such as the ability to create your own on-brand mobile app for the event.
Included in its plug-and-play package are several powerful features so that you can reach a bigger audience. Then, to help you figure out which experiences delivered the best return on investment, it offers unified analytics.
Key features include:
Registration and attendee management
Analytics and reporting
Live Q&As and ask-me-anything sessions
Post-session surveys
Plans and pricing: BigMarker offers three plans to help you power events and webinars: Basic, Enterprise, and Enterprise+. For more details about their pricing, you'll have to request a quote via their website.
---
Boasting more than 1,100 reviews, Whova is the most-reviewed hybrid events software solution on Capterra. Not only does it have over a thousand reviews behind its name, but it has also won several awards, including the Event Technology Awards for five consecutive years.
From planning to networking to post-session analysis, it simplifies the whole process involved in hosting a successful, hybrid event. In fact, according to their website, they can help you to save as much as 60% more time just on logistics.
It has helped leading brands like LEGO, Hilton, and IKEA to organize various types of events, including trade shows, academic events, and festivals. In addition to knowing how to keep their clients happy, they also know which lead generation tools to include to ensure event sponsors enjoy an impressive ROI.
Key features include:
Targeted messaging
A digital waiver solution to help protect you from liability
Analytics and insights
Q&As, polling, and other interactive online sessions
Gamification
Plans and pricing: For more info about the plans and cost, you'll need to get a price quote online. You can also sign up for a live demo to experience how their platform works in a real online event.
---

Cvent is one of the oldest tools on our list. Founded in 1999, way before hybrid and virtual events were a thing, they've managed more than 5 million events.
Over the years, the team behind Cvent has introduced and refined their offering to help marketing teams maximize their events' revenue potential and simplify various stages of event management. Not only does it help event planners to save time, but it also helps to connect in-person and online attendees with interactive features.
One of the features that make it quite unique to other software solutions on our list is that it also helps with venue sourcing. In addition to having a list of hundreds of thousands of suitable venues, it also includes event diagramming software to help you set up your venue for a hybrid event.
Another area where it shines is reporting. From registration to how attendees consume the content, it offers loads of data to help you understand your in-person and virtual audiences better.
Key features include:
On-demand printing
AI-powered networking
Live Q&As and polling
Plans and pricing: For details about their plans and pricing, you'll need to contact their sales team. You can also request a live demo before making any financial commitments.
---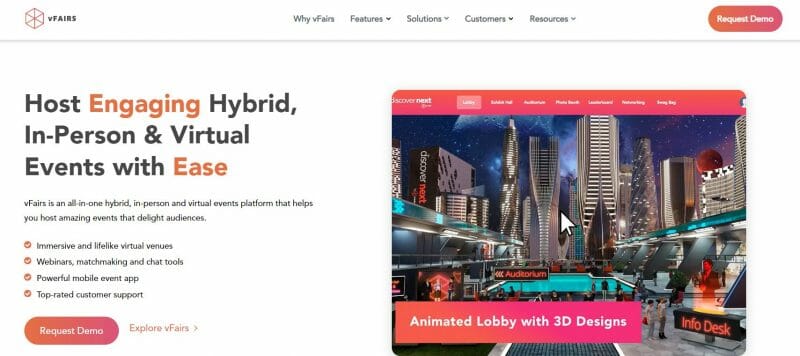 vFairs is one of the most reviewed and highest rated events platforms. It offers comprehensive mobile event technology to help you organize feature-packed, in-person, virtual, or hybrid events. Not only can you use it to organize various different types of events, but it also lets you customize your event so that it aligns with your specific industry better to create an even more memorable experience.
Thanks to its useful mobile event app, you can create an integrated experience for all your different attendees. Plus, with the help of its white label solutions, you can customize the experience to ensure that it's on brand.
Your sponsors will also benefit. It, for instance, includes mobile app banner ads that you can use to unlock even more sponsorship avenues.
One of the features that deserve to be highlighted is its advanced 3D graphics. By applying its 3D visual designs and animation, you can create a truly, immersive experience for all.
Key features include:
Reports and insights
Scannable QR codes
Attendee search
Group and private text chat
Gamification
Plans and pricing: For pricing details and a product demo, you'll need to contact them by completing an online form.
---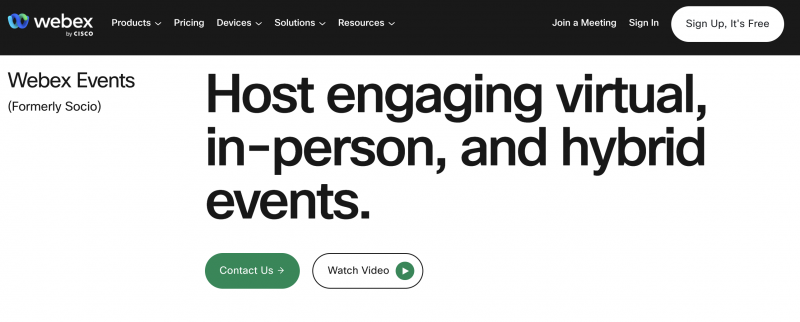 Webex Events by Cisco (previously called Socio) streamlines end-to-end management of virtual, in-person and hybrid events for up to 100,000 attendees. From digital agendas to banner ads to advanced analytics, it offers a long list of tools and features that marketing teams, events organizers, sponsors, and exhibitors can use to drive better results.
One of the features that stand out is its customization options. It, for example, lets you create a branded registration quickly that accepts various types of tickets.
Another feature that deserves special mention is its event communities. Who said that engagement opportunities should end when the event concludes? With Webex Events, you can create networking communities for continuous engagement. You can, for example, use topic-based discussions to spur engagement all throughout the year. However, if you're happy to focus on engagement for the duration of the event only, there are numerous tools on offer like polling, moderated Q&As, and gamification.
Just like the registration process, you can also completely customize your online communities to align with your brand.
Key features include:
Professional live streaming
Polling, video rooms, and many other engagement tools
Lead generation tools for sponsors
A mobile event app
Plans and pricing: For a custom quote, you'll need to request pricing online.
---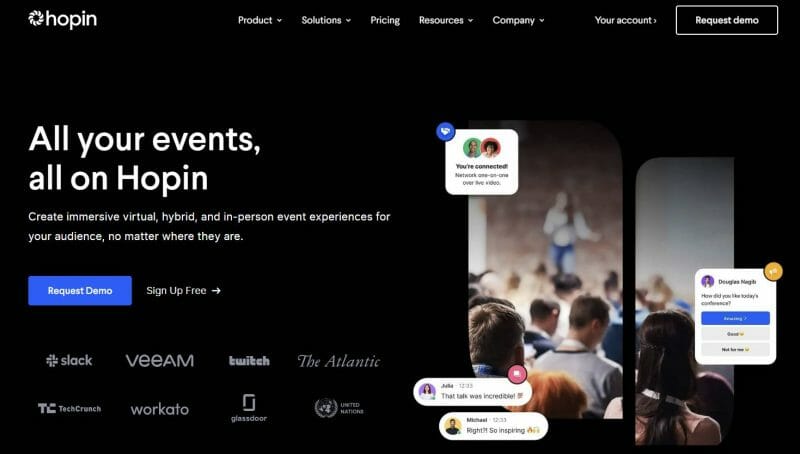 Hopin is one of the more established all-in-one events management platforms that you can use to create immersive events, whether that will be virtual, in-person or both. Trusted by well-known names like Slack, Twitch, and TechCrunch, it can help you with the planning and production phases.
Flexibility and ease of use are two of its core features. It doesn't matter if you want to attract only a handful of attendees or plan a much bigger event, it can create immersive hybrid events of any size. Plus, to ensure that it remains intuitive at every step of the process, it offers a unified events platform from where you can plan your experience and connect various audiences.
After hosting your event, you can also easily follow up with attendees thanks to its lead retrieval features.
Key features include:
Multi-level ticketing
One-to-one and group networking
High-quality streaming
Polls, chats, and Q&As
Plans and pricing: Hopin offers a free plan and three subscription plans. Pricing for hybrid events starts at $799 per month when billed monthly, but if you opt to be billed yearly, you can save 15%.
---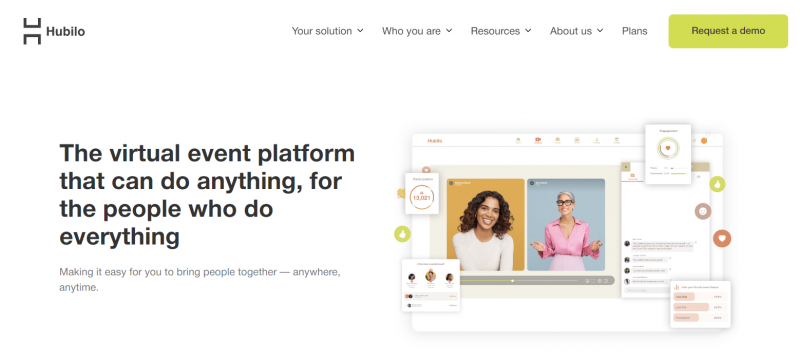 Hubilo is a great platform that B2B software and tech companies can use to manage their hybrid events and meetings. Trusted by names like Coca-Cola and Verizon Media, it offers one platform that you can use for virtual, in-person, and hybrid events.
If driving engagement is one of your most important goals, Hubilo is one of the best platforms. According to their website, they offer the biggest suite of engagement features that include interactive chats, integrations with social media, and surveys to mention only a few. It also includes gamification. By running a competition, for example, you can encourage attendance, participation, and networking.
Another feature that deserves to be highlighted is its advanced branding. From customized themes to branded URLs to banners, it lets you add various elements to tie your event in with your brand.
Key features include:
A branded mobile app
Attendee segmentation
Breakout rooms and lounges
Detailed analytics
Multilingual support
Plans and pricing: Hubilo offers two plans for hybrid events: Pro and Enterprise. For details about the cost, you'll need to contact their team directly.
---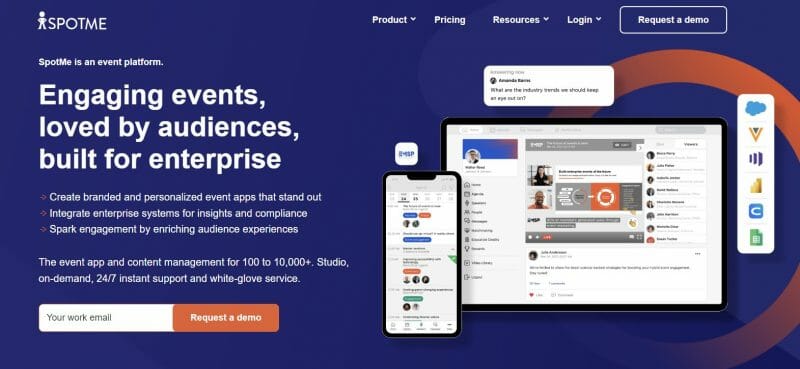 Whether you're planning to host only 100 participants or a crowd 100 times the size, SpotMe offers a powerful and unique content management system. It's trusted by thousands of marketers and leaders of Fortune 500 companies that include names like Deloitte, Pfizer, and Johnson & Johnson.
It offers web and mobile apps so that you can reach your audience wherever they feel most comfortable, whether that's on the couch or at the physical event venue. To make sure that networking can still take place seamlessly among in-person and virtual attendees, you can use interest-based matchmaking. This way, like-minded attendees are sure to connect.
Key features include:
Live captioning
Customizable, conversion-optimized registration pages
A built-in, real-time production monitoring system (RTPMS)
Plans and pricing: SpotMe offers four plans: Starter, Business, Advanced, and Enterprise. For more info about the cost, you'll have to contact them via their website. It also offers a number of production add-ons like live interpretation that you can check out.
---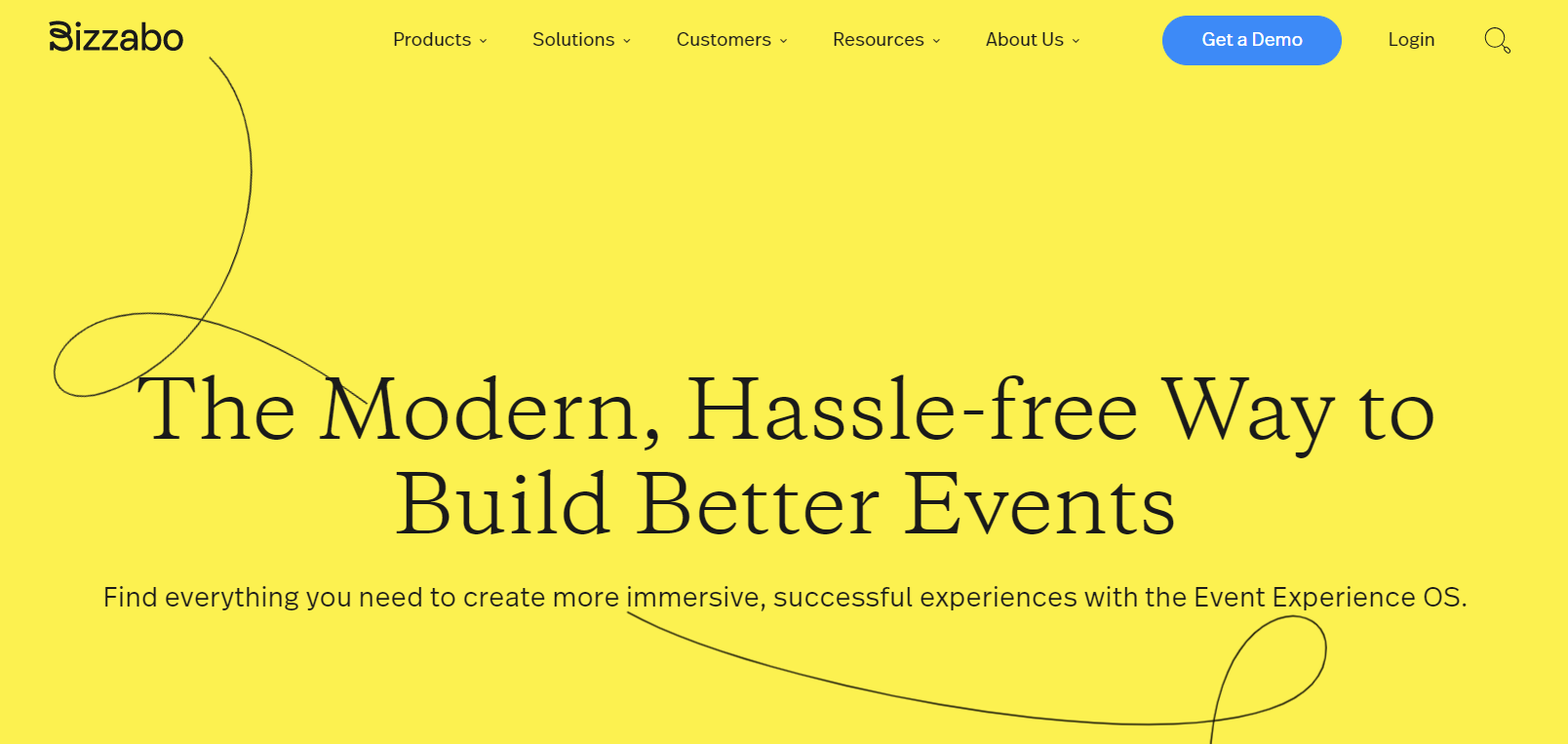 With Bizzabo, you can host various types of events, including hybrid conferences. It's an intuitive, award-winning event experience operating system that lets you manage everything conveniently via a single platform (aka its central Command Center). Then, to ensure that you command everyone's attention, it includes engagement tools to keep speakers, attendees, and sponsors glued to their screens and seats.
Data also forms a key part. You'll always have statistics available to help you make sense of what works.
Key features include:
Data insights
Engagement tools
Specialized chat channels
Plans and pricing: For more info about their different plans and their cost, you'll have to contact them directly. They also offer a demo that you can sign up for to get a better idea and feel of its interface and functionality.
---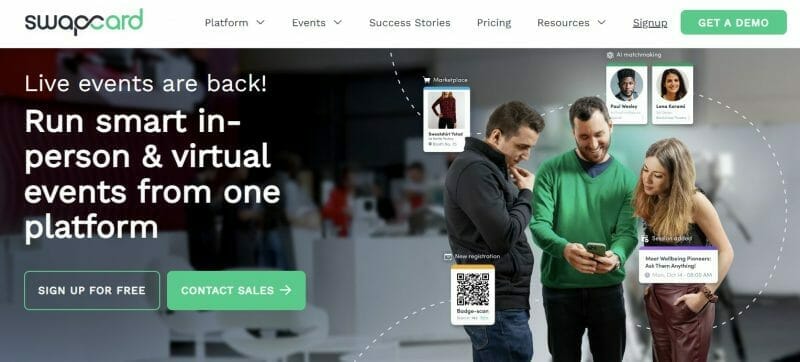 In 2022 alone, Swapcard was used for hundreds of hybrid events. It makes the switch from fully virtual or in-person to hybrid easy by offering tools for all stages of the event.
Before the official date of your event, attendees can use AI-powered matchmaking suggestions to plan their own schedule. During the event, it can be used to set up interactive experiences like Q&A sessions that both in-person and remote audiences will enjoy.
Similarly to a platform like Webex Events, Swapcard also lets you sustain engagement even after the event has been wrapped up. You can, for example, create an on-demand content library, a news feed, or messaging network to engage with your attendees all throughout the year.
While it's a great tool for virtual and hybrid events, it's especially a good choice if the in-person part of your event is key. Unlike many other tools, they also have an onsite team available to help you with in-person registration and to man the support desk.
Key features include:
A service team to offer in-person support for exhibitors and attendees
In-app and in-person contactless registration
Live streaming
Lead retrieval
Attendance tracking
Plans and pricing: It offers a Free plan for events with up to 250 attendees. For mid-sized events, pricing starts at $588 per month when billed annually.
---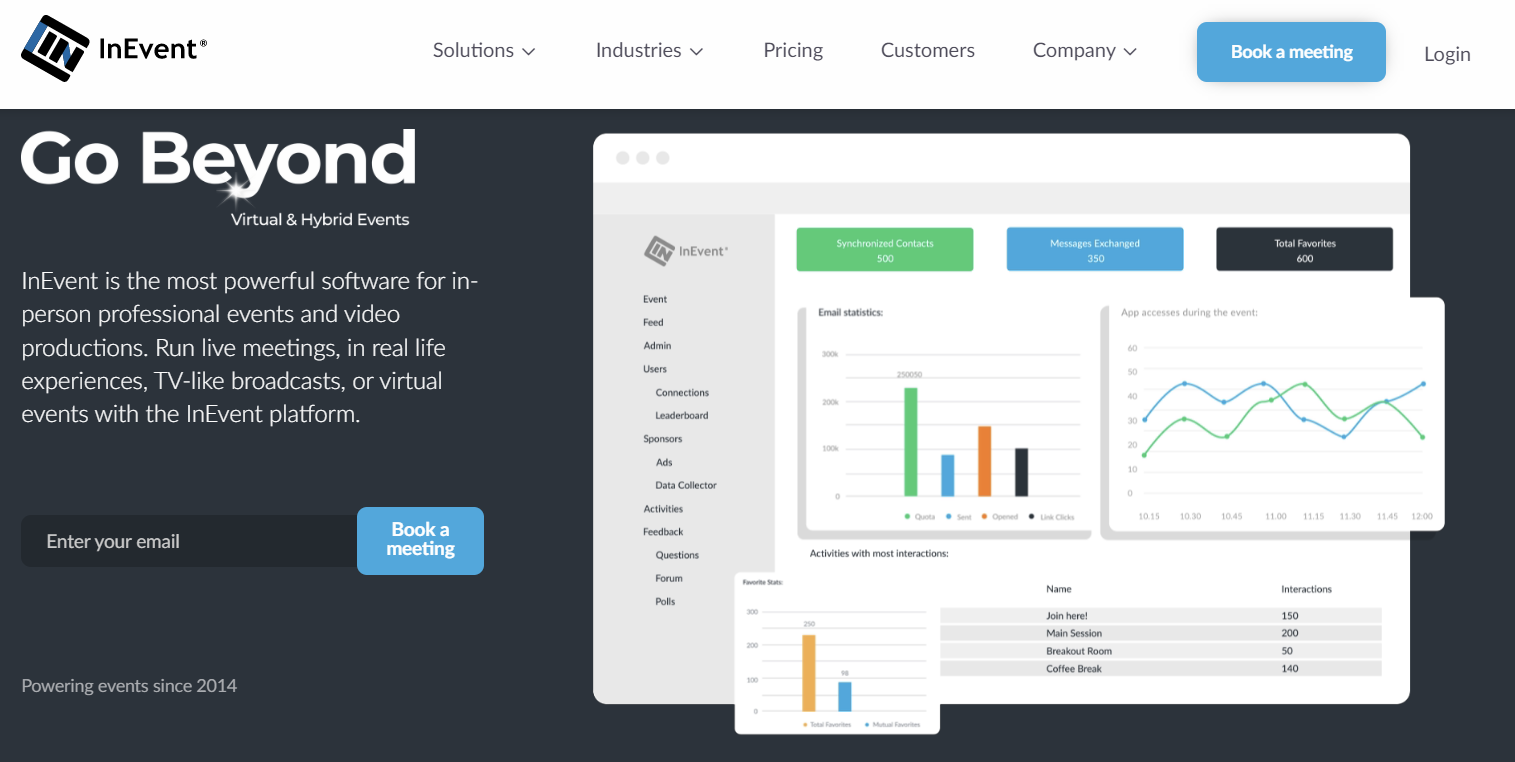 While it's one of the most powerful software solutions for running in-person events (as its name suggests), InEvent also includes a virtual and hybrid platform. Using their virtual lobby, you can join your different sessions, sponsors, booths, and meetings.
One of its core features is accessibility. With the help of tools like captions and translations, you can attract a much more diverse audience while promoting inclusivity at the same time.
Analytics and reporting is another department where it shines. You can basically track everything. Plus, thanks to colorful graphs, all this info is presented in a format that's easy to digest.
That said, it's not the cheapest solution. So, it's better suited for bigger brands that rely heavily on events.
Key features include:
Multilingual translations and subtitles
High-quality streaming
Built-in registration systems
Analytics and reporting
Plans and pricing: For the ability to run virtual and hybrid events, it offers an annual subscription that starts from $9,990.
---
Wrapping Things Up
With the right platform, there's no reason why a hybrid event can't deliver an unforgettable experience to both in-person attendees and remote attendees. While you're searching for a tool that will let you plan your event in minutes, it should be able to encourage engagement for long after the event has been wrapped up. So, be sure to pay specific attention to its engagement features on offer.
Also, considering that some attendees will choose to attend virtually because of potential barriers posed by attending in-person, you'll want to look for a platform that prioritizes accessibility. After all, one of the main perks of choosing hybrid over in-person is that you can attract a bigger crowd.