Back in 2012, when Snapchat began its meteoric growth phase, the idea of social media stories was new, fresh, and people couldn't get enough of them.
And while it seems as though Facebook took forever to develop Facebook Stories, the interest in this form of content has not waned. In fact, for Facebook, it's all growth.
Somewhere between the mammoth integration of Instagram, a roll-out of many new features, and a new look and feel, the social media giant has been able to grow their stories daily active users count to 150 million.
Your Ultimate Guide to Facebook Stories in 2020:
---
What are Facebook Stories?
Facebook Stories is a multipurpose content sharing feature on Facebook. Users are able to share photos, videos, animations, polls, text posts and music.
Stories have a 24-hour expiration date and are similar to Instagram Stories in many ways. For example, like Instagram, comments don't show in a feed, instead, they are sent directly to Facebook Messenger for brands to respond.
---
Why Facebook Stories is Great for Business
Organic reach and engagement is a very tough nut to crack. One moment your brand is doing well. Suddenly, Facebook, or any other social media platform for that matter, applies an algorithm update that sends your engagement hurtling down a deep, dark hole.
And this win-some-lose-some war has been going on since the beginning of marketing. The more participants in any specific market, the more saturated it becomes -- a fact of life paid advertisers know too well.
When it comes to organic content, unfortunately, brands and marketers are in an equally tough spot. In early January of 2018, Facebook announced that it would be changing the way it serves users content. This change was designed to prioritise "meaningful interactions."
According to Mark Zuckerberg, Facebook was always meant to be a place where people could form bonds and develop communities around common interests. For this to happen, Facebook has focused on developing an algorithm that serves more user-generated and personalised content.
The downside?
Brands and their marketing efforts are deprioritized and therefore have to find more creative and effective ways to grow their businesses on social media.
Introducing stories to Facebook, therefore, made sense. There was a proven model in the form of Snapchat and Instagram's success. Stories were also a new fun way for brands to develop content that looked and felt more personalized, and also received a considerable amount of attention from users.
Stories also offered brands the opportunity to once again get in front of their audiences with great content and offers.
---
Why Your Brand Should Be Using Facebook Stories
Social media is a great tool for marketing and building brands. You're able to create awareness and consideration for your brand, products and services, and drive sales.
The importance of these three goals and being able to deliver results is growing as more brands try to remain and enhance their competitive advantages. Using Facebook Stories is the perfect solution. Here's why:
Facebook Stories are at Your Audience's Finger Tips
Arguably one of the reasons why Facebook Stories get so much attention is due to how easy they are to find. Located at the top of a user's feed, they are on prime real estate. This is an important and strong indicator of their potential to grow your brand. As the first thing your audience sees, you can position your brand directly in front of hungry fans and customers.
Competition is not as Fierce
While Facebook Stories has grown rapidly in a short period of time, there's still a tremendous amount of opportunity for brands to make an impact using the feature.
Facebook stories, done right, can be personalised enough to feel less like a brand selling and more like a friend offering something useful and valuable. Stories can be used as native advertising solutions.
And given their position, stories can help you grow a large following that you can actively convert into customers through retargeting and off-site lead and sales generation campaigns.
Cross-Post Your Instagram Stories on Facebook
Facebook's acquisition of Instagram has been highly rewarding for brands. Among a collection of convenient and time-saving integrations, Facebook has also included the option of cross-posting your Instagram Stories to Facebook.
This allows brands to follow what some deem as the most important rule in marketing -- the rule of 7. You're able to expose your brand and offers to your target audience more often to get them engaged.
Sharing stories from your Instagram account on Facebook helps you promote your message and also saves you the added workload of creating new and unique stories for both Facebook and Instagram.
---
How to use Facebook Stories for Your Business
Like all marketing, you need to have a strategy for your Facebook Stories. Your stories need to directly support or be a part of your social media marketing campaigns.
We recommend using the SMART methodology. While the acronym seems cliched, there's a reason why it pops up in almost every mention of strategy -- it works!
Here are a few tips for developing your SMART Facebook Stories strategy:
Set Clear and Specific Goals
Know what you want to accomplish and make sure your goals are directly related to the most important goal in business: revenue generation.
Social media is as much about staying top-of-mind as it is about driving bottom-line growth. And when it comes to making both happen, most marketers struggle to generate engaging content.
As you develop your goals, the simplest way to ensure that you will always deliver on your most important metric (sales) is to tie every piece of content to your goals. If you're celebrating a holiday, don't just wish everyone well, create an entire campaign with an offer that your audience can't say no to.
Use Relevant Measurables
Identify the metrics you'll track. Make sure they are relevant and directly related to your bottom-line. As covered above, misaligned goals are closely married to content that does not support business growth.
As you pick your metrics, choose those that are linked as closely as possible to supporting your funnel and converting more leads into customers.
For example, if you want to increase sales using video, focus on conversions and not how many comments a video receives.
Establish Attainable Deliverables
Be sure that you have access to all the resources to help you accomplish your goals. For example, do you know who will be creating your video, image and text-based posts? How often will those resources produce the content and what is their turn-around time?
Set Realistic Growth Goals
Is your goal within reach or too lofty? Audacious goals can leave brands hoping for a miracle and that somehow social media will deliver. Don't be that kind of marketer. It's not a realist perspective or growth strategy.
Instead, focus on smarter goals that are based on data. If you know that Boomerang videos stories with call to action buttons generate more clicks than text-based stories, establish exactly what your conversion rate is and experiment to increase it marginally.
Develop Time-Specific Campaigns
Determine when you will end your campaign and gather all results to see how effective your efforts were.
It's worth noting that Facebook Stories, like all other marketing endeavours, is something you need to create content for regularly to generate results you can measure.
Experiment!
While we touched on the value of experimentation briefly, it's worth stressing.
Experimentation is what real marketing is made of. When you have data, you're able to dispel generalistic assumptions about your audience, their preferences and how you can grow your business. You're able to apply solid tests and produce campaigns and content that deliver positive results.
Facebook Stories Content Options
Working with Facebook Stories Content options is relatively straightforward. Users are given 5 options. While you may be less inclined to use all of them, with a bit of creativity, you'll be able to produce a collection of engaging and useful content for your audience.
Here are the 5 Facebook Stories content options available:
Text
Allows you to create a text story by combining text on a background colour of your choice. This option is common and you may have seen it used when people have questions or text posts they dress-up.
Selfies
While not the first option brands might rush to, snapping a selfie and posting it along with a filter is still attractive for many users.
Boomerang
Introduced by Instagram, this option is one of the more famous, most fun and engaging features Facebook has included. Unlike Instagram, you don't need to install Boomerang as an additional app, you can simply generate your story directly from Facebook Stories. All you need do is point and shoot and it does the rest to turn your content into a GIF-like animation.
Polls
Polls are a great way for brands to test the waters. You can use them to gather feedback for a range of important concepts related to your brand, products or services.
Music
Like selfies, it's unlikely that your brand will rush to promote music, but on the off chance that you're so inclined, it's an option for a Facebook Story. When you select this option, you'll be able to search through an extensive list of songs.
Facebook has done a great job of categorising them by theme too. You'll be able to find music for anything from a party to something to play along with your story on pets.
---
How to Create Your First Facebook Story
Creating your Facebook Story may seem a little daunting. Nobody wants to accidentally post something that's incomplete or embarrassing. Well, rest assured that you'll be able to create your brand's stories without doing any damage. This is largely due to the steps Facebook has built into each story creation process.
Here's a breakdown of the features and functionality you should be aware of before you take to creating your first story:
Using the Facebook Stories Camera
Pointing and shoot is simple enough and so is using Facebook's camera feature for your stories.
You're present with the following features as you create your story:
Gallery Access
Here, you're able to tap on the gallery icon and get access to all images saved on your phone.
Lighting Options
Lighting, along with sound, are the two most important elements when producing great video.
Facebook Stories uses a Lightning Bolt (with and without the 'x') to help users pick the right lighting. This indicates whether your flash is on or off. When on, you'll see a lightning bolt on its own. When off, you'll see a lighting bolt accompanied by an 'x'.
Image and Video Filters
Want to create an image or video with a certain kind of look and feel? Facebook introduced filters to give users the ability to both get creative and enjoy the process. While you won't have as many filter options as Instagram offers, you'll still be able to produce interesting and engaging images and video.
Facebook's 4 filter options are:
Stickers
Another smart and widely used feature is Facebook stickers. Once you've taken a picture or recorded a video, you're able to add a sticker to it. Stickers are also available for use as calls to action.
Text
Need to add a catchphrase or heading, or annotate an image or video in a story? Facebook Stories includes a text option along with the ability to pick a size, choose a colour, and select a font type.
Freehand Drawing Tool
Need to get really creative? Like the text tool, you can also include freehand drawings on your image and video stories. You have the option of controlling the thickness of the paintbrush and access to a wide variety of colours.
Effects
Effects include a collection of skins that you can apply to both images and video stories.
Face Filters
Face filters have grown on people. Their fun to play with and grab attention.
Photo and video Capture Button
The photo capture button is located bottom-centre of your phone screen to make for easy photo and video capture.
Use Front and/or Rear Camera
A unique feature to Facebook Stories is the ability to switch between front and rear cameras while recording. This functionality isn't on Instagram and can be useful when you need to record subject matter and switch back you yourself during the creation of your stories.
Settings
Located towards the top right-hand corner of your phone screen, when tapped, the settings icon will present these 3 options:
Save Shared Photo:

automatically save photos and video to your phone

Add Camera Shortcut

: adds a camera shortcut to your phone's home screen to allow quick and easy access for story creation

Something Isn't Working

: a bug reporting tool that also allows you to show a camera roll of the issue you've encountered while using Facebook Stories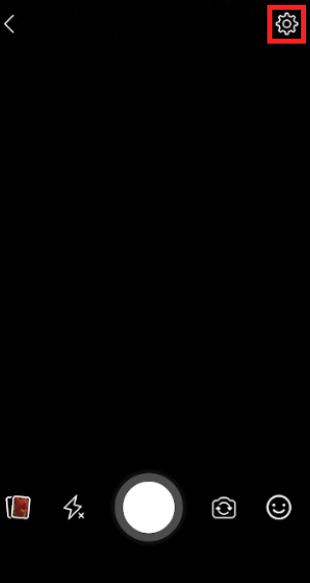 Facebook Stories Analytics
Facebook Stories success can be tracked in two ways:
Individual stories
Locate an active story and tap the eye icon in the bottom left-hand corner to see a list of people who have viewed your story.
Facebook Stories Insights
Available via desktop, locate your page and click on Insights at the top. In the left column, click Stories and then click "Turn On."
Return to your Insights (also accessed from the Facebook mobile app), to see information on:
Publish Date

: When an admin or editor of your Page created the story.

Story Items

: A thumbnail of what your Page's story looks like.

Status

: If the status of your Page's story is active, it means that an admin or editor of your Page created the story in the last 24 hours and it's still visible to the public. If the status of your Page's story is ended, it means that more than 24 hours have passed since your Page's story was created and it's no longer visible to the public.

Unique Story Opens

: The number of people who opened your Page's story.

Forward Taps

: The number of times someone taps to skip to the next piece of your story.

Backward Taps

: The number of times someone taps to go back to a previous piece of your story.

Forward Swipes

: The number of times someone swipes to skip to the next account's story.

Exits

: The number of times someone leaves the stories viewer to return to their News Feed.
---
7 Content Ideas for Facebook Stories
Generating smart and effective content ideas can be challenging for brands. Often it means balancing tight budgets with the constant need to produce fresh, creative and engaging stuff your audience will love and react to.
Facebook Stories are generally easy to create and low-budget. Here's a collection of 7 content ideas, along with tips that you can use to start producing your Facebook Stories:
New Product or Service Launch
New product or service launches are a great way to attract customers. When you create yours, be sure to make your messaging engaging enough and include an offer that customer can capitalize on.
Also, plan your launch campaign weeks in advance. Treat it like Hollywood treats a new movie that must gross $1 billion at the box office by producing content to make the launch a success.
Shoot Behind-the-Scenes Footage
There's nothing more honest and endearing than showing how the people behind the scenes in your business get things done, especially when it's interesting content.
To create interesting content, create a storyboard and plan your stories. This should include letting people in your team or company know that you want to record content. Also, consider doing a series of trial runs before posting content. Often, people struggle with video and acting natural while being recorded. The more you shoot, the easier it will become to generate more content.
Holiday Messages
There's always a great opportunity to capitalise on holidays. As you create a list of holidays to create content for, once again, don't stop at just wishing people well, take the opportunity to make them an offer they can't say no to.
When making holiday offers, plan ahead. Get your audience excited about the offers you'll be making ahead of time. This will help generate greater conversions.
Special Events
If your company is hosting an event, make sure you produce content from the event the entire day. This will be taxing and time-consuming, so plan ahead to ensure that you have the time to capitalise on the entire event agenda or line-up, and capture great content.
Customer Praise
There's nothing stronger than social proof when it comes to convincing people to invest in products or services. But to make your social proof stand out, you have to pull the strong and impactful statements out of your testimonials and customer praise.
One way to elevate your praise is to screenshot the post from a customer, add your own text and a sticker to personalise and share it with your audience.
Competitions
Competitions are always a crowd magnet. When you design yours along with your Facebook Stories strategy, build a window for marketing the competition at least a week in advance.
Why? As with product and service launches, planning ahead and spreading the word about your competition before it goes live will keep people excited about it and focus their attention on your brand. Tease people with entry criteria and prizes up for grabs.
Ways to Use Your Product
Some of the most useful content comes in the form of how-to videos. If you offer what could be perceived as a complex product, this is a great opportunity to get ahead of any buyer friction and objections by creating Facebook Stories that address both.
Once again, storyboard your ideas to ensure that you present cohesive ideas and address challenges and questions your customers may have.
And, most importantly, ensure that you focus on providing simple and easy-to-understand instructions in a pleasant tone.
---
Summary
Facebook Stories are a great opportunity for brands to get in front of their audiences with engaging content and offers. But to make stories work for your brand, you need to create a strategy that includes specific goals, metrics, how you'll ensure that you can deliver on your commitments, and is time-bound.
You also need to need to get creative and produce content that makes your brand stand out, feels personalised and helps keep your brand top-of-mind.