If you are in any way serious about your live streaming, it won't be long before you are going to want to change the appearance of your broadcasts from the default visuals used by your streaming software. And if you lack in your budget, you will probably be after a free stream overlay to ensure you have affordable yet eye-pleasing streaming visuals.
There are a surprising number of free stream overlays and other graphics such as panels and alerts available. And if you can afford a small sum, you will find an even wider variety of premium overlays. It may cost more to buy entire stream design packages, but the extra options offered may make the expense worth it if you want your screen to ping and stand out from the opposition on Twitch, YouTube, or Facebook Gaming.
---
14 Best Streaming Software to Enhance Your Game Broadcasts in 2021:
---
Advertiser Disclosure: Our unbiased reviews and content are supported in part by affiliate partnerships, and we adhere to strict guidelines to preserve editorial integrity. We may from time to time earn commission when you visit the suggested solution's and make a purchase. You will never pay more due to this.
1. Free Twitch Panels for Streamers – OWN3D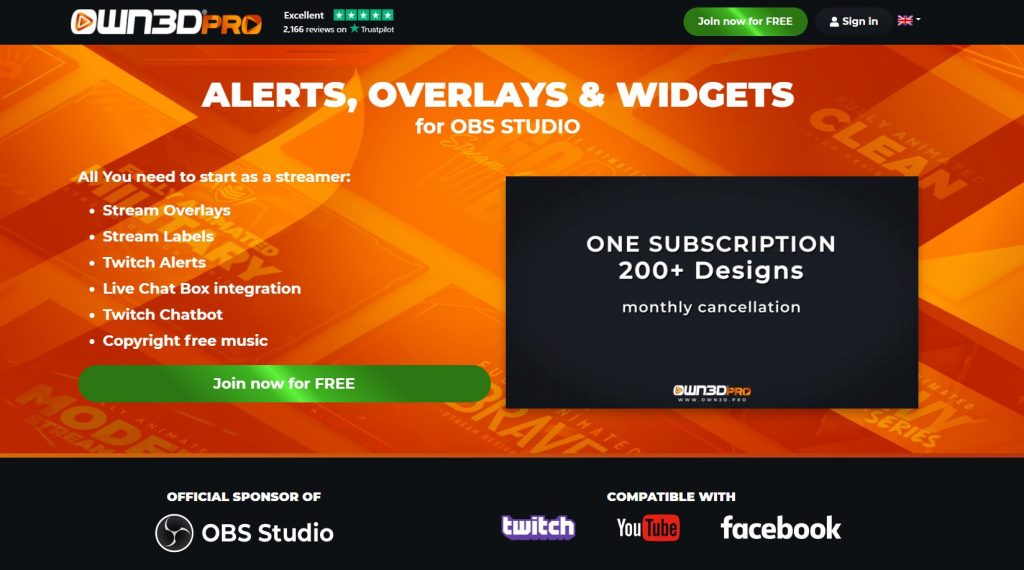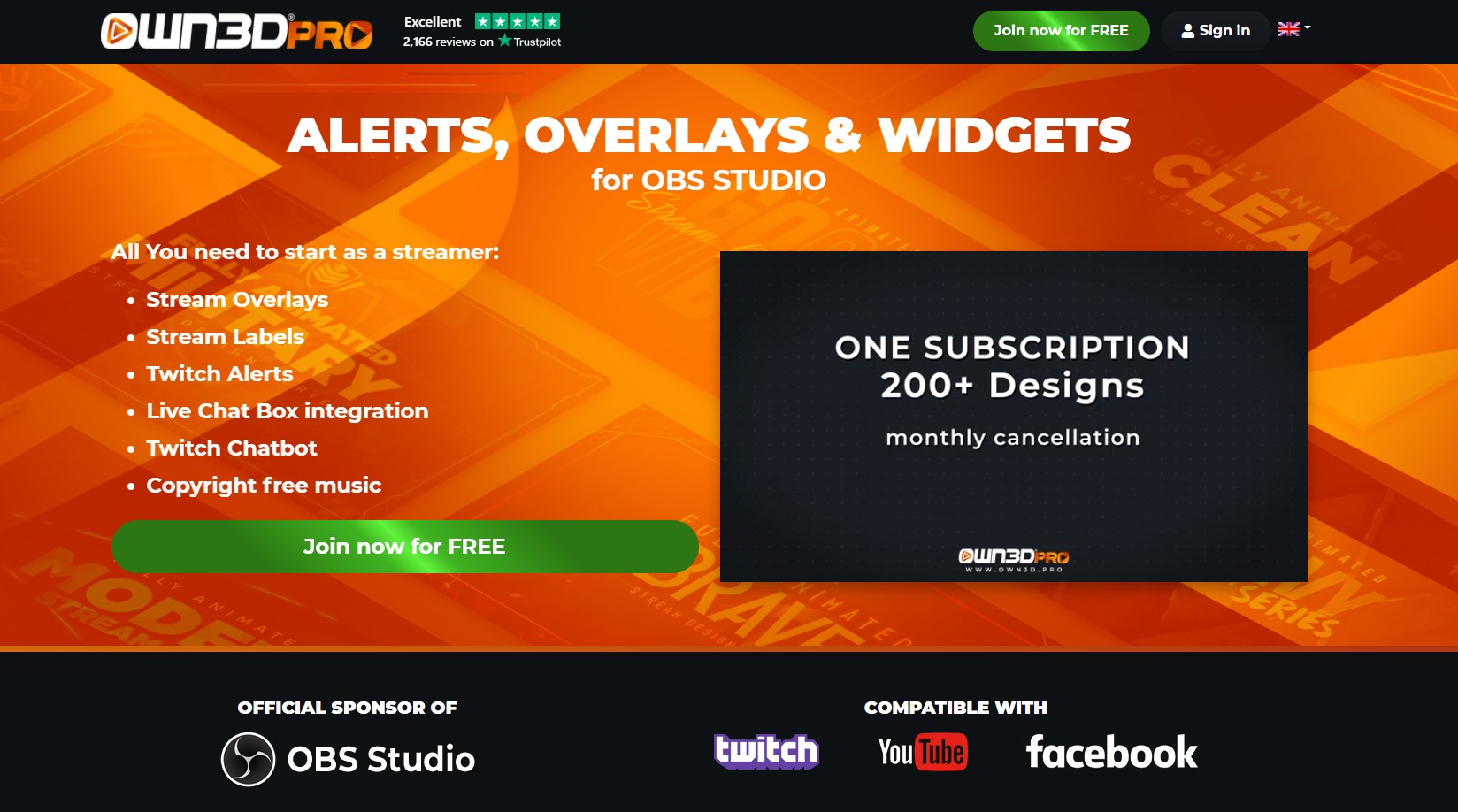 OWN3D focuses primarily on premium overlays, alerts, emotes, banners, logos, sounds, and more, both static and animated. They see themselves as filling the gap between streamers, community, and streams by providing high-quality graphics that often act as a confidence booster, no matter which streaming platform you use.
However, they do offer a sizable number of free Twitch panels. You can access these either by registering at OWN3D Pro or by downloading their Twitch Panels Extension. The extension provides a large selection of different graphics and animations.
If you opt for OWN3D Pro, in addition to the free panels, designs, and alerts, you can switch between more than 200+ assets for a small monthly fee.
The Twitch Panels Extension offers you a large selection of different graphics and animations. Currently, there are about 40 designs in different colors and styles. The Twitch Free Panels Extension targets new streamers and should make the design of their channel easier for them.
If you are a more experienced streamer, one of OWN3D's premium designs may better suit your style. You will find over 200+ Premium Twitch Overlays for OBS, Streamlabs, StreamElements, or even YouTube or Facebook. You will discover impressive Twitch overlay templates for Fortnite, LoL, Among Us, Call of Duty, PUBG, Overwatch, Hearthstone, Rainbow Six, Dota 2, and other games and IRL streams.
---
2. Clearview – Stream Package – Nerd or Die
Nerd or Die designs animated alerts, stream overlays, scene transitions, and widgets for Twitch, YouTube, and Facebook. They offer quick installations for OBS Studio, Streamlabs OBS, and StreamElements.
They originally started as a tutorial website and YouTube channel but evolved into a brand that creates products, custom designs, free resources, and tutorials for anyone looking to enter the live streaming world.
They have an extensive range of both paid and free stream overlays and other templates for streamers. In some cases, you can name your price on overlays, alerts, widgets, icon packs, stinger transitions, and much more. You can download free Stream Deck icons and stream designs.
While the full Clearview V2 – Stream Package costs $30, you can get panels and a stinger from the set for free. The full Clearview V2 – Stream Package includes clean overlays, alerts, goal widgets, and more, easily adaptable to most games and applications. All animated elements will work within OBS Studio, Streamlabs OBS, OBS.Live, XSplit, and other broadcast software. They include layout presets and modular elements.
Because streamers have differing needs, Nerd or Die allows you to buy a range of packs containing parts of the set. In addition to the full package (which includes the After Effects source files) and the Free pack (with the panels and stinger), you could purchase a $15 Overlay Package, a $10 Alert Package, or the $20 After Effects project file alone.
---
3. Flame-Guard – WDflat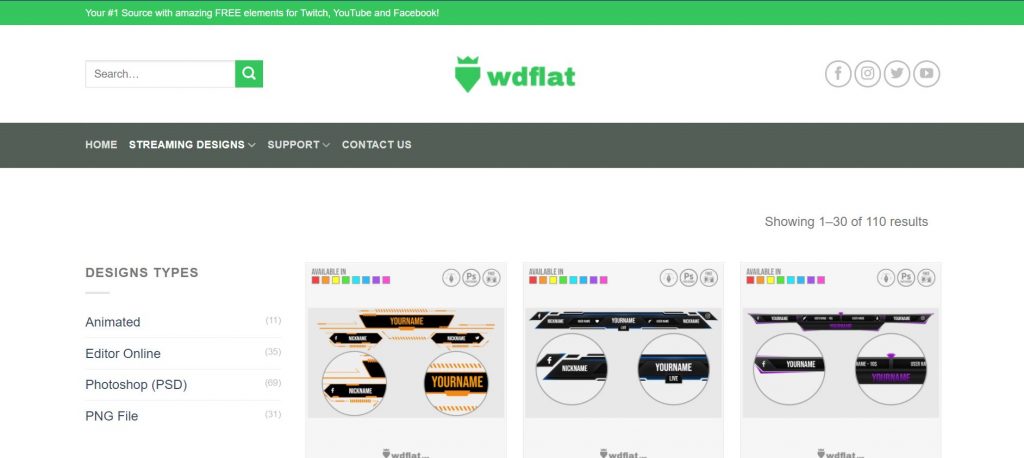 WDflat describes itself as the largest base with free elements for streamers, whether they operate on Twitch, YouTube, or Facebook. It offers 350+ PSD, PNG, MOV, and GIF elements for streamers. All WDflat's stream overlays and other templates are free.
WDflat offers both stream packages and individual designs. They split their designs into alerts, facecam, overlays, panels, intermission, logos eSports, and logos – YouTube and Twitch.
Flame-Guard is an overlay in Photoshop PSD format. It isn't customized to any game, and the lettering stands out with background shading to look as if it burns like a flame (at least in its orange format). Although the demonstration version is orange and white on black, you can actually use one of eight rainbow-hued colors instead of the orange. The other colors are probably less reminiscent of the effects of flames, though.
---
4. CSGO Bork-Bok-Bok – Twitch Temple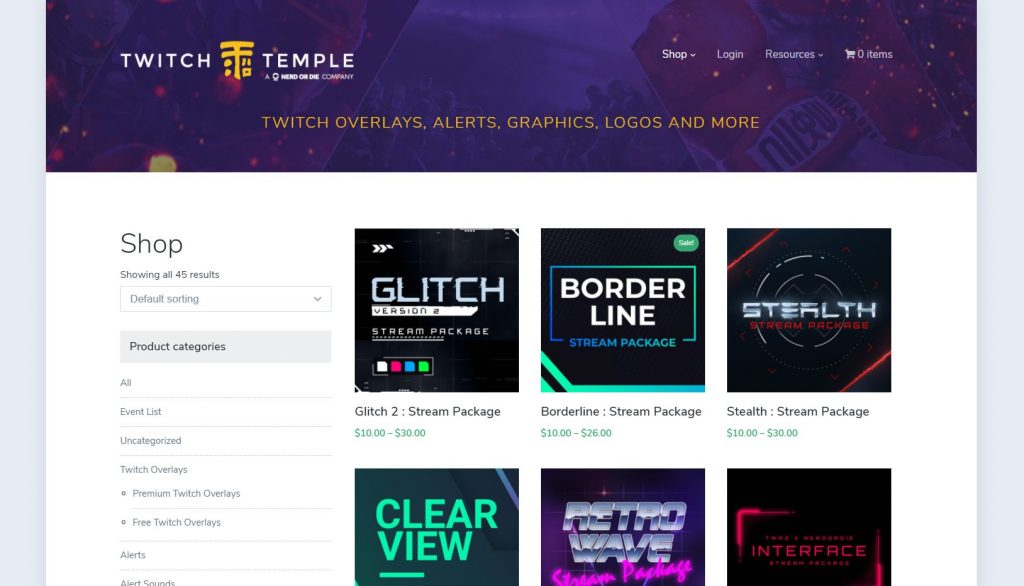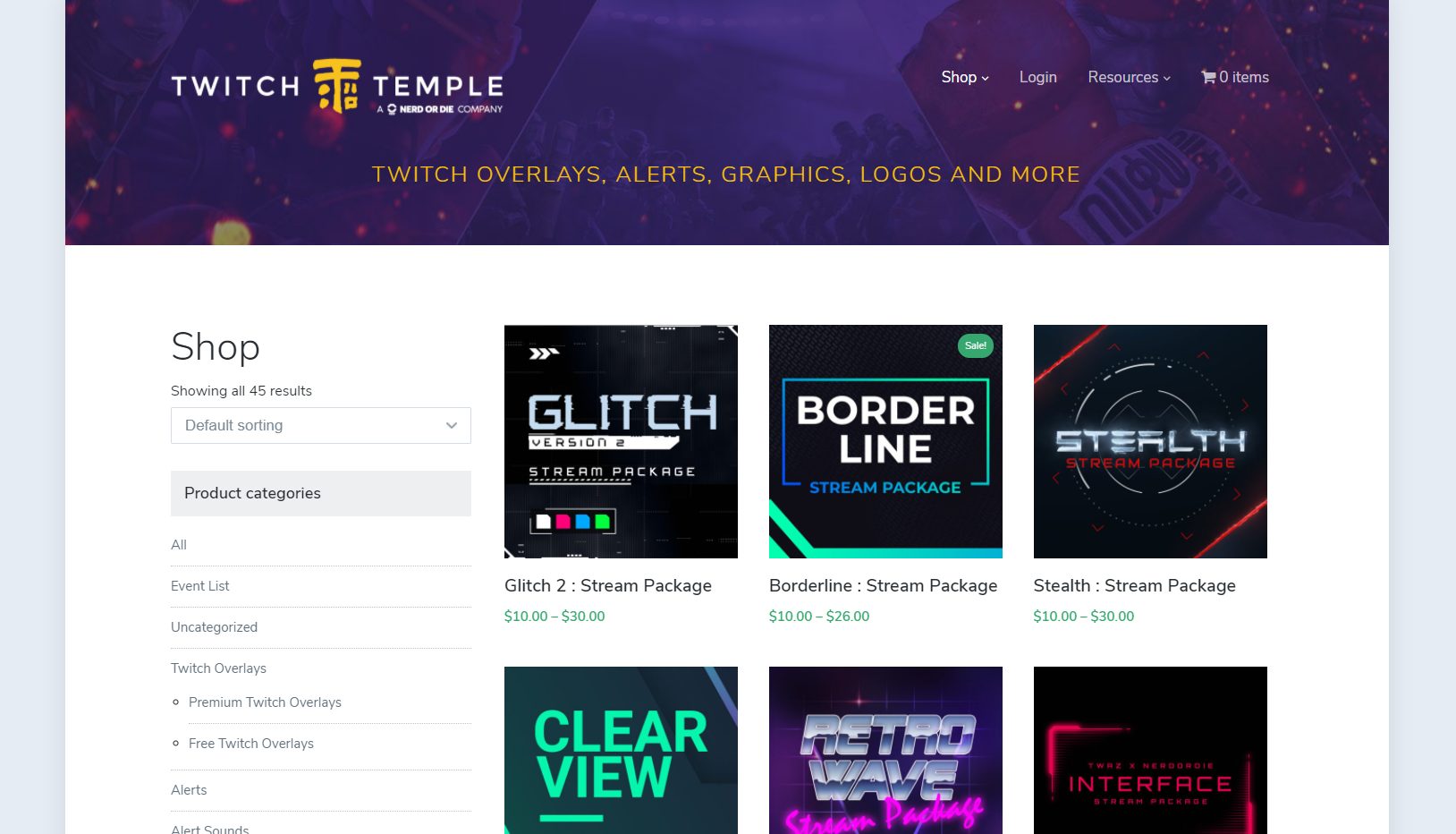 Twitch Temple is now a Nerd or Die company but still keeps its own website. Like its parent company, it offers various streaming graphics: Twitch overlays, alerts, logo templates, social banners, and alert sounds. Most of these are premium, although there is a page featuring four free Twitch overlays (three of these do have suggested prices of either $2 or $25).
As the CSGO Bork-Bok-Bok: Free Twitch Overlay's name suggests, this overlay includes template layouts for Counter-Strike Global Offensive (CSGO). It comes in four color schemes, with multiple supporter HUD options and icon sets and panels. Although designed with CSGO in mind, it works across other games too.
---
5. Community Twitch Panels – Visuals by Impulse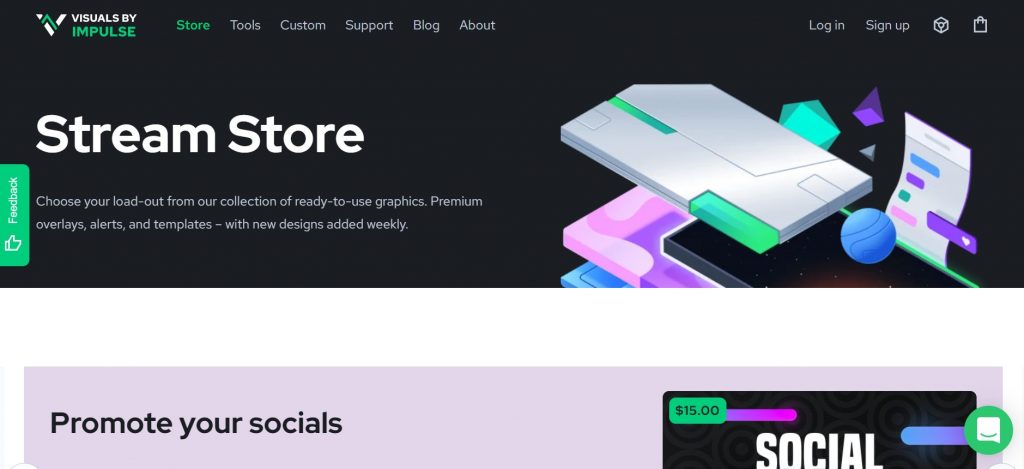 Visuals by Impulse is now part of the Elgato family (owned by Corsair), making Visuals by Impulse an exclusive product line within Elgato. Visuals by Impact primarily make premium streaming designs; they charge $30 for most (animated) stream packages, with individual components running between $5-15. However, you will find free templates as well.
You can browse themes from your favorite games, colors, and art styles, then make them your own with easy editing and customization. Visuals by Impulse guarantees support for all your favorite OBS platforms: Streamlabs, StreamElements, OBS Studio, and more.
One of the free offerings is Community, a collection of stream panels for your Twitch profile. It includes 79 unique panel types, each available in two themes: light and gradient. If you want the entire Community look, you can buy the Community Stream Package for $25 (static) or $30 (animated). This colorful theme is Visual by Impulse's most customizable yet, allowing you to create personalized layouts and unleash your creativity. Nearly every element can be repositioned.
---
6. 150+ FREE Stream Overlay Templates – Graphic Design Resources (GDR)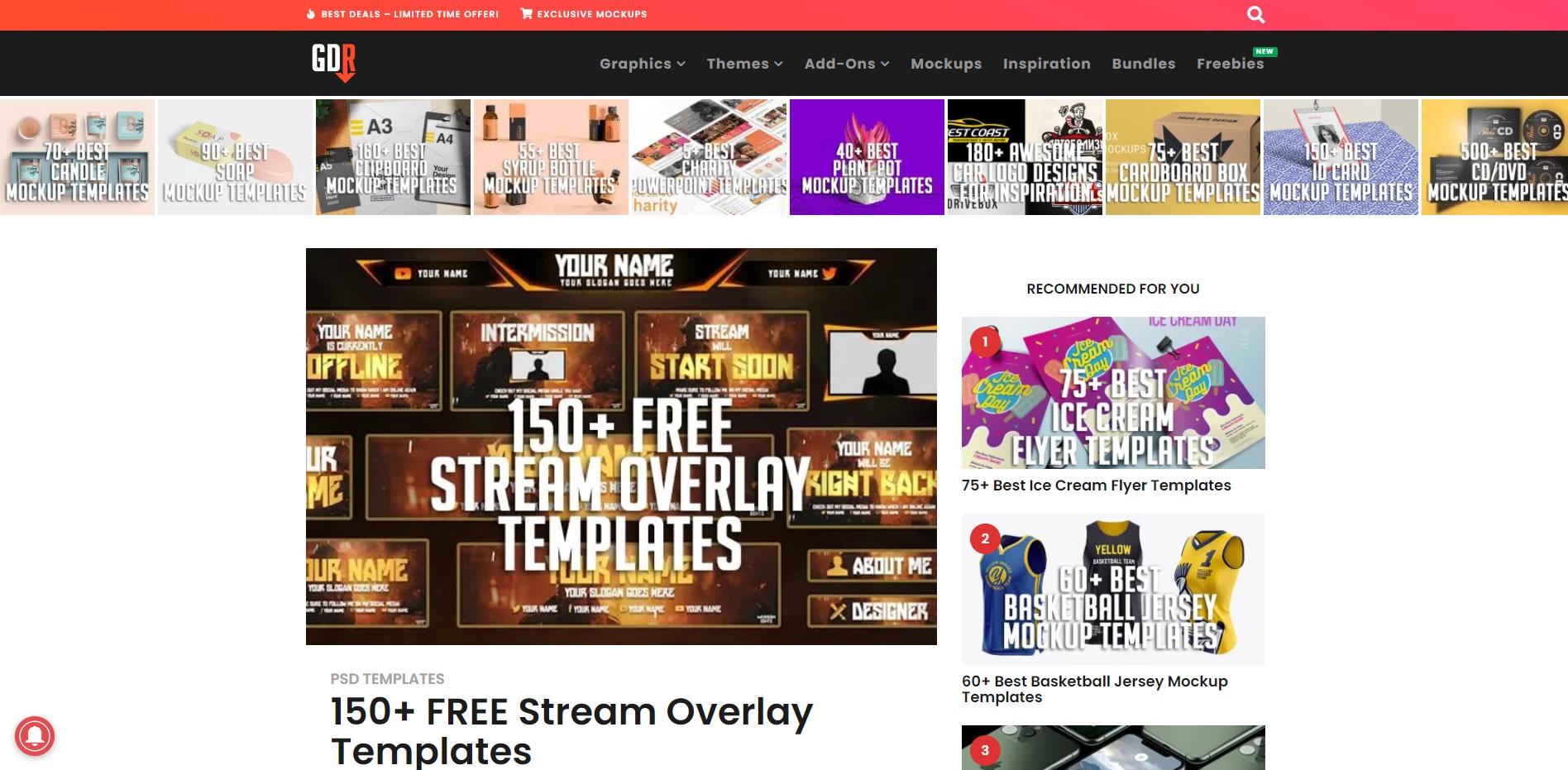 Graphic Design Resources features a page of more than 150 stream overlay PSD templates. You can use these overlays with streaming platforms such as Twitch, YouTube, Facebook, and others.
You can easily add these stream overlays to your stream, no matter if you use OBS, Streamlabs OBS StreamElements, or other tools. They are easy to edit and free to use. In most cases, you can choose your color scheme. Many of the stream overlays are generic, but some are game-specific, such as for Overwatch, Apex Legends, Fortnite, and CS:GO.
---
7. Minecraft Overlay – Twitch Designs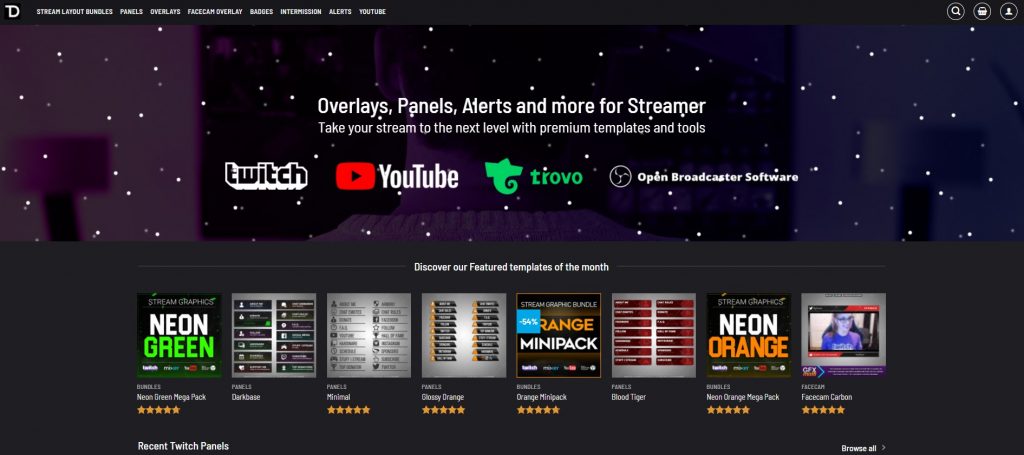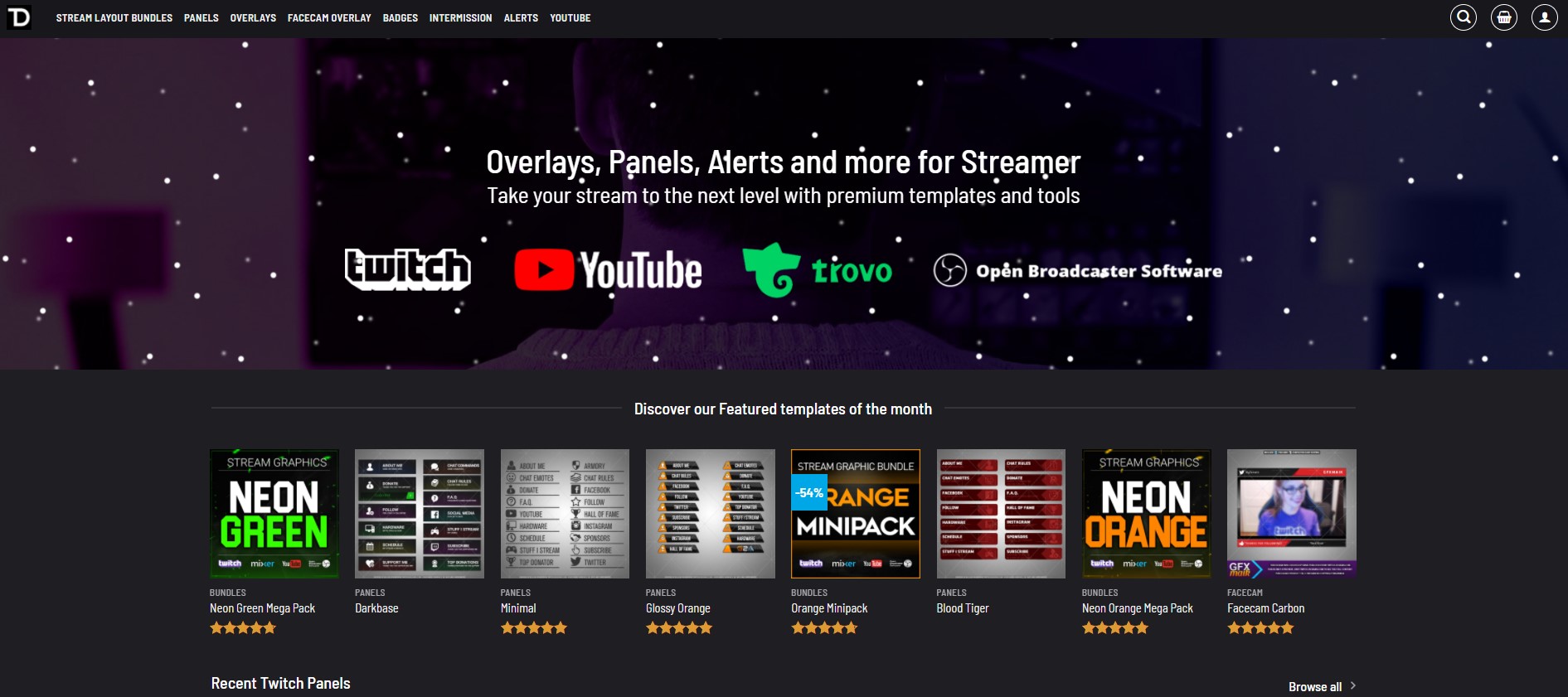 As Twitch Designs' name indicates, they make overlays, panels, alerts, and more for streamers. However, you aren't limited to using their designs for Twitch broadcasting. You can also use them to change the look of your live streams on YouTube, Trovo, and Open Broadcaster Software.
Being a maker of premium Twitch designs, you won't find any free stream overlays here, but you will find some that certainly cost very little. Indeed, we highlight the Minecraft Overlay that costs just €3.00. This is a PNG overlay designed for streamers of the classic Minecraft game and comes with a 1920x1080 resolution.
---
8. Grass Roots – Strexm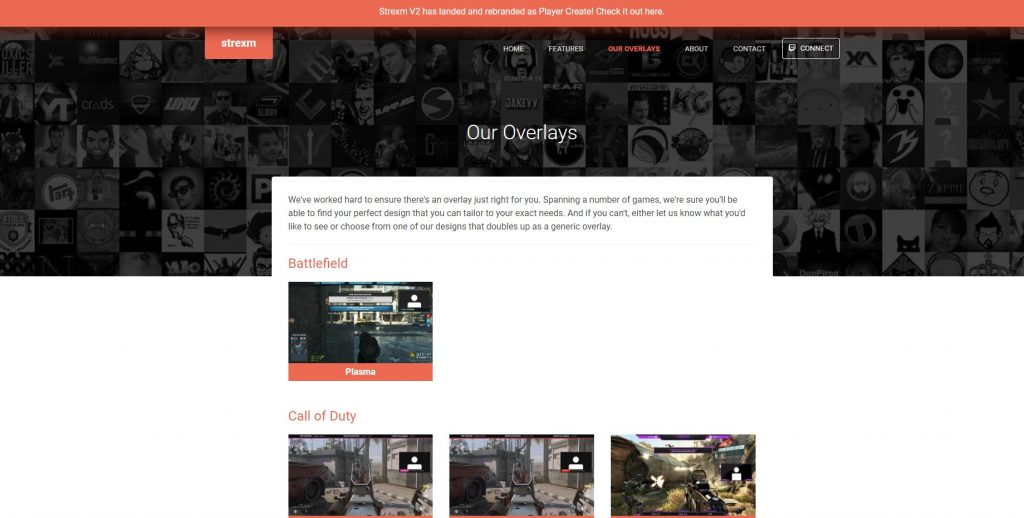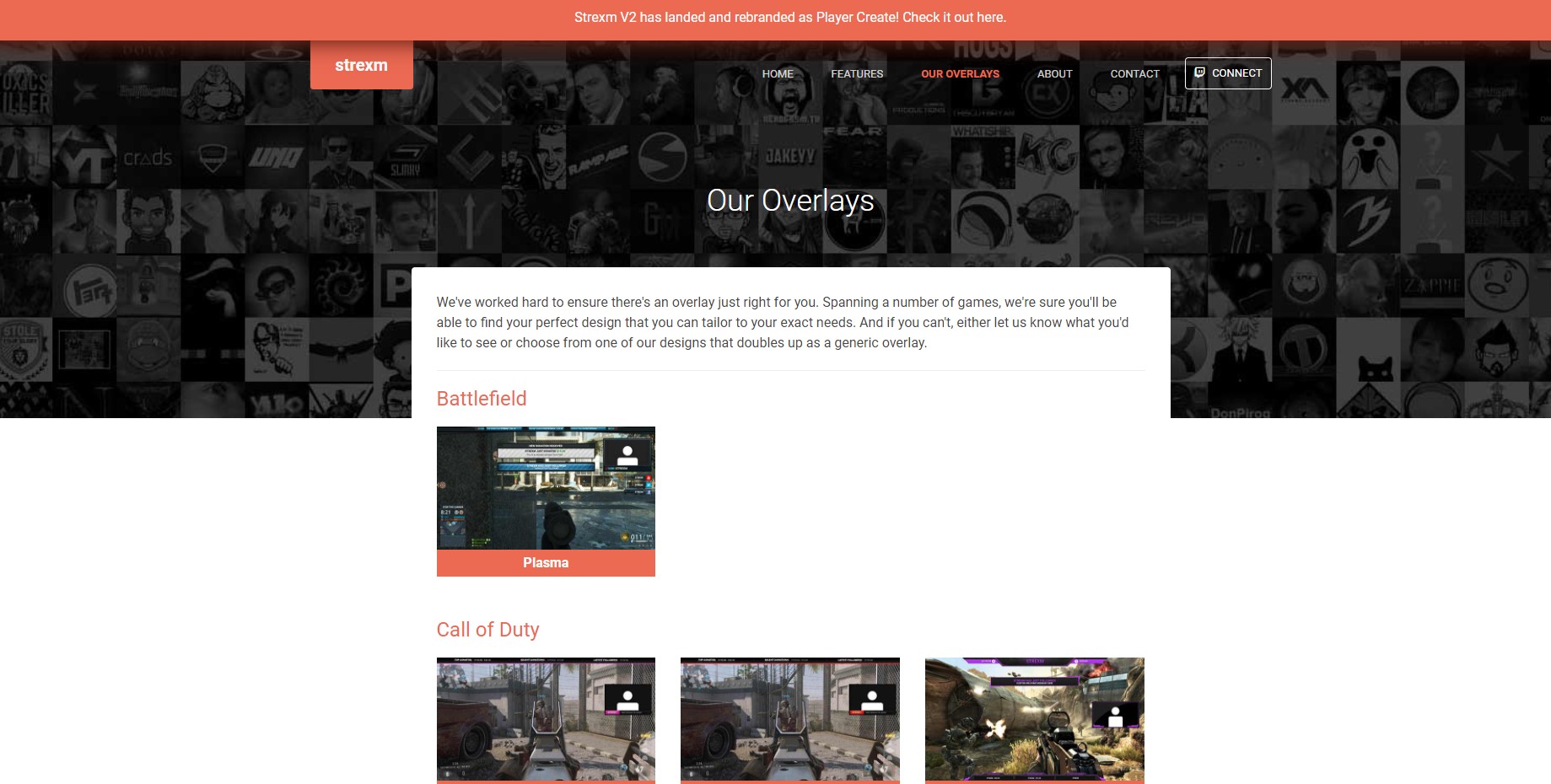 Strexm is in the process of joining forces with Player.me to operate as Player Create. Player Create is dedicated to those who are looking to create live content. However, in the meantime, the Strexm site remains with over 200 free handcrafted, beautiful overlays, all with integrated alerts and stream widgets that you can edit, tailor and store directly in the cloud.
All of their stream overlays are crafted using HTML and CSS and are controlled through one simple online interface. You simply copy each overlay's unique URL into OBS or XSplit and watch your stream transform.
Grass Roots is a Minecraft-specific overlay, suiting Minecraft's retro "blocky graphics" look.
---
9. Storm Call – Twitch Overlay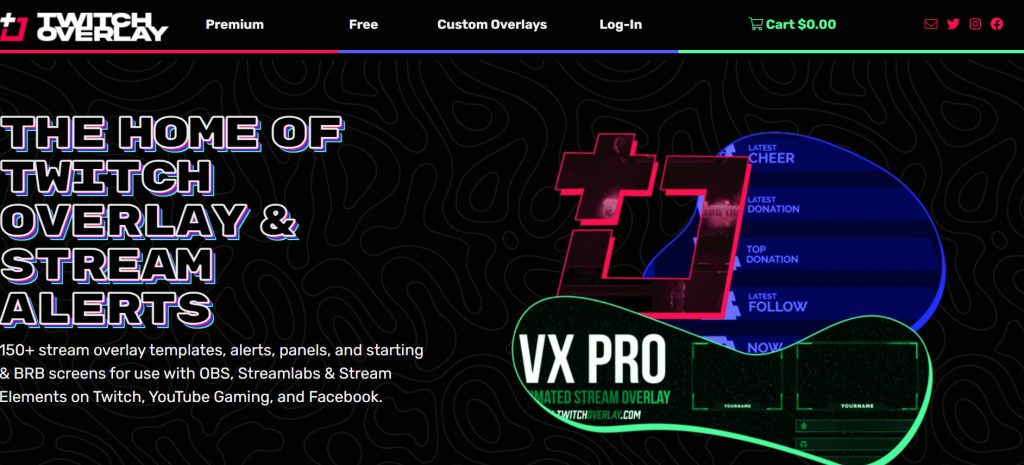 Twitch Overlay features over 150 overlay templates, alerts, panels, and stream starting & brb screens for use with OBS, Streamlabs, and Stream Elements on Twitch, YouTube Gaming, and Facebook. You can search for designs by type, color, and style. The styles by which they classify these designs are animated, dark, fire, game-specific, grunge, horror, metallic, minimal, and neon.
Many of their downloads feature .overlay files to make setting up your stream overlay and streaming screens in Streamlabs OBS simple. Many of their premium overlays and content feature an option to have your name and info added.
Storm Call is a free overlay inspired by Fortnite. It includes a mix of alerts, headers, panels, social icons, and webcam sections.
---
10. Alchemists Sacrifice – StreamLabs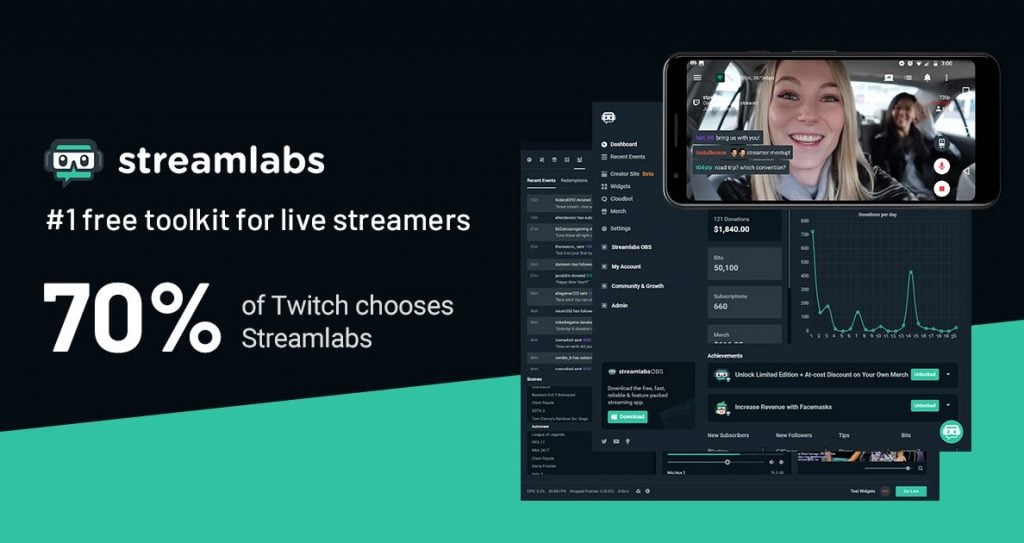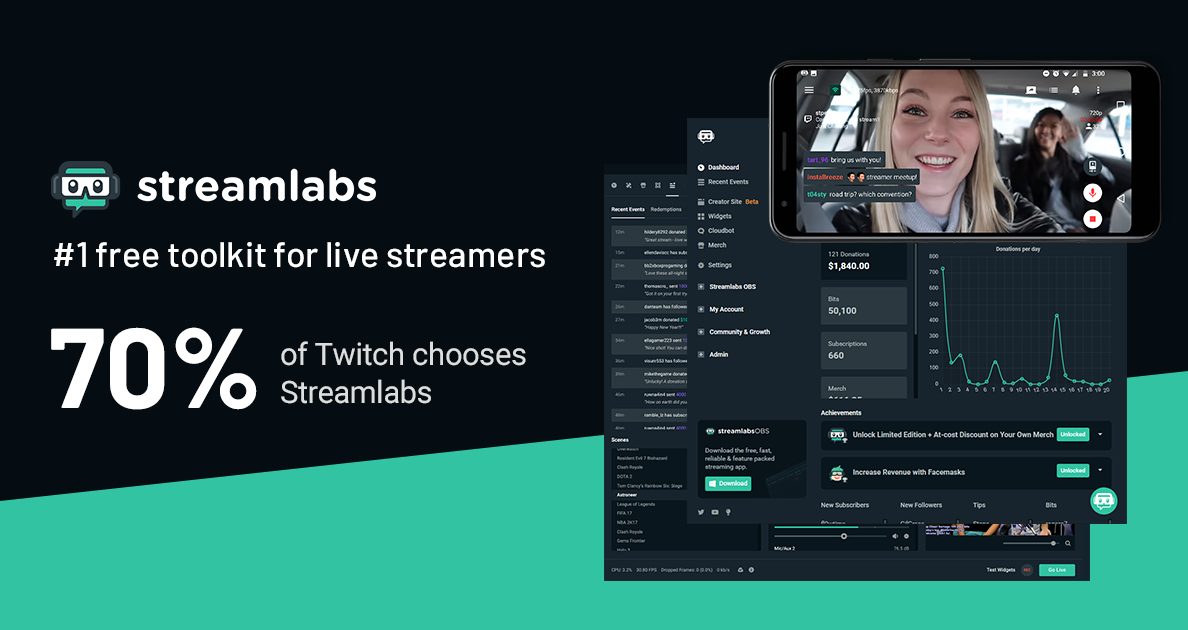 StreamLabs is probably best known for its all-in-one live streaming software. However, they also provide OBS overlays and themes. Some are free, although you will gain access to many additional items with the paid Streamlabs Prime.
You can search for stream overlays and other templates by color, game category, theme type, and included themes. Be aware that the Prime results tend to come up first in your searches, so you have to scroll through the results to find the free themes.
Alchemists Sacrifice is a free first-person shooter theme. It includes "Live," "Stream Starting," and "Be Right Back" scenes. It features a gothic font on these scenes and medieval castle-type graphics and color schemes.
---
11. Carbon – Streamplay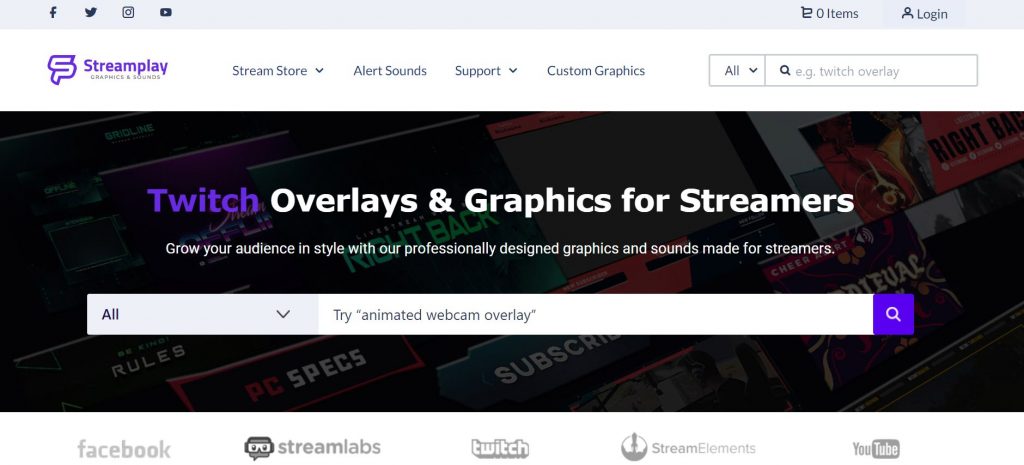 Streamplay provides Twitch overlays and graphics for streamers. Grow your audience in style with their professionally designed graphics and sounds made for streamers. Although they use the phrase "Twitch overlays" on their site, these are usable on other streaming networks, such as Facebook and YouTube.
Streamplay includes a page of free Twitch overlays. One of these they call Carbon. This gives you a free webcam overlay and the traditional overlay. The overlay gives you options to add your username and/or logo, plus room to promote your social media handles. For the Twitch webcam overlay, you're able to show your appreciation for any recent viewer interactions with some "Recent Follower" and "Recent Donation" panels that are below the frame itself. You can edit the text on the panels to anything you decide.
---
12. Twitch Overlay Design Template Featuring a Frame With a High-Tech Style – Placeit by Envato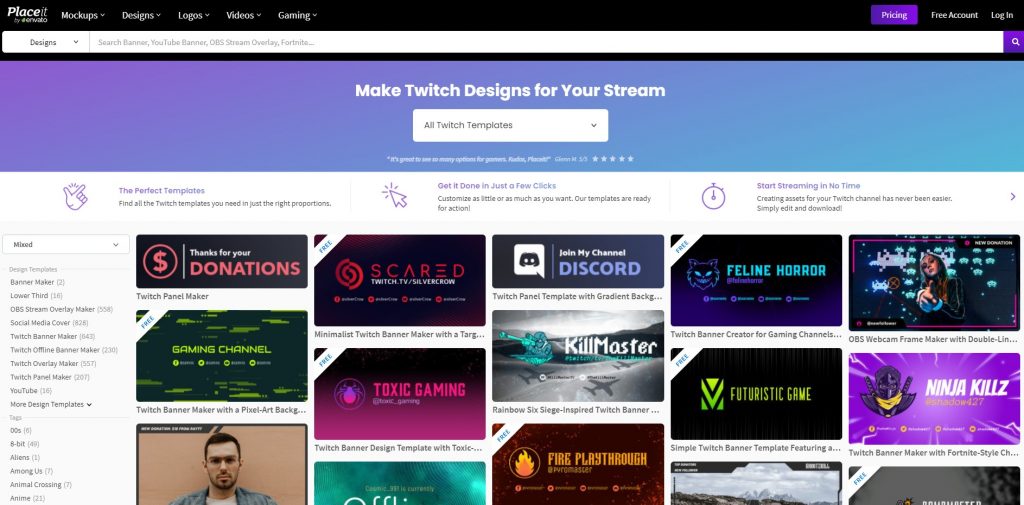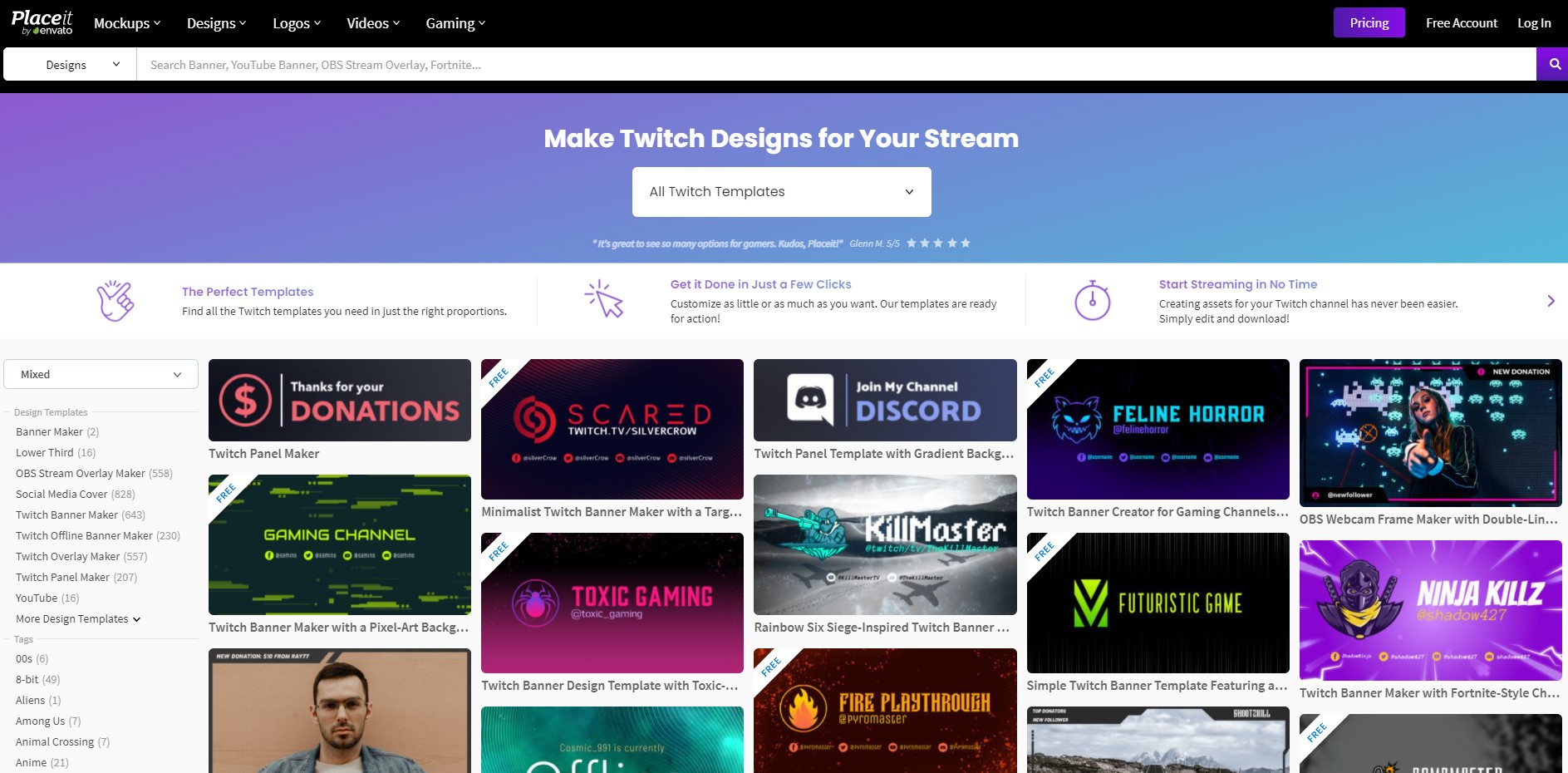 Placeit by Envato offers many designs made with easy, ready-to-use templates. You can subscribe for unlimited downloads, although the site also includes many freebies.
One of the design categories is Twitch Templates, and this contains more than 60 pages full of designs. Within this, you will find thousands of design templates (with the free ones clearly labeled) with 557 Twitch overlay makers alone.
Many of the templates feature descriptive titles, such as Twitch Overlay Design Template Featuring a Frame With a High Tech Style. This gives you multiple options for things like fonts, colors, frames, backgrounds, and textures.
---
13. 35 Awesome Stream Overlays – Envato Tuts+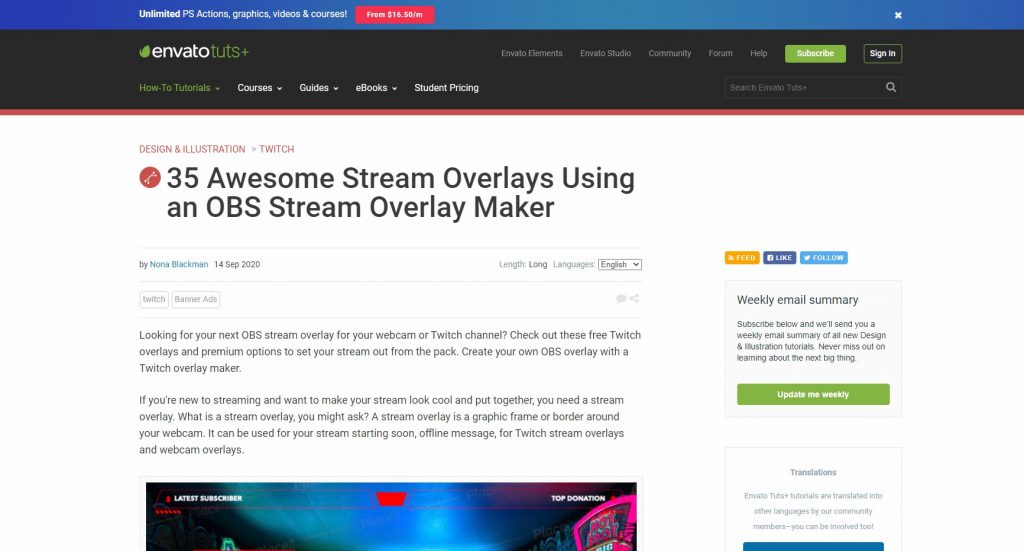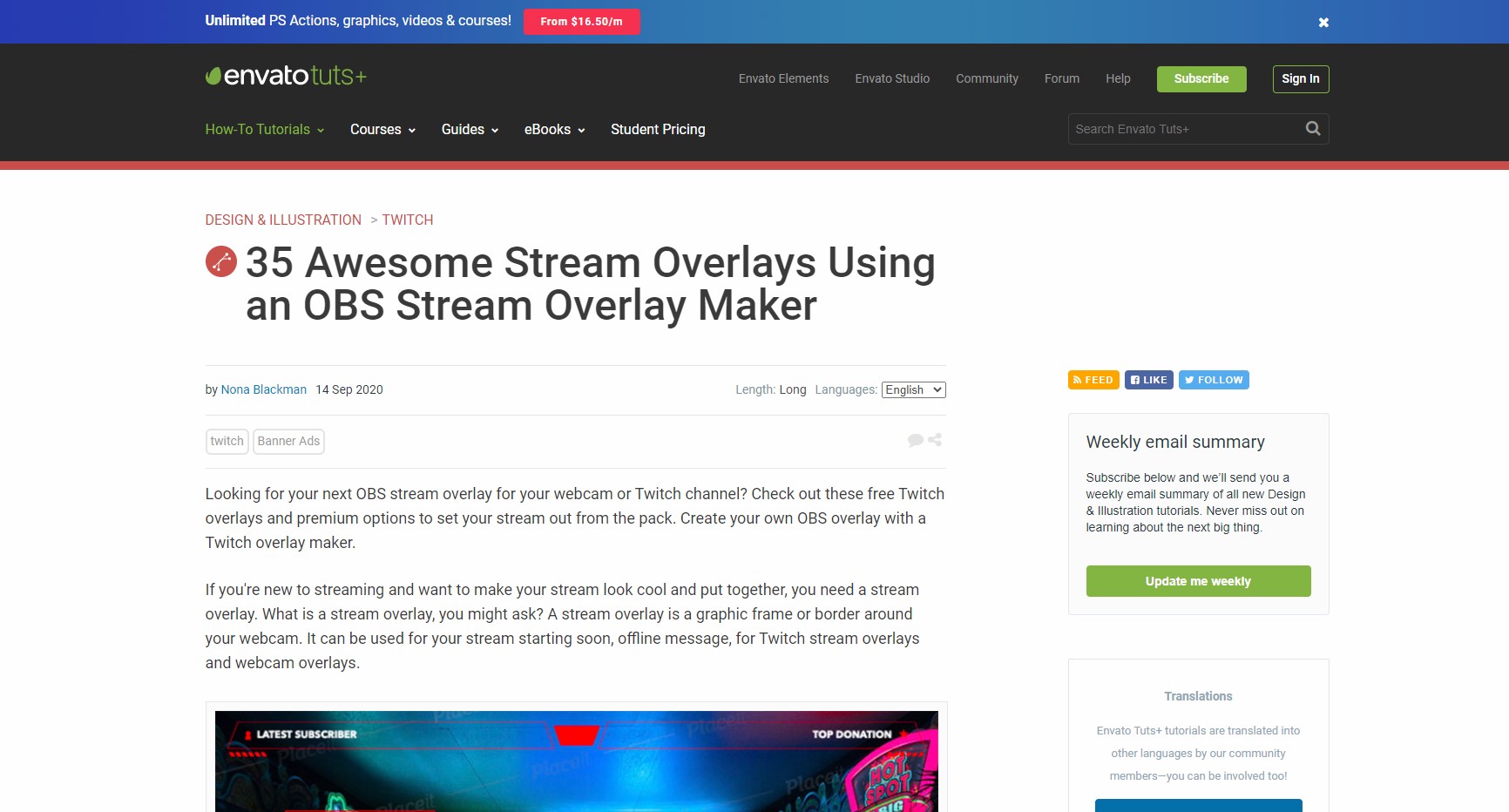 Envato Tuts+ features an article highlighting 35 awesome stream overlays using an OBS stream overlay maker. It also includes instructions on how to make an OBS stream overlay quickly and easily. You will need to be streaming using OBS or xSplit software, on PC or Mac to use these overlays (or indeed to make overlays using the OBS overlay maker at Placeit the article refers to).
---
14. Adobe Free Twitch Overlay Maker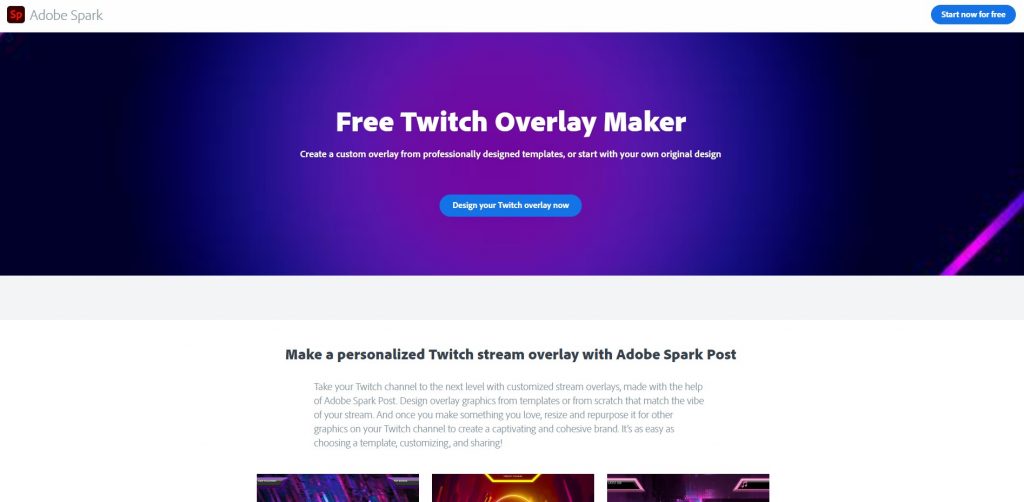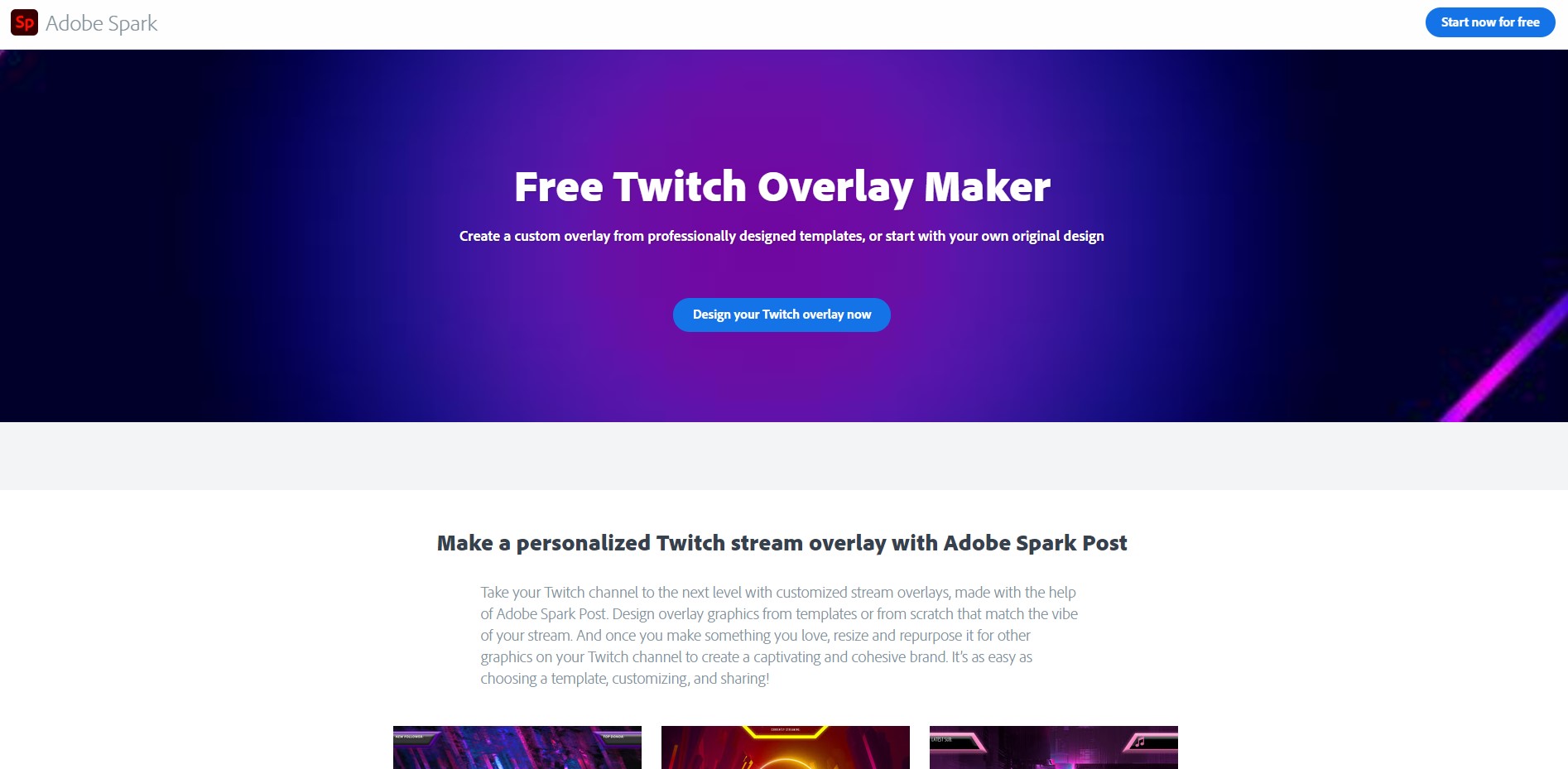 Another way to make Twitch stream overlays is to use the Adobe Free Twitch Overlay Maker for Adobe Spark Post. You can design overlay graphics from templates or from scratch that match the vibe of your stream.
You can also resize and repurpose your design for other graphics on your Twitch channel to create a captivating and cohesive brand.
Adobe's page promoting their Free Twitch Overlay Maker even includes six overlays you can edit to start the process.