You've probably heard that it takes 21 days to form a habit, right? Well, a study from the University of London says that it can actually take anywhere from 18 to 264 days for people to form a habit. While the proverbial 21 days falls within that range, you'll probably want to err on the longer end of things if you're trying to form a new habit—or break an existing one. Fortunately, adding a habit tracker to your life can go a long way towards making it easier, even enjoyable, to form the healthy habits you want to form. In this article, we'll share what a habit tracker is, the benefits of habit tracking, and our picks for the best habit tracker apps you can use to build strong habits that will help you crush your goals, from starting an eCommerce business to becoming a social media influencer or whatever else you have your heart set on!
If you're here, you already know that starting good habits and breaking bad habits is hard. A habit tracker makes it easier by helping you stay mindful of what you're working towards and why. But what is a habit tracker and how do they work? Let's take a look.
---
Habit Tracker Apps & Hacks to OWN 2024:
---
What Is a Habit Tracker?
A habit tracker can be anything that helps you keep track of your habits and be more mindful of your behavior so you can give your energy to the things you want and let go of the things you don't. Habit trackers take many different forms, from checklists to wheels to calendars. They can take the form of smartphone or desktop apps or good ol' pen and paper. In the end, the only thing that really matters about the habit tracker you use is that it works for you and helps you achieve your goals. If you're using an app that's overly complicated and that you dread using, guess what? You're not going to use it. Find a habit tracker that's easy to use and that makes you feel good instead of makes you dread setting it up for the next week or month.
---
What Are the Benefits of Tracking Your Habits?
Tracking your habits using a habit tracker has several benefits. Let's take a look at a few of them.
Confidence
A habit tracker sets you up for small wins every single day. This is an enormous confidence boost! By using a habit tracker, you'll be able to see the progress you're making towards setting new, healthy habits, or saying goodbye to the habits that are holding you back. And just like checking off a to-do list item, it just feels good (hello, dopamine!) to tick off that box each day.
Motivation
After that initial confidence boost, your habit tracker can be used to provide motivation to continue. When you're able to look back on every time you've worked toward creating great habits, it inspires you to keep moving forward.
Focus
Tracking your habits makes it a lot easier to stay focused on your goals. Your habit tracker is a tangible reminder to you of everything you're hoping to accomplish and offers you small, manageable ways of moving forward towards your goals.
---
What Habits Should I Track?
There are thousands of things you can track in your habit tracker. It's important to be realistic and focus on a small number of habits that are going to make the most difference to you where you are right now. What habits can you develop to help you reach your goals? What habits do you need to shed to reach those goals? Those are the habits to start with.
You should also add in habits that will improve your life, even if they aren't directly related to your goals. Self-care, for example, is something that many people overlook. We're so focused on pushing towards our goals, succeeding at everything we do, and taking care of others that we ignore our own needs and what recharges us physically, mentally, and emotionally. Creating a self-care habit might not directly help you meet your goal of publishing a book but it will make the time it takes to get there a lot more bearable. Try to balance the habits you track in three key areas: physical, mental, and emotional. Here's a list of ideas to add to your habit tracker:
Meditating

Journaling

Yoga

Working out

Reading

Drinking water

Going to bed at a specific time

Practicing a musical instrument

Practicing a language

Taking vitamins

Finishing work on time

No smoking

Cooking dinner at home

Post videos to YouTube

once a week

Making the bed

Calling a friend once a week

No nailbiting
As you can see, you can turn just about anything into a habit. We recommend choosing just two to three habits to get you started. As you become familiar with your habit tracker you can add more. While there's no limit to the number of habits you can track, be sure to keep yourself in check and don't add so many habits that you're overwhelmed.
---
What Are the Best Habit Tracker Apps?
Now that you know the benefits of tracking your habits and have some ideas of what you can track, it's time to choose the best habit tracker app for you. Here are our picks: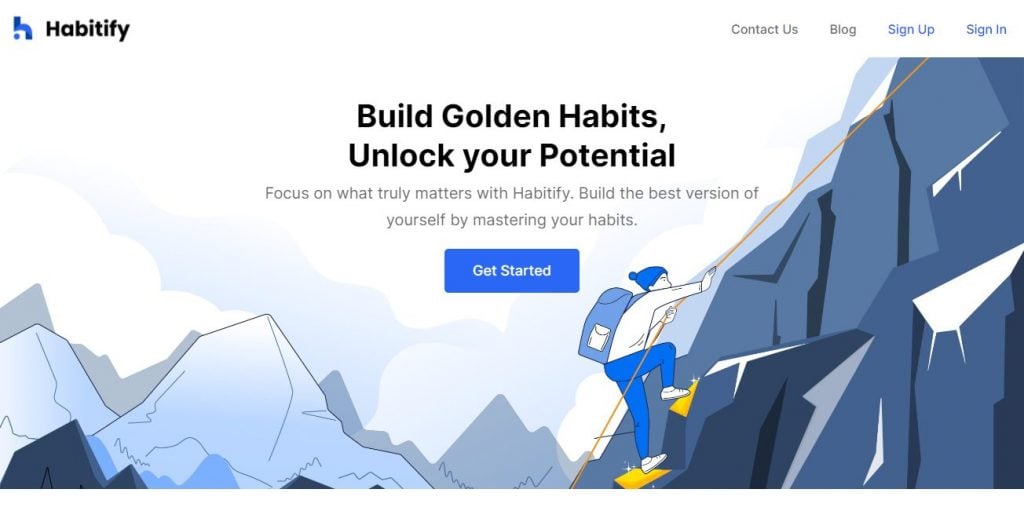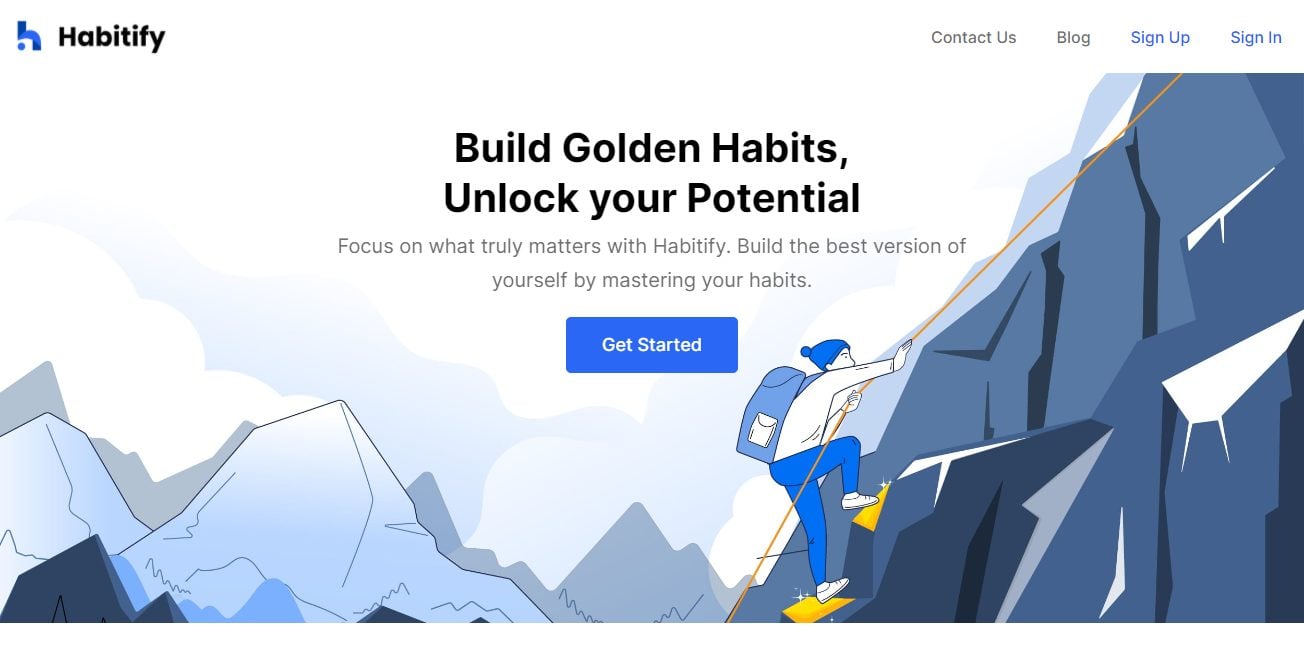 Pricing: $4.99/month, $34.99/year, $64.99/lifetime
Habitify has an easy-to-use interface. You just tell it what you want to track and off you go. The app can notify you to track your habits throughout the day. The app is also data lover's dream and will help you uncover patterns in your behavior so you can reach your goals.
---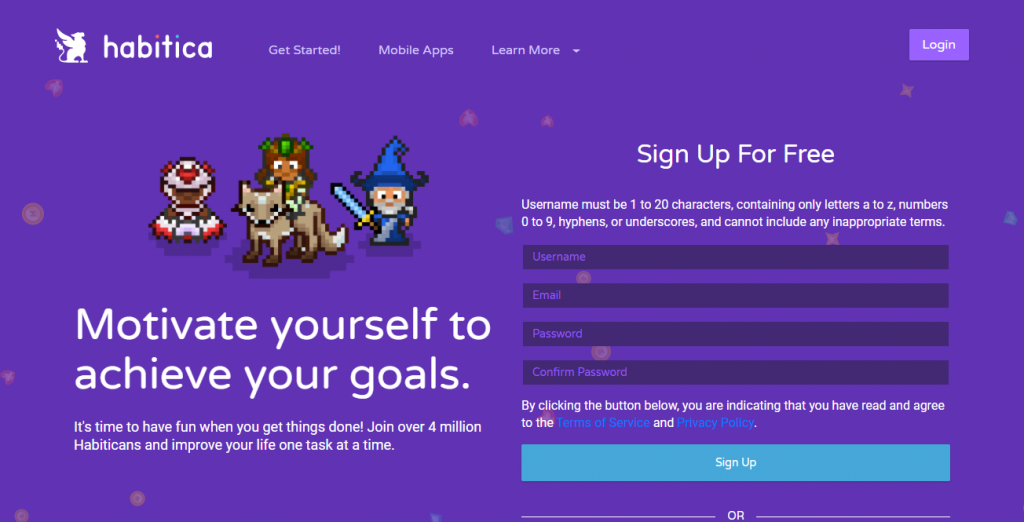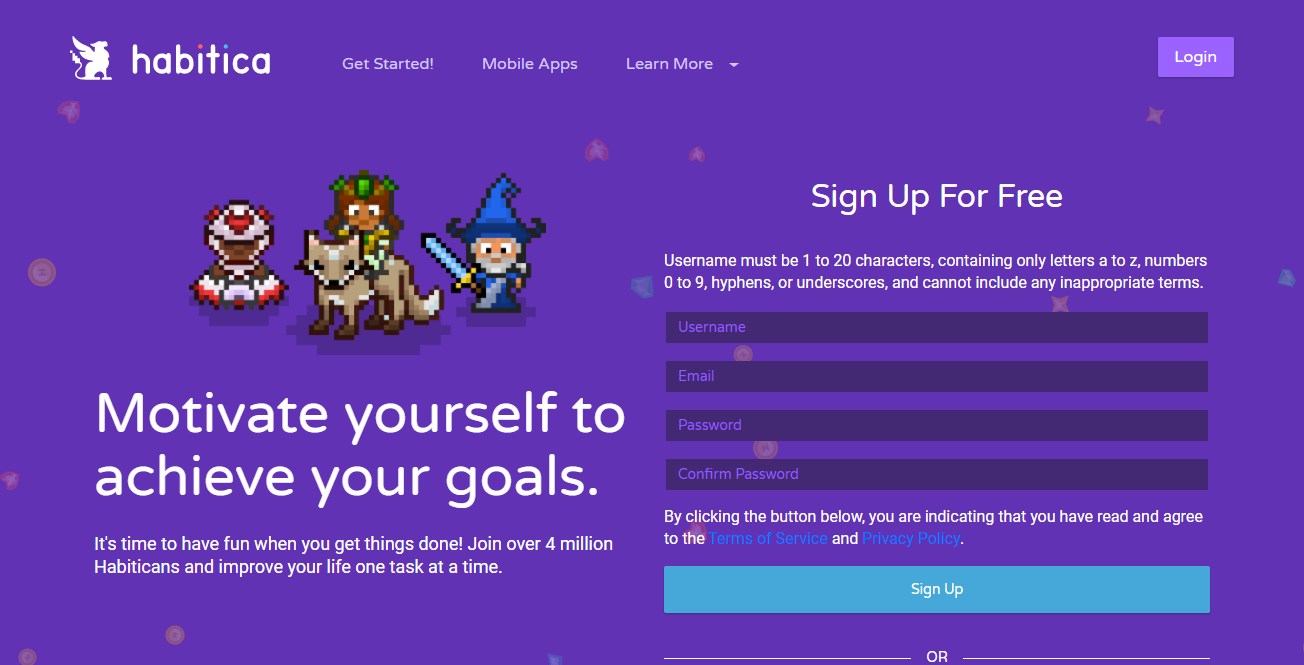 Pricing: $4.99/month, $47.99/year
Habitica is a habit tracker designed as a role-playing game. You create an avatar and has you track your activities, your avatar levels up and earns rewards along with more features. You can connect with friends on the app and battle monsters, all while making progress towards building good habits that will help you reach your goals. If you're a gamer, this habit tracker is worth a look.
---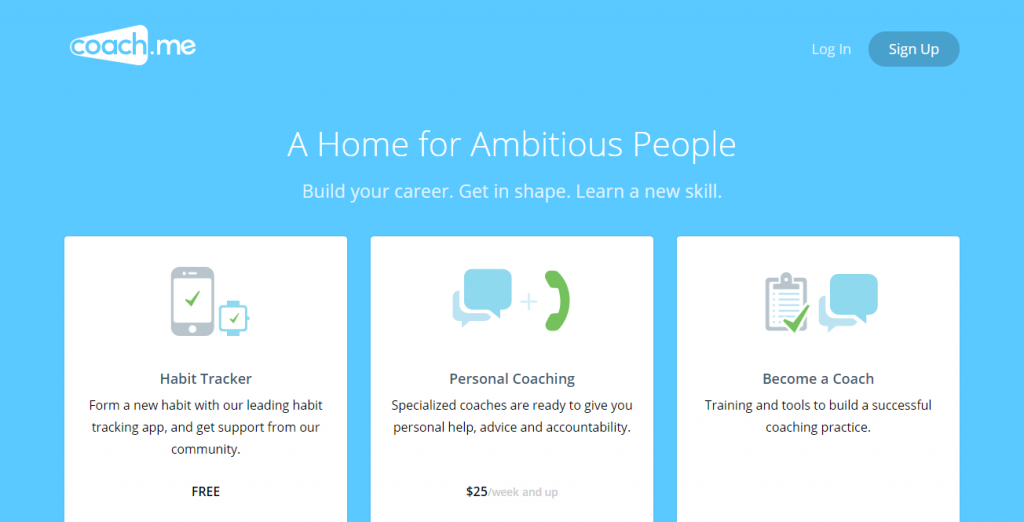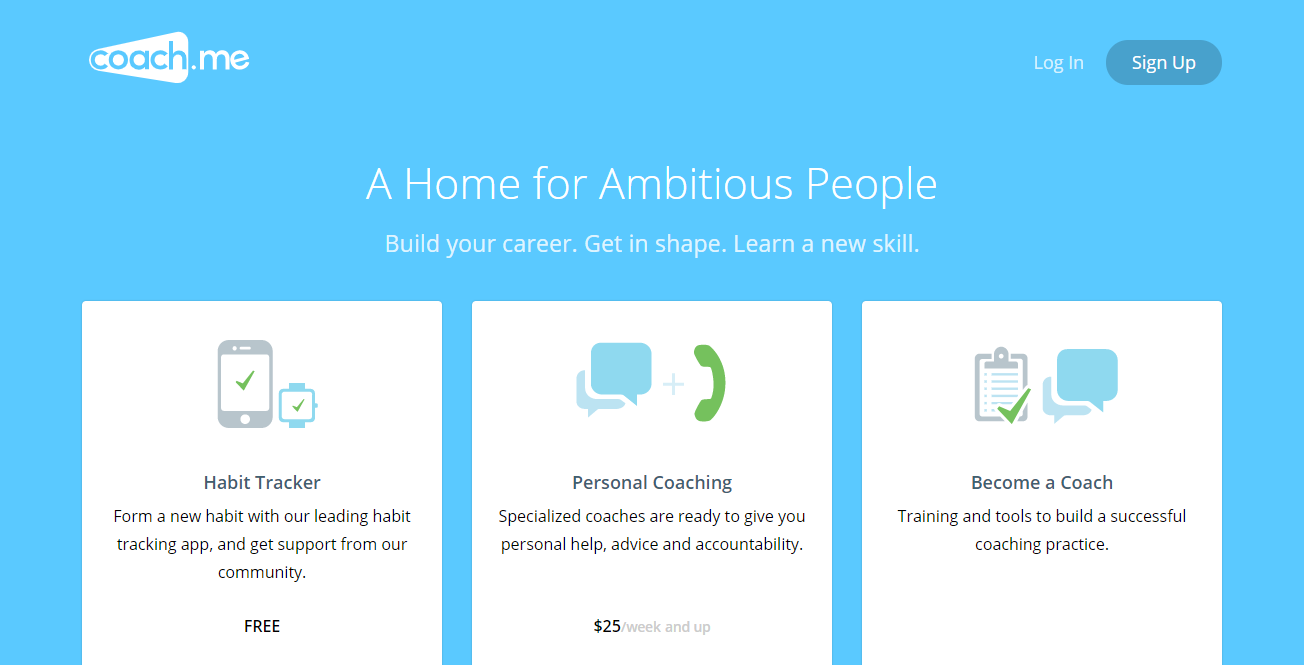 Pricing: Free
Coach.me is a habit tracker app with great community support. The app has specific goals you can choose from. Once you've chosen your goal, you'll be connected to a community of other users all working towards building the same habits and meeting the same goal. If you need some additional help, you can pay to get personalized coaching.
---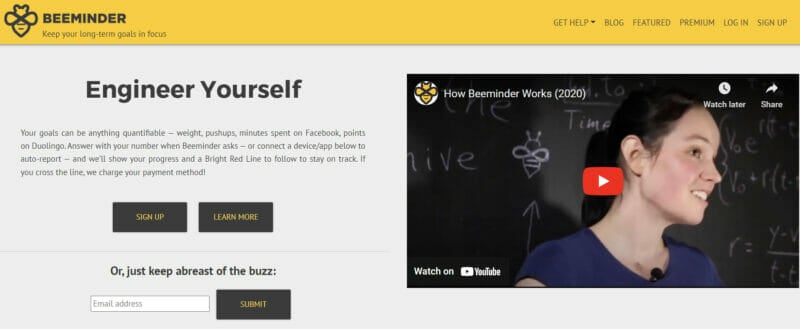 Pricing: Free for up to three goals, premium plans start at $8/month
Beeminder is a habit tracker with a little twist. If you go off track, you have to pay! Talk about motivation. The app also integrates with tons of other apps and platforms like Duolingo, Slack, Fitbit, Zapier, and more. If you're ready to put your money where your mouth is, Beeminder might be just the habit tracker you need.
---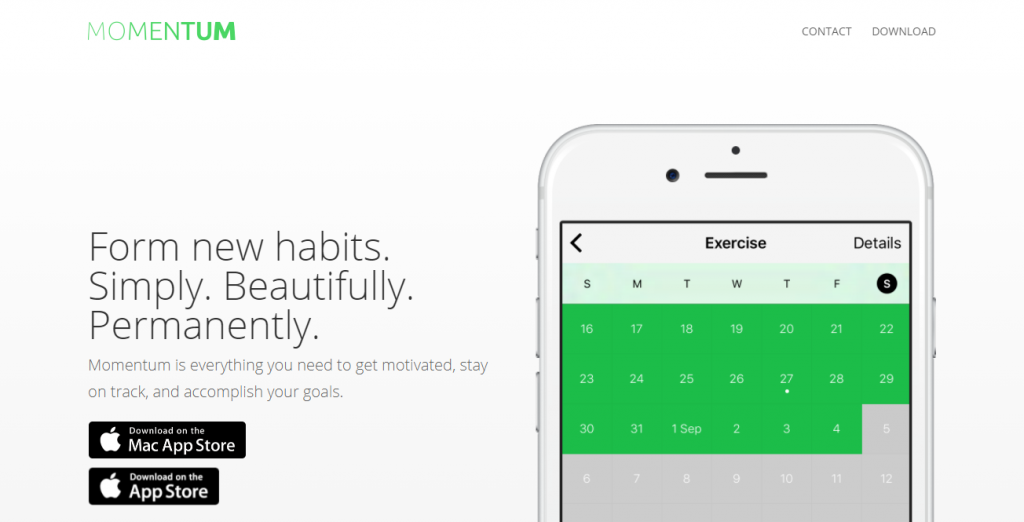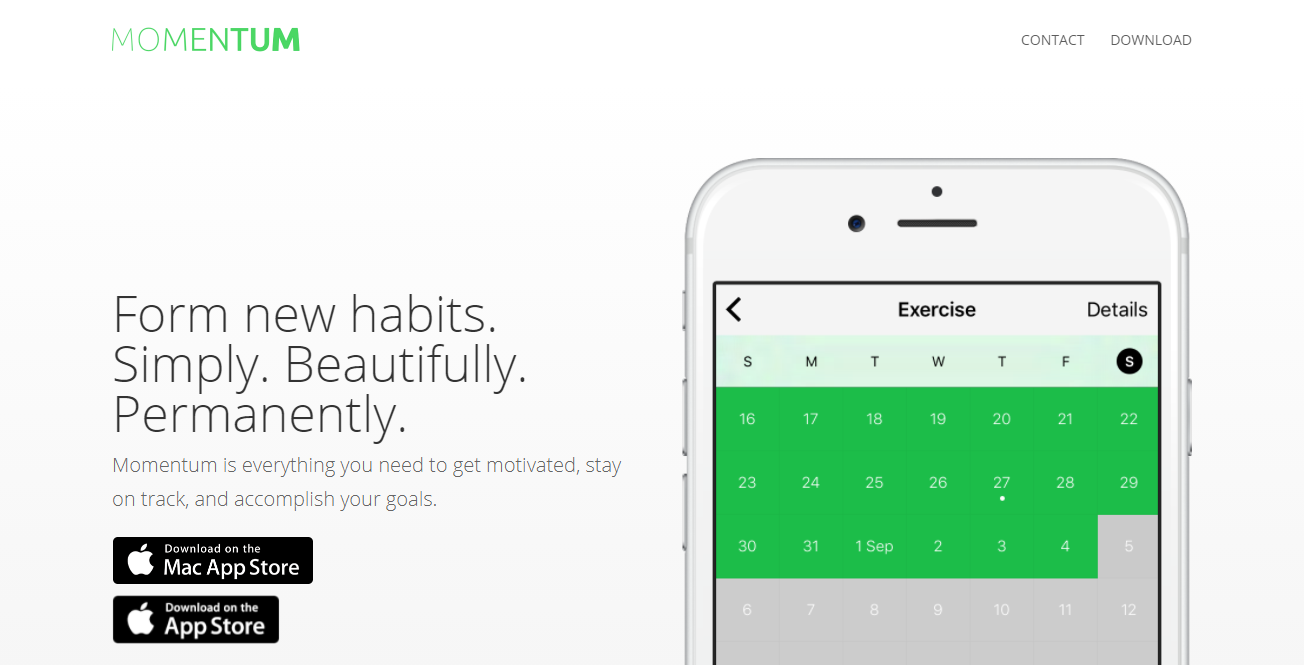 Pricing: $3.33/month
Momentum is a habit tracker app with standard features but that also lets you export your data to Excel if you want to use Excel to manipulate your data and have more control over how you view it.
---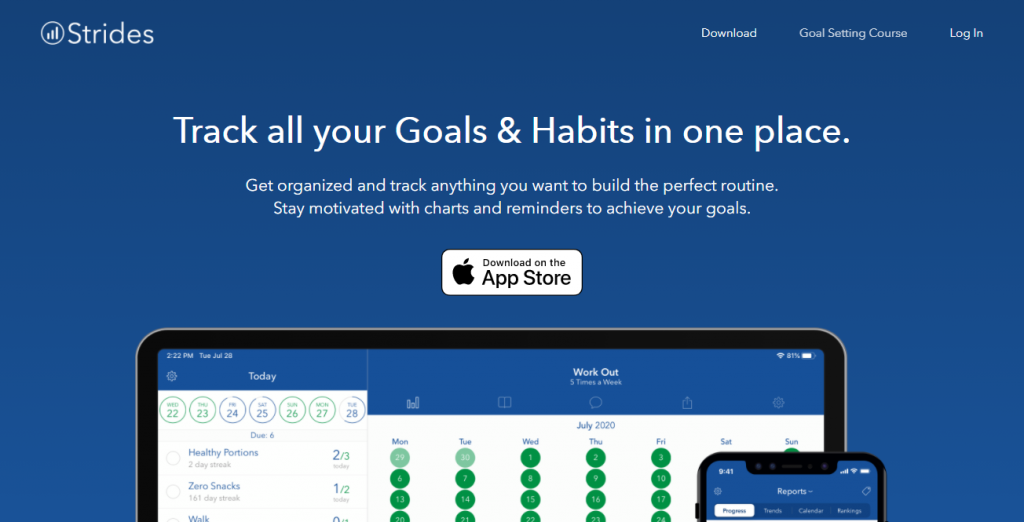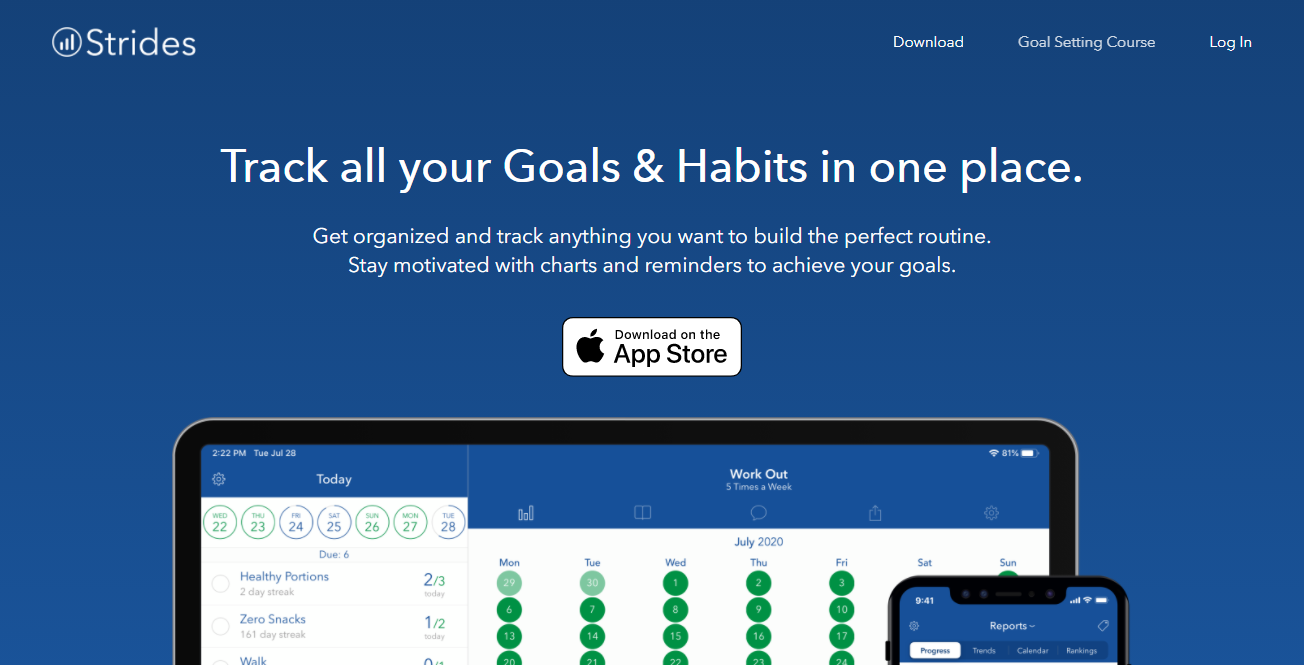 Pricing: $4.99/month, $29.99/year, or $79.99/lifetime
Strides lets users track by target, habit, average, or milestones, giving you flexibility in the way you track your habits. Tracking by average is a cool option that lets you set an average for habits that you want to track but might not need to do on a daily basis as well as set streak goals (for those 30-day challenges we all love so much).
---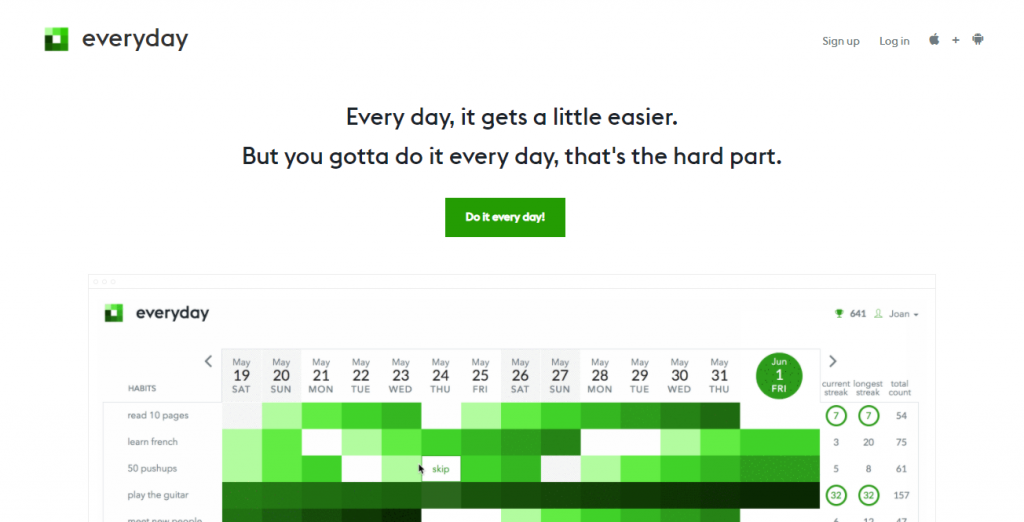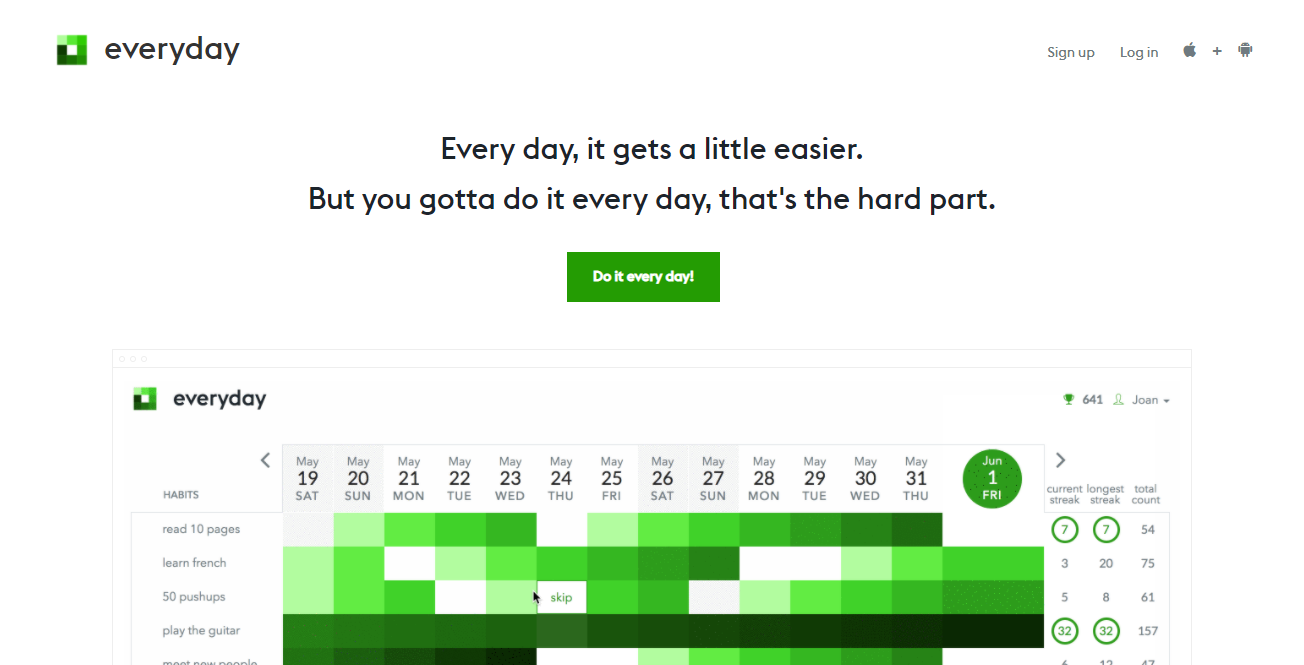 Pricing: Free for up to three habits, premium pricing starts at $2.5/month
Everyday is an easy to use, intuitive habit tracker offering a visual dashboard and tracking chains that make it more likely you'll stick with tracking as you get more days in a row.
---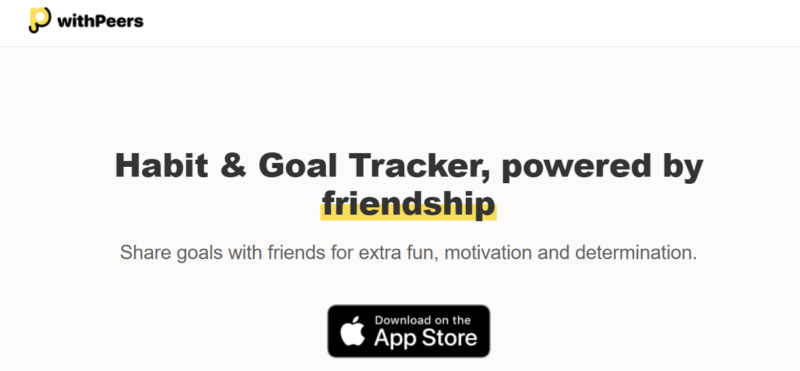 Pricing: Free to use
WithPeers is a habit tracker for those who want to track habits and goals with friends. You and your friends can form a group that lets you check each other's progress and hold your friends accountable for maintaining positive habits. This can be a big motivating factor for many people.
---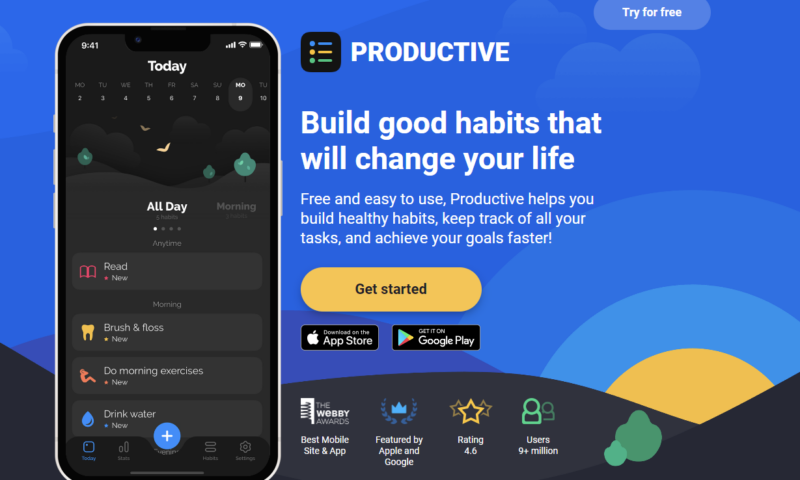 Pricing: Free to use, you can upgrade for $3.99/month and $23.99/year
Productive is a simple habit tracker that lets users create new habits that are easy to follow. You can also create a schedule for morning, afternoon, and evening. The app shows you visual streaks so you can stay motivated about your progress.
---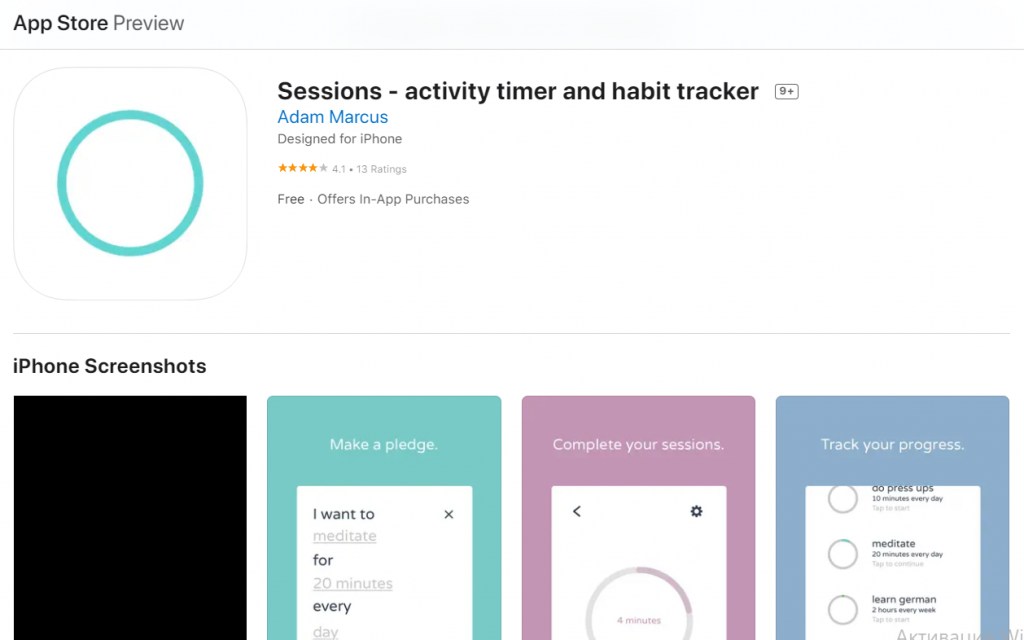 Pricing: $0.99
Sessions is a personal timer habit tracker app. You enter goals, or pledges, telling the app how much time you will devote to your habit each day. The app will then send you reminders until you reach your number of pledged minutes.
---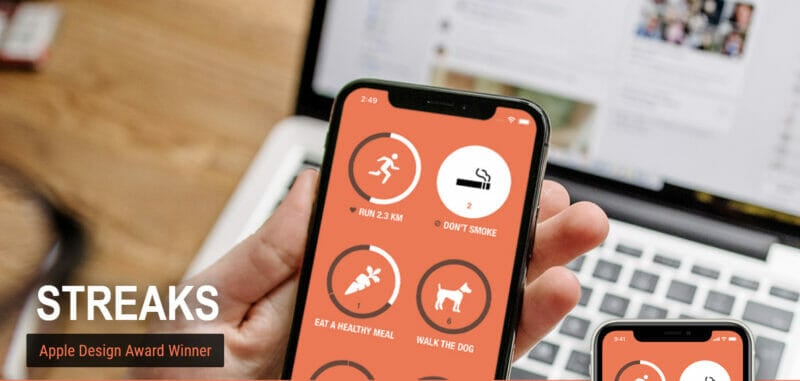 Pricing: $4.99
Streaks is a habit tracker that works like a chain. It gets longer the more you successfully track your progress but reverts back to zero if you miss tracking. To get started, choose up to six things you want to become a habit and set how often you want to do them each week.
---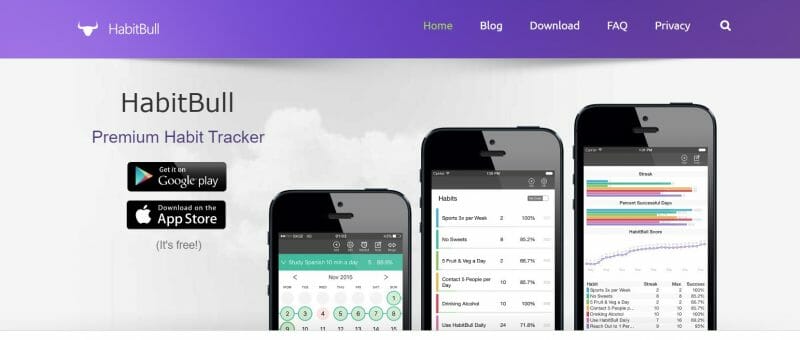 Pricing: Free to use, premium plans start at $4.99
HabitBull lets you build or break habits. You can track multiple habits and each gets its own calendar that can be integrated into Google Fit. HabitBull increase inspirational quotes to help keep you motivated.
---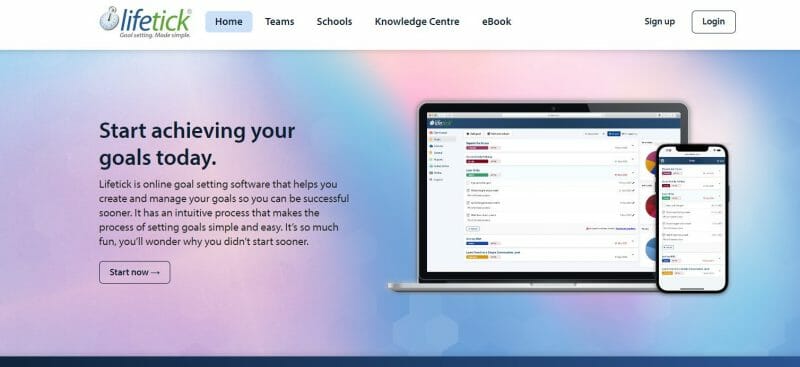 Pricing: Free up to four goals, premium plans start at $20/month
Lifetick is a web-based habit tracker that can be used by both groups or individuals. It includes charts, journals, status widgets, and more to keep you on track to build strong habits and meet your goals.
---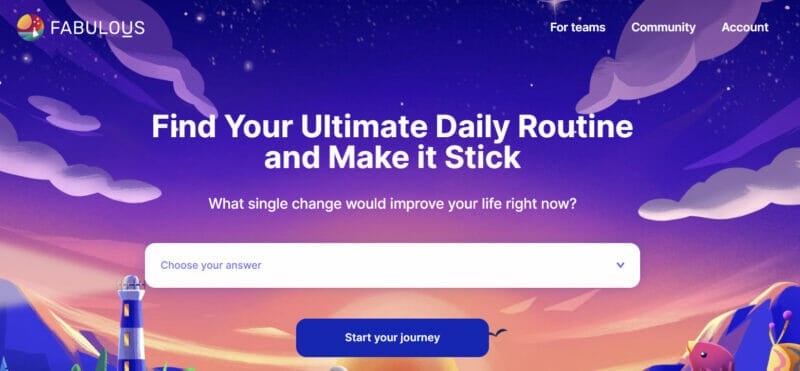 Pricing: One week free, then $49.99/year
Fabulous claims to help you transform your life in just 19 days through evidence-based coaching. The app seeks to help you focus, lose weight, increase your energy levels, and sleep better by building routines and healthy habits into your daily life.
---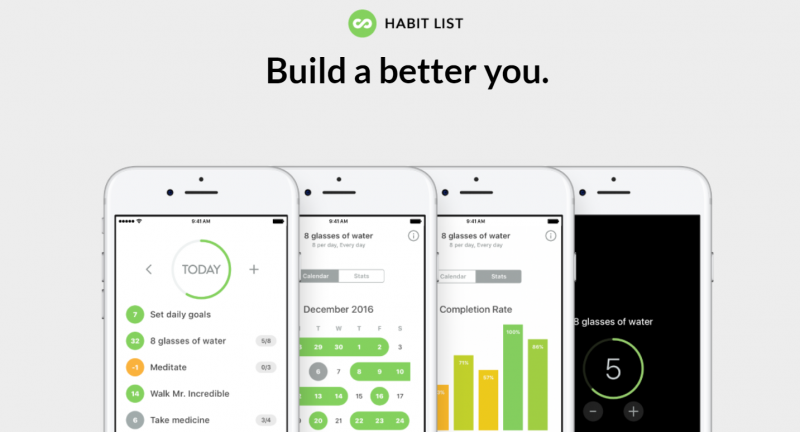 Pricing: $4.99
Habit List is a habit tracker that provides weekly and monthly completion reports so you can easily track the progress you're making towards your goals. The indicators are color-coded, making it easy to see your status at a glance.
---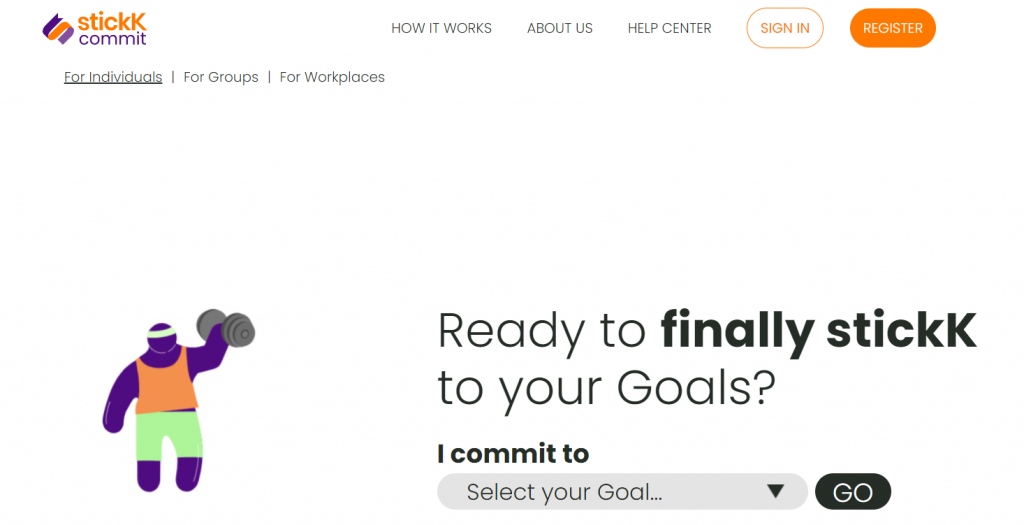 Pricing: Free-ish, you bet on yourself after setting your goal
StickK is a habit tracker that was created by behavioral economists from Yale University and is based on the idea that people are more committed to a goal when money is involved. With StickK, then, you can decide on a goal then bet on yourself. You can even bring in friends and family to provide accountability.
---
17. Pen and Paper (not an app!)
Some people just don't do well with habit tracker apps. But that doesn't mean that those folks can't set goals and track their habits using plain pen and paper. You can use whatever kind of paper you like, though we recommend using something you can keep track of like a notebook. Your habit tracker can be as simple or involved as you want it to be. Some people create elaborate spreads, using colored markers to create a visually appealing tracking system. Others just write down the habits they want to track in a simple grid and check a box when they've completed their habit work for the day. Neither way is the "right" way to do it.
The beauty of using a pen and paper to track your habits is that you can make it whatever you want. If you want to track habits daily along with notes about the day itself, do that. If you want to transfer your daily tracking into a visual representation at the end of the month, do that. You're only limited by your imagination.
If you're a fan of bullet journal tracking systems, you'll find an enormous community online where people share their own habit tracking spreads that you can then adapt for your own needs. Here's an example of miniature habit tracking tools we've seen:
---
Meet Your Goals Through Stronger Habits
If you're new to habit tracking, start with something easy, like drinking eight glasses of water each day. Once you've developed the habit (oh, the irony) of tracking that habit, add in more habits—the ones that are really going to make a difference in your success with achieving your goals. Make sure that you start small and only commit the amount of time you can. If you only have five minutes a day to practice Spanish, don't set a goal to develop a 30-minute daily practice. Spreading yourself too thin is only going to hurt your motivation.
Finally, be patient with yourself. If you're trying to build a new habit, it's not likely that you're going to do it successfully every day, without fail. It takes time and effort to build new habits or break ones you don't want. As you continue working at it, it will become easier to track. And, over time, your progress will add up to big differences.
Frequently Asked Questions
What is the best expert-recommended habit tracking app?
The best habit tracker apps include:
Habitify

Habitica

Coach.me

Beeminder

Momentum

Strides

Everyday

WithPeers

Productive

Sessions
What is the best free habit tracker app?
The best habit tracker apps include:
Habitify

Habitica

Coach.me

Beeminder

Momentum

Strides

Everyday

WithPeers

Productive

Sessions
Is the done habit tracker app free?
After setting tangible daily, weekly or monthly goals, the Done habit tracker app can help you track your daily activities and tell you when you meet your goals. Done will keep track of consecutive days where you meet your goals. The free version of Done lets you create 3 habits or goals.
Are habit apps effective?
Habit apps can work, experts say, but only if you actively monitor the data from the habit tracking app each day – and analyze how you can use it to change. People are less likely to develop new habits if they can't pay attention to them.