Have you ever felt that a picture or Story that you want to share with your friends would just come alive if you could add a song to it? Wouldn't it be nice if your friends and followers could not just read or see your Story, but get a better experience by listening to an apt song for the mood?
If you said, "yes," then there's good news for you because Instagram now provides that option. You can now add music to your Instagram Stories and make them really come alive.
Moreover, 60% of people watch Instagram Stories with the sound on. So, adding music to your Stories will definitely make them more interesting and well-liked by your followers.
So, if you want to learn how to add music to Instagram Stories, then this is the post or you. In this post, we will tell you everything that you need to know about Instagram's music sticker feature. We will also discuss other ways of adding music to your Stories, in case you don't have the music sticker feature yet.
How to Add Music to Instagram Stories:
---
Add Music to Instagram Stories Using the Music Sticker
Instagram launched their Music sticker in 2018, which made it easy for people to add music to their Instagram Stories. This works like any other sticker available for Instagram Stories and is fairly easy to use.
However, if you don't know how to use this sticker to add music to your Instagram Stories, then don't worry, we are here to help you.
Here is the step-by-step process of adding music to your Instagram Stories using the Instagram music sticker.
Go to the Instagram Story creation interface.
Add an image to your Story, as you normally do.
Click on the stickers icon to see all the stickers available.
Click on the music sticker.
Search for the song that you want to add to your Story.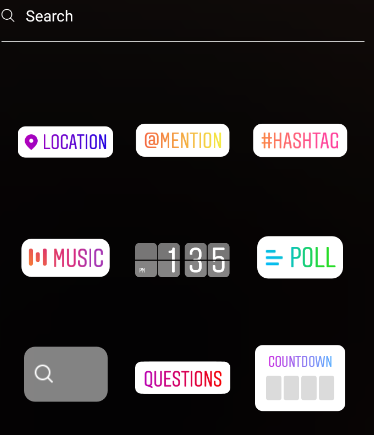 The default screen will show a list of popular songs that can choose from.

Or, you can choose to use the search bar and find the exact song that you want to add.

You also have an option to browse songs by mood and by genres, making it easier to find the best song for your Story.

You can also get a preview of the song before adding, by clicking on the play button that is shown next to each song.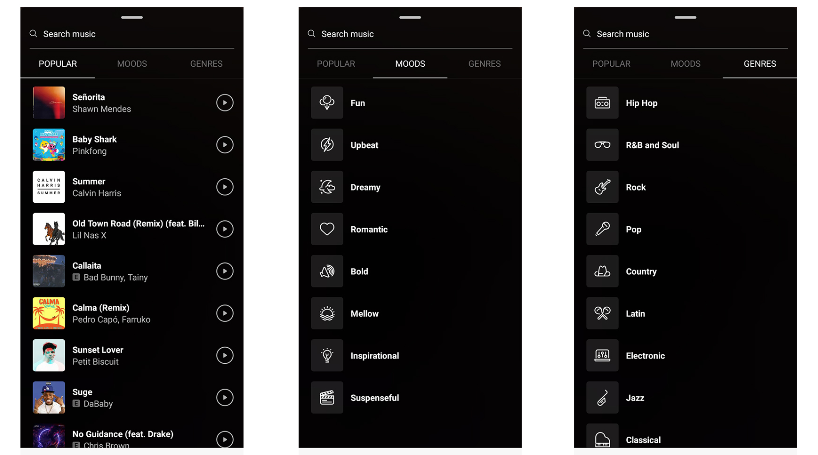 Select the song that you like and add it to your Story.
Also, once you make the song selection, you will be directed to another screen where you can select the length of the song and make customisations to how it would appear in the Story. The length selection panel appears like a sliding scale where you can slide to select the starting point. Depending on your chosen duration and starting point, a clip will be added to your Story.
Remember that you can add only a 15-second clip of the song because that's the duration for which each Instagram Story is displayed. So, ensure that you select the lines that are most relevant for your post.
You can even listen to the part of the song that you selected and see the lyrics for the same. So, select your preferred portion of the song and add music (and flavour) to your Instagram Story.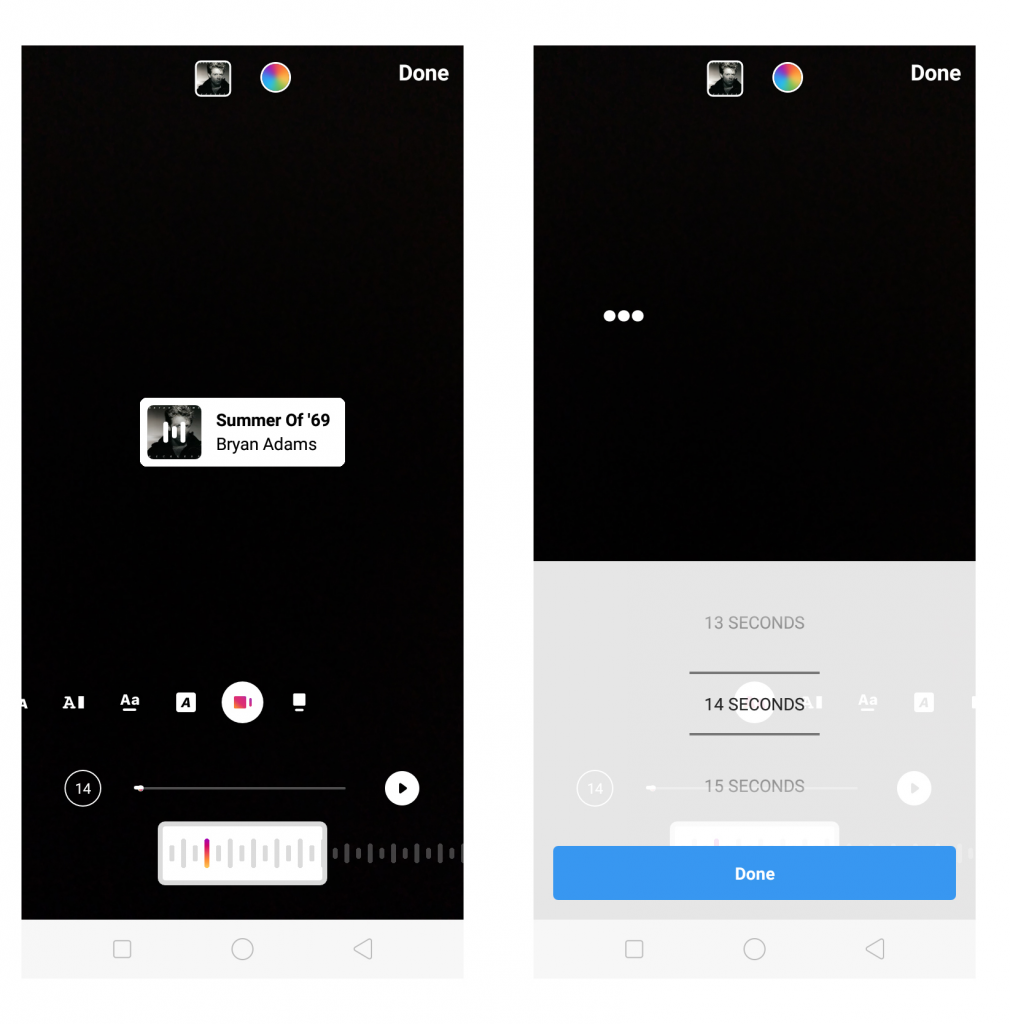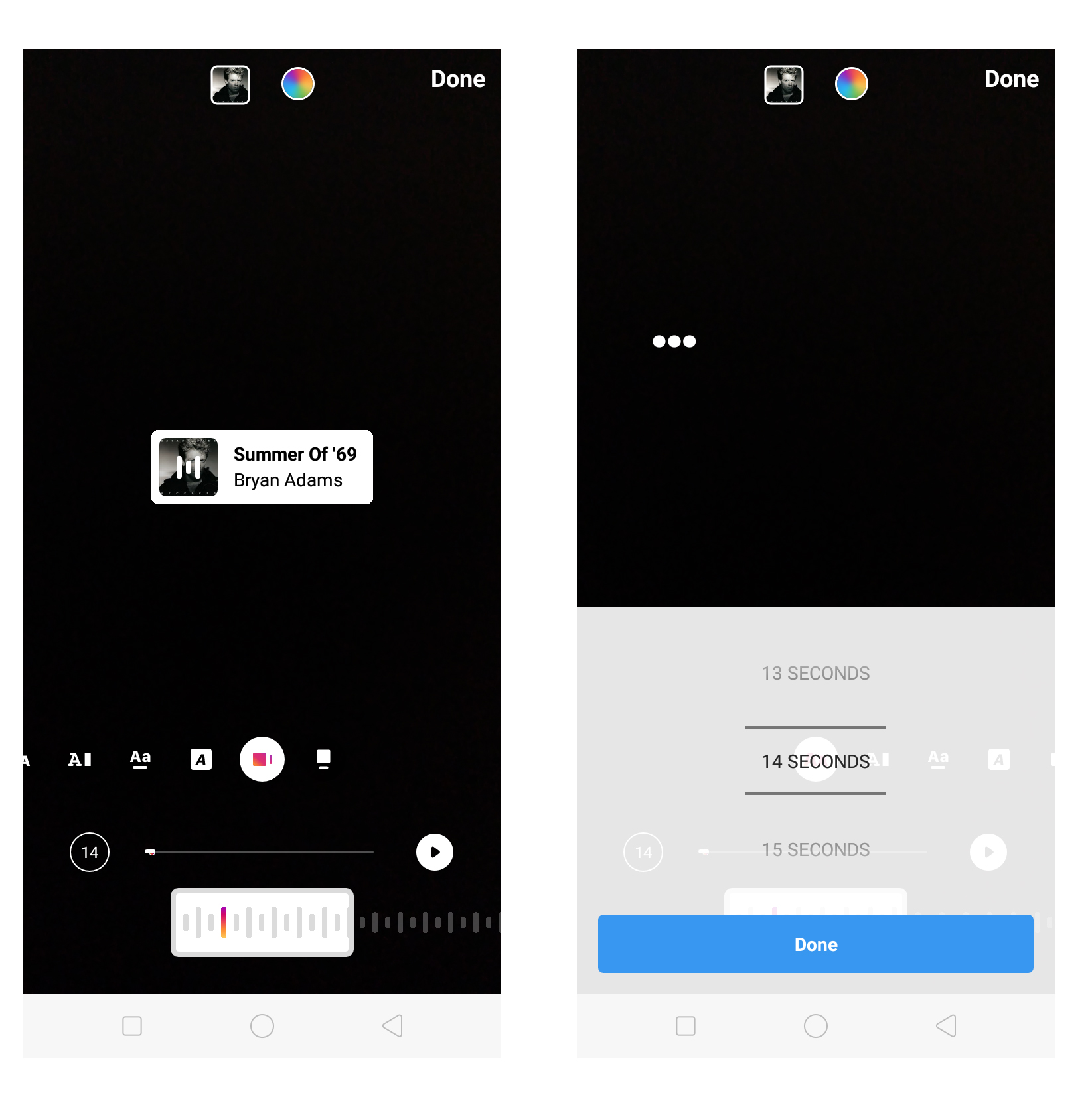 The selected song will appear as a sticker on your Story.
Also, this was just one of the two ways of using the Instagram music feature. You can also take the other route and go to the "music" tab right at the start while creating your Story.
When you create a Story, you see some options at the bottom of the screen, such as normal, live, boomerang, etc. You can find and select the "music" option from there and go through the same process mentioned above, to select and add a song.
Customisations Available for the Music Sticker
You can not just add music to your Instagram Stories, but also select how you want it to appear in the Story. You can choose to show the lyrics of the song in your story or make it appear like a music player. You can even customise the look of these lyrics and players.
Here are some of the customisation options for selecting the appearance of the music sticker on your Story.
Font Style
You can choose a font style from the given list of options to change the way a song's lyrics appear in your Story. These font options are available at the bottom of the screen and appear as shown below.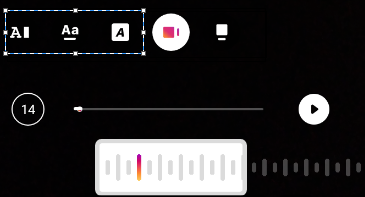 Type of Display
You can choose whether you want to show the lyrics of the song or a music player. Even with the music player, there are two different options that you can choose from. A small player with the name of the song and singer highlighted, along with a small thumbnail picture. Another one is a bigger player where the picture is highlighted and the names appear in small font below the picture.
Colour
Another customisation option that you get is to select the colour for the lyrics. Even when you choose the player as your display option, the background colour can be changed.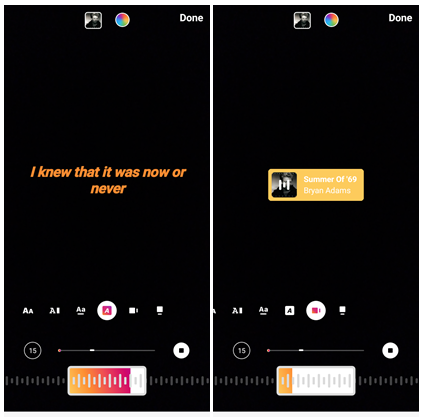 So, play around with these customisation options and create a music sticker that you like, along with adding the actual music clip to your Story.
Instagram has been expanding their music library and there will be more songs for you to choose from in the future. So, enjoy this cool feature and add flavour to your Instagram Stories.
Can't Find the Music Sticker on Your Instagram?
If you can't see the music sticker in your Instagram yet, then that probably means that you're in a country where this has not been rolled out yet. Instagram has launched this feature only in a few countries, so not everyone yet has access to this feature.
This feature was launched in 2018 and the US, the UK, Australia, Sweden, New Zealand, France, and Germany were the first countries to get it. However, they didn't announce when other countries can expect it.
However, this will be launched worldwide, eventually, so all you have to do is wait for this to be launched in your country.
Till then, you can use other ways to add music to your Instagram Stories as detailed in the next section.
---
Add Music to Instagram Stories Without Using the Music Sticker
The easiest and most obvious way of adding music to your Instagram Stories is by creating a video with music in it and adding it to your Story. You can share videos with music in it simply by adding it to your Instagram Story.
There are numerous tools available that allow you to make videos with music in it. If you want to use this option, remember to keep your videos less than 15 seconds long. And, another best practice to follow while uploading videos with music is to add the "Sound On" sticker that lets people know that the Story has sound in it.
Add Music From External Services
Apart from this, there is always the option of adding music to your Instagram Stories directly from a third-party music service.
There are several services like Spotify, SoundCloud, Shazam, etc. that have a vast collection of music where people can listen to songs and share. These also provide an option to share music on Instagram Stories. So, you can use any of these services to add music to your Stories.
From each of this platform, you simply have to find a song that you want to share and from the sharing options you choose "Instagram Stories." The music will appear in your Story, along with the cover image of the song. And, you can add stickers, text etc. to customise your Story, just like you normally do.
And, after your Story is posted, it will actually act as a link back to the app. So, anyone who clicks on it will be directed to the app or service from where the music was shared.
One thing to remember though is that this works only from the mobile apps and not from desktop. Instagram has a lot of limitations and restrictions when it comes to sharing content from the desktop, as it is essentially a mobile app.
---
Conclusion
Adding music to your Instagram Stories makes these more interesting for your friends and followers. You can convey the mood, story behind a picture, or simply share a song that you like with your followers. Now you know exactly how to add music to your Instagram Stories, with or without the music sticker. So, use this post as a guide to create fun and engaging Stories to delight your audience.