Instagram is one of the most popular social media platforms today, with a massive user base of over 1 billion monthly users.
It has always been a visual platform where people can share pictures or videos. And, anyone who follows an account can see the posts and Stories from that account.
However, Instagram has certain limitations when it comes to downloading or reposting content. You can share most of the content as your Story, but you can't exactly repost it from Instagram itself. The sharing options are also quite limited as you can only share a link to the post on any other app or platform.
But, there is a loophole. There are tons of third-party apps that allow you to download images or videos from Instagram and do whatever you want with them.
In this post, we will provide a list of some of the best tools that you can use to download videos from Instagram. We will also discuss why it is useful to download videos instead of just saving them.
---
How to Download Instagram Videos:
---
Why Download Videos from Instagram?
There are primarily two reasons why you may want to download a video from Instagram. The first is to watch it later and the second is to repost it.
Watch Offline
Have you ever seen an interesting video on Instagram but when you tried to find it later, it was nowhere to be found? It may be because it was a Story that got deleted after 24 hours. Or, maybe, you saw an ad in your feed that you have no idea how to find again. It could also be because the person who posted it deleted it.
Whatever the reason may be, you may not be able to find something that you watched on Instagram and liked. This is where the need to download the video arises. If you can somehow download and store the video on your phone or desktop, then you can watch it anytime you like.
Instagram also provides the option to save videos to watch later. It is like a playlist that is curated by you that can be accessed from the Instagram app later. However, this is strictly for viewing a video later, but you can still not repost it from there.
Repost
Another key reason why you may want to download Instagram videos is to be able to post them yourself. Instagram does allow the option to share video posts or IGTV videos to your Story, but not as a post on your Instagram feed. This is very limiting as a lot of people want to repost videos instead of just sharing them as Stories.
This is where downloading Instagram videos can help you. Then you can share your downloaded videos anywhere you like. And, some tools also provide you with the option to download and repost videos without any watermark. This means that you can take any video from Instagram and repost it without any hassle.
---
Types of Instagram Videos
There are essentially three types of videos on Instagram that you can download—Stories, IGTV videos, and video posts.
Stories
Instagram Stories provides the option not just to share images, but also short video content. You can post 15-second videos as Stories and can even share one long video in several 15-second Stories as a Carousel. A lot of people use video Stories and if you like any of them, you can always save those for future use.
IGTV
IGTV is Instagram's video-sharing platform where you can post longer videos. The minimum length of IGTV videos is 10 seconds and the maximum is 15 minutes for most accounts.
However, larger, verified accounts can post videos that are up to 1 hour long. So, this is the only type of Instagram videos that are long.
This is a place that is exclusively meant for videos and is a goldmine if you're looking for cool videos to watch and share.
Posts
Another place where you can find videos on Instagram is your daily feed. Instagram allows users to add both images and videos to their posts. The videos shared via posts can be 3 to 60 seconds in length.
---
Tools to Download Instagram Videos on Desktop
There are several tools available online that you can use to down Instagram videos from desktop. Here are some of the best options:
This is an extremely simple-to-use service that lets you download Instagram videos in two easy steps.
First, you paste the URL of the video that you want to download in the box right on their homepage. Second, you download the video from the download option that is clearly visible on the page that opens, as shown below.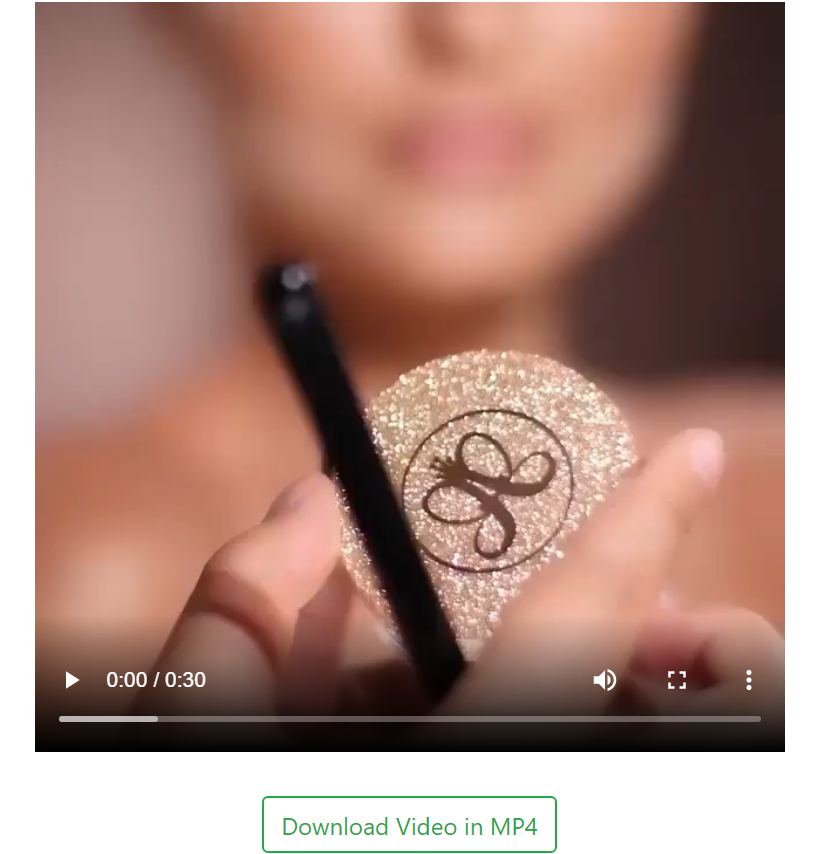 ---
This is another similar service that lets you download any Instagram video with ease. The process is similar to the previous one and you simply have to copy-paste the URL of the video that you want to download.
Here's what the interface looks like: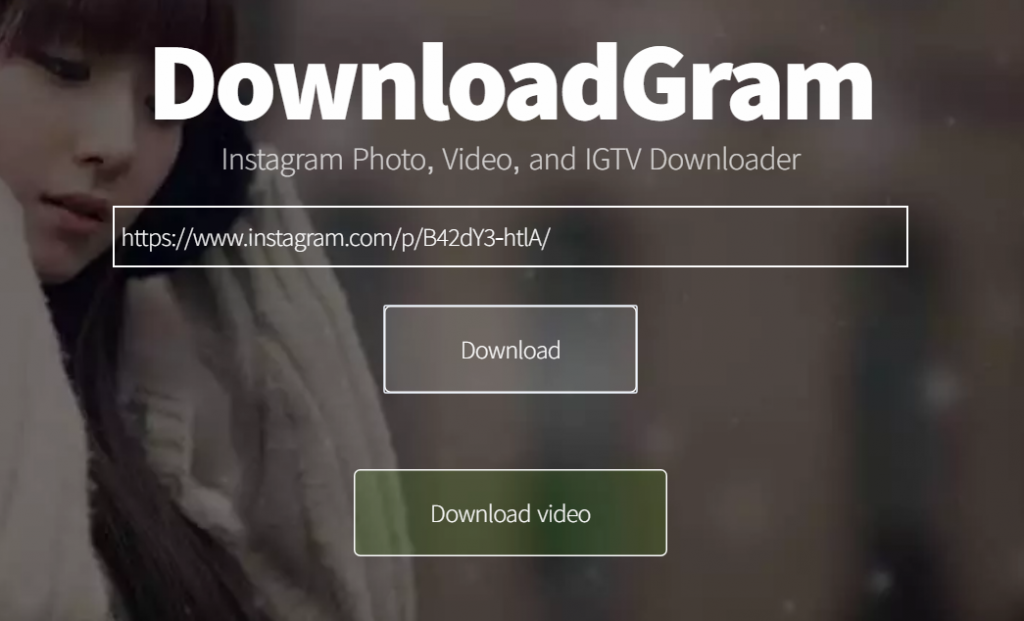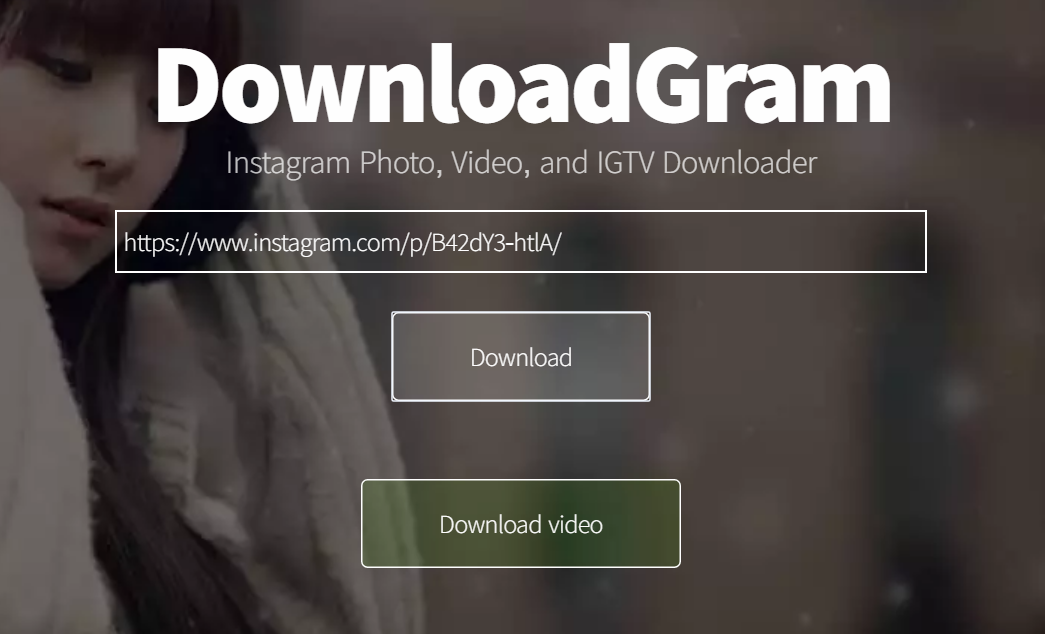 As soon as you paste the URL and click on "download," another download button will appear that you can use to actually get the video.'
---
This is an online service that lets you download IGTV videos from your desktop. It works in the same way as any other tool mentioned on this list, simply by copy-pasting the video URL.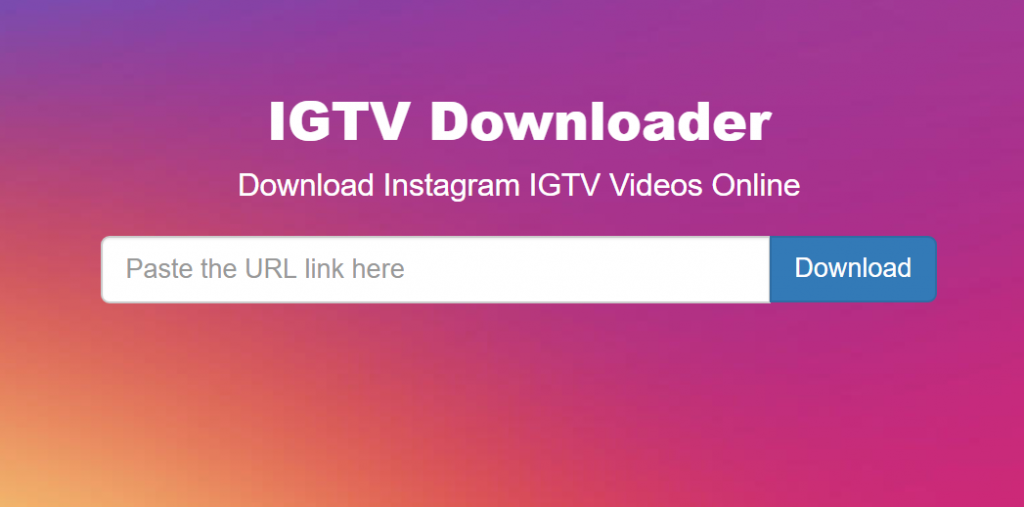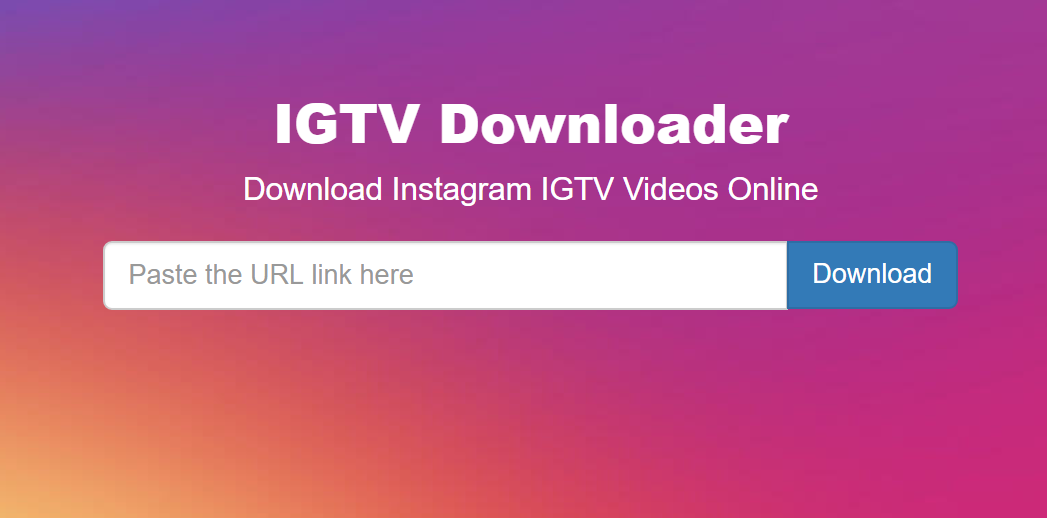 ---
Bonus Tip: Download Videos Using a Chrome Extension
Apart from using third-party apps or online services to download videos from Instagram, you can also use a Chrome extension. DownAlbum, for example, is a Chrome extension that lets you download Stories, images, and videos directly from the Instagram app.
Unlike other options listed in this post, where you have to leave Instagram and go to another platform, this allows a direct download from Instagram.
Simply add the Chrome extension to your browser and you will start seeing a download option right there on every post or IGTV video.
Here's one example where you can clearly see the download options right on the Instagram interface.
---
Apps to Download Instagram Videos on Mobile Devices
Just like the services mentioned above, there are options available for downloading Instagram post videos on mobile as well. These mobile apps let you download Instagram videos from a post, directly onto your phone.
Here are some of the options for you to try:
This works in a similar manner as the tools mentioned for downloading on desktop. You have to copy the post URL and paste it in the app to download it. You can also use this app to repost Instagram videos.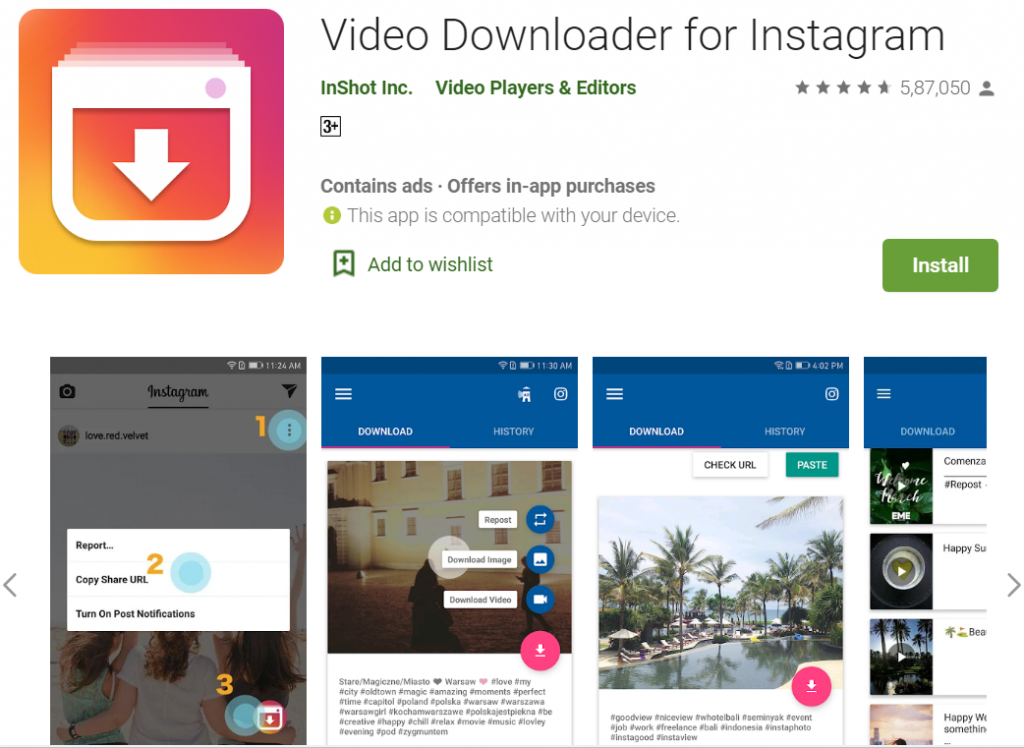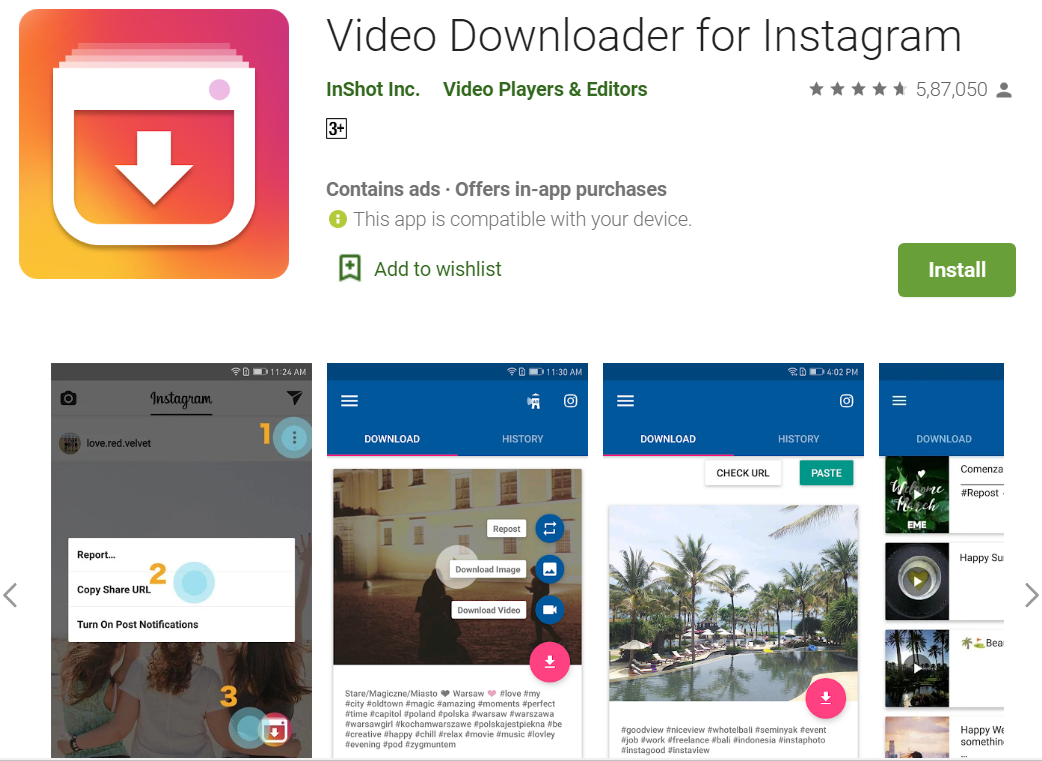 ---
This is one of the most popular options for iOS users. Using this app you can repost any Instagram video posts without any watermark. Simply copy-paste the URL in the app, preview it, and repost.

Regrammer is also available for downloading videos from the desktop and works just like the services mentioned in the previous section.
This app also works for downloading Stories and IGTV videos. Therefore, if you want an all-in-one app that you can use to repost any type of video from anywhere on Instagram, then this is the one for you.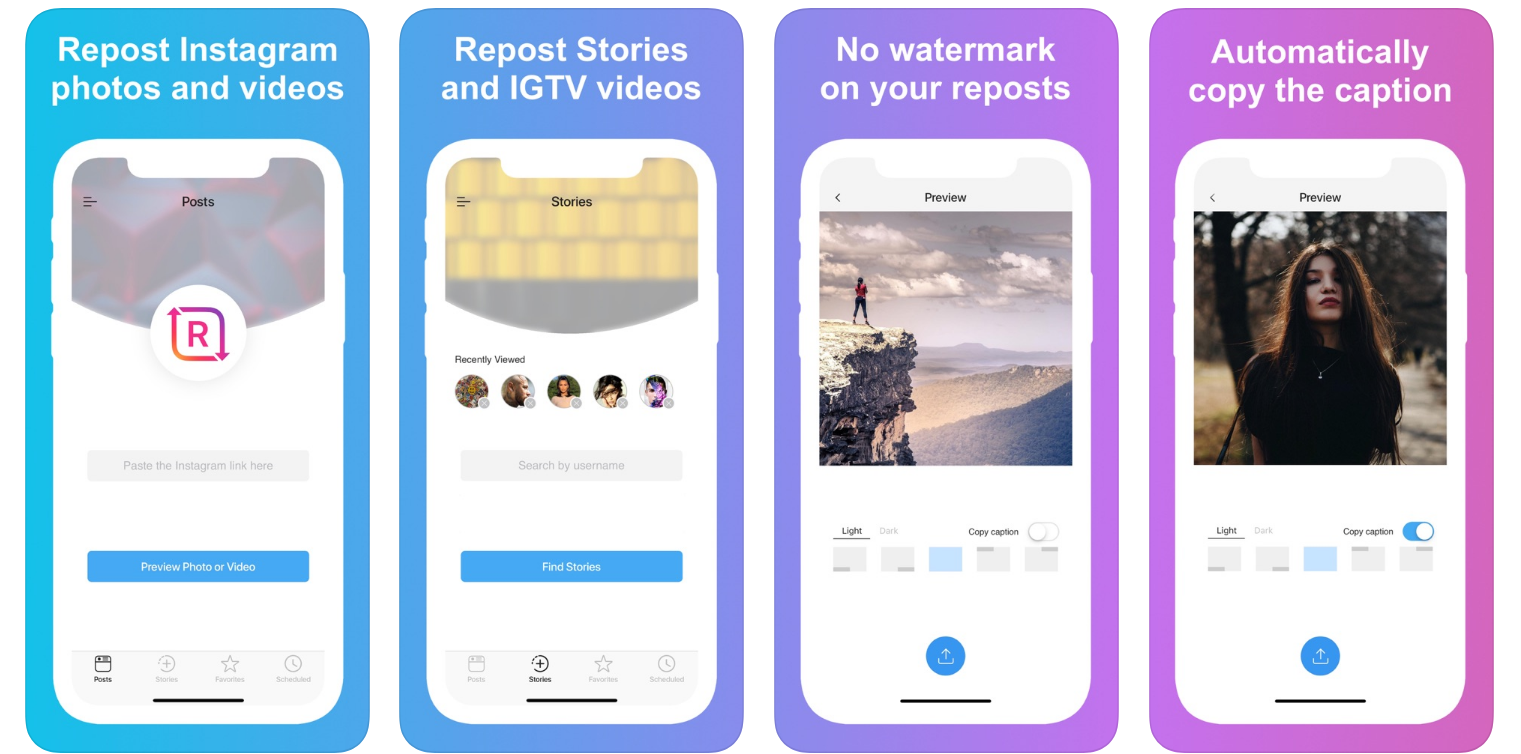 ---
This is another useful app that you can use to download and repost Instagram post videos. One added benefit of using this is that it allows the bulk download option. This means that you can download multiple photos or videos at once.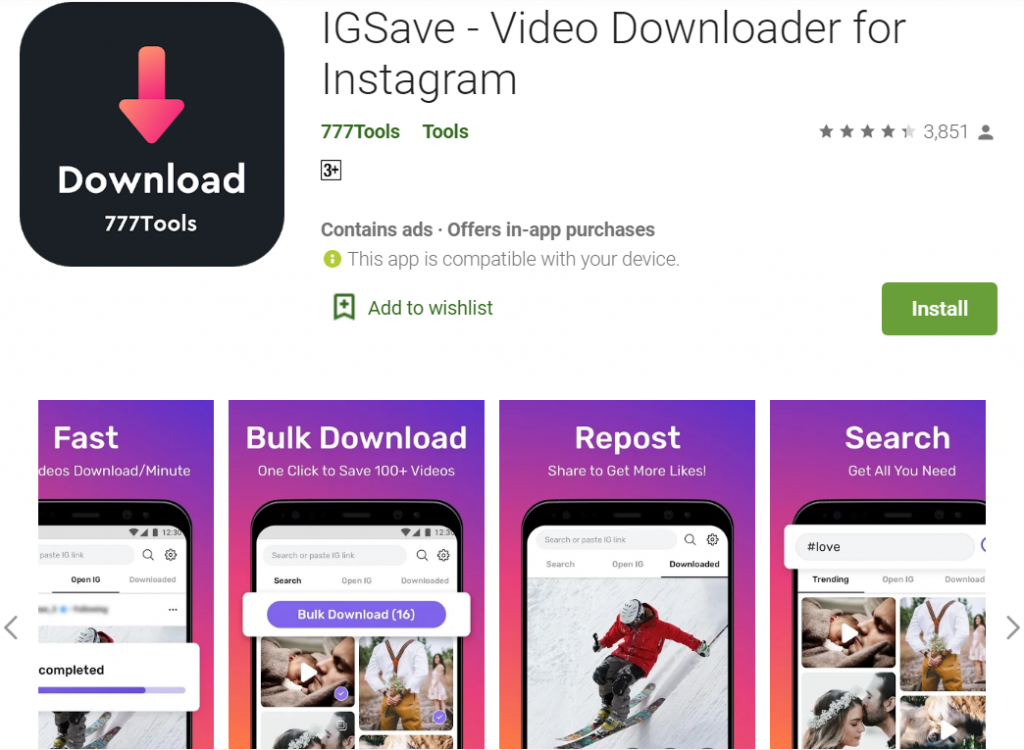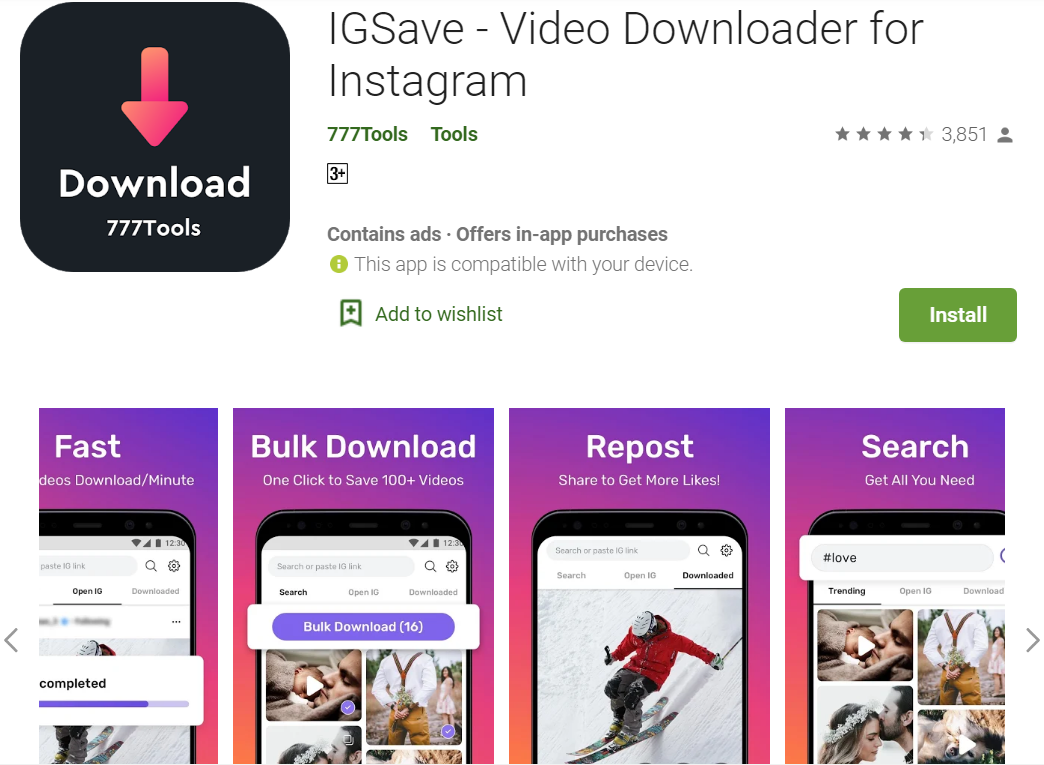 ---
As the name suggests, this app lets you save Instagram videos for offline viewing. It is a quick and easy way to download any type of video on Instagram. And, you can always repost them later.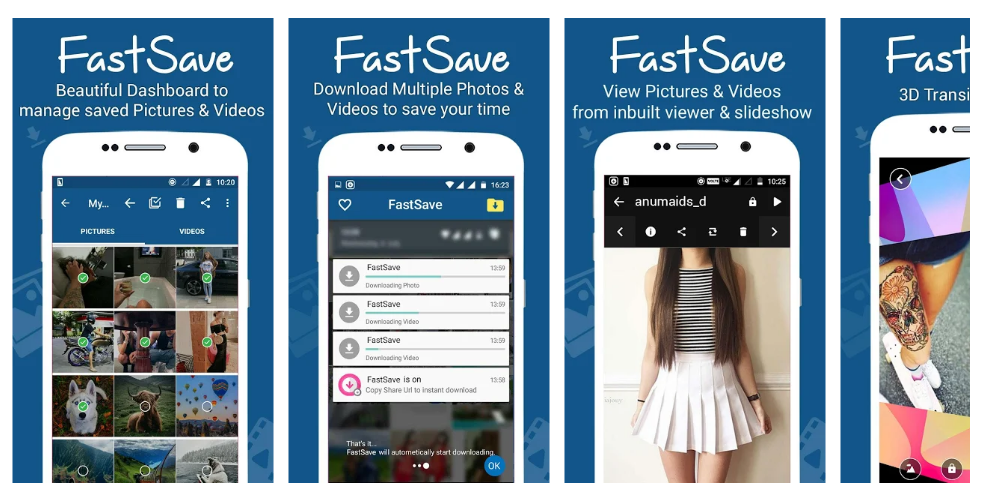 ---
Conclusion
Knowing how to download videos from Instagram opens up a whole lot of possibilities. You can easily save videos that you want to watch offline or share anywhere you want. You can also repost the videos on Instagram, which you can't otherwise do from the app itself.
Overall, being able to download videos from Instagram can make the whole experience more useful and fun.
Now you can use any of the tools mentioned above to download or repost any video from Instagram without any hassle. And, if you mostly browse Instagram from your desktop, then using the Chrome extension might be better for you.
Take your pick and start downloading.