One of the major inconveniences brands using Instagram have had to contend with has been managing direct messages. To view, respond to and managing them, you had to do so via the app on your phone, or through third-party software that included the functionality.
While using third-party social media management tools hasn't been all too challenging, integrations sometimes change due to social platform updates and policies, and that's never convenient for users.
But that's all changing soon according to an announcement made at Facebook's Communities Summit earlier this year.
Soon, you can log into your Facebook business account and reply to Instagram direct messages.
---
How to Read Instagram Direct Messages on Facebook on Your Desktop Computer:
---
Why Instagram Direct Messaging on Facebook?
Instant messaging is a widely used service. As a tool, it's how people stay in contact with each other. When it comes to business, the numbers clearly show that the need to create a way to manage direct messages from your desktop was a necessity.
According to Instagram, 150 million people use messaging to engage brands every month. This number, while massive, is, however, dwarfed by the 10 billion messages sent between people and business on Messenger each month.
Incorporating Instagram direct messaging into Facebook makes sense. As a platform, Facebook already has a lot of familiarity baked into their platform. As a Facebook company, Instagram is also widely used by many companies that also have large Facebook communities.
---
How to Access Instagram DMs on Facebook
According to Facebook's announcement, accessing Instagram DMs appears to be a simple process. Like Facebook direct messages (Messenger), users need only log into their business page accounts, click on the Inbox tab, and they'll be able to see both Messenger and Instagram Direct message options.
---
Access Instagram DMs Using the Facebook Pages Manager App
For those on the go, the option to access your Instagram DMs will also be available through the Facebook Pages Manager app. The app is available for both Android and iOS users.
---
Linking Instagram With Facebook
The Facebook-Instagram journey has been an interesting one for all brands concerned. With the acquisition of Instagram, Facebook has dedicated a lot of resources to integrate the photo-sharing app, while taking care to not upset users who rely on the service by limiting or discontinuing features they depend on.
With the introduction of Instagram to Facebook's stable, linking your accounts has become the way to gain access to many much-needed features for marketing and promoting brands, and this applies to direct messages too.
Without linking your account, you will not be able to access Instagram DMs through Facebook.
The process is simple. To link your account on Facebook, follow these steps:
Go to your Inbox: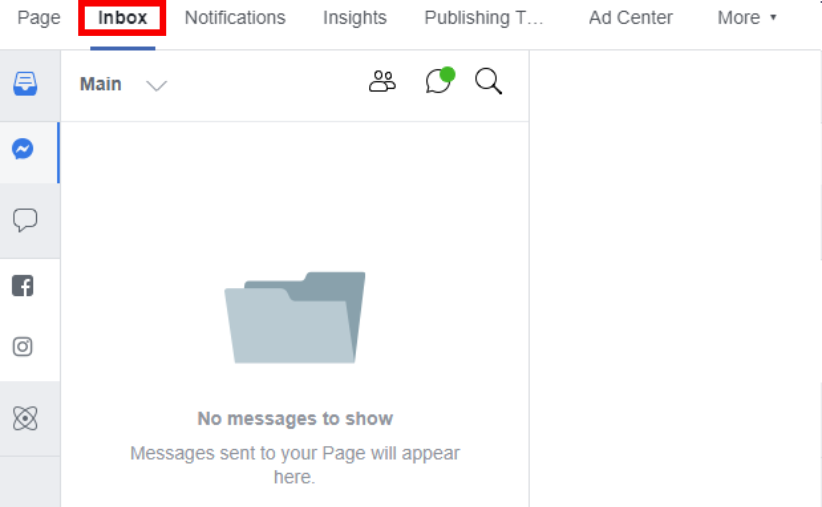 Click on Settings in the far right-hand corner of the navigation menu: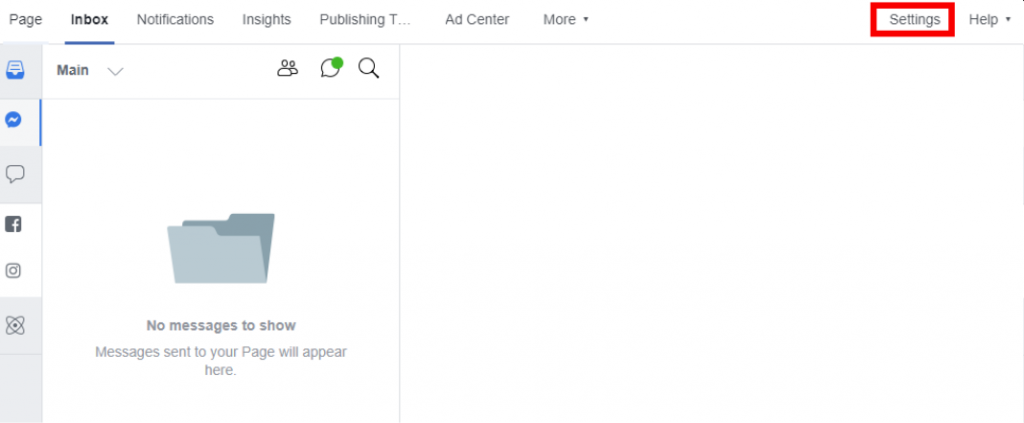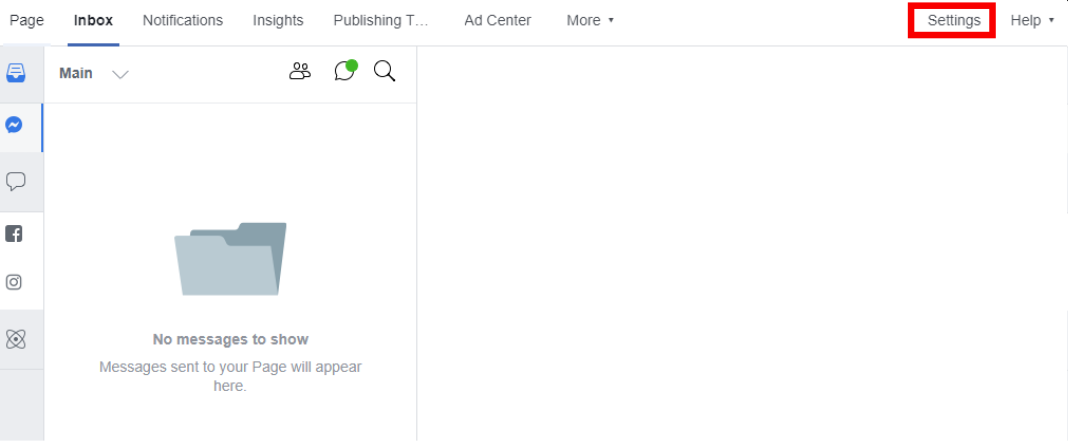 Click on Instagram: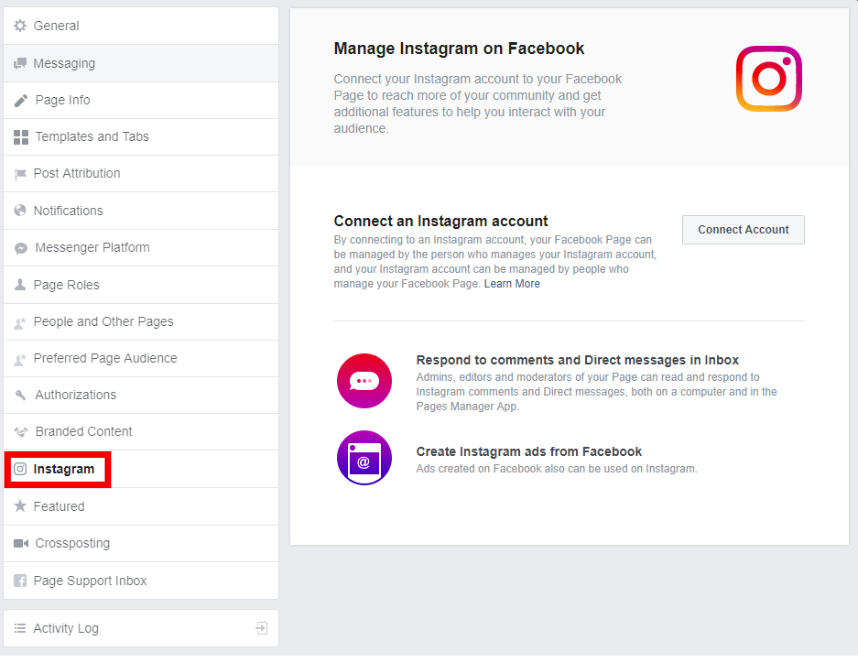 Click on Connect Account: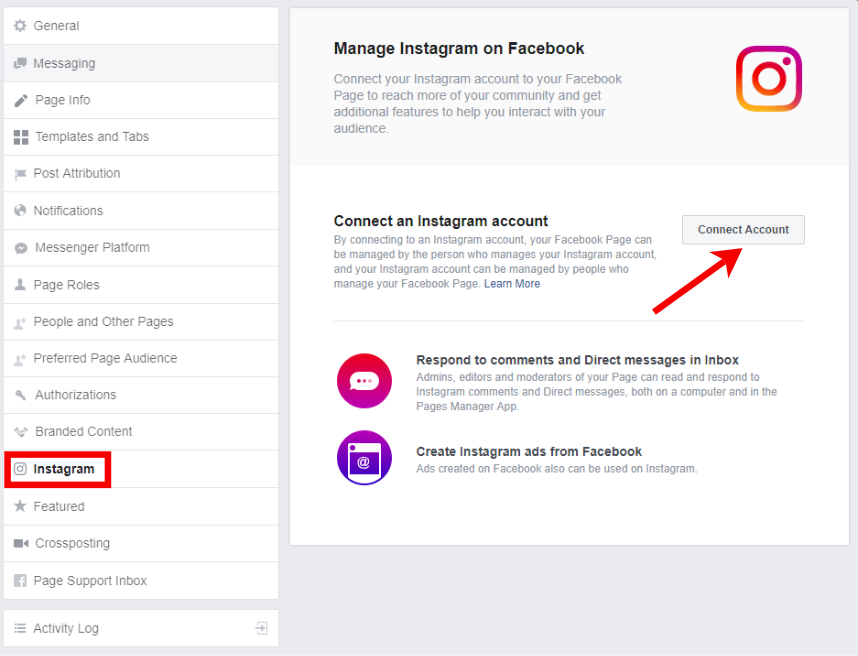 Log in using your Instagram account information: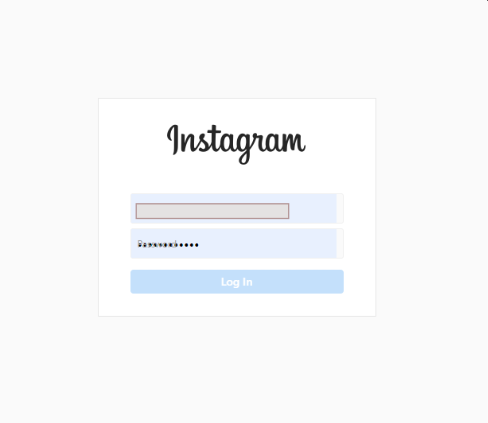 Once your Instagram account is linked, you'll be able to see your account's detail in the Instagram Account Details section.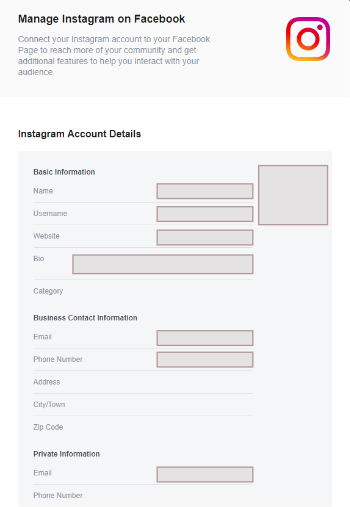 ---
How to Use Instagram DMs on Facebook
While the announcement was made earlier this year, with roll-out to be completed by the end of 2019 and latest early 2020, Facebook hasn't revealed any more about additional features and functionality users can expect.
The announcement doesn't explore a complete list of capabilities, however, we imagine that Instagram users will be able to do in their DMs inbox what they can in Messenger. Here's what Facebook Messenger comes with:
A Main folder which will double as a drop-down menu for access to:

Unread messages

Follow Up messages

Done Messages

Spam
Access to filter messages by Owner - a helpful tool for teams managing busy inboxes.

Available and Away status.

A search bar to locate specific messages.
---
Using Instagram DMs Through Third-Party Social Media Management Platforms
If you've already committed to a social media management tool, life doesn't change altogether for you. Much of the functionality that you already have is now simply available through Facebook.
---
How This Update Will Help Businesses
This integration makes life a little simpler for business marketers, social media managers and their teams. Having access to direct messages from two of the world's largest social platforms streamlines processes and simplifies management altogether.
You no longer need to log into two separate platforms, and where necessary, can spot customer engagement trends developing in your inboxes much faster than having to focus solely on one application and platform at a time.
---
There's More to Come
Facebook's plan is to continue to deliver more value and features to its users. A report from The New York Times mentioned that a major integration of Messenger, Instagram Direct and WhatsApp may be on the cards.
If this does take place, it is possible that we'll see a deeper commitment to analytics features. If we had one wish, we'd hope for the introduction of sentiment analysis as an additional feature for brands to develop a stronger sense of engagement with their audiences.
Here's a video showing what to expect from Facebook's integration of Instagram Direct.