Influencer marketing campaigns can be complicated to execute and manage. From finding the right influencers to work with to overseeing how your influencers are performing–there's a lot that goes into it. As such, it's not practical or viable to do everything manually. That's where influencer marketing platforms come in, allowing brands and marketers to efficiently manage and execute their campaigns.
However, with so many options in the market, the process of finding the right influencer marketing platform can be another headache. Not every platform will be able to help you achieve your goals or meet your unique needs. That's why you need an influencer marketing RFP (request for proposal) to narrow down the platform that would best benefit you. Read on to learn more about writing the perfect influencer marketing RFP.
---
All You Need to Know about Writing an Influencer Marketing RFP:
---
What Is an Influencer Marketing RFP?
An influencer marketing RFP or request for proposal is a detailed document that a brand sends out to potential vendors to help them narrow down the most viable choice for their influencer marketing needs. It serves as a formal invitation requesting vendors to send in proposals that the brand can then review to assess whether the platform meets their requirements and buying criteria.
The RFP would typically include information about the brand and the project. It would also include a list of criteria that the vendor needs to meet, which will allow the brand to make a thorough assessment of the vendor before finalizing their decision.
---
What to Include in an Influencer Marketing RFP
If it's your first time writing an influencer marketing RFP, you may have no idea what to include or where to get started. Although each RFP will differ by brand, they should ideally include the following key details.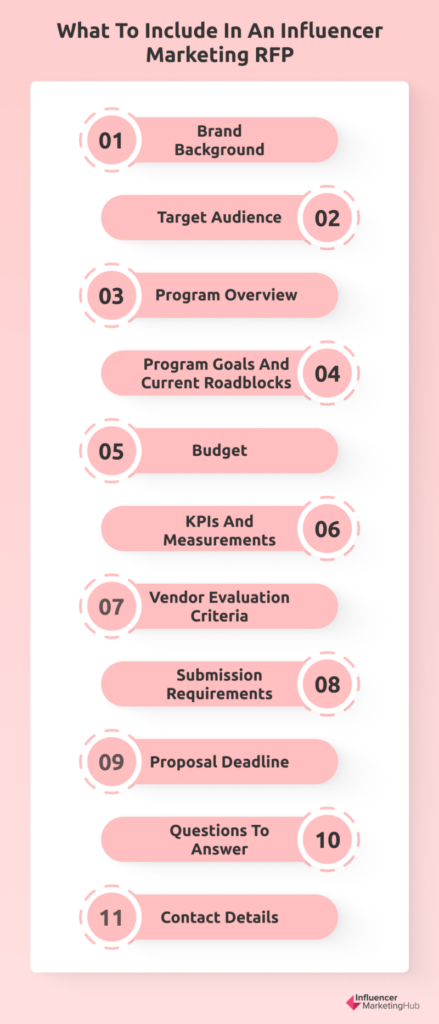 Brand Background
Your RFP should provide an overview of who you are as a brand. It should talk about your brand history, vision, values, and goals to help the vendor get a better understanding of your brand.
Additionally, it should also detail your brand's history with influencer marketing. Have you run an influencer marketing campaign in the past or will this be your first time? If this isn't your first time, you should also mention things that went well and didn't go well in your previous programs.
Target Audience
It's also important to outline the type of audience you want to reach in your RFP. Go beyond generic demographic information and provide a clear description of what your target audience looks like. For example, you may want to reach a group of people in their late 20s and early 30s who are starved for adventure and love the great outdoors. These individuals frequently go on hiking and camping trips throughout the year.
By clearly specifying these details, potential vendors can understand whether their platform has the capability to connect you with the types of influencers who can help you reach your target audience. Most influencer platforms may be able to connect you with a diverse network of influencers, but some platforms may focus on specific niches. It's important to be clear about your expectations when it comes to the type of influencer community you need.
Program Overview
Next, you should provide an overview of the program in question so potential vendors can know what you're looking for. Explain why your brand is launching an influencer marketing program and how the vendor will fit into the equation.
If you have an existing program, perhaps you may be looking for a self-service platform that can support your team's efforts. Alternatively, some brands may also need a turnkey solution provider who can take over for them and manage the whole thing on their behalf.
Program Goals and Current Roadblocks
One of the key elements of your RFP should be your program goals, where you describe the purpose of your program. What do you wish to achieve through this program? For example, you may be looking to drive more sales, create brand awareness, promote an upcoming event, or build buzz for your latest product. Whatever the purpose is, make sure to clearly define it in your RFP so potential vendors can know what they need to help you achieve.
Beyond this, you'll likely need to explain the type of influencers you're looking to reach as well as the role that those influencers will play in helping you meet your goals. For example, you may be in need of several micro and nano-influencers to produce user-generated content on an ongoing basis and support your larger media strategy. Alternatively, you may be looking for top-tier influencers for a one-time campaign to give a quick boost to your marketing efforts.
Additionally, you'll also need to include details about the program's timeline. Explain the duration of the program and/or the frequency. For example, you may plan to run a month-long campaign twice a year. Or you may run it on a seasonal basis such as in the weeks leading up to the holidays.
One crucial piece of information to include is the details of roadblocks that you're currently experiencing, particularly when it comes to achieving your goal. For example, you may only have limited reach on social media when you want to reach 10k people for your campaign.
Budget
Another key detail is information on how much you're looking to spend on your project as a whole and how much you can afford to set aside for the technology aspect. You don't necessarily need to give a breakdown of how much you're willing to pay each influencer. However, you do need to give an overview of your budget for each aspect of your program.
Keep in mind that the rates may vary depending on the level of support you're getting and the comprehensiveness of the platform's features. For example, self-service solutions may cost less while turnkey solutions may require a more flexible budget since you're also paying them for managing your program on your behalf.
Additionally, you may want to include information about how many team members will be accessing the platform. Some companies may set their rates on a per user basis and may even have limits on the number of team members who can access the platform. As such, it's important to clarify all these details ahead of time so you can narrow down the perfect vendor for your brand.
KPIs and Measurements
Like all marketing campaigns, your influencer marketing program also needs to be measured for effectiveness. You need to be able to see whether your investments are paying off and to what extent. For most brands, this would involve tracking key metrics such as impressions, traffic, reach, engagement, and conversions. However, the specific metrics may vary depending on the goal of your program.
This is why your RFP should clearly specify the KPIs and measurements you'll be using to analyze your influencer marketing program. Make a list of all the important metrics that you will want to track to measure the effectiveness of your campaign. That way, potential vendors can get an understanding of whether their platform is capable of providing the kind of analytics data that you'll need for campaign tracking.
Vendor Evaluation Criteria
Now here's one of the most important parts of your request for proposal. You should include a list of criteria using which you'll be evaluating the vendors who submitted a proposal. By listing these, potential vendors will be able to understand how to best present their offerings in a way that highlights what you're looking for.
Your criteria may include a list of functionalities that you need in the platform. For example, it should come with a comprehensive search feature to narrow your search based on several filters. Most brands would also be looking for a platform that comes with analytics features to track campaign performance. You may also include additional details about what you want in a vendor such as the ability to scale according to your needs and the flexibility to create a customized plan.
Submission Requirements
Your RFP should include detailed information on the requirements or deliverables to submit a proposal. Besides a detailed proposal, you may also require potential vendors to include their pricing breakdown, case studies from previous campaigns, sample influencer lists, etc. so you can better evaluate them.
Proposal Deadline
When sending out your RFP, potential vendors should have a clear idea of when they need to send in their proposals. Make sure the RFP clearly specifies the due date for RSP responses. You should also set expectations by specifying when you'll make the final vendor selection. That way, vendors won't have to keep following up if they haven't heard from you before you've made your selection.
Questions to Answer
Beyond these, you may have additional questions that you want to ask potential vendors so you can make an informed decision. These questions may be related to their level of support, their familiarity with your industry, and so on. This is your opportunity to provide a questionnaire that will clear up any doubts and help you make the right choice with your vendor selection.
Contact Details
Finally, it's crucial that you include information about whom to contact and how. Provide the contact details of the representative in charge of collecting proposals from vendors. This will ensure that all the proposals come through to the same channel, so you don't miss any of them. It will also streamline communications, so vendors know whom to contact if they have any questions.
---
Best Practices to Write a Killer Influencer Marketing RFP
Now that you know what details you need to include in an influencer marketing RFP, you may be all set to write your very own. Before that, keep the following best practices in mind so you can get a strong start.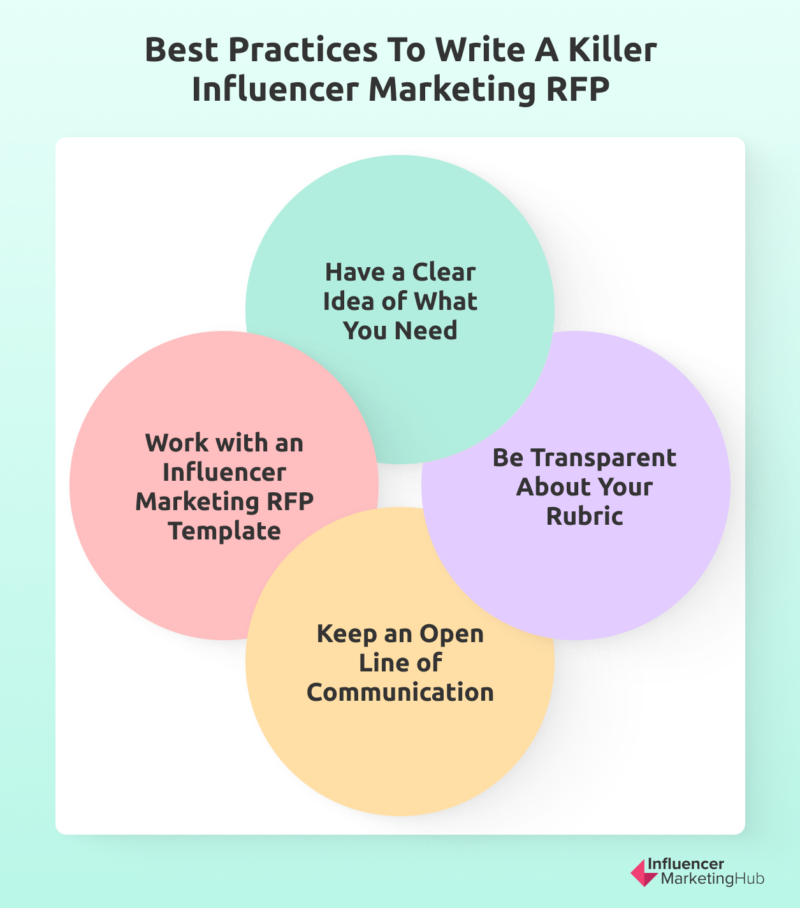 Have a Clear Idea of What You Need in an Influencer Marketing Platform
Not all influencer marketing platforms are made the same. They may have different search functionalities, search filters, or even a whole different influencer network to tap into. So it's crucial that you start with a clear idea of what you need in an influencer marketing platform. This will help you understand exactly how to outline your vendor selection criteria. At the most basic level, the platform should offer the following capabilities:
Segmented influencer search using various filters (category, topic, age, audience, location, etc.) to help you discover potential influencers

Influencer audience demographic breakdown to assess an influencer's community

Messaging functionality to streamline brand-influencer communications

Campaign management tool to manage influencers and overall campaign

Analytics dashboard to track spending, influencer performance, and campaign ROI

Payment feature to easily manage influencer payments
---
Be Transparent About Your Rubric
While your RFP may tell potential vendors how they'll be evaluated, it's even better if you can showcase how much weight each criterion will carry. For example, you may consider giving extra weight to vendors who have experience working in B2B influencer marketing.
This not only helps make your assessment easier, but it also ensures objectivity and helps vendors weigh their chances of winning the bid. In other words, you automatically filter your options to the most viable vendors so you can better narrow down the best choice.
---
Keep an Open Line of Communication
Although your RFP may contain all the crucial information, some vendors might still need some additional details to help them draft their proposal. Make sure that you keep an open line of communication so you're always available to answer questions and clear up any doubts.
---
Work with an Influencer Marketing RFP Template
Still hesitant to write your very first influencer marketing RFP? Check out this free influencer marketing RFP template from Klear to help you get started.
Frequently Asked Questions
What should be included in an influencer marketing RFP?
Some of the key details to include in your influencer marketing RFP are – background, target audience, program overview, program goals, deadlines, vendor criteria, budget, KPIs, and submission requirements.
What does a successful RFP look like?
A successful RFP typically has a clear description of the project goals and expectations. It also includes the rubric that will be used in the evaluation.
What should you not include in an influencer marketing RFP?
Your influencer marketing RFP should not contain any unnecessary information that might be confusing to vendors.
How long should an influencer marketing RFP be?
There's no rule stating the length of a typical influencer marketing RFP. It can be several pages long depending on how much information you're planning to share.
What's the difference between an RFP and a proposal?
An RFP is an open invitation that a company sends out to potential vendors asking for a proposal. Meanwhile, a proposal is created in response to the RFP.