Advertising Disclosure
Advertising disclosure:
Our partners compensate us. This may influence which products or services we review (also where and how those products appear on the site), this in no way affects our recommendations or the advice we offer. Our reviews are based on years of experience and countless hours of research. Our partners cannot pay us to guarantee favorable reviews of their products or services.
2023 is shaping up to be a big year for advanced RFP software solutions. From flexible cloud-based platforms that offer collaborative features to automated processes that save time and improve accuracy, there are plenty of options out there. As businesses become increasingly digital, the need for accurate and efficient Requests for Proposals (RFPs) is becoming more critical than ever. To ensure that your organization can keep up with customer demands and remain competitive in the market, having access to the right RFP management software is essential. In this article, we will look at the top five most innovative RFP management software solutions for 2023.
---
RFP Management Software for Growth-Focused Companies:
---
What is an RFP?
RFP stands for Request for Proposal. It is a formal document business use to ask vendors to propose solutions to their needs or problems. An RFP typically includes a detailed description of the project, its objectives, and any requirements that need to be met by the vendor to deliver an acceptable solution.
---
How different are they from the other RFx?
RFPs differ from other RFx, such as RFI (Request for Information) and RFQ (Request for Quotation). An RFP is the most comprehensive type of request, as it requires potential vendors to provide detailed information about their solutions. An RFI simply requests information about a given product or service, whereas an RFQ solicits pricing quotes from different companies. Essentially, an RFP covers all the bases–from specifying project requirements to obtaining pricing information.
---
The Top 5 RFP Management Software for 2023
Whether you are a small business or a large corporation, having the right RFP management software is essential for success in the market. Here are our top five picks for the best RFP management software solutions for 2023:
Top
rfp management software
2024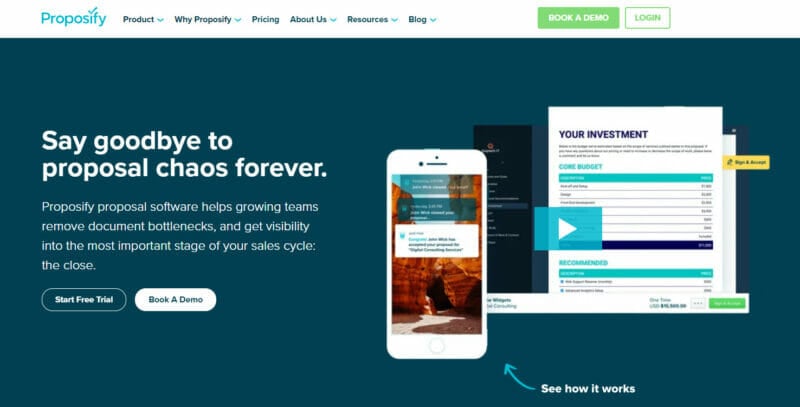 Proposify offers an all-in-one toolkit for creating, storing, and submitting proposals quickly and efficiently. Used by over 8,000 business-to-business companies around the globe, it is one of the most popular and comprehensive RFP management software solutions on the market. Whether for your marketing, operations, or sales team, its easy-to-navigate interface can create effective proposals tailored to your specific needs.
Using Proposify eliminates manual entry errors and saves time. With its centralized repository for content and cloud-based platform, multiple people can collaborate on the same project from different locations with options to manage permissions on essential sections to be seen or revised only by select team members. Moreover, you can pull complex fees into your proposal templates with no problems due to the capability to integrate with CRMs such as Salesforce, Pipedrive, and Hubspot. Proposify also has a mobile app companion that will allow you to review and approve proposals, quickly address customer queries and needs and process your RFPs in real-time.
---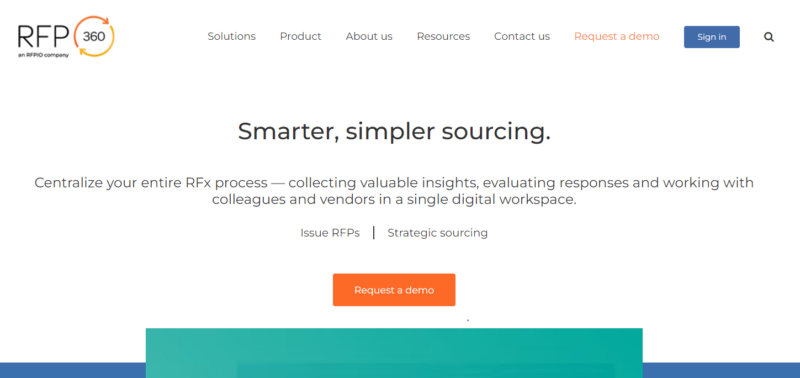 RFP360 is an ideal solution for small to medium businesses (SMBs) looking to automate and streamline all procurement-related tasks, from request management to contract negotiation. Its cloud-based platform eliminates tedious manual data entry as everything can be done in one central place, so you can make faster decisions when it comes to contract management. With its full suite of features, you can create standard templates for RFPs to ensure uniformity throughout every part of a project. Plus, its advanced analytics capabilities allow you to analyze responses quickly and easily. This is so you can identify potential customer needs and see which proposals are winning the hearts of your procurement team.
Users of RFP360 get to use a comprehensive and user-friendly overview of their project portfolio, including real-time updates on progress and issue resolution–all in one place. Plus, as demand for eCommerce sales increases, it can be your partner in streamlining the procurement workflow for online sales. Since it also creates APIs to integrate with the tools of your choice, RFP360 makes it easy for your proposal teams to maximize the key features of the software for their specific needs. Whatever RFx it is, from RFP, RFQ, or RFI, RFP360 can handle it.
---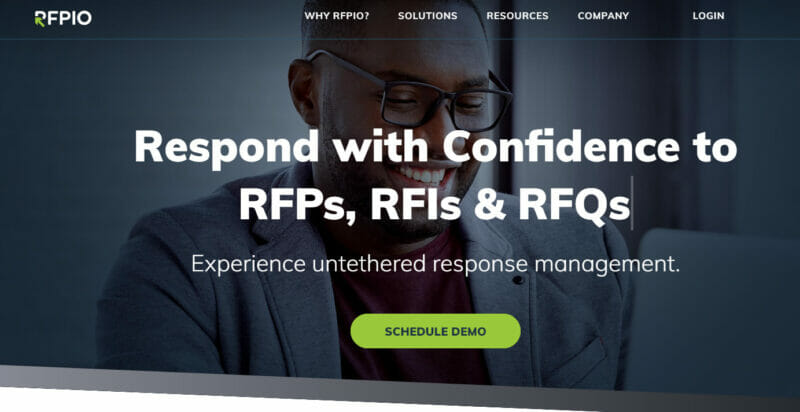 Transform your response process and empower sales teams with the efficiency of RFPIO proposal management software. With over 250,000 users, their AI-powered platform brings together content, collaboration, security, and governance to create winning proposals and responses every time.
By using RFPIO, you can stop wasting time tracking down info manually because of its LookUp feature on the platform, which is automated and searchable. Plus, you can easily reuse content to ensure consistent responses across the whole organization. The drag-and-drop editor also allows you to create visually appealing proposals quickly, while its multi-channel notification system keeps everyone constantly updated on their progress.
The software's analytics tools provide insights into how on-time proposal delivery is and what areas need improvement. Moreover, its integration with popular solutions such as Microsoft Teams, Slack, and Salesforce eliminates the need for manual data entry and duplication. All in all, RFPIO promises to make your proposal process faster and simpler.
---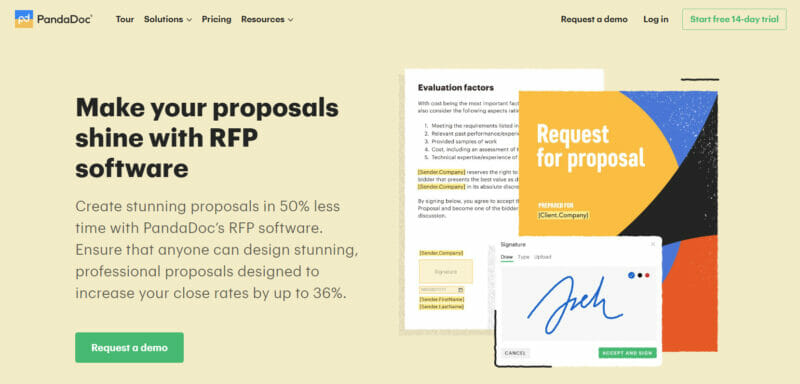 PandaDoc is an advanced document automation software designed to help businesses prepare, send and track proposals quickly and efficiently. In addition to creating dynamic proposals, including pricing tables, rich media, and more, this simple and intuitive proposal creation software will get you and your team up and running quickly. You can access it on any device, and it's constantly being updated to provide the most seamless proposal-creation experience possible. Moreover, the software has over 750 proposal templates, such as sales decks and request quotes, that can be used as starting points to create a customized document.
PandaDoc also has various features that make proposal management easier, such as automated proposal tracking, email notification automation for RFP responses and follow-up actions, and API access for integrations with other software like Salesforce and Zapier, to name a few. You can keep track of your proposal performance, giving you valuable insights into how to improve and increase win rates. Plus, team members can collaborate from anywhere without worrying about conflicting changes or lost data, thanks to its cloud-enabled solution. With its powerful platform and various automation features, PandaDoc is the preferred software for any business seeking an advanced solution for proposal creation and management.
---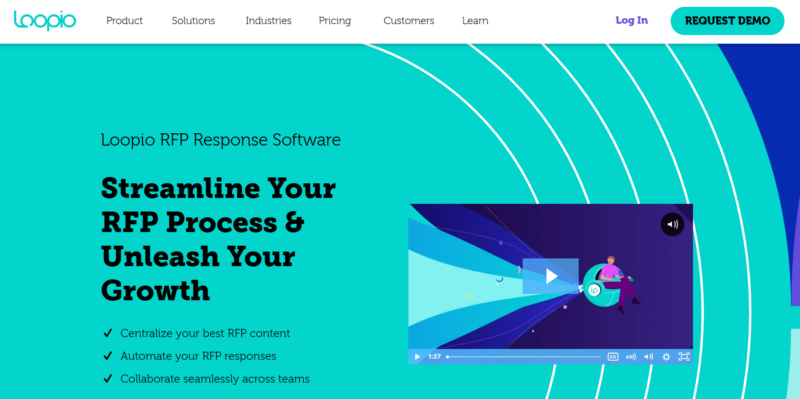 As a cloud-based request management software, Loopio can redefine how you create better proposals and sales documents to close deals with potential customers. It's the most user-friendly proposal software on the market, making it incredibly easy for you to create proposals that are interactive, professional, and capture your customers' attention. You can also embed pricing tables and other rich media content directly into your proposals for a more compelling presentation. And if you need help with any aspect of proposal creation or management, Loopio has an extensive support team available 24/7 to help you get started quickly and efficiently.
One key advantage of using Loopio is its automation features. Not only do they make creating proposals easier than ever, but their content libraries provide auto-fill answers and visibility into duplicate and outdated content, saving you time and trouble. And if you need to follow up on your proposals or take any other action related to the deal, its email notification automation will keep you and your sales reps informed every step of the way. With all these features combined, Loopio can be the perfect solution for anyone looking for easy-to-use proposal management software to help them close more deals quickly and easily.
---
What are the Benefits of Using RFP Management Software?
The RFP process can be very time-consuming. Even the most professional-looking proposals must go through an approval process, which can take time. By using RFP management software, you will benefit from the following: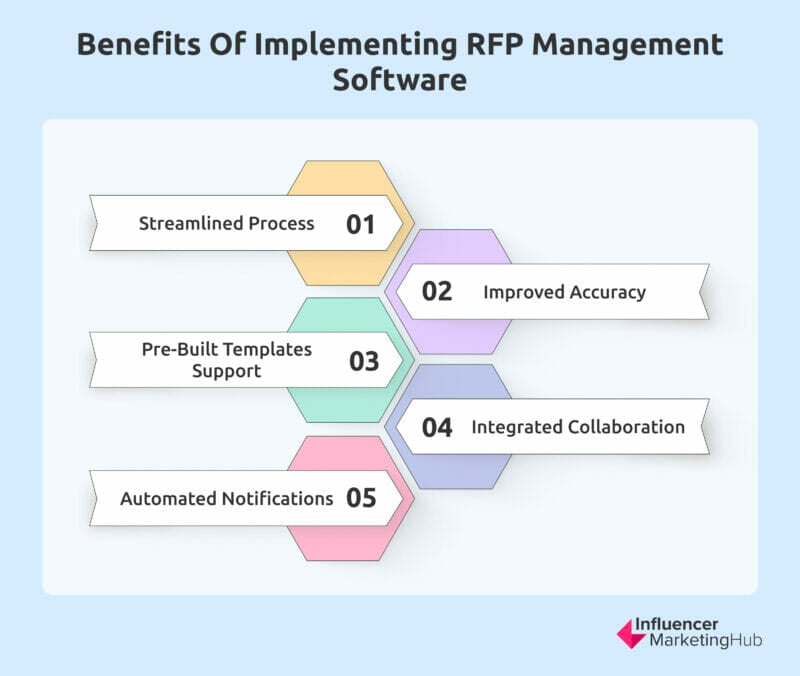 Streamlined Process
RFP management software speeds up the process of creating and managing proposals, enabling you to deliver accurate responses quickly. The software can also help you identify and eliminate duplicate proposals, saving you time and energy.
Improved Accuracy
Automated proposal creation ensures that your responses are accurate and compliant with all the requirements of the request. This makes it easier for you to win approval for your proposal and significantly reduces the chances of rejection.
Pre-Built Templates
Many RFP management software offers pre-built proposal templates that make it easy to create proposals that meet specific requirements. This means less time spent customizing each proposal, which maximizes efficiency and effectiveness in the process.
Integrated Collaboration
With an RFP solution, team members can easily collaborate on projects while maintaining control over content management and sign-off. Sales enablement and procurement teams can also share request templates and documents to speed up the process.
Automated Notifications
Every professional proposal you create can be set up with automated notifications that let you know when a request has been accepted, rejected, or modified. This helps you stay on top of the process and ensures that your proposals are compliant with all requirements.
---
Things to Consider When Choosing RFP Management Software
Any business leader knows that the RFP process is critical to any organization's success. Why is that? Well, it is a very effective way to ensure you get the highest value for your money and resources spent during negotiations. Additionally, compliant proposals are crucial to winning client approval, so it's imperative to have software that can help you create proposals that meet all the requirements and expectations.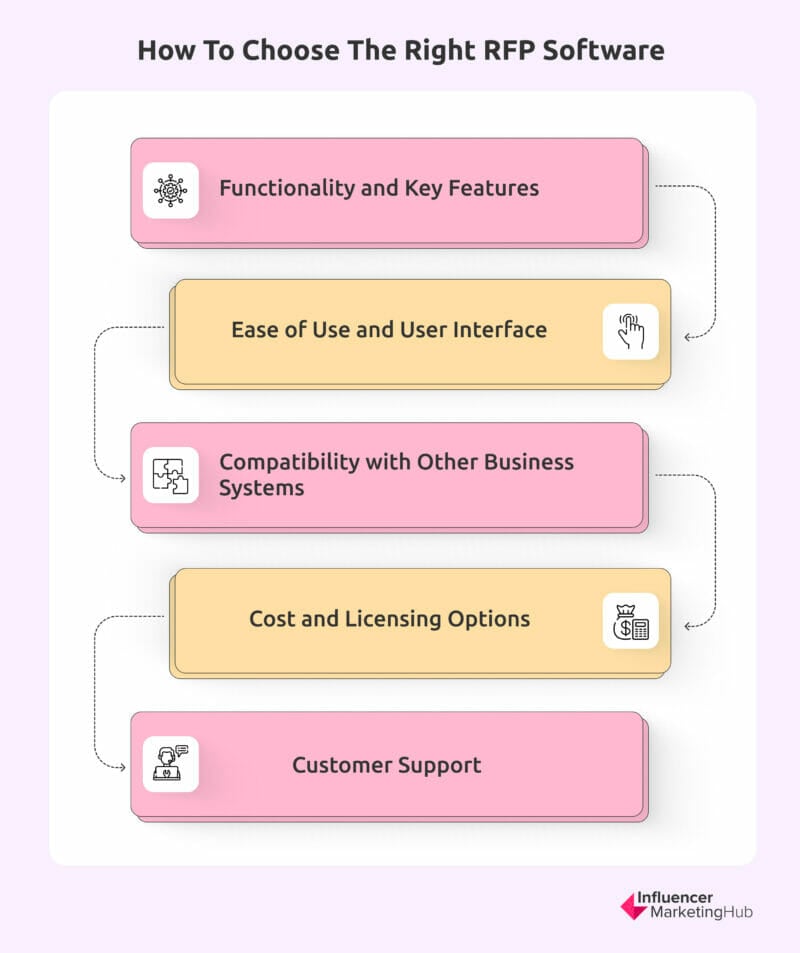 When choosing RFP management software, there are several things you should consider:
Functionality and Key Features
Each proposal requires a different format and content, so choosing RFP management software with features that cover all your needs is critical. Some features may include templates for specific request types and automatic notifications when requests are accepted, rejected, or modified. Also, consider a configuration with version control that allows collaboration with team members on project completion. The more efficient the software, the less time you'll spend on the process.
Ease of Use and User Interface
RFP software must be easy to use, regardless of your experience level. The user interface should be straightforward to navigate. This is so you can get started quickly without consulting a manual or searching for features specific to your project needs. Additionally, ensure that the software provides adequate help resources so you don't feel lost or overwhelmed when creating proposals or working with request data.
Compatibility with Other Business Systems
When it comes to collaboration, it is extremely crucial that your RFP management software integrates well with other business systems. This includes sales and procurement automation as well as email marketing and social media management tools. Look for software with built-in integrations with applications like Zoho, Google Calendar, Microsoft Word, and Excel. You can also consider purchasing add-on modules that will make working with your other systems easier.
Cost and Licensing Options
The cost of software is often a key consideration when selecting an RFP management tool. However, you don't want to overspend on features that you won't use or that will require additional licensing fees down the line. Whether they offer a free version or a free trial, try to find a pricing model with minimal upfront costs. This will give you the flexibility to upgrade or add features as needed.
Customer Support
It is helpful to have customer support available if you encounter any issues while using the software. Check out how the company responds to customer complaints and questions. Also, be sure to ask about any available warranty or support options. This way, you can be confident that you will be able to get help if needed.
---
Final Thoughts
The right RFP management software is a boon for your business, from simply creating a sales quote to full-blown project management. With 2023 in mind, make sure to find a user-friendly and affordable software tool with customer support available should you need it.
The ones listed above come with various features and pricing options that will work well for any business size. By taking into account their key features and factors like compatibility with other business systems, cost and licensing options, customer support, and more, you should be able to find a tool that meets your needs. Remember that the software you choose is only as good as the team that uses and maintains it. So, select a company you can trust to support your software and help you get the full value out of it.