As a social media manager, influencer, or content creator, you'd want to be able to analyze audience insights, produce content, and manage posts in an organized way. With the Instagram Creator Studio, you can produce and review content on one dashboard. It's a platform that's geared with familiar in-app tools and features, but you can use it to schedule or pre-publish content and monitor post performance.
Find out how this free management tool can help you streamline your Instagram content creating process.
---
Level Up Your Instagram Game with Instagram Creator Studio:
---
What is Instagram Creator Studio?
Instagram Creator Studio is a dashboard that allows you to publish and schedule content, analyze your account's interactions, and access direct messages all from your desktop. Businesses and content creators on Facebook and Instagram benefit from the ease of cross-posting content on the two platforms with Creator Studio.
---
The Benefits of Using Creator Studio for Instagram
Facebook Creator launched with the intention to ease the process of content creation and management for creators, social media managers, and businesses. The Creator Studio proved to be a versatile hub for users to access messages, publish and schedule content all on one platform. Soon, Creator Studio extended to cover Instagram as well—a channel populated by content creators, influencers, and small businesses.
Creator Studio makes managing and evaluating content performance more convenient for Instagram users. Here are some of the things you can enjoy with Instagram Creator Studio:
Having an all-in-one dashboard
The platform offers convenience to content creators and brands in managing content, scheduling posts, and determining monetization opportunities all in one place. It rivals third-party media management and content management tools.
Easy multi-account management
Creator Studio can let you navigate across multiple Instagram accounts from a single dashboard. You only have to switch accounts whenever necessary.
Scheduling posts ahead of time
If you are pressed for time or have a lot to upload for the rest of the week, scheduling posts ahead is a great way to keep to your content calendar. Creator Studio allows you to schedule content for Instagram Feed and IGTV.
More accurate page and post performance analytics
Creator Studio's Analytics feature is built-in, analyzing the number of actions taken by your followers and progress of interactions over time.
Better management of direct messages and message requests
Scrolling down your phone to respond to every single message can be exhausting. On Creator Studio, responding to messages is a breeze. The dashboard integrates your Instagram inbox and allows you to reply to messages straight off the Creator Studio Dashboard.
Obtaining monetization opportunities
Aside from tagging your featured products for sale, you can also collaborate with other brands or organizations. To launch their product or service, they can approach you and offer to pay you for promoting their business. Creator Studio can link you to the right advertiser to earn the worth of advertising you do for them.
Using a free but powerful social media management tool
Subscription plans provided by other platforms can make content management costly for content creators, brands, and marketers. Even with all its features, Creator Studio is free for all to use.
---
How To Connect Instagram to Creator Studio
Before you can manage your posts and view insights from Creator Studio, you will need to link a Business Profile or Creator Account. In a previous article, we walked you through the how-to of switching your personal account to a Business Profile.
Should you prefer to connect an Instagram Creator Account with Creator Studio, you can convert an existing Instagram account in a way that's similar to how you switched to a Business Profile.
Here's what you'd need to do:
1. Go to your Instagram account profile and tap on the hamburger icon in the top right corner. This will pull up the Settings menu.
---
2. Scroll down to the bottom until you see Switch to Professional Account. If this option is unavailable, scroll back up and tap on Account to switch. Prompts introducing the highlights of a professional account will lead you to the window where you can choose between setting up a Business profile or Creator Account. You can choose any among the two.
---
3. If you are switching an existing Business profile to a Creator account, you will instead see a Switch Account type option under the Account tab. Tap on it, and select Switch to Creator Account.
Now that your Instagram account is all set, you are ready to connect Instagram to Creator Studio. Here is an easy guide to a hassle-free linking of accounts.
---
4. Make sure you have a Facebook page to link to your Instagram account. On your Instagram profile page, click on Edit profile, and connect your Facebook page.
---
5. Access Creator Studio on desktop. The dashboard gives you immediate access to notifications, recent posts, insights, and more from the Facebook pages you manage.
---
6. Click on the Instagram icon on the top bar. This will pull up the Instagram Creator Studio. Click on Connect your Account.
---
7. Follow the instructions to set up your account, and voila—you'd be ready to manage your posts, insights, messages, and even IGTV all on one platform.
After successfully connecting your Instagram account to Creator Studio, you can explore its different functions and enjoy the benefits of using the convenient dashboard.
---
How to Use Instagram Creator Studio
Instagram Creator Studio is a hub that makes content management, scheduling, and responding to messages and requests easier and more accessible. As a free dashboard from the creators of Instagram themselves, Instagram Creator Studio is especially designed to help creators and brands analyze insights and review their weekly interactions.
Instagram Creator Studio defaults to the home section of the dashboard. Here, you will have an overview of your content library, categorized per type of post: video, photo, Carousel, Stories, or IGTV.
On the left, the menu bar helps users navigate around Creator Studio. The menu contains the Content Library, Calendar, Insights, Monetization tabs, and an option to check on your Instagram accounts linked to Creator Studio. These tabs perform different functions, which we will discuss further in the article.

The left-hand side menu bar with the main tabs to navigate around Creator Studio.
At the bottom of the menu, you will see three icons. The leftmost icon toggles the menu bar to the side, minimizing the menu down to icons. The Calendar icon prompts Creator Studio to switch to your Facebook calendar.
Finally, the rightmost icon depicted by a book pulls up the Education Center. The Education Center is a useful feature to guide and inspire users to become pros at using Creator Studio to its fullest potential.
---
Posting Instagram Content Using Creator Studio
Creator Studio makes it possible for brands and creators to publish content easily on desktop. You can upload content for the native Instagram feed and IGTV.
1. Click on Create Post. There will be a drop-down menu that would allow you to choose to post on either the Instagram Feed or IG Video. Select the option you need.
2. If you select Instagram Feed, a window similar to the photo below will pull up. This is where you upload the media you want to publish on Instagram. You can add captions to your post, and cross-post to your Facebook page. The Advanced Settings tab allows you to turn off the comments for the particular post.
3. If you select IG Video, a similar window will also pull up. It now allows you to upload video content that is 60 seconds or longer. Add captions and set a thumbnail of your choice in Advanced Settings.
4. Once you are satisfied with your post, click on Publish on the lower right side of the screen. This will publish your content online in real time. The down arrow next to it prompts another menu that offers users the options to save the post as a draft or schedule it for later posting.
Publishing Instagram content using Creator Studio saves you the time from endless scrolling on your phone and cramping your hands with typing on a small touchscreen. If you are the type of content creator or brand that prepares content at least a week before, you can easily use Creator Studio to organize content for future releases.
---
Scheduling Instagram Content using Creator Studio
Content creators usually plan and roll out content for the week or month. Creator Studio allows for an easy content scheduling and planning process without using third-party applications.
To schedule Instagram content using Creator Studio, follow the same procedure in creating posts for either Instagram feed or IGTV. The only difference will be the publishing process. Here's how to do it:
1. Click on the down arrow beside the Publish button. The resulting window will give you options to save the post as a draft or schedule it for later posting.
2. Click on Schedule. On the next window, select the time and date you want the post published.
3. Once you are satisfied, click on the blue Schedule button. Creator Studio will have the post saved for later publishing.
The scheduled post will show on your Content Library, with a post status labeled Scheduled in green font. If you want to make some more changes with the content, or simply publish it sooner than scheduled, hover close to the post's post status until an ellipsis icon shows up. Clicking on it will show a variety of action prompts like Delete, Publish now, View post, and Edit.

---
The Calendar View in Creator Studio
Creator Studio added the Calendar view to let users see the content they published and scheduled for the week or the month. The Calendar view makes monitoring the content calendar easier. It reduces the number of applications you have to use for content management.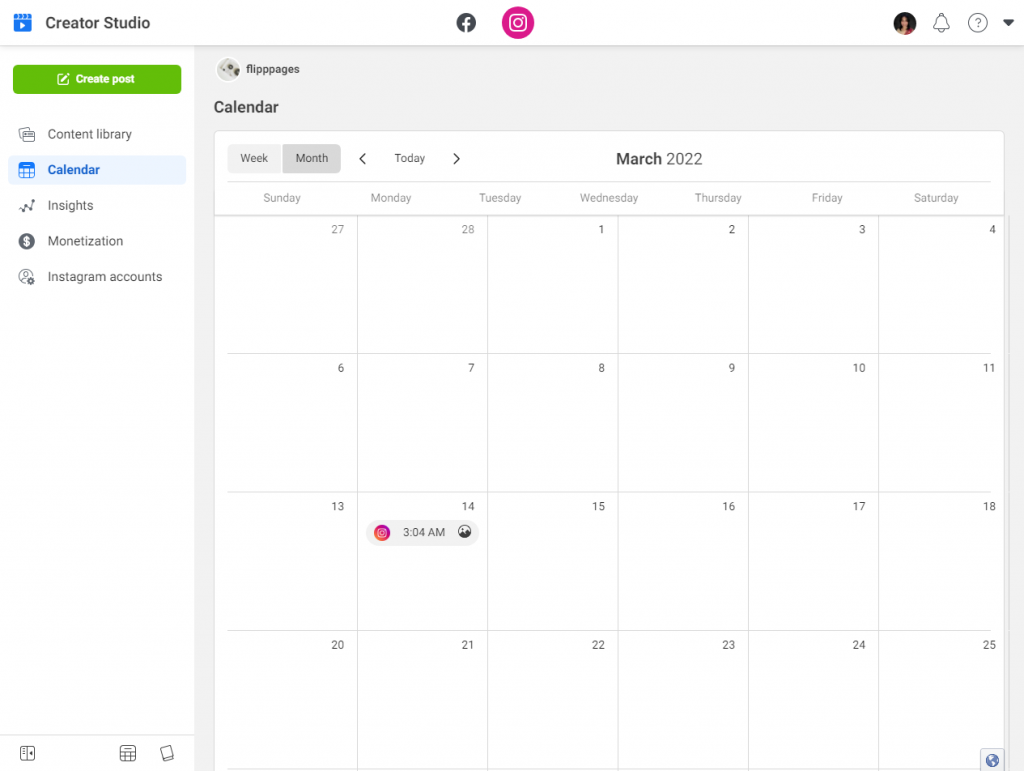 ---
View and Analyze Instagram Insights Using Creator Studio
Most social media platforms come with native analytics tools. However, users notice that the figures are not always accurate. With Creator Studio, brands and content creators can analyze insights and view their engagement on Instagram easily and accurately.
Creator Studio's Insights feature shows you a breakdown of interactions you received over the week and audience demographic. Creator Studio categorizes insights into two: Activity and Audience.
Activity insights give you a graphical and percentage breakdown of your page and content performance. It shares data on reach, impressions, and engagement and shows interactions generated by each post
On the other hand, Audience insights give you an overview of the demographic and behavior profile of your followers. Creator Studio also analyzes the day and hour your followers are most active. You can optimize your posting schedule based on this piece of useful information.
Insights let content creators and businesses to make informed decisions about the type of content and the ideal schedule to publish content on Instagram. Here's how to view more of your Instagram account's insights on Creator Studio:
Click on the Insights tab from the left-hand side menu. Its drop-down menu will let you choose to see insights between your content's interactions and your audience's reach and activity.

if you want to see the performance of your Instagram content, select

Activity

. You will see the number of interactions, impressions, and your reach on the Instagram platform.

If you select

Audience

, you will see a graphical breakdown of the age and gender of your followers. What's more—you can see more of their demographic, such as the countries and cities they're from.
Frequently Asked Questions
Can I access Creator Studio on mobile?
Yes, a mobile app for Creator Studio is released both for iOS and Android devices. This app allows for an on-the-go optimization of either or both of your Facebook and Instagram accounts. However, the limited screen size can obstruct ease of app navigation.
How can I publish Instagram Stories via Creator Studio?
At the moment, Creator Studio Is unable to publish or schedule Instagram Stories. Other third-party apps can publish stories on desktop. Meanwhile, Creator Studio has yet to release a similar feature.
Can I Post Instagram Reels on Instagram Creator Studio?
Currently, Creator Studio can only publish posts for the native Instagram feed and IGTV. Instagram reels are only published and managed on mobile to this day. The dashboard's users are looking forward to an update that will allow them to post reels on desktop.
How do I Use Creator Studio's Inspiration Hub?
The Inspiration Hub is designed to be a collection of well-performing content that may be related to your brand or niche. Inspiration Hub suggests articles and videos that can be your references for your next round of content.
Who Can Use Instagram Creator Studio?
Instagram Creator Studio is meant for anyone who wants to streamline their online presence and engagement. The simple and intuitive interface lets anyone, regardless of their marketing knowledge and expertise, to master Creator Studio.