Advertising Disclosure
Advertising disclosure:
Our partners compensate us. This may influence which products or services we review (also where and how those products appear on the site), this in no way affects our recommendations or the advice we offer. Our reviews are based on years of experience and countless hours of research. Our partners cannot pay us to guarantee favorable reviews of their products or services.
As the digital landscape becomes increasingly competitive, businesses are vying for the top spots in search results. The key to achieving this coveted position lies in effective keyword research. 
Considering the majority of users don't go beyond Google's first page, it's crucial for businesses to optimize their SEO strategy and reap the undeniable rewards. Dive into our article to discover the top 10 keyword research services agencies of 2023 that are shaping the future of SEO, ensuring superior online visibility and unparalleled success.
---
Top 10 Keyword Research Services
Top
keyword research services
2024
Founded: 2010
Employees: 10-49
Clients: Lunt Solar Systems, Krush Kandy, Seat Covers, Unisox
Nuanced Media has established a strong footing in the domain of eCommerce and Amazon marketing by delivering specialized marketing solutions tailored to individual brands. A significant aspect of their expertise lies in keyword research, a critical element in enhancing an online brand's visibility and engagement. By diving deep into keyword analysis, Nuanced Media identifies high-performing keywords that not only attract relevant leads but also drive conversions, showcasing their meticulous approach to this pivotal task.
Alongside, Nuanced Media excels in listing SEO copywriting, where they formulate benefit-driven content grounded on thorough research to effectively resonate with customers​. Their services extend to PPC management, delving into the intricacies of research, targeting, and bidding to fine-tune advertising efforts for optimum ROI​​. Their prowess doesn't stop here; they possess a profound understanding of leveraging Google Ads, particularly for Amazon sellers, encompassing keyword research, ad creation, and other preliminary tasks​​.
---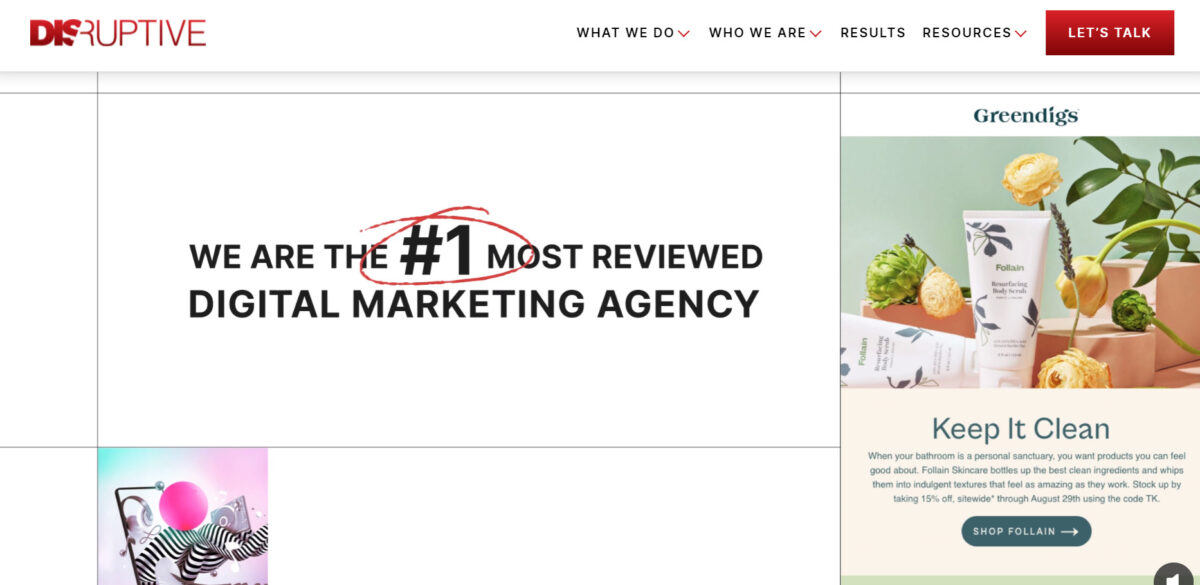 Founded: 2011
Employees: 50-249
Clients: PoliteMail, Xactware, Scotts Miracle-Gro
At the forefront of keyword research, Disruptive Advertising stands tall, leveraging data-driven strategies to ensure brands claim the coveted top spot in search results. Unlike generic SEO firms, Disruptive focuses on genuine growth, propelled by the expertise of their senior SEO professionals. With an emphasis on outranking competition in organic SERPs, they shed light on the undeniable value of ranking in top positions, considering the whopping 43.32% average CTR for the prime spot on Google. A holistic approach is employed, diving deep into on-page, off-page, keyword research, and technical aspects of SEO, ensuring every owned asset, from websites to videos, is primed for optimal performance. Their dedication to customization is evident, shunning cookie-cutter templates for tailored solutions that align with each client's unique brand identity. 
The agency's success isn't solely anecdotal; with staggering statistics like 53.3% of clicks going to organic results and 75% of users never venturing past the first search page, Disruptive's mission is evident: optimizing brands for visibility, engagement, and conversion. Through their comprehensive SEO roadmap—encompassing in-depth audits, targeted optimizations, and CRO testing—brands are not only guaranteed improved rankings but also enhanced sales and profitability. Choose Disruptive Advertising for an SEO journey that's transformative, strategic, and results-driven.
---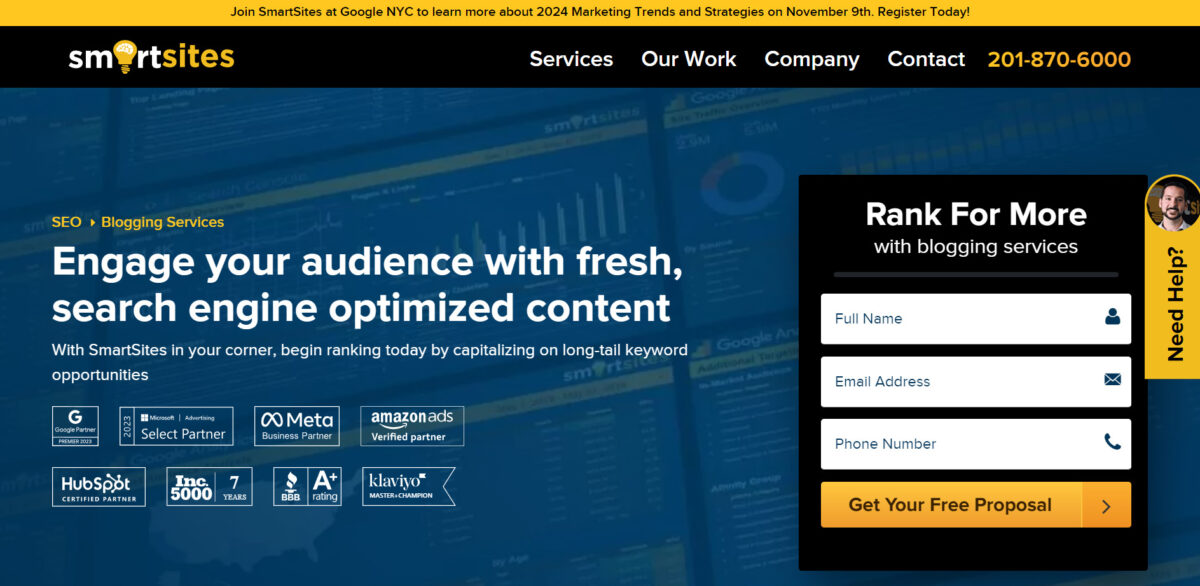 Founded: 2011
Employees: 250-999
Clients: AirTech, Flight Courier, Tint Marketing
SmartSites is a paramount Digital Marketing Agency, particularly noted for its specialized eCommerce SEO services. With an approach that cohesively brings together code, content, and context, they ensure online stores achieve the limelight they deserve. Their all-encompassing eCommerce SEO strategy covers everything from meticulous keyword research for individual web pages and optimization of on-page attributes like H1 tags and meta descriptions to deploying effective link-building tactics. But their proficiency doesn't stop there; SmartSites also emphasizes enhancing website security with HTTPS implementations and refining URL structures. 
Recognitions and partnerships echo their expertise and reliability. As a Google Premier Partner and Microsoft Advertising Select Partner for 2023, their credentials are solidified. Their impressive accolades include being ranked as a Top 3 eCommerce SEO Agency by both Goodfirms and Upcity. Client testimonials resonate with the agency's unparalleled commitment to achieving tangible results, be it through keyword, content marketing, or PPC campaign optimization. Prospective clients can expect not just service but a transformative experience with SmartSites, making them a standout in the keyword research agency realm.
---

Founded: 2005
Employees: 10-49
Clients: Unique Safaris, VESSEL, Grow Strong Industries
Thrive distinguishes itself as a paramount figure in the realm of search engine optimization, adeptly guiding businesses to enhance their online prominence. With over 15 years in the trenches, Thrive has evolved into a nexus for businesses wrestling with challenges such as dwindling website traffic or diminished online leads. Their comprehensive approach transcends superficial fixes, diving deep into the core of SEO. From meticulous keyword research and strategic link-building to robust technical and localized SEO solutions, they demonstrate a masterful grasp of the intricate SEO landscape.
Furthermore, their emphasis on optimizing Google Business Profiles showcases their nuanced understanding of the importance of local searches. Client testimonials are a testament to Thrive's unwavering dedication, painting them not just as a service provider but as a genuine ally in online growth. Their impressive portfolio, punctuated by substantial surges in organic traffic and leads, stands as proof of their prowess. With Thrive, businesses are not merely hiring a keyword research agency; they are aligning with a partner profoundly committed to their enduring online success.
---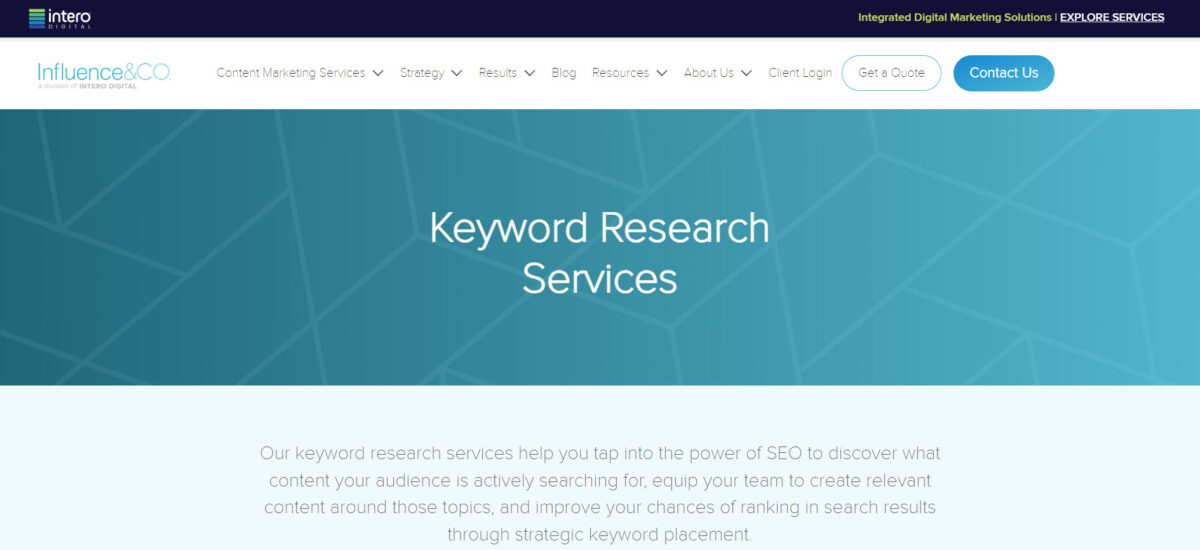 Founded: 2011
Employees: 50-249
Clients: RAPP Worldwide, MindBridge Analytics, Ascent Venture Capital
Influence & Co., under the umbrella of Intero Digital, stands out as a vanguard in the realm of keyword research and optimization. Their services are meticulously designed to harness the potential of SEO, enabling businesses to discern precisely what content their target audience is pursuing. Through a structured process, the agency assists businesses in analyzing current keyword rankings, spotting opportunities for new keyword inclusion, and thoughtfully categorizing these keywords into coherent topic clusters. This methodical approach ensures content not only resonates with the audience but also holds significant potential for improved search engine ranking.
The agency's commitment to results-driven strategies is further reflected in their diverse service offerings. From lead generation and sales enablement to thought leadership packages, Influence & Co. crafts bespoke solutions tailored to meet distinct client objectives. Their efficacy is underlined by glowing client testimonials, with stakeholders lauding them for consistently delivering on promises. For businesses eager to amplify their content's visibility on platforms like Google, Influence & Co.'s keyword research services promise not just insight but tangible results.
---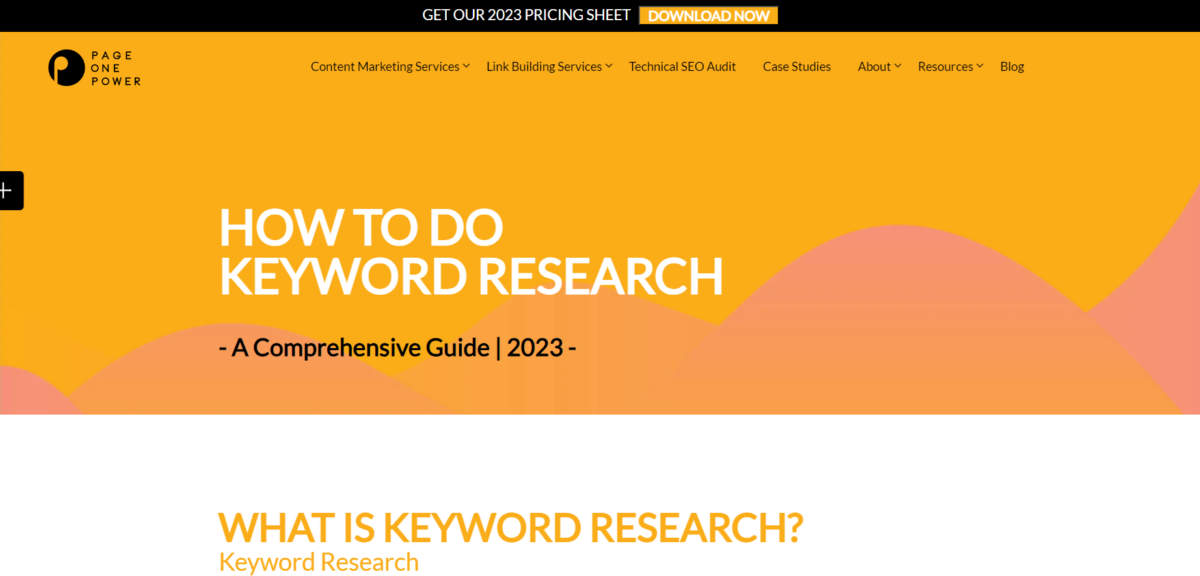 Founded: 2010
Employees: 50-249
Clients: Quote, Neighborly, WorkWave
Page One Power, an established name in the SEO sphere, is revered for its meticulous keyword research services, setting it apart in the vast landscape of keyword research agencies. Delving deep into the very fabric of SEO, the agency's systematic six-step approach commences with a thorough analysis of a website's current keyword performance, transitioning seamlessly into an astute review of both primary search competitors and industry-specific niche keywords. This thoroughness culminates in manual keyword segmentation, enhancing opportunity maximization. To ensure transparency and client engagement, the agency disseminates segmented data and salient PDFs, spotlighting keyword trends and opportunities, followed by a detailed consultation and discussion of insights and recommendations.
Reaffirming their commitment to excellence, Page One Power merges their keyword research prowess with an expansive portfolio of SEO link-building services, tailored content marketing solutions, and in-depth SEO consultations. Their 13+ years of experience is a testament to their proficiency, with a track record of delivering remarkable results for their clientele. For businesses aiming for ascendency in search rankings, Page One Power's keyword research services promise comprehensive, data-driven strategies underpinned by their unwavering dedication to client success.
---
Founded: 2009
Employees: 10-49
Clients: From the Future, Backlinko, Rankings.io
In the dynamic world of SEO, Loganix emerges as a dedicated stalwart, particularly acclaimed for its proficient keyword research services. Recognizing the intricate and time-consuming nature of manual research, the agency positions itself as a solution-oriented partner, eager to shoulder this intricate task on behalf of its clients. At its core, Loganix prioritizes the identification of product and service keywords, emphasizing commercial terms crucial for business growth. Their exhaustive process encompasses pulling keyword data, crafting a structured spreadsheet, performing search intent analysis, and meticulously filtering out any misaligned keywords. This comprehensive approach ensures clients receive actionable, organized data designed to drive measurable results.
Complementing its core service, Loganix's offering spans a vast array of SEO services, including citation building, backlink gap analysis, and content strategy, among others. These services, executed by seasoned U.S. and Canadian marketers, guarantee well-structured, action-driven reports delivered promptly. The agency's robust suite of services, coupled with endorsements from industry experts like Nathan Gotch, underscores Loganix's esteemed position in the keyword research domain. For businesses seeking to harness the power of SEO, Loganix presents itself as a reliable, results-driven ally.
---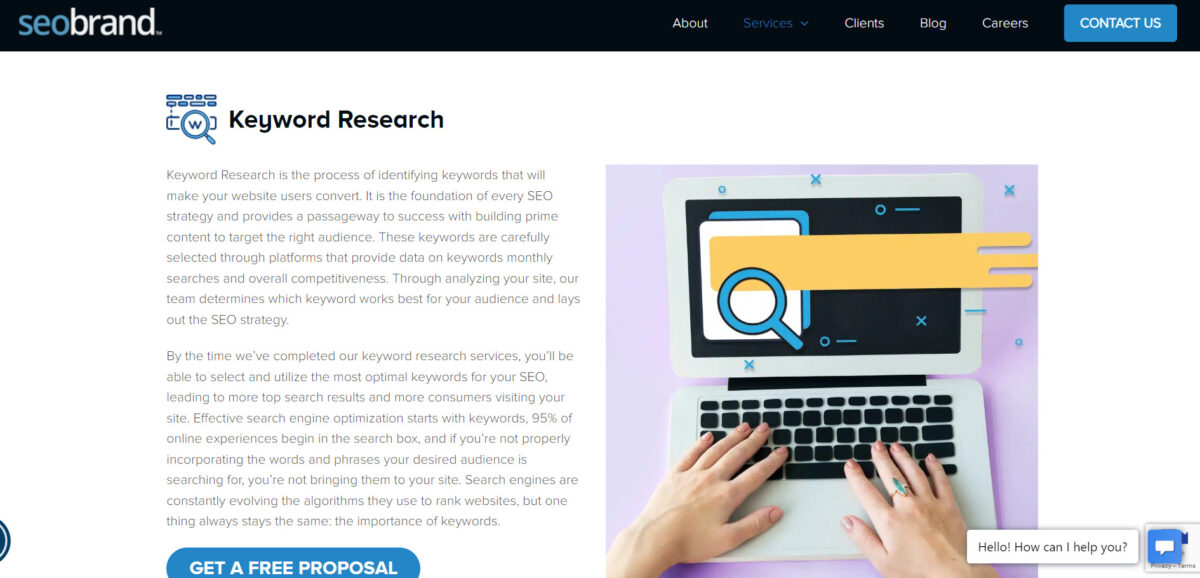 Founded: 2006
Employees: 10-49 
Clients: Mont Blanc, The Ritz, Uniden
The term "keyword" often dictates the game, and SEO Brand has positioned itself as a master player. With a nuanced understanding of the digital landscape, SEO Brand emphasizes that keyword research isn't just about the volume; it's about targeting the precise terms that convert website visitors into loyal customers. By leveraging advanced platforms that provide insights on monthly keyword searches and competitiveness, SEO Brand tailors its approach to identify keywords that resonate best with a client's unique audience. The agency's expertise goes beyond merely listing keywords. They commit to formulating a holistic SEO strategy that's built upon the pillars of relevancy and user intent. 
However, the agency's distinctiveness doesn't halt at keyword identification. By adopting a 360-degree approach, they ensure businesses aren't just visible but notably prominent in search results. Delving deep into the intricacies of keyword value, SEO Brand eliminates the generic, focusing on keywords that bring both traffic and conversions. Their dedicated services cater to the nuanced demands of keyword optimization, ensuring clients achieve top-tier search engine rankings. For businesses desiring an edge in the digital arena, SEO Brand offers not just a service but a strategic partnership.
---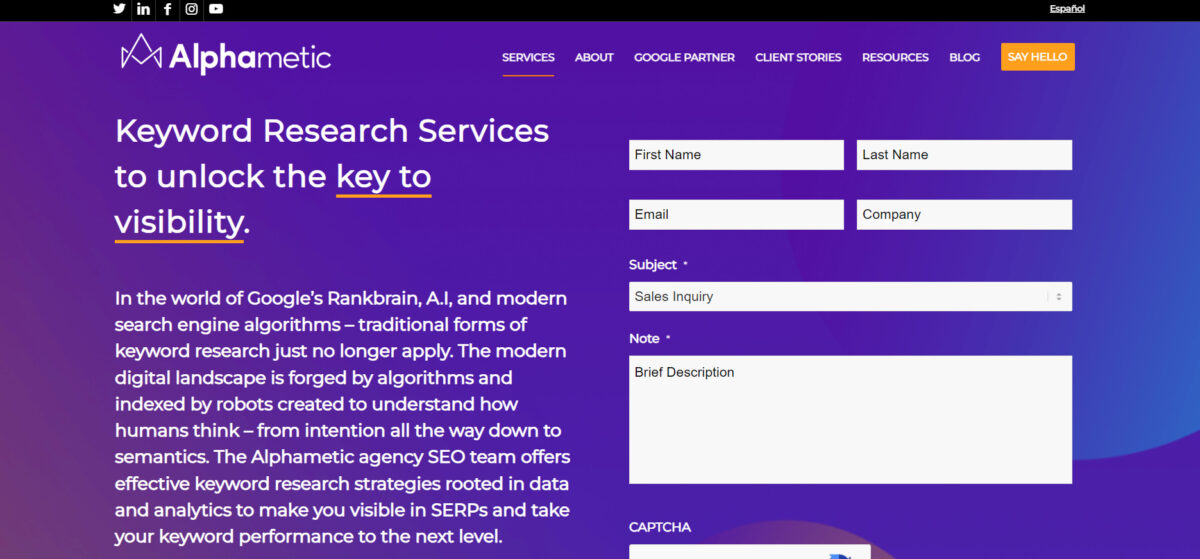 Founded: 2015
Employees: 2-9
Clients: L'oreal, Shopkeeper, Makeup.com
Alpha Metic is at the forefront of redefining traditional keyword research in the era of advanced algorithms and artificial intelligence. Recognizing that today's digital landscape is a blend of human intention and semantics interpreted by machine intelligence, Alpha Metic's seasoned SEO team employs data-centric strategies tailored for modern search challenges. They ensure visibility in search engine result pages (SERPs) and elevate keyword performance. Unique features of their service include a keyword funnel approach, which interprets the intent behind each search query, aligning it with the buyer's journey. This is further complemented by their hunt for "Golden-nugget keywords," which are specific terms that exhibit a higher likelihood of conversion. 
They also offer keyword mapping, ensuring that the right terms target appropriate website pages to enhance user experience and intent satisfaction. Continuous improvement is a hallmark of their service; with keyword tracking tools, they gauge keyword effectiveness and recalibrate strategies, ensuring optimization is a constant process. Their expertise is underscored by testimonials from industry leaders, emphasizing their capability to enhance organic search strategies and drive tangible results. With Alphametic, businesses aren't just assured of state-of-the-art keyword research tools but also the seasoned expertise to harness them for maximum impact.
---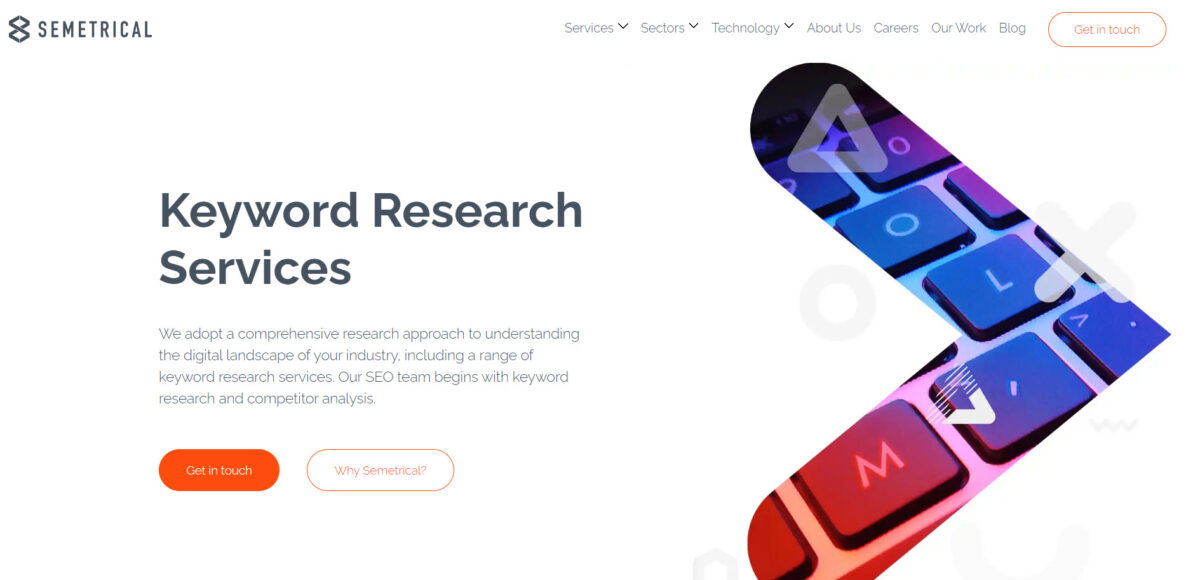 Founded: 2012
Employees: 10-49
Clients: OnTheMarket.com, CloudFlare, Flexi Offices
Semetrical offers a nuanced approach to keyword research, laying the groundwork for diverse digital marketing strategies. With the digital landscape of industries constantly evolving, Semetrical's comprehensive research is tailored to capture this dynamism. Their SEO team, armed with bespoke in-house tools, meticulously segments and analyzes vast sets of keywords, including longtail variations. This granular analysis informs a gamut of strategies, from PPC campaigns and social media initiatives to buyer persona development and website architecture recommendations. 
What truly sets Semetrical apart is their dedication to data-driven keyword intelligence. Recognizing that modern users have multifaceted search behaviors, they leverage a combination of their proprietary technologies and renowned third-party tools like Google Ads and SEMrush. Their expertise ensures the identification of keyword topics and subtopics that are not only relevant but also valuable to clients. By focusing on search intent, Semetrical ensures that the generated traffic aligns with client objectives, maximizing potential conversions. As underscored by their client success stories, Semetrical delivers on their promise of award-winning results, making them a standout choice for businesses seeking growth through astute keyword research.
---
---
How Frequently Should I Update My Keyword Research for an Evolving SEO Strategy?
Keyword research is the cornerstone of a successful SEO strategy, but it's not a one-time task. To keep your SEO efforts effective and adaptive, you need to regularly update your keyword research. The frequency of these updates can significantly impact your search engine rankings and traffic.
Google's algorithms are constantly evolving, and user behavior and search trends change over time. Here's a breakdown of how often you should update your keyword research:
Regular Monitoring

: Start by monitoring your keyword rankings and website performance on a monthly basis. Tools like Google Analytics and Google Search Console can provide valuable insights into how your keywords are performing.

Quarterly Updates

: Conduct more comprehensive keyword research updates every three months. This allows you to stay up-to-date with changes in search trends and competitor strategies.

Seasonal Adjustments

: Some industries experience seasonal fluctuations in search behavior. For example, retail businesses may see spikes in certain keywords during holiday seasons. Adjust your keyword strategy accordingly to capitalize on these trends.

Algorithm Changes

: Keep a close eye on major search engine algorithm updates. When Google or other search engines roll out significant changes, it's crucial to assess how they impact your keywords and rankings.

Competitive Analysis

: Regularly analyze your competitors' keywords and strategies. If they make significant changes to their keyword targeting, you may need to adjust your approach to stay competitive.

Content Expansion

: As you create new content, conduct keyword research to identify opportunities for fresh keyword targeting. This helps you stay relevant and capture a broader audience.

User Feedback

: Listen to your audience. Pay attention to customer feedback, comments, and questions. Their language can provide valuable keyword insights.
Keyword research is an ongoing process that should align with the dynamic nature of search engines and user behavior. By regularly updating your keyword strategy, you can adapt to changes, maintain or improve your search rankings, and ensure that your content remains relevant and valuable to your target audience.
---
What Role Do User Intent and Semantic SEO Play in Keyword Research?
Understanding user intent and implementing semantic SEO are essential components of effective keyword research. Gone are the days of simply targeting keywords; today, it's about aligning your content with what users are actually looking for.
User Intent Defined
User intent refers to the specific goal or purpose behind a user's online search. There are generally four main categories of user intent:
Informational

: Users seek information or answers to questions.

Navigational

: Users want to find a specific website or page.

Transactional

: Users are ready to make a purchase or complete an action.

Commercial

Investigation: Users are researching products or services before making a decision.
Semantic SEO Explained
Semantic SEO goes beyond the literal interpretation of keywords and focuses on the meaning behind the words. It considers context, synonyms, related concepts, and the natural language people use when searching. Semantic SEO aims to create content that comprehensively covers a topic and satisfies user intent.
---
The Role of User Intent in Keyword Research
Keyword Selection

: Understanding user intent helps you choose keywords that align with the stage of the user's journey. For example, if the intent is informational, focus on informative content.

Content Creation

: Create content that directly addresses user intent. Provide valuable information, answer questions, and guide users toward their goals.
The Role of Semantic SEO in Keyword Research
Keyword Variations

: Incorporate synonyms and related terms into your content. Search engines are becoming more adept at understanding context, so this can help improve rankings.

Content Depth

: Create in-depth, comprehensive content that covers a topic thoroughly. Use semantic keywords to enhance the depth and relevance of your content.

Structured Data

: Implement structured data markup to provide search engines with additional context about your content, helping them understand its relevance.
User intent and semantic SEO are integral to modern keyword research. By focusing on what users are looking for and incorporating semantic strategies, you can create content that not only ranks well but also provides genuine value to your audience, resulting in improved SEO performance and user satisfaction.
---
Conclusion
In the evolving realm of SEO, the significance of effective keyword research cannot be overstated. The right agency can be the pivot on which superior search results turn, ensuring that content resonates with user intent and search trends. 
This curated list of top 10 keyword research services is tailored to assist businesses in navigating their options and choosing a partner that aligns with their objectives. Armed with the insights from a proficient agency, businesses can enhance their online visibility, drive targeted traffic, and secure a competitive edge in their respective industries. Choose wisely and let data-driven keyword intelligence propel your digital success.
Frequently Asked Questions
What are long-tail keywords, and how can they benefit my SEO strategy?
Long-tail keywords are specific, longer phrases that cater to niche queries. They benefit your SEO strategy by targeting a more focused audience, reducing competition, and improving conversion rates. Utilize them for content that answers specific questions and addresses unique user needs.
Are there any free keyword research tools worth using for small businesses?
Yes, several free keyword research tools are valuable for small businesses. Google's Keyword Planner, Ubersuggest, and AnswerThePublic are great options. While they may have limitations compared to paid tools, they can provide valuable insights and starting points for keyword research.
Can keyword research help improve my content marketing efforts?
Absolutely, keyword research enhances content marketing efforts by guiding content creation around topics that interest your audience. It helps you understand user intent, uncover trending topics, and optimize your content for search engines, leading to higher visibility and engagement.
Are there any ethical concerns or best practices to consider in keyword research?
Ethical considerations in keyword research involve avoiding keyword stuffing, misleading users, or targeting inappropriate keywords. Best practices include focusing on user intent, providing valuable content, and maintaining transparency in your SEO practices.
How do I choose the right keywords for local SEO optimization?
To choose the right keywords for local SEO optimization, start by researching location-specific keywords, including city or region names. Optimize your Google My Business listing, encourage customer reviews, and ensure your website includes location information.