Best for:
Entrepreneurs, Elearning Companies & Corporate Training
The course creation platform industry is filled with many solutions. When we started out in our journey towards reviewing as many platforms as we can, we quickly realized that there was much to unpack. While courses all have information in common, and that information needs to be packaged in a format that's easily digestible, much about the way course platforms work is unique. In this LearnWolrds review, we'll examine each feature the platform has to offer. The goal? We want to give you every bit of insight you need to determine whether this is the platform to create your next course on.
LearnWorlds Review:
---
What is LearnWorlds?
LearnWorlds is a course creation platform that allows you to create, market, and sell courses online. At a glance, you can tell it is filled with many features. And truth be told, there appear to be enough features that make it immediately appear as a more robust platform, and likely one better suited for training companies or enterprises than solo entrepreneurs. But before you write the platform off, you should know that access to its features will help you build a high-quality course.
---
LearnWorlds Review: Feature Breakdown
LearnWorlds is one of the most feature-packed course creation platforms we've come across. It's filled with features and functionality that most platforms don't have, placing it in a league of its own. For example, while everyone knows student engagement is imperative, few if any platforms we've come across offer a built-in social network and a daily news section fueled by RSS feeds you can choose. That said, let's take a look at what LearnWorld has to offer.
Signing-up
Getting started in LearnWorlds is a one-step process. Enter your email address and give your school name to start building. LearnWorlds does not require a credit card to access the platform and provides access for a 30-day test-drive on all plans excluding their high-volume plan.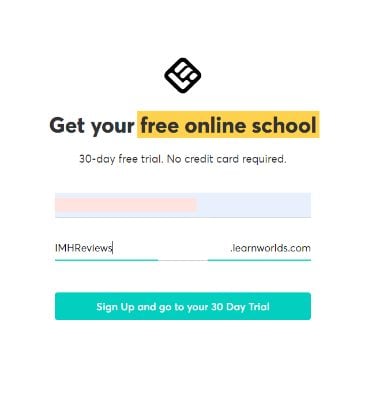 Dashboard
Once signed up you are sent directly to your dashboard. Your dashboard holds the wealth of information that is neatly categorized. There's a collection of videos for each category, and categories include content on creating your first course, building landing pages, exploring what LearnWorlds has to offer, and the collection of the most common questions instructors have.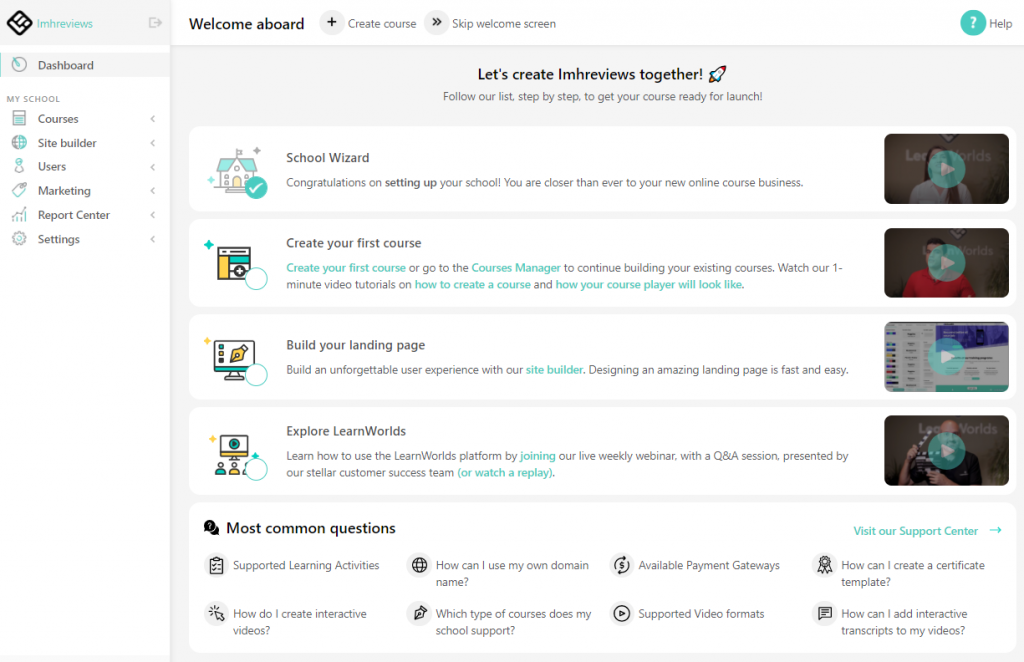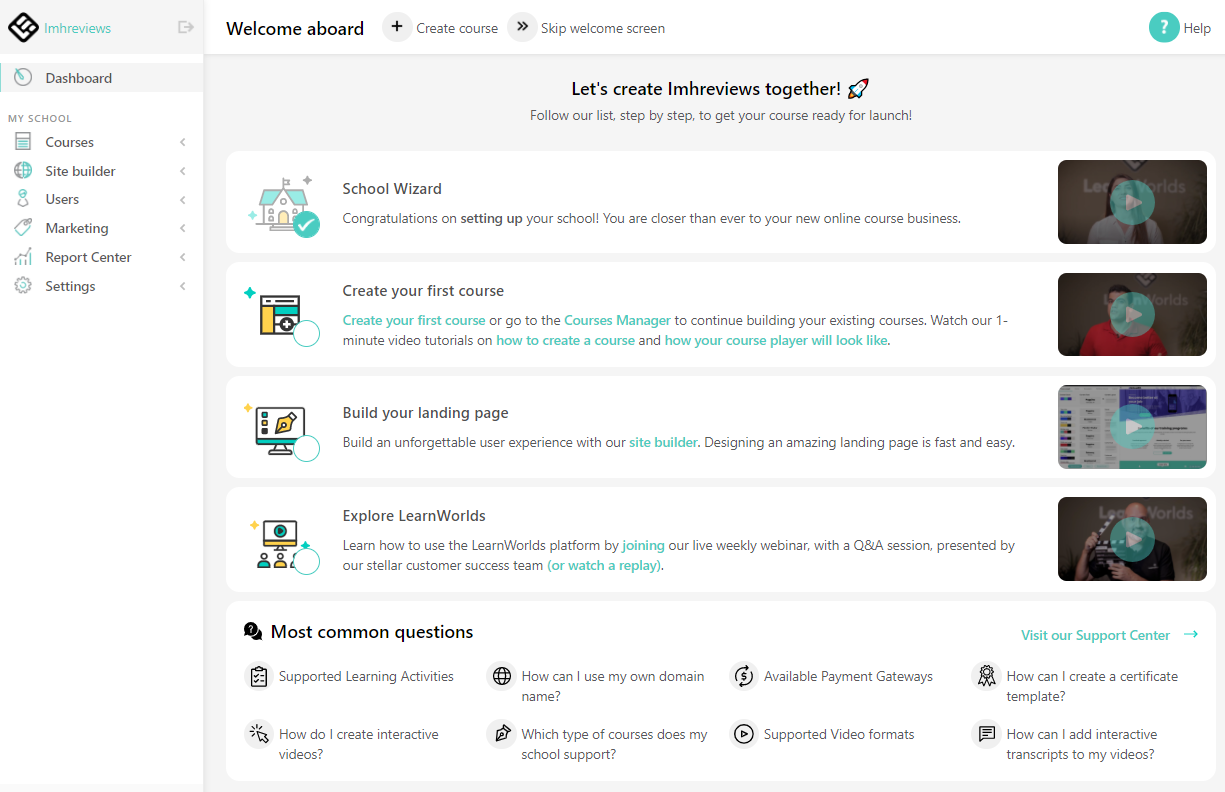 ---
Creating Courses
To start building your course, click on Courses in your left-hand margin. Next click on the Create Course button. LearnWorlds then offers a course creation wizard. It starts by asking for a title for your course. You'll then select the type of access for your course. Here, you can choose to create a paid, free, private (only accessible to users who have been enrolled for it), or keep your course in draft or coming soon mode.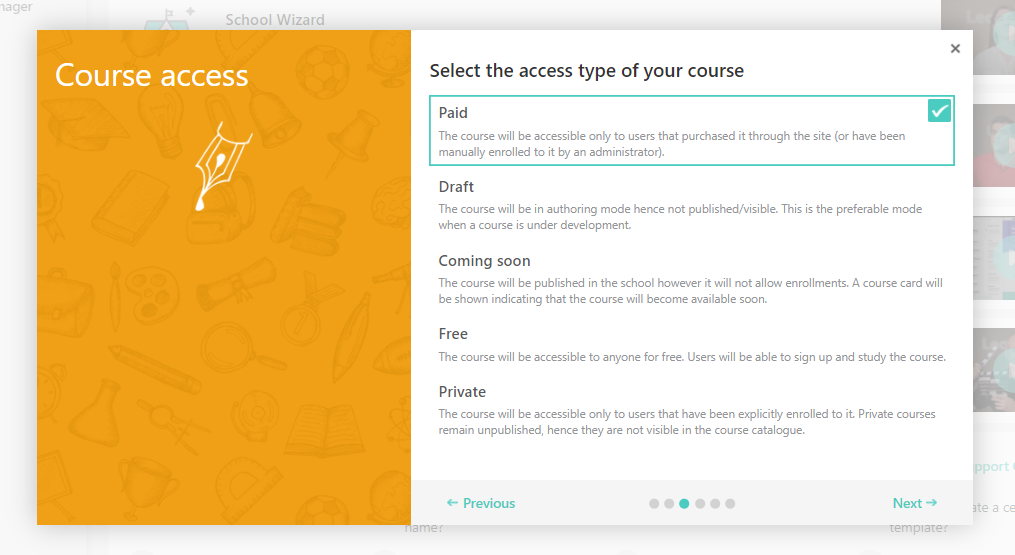 If you plan on creating a paid course, enter a price point and determine if you want to add a discount and what that value will be. Your course will need an image and a brief description. Lastly, you can determine whether to offer your course using a drip feed. If you're not sure about this just yet, you can always revisit it later.
As course creation or set up processes go, LearnWorlds' is relatively easy to move through. And this is important. Course creators are typically knowledge experts and not course creation experts. Simplfying the proess lowers the barriers to entry, making the platform more accessible and enjoyable for more instructors.
Course creation out of the way, you'll be presented with a markup/preview of your course sales page which is completely editable. By clicking on the Edit page button, you'll be able to add a new page, edit page properties (including SEO), add custom code, or even clone, clear, or delete a page.
You'll also have the option of customizing colors, typography, buttons, and your page layout. LearnWorlds ensures that all design work fits perfectly on all types of screens, and you can get a peek at each via the responsive drop-down menu at the top of the screen. When you're done, take a look at what you built by clicking on the Preview button or save your page.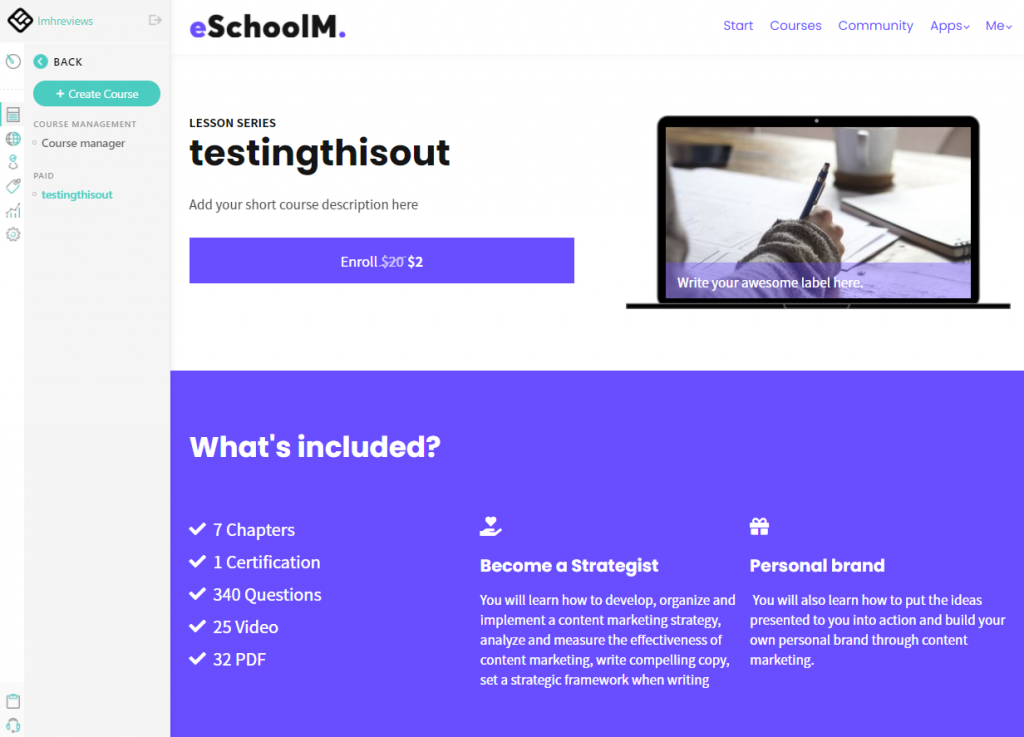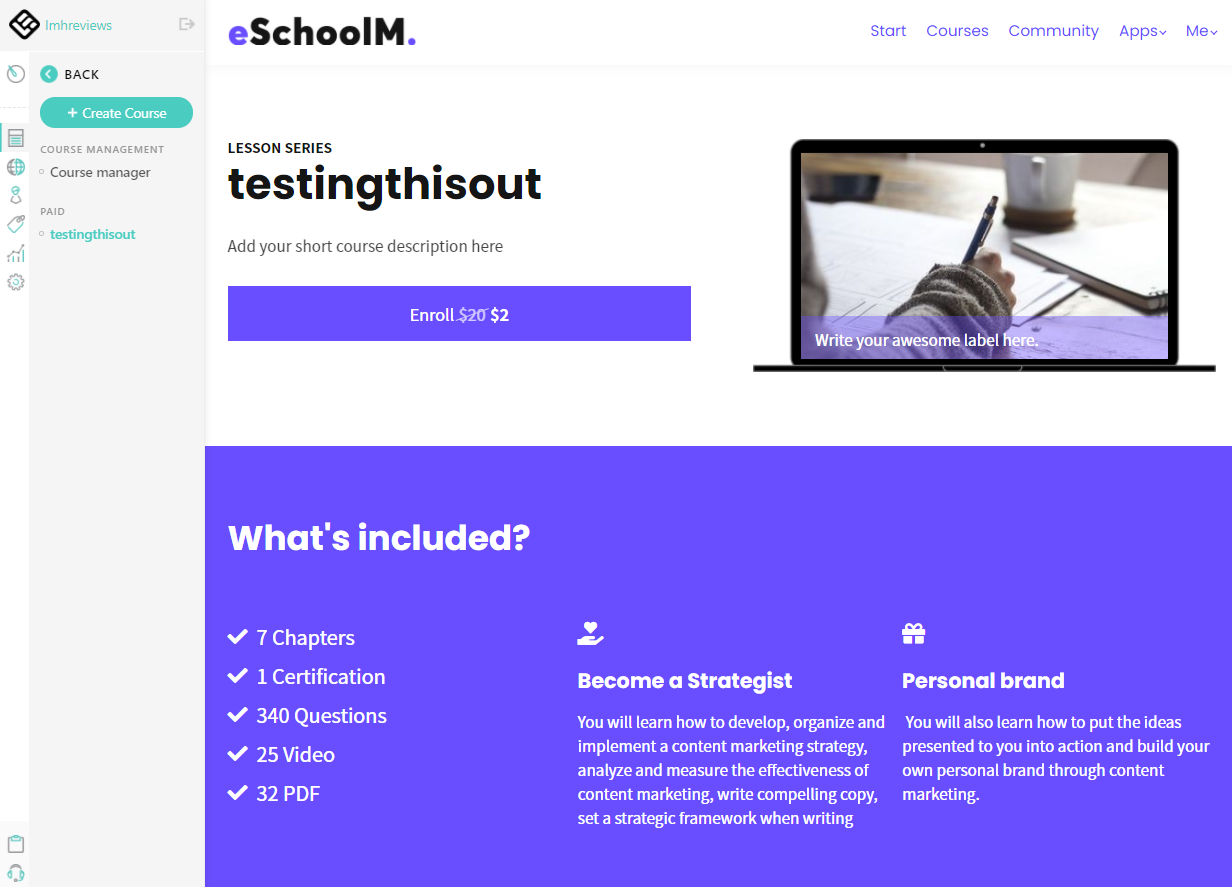 ---
Creating Course Content
Sales page design out of the way, let's focus on building your actual course material. To start creating course content, you'll use a series of tabs at the top of your screen. The tabs are available when looking at the editable version of your sales page.
Tabs include Layout, Contents, Access, Pricing, Settings, Course player, Video library, and Dashboard. Building your course content takes place on the Contents tab. Course content starts with the creation of a section. When you create sections, you must add a section title, determine level access based on whether this section is in draft mode, coming soon, free, or paid. You'll also need a description and can upload a section background if you'd like.
Creating almost every element in LearnWorlds follows this process. It starts with selecting an item, then labeling and customizing it where necessary. It quickly becomes an easy-to-perform process.
---
Activities
Once the first section is created, you'll be able to add an activity. If you're like us, you're probably wondering what the significance of a section is. As we built-out our sample course, we learned that sections are actually lessons. Activities are, therefore, parts of lessons.
Activities are available in various formats. These include:
Multimedia
Video

E-book

PDF

YouTube

SoundCloud

Audio

SCORM/HTML5 Package
Live Session
Zoom Meeting

Zoom Webinar
Questionnaires
Certificates
Certificate

Certificate of completion
Embed
Embed code

Embed a Slideshare

Embed an external link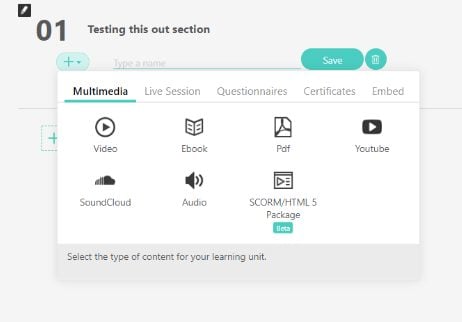 Once you've selected the activity, you'll need to edit its settings. Clicking on the Settings button will create a pop-up window to the right of the screen. This is where you will give you activity a title and description. Depending on the type of activity you've selected, you'll need to add additional information. For example, a video will require that you it selected from LearnWorlds video library or enter the video ID if it's hosted with Vimeo.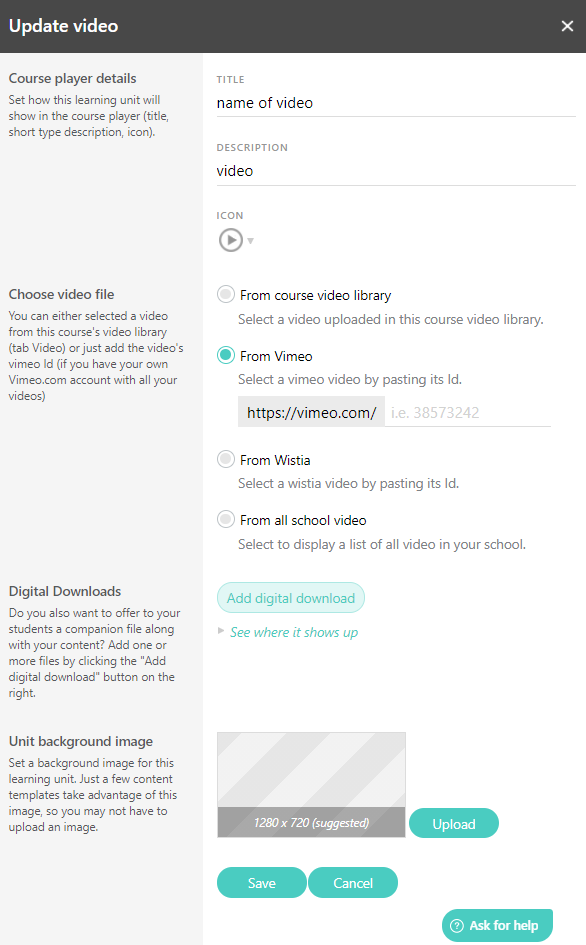 As you can tell, LearnWorlds offers a variety of ways for you to engage your students in activities. And truth be told, this is one of the most comprehensive features we've seen out there.
---
Interactive E-books
LearnWorlds has created one of the most impressive learning experiences we've seen. The platform allows you to create interactive e-books by converting content you have or by uploading a Word document and turning it into an e-book. But that's not all. Your attractive e-book can be used as a working document by students. They can highlight content and add notes to aid their learning experience. Interactive e-books also come with over 25 templates, so you never have to worry about how attractive they look.
---
Site Builder
While we briefly covered site design functionality, it's worth mentioning that the Site Builder handles designing your entire website. LearnWorlds offers 400 templates you can use to design pages. That's one of the highest numbers we've come across in the industry. Once again, you get to choose a color palette, font types, and a layout for each page.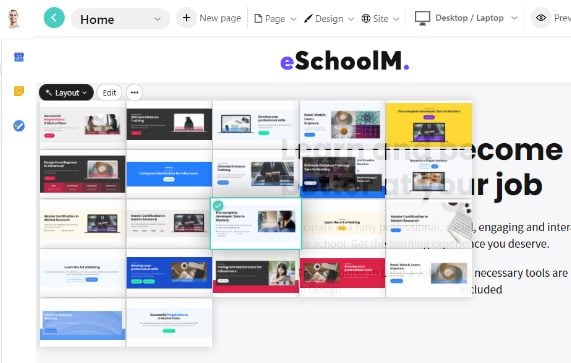 Login Forms
Login forms include a collection of templates. Once you've selected one, you can choose what your login process will be. You can enable logins for everyone, or disable the option, give admin users access, and disallow sign-ups altogether.
Logo and Favicon
LearnWorlds allows you to make the platform your own by adding a favicon and logo. Your logo will appear as a video watermark (when enabled), in the header of emails sent to users, and serve as the default metadata image for pages posted to social media.
Blog Set up
The blog set up process is straightforward. It starts with the selection of a radio button to activate it. You can edit your blog homepage in the paid editor, and give it a name and a description. LearnWorlds also automatically creates an RSS feed for your blog.
Custom code
Custom code is helpful for course creators that understand why it's required. In many cases, it's got to do with unique design elements you'd like to include on your site, or with inclusion of analytics and the use of tracking codes. Whatever your reason, LearnWorlds allows you to add custom code to the head and body of your website.
Site Flavors?
A feature we are not entirely sure we understand is Site Flavors. LearnWorlds allows you the option of duplicating an already designed website and tweaking it for launch whenever you want to, or creating a new site altogether. From what we can tell, this functionality may come in handy if you're performing A/B split testing. The only challenge is, we don't see the option to run an A/B split test in the platform, and that could require a third-party app integration at most, or the use of Google Analytics.
---
Site Settings
The Site Settings section is where you go to manage your domain. Settings include:
Domain
Create redirects from a custom domain to a LearnWorlds subdomain or a replace your LearnWorlds URL with your own custom domain.
Sign up
Sign up allows you to choose your sign-up process, which can be directly through your school, via a one-click sales funnel, or through social media. You also get to choose which sign up fields you require, if a checkbox should appear for enrollees to accept terms and conditions, and to allow multiple concurrent sessions from the same user.
Navigation
Setting navigation allows you to pick a default or homepage for your site. LearnWorlds offers the option to lock un-enrolled users out of the site by redirecting them to a specific page, or by allowing them to navigate through your schools pages and access free course material.
And we think this is a smart idea. LearnWorlds has clearly thought about the intricacies of making content available as well as the potential for converting visitors into customers. Site Navigation makes it possible to include a custom logout URL, a nice touch for instructors who want to create additional engagements and intive students to off-platform resourse and social communities.
---
Users
The Users section of LearnWorlds is broken up into three areas. It includes Learners, Instructors, and Affiliates. Each area allows you to view all users for that category, and comes with a host of features to manage them. For example, you get a search bar to search for learners, and that can be controlled by the collection of filters. These include filter for learners who have purchased a specific product, enrolled on a specific date, or select learners by their account status (suspended, paying, non-paying, and never logged in).
Like most course platforms, you can manually add users, instructors, and affiliates to your database. Click on the Add New User button, enter users full name, email address, tag, and then click on the Add user button.
---
Users Filter By
While the user categories above come with their own screens, and filters, LearnWorlds also offers preset filters. These are:
Paying

: a list of paying students

Non-paying

: a list of non-paying students

Suspended

: a list of suspended students

Active this week

: students active within the last week

Signed up this week

: new students who've enrolled in the current week
---
Marketing
Marketing is a major component of rolling out a successful course. This makes marketing tools on course platforms a big deal. Here's what LearnWorlds has to offer.
Marketing Products
Bundles
Bundles allows you to create a collection of courses that you can bundle and sell as one product. Bundling is a smart way to maximize on average sales value, and one that many other platforms also offer.
Subscriptions
Subscriptions is where you'll create subscription plans for access to your services.
A note: to create subscriptions you'll need to sign up for your payment gateway, first.
---
Marketing Tools
Promotions (Coupons)
Coupons are pretty common online, especially for driving strong and effective campaigns. LearnWorlds makes coupons available and they are easy to create. When building your coupon you'll assign a promotion name, determine the percentage or dollar value of discount you'll offer, choose which product(s) it applies to, determine the quantity and expiry date, and then hit the Save button.
Leads from Pages
The Leads from Pages feature may sound a little confusing at first glance. All it really means is that you can generate leads from various pages on your site. This can be done by adding sign-up or newsletter forms to site pages.
---
Affiliate Management
Affiliate programs are a biggie online. They make the challenging process of getting your brand and product out there simpler by leveraging an army of promoters. To set up your affiliate program in LearnWorlds, click on the radio button to enable it. You can also edit your affiliate agreement, set commissions rates and cookie expiration dates, and a time frame by which commissions are payable. You can also choose whether to allow affiliates to register on their own, design a registration page, and when logged into their accounts, you can determine what they see.
While these features seem like more than enough, LearnWorlds goes a step further. They offer you the option of displaying customers and leads affiliates have signed up. This level of detail allows you the chance of creating unique incentives based on affiliate performance, helping you increase revenue.
Dashboard
Your affiliate dashboard comes with the collection of valuable metrics. You'll be able to tell how much revenue was generated over time and can select a timeframe from the drop-down menu. You also get to see how many customers and active leads have been acquired.
Your dashboard includes revenue, sales, referral link clicks, referred customers, leads, and affiliate values. And you can tell how many payouts are due, how much is to be paid out, the commissions you must approve, and what the commission payout amount is.
Affiliates
The Affiliates tab is where you'll see a list of all affiliates currently in your program. You have the option of manually adding affiliates and can export the data.
Commissions
Commissions offers five views. You get to see New (pending approval), Approved (not paid), Approved (payable), Paid, and Rejected commissions. Within each you can search for specific orders and filter by product and date.
Payments
The Payments tab will show all payouts due, those completed, and those not yet payable.
Leads
The Affiliates Leads tab will give you a list of all leads generated. You can also use the search bar to find a specific lead or filter by time frame.
Customers
Like the Affiliates Leads tab, the Customers area will give you a list of all customers. You can also use the search bar to find a specific lead or filter by time frame.
Looking at the variety of affiliate views above, they may appear to be overkill. We think that they help segment the various parts of an affiliates business, but do feel that LearnWorlds can do a better job of presenting its Affiliates section.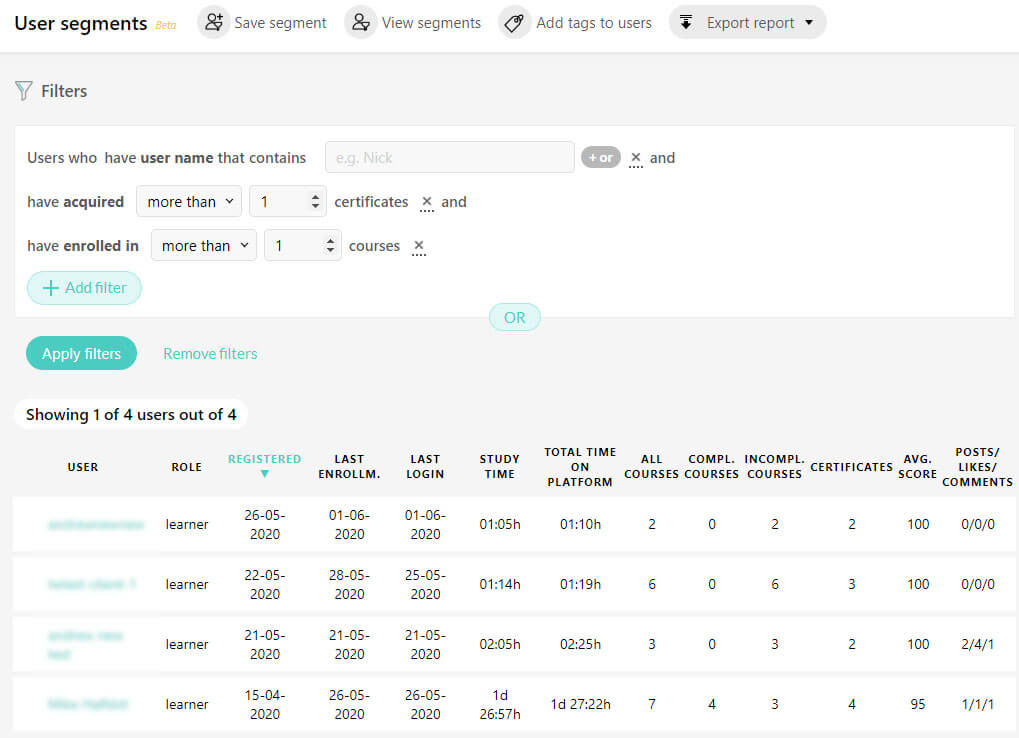 ---
Report Center
Reporting is just as valuable as marketing. Today, building an online business means understanding what drives your business. From clicks to leads, and ultimately sales, you need to know which metrics matter most and track them feverishly. The Reporting Center offers a collection of reports. Here's what they are.
---
User Analytics
Use analytics allows you to keep track of student progress and identify segments. The User Progress feature allows you to sift through data using various feilds to find specific students and tell how well they performed. The User Segments feature allows you to find users by name or using any of the filters. You're also able to create segments, view them, tag users, and export a report.
---
Exams
The Exams section is where you'll be able to manage a collection of grade related information. For example, the Gradebook shows all grades for specific courses, where Certificates shows learners who have received certificates. The Assignments area is where you'll find all submitted written assignments, and your Question Banks is where you'll organize questions to be used in your course.
---
Sales
Tracking sales should always be one of the easiest things to do on an online course creation platform. To help, LearnWorlds offers a collection of dedicated reports. These include:
Orders

: list of orders received

Product revenues

: a breakdown of revenue generated by product

Instructor revenue

: revenue generated by instructor

Canceled Sales

: the list of all sales canceled
All reports can be filtered.
---
Activity History
One of the more interesting features we've reviewed to date has to be the event log offered by LearnWorld. Actvitiy logs are common in many platforms. LearnWorlds provides a breakdown of all activities that have been performed in your school. Event logs show the date and time of the activity, which user performed it, and there's a column with additional information (usually the type of browser, country .etc). The Email log, on the other hand, records every email sent from the system.
---
Schedule Reports
LearnWorlds takes reporting a step further by providing a report log. It's a log of all reports created by the platform for your school. These include user, sales, and analytics reports.
While it's great to have this much detail, it may not be a feature that many instructors will use. If we were to imagine a use case, it would have to be one associated with an event that led to some form of loss experienced by a course creator. Logs could then be used as part of an audit to identify what went wrong.
---
School Settings
School Settings is where you'll control basic settings. These include the ability to change the name of the school, its description, your company name, and which time zone you're located in. It's also where you'll enter in a contact email address, one for your support team, one for sales, a contact number, a Skype account, and your physical address.
Other settings you can control include:
Community Access

: who can discuss topics and share ideas, and whether messenger can be used to discuss your school within LearnWorlds

School language

: which terms you use for various purposes. For example, LearnWorlds offers a host of default text for various feilds. You can edit these fields if you like. The "payment history" field could be labeled the "payment record" field.

Copyright Protection

: control where your watermark appears in video and PDFs, as well as the transparency thereof

Privacy/GDPR

: Manage your GDRP-related settings and choose what your privacy settings will be

Currency

: assign a currency and decide whether to include a terms and conditions checkbox as a prerequisite before any purchase by student

Payment gateway

: integrate your payment gateway

Invoice Set up

: Customize your invoices with an invoice number prefix, the company VAT number, a thank you message, and more
---
Integrations
An aspect of building a truly effective online course that most platforms include is the flexibility of integrations. While many platforms want to be able to do everything, offering as many native applications as possible, getting it right requires huge investment. This doesn't always have to be the case. Integrations can allow you to leverage more functionality and provide a powerful platform.
LearnWorlds understands this. They've developed an entire integration area and it supports the following features:
Affiliates

: use ReferralCandy is an e-commerce plug-in and Refersion as an affiliate commission automation tool

Analytics

: integrate Google Analytics, Google Tag Manager, Mixpanel, and Facebook Pixel

Customer service

: use FreshChat, Zendask, Olark, and Tawk to

Email marketing: connect MailChimp, Active Campaign AWeber, and ConvertKit
Growth tools

: use Google Search Console Verification, Intercom, SumoMe, and HubSpot

Social proof

: Add Fomo

Teleconferencing

: integrate Zoom

Connect Zapier

and access over 2000 apps
Webhooks can also be created using POST json.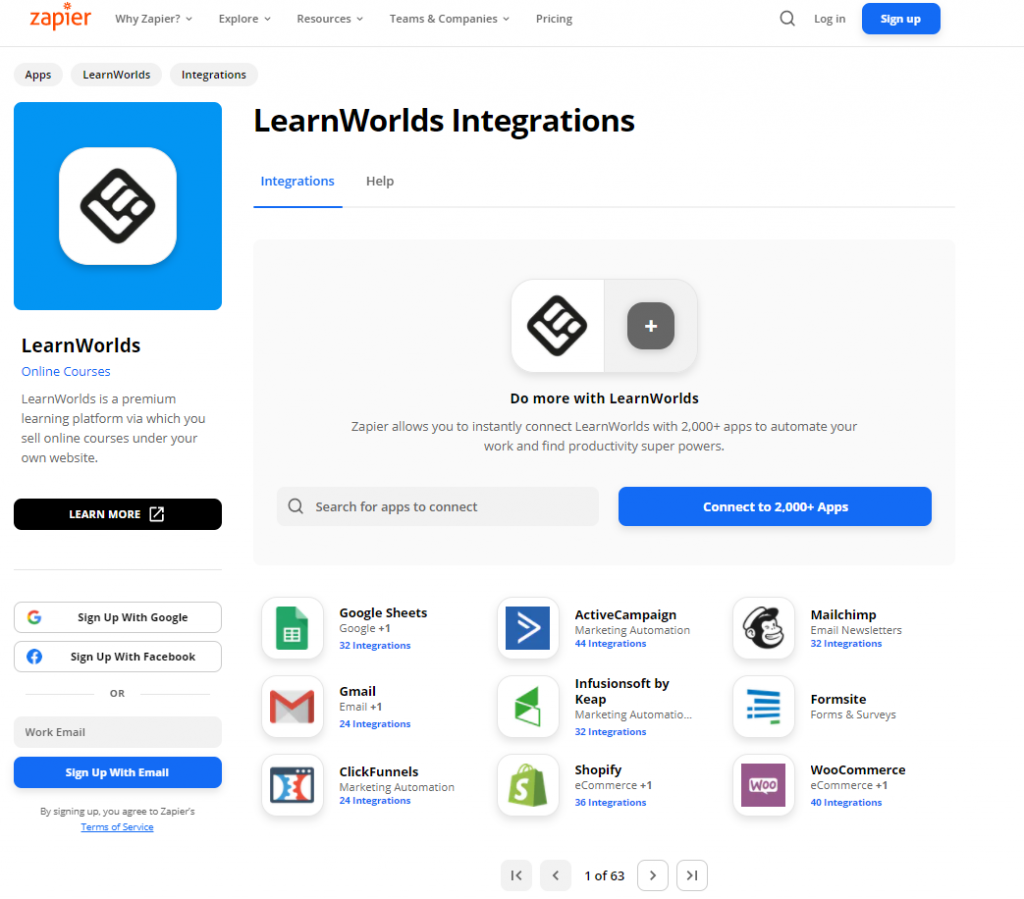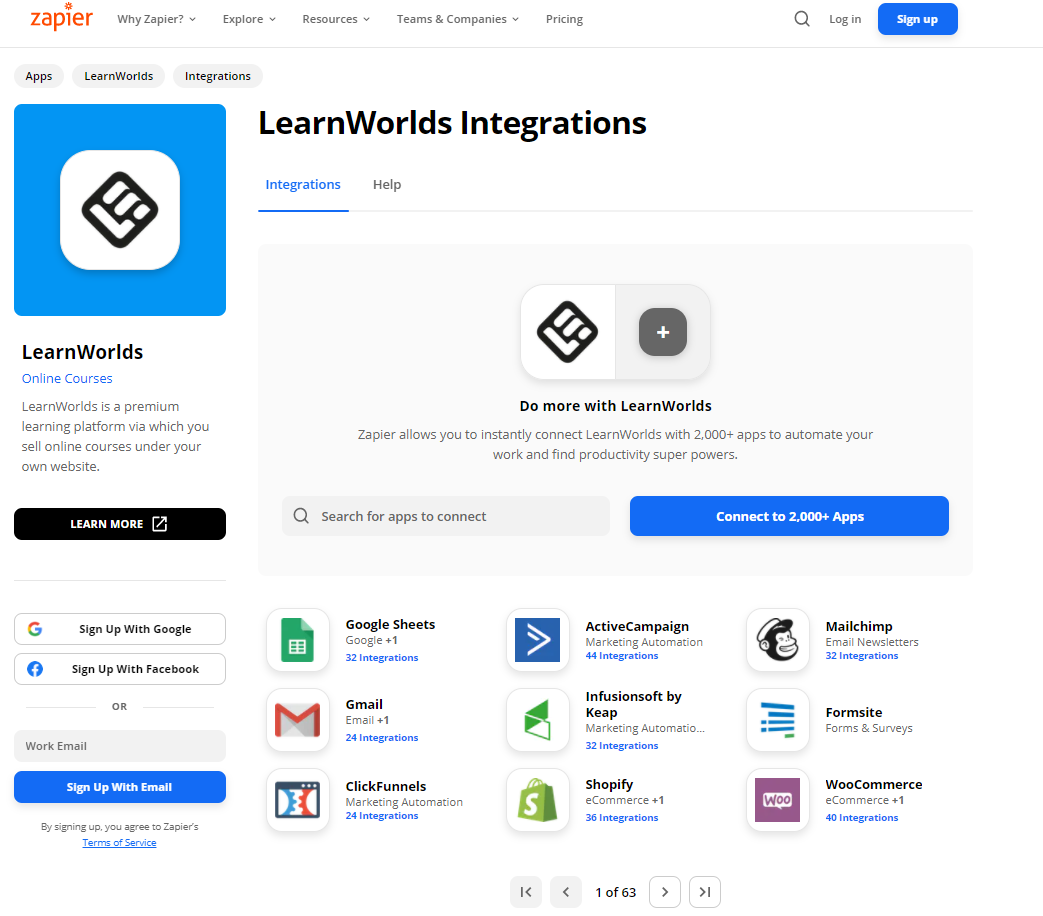 ---
Notification emails
This is where you control all email settings and elements. In each case below, you're able to control settings for various kinds of emails, including text that appears in emails. Each type of email comes with dynamic feilds, allowing LearnWorlds to populate each email with the right student name and contact information from your database. As you'll see, LearnWorlds has built a comprehensive email notification system, one that accounts for every type of automated correspondence you need to send.
Here's what included:
Admin settings will hold your notification email address. You can select when you'd like to receive email notifications and you can choose to assign a specific instructor (if you have one) to receive responses to notifications of student questions.
Learner settings cover notifications learners receive. These include assignment notifications, when students receive emails, badges, or are mentioned on a social post. Learner settings also include notifications for completed courses.
Affiliate emails control what goes into emails sent to affiliates and these include sign up and payout completed email notifications.
Course emails apply to free and paid courses and are sent when either is enrolled for.
Payment plan emails apply when courses are taken using payment terms. Learners receive installment paid and installment payment failed email notifications.
Registration emails are sent upon sign up and when a learner is imported into your course by an administrator.
SCA or Strong Customer Authentication emails can be sent out if the payment fails due to SCA. In that case, you can also send an "SCA action required" email to learners.
Subscription emails are fired off when a trial starts or ends, with a three day lead time before the end of the subscription.
LearnWorlds also allows you to add a custom email signature to the footer of each email.
---
Video
Video is a big part of delivering great courses. LearnWorlds gives you the option of using their video storage solution or you can opt for Vimeo or Wistia. Setting up your video through third-party apps is simple. Click on the Connect your account button and follow the login process for your third-party app.
LearnWorlds' video feature comes with customization settings. It's possible to change your player's skin from a total of six themes. When it comes to the player set up, you can control transcript text size, scroll behavior, when transcripts appear, your text color, make it downloadable, and even add a watermark to copyright and protect your videos.
Interactive Video
One of the more impressive features we found is the ability to create interactive video. You can add questions, titles, buttons, forms and more, making it possible to enhance the learning experience.
Transcription Services?
While digging into the Transcription Services section, we came across the need to have "active transcription packages". We had to search for details but struggled to find anything conclusive. We imagine that transcription packages are required and appear to come at an additional cost. When you have an active package, you are able to transcribe videos. But if you're interested in this feature you'll need to contact support for more information. This is a little confusing as transcriptions are advertised as an included feature.
---
Learning Apps
The Learning Apps section includes a collection of engagement tools for learners. Here's a breakdown of what you get:
Apps Configurator
The Apps Configurator is where you'll activate or deactivate the daily news, best resources, people directory, and profile apps.
Daily News
Daily News is your very own school newspaper. It's a collection of RSS feeds that you gather and enter into LearnWorlds. If activated, Daily News will fetch new articles as and when they are available. You can deactivate this feature at any stage.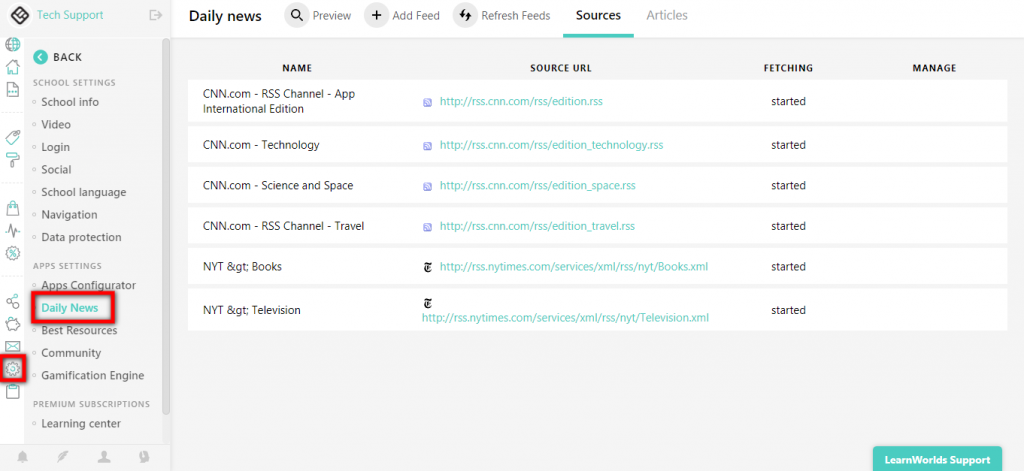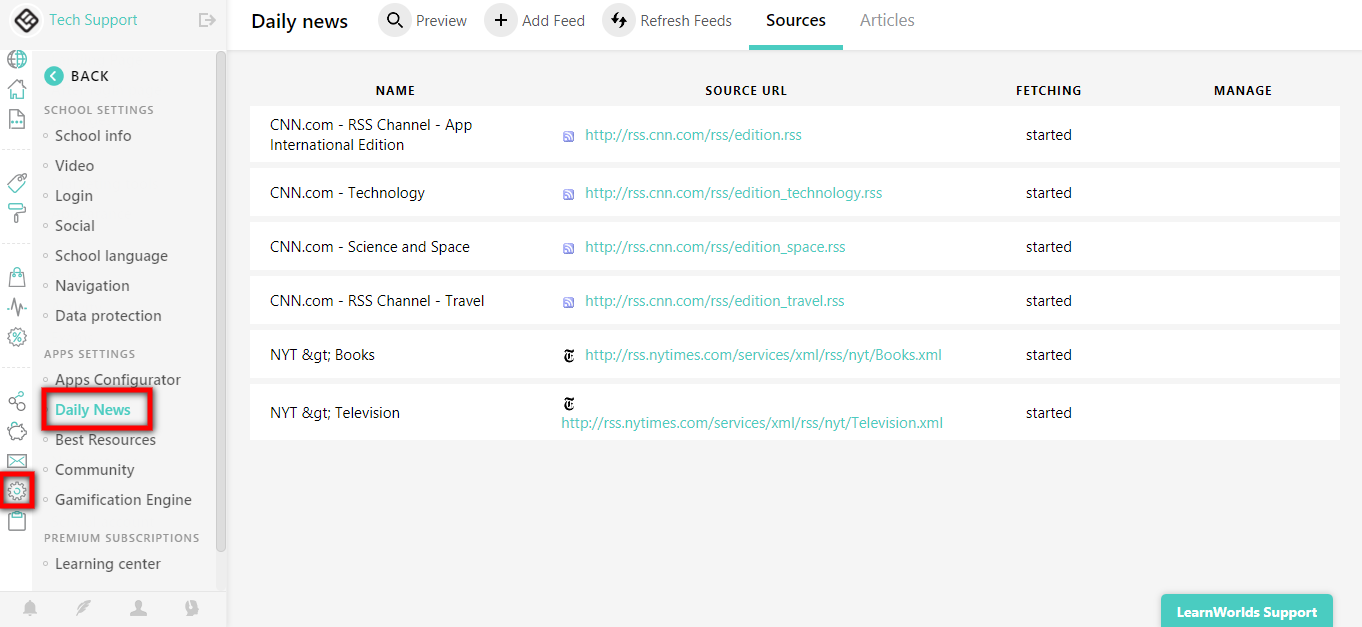 Best Resources
Your Best Resources section includes a collection of resources that you can add to your course for students. These can be case studies, e-books, useful links, and more.
Community
Communities are a critical component of the growth of any business. To help, LearnWorlds has integrated a community feature. It's a complete social network page. Students can comment, like, and share ideas through posts. You're also able to create polls, and students can treat their social profiles as they would on any other network. They can tell what activity has taken place in a community, add friends, take polls, respond to mentions, and even create groups of their own.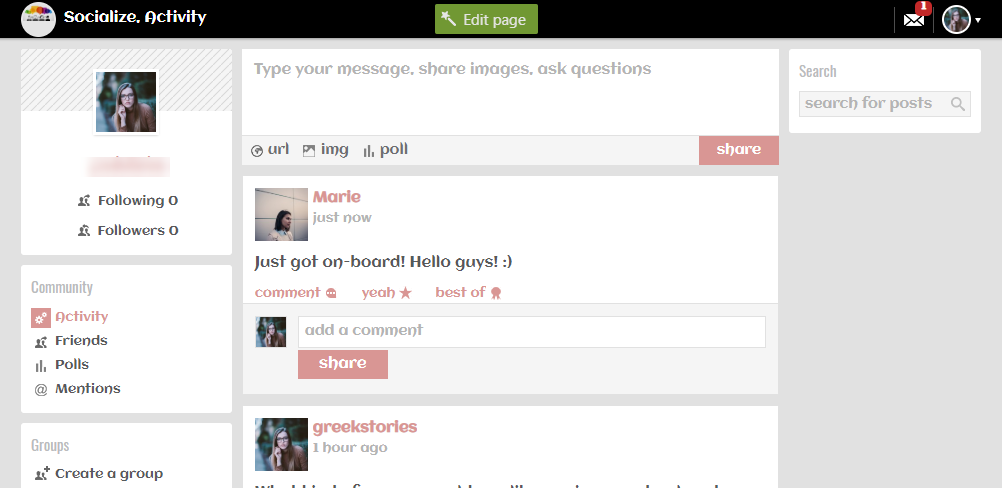 Gamification Engine
Gamification is a term we don't see very much of in the online course creation industry. And that's unfortunate. Much of the learning process can be elevated when gamified. Thankfully, LearnWorlds loves the idea. Using their Gamification Engine, you're able to give learners a chance to collect badges based on the number of actions they perform.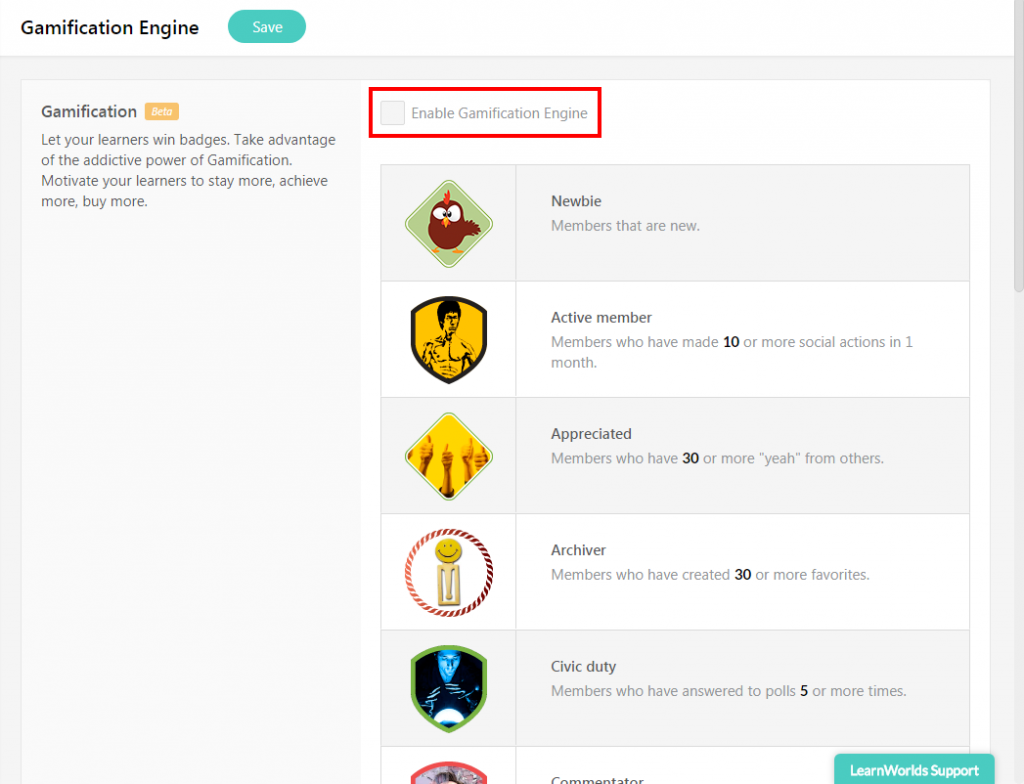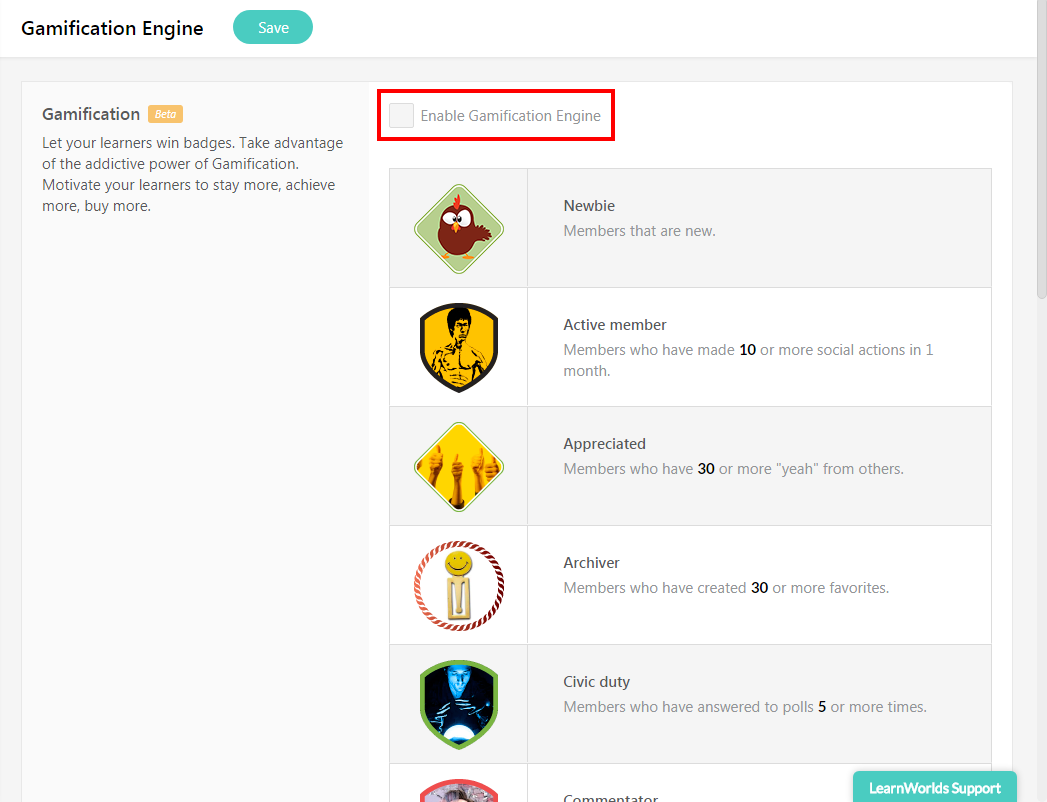 ---
Getting Paid With LearnWorlds
Getting paid with LearnWorlds is possible through a number of payment gateways. In fact, we haven't seen a course creation platform offer this many options. You can connect Stripe, 2Checkout, PayPal, Shopify, and Pagseguro. This matters for entrepreneurs and businesses located outside North America. These options make it possible for them to take the platform and get paid without delay.
Payments are determined by the Gateway you use. This means that you're paid out when your payment gateway processes a payment, and this can take 2 to 4 business days.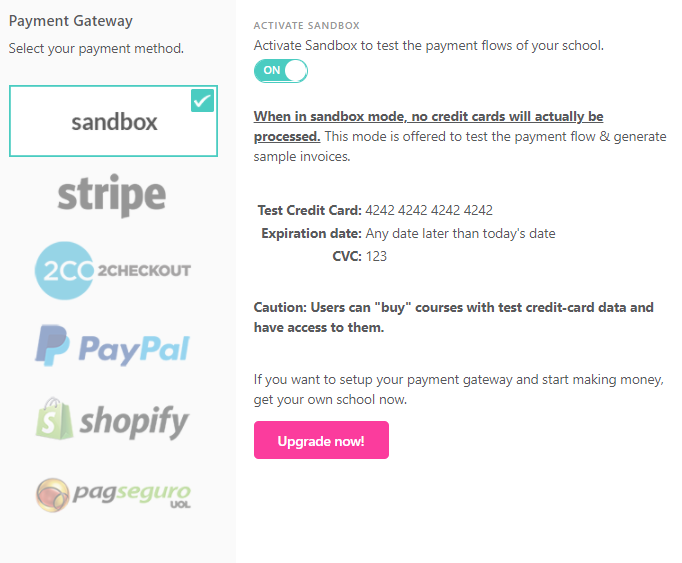 ---
LearnWorlds Pricing
LearnWorlds offers four plans. These include the Starter at around $30/mo, the Pro Trainer at around $100/mo, the Learning Center at around $300/mo, and a High-volume and Corporate solution that will need to contact support for. All plans are available at discounted annual rates.
---
LearnWorlds Pros and Cons
Pros
Unlimited courses

Video library

Responsive design

Branding and theme editor

Ready-made templates (400 available)

Enables lead generation

Powerful student engagement tools (built-in social media and RSS aggregation tools)

Learner analytics

Conversion tracking

Professional player with interactive video

Interactive e-books

Quizzes, assessments, and exams available

SCORM Compliant

Access to comprhensive help centre

Free 30-day no-credit card trial

Includes 2000+ integrations

Marketing tools avaialable

Offers membership plans for courses

Offers payment plans for students

Provides accreditation and certificates of completion

Offers downloads

Offers drip content

Can create multiple courses

Four payment gateways to choose from

Live chat, email and telephonic support

Comprehensive reporting views
Cons
Possibly too complex for beginners and the breadth features may be overwhelming

No bulk upload feature for course content

No mobile app

Confusing verbaige around video transcriptions
---
Key Takeaways for Instructors
LearnWorlds is one of the most feature-packed course creation platforms we've come across. It includes everything you'll need to get up and running, and maybe a bit too much for beginners to handle. It's no secret that this platform makes for a strong enterprise solution. It's used by many organizations and training firms. But just because there is a bit of a learning curve, that doesn't mean you can't leverage all of its functionality as a solo entrepreneur.
Features like interactive video lessons and e-books are not common in the industry, and the option of access to four payment gateways makes it flexible. And when it comes to site design and course creation, you begin to see that you can create almost anything with the platform.
---
LearnWorlds Rating
LearnWorlds offers tons of functionality. With access to 2000 application integrations, and a host of other features to do almost anything in the platform, you won't want for more. While the platform is feature-rich, there is a learning curve. This only has to do with a lot of the settings, and less to do with site design course creation functionality. LearnWorlds also offers features you won't find anywhere else. For example, interactive video allows you to add questions, titles, and more to enhance learning experience. It also comes with a highly customizable site design feature, offering 400+ page design templates. LearnWorlds allows you to quiz, create assignments, issue course certificates, and provide certificates of completion. With all of this functionality, you also have four price points to pick from to fit your pocket. If you're looking for a comprehensive solution, try LearnWorlds.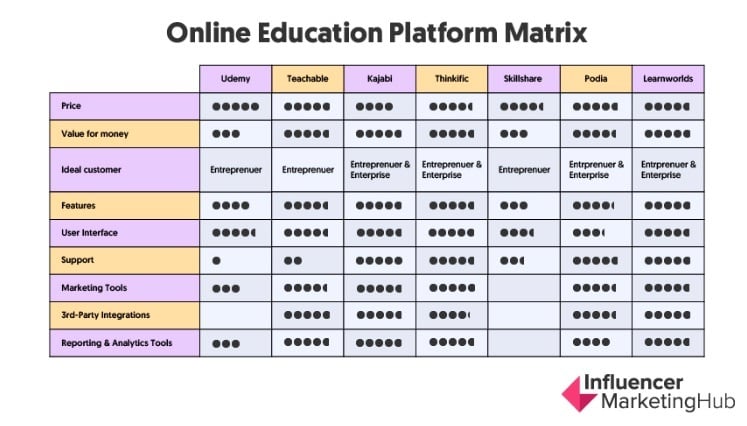 Frequently Asked Questions
LearnWorlds vs Teachable: which is better?
LearnWorlds is a more feature-rich platform than Teachable. For example, it offes 400 site page templates where Teachable offers one. You also have four payment gateways to choose from, 200+ integrations, and telephonic, email and chat support, where Teachable offers Stripe and Paypal to instructors, Teachable's also only email and chat support. There are many other features that cannot be covered here. Read our complete Teachable review for more.
Are there LearnWorlds alternatives?
Yes. Alternatives include Teachable, Thinkific, Podia, Skillshare, Kajabi, Udemy, and more.
LearnWorlds vs Kajabi: which is better?
LearnWorlds and Kajabi are two of the most feature-rich and robust platforms available today. Both offer a collection of unique features and functionality, making it hard to say which is better without unpacking both platforms. To learn more about Kajabi, read our complete Kajabi review.
Are there LearnWorlds course examples?
Yes. View LearnWorlds examples here.
Is there a LearnWorlds zoom integration?
Which LearnWorlds integrations exist?
LearnWorlds offers over 2000 app integrations. Visit this link for a complete list.
LearnWorlds Review
Features

Ease of Use

Support

Best for:
Entrepreneurs, Elearning Companies & Corporate Training