Best for:
Small to large businesses and non-profit organizations
As far as Udemy reviews go, most don't do the platform justice. They gloss over the more obvious aspects, like the cost of courses or the quality of the learning experience. This review isn't one of those. It's thorough. You'll learn more about Udemy here and in less time than trying to piece together ideas from all over the web.
You'll get a closer look at both ends of the Udemy experience. So, if you're thinking of becoming an instructor, this Udemy review is gold. You'll find out how Udemy supports instructors with educational content to help create their most engaging and successful courses, how you're paid, how to create a course, how to manage communications with learners, and more.
If you're a learner, we've also got you covered, too. Sure, we'll explain why Udemy courses are often really cheap, and also why Udemy is worth it. You'll also get to see what your learning experience looks like -- before you spend money. And if you decide you'd like to share your expertise with the world, you'll learn how Udemy has made it possible for you to go from student to instructor.
Before we dive into the nuts and bolts of this Udemy review, let's take a closer look at what Udemy is and why the platform exists.
---
Udemy Review:
---
What is Udemy?
Udemy is an online learning platform. The name "Udemy" is a combination of the words "you" and "academy". As you can tell, Udemy is all about the education of you. This is possible with the creation of courses by skilled and expert instructors from around the world. Instructors produce high-quality video and audio courses that learners can access for a fee or free.
---
Why do People use Udemy?
When Udemy was founded, its creator, Eren Bali wanted to create a place where anyone could access quality education. Bali's personal story sparked his interest in making education available to people with limited resources.
Watch Eren Bali share why he created Udemy:
Since then, the idea has blossomed. Today, people use Udemy for personal and professional growth. As an instructor, Udemy offers:
The chance to share your expertise with the world

The ability to generate an income. Rob Percival's courses have reached nearly 120,000 students and exceeded $2.8 million in total earnings. Victor Bastos has reached more than 52,000 Udemy students with his courses, which have earned nearly $900,000. And Alun Hill's courses have been accessed by nearly 47,000 Udemy students and have earned about $650,000.

Build a brand that can position you for greater success.
As a student, here are reasons why you should look to Udemy:
You can take courses designed to develop a specific skill or pass an examination

Learning is engaging and you can gain certain skills in a week, weekend, or a matter of hours

Udemy is affordable. The platform includes free and paid-for courses that start as low as $9.

Courses are easily accessible from your desktop, tablet or smartphone, and you can download courses on smartphones and tablets for learning on the go.

Make new friends with similar interests on Udemy.
When it comes to Udemy's success, they've crushed some pretty impressive numbers. Here's a look at some of their achievements:
Over 57k instructors

150k courses

295 million enrollments

33 million hours of video

65 languages

5000+ enterprise customers (and 80% of Fortune 100 companies use Udemy)
---
Udemy Features
As promised, this Udemy review is thorough. We'll cover both instructor and learner experiences.
Course Creator Features
Building a course isn't something easily done. It takes planning, dedication, and timely execution to produce. Thankfully, Udemy makes the process simpler with a collection of helpful tools. Here's a look at what instructors experience.
Signing up as an Instructor
Udemy instructors are not required to be professional lecturers or hold any special certifications or titles. While this may make the learning experience seem watered-down, we think it's what makes Udemy stand out. Today, expertise doesn't require qualifications, and learning shouldn't be restricted.
When you choose to become a Udemy instructor, the process is a simple one. If you're currently a student, access your profile and click on the Teach on Udemy link.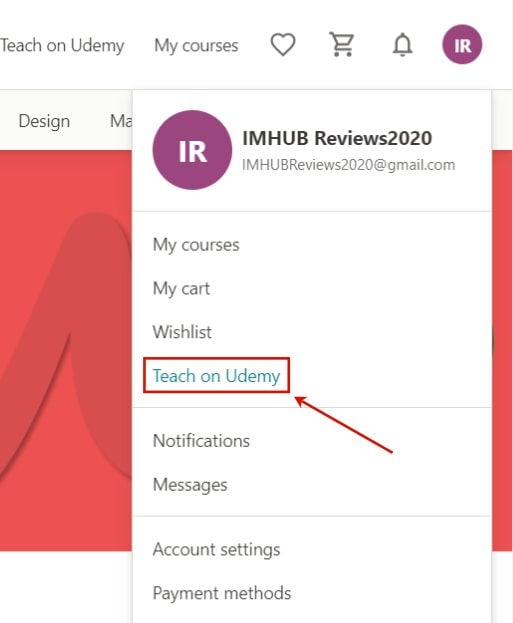 Accessing your instructor dashboard takes place via the profile dropdown menu. Click on your avatar and then on Instructor Dashboard.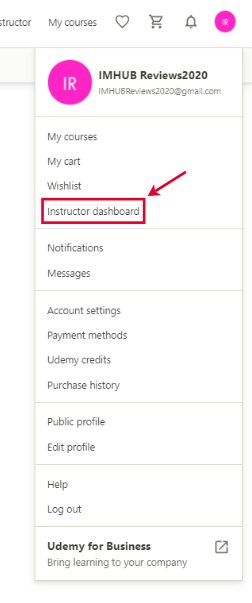 As an instructor, Udemy also makes it easy to switch back to your student profile. Simply click on your profile avatar, then click on Instructor Dashboard. From your dashboard, click on the Student button in the top right corner.


---
Set up a Course
Once you've clicked on Teach on Udemy you'll complete a short questionnaire. It's designed to guage your teaching experience and then provide you with the right amount of tools and resources to shorten your learning curve. It also helps you produce the best possible course in a short time. Articles for beginners include: Create an Engaging Course, Get Started with Video, Build Your Audience.
Udemy also invites you to join the Newcomer Challenge, a 45-day email-based challenge designed to help you create your course in lightning speed.
---
Dashboard
Becoming an instructor opens up a new side to Udemy. You get access to an instructor dashboard where you'll be able to create and manage your courses. Your dashboard includes the following areas:
Courses - where you'll create courses.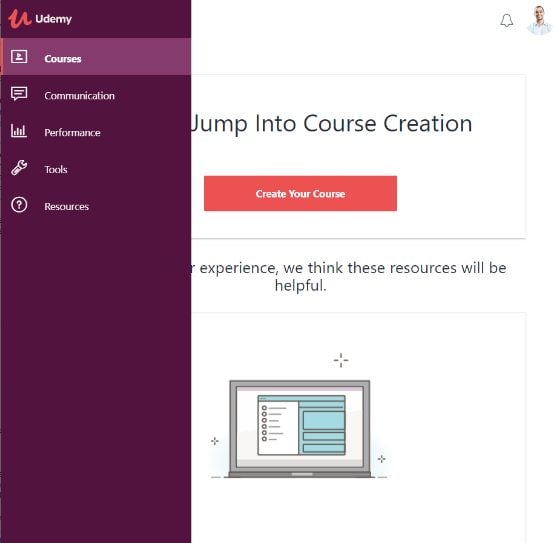 Communication - where you'll engage with students and receive questions, assignments and make announcements.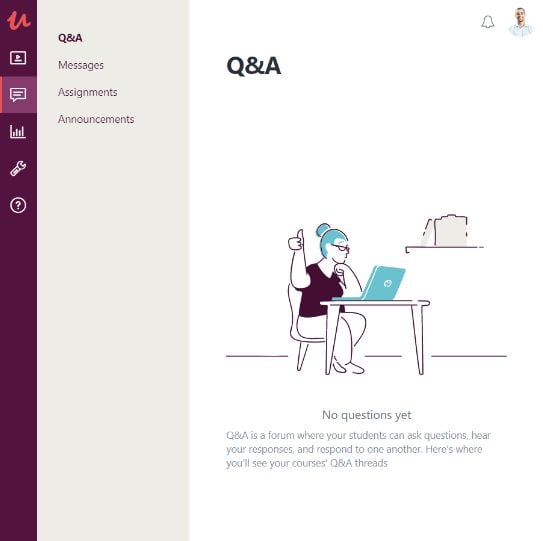 Performance - where you'll track student progress, reviews of your course, course engagement, and traffic and course conversions. You'll also be able to generate reports on sales revenue and enrollments.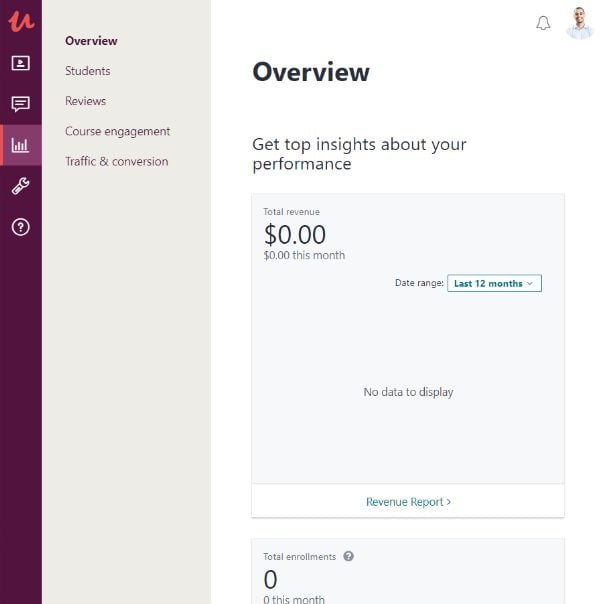 Tools - provides access to Udemy video experts who will test the quality of your video, audio and delivery. Marketplace insight also falls under this section and includes a look at how courses across Udemy are performing.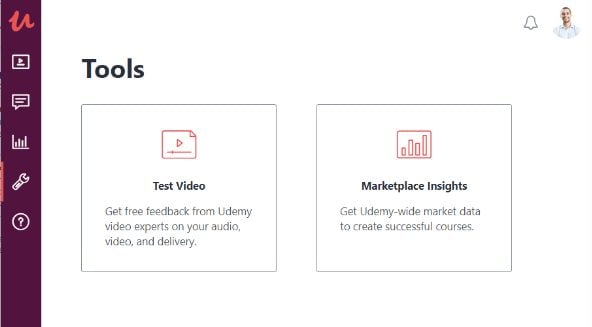 Resources - these include the Teaching Center (filled with helpful articles on teaching), Instructor Community (a place to share your progress, ask questions and engage with other instructors), Help and Support (access to a knowledge base with help articles).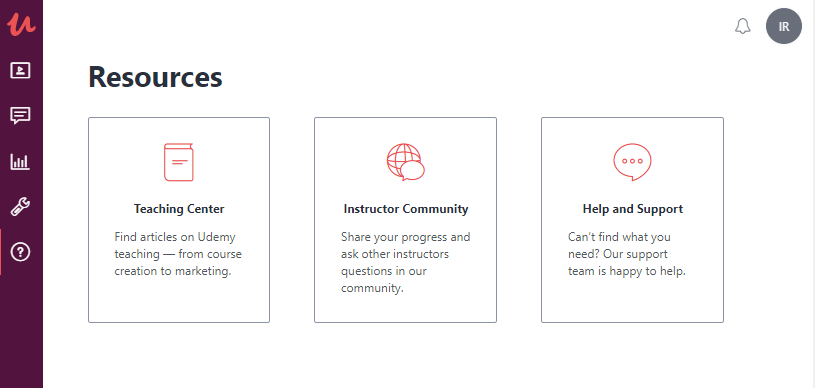 Note: Instructor management features are limited. Here's a look at what those limitations are by platform:

---
Course Setup
Course creation kicks-off with a four-step setup process. This involves:
Choosing between a course (create rich learning experiences with the help of video lectures, quizzes, coding exercises, etc.) and a practical test (help students prepare for certification exams by providing practical questions).

Choose a course title which can be changed later

Select a category for your course

Determine the amount of time you can spend creating your course
---
Course Creation
Once the setup process is completed, you can begin designing your course. The course creation process is broken down into three major steps, with each including three-to-four milestones. These include:
Planning your course:
Target your students by determining what students learn in your course, determine course requirements or prerequisites, and who your target students are

Design your course structure by mapping out your content. You'll have access to help from TeachHub on how to create intros to lectures, design engaging course layouts, and more.

Setup and test video by arranging and creating your videos. More help is available through TeachHub.
Creating content:
Filming and editing of video content

Curriculum creation

Add captions to your videos
Publishing your course:
Course landing page creation

Set pricing

Create promotions

Create course welcome and congratulations messages
Review:
Once complete, your course is submitted for review. The review is a quality review and takes two business days. To check the status of your course, go to the Instructor Dashboard. A label will appear showing if your course is Live, In Review, Submitted for Review, or Needs Fixes. The Quality Review Team will give feedback on the course feedback page, and they will inform you whether the course has been approved, or if it requires fixes.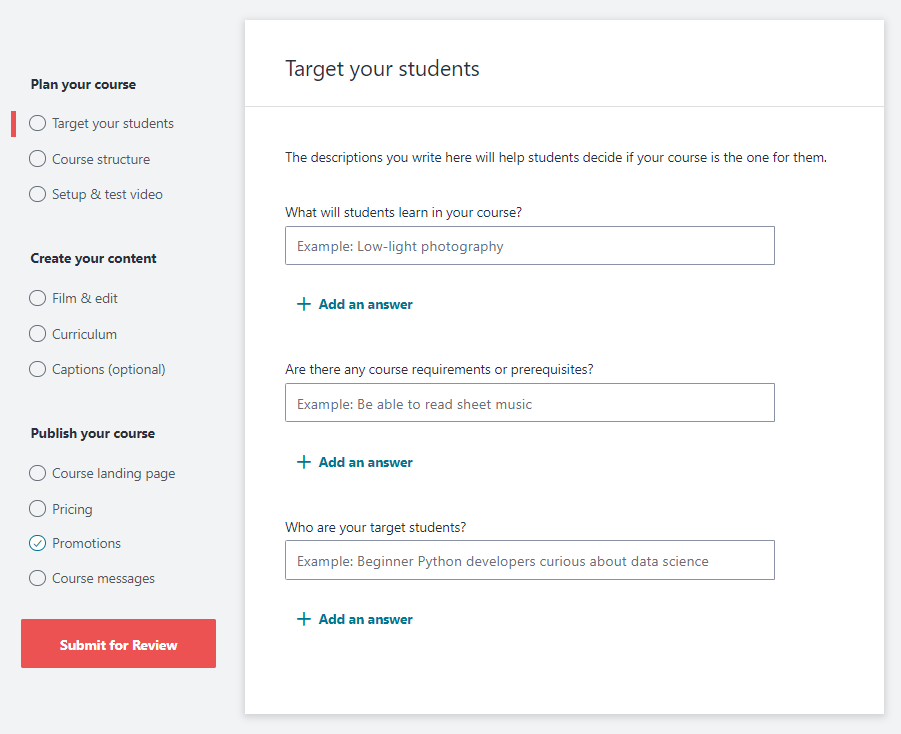 ---
Practice Test Creation
Practice test creation has fewer sections than the course creation process. Therse include:
Targetting your students by determining what they will students learn in your course, whether there any course requirements or prerequisites, and who your target students are

Design your practice test

Landing page creation

Setting pricing

Create promotions

Create course welcome and congratulations messages
Review:
Once complete, your practice test is submitted for review. The review is a quality review and takes two business days. To check the status of your practice test, go to the Instructor Dashboard. A label will appear showing if your course is Live, In Review, Submitted for Review, or Needs Fixes. The Quality Review Team will give feedback on the course feedback page, and they will inform you whether the test has been approved, or if it requires fixes.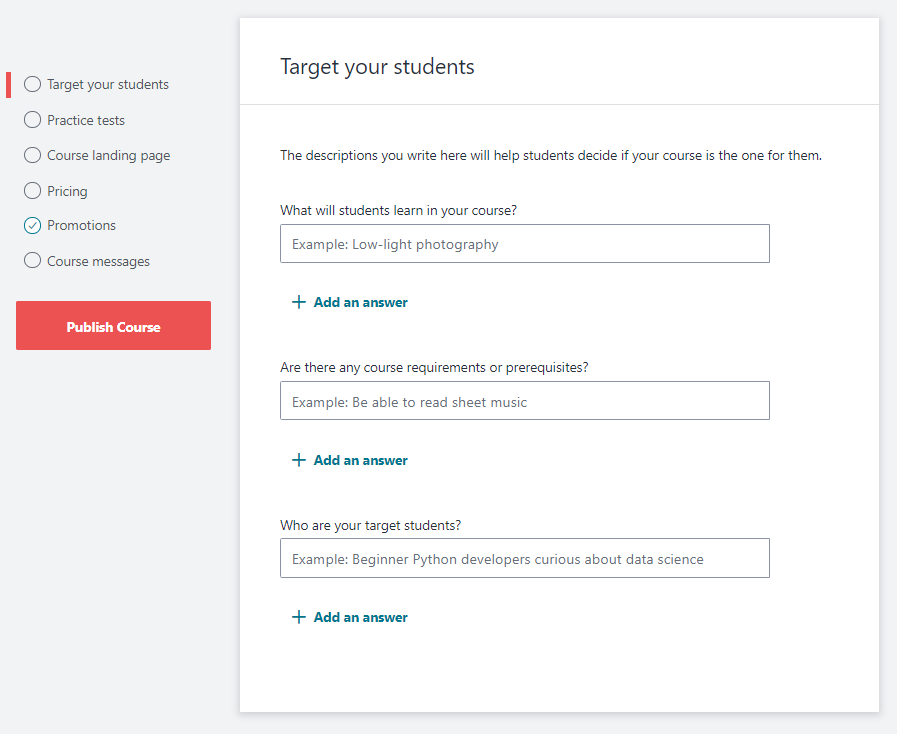 ---
Course Content Minimum Requirements
Quality is a core aspect of the learning experience on Udemy. To ensure that students enjoy the platform and learning, Udemy set content quality requirements. These are:
HD video (min 2048 x 1152 pixels)

Good audio

5 lectures or more, and at least 30 minutes of video content

Free courses can be a maximum of 2 hours long in video with 2-5 min introductory lectures

Make your course exciting by challenging students to create the best learning experience

Make resources easy to find by using keywords associated with its title and course content

Be relatable

Set clear learning goals for each section

Create valuable content

Share useful content early in the lecture to engage students
Note: While Udemy stresses quality, it is possible to come across courses created by instructors who are not tech savvy. These often include videos where instructors haven't prepared the most appealing environment or backgrounds.
It's also worth noting that not instructors are design professionals. Course resources (documents and downloads) may not be as pretty as you'd like, but they are always useful.
---
Udemy Revenue Share and Getting Paid
Access to Udemy is free for instructors. You get to create a course and leverage the platform to host it indefinitely, and in exchange, instructors agree to a revenue share plan.
Udemy's revenue program is based on promotion. The platform gets paid for promoting your courses in various ways and at different rates. Udemy's share ranges from 3% and can go all the way up to 75%, depending on the type of promotion your courses receive on the platform. While there's a more in-depth explanation of the promotions policy, here's a short rundown of three common ways in which the revenue share program is applied:
Instructor Promotion

: Where students purchase using an instructor coupon or course referral link, 97% revenue share is paid to instructors (a 3% administrative processing fee or 4% in the territory of Japan goes to Udemy).

Udemy Organic

: Instructors receive 50% revenue share for organic Udemy sales completed without a coupon.
A note on In-App Purchases: Apple and Google sales charge a 30% fee on the total sale.
Paid User Acquisition Channel Sales

: instructors commonly receive 25% revenue share. This option includes the use of Udemy's affiliates across global networks or pay for advertising for your course.
Depending on the partner or the costs of the advertising, the revenue share may vary but will be 25% in most cases. Udemy sets aside 75% to pay for advertising costs and/or partner payouts that help acquire new users.
Getting paid on Udemy is straightforward. Go to your profile and click on Payout Settings.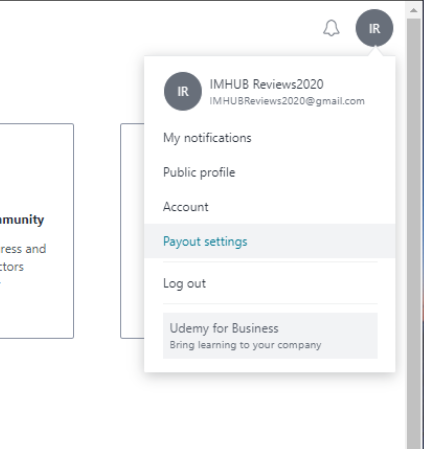 Note: you will need to complete your profile if you haven't. This means adding a full name, title, bio (no less than 50 characters), adding a profile image, and accepting instructor and Udemy marketing terms. Once complete, click on the Payout Method tab and choose between PayPal and Payoneer.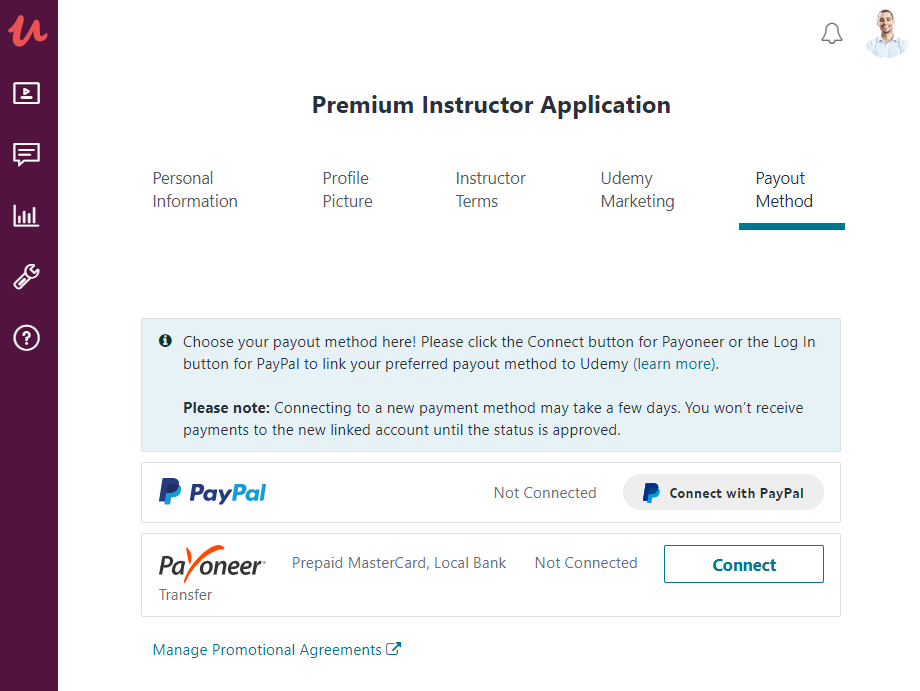 ---
Refunds
Udemy pays instructors 30 days after the end of a month. The delay is designed to accommodate purchases, ensuring they pass the 30-day refund period. For example, should a student purchase a course at any time in April, the instructor receives payment within the first ten days of May. Udemy offers a 30-day money-back guarantee on all courses.
---
Marketing Your Course
Building a course on Udemy doesn't guarantee success. You'll need to spend time making it as appealing as possible. And this matters. Udemy has tons of courses, and for yours to stand out, it will need to capture student interest and hold it. Here are tips Udemy offers on how to create clear and compelling marketing:
Share skills students will gain

Identify who the course will benefit

Detail the experience you'll provide (2-3 min intro video)

Your course must offer value for money

Explain what key lectures will cover
---
Student Features
The online learning platform's homepage is stacked with courses. They are segmented into various categories. From business, design, photography and development, to Marketing IT & Software, personal development, and more. It's important to note that much of the content you'll see on the site's homepages is influenced by activity you've previously been involved in (searching the site looking for courses). While this may seem a little daunting, it's all part of creating a space where students get to explore knowledge to their heart's content and find the ideal course.
Video of home page:
---
Searching for Courses
Searching for a course is straightforward. Use the search field in the site's top navitgation menu. Type a course of interest and Udemy will offer predictive search results. Udemy will then present a collection of courses with titles similar to your search. Typically, you'll see the most popular courses. These are courses that have received more students and the most positive reviews.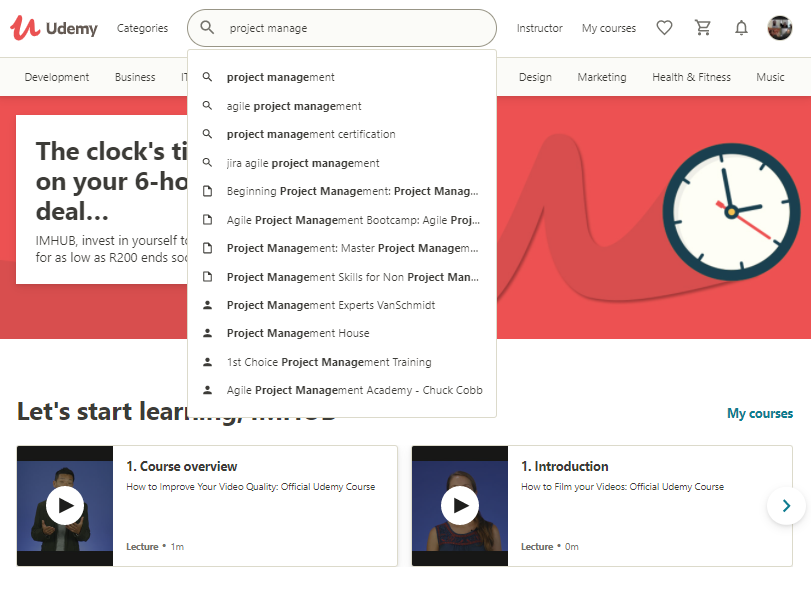 Results pages include:
A Featured Course
A featured course is usually the most popular course available. It will also have a high rating (between 4.6 to 4.9 stars) and often is very well put together.


Popular Topics
Popular topics include a range of niche terms related to the course of your choice.

Popular instructors
A collection of the most popular instructors in the category you are searching.

The rest of the search results page is dedicated to a listing of all courses that match your search term. You have the option of filtering courses by rating, video duration, topic, subcategory, level, language, price, features, and whether the course comes with subtitles.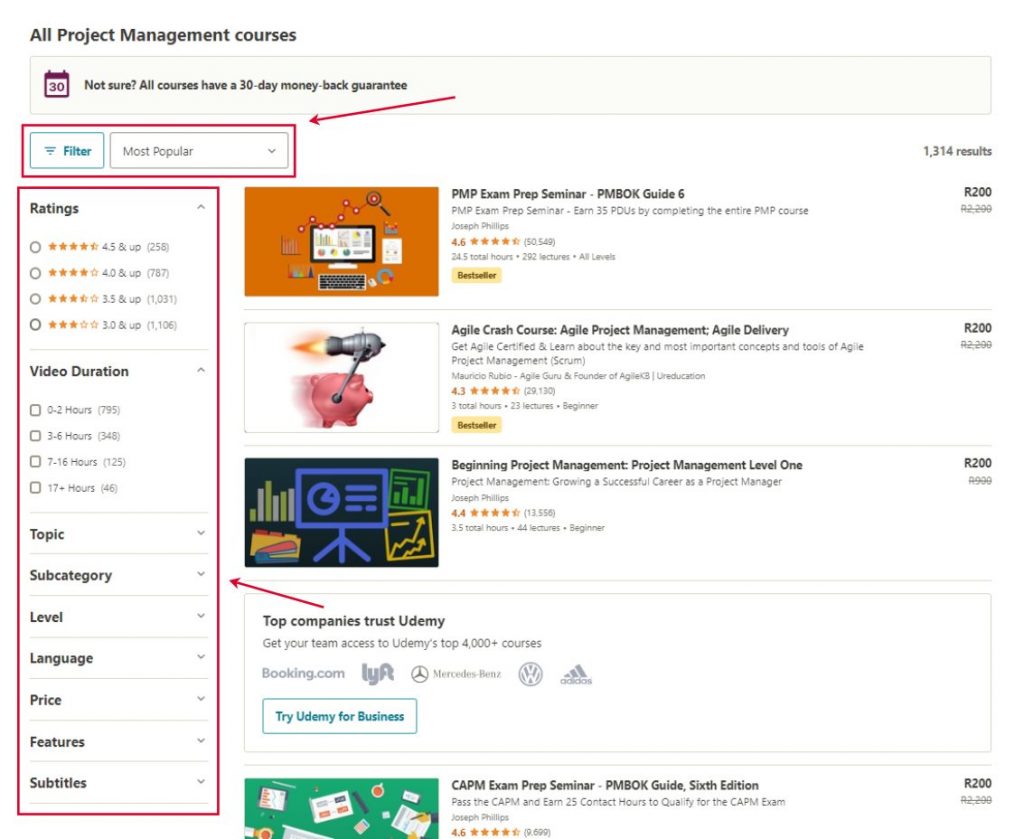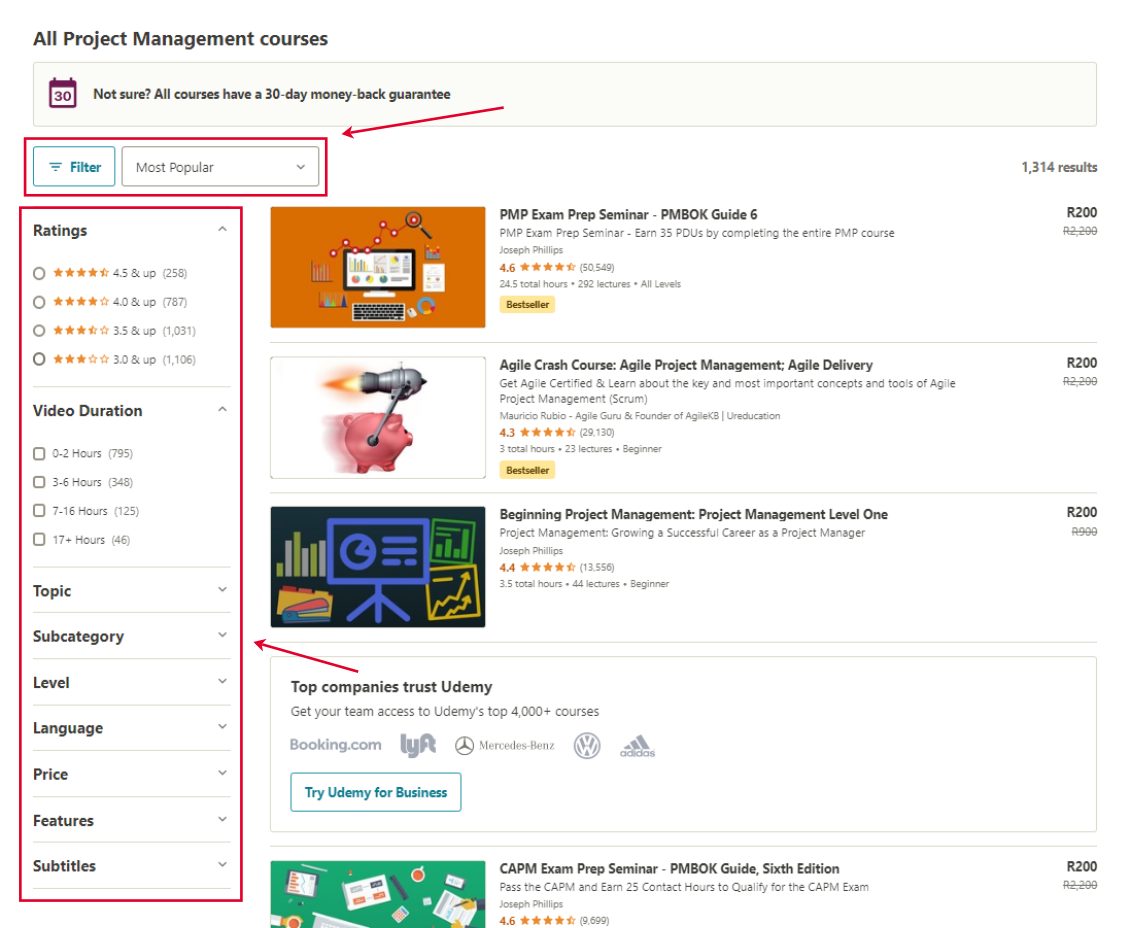 Courses appear with titles, brief descriptions, ratings, a total duration in hours, a number of students who have completed the course, and an indication of the skills level you require to take the course. While a filter feature is expected, we think it's still a major plus. Udemy usually has tons of courses that fall into various subcategories and the chance to narrow your search to find exactly what you want is a godsend.
Courses that have performed well on Udemy usually appear at the top of the search results. They also come with Bestseller and Highest Rated tags.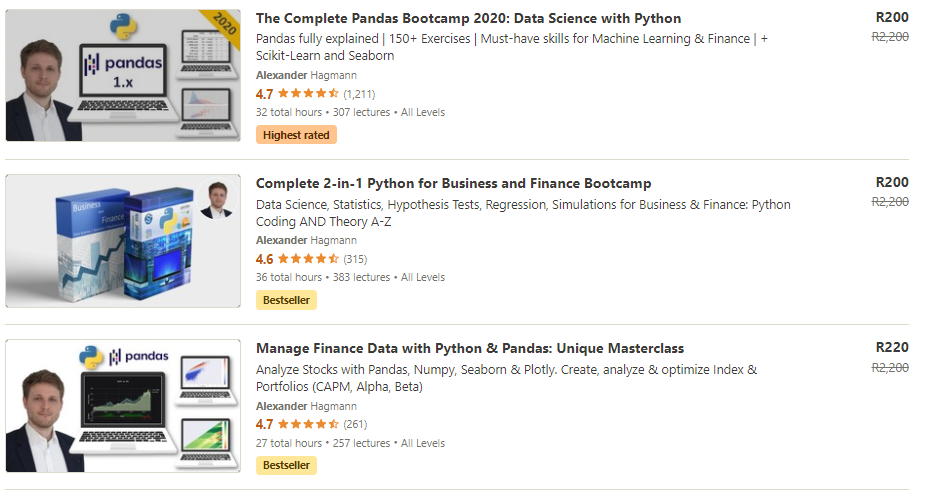 ---
Previewing a Course
Previewing a course is one of the most benficial features Udemy offers learners. Often, you may be interested in a subject, but may not be sure about the quality of the content, the way it's provided, or its depth. Udemy helps learners make the best purchasing decisions by offering a complete page breakdown of what a course includes, and a video preview.
Page descriptions show:
Key learning objectives

Minimum requirements learners must meet to beneft from the course

A description of everything included in the course

Who the course is for

A detailed breakdown of each section a lecture
Previews are also available in the form of video lectures. Udemy offers the chance to watch up to five lectures from a course to see if it's for you.
To preview a course, click on the course from the search results page. Next, click on the play button.
Course pages also include a bio on the instructor. These are especially helpful if you want to be certain that you'll be getting high-value knowledge from someone who has the experience and exposure to the field you're field of interest.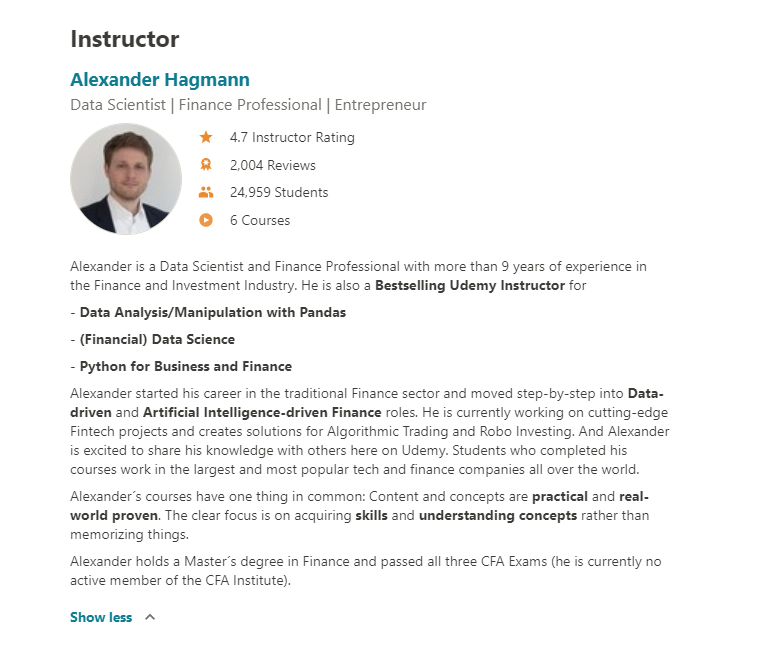 Course pages come with ratings and feedback just below each instructor's bio. Ratings come from students. Most are well-written and offer feedback on what they liked more about the course.
Just a warning, some can be less than helpful. Once in a blue moon, students sign-up and don't take the time to determine if a course is ideal for their level of knowledge, experience or interest. In those cases, disgruntled students leave negative feedback.
So, take the time to read as many reviews as possible. Doing so will give you more context for the course and you'll also be able to tell who paid attention to what they were getting themselves into.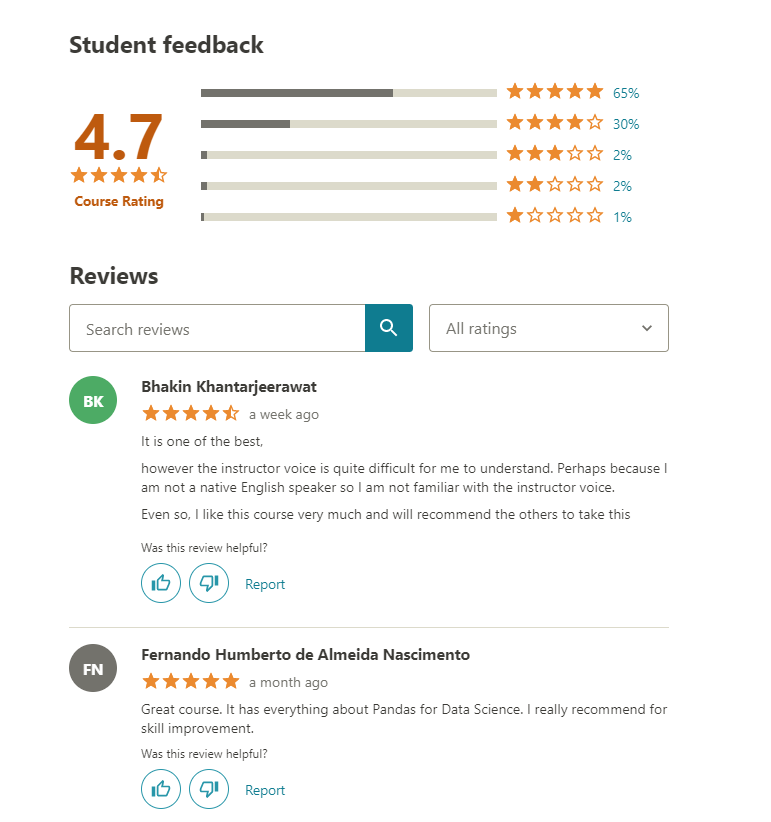 ---
Purchasing Courses
Purchasing a course on Udemy is easy. Once you've found a course, add it to your cart and you'll be presented with a pop-up window and Go to Cart button. The pop-up window includes the option to add related courses from the same instructor to your cart, continue to search for courses on related topics, or proceed to checkout.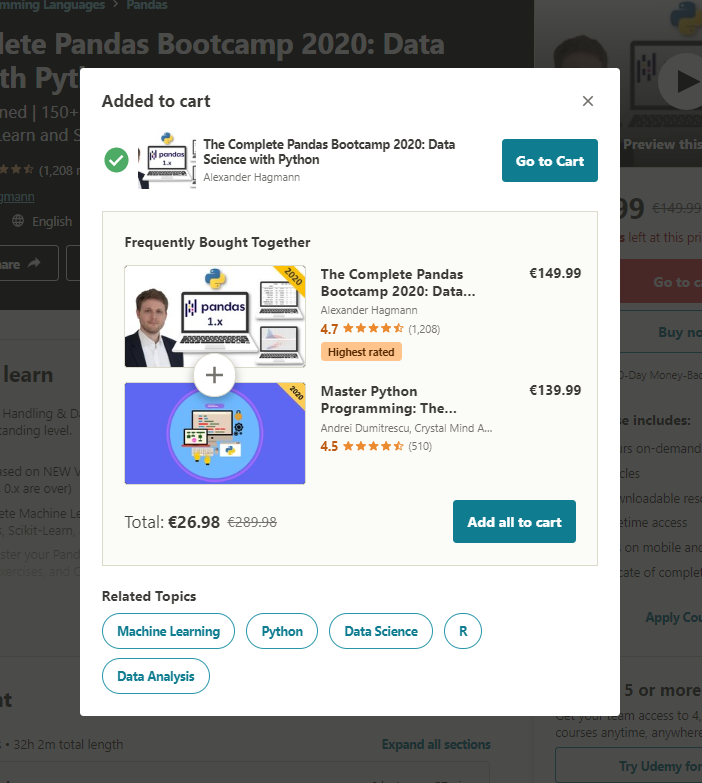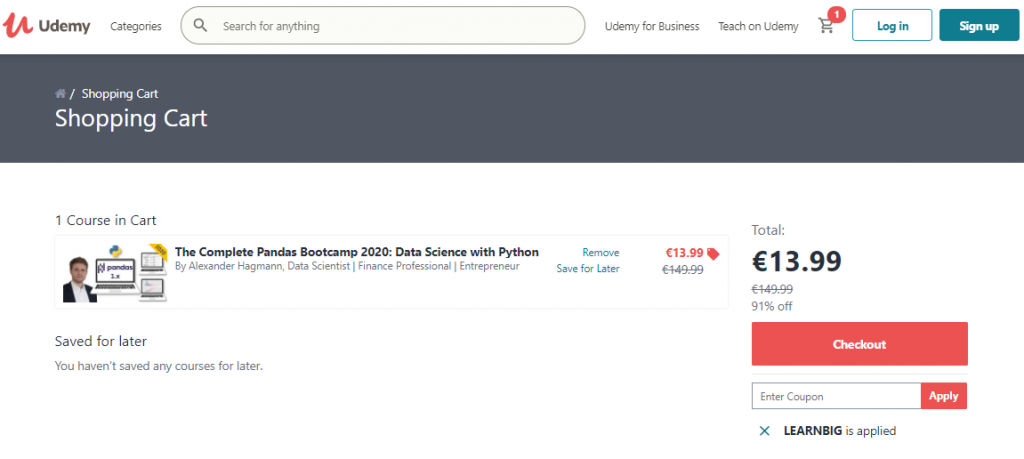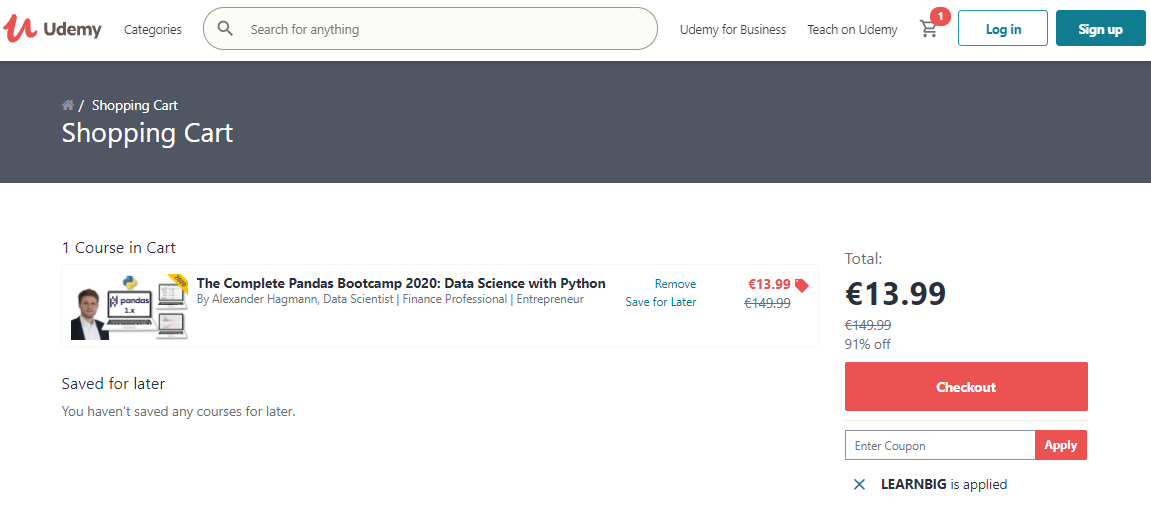 Checking out will require the creation of a Udemy account if you don't have one.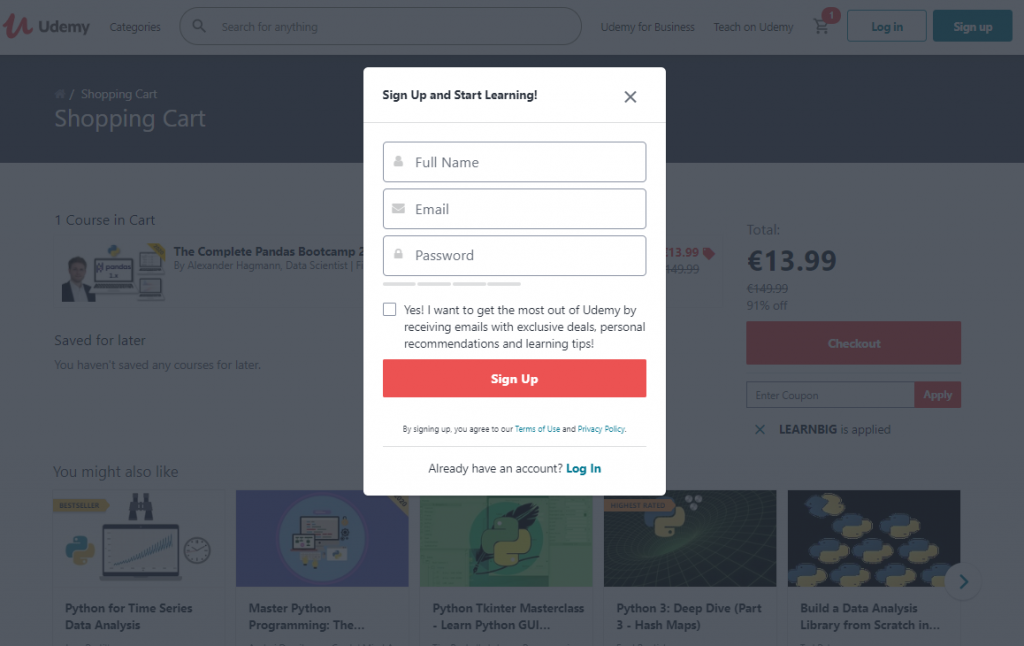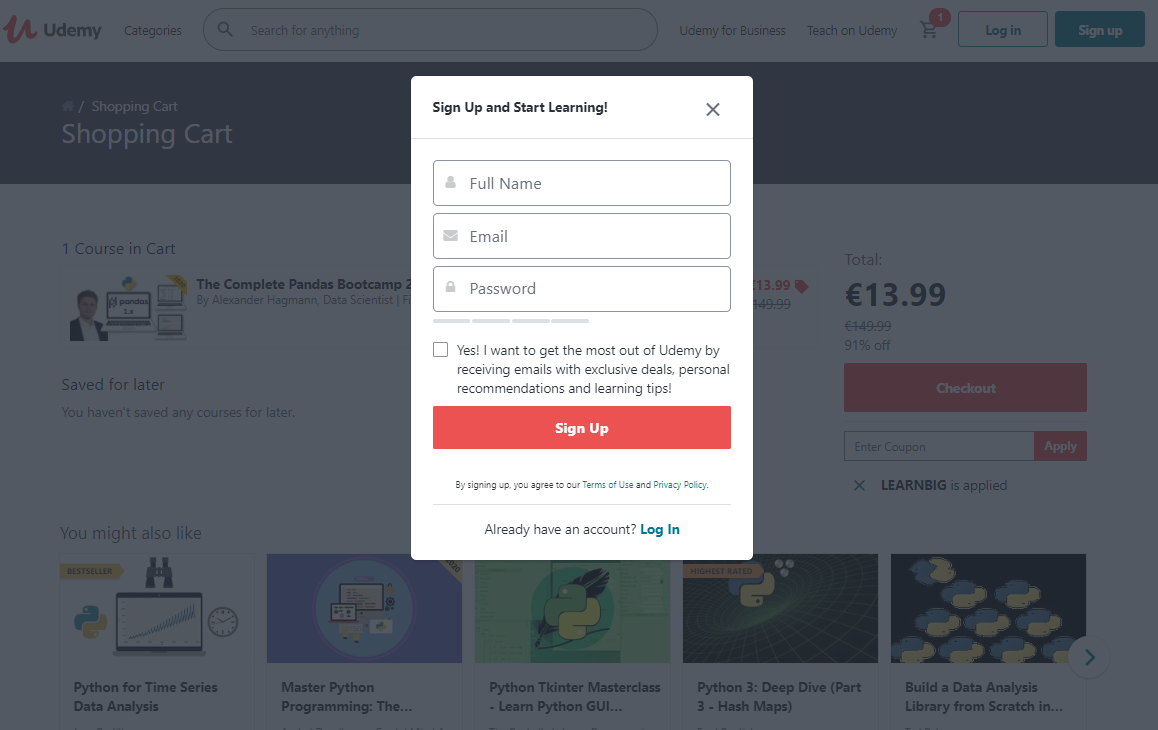 Once logged into your account, you'll need to checkout again and then select your payment option. Udemy's done a great job of offering as many payment methods as possible. These include Visa, Mastercard, AMEX, Discover, Paypal, Google Pay (Android), Apple App Store (iOS App - no refunds through app), and Udemy Credits (mobile web and Udemy.com)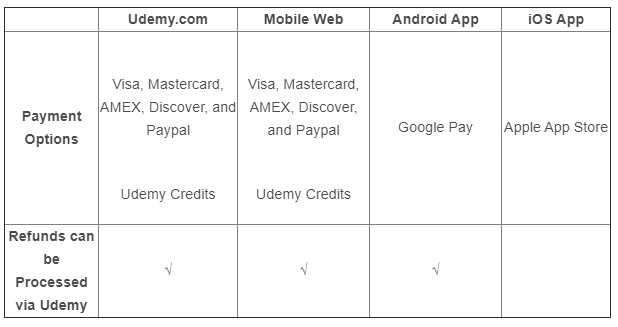 Coupons can be applied if you have any. Use them in the view cart step.
---
Accessing Purchased Courses
With your course purchased, accessing it can be done in a number of ways, and this is where we think Udemy shines. You can view your courses on desktop, mobile app (both iOS and Android), or via Udemy's mobile site. While these options may not seem revolutionary, they matter more than most people know. Access to courses via mobile apps makes it possible to download courses and watch them later. This is a mobile data and time saver for people on the go. And because Udemy is dedicated to accessibility, where learners would rather not download another app, the mobile site is a quick and easy to use alternative.
While you can use various devices to access courses, there are certain feature limitations, but nothing that makes the learning process impossible.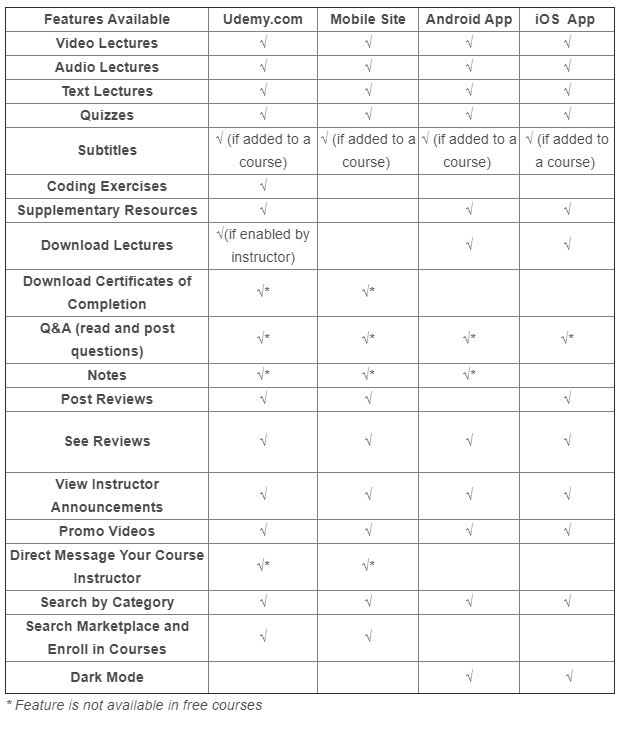 Searching Course Content
While accessing courses, there's a good chance that you'll want to find a specific topic or scan through course content. To help, Udemy provides a seach bar. It also displays results as you type your search query, making it easy to find what you're looking for.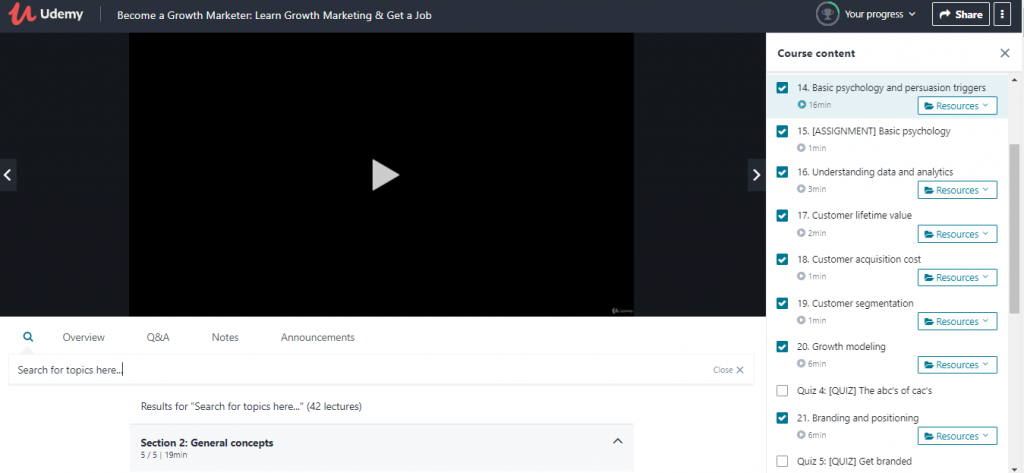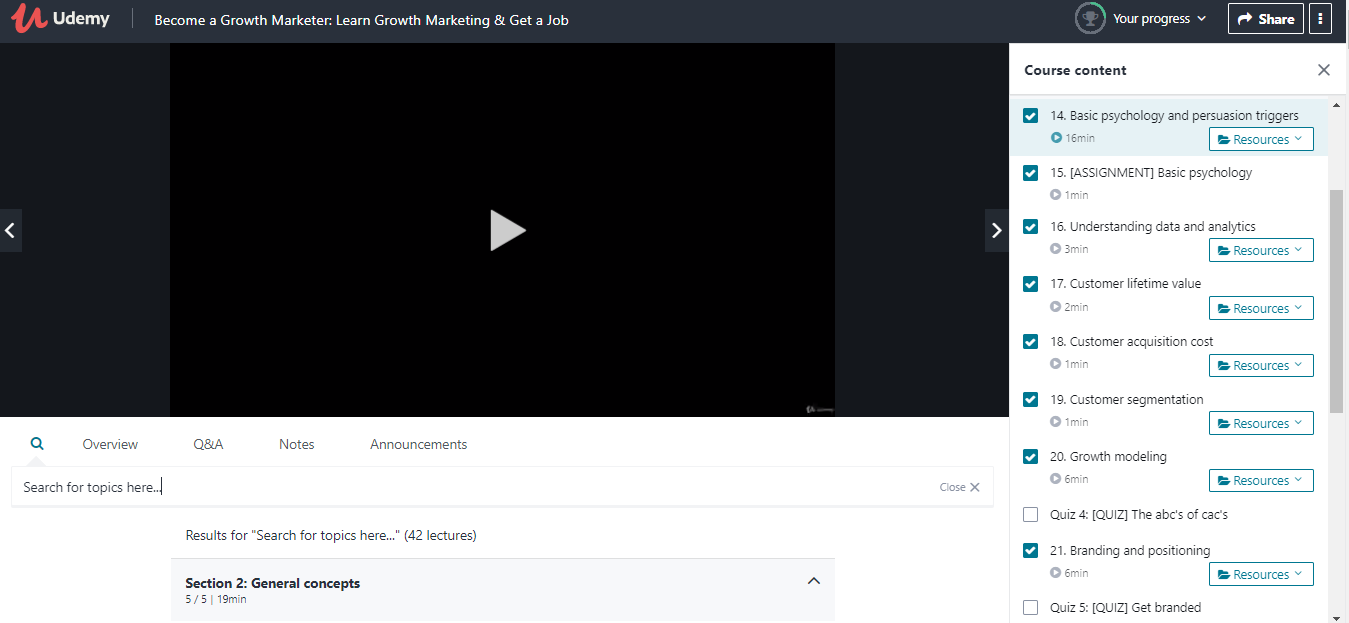 ---
Course Overview
While there's a good chance that you know what you've signed up for, Udemy does its best to cover all bases. When logged into a course, you'll see an overview tab below the video player. In it you'll find a breakdown of the course you've purchased.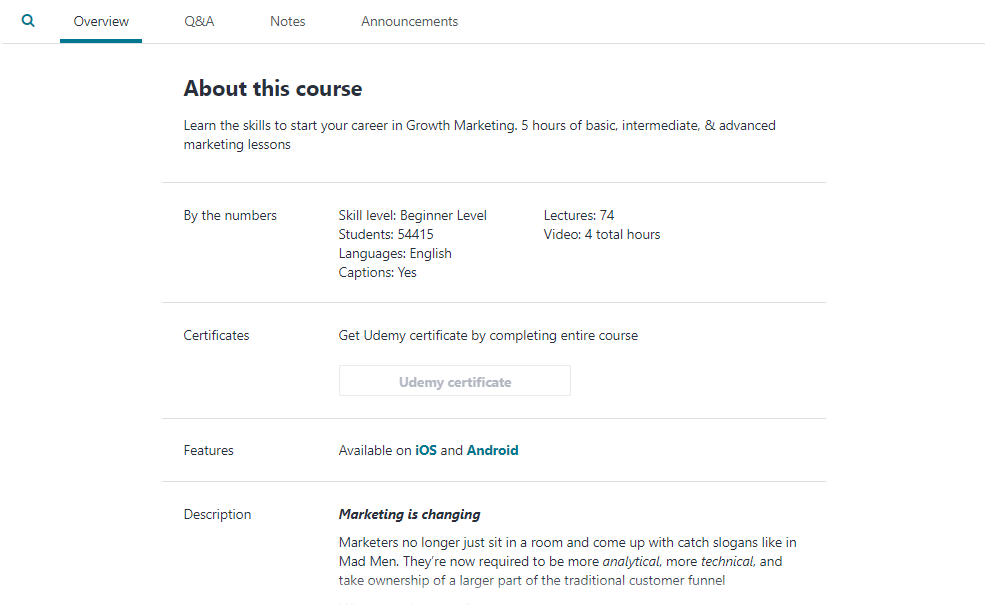 ---
Q&As
Have a question? Use the Q&A section that's available for each lecture. It's located below the video player. Questions displayed come from all students who've enrolled for and completed the course. If you're looking for any specific answer, go through these first, there's a good chance you'll find your answer.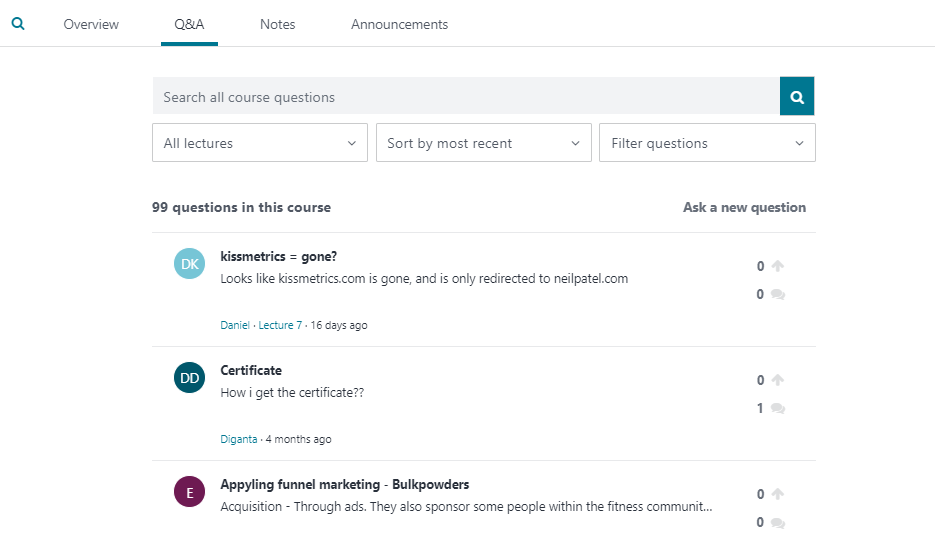 ---
Notes
Notes is a nifty feature. It allows you to add personalized notes for the course or by lecture. Notes can also be sorted by age.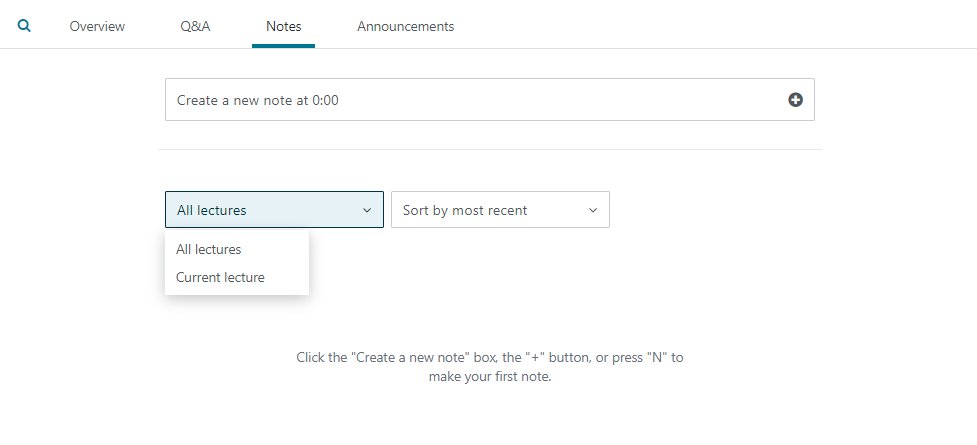 ---
Announcements
Communication is a big part of the learning experience. Often, instructors share announcements that include anything from a change made to a lecture or a competition. These can be found under the announcement tab.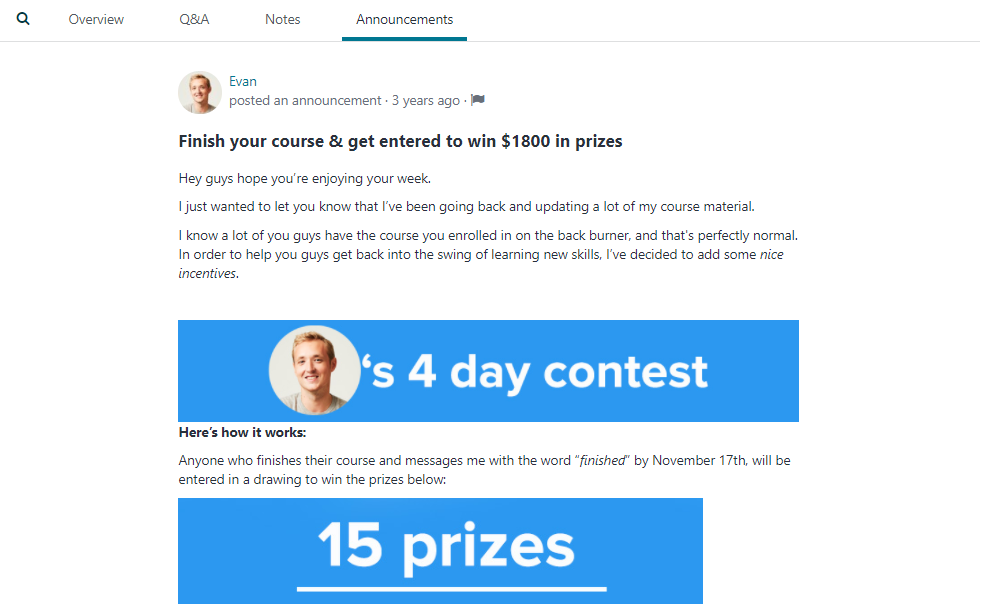 ---
Completing lectures
Completing lectures is one of the most satisfying experiences. Udemy's gone the extra mile to make learning feel as progressive as possible. Once you're done with a lecture, the video player automatically queues the next lecture and the previous lecture receives a checkmark.


---
Feedback/Ratings
An aspect that appears to be contentious with Udemy's platform is it's approach to ratings. Why? Well, it prompts learners for feedback early on. This means that you could have just completed the first lecture, typically an introductory lecture that doesn't contain very much, but still be offered the chance to review the course.
While you can choose not to complete a review this early on, the option can be a double-edged sword for instructors and learners. Reviews may be positive if learners expect that they'll get what they want, or negative if they feel the introduction wasn't great. Bad reviews don't attract more learners and instructors miss out on the chance at more enrollments.
---
Resources and Downloadable Content
Resources and downloadable content make learning more interactive. Udemy neatly tucks these tools into each lecture and they are located below each lecture in the video playlist.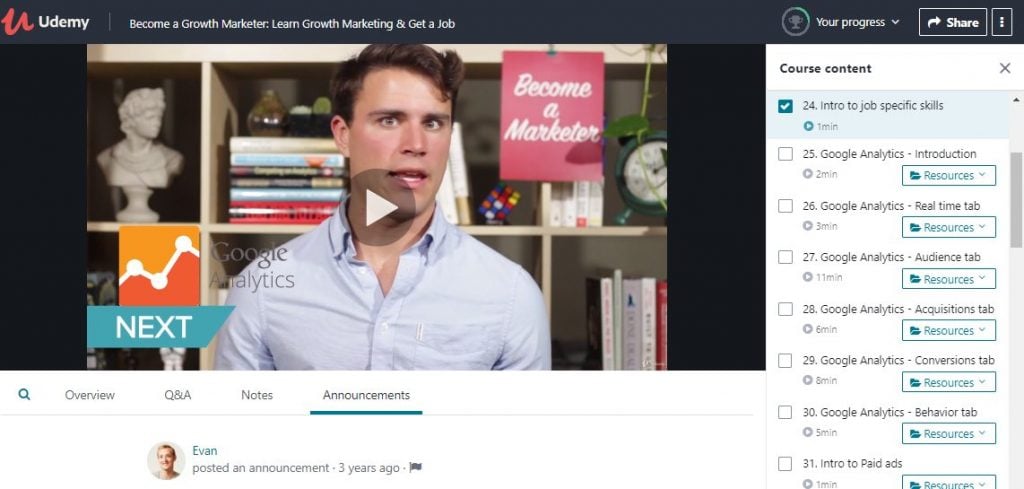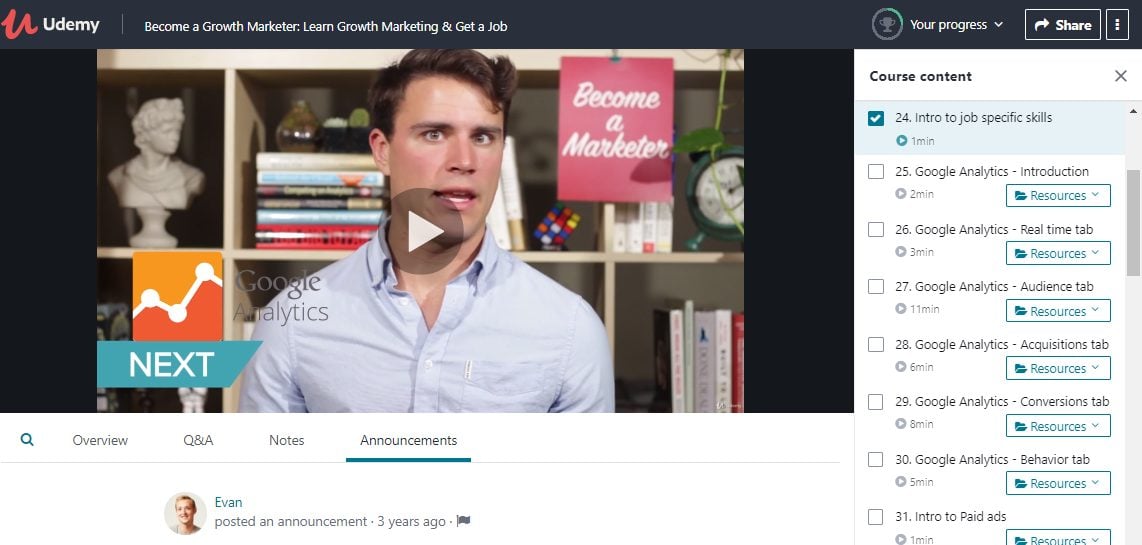 ---
Quizzes and Assignments
A major component of learning is testing your knowledge. Udemy currently offers quizzes and assignments. Quizzes are in the form or multiple-choice questions. When designed, quiz answers include reasons why a selection is accurate or inaccurate, a helpful feature that reinforces new knowledge.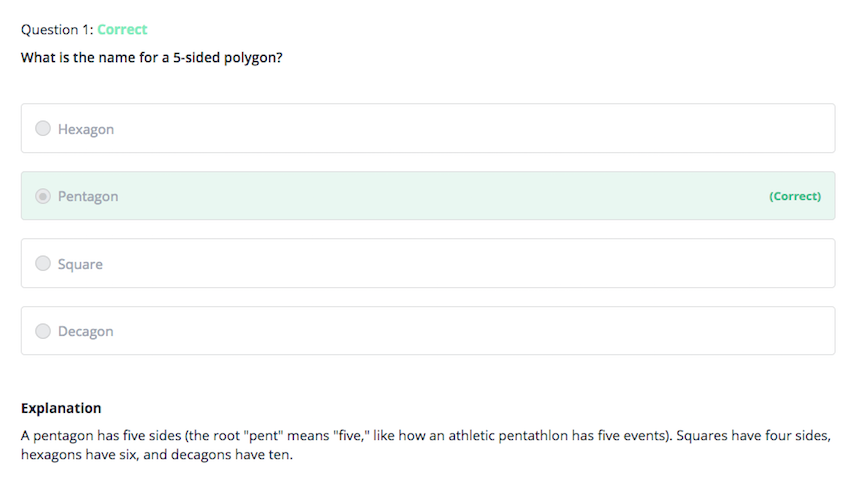 Upon completion of a quiz, you'll get to see how you scored overall and for each section.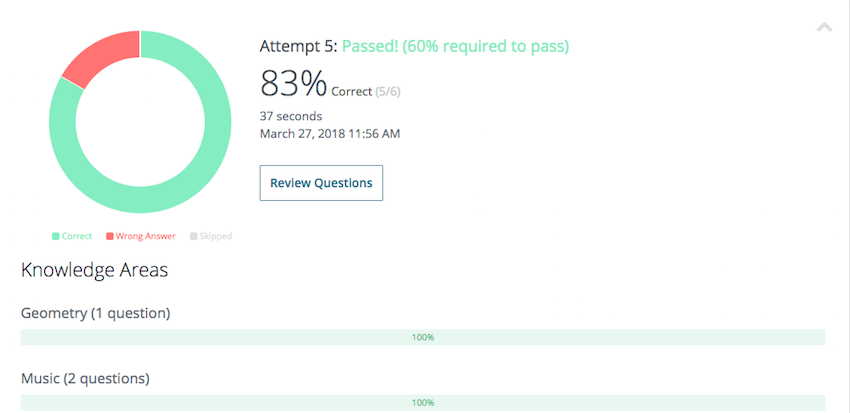 Assignments can be submitted for other students and your instructor to review. There are four steps to submitting an assignment. These include reviewing instructions, submission, viewing an instructor example (answers or solutions you can compare to your own), and giving feedback.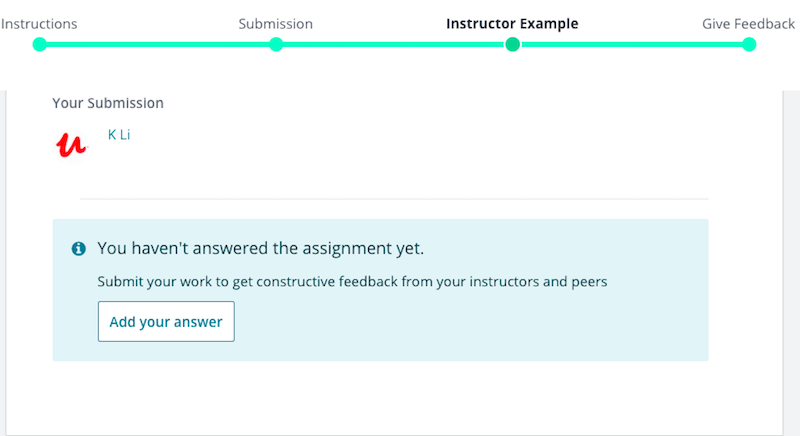 ---
Udemy Certificates
Udemy offers certification of completion. They become available on completion of a course and are accessible directly from your course page.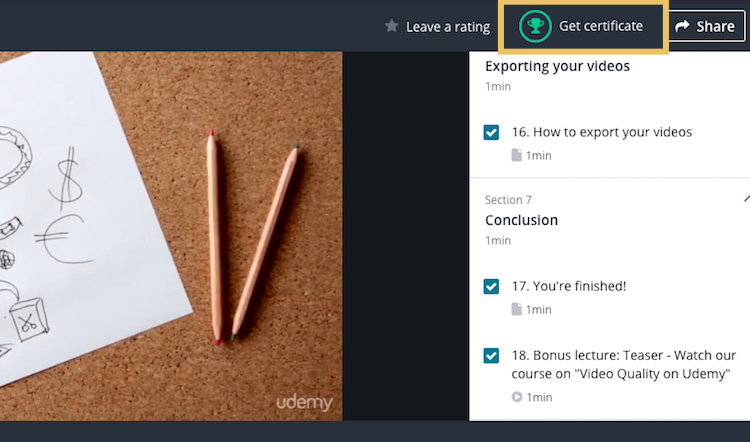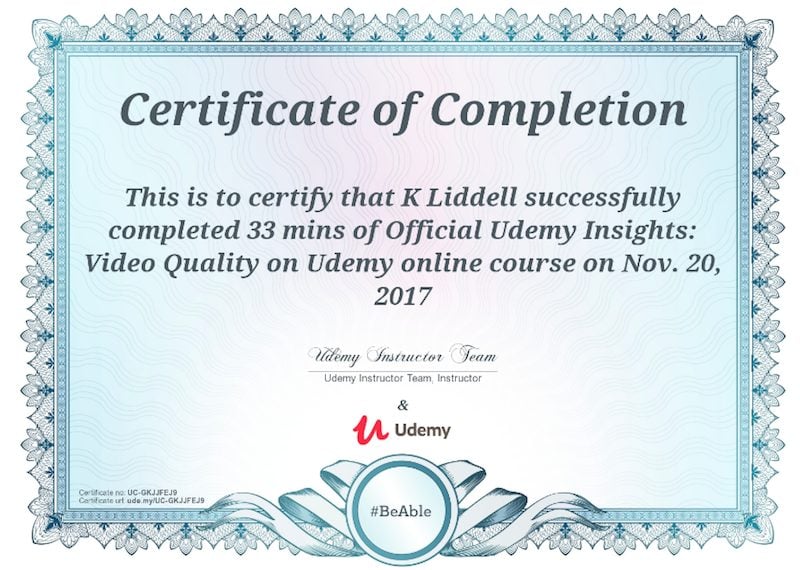 Certification is considered by many as an essential component of displaying expertise. Udemy offers some accredited certification, but not all courses are accredited. For learners looking for a formal certification, this may not be ideal. For those hungry for knowledge, Udemy definitely delivers.
---
Udemy for Business
Udemy Business is Udemy with a collection of sophisticated tools to help businesses manage the growth of their employees. To access Udemy for Business, click on your profile avatar, and then click on Udemy for Business at the bottom of the dropdown menu.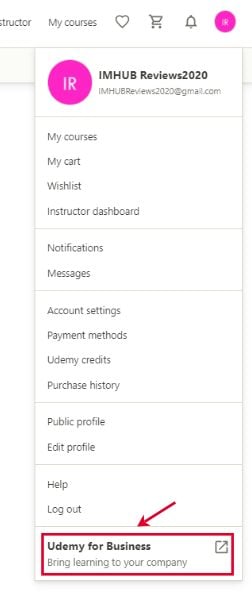 When signed up, you gain access to a dashboard that shows how engaged your team members are with Udemy courses.

Teams also get access to over 4000 courses that you can align to create learning paths. We think this is a powerful feature. Brands have the opportunity to not only identify areas of growth for staff, but can also design their learning intervention and track employee progress. What's more, research points to this approach as highly successful. According to a 2019 IDC report, brands that use Udemy Business see a bump in as much 869% ROI.
---
Udemy Pros and Cons (for Instructors)
Pros
No sign-up fee

Easy-to-use platform and user interface

Offers quizzes with multiple question formats

Pro certificates of completion

Some courses offer accreditation

Comprehensive course creation lessons through Teaching Centre

Analytics and reporting functionality

Marketing tools to help promote courses

Student engagement tools available

Comprehensive online knowledge base

Access to a large community of course creators

Can create multiple courses

Can bundle courses

Can market multiple courses (similar to a cross-sell feature)
Cons
Udemy's revenue share model allows for the platform to receive between 3% and 75% of the money instructors make depending on the promotion model

Ranking your course requires agreeing to heavy price discounts

Does not offer drip content

No telephonic or chat support

Payouts take as much as 30 days to account for refund requests

Some courses do not offer accreditation

No standalone blog feature

Mobile app limitations for instructors

Reporting and analytics are limited
---
Key Takeaways for Instructors
Creating a course on Udemy, or any platform, requires time and effort, but Udemy has done a stellar job of breaking down barriers for new and experienced instructors. Their support structure of resources, tools, and strong community makes getting started and successfully creating your course much easier.
Features like the instructor dashboard take the confusion out of tracking how well your course is performing and more. We also love Udemy's almost intuitive and easy-to-follow course and practical test creation process. The platform's layout makes the seemingly unconquerable task of building a course straightforward and approachable. Getting paid is just as convenient with PayPal and Payoneer options.
Quality is a major aspect of the platform. If you plan on using Udemy, invest in an HD camera and a quality mic for audio. Without them, your course content may not be approved when submitted.
---
Key Takeaways for Learners
Udemy offers tons of affordable courses. As a marketplace, you're guaranteed to find competitive courses, some with considerable discounts. While not all courses will include beautifully created videos with effects and transition, the content is still valuable.
Navigating Udemy is easy. If you're a newbie, your first experience may seem a little overwhelming as you explore the platform's layout. But you'll quickly adjust and be able to access areas like Q&As, Notes, and more.
We love the idea that Udemy comes with a 30-day money-back guarantee. While you have all the opportunity to preview course content before purchasing, the refund policy makes committing to courses a little less frictionless should you not be content with what you've paid for.
While you're bound to get value for money, not all instructors are tech-savvy or graphics designers. So, expect to see basic looking resources and videos.
Lastly, the lack of accreditation for certain may make Udemy a no-go for some people, but may not be an issue for most. Udemy is designed to help people gain knowledge. Programs like Udemy for Business are clear examples that brands value the approach and are willing to recognize practical skills, too.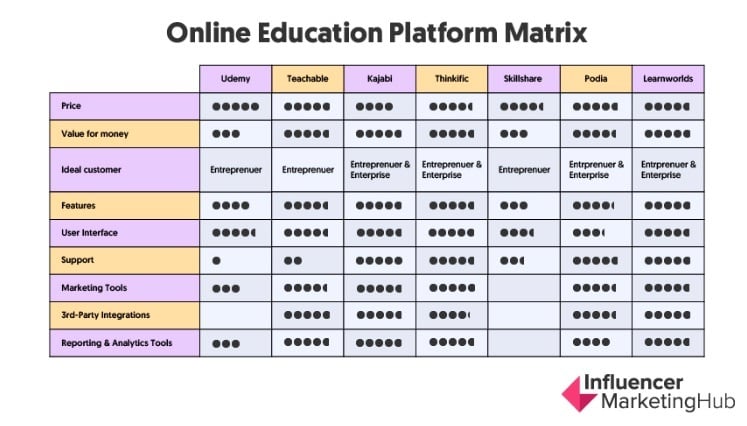 Frequently Asked Questions
Is Udemy Legit?
Yes. Udemy is a registered company and it's backed by reputable investors.
Are there alternatives to Udemy?
Yes. There are various alternatives to Udemy. If you're an instructor looking for alternative platforms to host your course, these include Teachable, LearnWorlds, Skillshare, Kajabi, Podia, and Thinkific.
Is Udemy worth it?
Udemy offers accessible education. Courses are priced affordably and often with heavy discounts to attract learners. When considering whether to purchase a course, most learners often fall into two categories. The first is filled with people who are hungry for knowledge and want to gain a specific skill to be able to improve their work or get a job. The second group wants the same as the first, but also wants accredited qualifications. Udemy offers accreditation for some but not all courses. Udemy also offers certificates of completion.
While the lack of accredited qualifications may seem like a drawback, Udemy still offers tremendous value that many businesses rely on. Through Udemy for Business, brands can create learning paths for staff, upskilling them to make a greater impact on the job.
How often does Udemy have sales?
Udemy runs promotions daily.
Does Udemy offer nano degrees?
No. Udemy does not offer nano degrees. Udemy courses only offer certificates of completion and some with accreditation.
What does "Udemy" mean?
Udemy is derived from the combination of the words "you" and "academy".
Does Udemy offer a 30-day money-back guarantee?
Yes. All Udemy courses come with a 30-day money-back guarantee.
What is Udemy for Business?
Udemy for Business is a way for companies to offer staff ongoing education. Companies can access over 4000 courses and create learning paths for staff. Using Udemy for Business's dashboard, businesses can track engagement and progress of staff using Udemy.
How much does Udemy pay?
Udemy payouts for instructors can vary depending on how successful your course is. For example, Rob Percival's courses have reached nearly 120,000 students and made over $2.8 million in total earnings. Victor Bastos has reached more than 52,000 students and has earned nearly $900,000.
Udemy Review
Features

Ease of Use

Value of Money

Best for:
Small to large businesses and non-profit organizations