Every business involved in content marketing needs to publicize and distribute their content. This provides opportunities for an overlap between content marketing and social media marketing.
We saw in our Ultimate Guide to Using LinkedIn for Content Marketing, that LinkedIn makes it easy to share quick status updates, engage with others through comments, likes, and shares, and run targeted ads. Indeed, 97% of marketers say they use LinkedIn to distribute content.
LinkedIn is particularly good for connecting with a professional audience. You can use it to reach the people who influence or have direct responsibility for the purchasing decisions at their companies. And while LinkedIn may not have the audience of Facebook, Instagram, or TikTok, it can claim more than 950 million members worldwide, including more than 65 million business decision-makers across 200 countries and territories.
Depending on your niche, LinkedIn Pulse could provide you with an innovative way to share content with your target audience. Even if you're a regular user of LinkedIn, you may be unaware of how you can use LinkedIn Pulse to help you promote your brand.
---
Strategies to Utilize LinkedIn Pulse for Marketing:
---
What is LinkedIn Pulse?
LinkedIn Pulse acts as a content distribution platform within LinkedIn. You use it to create, share, and engage with content. LinkedIn Pulse helps users stay up to date with the latest news, insights, and updates from their network or industry, and you can use it to reach LinkedIn members with relevant content. It is a powerful publishing platform, giving you an easy way to present quality content to your professional network.
Of course, LinkedIn wants Pulse to be of value to their members, and your content must be of excellent quality and likely to give value to users. LinkedIn doesn't just restrict you to sharing articles and blog posts, you can also incorporate multimedia and other visual content.
Originally, LinkedIn restricted access to the Pulse platform to existing influencers with huge followings. Most of the original contributors to LinkedIn Pulse were people like Bill Gates, Arianna Huffington, and even Barack Obama when he was still President. Now everybody can use it to share content with their followers, although LinkedIn still requires LinkedIn Pulse articles to be of a high standard.
LinkedIn Pulse helps combine professional networking with social networking. Most regular users of LinkedIn want to connect with people, and they're motivated to learn and engage. They like to follow brands that interest them and make connections with relevant people. If you produce high-quality content, you can help facilitate this engagement.
---
How Does LinkedIn Pulse Work?
LinkedIn Pulse now provides much of the content you see in your main LinkedIn feed.
LinkedIn now makes it surprisingly easy to use Pulse, although you will need to use a computer as Pulse is not yet available in LinkedIn's mobile app.
All you need to do is go to your home page feed and select Write Article at the top of the page. Decide whether you want to write as yourself or your business and create your post on the page. Make certain to include a header image for your article and other media where relevant. LinkedIn offers you various tools to assist you, such as SEO settings and scheduling tools. Once you're happy, publish it.
---
Define Your Brand Image and Voice
LinkedIn tends to have a more serious tone than most other social media platforms. It gives the overall impression of being a professional platform. You're unlikely to gain much of a following by sharing funny cat videos or memes on LinkedIn. Although you can publish videos with LinkedIn Pulse, it's not a substitute for TikTok, and you wouldn't share the same types of video content via the two platforms.
If you're already an established business you probably have a good idea of how you want your brand to look and who your customers are, although you should check that you're consistent in portraying this on LinkedIn. If you're new to business or an individual wanting to establish a presence on LinkedIn, you will need to spend time establishing a brand image (personal brand in the case of individuals), and then ensure that you always stay on brand when using LinkedIn and creating content via LinkedIn Pulse.
Areas to consider when defining your brand and voice include: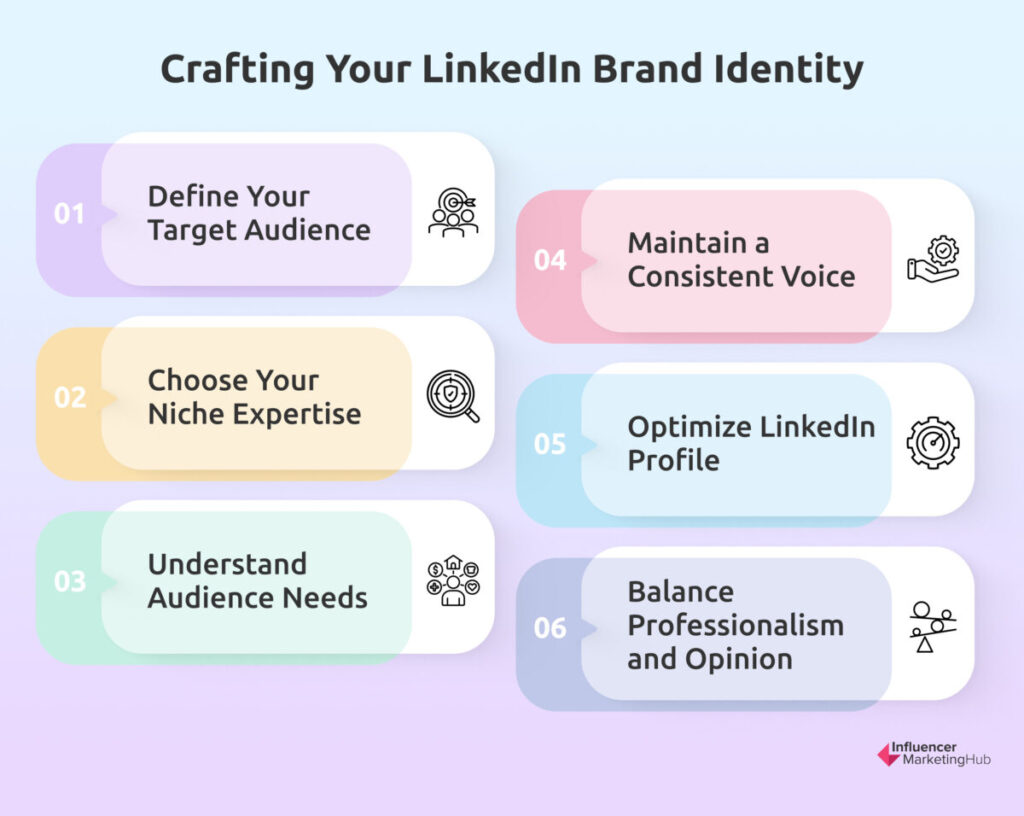 Decide on your target audience. Who will you be making content for? If you sell goods or services, who are the typical types of people you sell to? Are they likely to read LinkedIn and consume content you publish there? Or would you do better to focus your online marketing on a less serious channel?
Decide on a specific niche or industry in which you want to establish yourself as a thought leader. This should relate to your target audience. If you're targeting a specific type of person with your content, then you need to offer them content that relates to what interests them, and which you can build yourself up to be a subject expert.
Analyze the needs and interests of your target audience. You must create content that meets these needs, so your readers can see value in what you share.
Decide on a consistent voice and tone that you use with every LinkedIn post and comment. You want to portray expertise and experience when it comes to your niche, even if you are a relative newcomer to business. That doesn't mean that your writing should be stuffy and formal. It does mean that you always come across as knowing what you're talking about, however.
Check that your LinkedIn page matches your intended look. Include your brand's colors and logo. Ensure your profile looks professional. Ensure that the important people in your business have professional-looking personal profiles that match the intended tone of your business page.
Be professional, but not too conservative. If you are going to be a thought leader in your niche, you will need to express opinions and views, even though not everybody will agree with them. Don't be afraid to do this.
It's important to consider when you create content in LinkedIn Pulse whether you're doing it as an individual, or a business. You need to decide who in your organization will show as the "author" of the LinkedIn Pulse content, and their personal profile should match your business's in terms of general look and voice. If you're a sole trader that's easy – you are your business and probably want to be known as the thought leader. However, larger firms may want their LinkedIn Pulse content to be attributed to a senior manager or director, rather than generically as from the company profile.
---
Make Your LinkedIn Posts More Visible
If you include blog posts on your company website, then you are probably familiar with techniques you can use to boost the visibility of your posts. You should use many of these techniques on your LinkedIn posts too.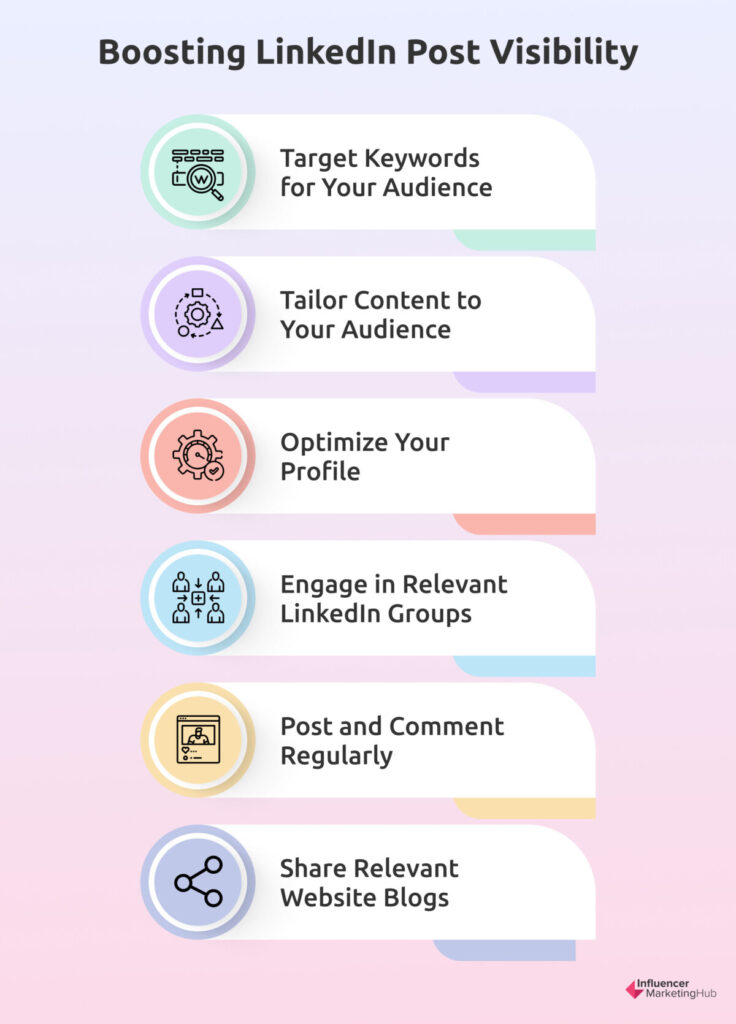 Select Suitable Keywords for Your Audience
You can start this when deciding on the topics for your blog posts. You should use keywords in your LinkedIn posts as you would for any other blog post. Remember, that you want to produce and share content on LinkedIn that interests your target audience, and keywords indicate the topics they search for and questions they ask.
One way to find relevant keywords is to examine the LinkedIn profiles of others in your industry. What words and phrases do they use in their profiles? Alternatively, use specialist keyword research software like SEMrush Keyword Magic Tool, Ahrefs, Moz, or Neil Patel's Ubersuggest.
Take an overview of the niche in which you want to become a thought leader. What topics can you write about to assist your followers?
---
Pitch Your Content at the Level of Your Audience
You must think about the types of people you are targeting. Are they likely to be newcomers to your industry, needing help at a basic level, or are they more experienced, wanting more in-depth hints and tips? You need to pitch your content to match their likely level of understanding.
For example, if the Influencer Marketing Hub were to publish this post via LinkedIn Pulse, rather than our main website, we would assume that our readers would already know something about LinkedIn – after all, they are already on that platform. Therefore, there would be little point in making this post too basic as it would add little value to our readers.
---
Ensure Your Profile is Complete
If your article generates attention a proportion of your readers will click on your profile page. This could be either your Company page or the page belonging to the "author" of the article if you've attributed it to them. Therefore, these pages must be as complete as possible.
LinkedIn gives you a good indication of how complete your profile is with its Profile Strength. The more in-depth your profile section, the higher your profile strength.
---
Join LinkedIn Groups Relevant to Your Industry or Niche
No matter how good the content you share via LinkedIn Pulse, it will be of little benefit to your marketing if you don't make yourself known to your target audience. You can share your posts with group members and engage with their content too.
---
Post and Comment Regularly
LinkedIn is a professional social network that rewards its most active members by making them visible to other members. So, don't just publish blogs on Pulse and say nothing on the platform until your next blog post is ready. You need to interact with others, adding comments to both your and others' posts. Make a point of updating your profile every time something changes.
---
Link Back to Relevant Website Blog Posts
If you decide to create and share (different) posts on both the LinkedIn site and your website blog, then you should create a single content strategy covering both platforms. As you do your keyword research, spread the terms across both channels. That way, you can cross-link between your posts, and Google (and your readers) will appreciate the additional backlinks.
For example, if you decide to create a series of posts on a topic, each targeting specific related keywords, you might decide to showcase most of your posts on your website blog but feature a few posts about certain aspects of the topic on LinkedIn.
---
The Difference Between LinkedIn Pulse and Your Website Blog
You might wonder how LinkedIn Pulse is different from a typical website blog. You may even have one on your company website and create additional posts for LinkedIn Pulse alongside that, as we suggested above. Certainly, most of the strategies we've given above are very similar to what you would do for any blog you operate.
In some ways, it's better to compare LinkedIn Pulse with Medium, another common public blogging platform. In both cases, you create content for somebody else's platform and have to follow their rules. In return for losing the freedom you have on your own blog, both LinkedIn and Medium provide you with a potentially large audience for your posts.
You must link back to your website in your LinkedIn posts, however, because it doesn't automatically do so.
---
Don't Double-Dip
A common mistake made by new creators on LinkedIn Pulse is double-dipping, i.e., publishing the same post on both LinkedIn and their website blog. Google considers this duplicate content and only includes links to one version in its search engine. It generally rewards whichever site publishes the content first, but if it can't work out where the content originates it may penalize both versions of the article.
Therefore, while you can use the two blog sites to cross-promote content, it should be different content.
One option you could consider is to use LinkedIn Pulse to publish an edited portion of an article you've used on your main blog. You would then include a "Read More" link to the larger post at the bottom of the LinkedIn version of your post.
---
Wrapping Things Up
LinkedIn Pulse provides much of the material LinkedIn users see in their feeds every day. And now it isn't hard to position your content in front of your target audience on the platform. LinkedIn Pulse has the potential to increase your exposure to your target audience – as long as they're the type of people who use LinkedIn regularly. You probably won't do this if your customers are still at school or are looking to buy a place in a retirement village.
If you want to succeed on the platform, however, you need to build a large audience of first-level connections. So, you need to continually promote your content, and interact with others on LinkedIn.