Sales of Instagram Checkout account holders are getting stronger than ever with Instagram Live Shopping. This latest addition to the arsenal of business owners and creators selling goods on Instagram enhances the power of Live and Shoppable Posts.
According to Facebook's latest data, 45% of global shoppers are interested in buying products directly from their favorite creators' social accounts. Moreover, iProspect says that 49% of online shoppers want to make purchases during live events where brands, influencers, or celebrities introduce new products. Based on the success of Alibaba's Taobao Live in China, McKinsey predicts that live shopping worldwide will make up 20% of all e-commerce by 2026.
---
Instagram Live Shopping Set-Up Guide and Tips:
---
Why Live Shopping is the Future of E-Commerce
In the past, video posts used to promote a product already significantly increased leads and sales. But consumers now prefer live shopping over simple video shopping. Let's take a look at why brands and influencers are tapping into this new marketing strategy: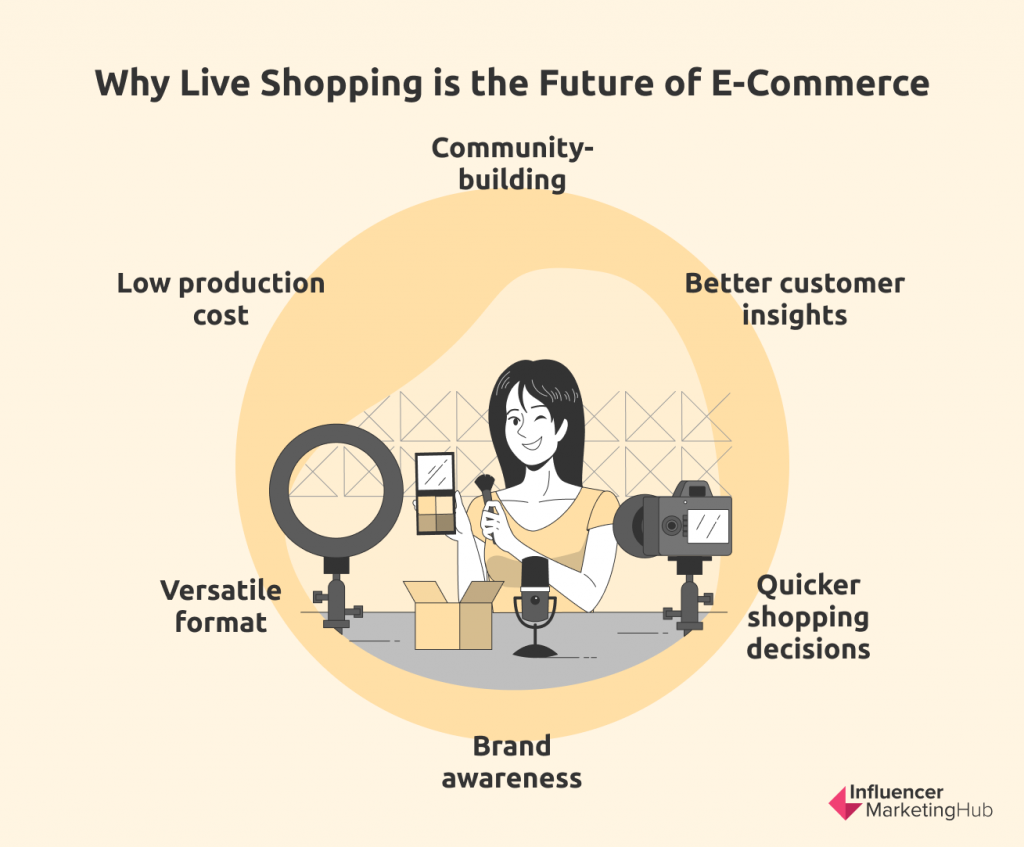 Consumers are now going after more constant and consistent live selling events than TV-like video settings and production. This comes amid the internet public's familiarity with user-generated DIY videos on various social media.
It's possible to hold a live shopping event with little experience and without professional cameras, microphones, lighting, make-up, or studio as long as you have followers waiting to buy.
The sense of community drives consumers to join live shopping events. Pop-up chats with a bot haven't exactly added warmth to buying on shopping platforms. But when customers attend a live selling event, shoppers feel connected with other buyers with the same interest.
More importantly, your live video adds a human element through your facial features, eye contact, and body language. The appeal is multiplied when an influencer or celebrity—someone they trust in a given niche—is the star of or takes part in the event.
Buyers also feel valued when you give personal attention to their messages, resulting in engagement and customer satisfaction. This kind of interaction is the closest you can get to replicating the personalized experience that can happen during in-store shopping.
With Instagram Live Shopping, you can ask and receive real-time feedback about shoppers' tastes. At the same time, customers can ask questions and enjoy getting answers from celebrities or influencers. Meanwhile, you can take note of the buyers' common queries and comments, which you can use in future events or campaigns.
Quicker shopping decisions
Live events can encourage shoppers to make purchase decisions more quickly. Time-limited offers, discounts, and gifts are some of the ways to entice them to avail of your current promotions.
A Worldline survey shows that the conversion rate during live shopping can go as high as 39%.
Shoppers tend to go on impulse buying during these events because they're not distracted by other elements such as ads that appear when reading blogs. The fear of missing out and shopping addiction are also other contributors.
Live shopping and notifying your followers about them can spread the word around about you. This exposure increases your chances of being found online, especially when a well-loved influencer or celebrity is involved. Viewers and buyers will want to know more about your brand, driving them to your platforms.
Your live shopping event can take on various formats—from product demos to Q&As or interviews. Because it's informal and not as scripted as straight advertorial or tutorial videos, it's a great way to show the approachable side of your brand.
---
How to Access Instagram's Live Shopping Feature
You can use Instagram's live shopping feature if you've enabled Checkout on your Instagram Shop. To set up a shop on Instagram, you first need to build a Facebook Shop, as this is where Instagram will pull product information from. You can set up Instagram Shop and Checkout using Facebook's Commerce Manager.
Although Instagram Shop is now accessible in many areas worldwide, the checkout feature is currently available to U.S.-based business and creator accounts only. To become eligible, you have to agree and comply with Facebook and Instagram's commercial terms and policies. You have to provide the social network with the following information:
Your U.S. bank account for collecting payouts

Your U.S. business address

Business category and type

State Tax Registration number for every state where the business operates

Federal Tax ID number

Identity of a business representative to verify the authenticity of the business

Shipping options, customer service email, and return policy
---
Buying Process Via Instagram Live Shopping
Your followers can attend your Live Shopping sessions by taking the following steps:

Click the shopping icon on the bottom of the screen of your Instagram account so they can reach your Shop.

Tap "Live" from your Shop's top menu to join an ongoing event. If there's no current live session, your followers will see "Upcoming live videos."

During the show, your viewers can click on the thumbnail images of products that pop up, which you selected to promote within the session. Shoppers can then either read the product details for more information or proceed with the purchase by clicking the "Checkout On Instagram" button. On the checkout page, they have to choose their preferred payment mode before tapping "Place Order."
---
How to Prepare and Launch Instagram Live Shopping
Preparation
After setting up your Instagram Shop and enabling Checkout, do the following steps to get ready for your Live Shopping event:
Set your sales goals

according to priority and align your live selling accordingly. Aim to achieve one goal per broadcast.

Learn how to

use Live Scheduling

to mark the time and date of your live broadcast and to announce the upcoming event on your Instagram account. Go for consistently regular streaming to grow and solidify your following.

Enable the Checkout feature

of your Instagram Shop.

Tag up to 30 items

to include in your product catalog three days before going live.
Scheduling
Do the following steps to announce an upcoming Instagram Live:
1. Tap the plus (+) sign or Story on top of the app or swipe right on your phone to activate the camera.
2. Select the Live mode from the menu on the bottom of your screen.
3. Click the schedule or calendar icon on the left side of the screen.
4. Type in the title of your live event and select a start date and time before hitting the "Schedule Live Video" button at the bottom of the screen. Instagram allows you to schedule at least one hour before your live broadcast and up to three months ahead of the event.
You can click on Add Products at this point based on the items you selected during the preparation phase.
5. Once you're done, a window with "Your live video is scheduled" will appear. Click the "Share as post" button at the bottom of the screen. This will create a post in your Feed, which will notify your followers about the event.
Launch
To activate Instagram's Live Shopping feature:
1. Click Instagram Story or the plus sign or swipe right on your phone to open your camera.
2. Choose Live from the menu on the bottom of your screen.
3. Tap on the shopping bag icon on the left part of your screen to add the products that you pre-selected to sell during the broadcast.
4. Tap the round button when you're ready to go live.
---
Instagram Live Shopping Features
Instagram has customizable features that can enliven interaction and encourage viewers to buy. Here are some of them: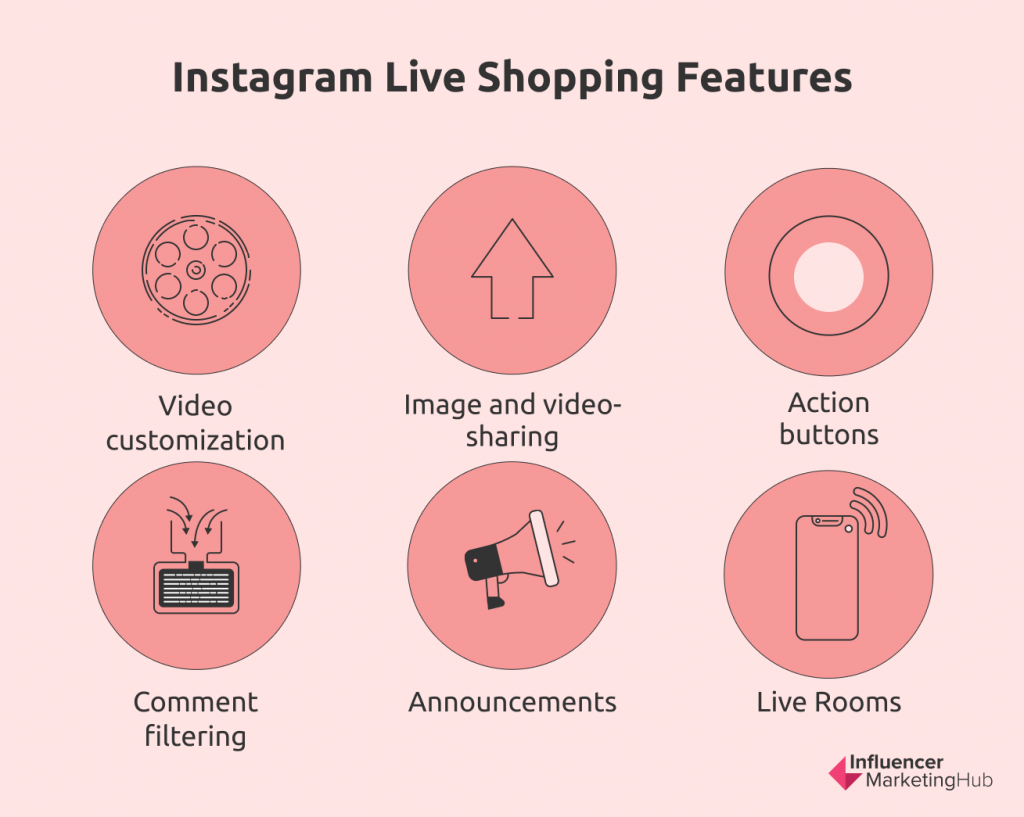 You can activate filters, post stickers, or flash a question posted by your viewers while you are live. Doing so can drive conversions as you make your viewers feel seen and heard.
Flashing still photos or playing videos of your products in action will supplement what you've already shown during the live broadcast. The additional visuals can also make the product more appealing to your viewers.
An Instagram business account allows you to feature call-to-action buttons such as "Add to Bag," "Review Product," and Checkout. They serve as prompts that will guide your viewers along their buying journey.
You can prevent offensive viewers' comments from appearing on the live chat by scrolling down to your Privacy settings and going to Hidden Words. Under this option, you can turn on "Hide comments" or tap "Advanced comment filtering" to manually add words and phrases that you don't want to see on the chat.
You can also appoint a live moderator. After going live, click the three dots in the comment bar below your screen and click "Add a Moderator." The person you choose to act as moderator has to be among the live audience. Instagram sends moderators a notification and allows them to report or remove offensive comments as well as remove someone from the live event.
You can customize an announcement about a new product. In Live Shopping, a countdown clock will display the number of hours, minutes, and seconds before the set hour of the launch. When the time is up, the clock will turn into an Add to Cart button.
With the Live Rooms feature, you can call an influencer or a credible personality whose values align with your brand to join your live session. You can invite them one at a time or bring in all three or more of these guest hosts simultaneously.
---
Tips for Optimizing Instagram Live Sales
For your live broadcast to flow smoothly and garner sales, try the following suggestions:
Be well-prepared but give room for spontaneity
Solidify your outline and product lineup before the show. Be deeply familiar with your products (their benefits, how to use them, cost, and so on) so that you can share details confidently during the broadcast.
Give yourself as much time as needed to remember your basic lines and visualize how you want your upcoming show to flow. This will make you sound more natural on the day of your show. This will also allow you to pace yourself better in case you suddenly have to give way to audience questions before presenting another product.
You can also rehearse on Instagram before the event. Click on the Audience (eye) icon after tapping Live and select "Practice."
Moreover, make your surroundings look presentable and test all your equipment to ensure they're working as they should.
Choose to go live when launching a new product
Your followers can be inspired to buy a new product when they see how it works in real-time. It's also the best time to get viewers' questions and show off your product's capabilities. Giving time for Q&A can address any doubts about the item's function and safety.
Plan your engagement points
Be sure to make your live session entertaining, not just informative. Encourage connection by sharing how you personally benefited from the product. Or ask your audience questions verbally or through video customizations. Inviting an influencer or other creators to your show can also help heighten engagement.
Save and repurpose your live shopping session
After your live event, click the End Now button and select Share or Download Video from your options. You can then reuse the file with an added caption and location by uploading it to your Profile or Feed. You can also choose the people to share it with through Tag People.
Remember to broadcast consistently
Going live at regular times gives people a sense of stability and something to be excited about. Make a schedule for the long-term and tell your audience what to expect on your next show so they have more reasons to join your future broadcasts.
Frequently Asked Questions
When is it best to use live shopping?
You can reach your target audience more meaningfully during live sessions when you really know your target market and what matters to them. Use analytics tools to understand their needs and what gets their attention, including who influences their buying choices.
Next, determine what stage a product is in its life cycle. It's best to organize a live event:
When you need to get instant feedback about a new product

When you'd like to boost the exposure of a hot-selling item

When you're clearing stocks of an old product
Depending on your business strategy, you can hold a live event for flash sales, discounts, and other deals.
However, IGTV might be a better option if you'd like to produce long-form videos, which will give more extensive information about the products you sell live. They can include manufacturing history, interviews of people behind the brand, and so on.
How can I share replays of my Instagram Live Shopping?
Once you've downloaded your live broadcast, you can share it in two ways:
After your live event ends, click Share to Instagram video at the bottom of your screen.

You can also go to your Live Archive by clicking on your Profile and tapping the hamburger icon. From there, tap the Archive icon and select Posts/Stories Archive, where you can find and click Live Archive. Choose the live broadcast you want to share before hitting the Share button.
When should I display my CTAs?
Don't wait until the final minutes of your live session to post a CTA button. Use them throughout the live stream, particularly during the following moments:
When audience numbers pick up at the start of the show

After describing a product

When you notice a surge in viewership during mid-broadcast

After answering a viewer's query or a series of queries

Following a milestone such as "The 10th piece of (product so-and-so) has just gotten sold..."
Train your audience to note and remember your website and other important links. Give them time to take a screenshot of the CTA containing your contact information and pause for a few seconds to let them do so.
How can I measure the success of my Instagram live shopping event?
After your live broadcast ends, tap View Insights and wait for the data to appear. Instagram will display the following metrics:
Reach: accounts reached or accounts engaged (number of users who viewed part or the entire live session) and peak concurrent viewers (number of viewers watching during the broadcast's busiest point)

Live interactions: comments and shares
You can also go to Profile and click the Insights button. Tap the live video you want to check for analytics then click View Insights.