As one of the fastest-growing industries in the world, eCommerce presents incredible opportunities for business success. When it comes to selling online and growing your eCommerce business, you'll often have two platforms to choose from: Magento and WooCommerce.
Both Magento and WooCommerce are feature-rich platforms. To determine which platform is best for your business in 2023, it's important to understand what they each offer and how it compares to your business needs.
This article will provide a detailed comparison of Magento and WooCommerce to help you make an informed decision.
---
Magento or WooCommerce? Which Platform Should You Use in 2023:
---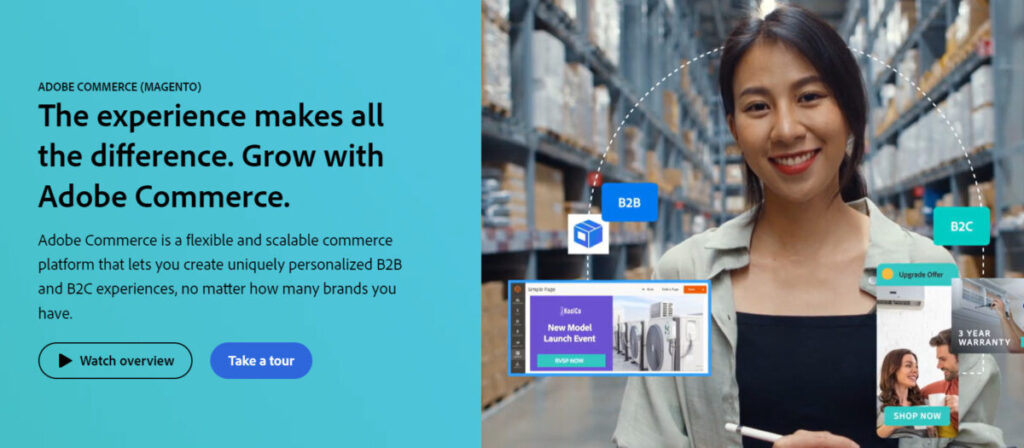 Magento, now known as Adobe Commerce, is a flexible and scalable open-source eCommerce platform that enables the creation of uniquely personalized B2C and B2B experiences, regardless of the number of brands you have. It is a flexible platform that can be customized to meet your business's specific needs. It's also scalable, allowing it to handle vast amounts of traffic and transactions as your online business grows.
Adobe Commerce provides personalization features that recommend products to customers based on their browsing or purchase history. This allows you to create targeted marketing campaigns. It can also be seamlessly integrated with trusted payment gateways and shipping partners, making it easy for your online store to support convenient transactions. These key features make Magento a powerful tool for businesses looking to deliver exceptional and personalized shopping experiences.
---
Top Magento Features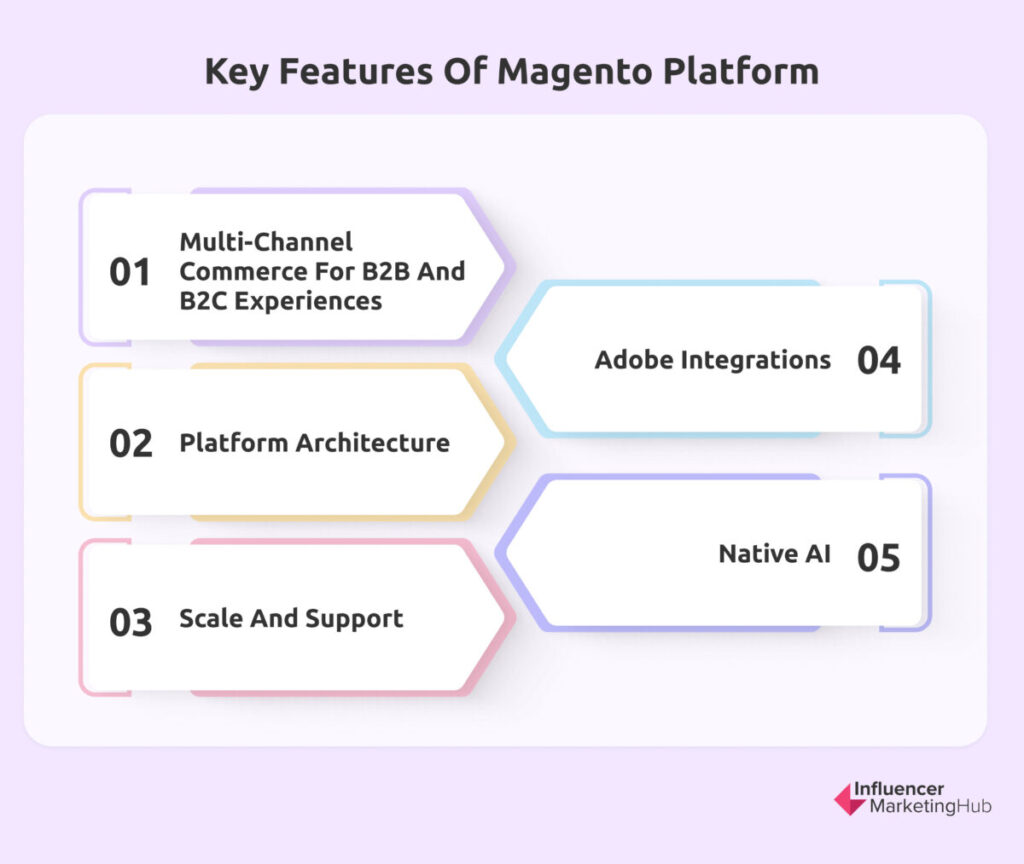 Multi-channel Commerce for B2B and B2C Experiences
Magento's multi-channel commerce allows B2C and B2B companies to manage every aspect of their business with a unified eCommerce solution. You can streamline your workflow, virtually set up shop in new territories, and acquire new customer segments from a single platform.
Here are some key features of Magento's multi-channel commerce:
An all-in-one tool for managing complex business models, as well as training and technology infrastructure for engaging every type of audience.

A central hub for managing your product catalogs, price lists, brands, sites, sales channels, and locations.

Efficient and flexible shopping experiences for B2C customers.

Frictionless purchasing experiences for B2B clients.
Platform Architecture
Magento's platform architecture uses powerful developer tools, API-first services, and comprehensive cloud services. It makes the platform adaptable for rapid innovation, ensuring constant and elevated customer experiences.
Here's everything you can do with Magento's platform architecture:
Create custom apps and enhance built-in features with modern development tools and a serverless runtime.

Accelerate development and significantly reduce expenses by combining multiple API sources with an API mesh.

Effortlessly expand, safeguard, and increase the scalability of your API within a distributed environment.
Scale and Support
Magento's scale and support features determine your site's performance, reliability, and speed. Thanks to these features, you can offer personalized customer experiences at a scale.
The advantages of Magento's scale and support features include:
Delivering fast and seamless experiences during peak occasions with auto-scaling.

Reaching your goals faster with the help of an expert team.

Leveraging cloud-native solutions and performance monitoring tools to ensure a reliable and consistent customer experience.

Running and growing your business confidently using a secure and compliant cloud architecture.
Adobe Integrations
You can easily integrate Magento with Adobe products, like Target, Experience Manager, and Real-time Customer Data Platform.
Integrating your Adobe Commerce site with other Adobe products helps you:
Share data with Adobe Analytics and Real-time Customer Data Platform to gain comprehensive insights into your business and customers.

Use data to customize interactions with customers using Adobe Target and Adobe Journey Optimizer.
Native AI
Magento taps into AI tools so you can provide bespoke experiences that will increase your conversion rates. You can use Magento's AI tools to:
Produce high-quality and relevant content and promotions in real time.

Use AI merchandising tools to boost your team's productivity.

Harness AI's power to personalize your site's search capabilities, product recommendations, and browsing experience.
Overall, Magento is a solid platform for managing and streamlining online businesses of all sizes. It offers powerful features that make website navigation easy for both customers and developers. It also embraces AI, enabling you to provide personalized B2C or B2B experiences.
Now, let's see what WooCommerce offers and compare the two platforms.
---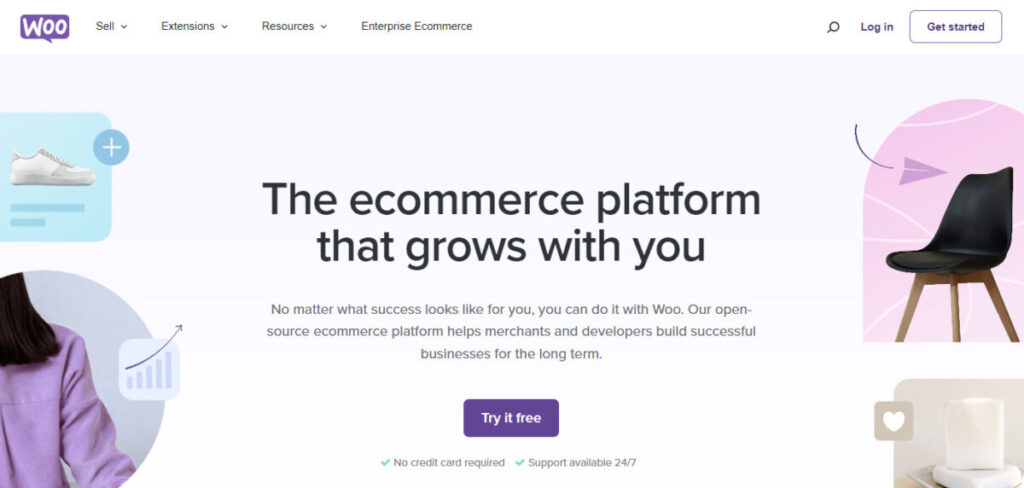 WooCommerce is a WordPress-based open-source platform that lets developers and merchants create and manage eCommerce sites. Unlike Magento, WooCommerce is a plugin you can add to a WordPress website.
Installing the WooCommerce plugin allows you to set up an online store by adding products, setting prices, and configuring shipping and payment options. Customers can browse your store once your site goes live, add items to their cart, and checkout. They can also create accounts on your online store or shop as guests. WooCommerce also provides numerous features, extensions, and themes to enhance your site's look and functionality.
---
Top WooCommerce Features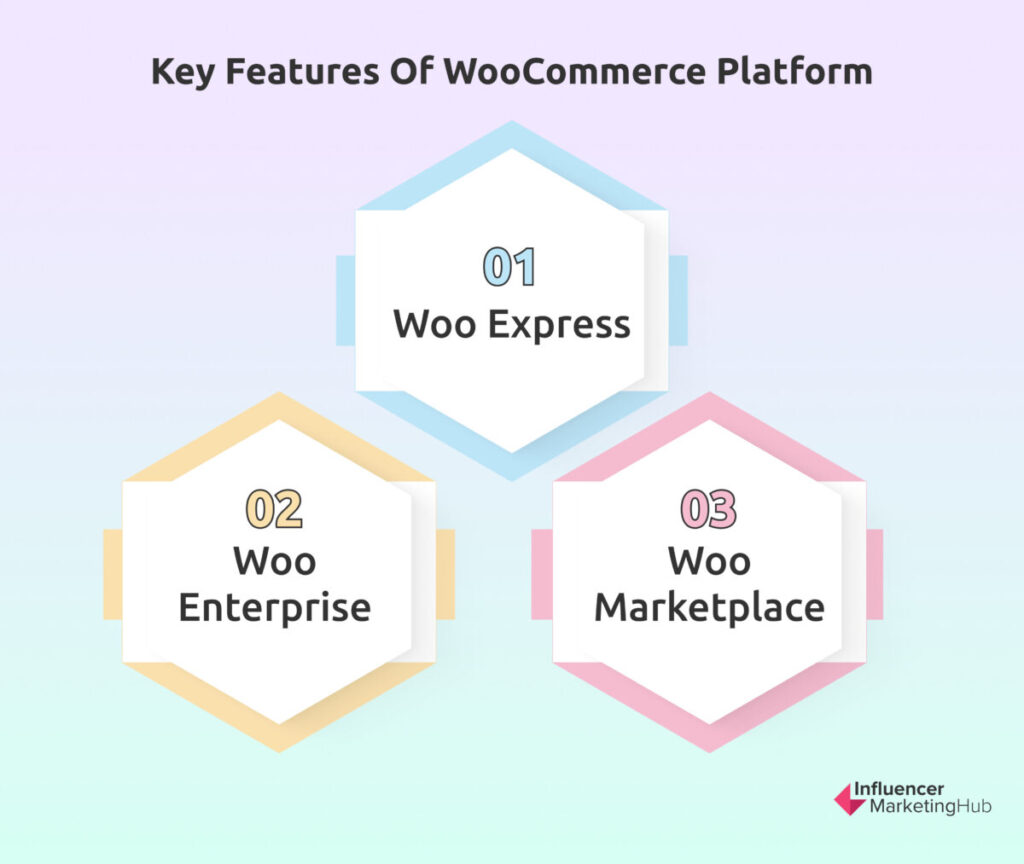 Woo Express
Woo Express is a WooCommerce plan that includes all the tools you need to open an online store. It offers a free trial, which can be upgraded to a paid plan that works best for your business.
With Woo Express, you can sell anything from simple products to custom items, scale your online store as your business grows, and run your store your way with customizable features.
Woo Enterprise
Woo Enterprise is a WooCommerce plan for high-volume stores. It powers up medium- to large-sized businesses with dedicated support and discounts.
Since it's designed for a growing business, Woo Enterprise has sophisticated benefits, such as:
A dedicated Customer Success Manager who helps set up and scale your online store.

Free or discounted WooCommerce-optimized hosting and extensions.

Priority support from WooCommerce's team of engineers.
Woo Marketplace
Woo Marketplace is the software hub for extensions and themes for your WooCommerce site. The extensions and themes are similar to Magento's Adobe Integrations. They are designed to meet the specific needs of your online store, like payment gateways and customer service tools, allowing you to deliver personalized customer experiences at scale.
The newest extensions Woo Marketplace offers are:
Sezzle, a payment platform that allows customers to "buy now and pay later."

Zendesk Ticket Manager, a customer service software you can integrate with your WooCommerce store.

Coinbase Commerce, a plugin that allows you to accept cryptocurrency payments.

Payoneer Checkout, a payment partner that lets you accept payments globally.
Based on these features, WooCommerce is also an excellent solution for creating and managing customizable and scalable online stores. But there are still more features to consider between Magento and WooCommerce before determining which one is best for your business in 2023.
---
Magento vs. WooCommerce: Which One is Better in 2023?
Now that you're familiar with the top features of both platforms, let's dig into their other qualities and compare them.
Ease of Use
Magento's features are primarily geared towards technical aspects such as development and customization, which requires a higher level of technical knowledge, making it more suitable for web developers. On the other hand, WooCommerce's features are more user-centered, making it a better fit for beginners, especially those who have experience using WordPress.
If you still need to develop a WordPress site, creating one is incredibly easy. Sign up at WordPress.com and set up your site for free. However, a paid plan is recommended if you want a custom domain, which can make your online store more authoritative and trustworthy.
You can also set up an online store using Magneto which provides a user-friendly dashboard and navigation system. However, the setup process is more complex compared to WordPress and the WooCommerce plugin because you need a web developer to set up a command line and server that meets Magento's requirements.
Based on the comparison of both platforms, WooCommerce is more user-friendly. To start using it, you just need a WordPress-based online store. You can add the WooCommerce plugin to your site by going to your WordPress dashboard and selecting Plugins > Add New. Then, complete the setup process.
---
Themes and Customization
WooCommerce and Magento both offer access to numerous themes, but WooCommerce has a larger selection of free options since it's built on WordPress which houses an expansive theme library. Additionally, WooCommerce allows for easy customization of WordPress themes without coding, giving it an advantage over Magento in terms of design and themes.
---
Extensions and Integrations
WooCommerce and Magento offer free and paid extensions. Commerce Marketplace, Magento's hub of extensions and themes, offers around 3,200 extensions. The Adobe products in the hub, such as Adobe Commerce Paid Services, Adobe Commerce Live Search, and Adobe Commerce Product Recommendations, are free to install. Extensions for PayPal and other related services are also free.
In comparison, WooCommerce's Extension Store offers over 800 extensions, and the WordPress Plugin Directory has thousands of options available.
Magento's extensions are more powerful due to their complexity, but they require technical skills to install. On the other hand, WooCommerce's extensions are easier to install and set up, making it the more user-friendly option.
---
Security
As open-source platforms, Magento and WooCommerce are both prone to security threats, so you need to actively guard against malicious attacks. The good news is that dedicated security patches, and secure sockets layer (SSL) certificates are available on Magento. But there's a catch: you may need a professional web developer to implement those security patches.
What about WooCommerce? Since it's built on WordPress, a WooCommerce site is as secure as WordPress, which also has SSL support. However, it's still important to take measures to secure your WooCommerce site. You can do this by keeping your site's version of WordPress, WooCommerce, and other plugins updated. Software updates install new security patches, boosting protection against malicious attacks.
Both platforms offer excellent security, but if you're willing to pay for a developer to install Magento's security patches, go for Adobe Commerce. On the other hand, if you prefer a quicker way to set up a secure online store, WooCommerce has got you covered.
---
SEO Capabilities
SEO is essential for improving your online store's visibility and searchability. Magento and WooCommerce offer SEO tools to help measure your site's optimization score. With a WooCommerce store, you can use WordPress's SEO extensions, like Rank Math or Yoast SEO, to optimize your content. If you use Magento, it includes SEO tools by default. However, it's still recommended to install additional SEO extensions because Magento's default SEO tools don't support technical functions like HTML and Hreflang tags.
Both WooCommerce and Magento offer promising SEO tools, though it may be easier to optimize your site using WooCommerce.
---
Payment Methods and Gateways
According to the Baymard Institute, 9% of the 70% of customers who abandon their shopping carts do so because there aren't enough payment methods available on the site. Let's see how WooCommerce and Magento address this issue.
WooCommerce accepts credit cards, debit cards, and Apple Pay through the extension WooPayments. It also supports popular local payment methods and digital wallets like Google Pay. In addition, WooCommerce can accept payments globally, supporting over 135 currencies. Accepted international payment methods include giropay, Sofort, iDeal, P24, EPS, and Bancontact. In addition, the Woo Mobile App enables Tap to Pay on iPhone, allowing contactless in-person payments.
A WooCommerce store can be integrated with popular payment processors and gateways, such as Stripe, PayPal, Payoneer, and Worldpay. You can also accept crypto payments through extensions such as Coinbase Commerce, DePay Payments, HAVYN Pay, and OpenNode Bitcoin Payments.
Magento also offers diverse and flexible payment methods. Like WooCommerce, it accepts card and digital wallet payments. The platform is also integrated with trusted payment gateways such as Visa, Mastercard, PayPal, American Express, and more. Additionally, Magento allows customers to configure your shop's currency to their local currencies.
Overall, WooCommerce and Magento perform equally in this area. Both have built-in support for popular payment processors and gateways and offer extensions for global payments, international currencies, and marketplace-specific payments like Amazon Pay.
---
Pricing and Budget Considerations
The pricing of the Adobe Commerce Pro plan is available upon request but it offers pricing tiers based on your online business's sales volume.
WooCommerce Express has two paid plans, Essential and Performance. The Essential plan costs $39 per month if billed monthly and $25 per month if billed annually. The Performance plan is $70 per month based on a monthly subscription and $45 per month based on an annual subscription. For Enterprise eCommerce, WooCommerce pricing plans are available upon request.
---
Pros and Cons: Magento vs. WooCommerce
Before declaring the winner between Magento and WooCommerce, let's identify the pros and cons of each platform.
- All-in-one eCommerce solution
- B2C- and B2B-friendly
- Extensive and complex features
- Customizable and scalable
- Includes AI tools
- Powerful integrations
- Diverse and flexible payments
- Can be used for free

- Easy to add to a WordPress site
- A vast library of themes and extensions
- Customizable without coding
- Beginner-friendly
- Has plans for small businesses and enterprises
- Easy to secure
- Diverse and flexible payments
- Can be used for free

- Requires technical expertise to set up and secure
- Not suitable for beginners and small businesses
- Limited free themes

- Fewer extensions than Magento
- Freebies and discounts are only available to Enterprise users
- Priority support is only available to Enterprise users
Conclusion
When choosing between Magento and WooCommerce, it's important to keep in mind that the decision should depend on your business's specific needs. For new businesses, WooCommerce is a great option because it's more beginner-friendly, provides an extensive selection of free and paid extensions, and offers an affordable pricing plan. Moreover, you can set up shop faster with a WordPress site.
On the other hand, Magento is a strong option for larger businesses with a dedicated web development team. It offers comprehensive features and integrations, making it a powerful tool for businesses looking to deliver personalized shopping experiences to their customers.
Both platforms have their pros and cons, and it's important to carefully consider your business's budget, size, and technical expertise when making a choice.
Frequently Asked Questions
What is Magento?
Magento, now known as Adobe Commerce, is a platform for creating and managing eCommerce sites for B2B and B2C companies.
What is WooCommerce?
WooCommerce is also a platform for creating and managing eCommerce sites but it is installed as a WordPress plugin.
What's the difference between Magento and WooCommerce?
Magento is a standalone platform, while WooCommerce is installed as a plugin in a WordPress-based site. Magento requires technical expertise to set up, while WooCommerce is more beginner friendly.
Is Magento more expensive than WooCommerce?
WooCommerce has cost-efficient and flexible prices. Meanwhile, the price of the Adobe Commerce Pro plan is available upon request.