Advertising Disclosure
Advertising disclosure:
Our partners compensate us. This may influence which products or services we review (also where and how those products appear on the site), this in no way affects our recommendations or the advice we offer. Our reviews are based on years of experience and countless hours of research. Our partners cannot pay us to guarantee favorable reviews of their products or services.
As technology evolves and consumers become more tech-savvy, marketers face the challenges of an increasingly complex digital marketing landscape. There are now multiple touchpoints to engage a customer and get the coveted conversion. Meanwhile, strict data privacy laws make it challenging to gather customer data.
To help you navigate this complexity, marketing attribution software collects data securely and processes them to give you accurate customer insights that will optimize your campaigns.
Check out the top marketing attribution software for 2023.
---
Top Marketing Attribution Software in 2023
---
---
---
---
---
---
---
---
---
---
What is marketing attribution?
Marketing attribution identifies and assigns credit to the marketing activities or touchpoints that contribute to a desired outcome, such as a sale, conversion, or customer acquisition. It aims to understand which marketing efforts are most effective in driving customer behavior and influencing their decision-making process.
Marketing attribution involves analyzing and tracking various touchpoints along a customer's journey, including online and offline channels such as websites, social media, email marketing, display ads, search engine marketing, offline advertisements, and more. By attributing value to each touchpoint, marketers can gain insights into their marketing campaigns' effectiveness and ROI (Return on Investment).
Models of Marketing Attribution
There are different models and approaches to marketing attribution, including: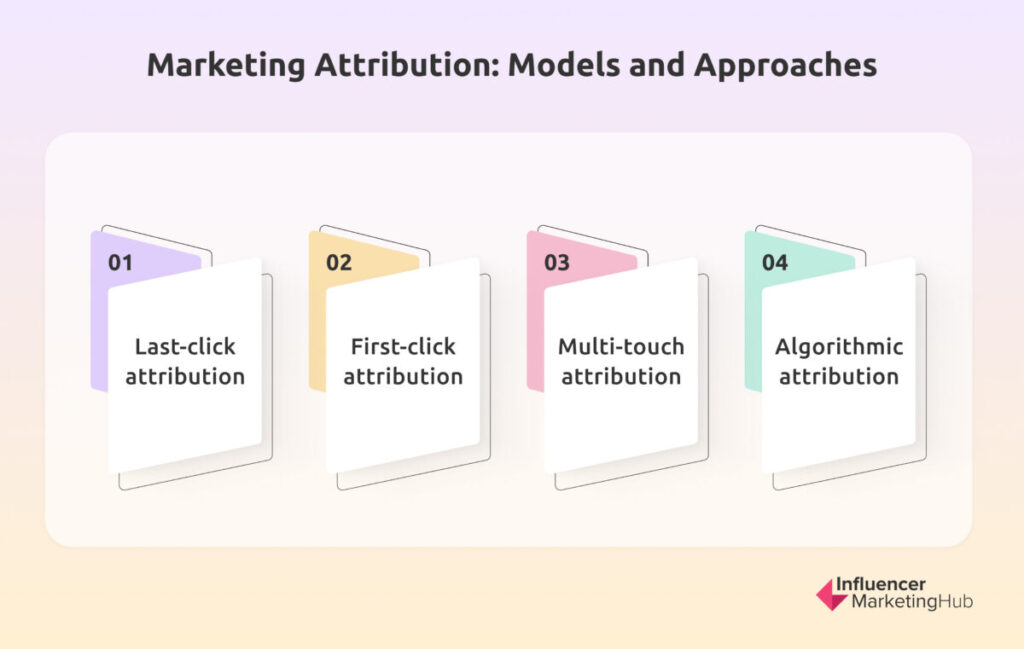 1. Last-click attribution
This model attributes the entire credit to the last touchpoint or interaction that led to the desired outcome. It assumes that the final touchpoint is the most influential in the customer's decision-making process.
2. First-click attribution
In contrast to last-click, this model attributes all credit to the first touchpoint or interaction that initiated the customer journey. It assumes that the initial touchpoint played the most significant role in capturing the customer's interest.
3. Multi-touch attribution
This model assigns credit to multiple touchpoints along the customer journey, acknowledging that various interactions influence the outcome. It can use different weighting methods to distribute credit among the touchpoints, such as linear attribution (equal credit to each touchpoint) or time decay attribution (more credit to recent touchpoints).
4. Algorithmic attribution
This approach utilizes advanced data analysis techniques, such as machine learning algorithms, to attribute credit to touchpoints based on their statistical significance and contribution to the desired outcome. It considers various factors, such as touchpoints' order, frequency, and timing, to determine their impact.
Marketing Mix Modeling
This model uses historical data from online and offline sources and accounts for external factors such as seasonality and economic conditions when attributing data. This is a popular approach for enterprise companies that considers many factors when evaluating their marketing activities.
Effective marketing attribution enables marketers to optimize their marketing strategies and allocate resources more efficiently. By understanding which channels and touchpoints drive the best results, you can make data-driven decisions, refine campaigns, and improve your overall marketing effectiveness.
---
Factors to Consider When Choosing a Marketing Attribution Software
When choosing a marketing attribution software, you should consider several factors to ensure the tool aligns with your business goals and requirements.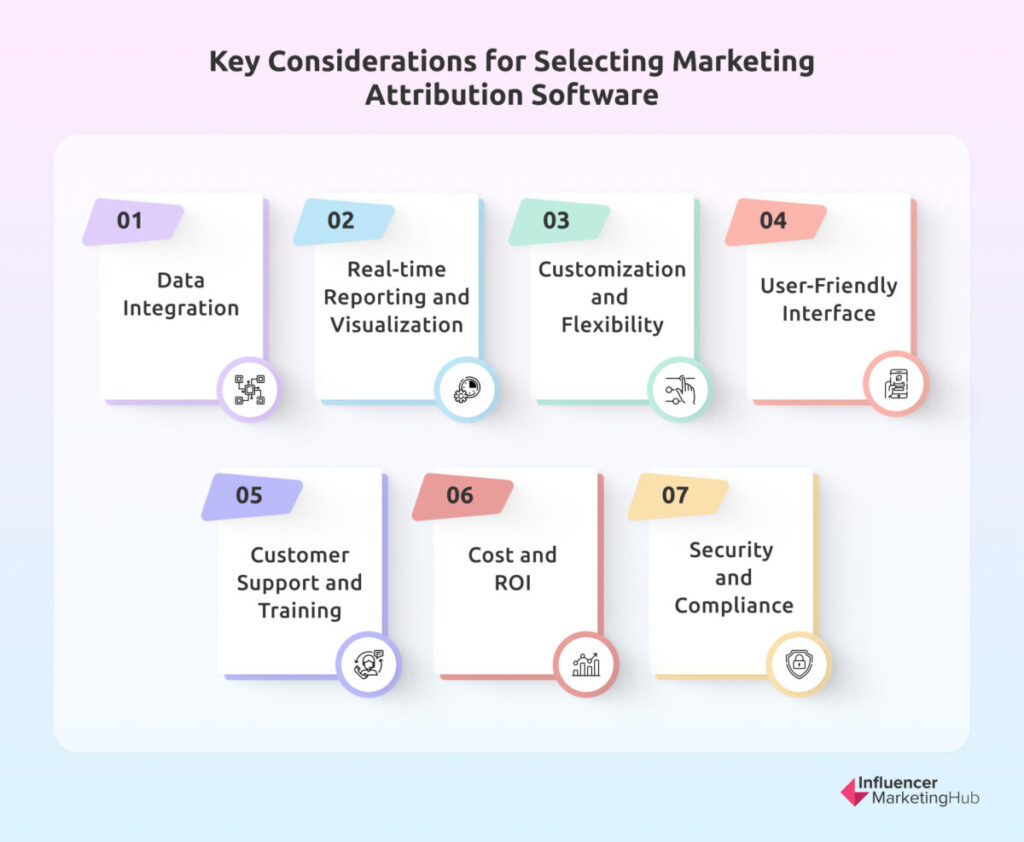 1. Data Integration
Assess the software's ability to integrate with various data sources, such as your CRM (Customer Relationship Management) system, advertising platforms, analytics tools, and other marketing channels. It should support seamless data collection and consolidation to provide a holistic view of customer interactions across multiple touchpoints.
2. Real-time Reporting and Visualization
Evaluate the software's reporting capabilities. It should offer real-time reporting and visualization of attribution results, allowing you to monitor campaign performance, identify trends, and make data-driven decisions promptly. Interactive dashboards and customizable reports can provide deeper insights into attribution data.
3. Customization and Flexibility
Determine whether the software allows customization to match your specific business needs. It should provide flexibility in defining custom attribution rules, adjusting attribution weights, and incorporating your unique business metrics or KPIs (Key Performance Indicators).
4. User-Friendly Interface
Consider the usability and user experience of the software. It should have an intuitive interface that enables marketers to navigate easily, interpret results, and make informed decisions without requiring extensive technical expertise.
5. Customer Support and Training
Evaluate the level of customer support and training provided by the software vendor. Ensure they offer comprehensive documentation, training materials, and responsive customer support to assist you in utilizing the software effectively.
6. Cost and ROI
Consider the pricing structure and affordability of the software. Evaluate the return on investment (ROI) potential by assessing how the software can help optimize marketing campaigns, improve efficiency, and drive better results.
7. Security and Compliance
Ensure that the software follows industry-standard security protocols to protect your data. To maintain data integrity and regulatory compliance, consider whether it complies with data privacy regulations, such as GDPR (General Data Protection Regulation) or CCPA (California Consumer Privacy Act).
---
Final Thoughts
Marketing attribution is an essential aspect of understanding the effectiveness of your marketing efforts and optimizing your strategies. With the right marketing attribution software, you can gain valuable insights into customer behavior and make data-driven decisions.
When choosing a software solution, consider data integration, real-time reporting, customization, user-friendliness, customer support, cost, and security. Selecting the most suitable marketing attribution software depends on your specific business needs and goals.
With the right tools, you can navigate the complex and sometimes daunting landscape of digital marketing and launch successful and profitable campaigns.
Frequently Asked Questions
What are marketing attribution tools?
Marketing attribution tools are software platforms or solutions that help businesses track, analyze, and attribute credit to various marketing touchpoints, enabling them to measure the effectiveness of their marketing campaigns and optimize their strategies.
How to do marketing attribution?
To perform marketing attribution, you need to:
Define your goals and desired outcomes.
Identify and track relevant marketing touchpoints across channels.
Choose an attribution model (e.g., last-click, multi-touch) that suits your needs.
Collect and consolidate data from various sources.
Apply attribution rules or algorithms to assign credit to touchpoints.
Analyze attribution results to understand the impact of each touchpoint.
Use insights to optimize marketing strategies and allocate resources effectively.
What attribution model is the most accurate?
There isn't a universally "most accurate" attribution model, as it depends on the specific context and goals. Algorithmic attribution models that use advanced statistical techniques and machine learning algorithms provide more accurate and nuanced attribution insights by considering multiple factors. Still, their effectiveness may vary based on data quality and implementation.