Data-driven marketing has become a necessity for businesses and brands. To turn a profit or conduct a successful campaign, businesses need to have access to high-quality data. But having data alone doesn't suffice. Information would need to be analyzed then interpreted before it can be used in optimizing marketing campaigns. This is where marketing data platforms play a key role.
---
The Top 20 Marketing Data Platforms for 2023:
---
What is a Marketing Data Platform?
A marketing data platform compiles all the available customer and prospect data of a company that's gathered from different software, channels, and media.
This can include data from technologies like CRM (Customer Relationship Management), email marketing software, mobile marketing platforms, data science platforms, web analytics, DMP (Data Management Platform), sales systems, brand tracking surveys, website or CMS (Content Management System), financial systems, call center data, and more.
By collecting and putting together all this information, it's easier for marketers and companies to gain a summary of the data. They can find out who their audience is and how they are behaving or interacting with the company's product or service. This summary can also tell them whether their existing campaigns are working or not. Most importantly, it allows marketers to tailor-fit their future marketing decisions based on accurate, encompassing data to ensure that their efforts can drive success.
For a marketing data platform to do all of this, they will need a CDP or a Customer Data Platform.
---
The Role of a Customer Data Platform (CDP)
Put simply, a CDP is a software that collects all existing customer data and stitches them into one coherent customer profile to be used by other technology or interpreted and applied by marketing experts.
The data collected by a quality CDP includes first-party, second party, and third-party sources.
First-party data is collected directly from your customers. This includes clicks, video uploads, downloads, demographic information, interests, time spent on your website, purchase history, and the like.
Second-party data is first-party data owned by a partner company and willingly shared with you. This is essentially their first party data, and when shared, becomes second party data for you. This type of information can be the same ones mentioned above. It can also include data from web surveys, apps, or offline sources.
Finally, third-party data contains information collected and shared by a third-party source. You can purchase this data from large data aggregators. These are often categorized according to specifications like age, gender, audience behavior, or industry. If a company is interested in a particular sector, they simply buy that segment data so they can apply it to their own marketing efforts.
---
Important Functions of a CDP
They can store and provide PII (Personally Identifiable Information).
This capacity to store PII data from customers is incredibly valuable, as the information comes from people who purchase your products or use your services. With identifiable information, a CDP can build a unified profile that then allows you to customize your marketing strategy based on the target sector or the actions you would like them to take.
It can foster real-time customer engagements.
With its capacity to create a unified customer profile, a CDP can deliver tailor-made recommendations to help the customer throughout their buyer's journey. For example, if a customer abandons their cart midway on your website, a CDP can give you a specific profile that can be used to send them a personalized offer or ad that entices them to finish their purchase.
These are just a few benefits a customer data platform can provide your business. While it's often confused with another key marketing tool, the DMP or Data Management Platform, the two have distinct yet complementary functions.
---
What Can a Marketing Data Platform Do for Your Business?
A marketing data platform takes all the provided information or data by the software and technologies used by the company and then merges it into one accessible dashboard. In essence, the best marketing data platforms do the following three things:
Collects and collates different data from a host of sources
Just like CDPs would compile assorted data from customer interactions, a marketing data platform gathers information collected by CDPs, CRMs, DPMs, ad tools, web analytics, and more, and transposes into one coherent accessible data.
Unifies all the siloed data from different platforms
Data silos can be problematic to any marketing endeavor. A data silo refers to a set of raw data where only one group in the company holds access to the said information. It may seem harmless at first, but silos create barriers that result in a lack of information or incorrect data interpretation.
Data silos can happen for two reasons. First, silos can result from a lack of technology that allows for sharing the information seamlessly within the organization. It can also happen when one group of the team is better trained in using the technology used to transfer data. This can prevent other groups from attempting to access the same information despite it being available.
Second, the rapid growth spurt of an organization can make data passing challenging, resulting in data silos. The number of departments, offices, or employees can add to the delay in sharing information. It can also cause structural issues, which prevent data from being passed.
Data silos are remedied by using marketing data platforms that serve as all-in-one solutions.
Takes data segments, analyzes them, and converts them into actionable information
Gathering the data into one spot isn't enough, the best marketing data platforms can take this information and turn it into actionable content for the company.
With a holistic view of the data, analysts can spot trends, buying patterns, customer behaviors, and more. The information can then be used by marketers to shape future ads, conduct email marketing campaigns, provide unique offers, perform influencer marketing campaigns, design landing pages, or create marketing funnels, with the goal being to increase sales and profits for the company.
---
20 Best Marketing Data Platforms for 2023
Price: Custom Quote
Highest Rated Feature: Marketing Automation
Clients: Ghostbed, Nomad, Grind, Nuun, Custom Ink, Catbird, Beardbrand, Proozy
PROS:
Easy to use

Great customer support service

Simple setup
CONS:
Slight learning curve required

Landing pages and forms need improvement

Non-mobile-friendly management option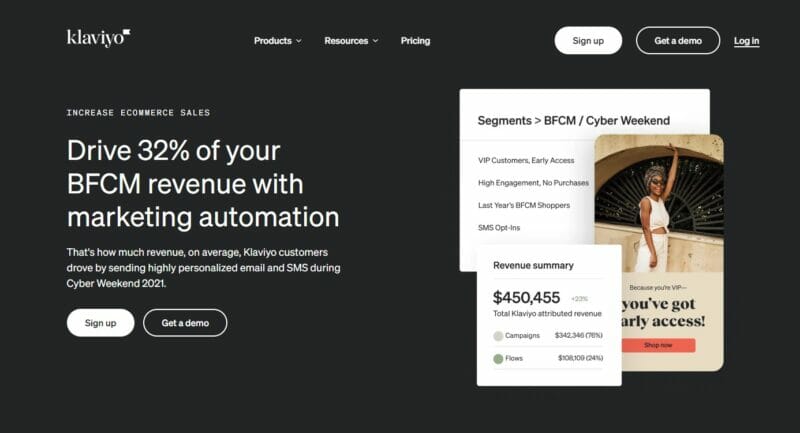 Klaviyo is one of the highest rated customer data platforms in the marketing world today. The company focuses on two major data solutions for companies: email and SMS. One of its best rated services is email marketing and automation. Clients rave about the simplicity of its interface, making it easy to use, even for non-technical people.
---
Price: Free (Community Edition) Custom Quote (Enterprise Edition)
Highest Rated Feature: Customer Security, Data Segmentation,
Clients: Zoom, Monster, NTT, SAP, Sage, Trustpilot, Lucid, Sevenroom,
PROS:
Great customer service

Simple setup

Powerful segmentation
CONS:
Can run slow and take a while to load

Missed notifications

Can be difficult to navigate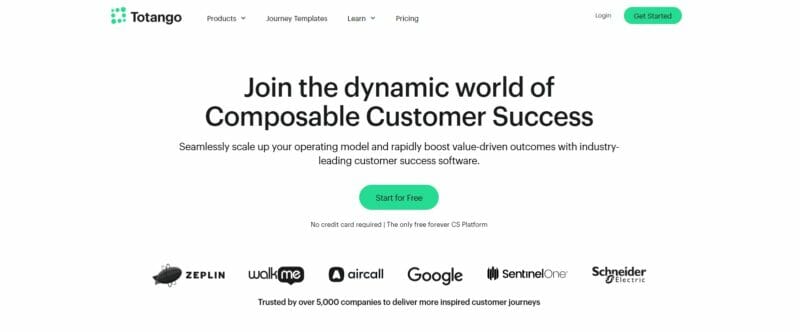 Totango is one of the most popular and fastest-growing customer marketing data platforms available today. More recently, the company just received a huge $100 million funding from its investors, Canva, Pitango and BGV.
The company's main goal is to make customer success technologies available for small businesses and large enterprises alike. In fact, the company has been a key partner for big name clients like Zoom, Google, and SAP.
---
Price: $29.00 Campaign (2,000 contacts) / $99.00 Pro (5,000 contacts) / $299.00 Business (20,000 contacts) / Custom Quote for Enterprise
Highest Rated Feature: Automatic Email Responses
Clients: Microsoft, Love Holidays, California Closets, Harris Farm Markets, TaxiBox
PROS:
Excellent and intuitive interface

Allows for immediate tracking courtesy of live insights

Fantastic smart segments for targeted marketing automation
CONS:
No mobile app equivalents

No ability to export HTML emails

Needs improvement in ROI analytics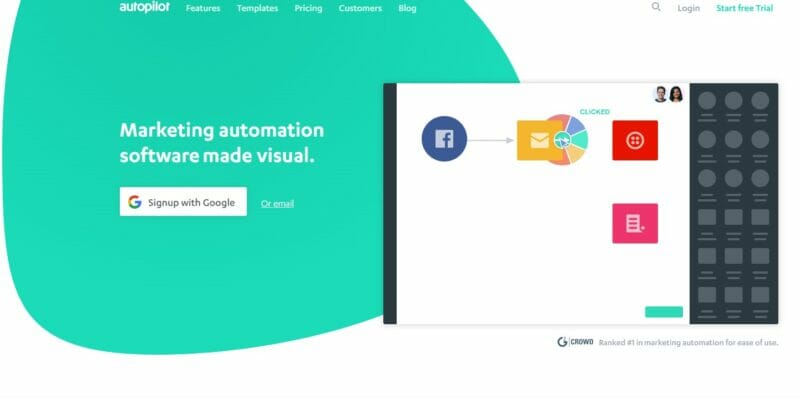 Autopilot debuted as a global marketing platform in 2015. This Aussie-owned company has raised the stakes for businesses everywhere, helping clients obtain unified customer data with its CDP, as well as powerful data segmentation for a specific peek into the buyer's journey.
Providing an all-in-one solution, Autopilot's capability for automated email responses is considered its best feature, with its drag and drop personalized email construction and beautiful templates.
Companies like Patreon, Greenpeace, and LiveChat consider themselves fans of the platform.
---
Price: Free (up to 1,000 visitors) / Starts at $120 (Team – 10,000 visitors) / Custom Quote (Business)
Highest Rated Feature: Customer Data Platform
Clients: 21st Century Fox, UpTV, Fender, Google, Reuters, Peloton, Vice, Gap, IBM
PROS:
Easy to set up events to track

Allows businesses to manage data flows

Great choice of sources and destinations for integration
CONS:
No option to extract events list for offline review

Debugging is hit or miss

Identity graph isn't as refined as other platforms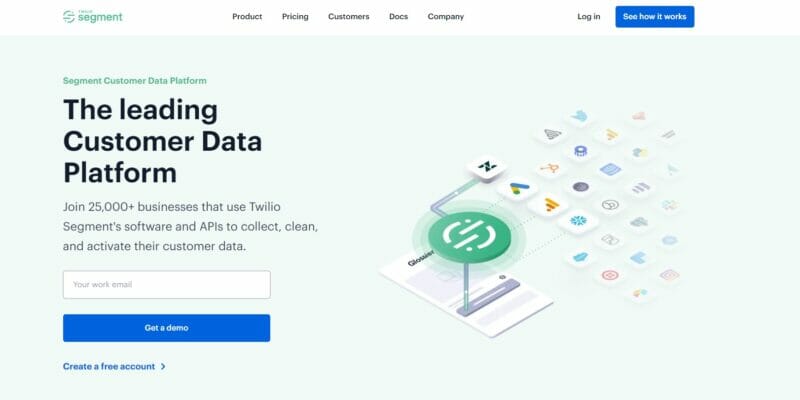 Segment is deemed one of the leaders in providing a robust Customer Data Platform for marketing. Clients rave about how easy it is to use. It allows users to direct their data to different channels while letting them test drive analytic tools to find a good fit.
Small businesses with less than 1,000 visits per day can test Segment for free. The price jumps considerably if you're an enterprise receiving thousands of visits a day.
---
Price: Custom Pricing
Highest Rated Feature: Customizable Workflows
Clients: Puma, Bosch, Staples, Misguided, Marks & Spencer
PROS:
Easy to set up scenarios

User interface is clean and pleasing

Contains powerful analytic tools with high-level customization
CONS:
Requires a good amount of learning curve

Needs JavaScript or CSS knowledge to set up certain elements

Not ideal for surveys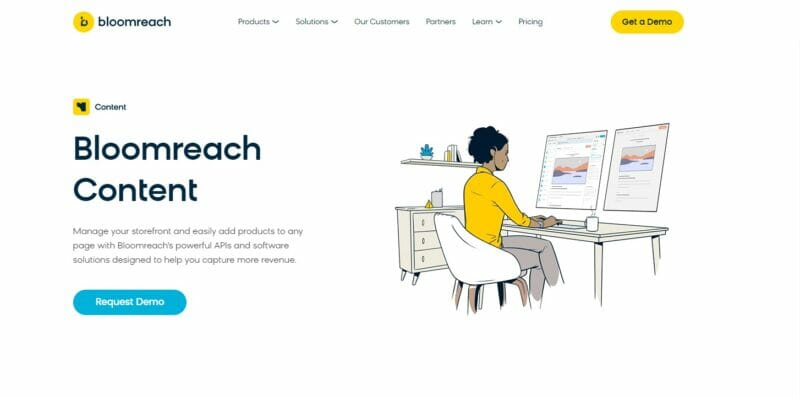 In 2021, Bloomreach Experience acquired Exponea, a powerful CDP platform. The merged companies have since carved a brand that's considered to be the world's #1 Commerce Experience Cloud.
A few highlight features include its powerful data integration, which supports various file imports and APIs. Through it, nurture campaigns and email marketing can be done in a breeze.
---
Price: Custom Quote
Highest Rated Feature: Outbound Email Marketing Automation
Clients: Sephora, AirAsia, Swiss Air, Samsonite, Kurt Geiger, GHD, Gymshark
PROS:
Fantastic customer support

Easy-to-use dashboard and navigation

Great Smart Insights feature
CONS:
Certain features need to be purchased as add-ons

Complicated reporting

Challenging to integrate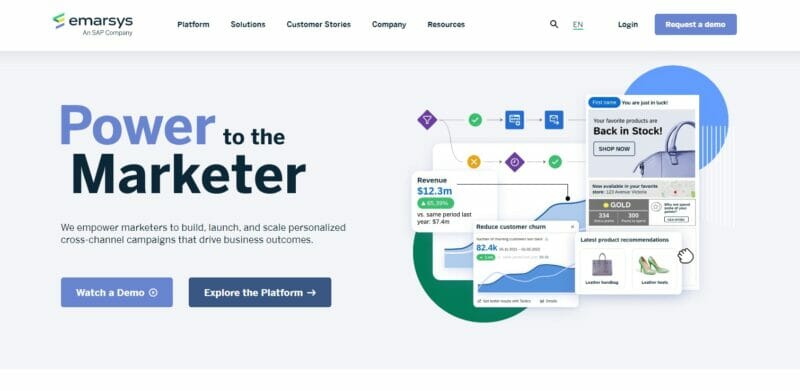 A cloud based B2C marketing data platform, Emarsys uses smart AI to create a personalized marketing plan for each customer. The platform includes multichannel response and behavior, recurring and triggered campaigns, lifestyle scoring, data matching, and revenue reports.
Emarsys prides itself for serving over 1,500 clients all over the world. It is also known for excellent customer service, with helpful support that addresses any queries clients may have.
---
Price: Custom Quote
Highest Rated Feature: Coupons and Promotions, Mobile Push Notifications
Clients: Ikea, Lazada, L'Oreal, Virgin, Samsung, Singapore Airlines, Monocloth, Santander
PROS:
Simple set up and use

Great mobile app integration

Effective conversion suite
CONS:
Can experience slow load times

Functionality of push notification setup can be improved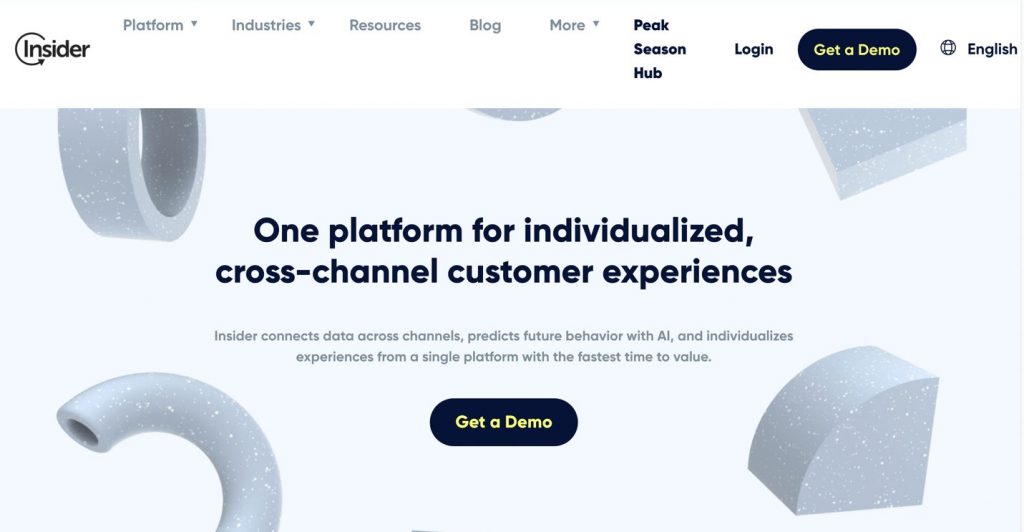 Insider offers one of the most powerful personalization and AI optimization capabilities, so much so that brands like IKEA acquired a 50% decrease in their app uninstalls and an 11% bump in their cart recovery while using the service.
As a company, Insider is steadily growing. It now has 25 offices across the world, including London, Paris, Seoul, Hong Kong, Sydney, and Indianapolis, to name a few.
---
Price: Custom Quote
Highest Rated Feature: Recommendation Engine, Data Enrichment
Clients: Houzz, Slick Deals, Discovery+, Udacity, Amerilife
PROS:
Flexible, easy to manage

Excellent tools for building email campaigns

Easy to understand metrics and simple import/export features
CONS:
No option to apply multiple filters in customer lookup

Bugs on the visual editor

Preview option can look different from actual email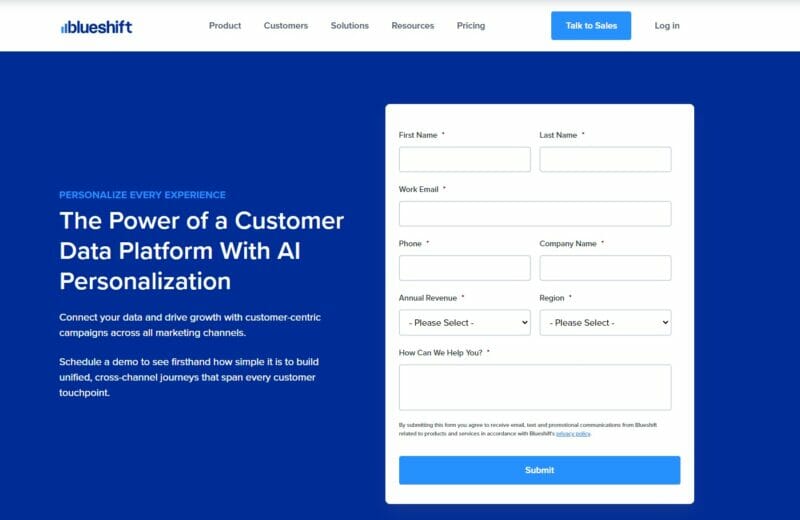 Based in California, Blueshift is an AI-based marketing platform that allows businesses to engage with their customers throughout their B2C lifecycle.
Blueshift's App Hub allows users to connect their entire tech stack with no headache. It can also facilitate integration with third-party platforms like Shopify, Mailgun, Slack, Magento, and Google Ads.
---
Price: Custom Quote
Highest Rated Feature: Marketing Analytics, Multichannel Tracking
Clients: Vodafone, Mindshare, Cars.com, Forbes, Red Bull, Barilla
PROS:
Fantastic customer support

Configuration mapping is great for non-tech departments

Effortless data integration
CONS:
UI can be challenging when adding a lot of metrics

Support documentation isn't enough

Data extraction can take awhile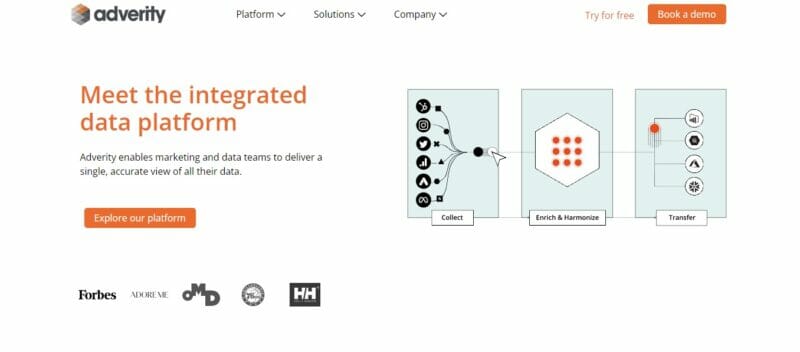 Adverity positions itself as a platform to empower next generation marketers. Based in Vienna, it has offices in New York and London. Since its inception in 2015, it has worked with enterprises like Red Bull, Unilever, and Forbes to power their marketing strategies through Adverity suites.
---
Price: Custom Quote
Highest Rated Feature: Multichannel Support
Clients: Dominos, Gap, IBM, Rakuten, Epson America, Dodo
PROS:
Excellent personalization options for campaigns

Real-time syncing of data

Responsive customer support
CONS:
Limited integration with Google Cloud

UI audience searching needs improvement

Not the most user-friendly system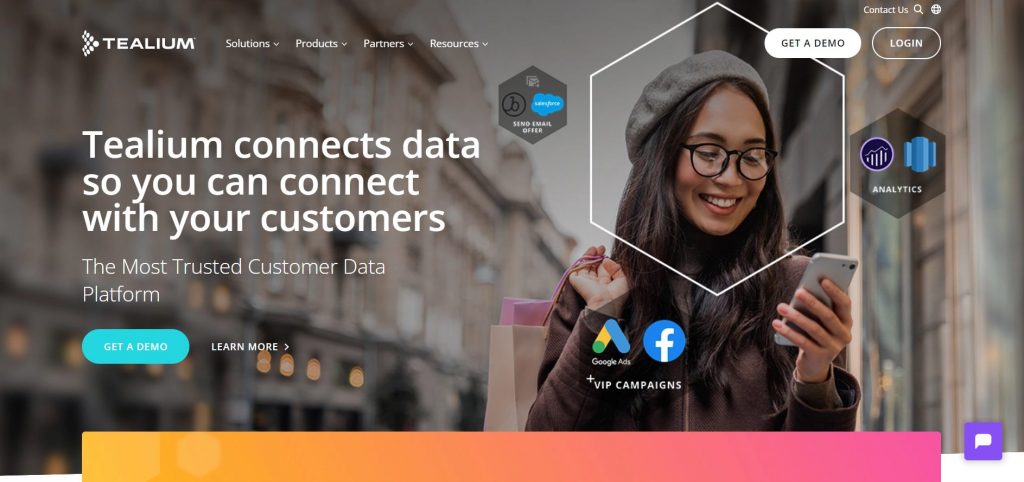 First set up in 2008, the founders of Tealium were once a part of the team that developed the web tracking pixel. Since then, they started their own company with the hopes of creating a better way of allowing businesses to gather and unify customer data.
From its humble beginnings, Tealium has gone on to serve large enterprises like Gap, Rakuten, and IBM, assisting them in consolidating their customer data into one platform.
---
Price: Custom Quote
Highest Rated Feature: Outbound Email Marketing, User/Role Management
Clients: Poppin, Ashley Stewart, Jonathan Adler, Oscar de la Renta, Dooney & Burke
PROS:
Tech support is helpful and efficient

Simple to use with pleasant interface

Quick integration with partners

Robust analytical tools included
CONS:
No A/B testing option during campaigns

Reporting can be a challenge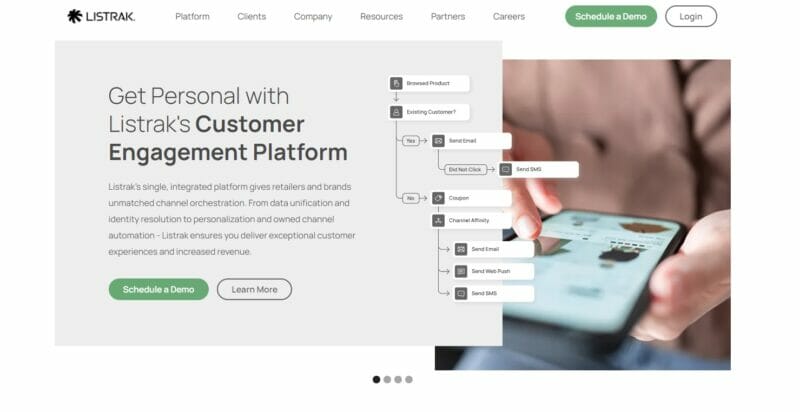 With over 1,000 top retailers and brands as customers, Listrak is a cross-channel marketing marvel. It features a strong email builder that's easy for e-commerce brands to use in handling and consolidating customer data.
Other key features of the platform include capturing behavioral triggers, customer insights, text message marketing, and predictive analytics using machine learning, AI, and statistical modeling.
---
Price: Custom Quote
Highest Rated Feature: Search Tracking and Optimization
Clients: T Mobile, Continental, DeLonghi, KFC, Toys 'R Us, Starbucks, Pizza Hut, New Balance, Victoria's Secret
PROS:
Affordable pricing

Responsive customer support

Great usability of the platform
CONS:
Additional costs for extra features

Takes time to master the entire system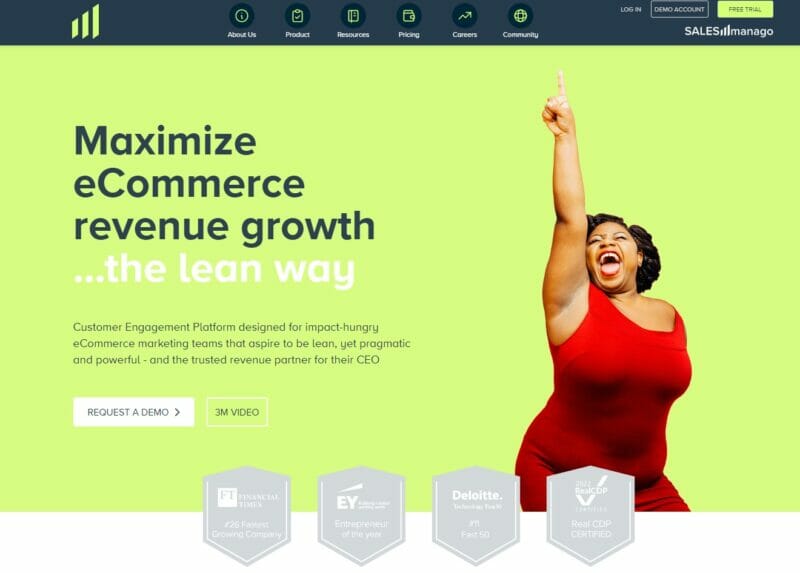 SALESmanago weaves together customer data and customer experience into one seamless platform. The platform has helped top clients achieve great results. New Balance saw a 200% increase in its clickthrough and open rates with the help of the platform. Meanwhile, top phone courier, Vodafone saw a 220% conversion using static content.
The company has over 300 employees composed of data scientists, consultants, and engineers. Its main office is in Krakow, Poland.
---
Price: Custom Quote
Highest Rated Feature: Data Aggregation
Clients: LG, Neighborly, Watashi by Shiseido, Kirin, Canon, Fujitsu, Subaru
PROS:
Active customer support

Flexible API that allows for customization

Amazing high-speed queries
CONS:
Occasional problematic integrations

Parts of the UI are not user-friendly especially when creating detailed segments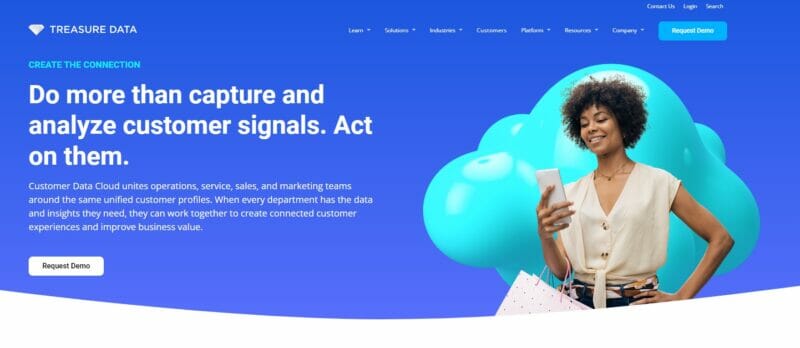 Treasure Data was in the news recently for receiving a $234 million funding. It's one of the largest for any CDP.
The company's achievements include facilitating over a million queries a day, over 170 pre built integrations, and helping over 400 global enterprises scale their businesses. It even boasts 99.99% uptime for its service.
---
Price: $1500 per month
Highest Rated Feature: Ability to Customize with Microsoft Platform
Clients: Tivoli, Flight Centre, Unicef, TruGreen, Vitaldent, Campari
PROS:
Personalized engagement, automations, and alerts

User-friendly admin dashboard

Offers other functions outside of being a CDP
CONS:
Not all add-ons offer seamless integration

Requires a good amount of time investment to master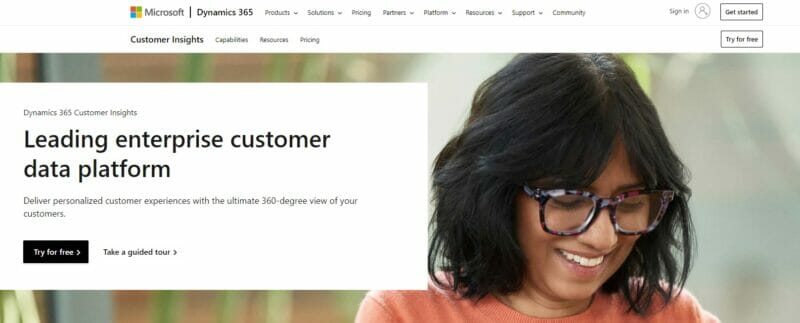 Microsoft is one of the biggest tech companies in the world. Hence, it's no surprise they would also develop its own customer data platform to assist businesses in leveraging their customer data.
With Customer Insights, Microsoft provides personalized alerts, customer interaction, and automation using API. In addition, they've created a simple interface so users can easily navigate the system. If you are familiar with Microsoft tools, you'd be able to get the hang of this platform right away.
---
Price: Custom Quote
Highest Rated Feature: User-Friendly Interface, Robust Tools
Clients: CityPass, Webedia, Colmar, Kaporal, Vtech
PROS:
Quality customer support

Simple setup with no complicated skills needed

Great targeting tool

Active account managers
CONS:
Email integration requires using blocks, no HTML editor

Template options could be improved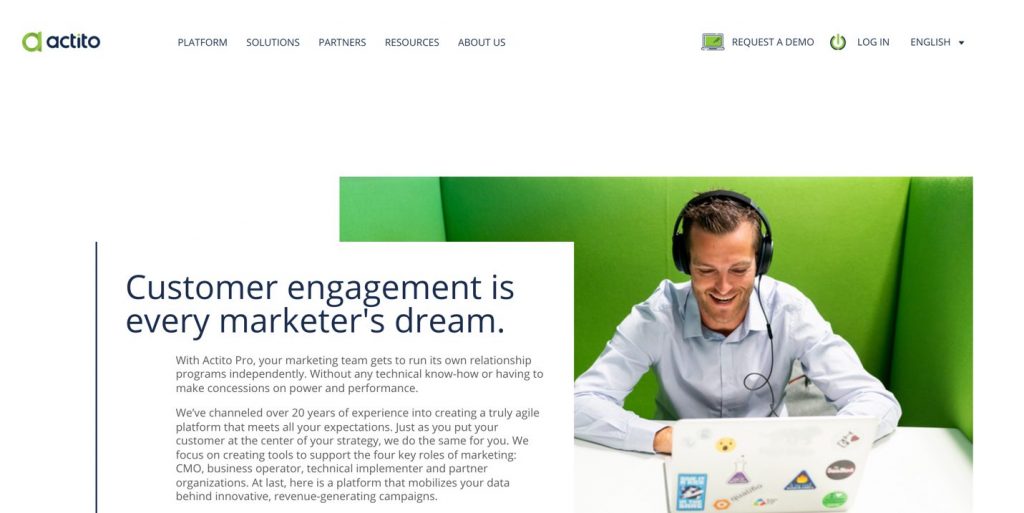 Actito started in 2000, when three of its founders decided they wanted to bridge consumers and brands. Today, the marketing data platform is growing strong. Majority of its clients are mid-sized to large businesses looking to streamline their marketing efforts, so it translates into customer satisfaction and a tailored buyer's experience.
---
Price: Custom Quote
Highest Rated Feature: Multichannel Tracking
Clients: Skyscanner, Adidas, Trivago, SuperDry, Samsung, Samsonite
PROS:
User interface ideal for beginners

Can pull spend metrics across paid media platforms

Large data sources
CONS:
Visualization tool is basic

Some integrations don't show metrics

Has a 6-hour data refresh limit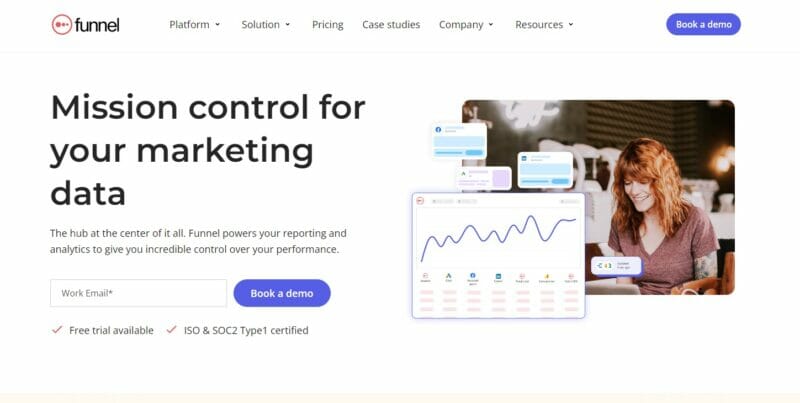 Funnel began in 2014 with the goal of encouraging marketers to be more data driven. This marketing data platform offers clean and accurate data that businesses can use with peace of mind.
A few of its key functions include collecting data from across different platforms, advertising assistance, analytics, as well as a CRM.
---
Price: Depends on the Program
Highest Rated Feature: Marketing Email Automation
Clients: Hitachi America LTD, HCL Technologies Limited, Belimo Americas, Celeritech
PROS:
Great segmentation tools

Merging and integration processes

Easy to use even for non-technical individuals
CONS:
SAP analytics integration issues

No native web tracker

No option to integrate Google Analytics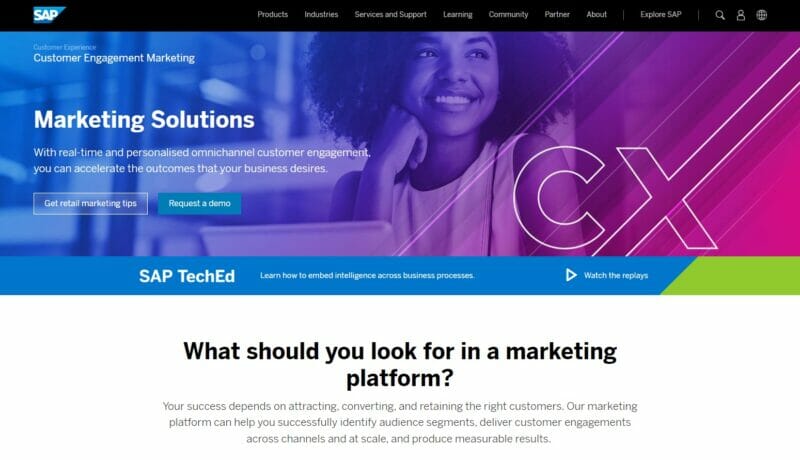 SAP Marketing Cloud makes it easy for marketers to gain a 360-view of their customer information and behavior. This information is fed real time, allowing marketers to address them in the best way possible.
Users are unanimously impressed with SAP Marketing's convenient interface. Even beginners can use it with only basic knowledge. It also has an impressive email deliverability and strong analytic tools.
---
Price: $1,500 Starter (1M events per month) / $3,400 Professional (10M events/month) / Custom Quote for Enterprise
Highest Rated Feature: Data Enrichment and Recommendation Engine
Clients: General Mills, Live Nation, Time, Universal Music Group, Ancestry, Love Pop
PROS:
Beautiful and effective segmentation tool

Great customization option
CONS:
Slight issues with customer support

Built-in analytics require more work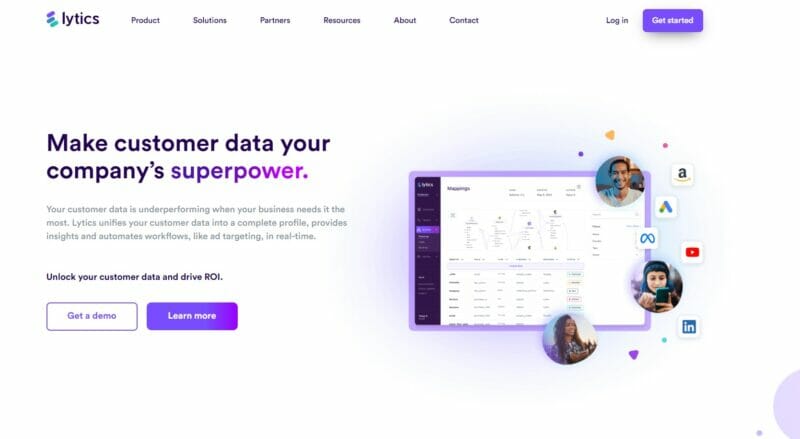 Lytics has been around since 2013, helping businesses leverage their data using science and machine learning.
A few Lytics features clients can use include audience segmentation, behavioral scoring, identity resolution, content affinity, omni-channel communication, journey orchestration, and in-depth personalization.
---
Price: Custom Quote
Highest Rated Feature: Website and Email Customization
Clients: Subaru, Gannett, Reach, Space.NK Apothecary
PROS:
User-friendly tool

Has data cleansing feature
CONS:
Isn't available for MAC or IOS devices

No live support for customer service, only email

No mobile support for now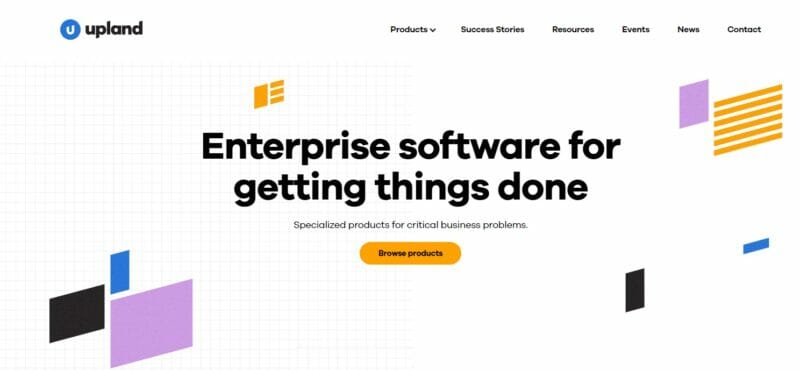 This newly formed partnership after Upland Software acquired BlueVenn is slowly becoming a favorite CDP choice among large companies.
BlueVenn offers all the basics of a CDP, including robust tools for unifying customer data. It also has drag and drop analytics, excellent segmentation, as well as integration options to help build an accurate customer profile.
---
Price: Custom Quote
Highest Rated Feature: Effortless Integration
Clients: Papa Johns, Sweaty Betty, Staples, Family Dollar, Dollar Shave Club
PROS:
Great integration options

Powerful analytic tools

Easy-to-use interface
CONS:
Buggy when new features are released

No real time updates available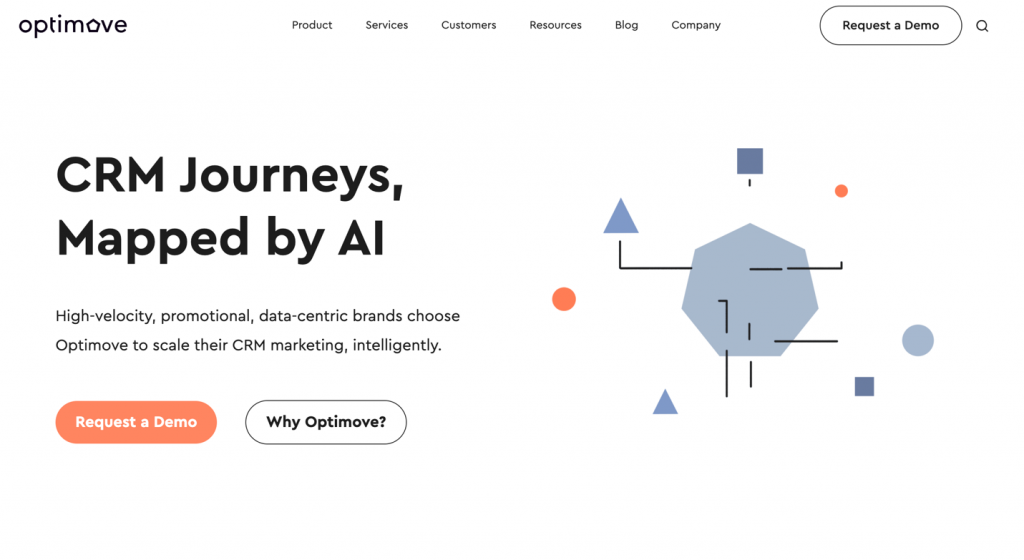 The main users of Optimove are marketing platforms and CRM professionals, including businesses that function in a data-focused environment.
The company was first founded in 2009. Since then, it has expanded to 3 locations and has served over 500 brands. More recently, Optimove received $75 million in funding from Summit Partners.
Each year marketing and sales technologies evolve and change. However, the basics will always remain the same, like customer acquisition, engagement, and conversion.
A marketing data platform serves as a great solution to collecting, collating, segmenting, and analyzing your data so it can be applied to improve your marketing campaigns and ultimately return profits for your business.