Advertising Disclosure
Advertising disclosure:
Our partners compensate us. This may influence which products or services we review (also where and how those products appear on the site), this in no way affects our recommendations or the advice we offer. Our reviews are based on years of experience and countless hours of research. Our partners cannot pay us to guarantee favorable reviews of their products or services.
A non-fungible token (NFT) is a non-reversible data unit. Because each NFT is kept in a smart contract, it is unique and cannot be replicated or counterfeited. NFTs can represent real-world objects like artwork, which may be traded on many exchanges, forming a decentralized global market for digital assets.
After Christie's auction house sold NFT paintings for exorbitant prices, more brands, artists, and creators are thinking about making, buying, and selling NFTs. The technical expertise necessary to create NFT artworks can be daunting to those unfamiliar with it, but thanks to NFT makers, generators, and platforms, the process can be simple and stress-free. These tools allow anyone to create NFTs—even those without coding skills or who can't write smart contracts independently.
We've put together 10 of the best makers, generators, and platforms that top NFT creators use to help you turn your creations into astounding NFT artworks.
---
Top 10 NFT Makers, Generators, and Platforms:
---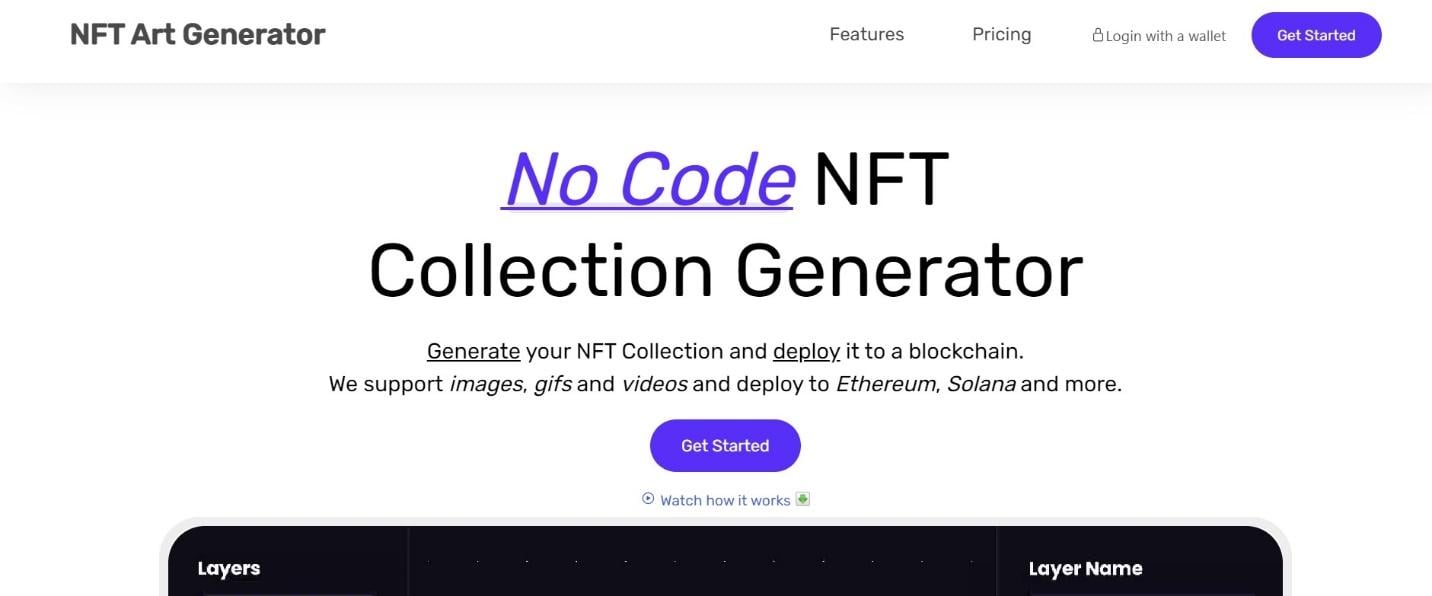 The NFT Art Generator creates your NFT collection and stores it on blockchains like Ethereum or Solana. The platform supports images, GIFs, and videos. No coding experience is necessary, allowing you to solely focus on your creations. You can use the NFT Art Generator to create layers, import your art materials, and build entire generative NFT collections. The platform can also generate smart contracts for your NFT portfolio.
Pricing
🗸 Free – basic tools, up to 100 assets
🗸 Standard – starts from $199 per collection, best for creating extensive collections
🗸 Team Pass – from $199 to $890, lifetime access with exclusive features
Key Features
🗸 Automated generation of metadata compatible with top blockchains
🗸Variety of asset bundles
Pros
👍 User-friendly interface
👍 No account registration is required
👍 Unlimited previews
Cons
👎 Watermark on the free version
👎 Expensive plans
---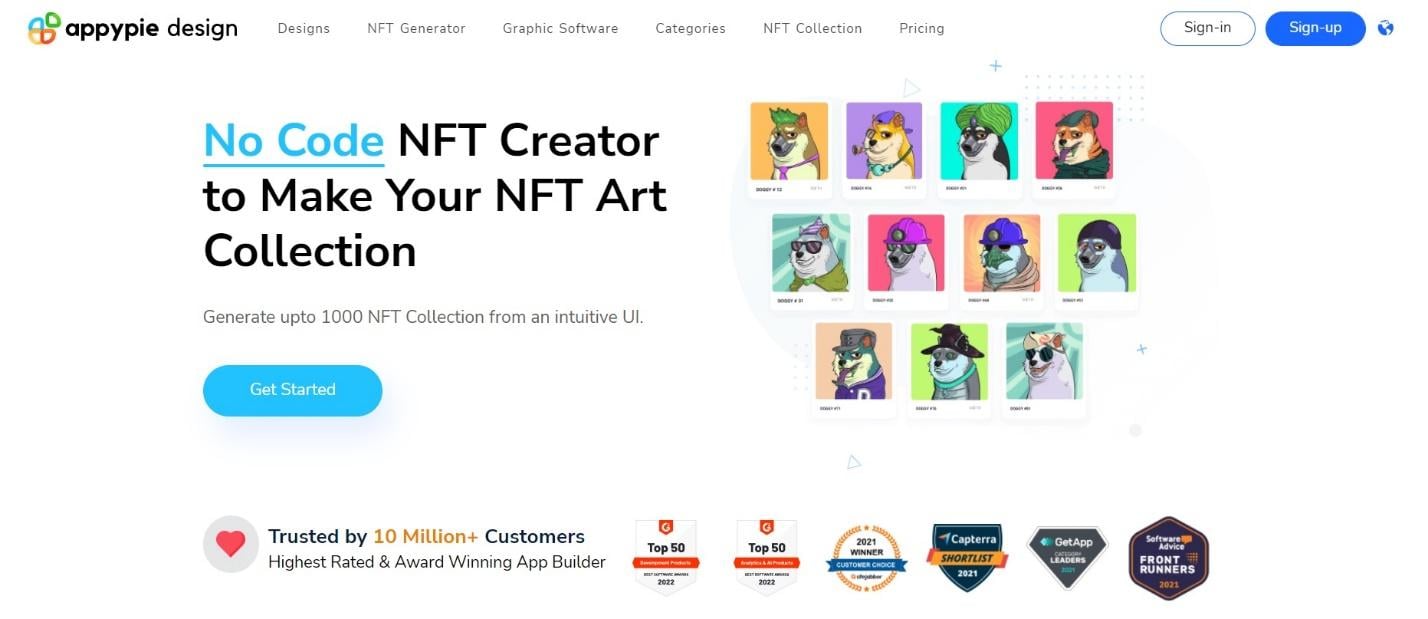 Appy Pie is an NFT maker program that allows you to create digital art and transform it into an NFT without requiring a developer or coding background. The platform aims to empower anybody to develop digital solutions that meet their specific needs by devolving application development. Appy Pie's intuitive interface can create up to 1000 NFT collections. The program also has an abundance of functions to fulfill the diverse demands of artists and creators. In addition to premade themes, the program also offers graphics and layers to add to your design.
Pricing
🗸 Free – limited tools and functionality
🗸 Design Pro – $6/month with a 7-day free trial, no branding, no ads, 24/7 hands-on support
Key Features
🗸 No code development platform
🗸 Easy scalability
🗸 Highly-secured NFTs
🗸 Pre-built templates
Pros
👍 Free plan provides sufficient tools for newbies
👍 Create an NFT collection of 1000 NFTs in minutes
👍 Supports JPG and PNG for image formats
Cons
👎 May not run on some blockchains
👎 Lack of 3D support
---

Fotor-NFT Creator allows you to convert your artwork into NFTs quickly. Fotor is an Artificial Intelligence (AI) art effect program that barely requires a learning curve. To create an NFT using Fotor, choose your preferred painting style, add your photo, and pick an art effect style. The platform provides various tools like photo editing, collage making, and graphic design suites. It also integrates with social media channels, enabling creators to advertise their work effortlessly.
Pricing
🗸 Free – basic package
🗸 Fotor Pro $8.99/month – best for small businesses, freelancers, and designers
🗸 Fotor Pro+ $19.99/month – best for startups, agencies, and corporate marketing
Key Features
🗸 Easy to import assets
🗸 A diverse variety of art styles and effects
🗸 Customizable layouts
🗸 Compatible with Windows, Mac, and smartphones
Pros
👍 User-friendly interface
👍 Create NFTs in a few clicks
👍 No registration required
Cons
👎 Lack of automatic saving feature
👎 Limited blockchain support
---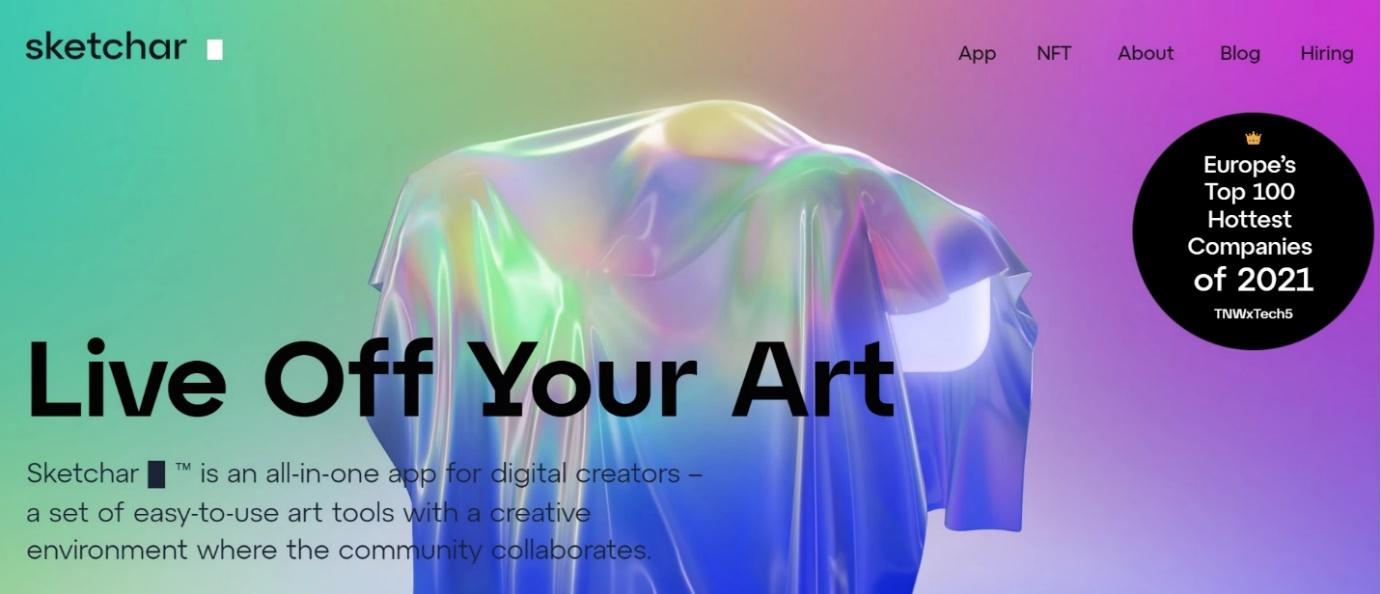 SketchAR allows you to create, sell, and discover unique digital artworks. Widely recognized as one of the best generators of NFT art, SketchAR uses augmented reality (AR) and AI to create an NFT collection. The program also invites users to submit their work to be featured. SketchAR selects a top artist from among all entries each week and turns their work into NFTs for free. The artist's work will also be showcased on the platform as a reward.
Pricing
🗸 Free – offers in-app purchases
Key Features
🗸 AI-powered mobile app for creators
🗸 Create and mint NFTs using AR
🗸 Requires no technical expertise to use the program fully
🗸 Free drawing lessons and courses
Pros
👍 Multi-device support
👍 User-friendly IU
👍 Free advertising
Cons
👎 Unstable images at times
👎 Dark filters drastically darken the image
👎 Few accessible templates
---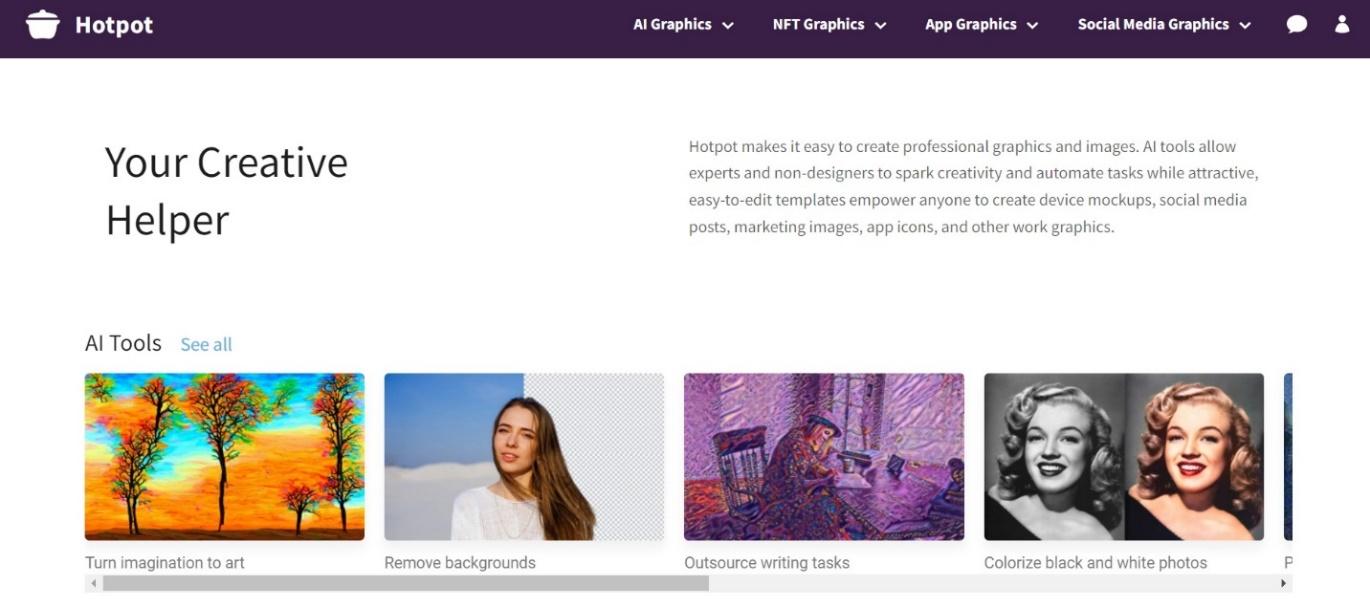 Hotpot is an AI-powered software that creates custom NFT art. Its automated features cover the entire creative process of an artist: it helps you develop ideas, transform them into art, make the art unique with custom styles and effects, and write captivating descriptions. Hotpot can produce NFT collections of up to 1000 assets and advertise the collection online. Hotpot can resize images without compromising quality. It also has amazing visual and color enhancement tools to make the NFT look more lifelike.
Pricing
🗸 Minor Edits – free for 30 days
🗸 Karma Tier – free and discounted services for students, open-source developers, non-profits, startups
🗸 Educators, Redditors, and Influencers – plan and price upon request
Key Features
🗸 Fast, scalable, and user-friendly API
🗸 AI-powered NFT copywriter
🗸 Create NFTs directly on the website
🗸 AI Spark writer that gives creators new ideas and inspiration
Pros
👍 Visual enlargement
👍 NFT sharpening tools
👍 Monthly art creation passes for creators who can't afford to pay
Cons
👎 Paid credits to access full features
---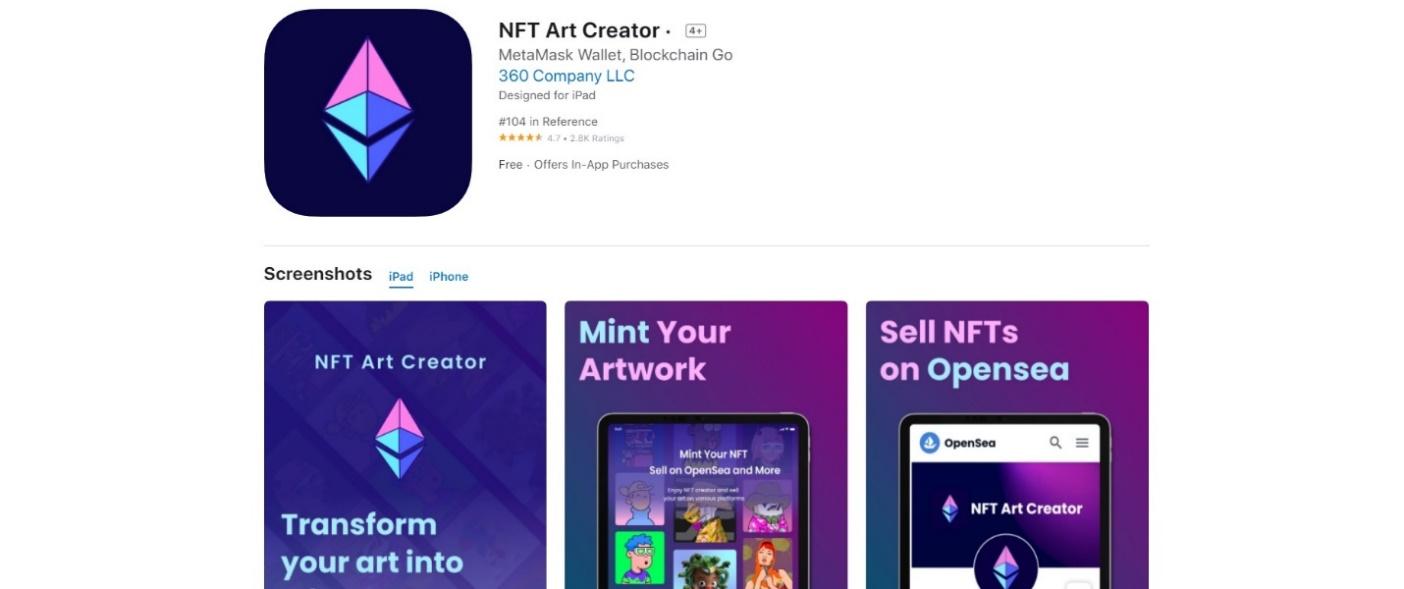 When making digital artwork using Apple devices, NFT Creator is a one-stop-shop. With just a few clicks and mere minutes, you'll be able to turn your photos into non-fungible works of art. NFT Creator offers modern filters, fonts, graphics, and backdrops. The program has also created templates for arts, doodles, and distorted sketches.
Pricing
🗸Free – basic features
🗸 In-App Purchase – $3.99/week or $49.99/year with a 3-day free trial
Key Features
🗸 Prompt and easy-to-use NFT maker
🗸 Easy to add and edit filters, fonts, and graphics
🗸 Modern features to attract young audiences
Pros
👍 Offers 1000+ options for fonts, filters, backgrounds
👍 No design expertise or coding experience is required
👍 Import photos directly from Apple devices
👍 Competitive pricing
Cons
👎 Limited to iOS devices
---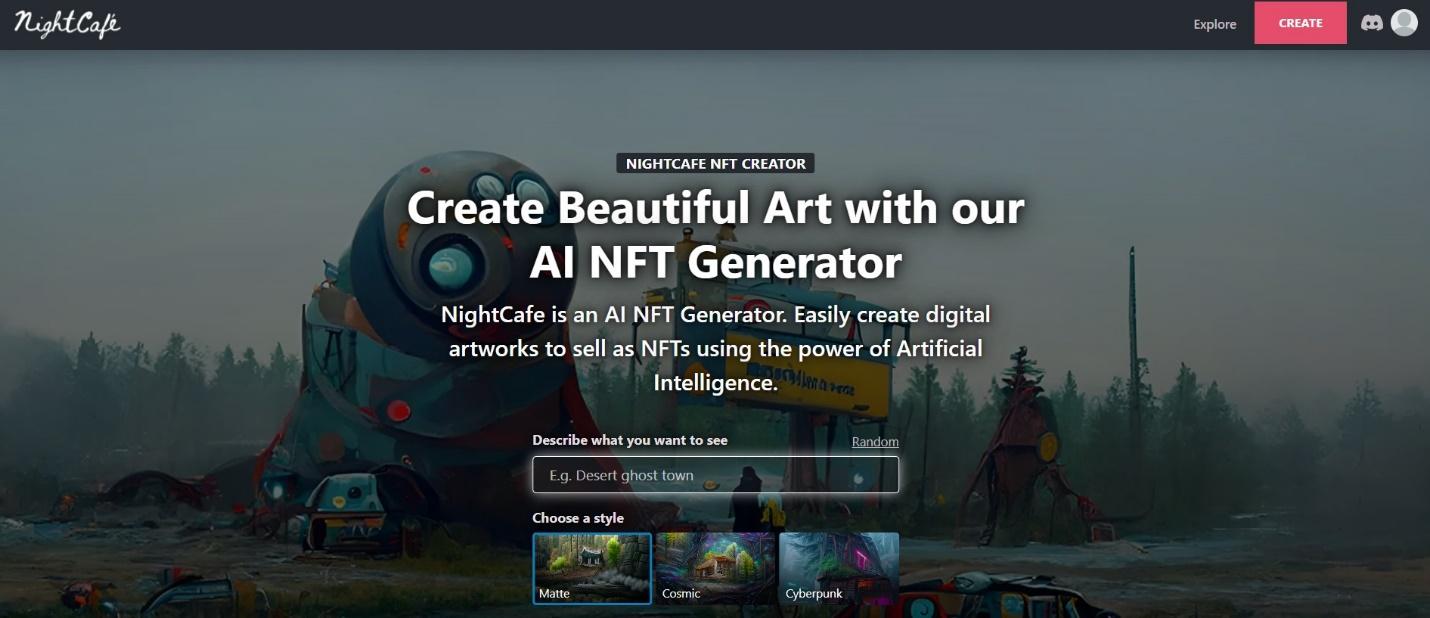 NightCafe uses AI and Machine Learning (MI) to enable you to create NFTs. These smart tools also help sell your NFT artworks quickly and upfront. The software allows users to generate randomized NFT collections with minimal to no artistic skills. NightCafe has a "bulk create" feature that can create hundreds of art pieces within minutes. It converts text to photos and videos with just a few clicks, and you can merge two or more of your works into one for a unique, rare piece.
Pricing
🗸 Free – generate up to 5 NFT artworks per day
🗸 Credit Pack – $7.99 to $39.99 for tiered plans
Key Features
🗸 Feature a bulk create mode
🗸 A diverse variety of styles and filters
🗸 Built-in notification system
🗸 Offers up to five artworks a day without charge
Pros
👍 AI tools to merge multiple art and styles
👍 Compatible with multiple devices like desktops, laptops, smartphones, tablets
Cons
👎 Lacks key features seen on other platforms
👎 Constrictive free version
---

VoxEdit is one of the best programs for editing, designing, and animating your own voxel-based NFTs. You may even sell your artworks in the Sandbox metaverse. VoxEdit combines a modeling editor with an animation framework to produce stunning visual effects. Though this is professional software, even amateurs will find it easy to use thanks to its clear and concise directives. You may also monetize your NFTs and keep 95% of your pay.
Pricing
🗸 One-time Purchase – around $10, perpetual license
Key Features
🗸 Fusion feature – modeler, animator, NFT maker
🗸 Sell, trade, and buy VoxEdit assets on The Sandbox's marketplace
🗸 Monetize your creation
Pros
👍 Compatible with multiple devices
👍 Complete artistic freedom
👍 View and purchase works of others
Cons
👎 128-cube restriction
👎Learning curve for novices required
---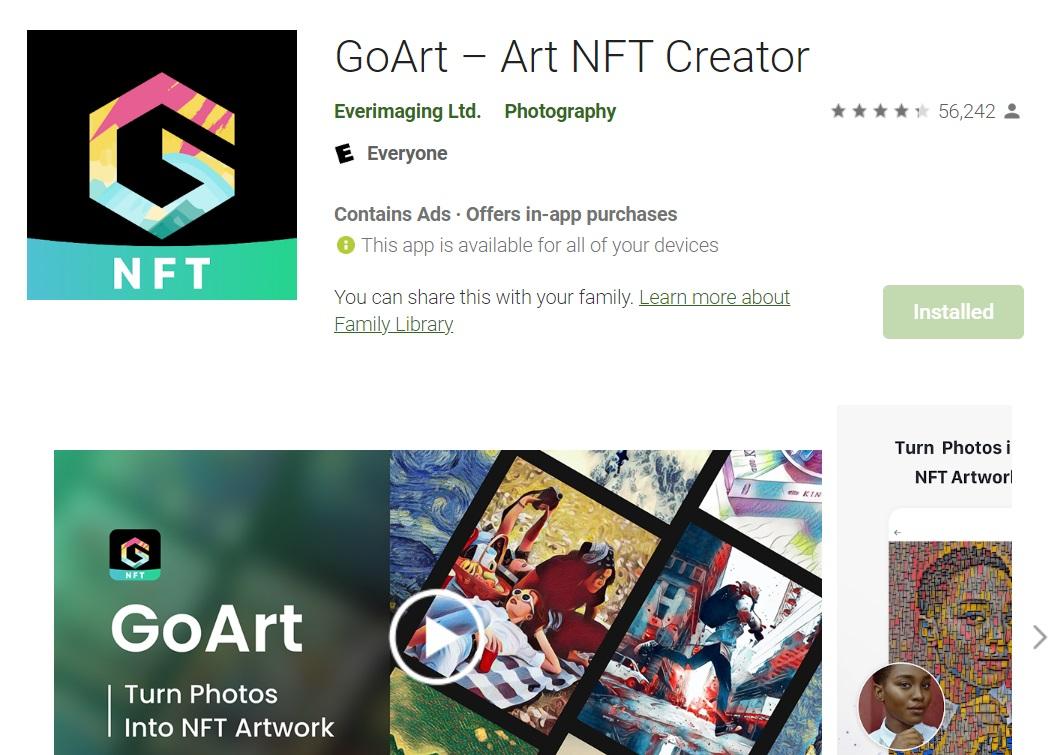 Primarily designed for Android users, GoArt works by utilizing AI and visual categorization tools. This mobile app transforms ordinary photos into sophisticated art by blending classic techniques used by modern artists. GoArt features a Byzantine Fault Tolerant (BFT) related tool that simplifies and expedites the minting of NFTs. Additionally, the app offers a high-resolution feature for printing. It allows you to export photos up to 8 megapixels and print your artwork on T-shirts, wallpaper, and portfolios.
Pricing
🗸 Free – basic features
🗸 Paid subscription – starts from $1.74 to $35.71 depending on the features
Key Features
🗸 Ability to create, manage and mint NFTs
🗸 User-friendly app with a simple interface
🗸 Tokens viewable and shareable in the Gallery
Pros
👍 Life-life filters
👍 Extensive art styles
👍 Printable HD NFT
Cons
👎 Paid subscription needed to access premium templates
---
Krita is a multi-featured, open-source painting program that lets artists produce artwork, animations, concept art, and storyboards. Krita offers various tools and resources to simplify an artist's creative process. It has numerous sophisticated filters and customizable brushes for creators to play with. This NFT maker is best for digital artists and illustrators.
Pricing
🗸 Free
Key Features
🗸 Designed for illustration and digital art
🗸 Access to a vibrant community via Krista Artists Forum
🗸 Works with external programs
🗸 Supports HDR printing
Pros
👍 User-friendly IU
👍 A diverse variety of drawing tools
👍 Compatible with Windows, Mac, and Linux
Cons
👎 Lacks photo editing tools
👎 Less suitable for photos
---
Considerations When Choosing NFT Makers and Generators
Here are some factors to consider while picking an NFT maker, generator, or platform.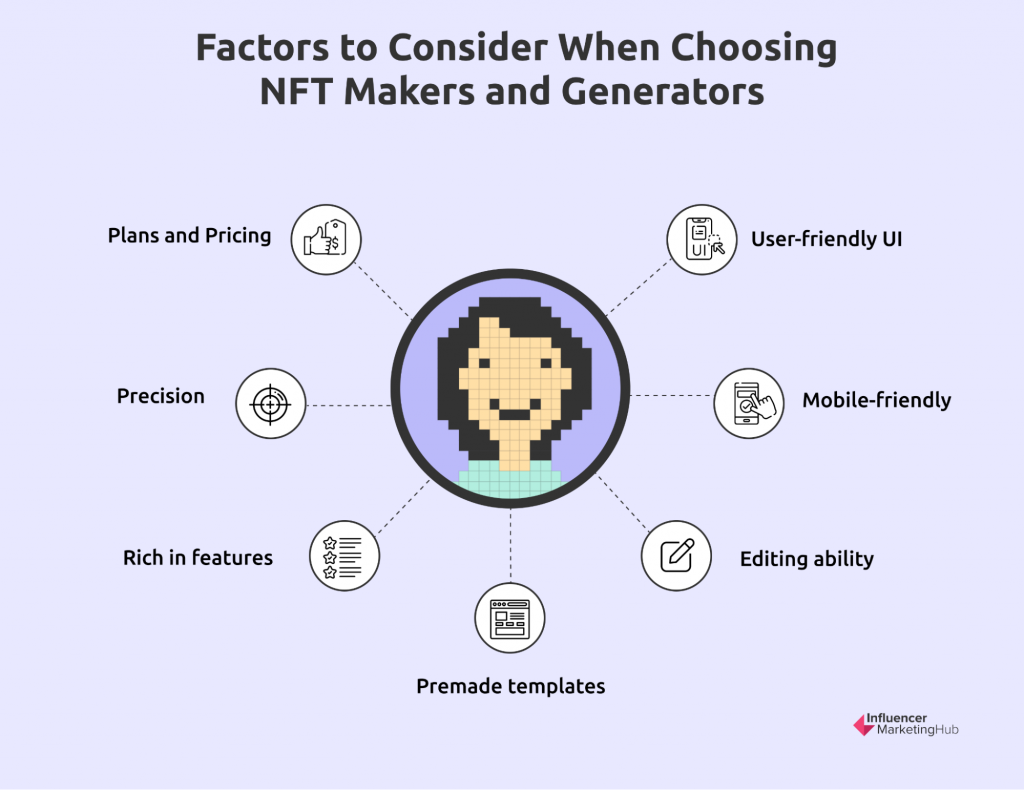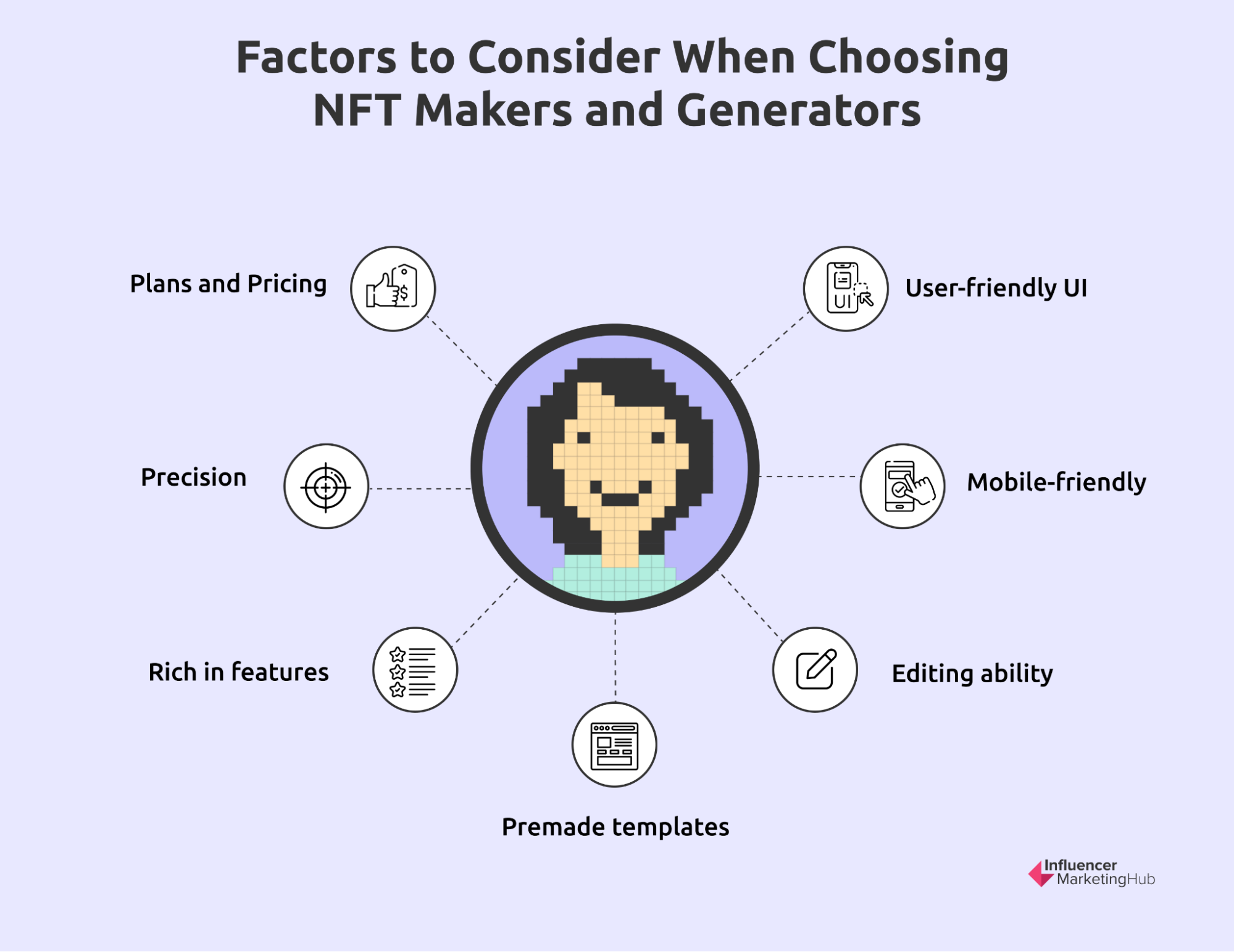 User-friendly UI
Even for experts, the world of NTF remains intimidating. As a result, the NFT maker you choose should avoid adding to any confusion. It must have an easy-to-understand interface and simple-to-follow guidelines.
Mobile-friendly
As much as 83.72% of the world's population own a mobile phone, amounting to 6.648 billion people. It goes without saying that the NFT generator you must choose is mobile-friendly. It's a bonus if the app can also mint NFTs for faster and seamless transactions.
Editing ability
Your NFT platform must have exceptional editing features since you need to modify your creation in one way or another. While some NFT programs offer basic editing features, others can fully enhance your art for a competitive cost.
Premade templates
A good NFT creator also provides pre-built, customizable templates. Premade themes mean code-free features. They also provide ready-to-use styles, aesthetic effects, filters, and layers. As a result, these templates can make it easier for you to bring your ideas to life.
Rich in features
An excellent NFT maker must have several features like diverse layers, visual effects, premade themes, and various filters. Additional features include supporting blockchains, free advertising, exporting different formats, and collaborations with fellow artists and creators.
Precision
When you pick an NFT maker, make sure that the software works with precision. While some artwork can be spontaneous, others are preplanned, detailed, and specific. Finding an NFT maker that allows for both creative genres is gold. Precision also plays a role in making high-quality artwork even in its slightest details.
Plans and Pricing
Free NFT makers are available, but most of them only provide minimal tools and resources. Paid NFT generators have premium features that help transform your artwork into a unique masterpiece. Look for platforms that offer a free trial to see if the program is right for you to save both time and money.
---
Creating NFTs Without Coding Skills
Even if you don't know anything about coding, you can still become an NFT creator. The best part is that you don't have to hire a developer or take a crash course. Using a no-code NFT generator, you can turn your idea into a reality.
With a code-free NFT maker, you can create digital art layers. Simply upload a unique image file on the platform. With that image, you can create 10000+ unique NFT collectibles. Moreover, you can adjust the quality of the work based on the rarity tiers. All of this enables you to create an NFT collection ready to be minted.
---
The Takeaway
Creating NFTs is only limited by your creativity. With the emergence of NFT generators, anyone can create inimitable NFT artworks that can potentially cost a fortune. Choose from the NFT makers and generators above to find the ideal platform for your art and creative process. These programs are simple to use and won't break the bank.
Frequently Asked Questions
What is an NFT?
Non-fungible tokens, or NFTs, are digital tokens that may be bought and sold on a blockchain. Each NFT is one-of-a-kind and may be marketed as digital art like photos, drawings, and video games.
What are the best NFT makers?
The best NFT makers that creators prefer today are:
NFT Art Generator

Appy Pie NFT Generator

Fotor

SketchAR

Hotpot.ai

NFT Creator

NightCafe

VoxEdit

GoArt

Krita
What is an NFT maker?
An NFT maker or generator is a tool that helps an artist or a creator turn an ordinary piece into an NFT art token. Some NFT makers are available for free, and others provide premium features for a cost.