As the metaverse continues to expand, non-fungible tokens (NFT) are growing hotter than before. Their popularity exploded during the coronavirus pandemic lockdown and ballooned late last year when Facebook changed its name to Meta. In 2021 alone, the NFT market was worth nearly $41 billion.
Experts posit that NFTs will play a key role in the metaverse, the third iteration of the internet. Thanks to blockchains, NFTs can change how businesses and consumers transact and potentially create an entirely different economy. More than that, NFTs have proven to be very profitable. In fact, the most expensive NFT to ever sell, an artwork by a living artist, cost $91.8 million.
For these reasons, more people are venturing into different kinds of NFTs, from digital collectibles and paintings to limited items and play-to-earn games.
Understandably, NFT fans want to be updated on the current metaverse trends and news. Joining a Telegram group is one of the best ways to do that. Whether you're a beginner or an experienced investor, participating in these groups will give you a chance to interact with like-minded individuals and gain a deeper insight into the world of NFTs.
Listed in this article are the best NFT Telegram groups that you should join today.
---
Join These 10 Best NFT Telegram Groups Now:
---
What Is an NFT Telegram Group?
Telegram is a free messaging app where you can send files, videos, and voice chats. With more than 500 million active users, it is one of the ten most downloaded apps in the world. Its cross-platform availability makes it ideal for people who want fast and convenient messaging.
Telegram users can create groups, where multiple members can post content and interact with one another. Each group can hold as many as 200,000 members. Like any community, most of these groups have rules, and violators can get banned or kicked out.
There are currently hundreds of Telegram groups that discuss NFTs and other related fields. Most of these groups discuss the latest NFT updates, while others serve as a platform for buying, selling, and trading. NFT Telegram groups attract NFT creators, traders, investors, and anyone who simply wants to learn more about this new online trend.
---
Telegram Groups vs. Telegram Channels
Before choosing a Telegram group, know that they're different from Telegram channels.
Telegram Groups

are composed of members who are expected to follow the rules of the community. They can chat with fellow members and post any content that doesn't violate any guidelines. Groups have admins that keep the community in order. They usually pin important messages for new members to read. Telegram groups are easy to find by word-of-mouth or on social media platforms.

Telegram Channels

are typically utilized for news and announcements. They consist of subscribers, who receive a notification every time the channel publishes new content. While subscribers can read all channel broadcasts, they are unable to chat with fellow subscribers or post any content on the channel. A simple Telegram search can show you a list of NFT channels.
In this article, we'll focus solely on NFT Telegram groups.
---
Why Should You Join an NFT Telegram Group?
There are several benefits to joining one.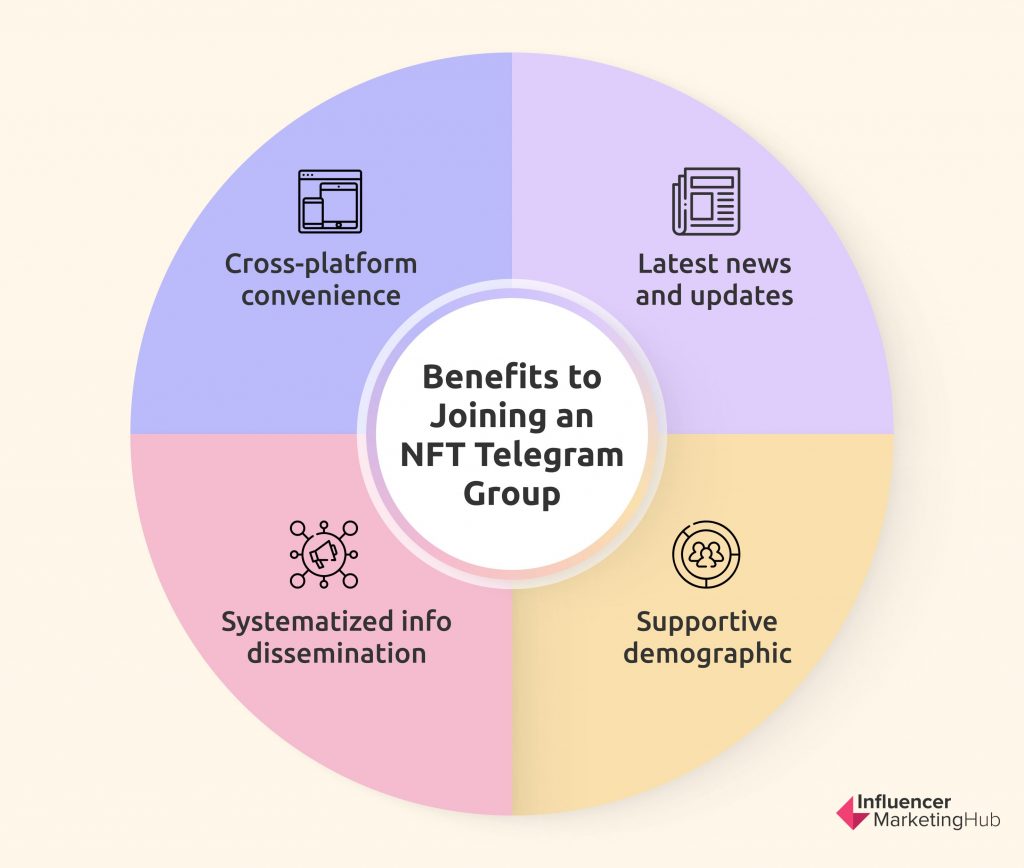 Latest news and updates
As the NFT world continues to prove its value, more and more users are creating, buying, and selling NFTs. It's important to keep up with the latest trends and information to help you power through the dynamic market. Joining NFT Telegram groups can help you discover new NFTs and marketplaces, join cryptocurrency airdrops and giveaways, and get the hottest insights from experienced members.
Supportive demographic
NFTs are relatively brand-new technology. But while we're yet to see what these digital collectibles are truly capable of, NFT fans are making sure that they're here to stay for good. More than learning about NFTs, you can also expect exposure and assistance in these Telegram groups, especially when you're only starting out. In turn, it's also a great way for you to support fellow creators and enthusiasts.
Systematized info dissemination
Replies, hashtags, and mentions can easily help users trace a conversation, which keeps communication efficient, especially in large Telegram groups. The app also has an instant search feature, where users can easily find messages or filter communication by sender. Furthermore, group admins can pin important messages, control membership, and restrict members from posting specific types of content.
Cross-platform convenience
You can use the Telegram app on your phone, computer, or tablet. It's also available for iOS, Android, macOS, Windows, and Linux. Telegram seamlessly syncs your messages across all your devices, which means that you can access up-to-date NFT news anytime and anywhere. And thanks to Telegram's cache management options, the app can take almost zero disk space on your device.
---
What to Look for in an NFT Telegram Group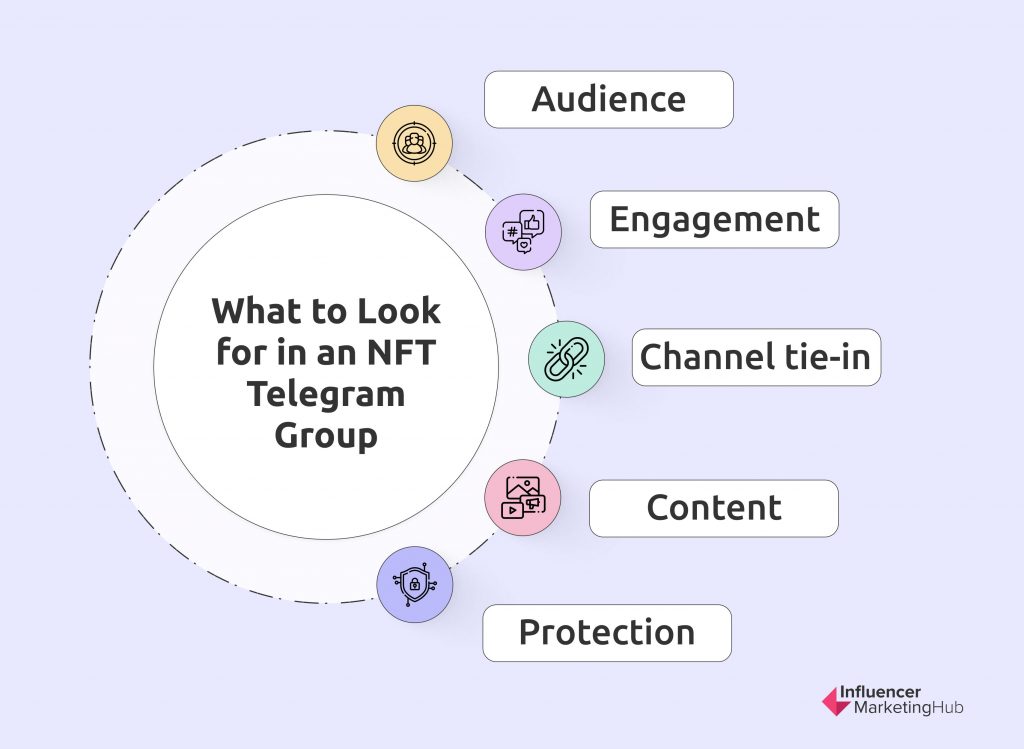 Audience
Telegram groups cater to different NFT audiences. Some groups may be for beginners, while others may be for more advanced investors. Some NFT Telegram groups may also indicate whether they're for sellers, buyers, or artists. However, there are also groups dedicated to mere NFT fans and onlookers. Interacting with all types of audiences can help you gain new insights into these digital collectibles.
Engagement
How members interact within the group impacts the community's strength. Members should interact not only with fellow members but with admin posts and event announcements as well. Moreover, regular online presence from a majority of the members means that the group has been providing relevant and valuable content. As the group grows in popularity, more members would want to join.
Channel tie-in
Some Telegram groups come with a Telegram channel, which can be beneficial for a group. Compared to groups, channels attract more audiences. Channels with a huge following can then direct more people into the group. This would be great for growing the group's population, creating more enriching discussions, and gaining diverse insights within the community.
Content
NFT Telegram groups are diverse. Some are for trading NFTs, while others are for promoting NFT art, collections, and events. Many are for publishing the latest NFT and metaverse news and info. Your NFT Telegram group should cater to your needs. If you're new to the NFT world, for example, you might appreciate content that can walk you through the basics first.
Protection
Telegram groups usually come with rules and bots. These can help filter spam and protect members from scammers, among others. For example, some groups prohibit members from posting the same content twice. Others enable Slowmode to prevent multiple consecutive posts from a single user. Some groups also protect members from scams by disabling direct messages.
---
How to Join an NFT Telegram Group
Once you've created a Telegram account, there are typically two ways to join a group: by an invite link or by searching for a community.
Invite Link
Find an invite link.

The easiest way to do this is by asking someone to send you one. However, you can also find invite links on public forums like Reddit, Telegram channels, or NFT or crypto-related websites.

Open the link.

Telegram domains typically start with the domain http://t.me/. One example is http://t.me/NFTsample.

Join the group.

Whether you're on desktop or on your mobile device, you'll be able to see a

Join Group

button at the bottom of your screen.
Search for a community
Didn't get an invite link? You can always find a group by searching the web. There are many websites that can help you find a Telegram group, such as Telegram Directory. But you can also find a group on the Telegram app itself.
Telegram Directory
On the search bar, type in the channel or group that you're interested in. Then on the results page, select

Groups

from the navigation bar.

Click on a group that you want to join. This will direct you to that group's profile page.

Click

Join Group

. This will direct you to the Telegram app.

On the app, click

Join Group

at the bottom of the screen.
Telegram app
On the search bar at the top of the

Chats

menu, search for channels or groups that you're interested in.

On the results page, look under the

Global Search

heading and click

Show More

. This will open a list of both Telegram channels and groups that you can join.

Click on the group that interests you, then click

Join Group

at the bottom of the screen.
Note that Telegram groups can either be public or private. You'll be able to participate in public groups as soon as you've joined. On the other hand, you'll need to wait for approval before you can join or participate in a private group.
With that said, here are some of the best NFT Telegram groups of 2022.
---
Top 10 NFT Telegram Groups
1. NFT & Metaverse News Global
With over 9,000 members, NFT & Metaverse News Global is one of the most reliable communities on NFTs. It's for anyone who wants to learn more about the metaverse, the crypto space, and decentralized finance (DeFi), alongside NFTs.
In this group, you'll be able to find invitations to metaverse training events and live webinars on gaining financial freedom. New members will also find free web recordings of metaverse trainings, as well as minting news, trending cryptocurrencies, and links to NFT collections that are up for sale.
In terms of interacting with other members, the community is thriving well. Question and discussion topics range from reselling NFTs, choosing the best cryptocurrency, and selling discounted spots.
NFT & Metaverse News Global also has an elite community, where members can get access to live mentorship, VIP chat, Oculus training, one-on-one support, and a video library of educational content among other things. The setup costs $235, while subsequent monthly payments cost $174.
You can join NFT & Metaverse News Global here.
---
2. Colexion
Colexion describes itself as a marketplace of exclusive celebrity-based licensed NFTs. This public community of over 31,700 members caters for entertainment, sports, and celebrity art and memorabilia. The goal is to foster and empower a community of digital artists to enter into the metaverse.
Colexion's Telegram channel allows users to buy, sell, and trade NFTs. Posts include polls, questions from members, and NFT updates from group admins. The admins are hands-on when it comes to addressing members' concerns. The group also announces the winners of its giveaways in this group.
Discussion of other coins and posting messages or images that are not related to Colexion are not allowed. Fear, uncertainty, and doubt (FUD) and referral links are also prohibited. Members, however, are encouraged to discuss Colexion and any related projects.
You can join Colexion here or through its website.
---
3. Binance NFTs
Binance NFTs discusses NFTs within the ecosystem of Binance, the world's leading cryptocurrency exchange. Its demographic is a mix of NFT artists, enthusiasts, and Binance users. The group currently caters to over 125,000 members. Members get to ask questions about NFTs on the Binance marketplace and learn how to use them.
Conversations within this Telegram group range from event announcements and Binance news to metaverse updates and NFT launch highlights. Users can also participate in Ask Me Anything (AMA) events with NFT artists who recently launched on the Binance marketplace. Moreover, there are competitions, where members receive giveaways and prizes.
Members can promote NFT sales during the weekend, but they can only post NFT links from the Binance marketplace. Private messages are not allowed within the community. Token price discussions, as well as FUD without proof are prohibited.
You can join Binance NFTs here.
---
4. NFTCommunity
NFTCommunity is for people who want to discover new NFT projects or showcase their own. This public Telegram group has over 28,000 members and is the discussion forum for NFT Community, one of the most read NFT news channels with over more than 51,000 subscribers.
Most of the messages are NFT promotions from individual artists, drop alerts, and invitations to NFT giveaways. Some users also join the community to look for artists or evaluators for their projects. Members can always check out the group's NFT Community Telegram channel to get the latest news on NFT partnerships and price and trading updates. There, they can also find educational content on NFTs.
Pinned messages within the group are paid promotions. Creators who are looking to promote their NFTs would first need to stay in it for 24 hours. While users can publish links to their OpenSea pages, publishing Telegram links are prohibited.
You can join NFTCommunity here.
---
5. OpenSea
OpenSea is the first and largest decentralized NFT and crypto-collectibles marketplace. It allows users to create, buy, sell, and auction digital collectibles, just like other e-commerce platforms. There are currently 39 million items on OpenSea, and many more are launching on the site daily. Some of them are making rounds on the OpenSea Telegram group, which has over 13,600 members.
Aside from featuring NFT projects and collectibles, the OpenSea Telegram community also caters for NFT launches and promotions, bitcoin giveaways, and upcoming private sales. It also contains weekly updates on the NFT world, related news from the crypto market, and OpenSea events and happenings.
Users can only post links to OpenSea, Twitter, Facebook, YouTube, Medium, and Instagram. Slowmode, a feature that controls how members engage, is also enabled. For OpenSea Telegram group members, that means they will have to wait five minutes before they can send another message. Despite that, users are engaged and don't hesitate to answer questions from fellow community members.
Join the OpenSea Telegram group here.
---
6. NFT Artists & Buyers
Compared to other NFT Telegram groups, NFT Artists & Buyers is a relatively small group with only over 750 members. The group welcomes creators, collaborators, traders, and sales front. However, its main audience are NFT investors. The community envisions members creating NFTs not just for their personal gain but also to support noble causes and charities.
In this group, you'll find the latest info on cryptocurrency trading platforms, NFT collections from individual artists, crypto giveaways, and links to deals and promotions from NFTs Official Marketplace's Rarible platform. Some creators donate their profits to charities and organizations, most notably to support Ukraine, fund medical relief, and tackle world poverty.
There aren't a lot of discussions within the community lately, as most of the recent messages are simply advertisements of NFT collections and giveaways. There aren't any community rules as well, though bots keep the place spam-free.
You can join NFTs Official Marketplace here.
---
7. NFT Room – Public
NFT Room – Public is a Telegram group for discussing NFT projects and items. It's the sister community of NFT announcement group OTC Room and trading group NFT OTC & Auction Room. It's ran by ExNetwork Capital, a network of cryptocurrency communities that seek to improve members' investment prospects.
NFT Room – Public currently has close to 4,500 members. It keeps members updated on State of the NFT Market reports, unique NFT collections and partnerships, and Rare Club Nifty Newsletters. Users are actively engaging with each other to discuss DeFi, new NFTs, and decentralized autonomous organizations. You will also find posts on crypto airdrops, giveaways, and AMA announcements.
Join the NFT Room - Public Telegram group here.
---
8. NFT Discussion
If you want to simply discover new NFTs or participate in contests and giveaways, join NFT Discussion. This Telegram group is for users who want to explore and share NFTs. The group currently has 7,000 members. A majority of these members are artists or groups that want to showcase their NFT creations.
In this group, you'll find a plethora of NFT collections with links to their social pages, like OpenSea, Instagram, and Twitter. These collections are usually up for sale or have recently launched on other platforms. Some users also post rules and invite links to their NFT contests, which members of this Telegram group can join.
The downside here is that there aren't a lot of discussion within the community, as members use this platform mainly to advertise. However, the admins do their best to answer users' queries. There are also bots that aim to keep the community free from spam.
You can join NFT Discussion here.
---
9. 9D NFT Official Global
9D NFT is the first of its kind in Southeast Asia. It's a martial arts-based massively multi-player online game on blockchain and NFT technology. Users interact with one another as characters that can claim or trade NFT items within this metaverse. Although the game is barely a year old, it's already seeing a massive daily user count. In fact, its Telegram community has over 55,400 members.
9D NFT Official Global consists of updates on monthly token burn, news on COGI coin, announcements of jackpot spins and giveaways, results of cryptocurrency airdrops, and short clips on 9D NFT characters. The group also has some helpful guidelines and resources on creating a 9D NFT character, buying COGI tokens, and linking wallet adjustment.
Community discussions are also thriving. Users are mostly interested in game news, private sales rounds, marketing proposals, and token updates. Members can only post 9D NFT-related content and links.
Furthermore, the group has admins from each country that the game caters to. These admins are quick to assist even with the most basic questions, providing links that are helpful to NFT newbies. Aside from its official global Telegram group, 9D NFT has a Telegram community for eight individual countries.
Join 9D NFT's Telegram community here.
---
10. NFT Art & Artists
NFT Art & Artists seeks to help the NFT art community grow. The group encourages NFT artists to post links to their Instagram and NFT art sales page. This community of almost 5,660 members also discusses anything related to NFT art and artists.
Sure enough, this group houses all kinds of NFT creators and their portfolios or new projects. There are also posts for giveaway specials and news on NFT brand projects. Some of the artwork that you'll find include motion art, cinematography, digital live drawing, ink on paper, and artificial intelligence.
Members of the group also interact dynamically with one another, especially when it comes to recommending NFT search engines and answering questions about reaching wider audiences.
Users can only post about anything related to NFT art. The admin is also very big on keeping the community fresh and free from spam. For one, members can only post once a day and should allot a few days before posting the same thing again.
You can join NFT Art & Artists here.