Advertising Disclosure
Advertising disclosure:
Our partners compensate us. This may influence which products or services we review (also where and how those products appear on the site), this in no way affects our recommendations or the advice we offer. Our reviews are based on years of experience and countless hours of research. Our partners cannot pay us to guarantee favorable reviews of their products or services.
Marketing has changed a lot over recent years. While email marketing is still huge, print media is not so much. In addition to email, various other types of digital marketing were born and have proven their worth. From social media marketing to influencer marketing to employee advocacy, there are countless strategies that you can test and explore. However, to do so, you'll need a good tech stack. Even with a solid team, it's too much for any mere marketing mortal.
To help you find reliable online marketing tools that can help you improve your marketing efforts, we've identified 11 great tools worthy of checking out. In this article, we cover only some of the main online marketing strategies, but we've tried to include a few options to suit any budget.
---
Best Online Marketing Tools and Software to Use Today:
---
Online Marketing
While you don't have to be on all the platforms, you need to build a presence on the ones that are most important to your target audience. To help you, you can check out these online marketing software solutions:
Top
online marketing tools
2024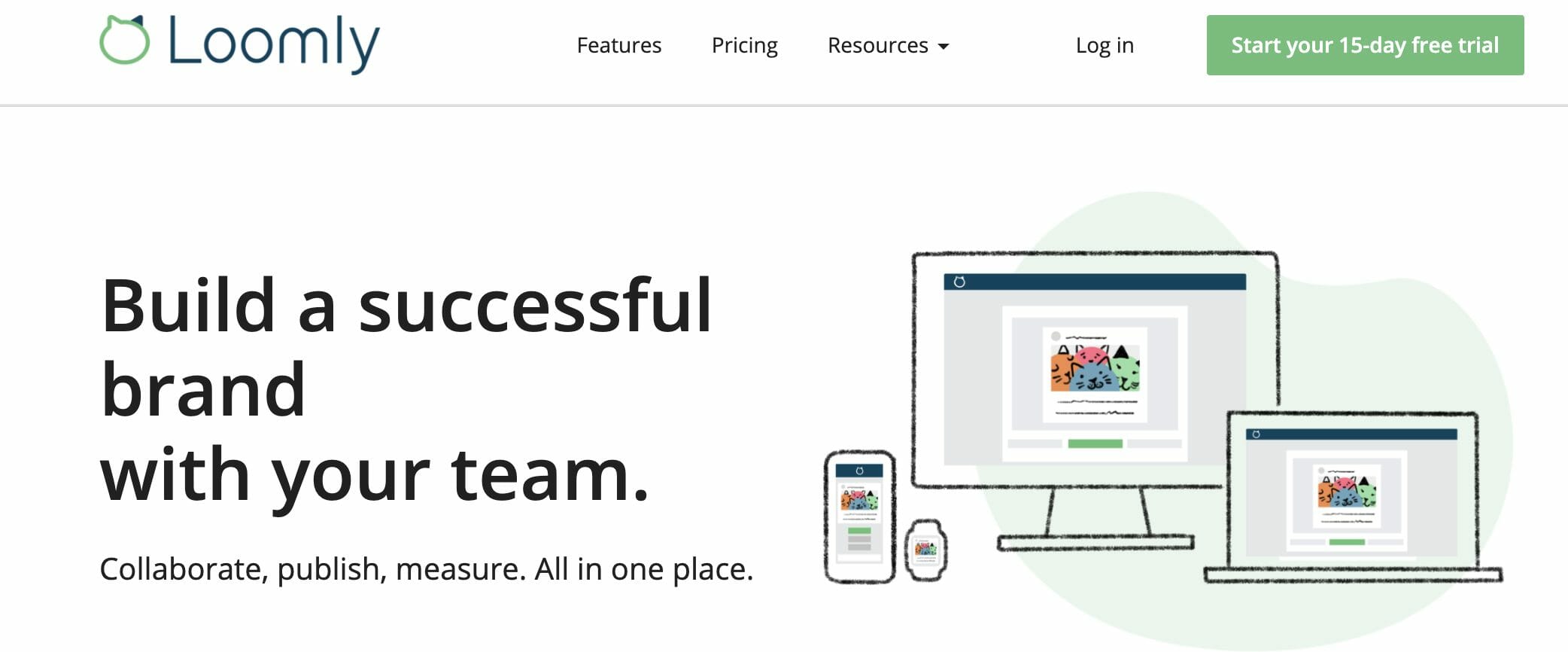 Trusted by well-known brands like Porsche and BMW, Loomly is a powerful tool that can take care of basically all your social media management tasks. You can use it for creating, previewing, approving, and publishing content to various social media platforms including YouTube, Twitter, Pinterest, Facebook, Instagram, and LinkedIn.
Whether you're a freelancer, local business, or part of a marketing team, it can help with online marketing in various ways. For example, if you mostly work on your own, you'll love its user-friendly library where you can save and organize digital assets like videos and post templates for future campaigns. If you're part of a bigger marketing team, it will help to increase productivity by streamlining collaboration. For example, you can use it to notify team members whenever content is ready for review, helping to reduce the number of back-and-forth emails.
Key features include:
List view and calendar view
Automatically generated post and ad previews
Approval workflow and commenting system
Hashtag manager
Centralized library for asset management
Integrations with Giphy and Unsplash
Post ideas
Post analytics
Pricing: After a free 15-day trial, pricing begins at $35 per month. However, if you opt to pay yearly, you can save as much as 25%. Custom pricing is also available to enterprise clients upon request.
---

EmailOctopus has made it their goal to simplify email marketing while saving you money. Whether you're an individual blogger or an online store, you'll find useful features that will help you to grow your audience.
It offers you everything that you'll need to grow your list of email subscribers and create effective email marketing campaigns. To help you with the first part, you can use it to embed a customizable sign-up form on your business website or create a landing page. Then, to help you reach those old and new subscribers, you can use one of its pre-designed templates, import HTML templates, or build your own one from scratch.
Once you have taken care of your subscriber list and email design, you can create an email sequence to put your email marketing basically on autopilot. You can, for example, create a drip campaign to welcome new readers or onboard new subscribers.
Key features include:
A landing page and email builder
Mobile-friendly landing page and email templates
Personalization
Advanced segmentation
Reporting
Pricing: It offers a Free plan for up to 2,500 subscribers and 10,000 emails per month. If your needs exceed this, pricing starts at only $8 per month.
---

Trusted by more than 30,000 marketers, agencies and brands that include global names like Expedia, Sendible is one of the leading tools for managing your social media. As an all-in-one tool, it offers all the tools that you expect to find to help you with publishing, monitoring, collaboration, and analytics.
You can use it to schedule your social media posts individually or in bulk, but not at the expense of personalization. If you, for example, want to change emojis or hashtags so that it matches a specific network, it's easy to do. Then, to help you get a quick overview of all the posts lined up, you can use its calendar view. If you spot that something is out of place, you simply drag and drop.
It's also a great tool for teams. You can, for instance, use it to assign conversations, create workflows, or even restrict access.
Key features include:
Content suggestions
Analytics and in-depth reports
Keyword alerts
Social listening
Pricing: After a free trial, pricing starts at $29 per month when billed monthly. If you prefer to pay it once off per year, you can save up to 15%.
---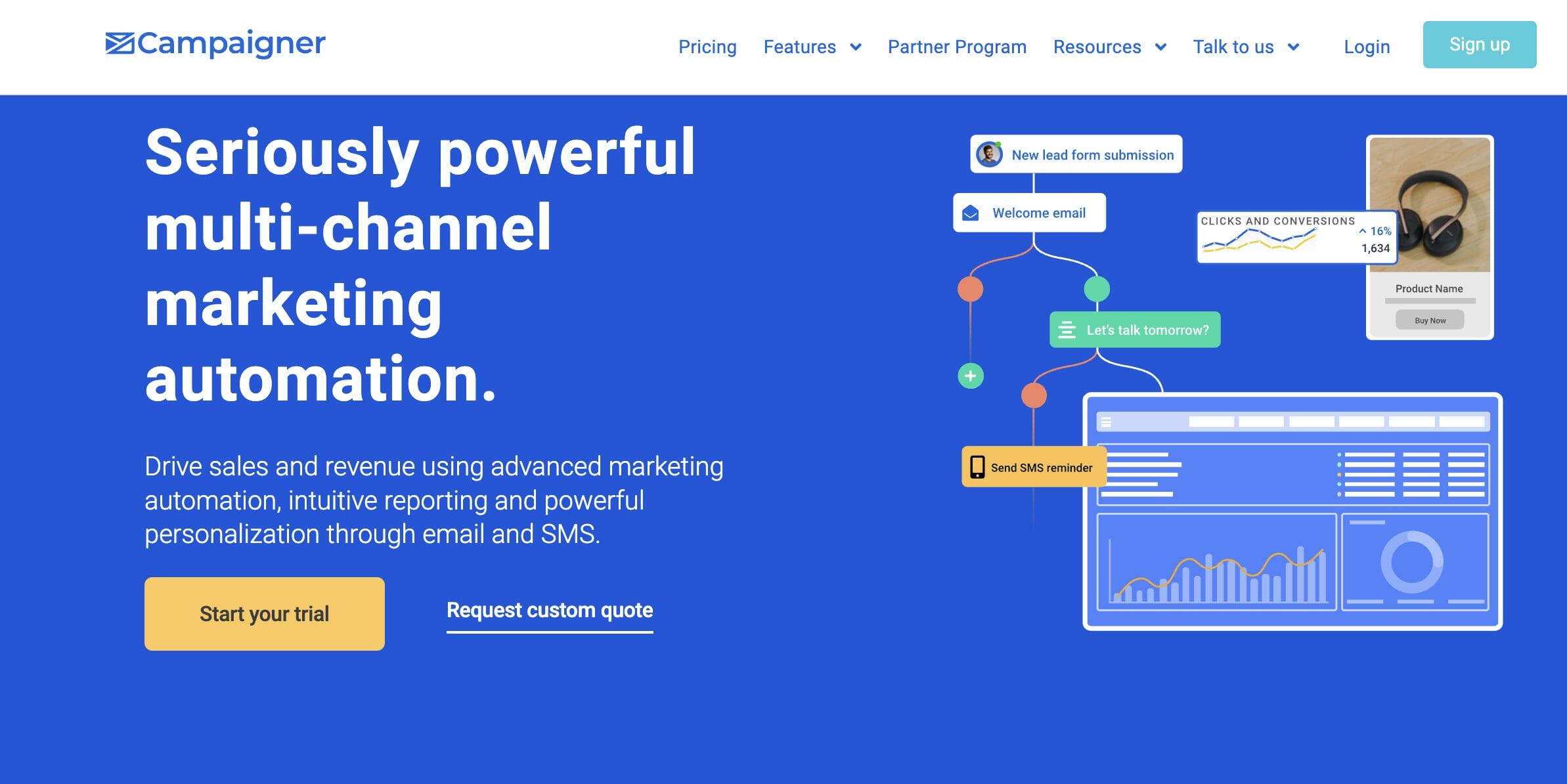 Campaigner can help you to market your business across various channels and it's particularly good for email marketing. It offers sophisticated email marketing automation that will help you to increase your sales and revenue.
Included in its long list of email marketing features are workflows, triggered campaigns, personalization, and reporting. One of the features that make it such a great tool for online marketing is its social sharing. You can use it to share your email content automatically as social media posts on Facebook and Twitter. This way, you can reach a much bigger target audience. If you don't necessarily want to flood your followers' social media feeds, you can use its reports to identify which emails received the best engagement and only convert these.
If all these automation solutions sound like too much for you at this stage, it's also just a great tool for crafting beautiful emails. You can choose one of its hundreds of responsive templates (there are nearly 1,000). Then, to help customize this template so that it matches your branding, you can use its built-in image editing tool and advanced template management system to save and organize your designs.
Key features include:
A drag-and-drop editor
Responsive email templates
Segmentation
eCommerce integrations
Conversion tracking
Localization
Pricing: After a free 30-day, full-featured trial, pricing starts at $59 per month.
---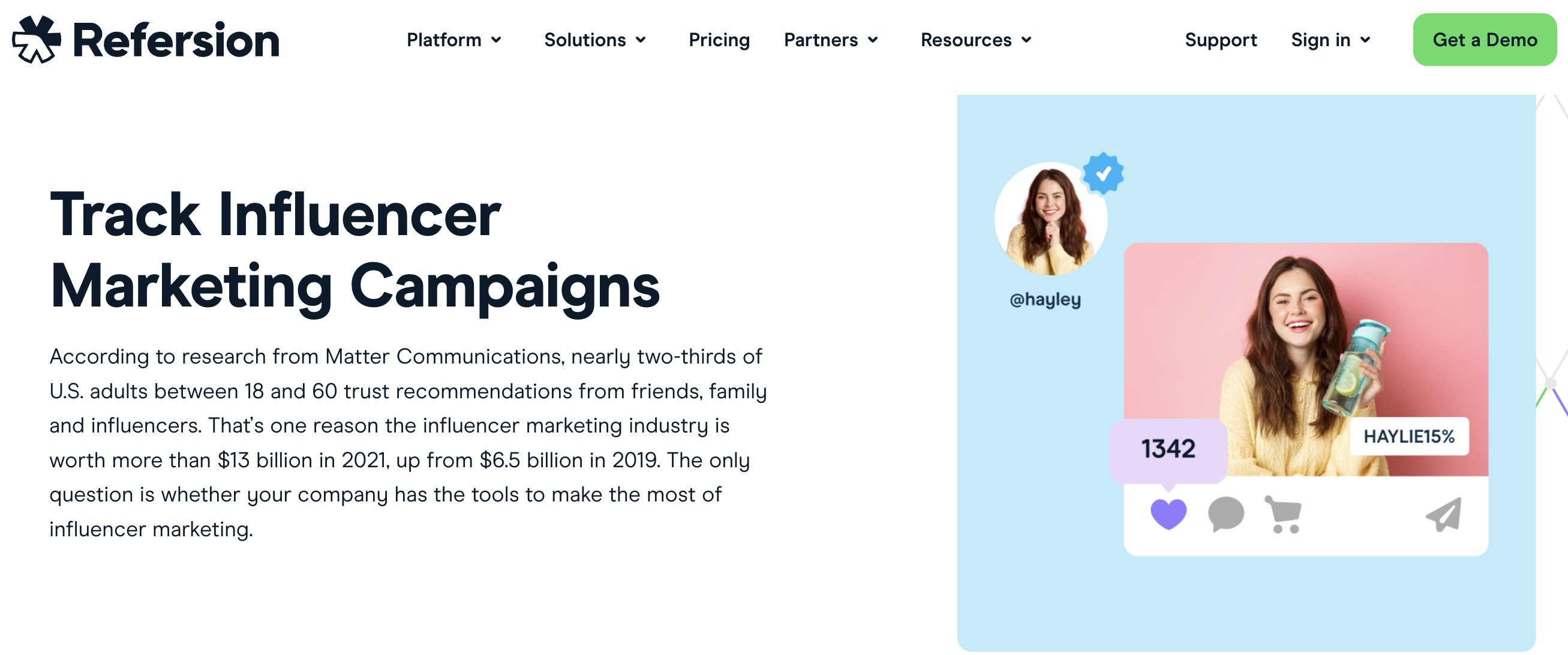 Refersion has a strong focus on eCommerce making it a useful tool for online brands that want to leverage the power of affiliate marketing. In addition to affiliate marketing, you can also use it for brand ambassador programs and influencer marketing.
Trusted by more than 60,000 brands that include well-known names like Dermalogica and Pura Vida, it helps with various stages of affiliate marketing including campaign management, payment, and reporting. What's more, you can also use it for discovery, if you don't want to use existing customers. Included in its impressive list of features is its very own marketplace.
Key features include:
A free listing on its marketplace
Product-level commissions and tiered commission structures
Customizable sign-up and registration pages
Dashboard summary view
Automated payment scheduling
Multiple payment options including gift cards and store credit
Robust reporting
Pricing: After a free trial, pricing starts at $99 per month. Enterprise pricing solutions are also available upon request.
---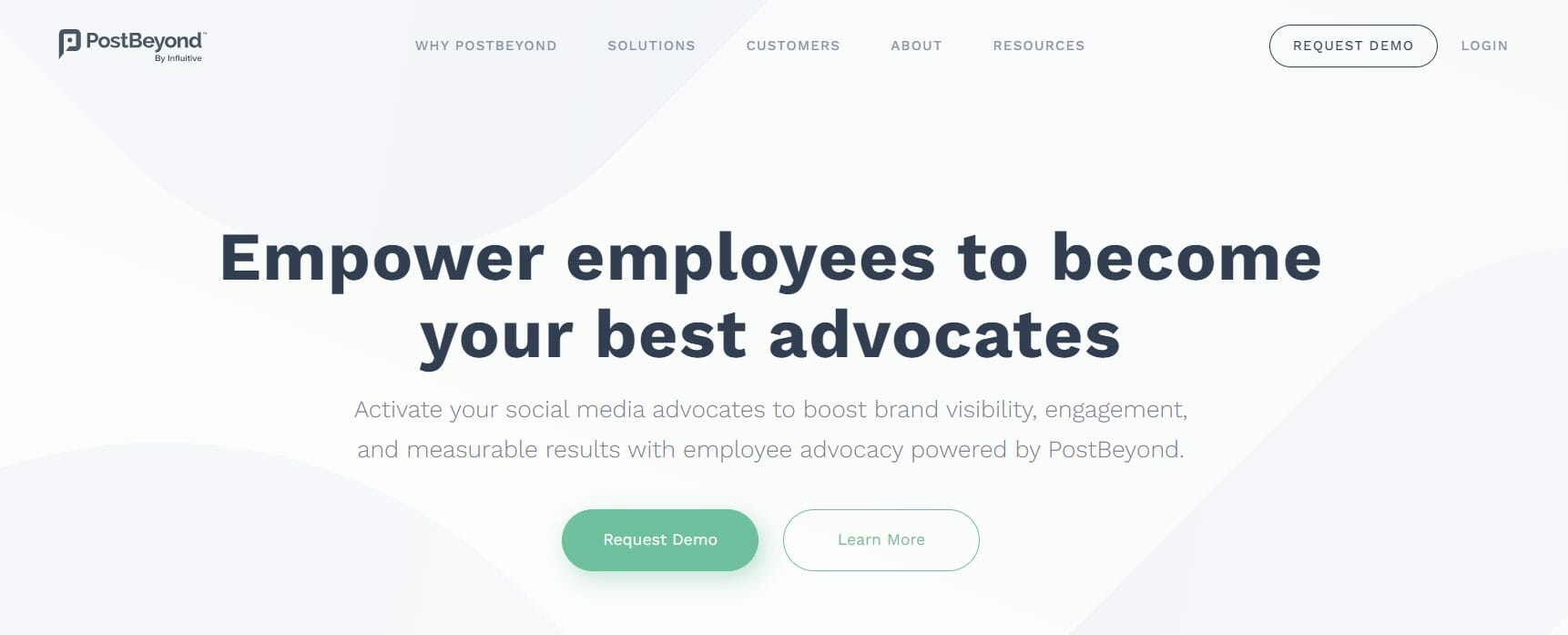 With PostBeyond, you can empower your employees that are active on social media to improve the visibility of your brands and drive more social engagement. To make this as easy as possible for your team members (after all, you don't want them to feel as if you've added to their workload), you can share branded content in a centralized library. This way, employees can schedule and publish posts quickly. Not only does it free up time, but it also helps you to ensure that everything that gets shared has been approved and is in line with your branding.
Then, to measure the success of this online marketing intuitive, it offers real-time analytics and reports. You can, for example, use it to measure the performance of individual posts, identify the most popular topics, and get an in-depth view of the ROI. To make sense of all this data, it also includes industry benchmarks that you can use to compare how your employee advocacy program stacks up to the programs of other companies in your industry.
Key features include:
Personal dashboards for each employee
Recommended content
Team leaderboards
Post scheduling and queuing
Content expiration dates
Pricing: Pricing is available upon request.
---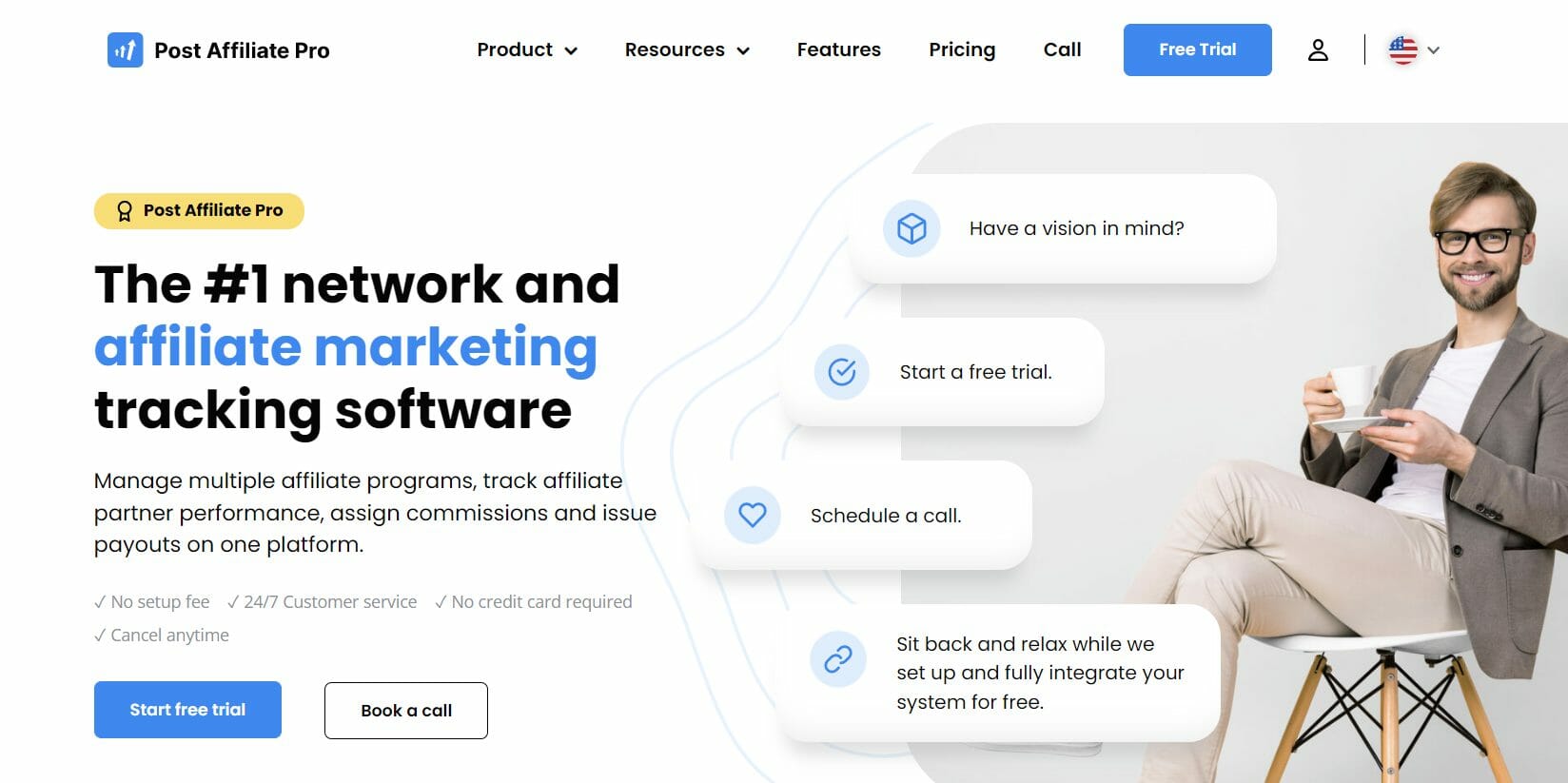 Post Affiliate Pro is the most-reviewed affiliate software solution on Capterra. Considering they've received more than 500 reviews on this popular software reviews platform, their overall score of 4.6/5 is a pretty impressive feat.
You can use it for managing multiple affiliate marketing programs, tracking performance, assigning commissions, and approving payments. It offers a list of awesome features that include in-depth reporting, multi-tier commissions, and direct links tracking.
While it's mostly aimed at medium-sized businesses, they're not necessarily cheap. Though, it's a good example of you getting what you pay for. In this case – a robust, feature-rich software.
Key features include:
A free mobile app
Fraud protection
Mass payments
Performance rewards
Various types of banners
Pricing: After a free 14-day complete access trial, pricing starts at $129 per month.
---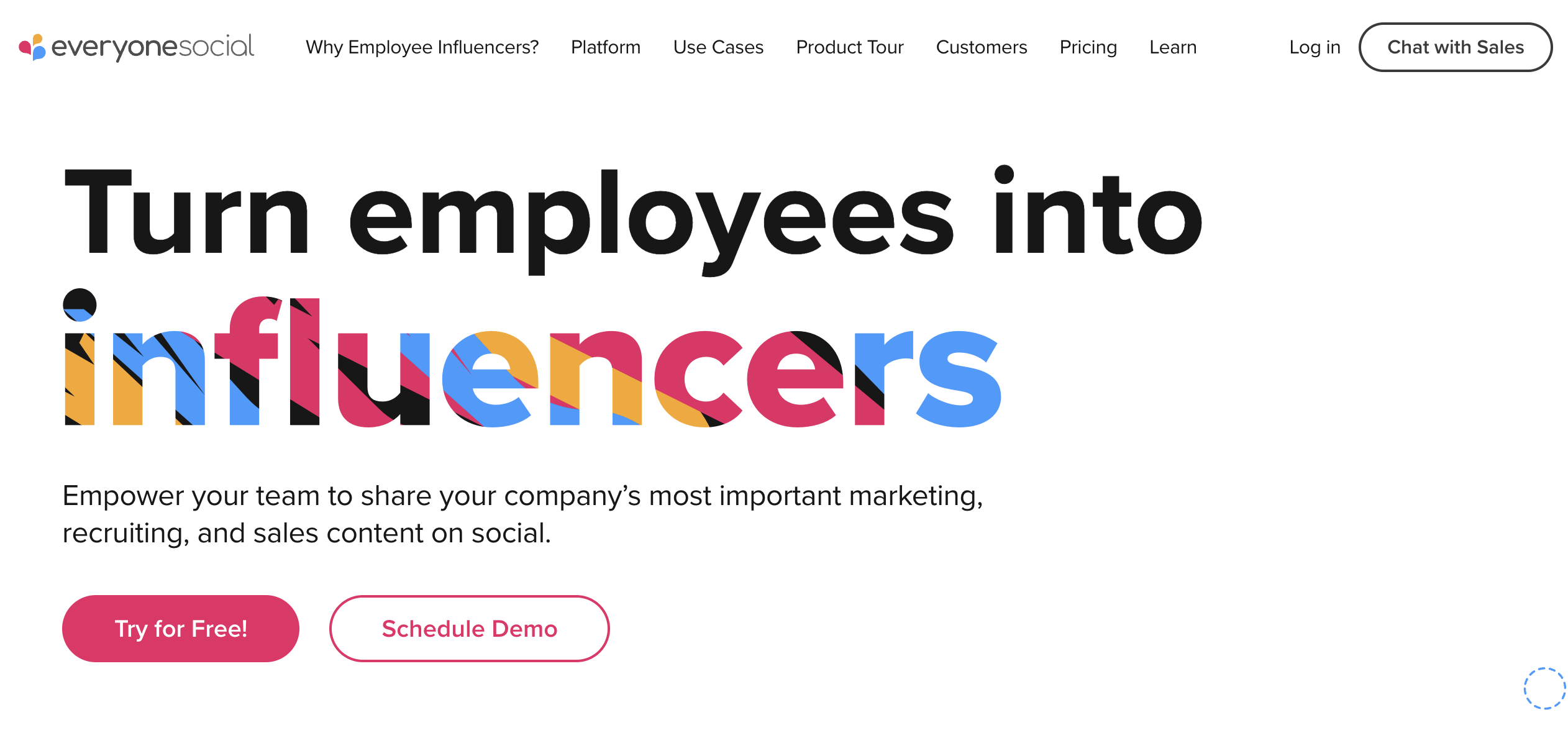 If you're blessed with a passionate workforce, why not turn them into influencers? With EveryoneSocial, it's easy to use them to share marketing and sales content on the main social media platforms like Twitter, LinkedIn, Facebook, and Instagram. You can either encourage them to share pre-designed content or give them the freedom to come up with their own posts.
All in all, it can be a great tool not only to create more awareness for your brand, but also to humanize it. After all, it's proven that authentic content is one of the best ways to drive engagement. Your audience wants to interact with real people like your employees. In fact, according to their website, leads that were generated by means of employee advocacy can convert up to seven times better than paid branded ads.
Key features include:
Analytics and insights
Leaderboards
Reports
Scheduled notifications
Pricing: After a two-week free trial, pricing starts at $24 per user per month. However, it also offers a free Starter plan.
---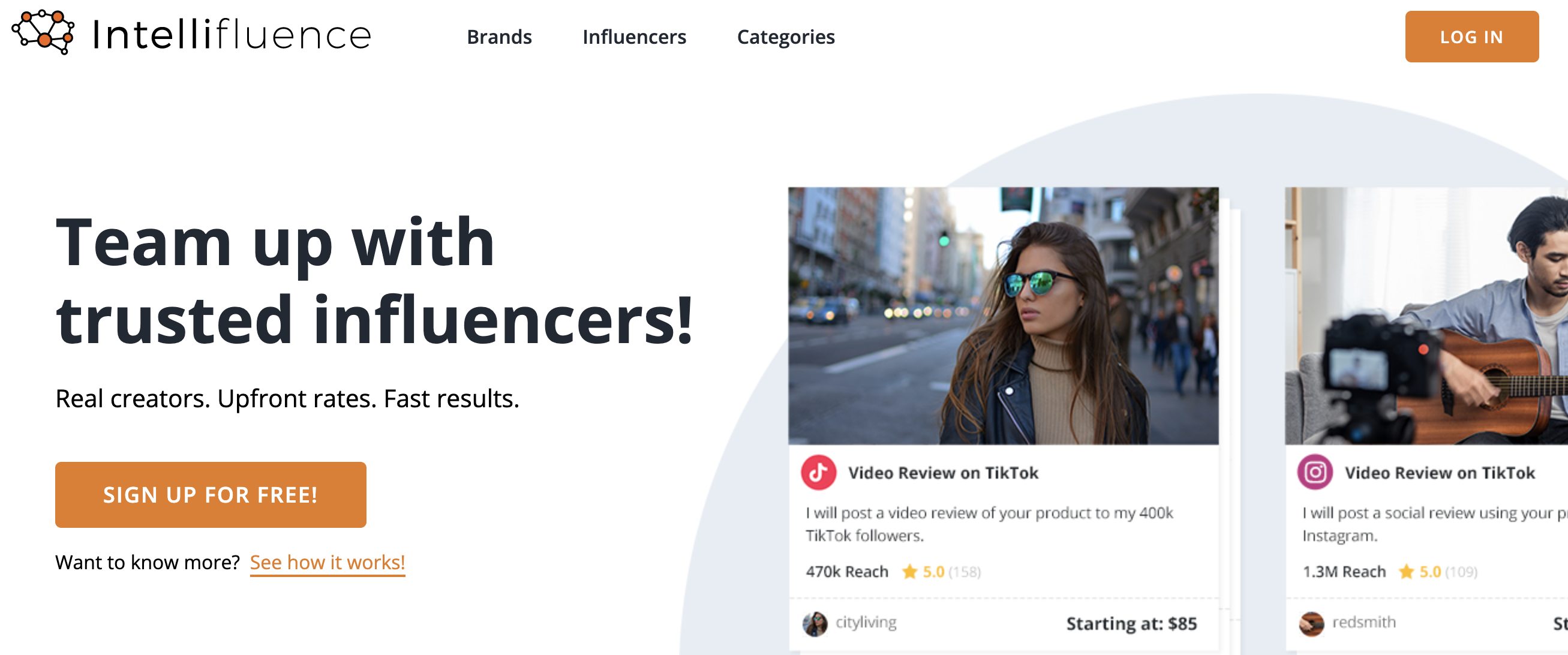 Intellifluence is a simple marketing platform that's aimed at smaller businesses looking to work with influencers. While their network of influencers isn't the biggest, you get access to a warm influencer marketing network (in other words, all the influencers joined on their own).
It might also not be the most advanced tool for influencer marketing, but it provides everything you'll need to find influencers and communicate and pay them. Thanks to its Intellifluence Payments, you can also rest assured knowing that all the work will be completed before payment is released. In addition to supporting all the main social networks (Facebook, Twitter, Instagram, Pinterest, YouTube, TikTok, and LinkedIn), you can also use it for blogs and podcasts.
Key services include:
Campaign Wizard and assisted campaign set up
Campaign health check
Influencer discovery
Pricing: It offers a Free plan and three subscription options with pricing starting at $99 per month.
Key Features: Search/Discovery, Automated Recruiting, Influencer Relationship Management, Influencer Marketplace, Campaign Management, Product/Gifting Tools, Payment Processing,
Channels: Facebook, Twitter, Instagram, Pinterest, YouTube, LinkedIn, Twitch, TikTok, Reddit
---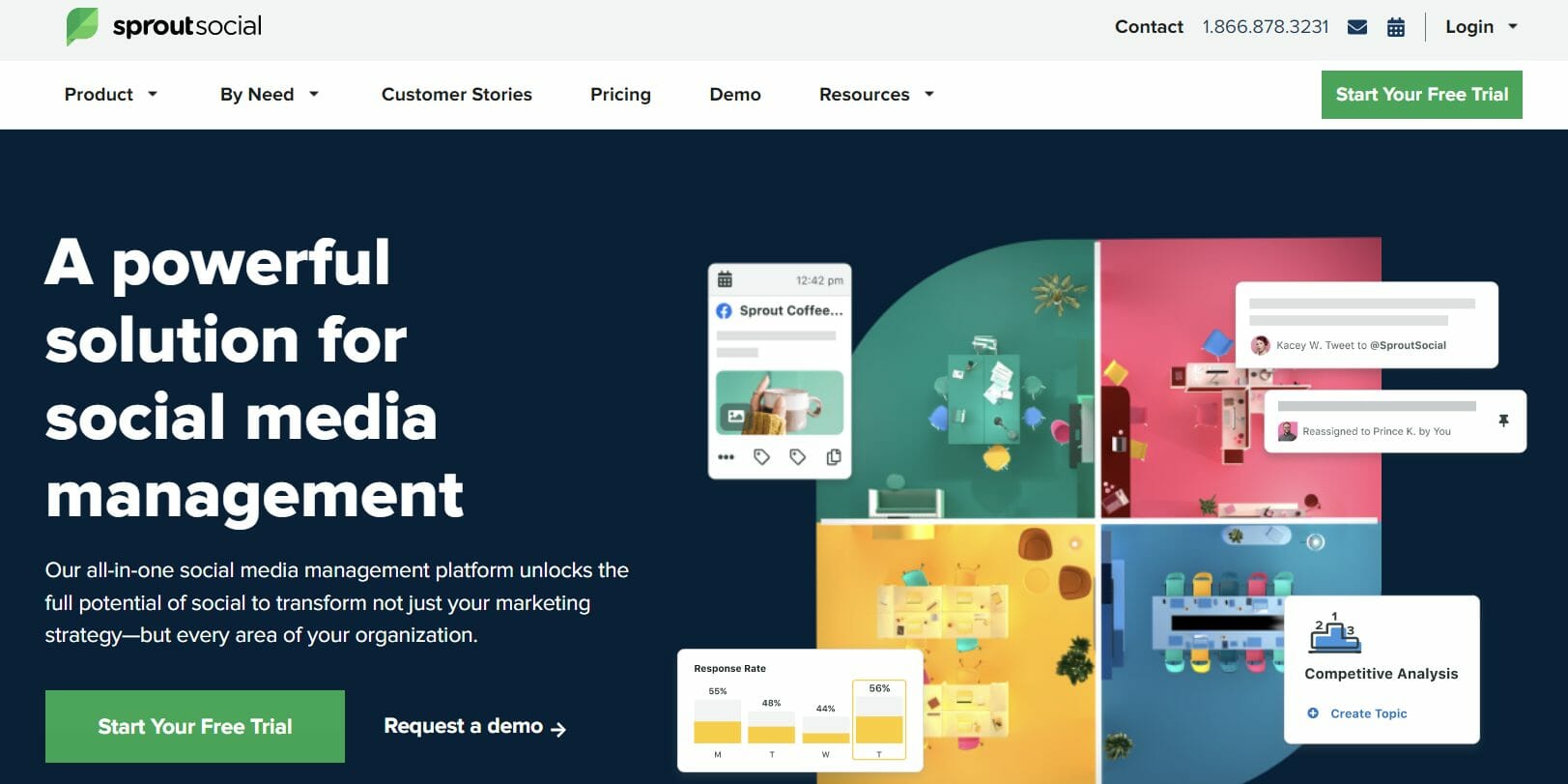 Sprout Social is an award-winning tool that brands can use for social media management and monitoring. Not only will it help to improve your online marketing strategy, but it can also transform areas of your business like its online reputation.
It can be used by businesses of all sizes, but, compared to a tool like Loomly or Sendible, it's not the most affordable tool on the market. This might make it a better solution for businesses with larger budgets and more serious marketing requirements.
As a Facebook Partner, it's a particularly good choice if your target audience is mostly on Facebook. You can use it for managing Facebook Messenger conversations and your Facebook page as well as for monitoring and responding to reviews on Facebook.
It also offers all the other standard features that you expect a solid social media management tool to offer like content publishing, scheduling, and reporting. In addition to Facebook, it also offers integrations with all the main social media platforms, including TikTok and Pinterest, and a number of pre-built, additional integrations with popular marketing tools like Bitly, Feedly, and Salesforce.
Key features include:
Real-time brand monitoring
Social listening
User-friendly, interactive reports
Suggestions for best times to post
Approval workflows
A Smart Inbox
Analytics
An asset library
Pricing: After a free 30-day trial, pricing starts at $89 per user per month when billed yearly or $99 per month on a month-to-month basis.
---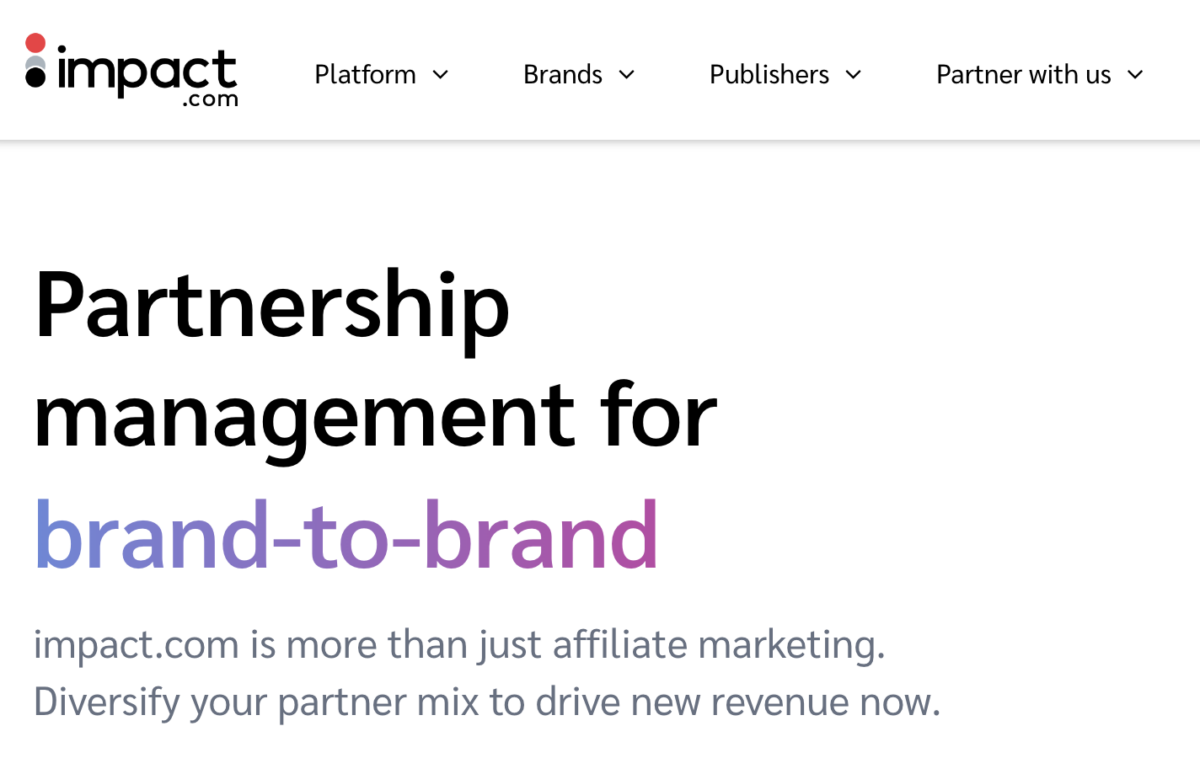 Trusted by brands like Shopify, as well as agencies, impact.com describes itself as a partnership management platform. From affiliates to ambassadors to social influencers, it can be used for managing and scaling virtually any type of partnership.
What adds to its versatility is that it can also be used for all the stages across the life cycle. After you have built your ideal team, you can automate key tasks like contracting and payouts. Not only does it automate payouts, but its modern tracking gives you peace of mind knowing that you're rewarding only legitimate partners.
Users can also look forward to first-class support. In addition to its long list of sophisticated features, it also offers technical services to help you start tracking new events and their growth technologists are also at hand to share industry advice or recommend partners.
Key features include:
Onboarding and migration support
Email and automated workflows
Real-time insights into suspicious traffic sources
Fraud reports
Reporting
Pricing: impact.com doesn't share any details about their pricing on their website. However, interested brands and agencies can request a demo with their sales team.

Key Features: Influencer Content Amplification, Search/Discovery, Automated Recruiting, Influencer Relationship Management, Influencer Marketplace, Team Collaboration Tools, Content Review, Content Library, Campaign Management, Campaign Reporting, Influencer Analysis, E-commerce Tools, Product/Gifting Tools, Forms and Compliance, Payment Processing,
---
---
Wrapping Things Up
There are still many other online marketing strategies and tools that you can explore like SEO, lead generation, bulk SMS marketing, etc. In this article, we've merely looked at the tip of the iceberg. Though, without a number of digital marketing tools in your arsenal, it doesn't matter if you have the biggest marketing team behind you, you'll be carried out to sea and swept away by the sheer volume of notifications and routine tasks that all shout for your attention.