Advertising Disclosure
Advertising disclosure:
Our partners compensate us. This may influence which products or services we review (also where and how those products appear on the site), this in no way affects our recommendations or the advice we offer. Our reviews are based on years of experience and countless hours of research. Our partners cannot pay us to guarantee favorable reviews of their products or services.
The key to achieving remarkable results in digital advertising lies in the hands of experts. For that, we bring you our comprehensive guide, unveiling the Top 10 agencies specializing in PPC Campaign Management Services. These industry-leading professionals have harnessed the power of cutting-edge strategies to help businesses maximize their campaign success. Whether you're a seasoned marketer or just stepping into the PPC world, this article is your gateway to unparalleled success.
---
Top PPC Campaign Management Services
Top
ppc campaign management services
2024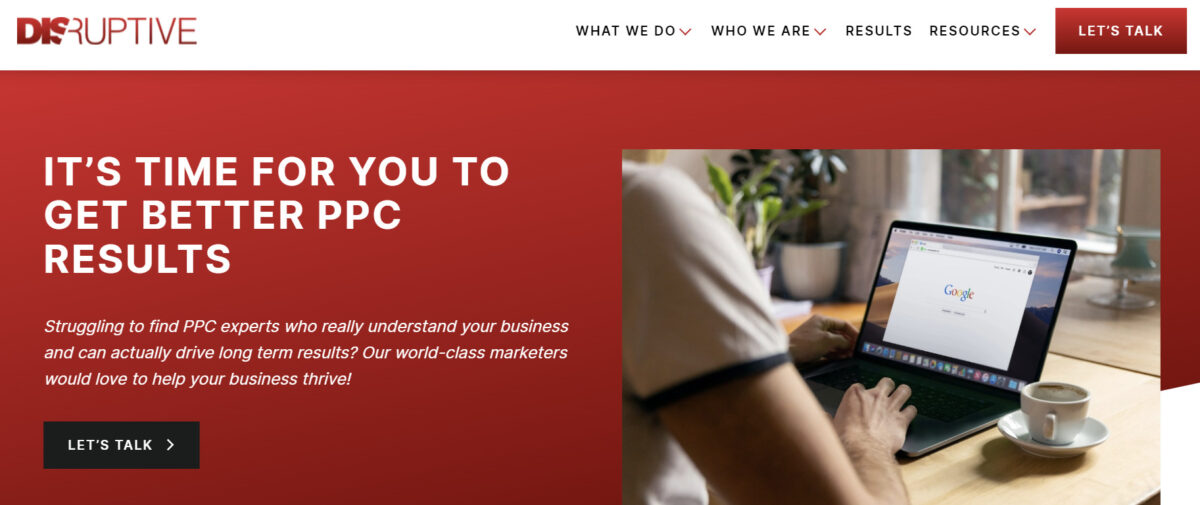 Best for: Businesses of all sizes
Disruptive Advertising stands as a paragon in the realm of PPC campaign management, a sanctuary where innovation and results converge to engender unmatched digital success. With a focus on in-platform vanity metrics, the agency is steadfast in its commitment to driving tangible increases in sales and profitability. Their PPC advertising strategies, a harmonious blend of meticulousness and creativity, are conceived from a wellspring of proven tactics. Operating as a Google Premier Partner, Disruptive offers insights and training unparalleled, harnessing this exclusivity to develop a team adorned with true Google Ads expertise.
An ethos of integrative strategies underpins Disruptive's operational fabric. They perceive the digital marketing sphere as a continuum, where paid search media platforms are levers of synergy, each contributing to the generation and nurturing of leads through the entire buyer's journey. Clients find solace in the agency's dedicated approach; each campaign is a testimony to the team's unwavering commitment to crafting customized, effective PPC strategies. In every interaction, the ethos of long-term partnership is palpable, ensuring clients are not just seen but truly understood and valued.
The illustrious blend of PPC and SEO encapsulates the agency's cost-effective approach, delivering enhanced traffic and credibility. Disruptive is not just a PPC management agency but a companion in the digital journey, replete with an arsenal of tools, expertise, and an unwavering commitment to driving exponential growth.
---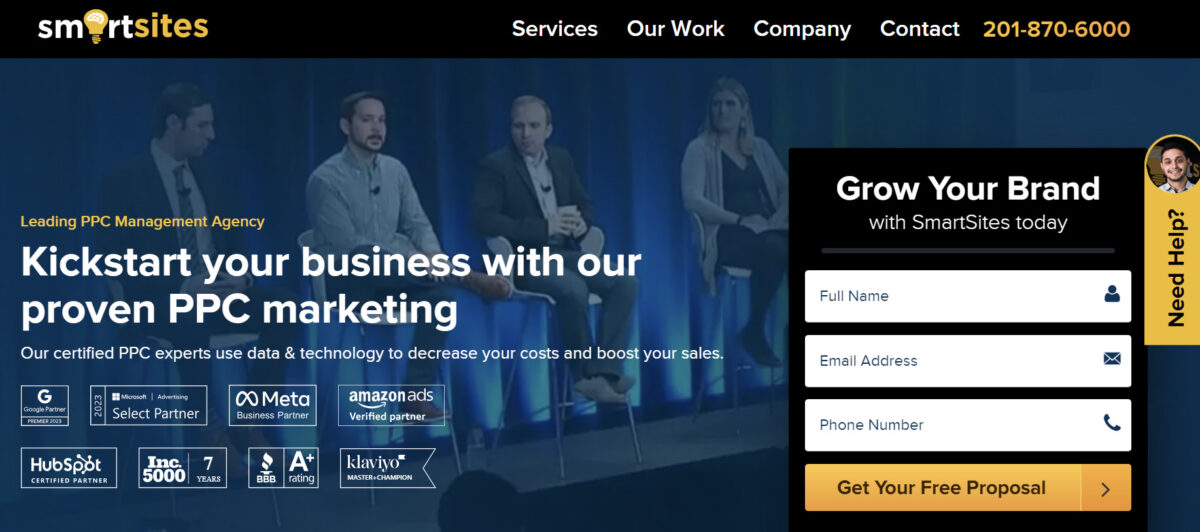 Best for:Small and Medium Size Businesses
SmartSites Digital Marketing Agency manifests as a beacon in the competitive landscape of PPC campaign management. Armed with prestigious affiliations, including Google Premier Partner and Microsoft Advertising Select Partner, SmartSites is fortified with exclusive insights and advanced tools. The agency stands distinguished, not just for its extensive accolades but for its adeptness in employing insights to refine PPC campaigns, ensuring each dollar spent is a strategic investment in business growth. The SmartSites team is characterized by their certified PPC expertise, ensuring an optimal blend of innovation and efficiency.
SmartSites excels in harmonizing technology with human ingenuity to drive measurable outcomes. Their approach is rooted in detailed and transparent reporting, armed with proprietary tools that facilitate incisive data analysis and swift decision-making. Offering both local and national PPC alongside eCommerce PPC, SmartSites is adept at tailoring strategies that resonate with varied business scales and niches. Each campaign is a testament to the agency's commitment to connecting clients with their target audience, driving increased leads while optimizing acquisition costs.
Clients of SmartSites are privy to a partnership that extends beyond conventional service delivery. With access to a dedicated, in-house team of PPC experts, clients are enveloped in an ecosystem of continuous support and innovation. The agency's expertise is further embellished by its data-driven approach, leveraging over one billion data points from thousands of pay-per-click campaigns to offer bespoke solutions. Advertisements are strategically placed across a myriad of platforms, including Google, Facebook, and Amazon, ensuring a comprehensive market reach. In the partnership with SmartSites, businesses are not just seen and heard but are positioned for exponential growth and industry leadership.
---

Best for: Businesses and agencies of all sizes.
Moburst is recognized as a titan in the PPC campaign management arena, deploying an amalgamation of precision and innovation. Esteemed for transforming brand trajectories, the agency is grounded in a relentless pursuit of exceeding KPIs, with a narrative punctuated by real-time data and transparency. Their prestigious status as a mobile-first digital marketing agency is solidified by their exhaustive expertise, having honed over 600 products, exemplifying their adroitness in tailoring bespoke strategies that resonate with individual client needs and market dynamics.
At the core of Moburst's services lies a synergy of creativity and analytical prowess. The agency further excels in social search and OTT marketing, underpinned by a performance-centric ethos. Results emanate from a foundation of data and technology, where campaigns are not just crafted but engineered. Notable successes such as a 1400% growth for Samsung and a 36% optimization for Calm underscore the agency's capacity to not only amplify visibility but also drive qualitative user engagement and conversions, substantiated by an illustrious suite of awards.
Each campaign is infused with a blend of innovation and strategic insights, ensuring brands not only achieve visibility but are firmly positioned as category leaders. A partnership with Moburst extends beyond transactional interactions, morphing ad campaigns into a journey where brands are meticulously nurtured to realize their maximal potential, substantiated by data, and articulated by measurable results. Each client engagement is an odyssey of hypergrowth, where ambitions are translated into tangible outcomes, ensuring that brands don't just compete but dominate their respective spheres.
---

Best for: Enterprise businesses and middle market agencies, with some small businesses.
Thrive Internet Marketing Agency has positioned itself as a powerhouse in the realm of PPC management, offering tailored strategies that fuse innovation with efficacy. Renowned for immediate, high-converting results, Thrive stands apart by amplifying brands' visibility, driving quality traffic whilst optimizing PPC expenses. Their approach is rooted in a meticulous analysis of SEM goals and metrics, enabling the integration of SEO and online marketing campaigns to create a seamless, multi-faceted digital advertising strategy. With expertise refined since 2005, Thrive has demonstrated a consistent ability to scale ad campaigns and attain marketing objectives, validated by a trail of satisfied partners and quantifiable results.
The agency's multifaceted PPC services cover an extensive range of needs. Keyword research & analysis stand as the foundation where search behavior insights are gleaned to align campaigns with audience intent. Landing page optimization and comprehensive PPC management ensure that traffic is not just attracted but also engaged and converted. Their proficiency extends to paid search advertising, social media advertising, and specific platforms like Bing, Google, and Amazon. A testament to their capability is evidenced in their work with diverse sectors, including eCommerce and legal, where significant surges in conversions and leads have been realized.
Thrive is not just about clicks and conversions; it underscores quality and strategic engagement. Each campaign is crafted with an intricate balance of analytics and creativity. The agency's aptitude for Ads A/B split testing and conversion rate optimization exemplifies a commitment to refining and enhancing campaign performance continually. With a roster of certified Google Ads specialists, Thrive assures a blend of technical acumen and industry insights, promising not just visibility but strategic brand positioning. The outcome is a PPC campaign that isn't just seen but resonates, converting viewers into engaged, loyal customers.
---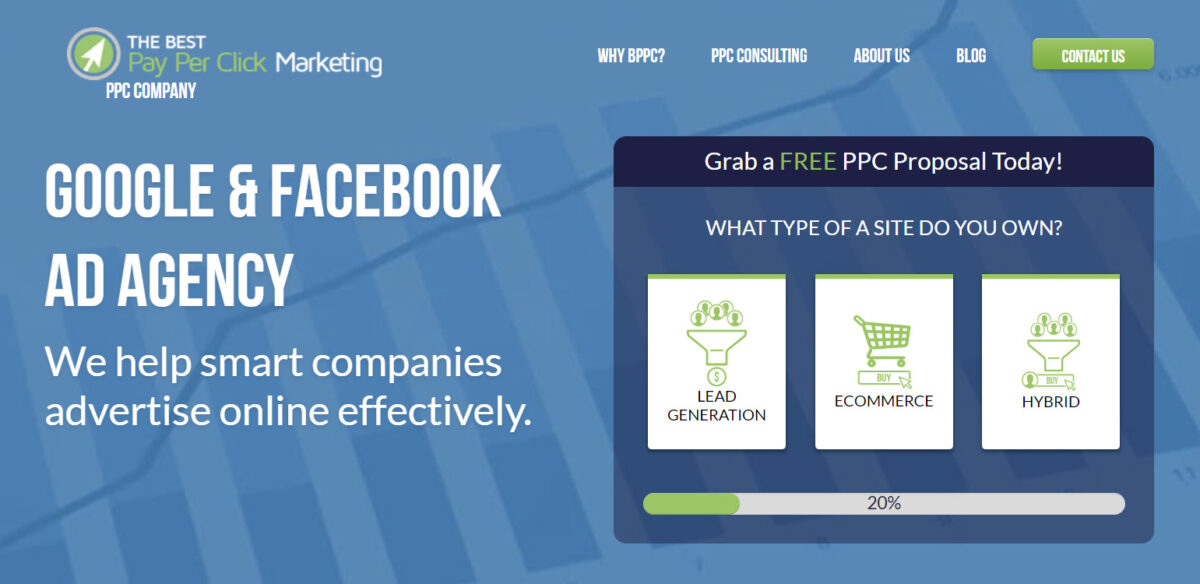 Best for: Small to medium-sized businesses and agencies, with some enterprise clients.
Best PPC Marketing stands at the forefront of innovative and efficient pay-per-click campaign management, renowned for delivering substantial brand exposure and increased lead generation. An amalgamation of cutting-edge AI technology, comprehensive certifications, and strategic partnerships underpins their methodology. The agency's bespoke approach, characterized by personalized ad creations and strategic campaign structuring, caters to diverse website types, including eCommerce and hybrids, ensuring tailored solutions that align with specific business needs and objectives.
A testament to Best PPC's efficacy is their impressive track record of client success. Their strategic formula, marrying adept professionals with targeted audience engagement, compelling ad creations, and optimized landing pages, has culminated in significant improvements in clicks, leads, and conversion rates. Their mastery in enhancing post-click experiences is evident in the substantial uplift in conversion rates, underscoring their holistic approach that extends beyond initial engagement to conversion optimization. The agency's commitment to constant innovation and strategy enhancement ensures that clients not only attain but exceed their marketing goals.
Best PPC's suite of services is comprehensive, spanning Google AdWords, Bing Ads, and Facebook Ads management, indicating a multi-faceted approach to reaching audiences across diverse platforms. The agency's adeptness in utilizing analytics and data-driven insights ensures that campaigns are not just launched but are continuously optimized for peak performance. With an emphasis on client collaboration and transparency, Best PPC fosters a partnership where clients are not just recipients of services but are integral contributors to the collaborative marketing journey.
---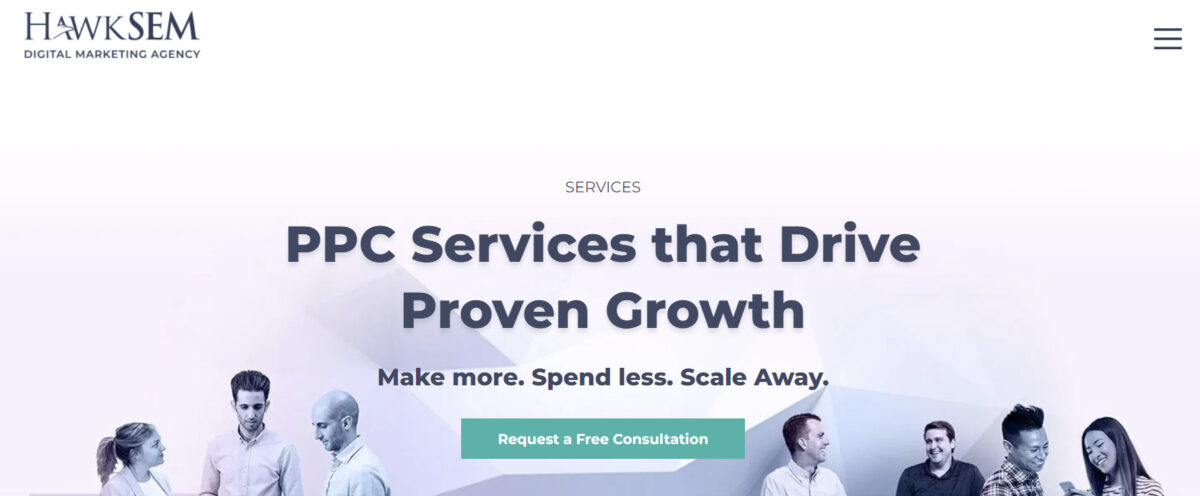 Best for: Businesses of all sizes, best suited for mid-sized agencies.
Hawksem is a leading figure in the realm of PPC campaign management, distinguished by its strategic and data-driven approach to digital marketing. The agency starts its engagement with a comprehensive PPC audit, keenly evaluating current campaigns to understand the existing landscape. This is complemented by a meticulous competitive analysis and market research phase, ensuring clients are well-positioned vis-à-vis industry peers and competitors. Furthermore, Hawksem places a significant emphasis on conversion and goal-tracking review, ensuring every click and lead is accurately accounted for, thus providing a holistic view of the campaign's success.
Central to Hawksem's strategy is its innovative and proprietary tool, ConversionIQ. This technology is designed to consolidate crucial metrics, facilitating comprehensive report generation and connecting leads to tangible business outcomes. The system embodies the agency's commitment to drive actionable insights, offer full-funnel attribution, and consistently optimize conversions for a healthier bottom line. This focus on technology-driven solutions sets Hawksem apart in the competitive PPC landscape.
Beyond the standard SEM offerings, Hawksem showcases versatility in its services, extending its expertise to diverse platforms like display, social media, and video ads. Whether it's leveraging the omnipresent Google Ads or tapping into the potential of alternative platforms like Microsoft Ads or Amazon, Hawksem ensures that its clients' ads are positioned for maximum visibility and impact. This comprehensive approach, underscored by tangible client success stories, solidifies Hawksem's stature as a premier choice for businesses seeking to elevate their PPC campaigns to new heights.
---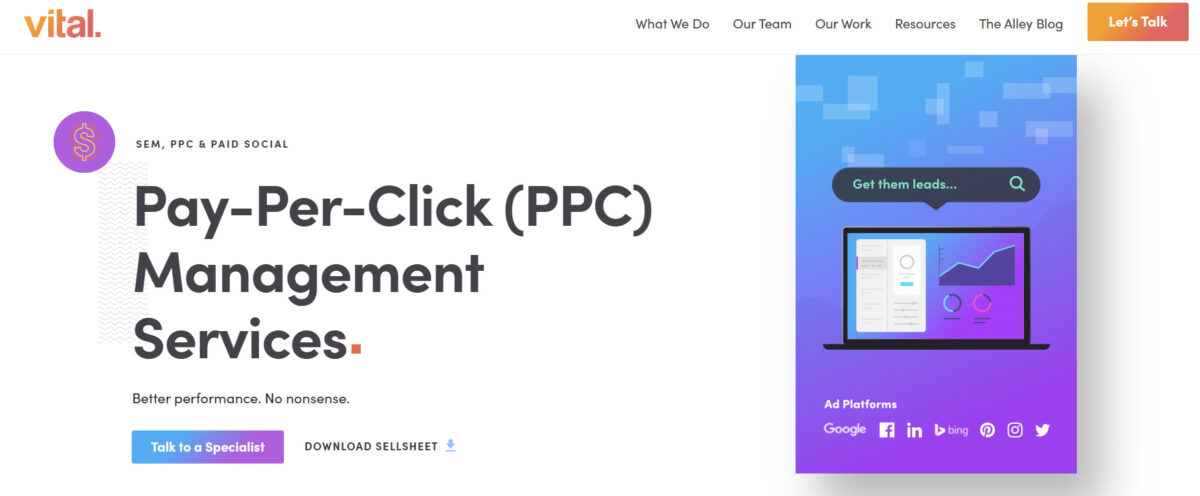 Best for: Enterprise-level businesses and mid-sized agencies.
Vital Design carves a unique niche with its pragmatic yet innovative approach to paid advertising. The agency's services are comprehensive, ranging from Google Ads, Facebook, and Instagram Ads to specialized platforms like LinkedIn, Bing, and YouTube. Every campaign is meticulously managed, ensuring clients achieve optimal performance and visibility. Their proficiency is accentuated by a remarkable track record, characterized by a reduction in cost-per-lead and an exponential increase in eCommerce sales and click-through rates.
A hallmark of Vital Design's service repertoire is the absolute transparency and customization it extends to its clients. The client retains complete ownership of the PPC account, underscoring the agency's commitment to fostering trust and collaboration. Campaigns are optimized with a laser focus on conversions, transcending conventional metrics to deliver tangible business outcomes. Reporting is streamlined and devoid of technical jargon, ensuring clients are always apprised of their campaign's performance in clear, comprehensible terms. The absence of long-term contracts underscores the agency's confidence in delivering exemplary results and retaining clients through performance rather than obligation.
Vital Design's integration of content marketing, conversion rate optimization, and SEO distinguishes its PPC management services. Every client enjoys the attention of a dedicated account manager, ensuring personalized service and prompt responses. The agency is not just about managing campaigns; it's about setting new benchmarks in performance. When Vital takes over PPC accounts, the objective is clear – elevate performance and set a new high score in conversions and cost efficiency. With a meticulous setup process and a flexible pricing structure, Vital Design emerges as a consummate choice for businesses aiming to maximize the ROI of their PPC campaigns in a dynamic digital advertising landscape.
---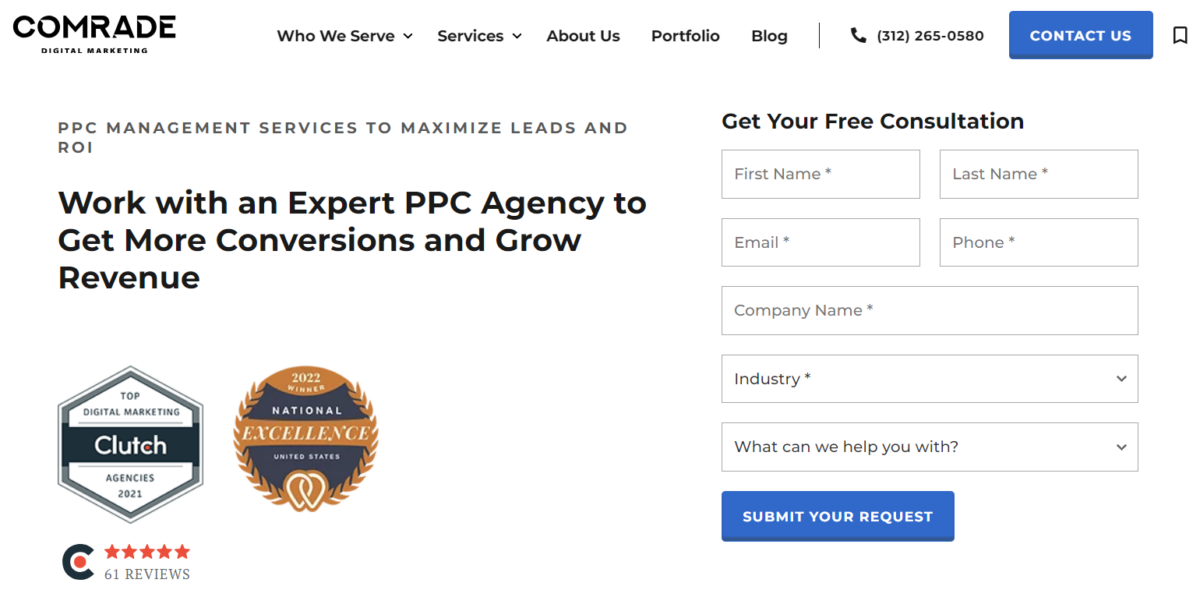 Best for: Businesses and agencies of all sizes.
Comrade Web wields tailored strategies to augment leads and ROI effectively. Their services are scaffolded by meticulous research and analysis, ensuring every campaign is grounded in insight and aimed at tangible results. With a suite of plans ranging from the Basic to Enterprise, clients are afforded the luxury of choice, each teeming with features like A/B testing, advanced conversion tracking, and dedicated support calibrated to businesses of varying scales and needs.
But what sets Comrade Web apart is their multifaceted approach to PPC management, where innovation and customization reign supreme. Their expertise is not confined to mere ad creation but extends to encompass a holistic service that includes potent landing page designs and retargeting tactics. Each strategy is crafted to be as dynamic as the markets they aim to capture, with a flexibility that allows for real-time optimization. The analytics and reporting are not just routine but are integral tools that provide clients with actionable insights, aiding in informed decision-making.
A testament to their efficacy is the measurable impact they have had on their clients' ventures. Their prowess in PPC management is underpinned by a 12-year legacy of transforming clicks into tangible ROI. With accolades and commendations accentuating their repute, Comrade Web isn't just a service provider but a partner in propelling businesses to the pinnacle of digital visibility and customer engagement. Their promise isn't just in metrics but in an enhanced brand presence, increased lead generation, and a tangible uplift in conversions, making them a preferred choice for businesses seeking to transcend conventional boundaries and achieve digital excellence.
---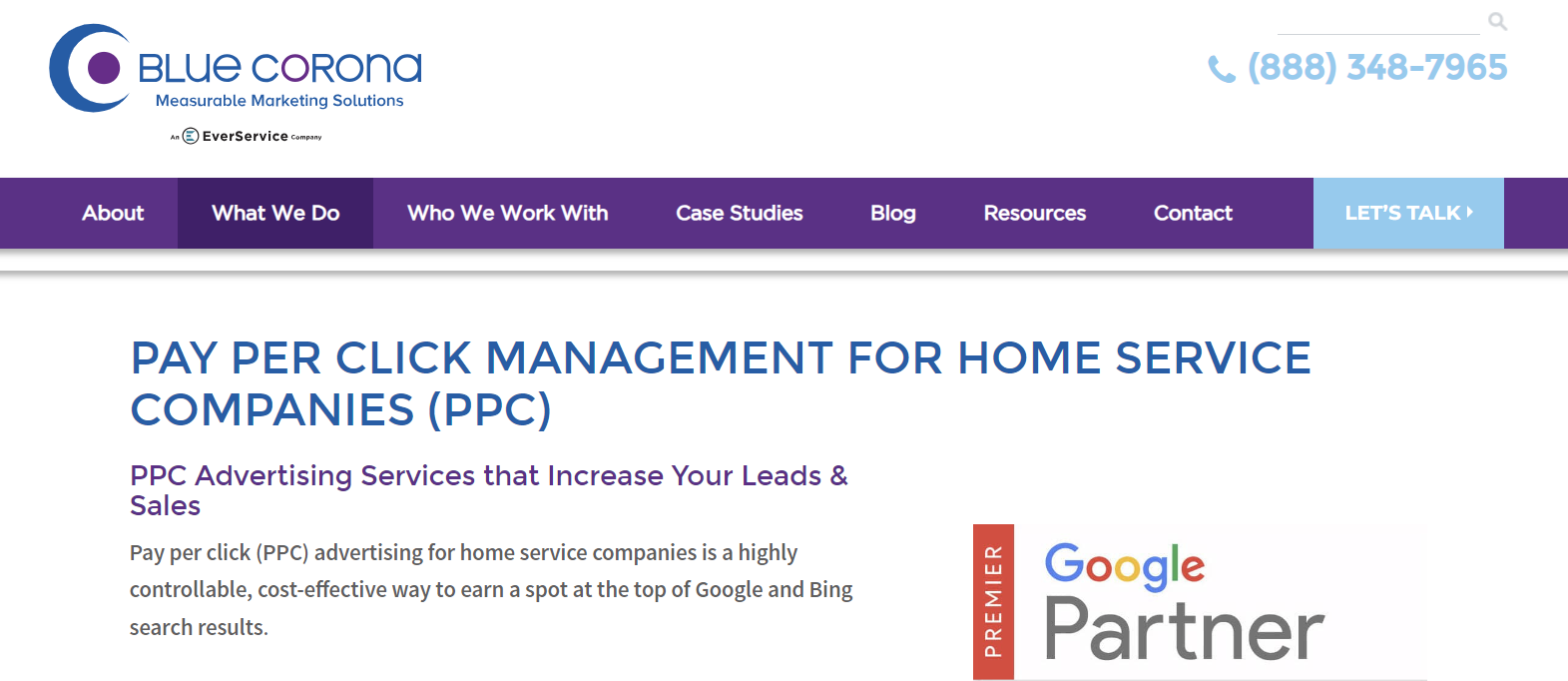 Best for: Medium-sized businesses and enterprise-level agencies.
Blue Corona specializes in elevating the online presence of home service companies through strategic, data-driven PPC campaigns. This agency, adorned with the prestigious Google Premier Partner and Microsoft Advertising Partner titles, harnesses the power of real-time PPC management to drive tangible business results. Their dedicated paid search specialists excel in crafting and managing customized PPC campaigns on intricate platforms like Google Ads and Microsoft Advertising.
At the heart of Blue Corona's services is a comprehensive digital competitor analysis designed to optimize ad performance and eliminate wasteful ad spend. They focus on customized, data-driven ads informed by meticulous keyword research and creative split-testing to ensure high performance. PPC ad tracking and analytics are pivotal, with a close eye kept on ad positions, click-through rate, cost per click, and conversion metrics. Their prowess extends to managing and tweaking bids for each campaign, ensuring optimum performance and ROI.
Their multilayered approach includes offering PPC advertising across multiple platforms, ensuring a broad reach. Whether it's Microsoft Advertising or social media marketing campaigns, Blue Corona's adaptability ensures tailored solutions for diverse client needs. The agency's client-centric approach is backed by a dedicated account manager and a team of specialists to offer personalized solutions backed by detailed monthly reports connecting PPC performance to the clients' bottom line. The absence of long-term contracts underscores their confidence in delivering sustained value, making Blue Corona a preferred choice for home service companies looking to bolster their online visibility and conversion rates.
---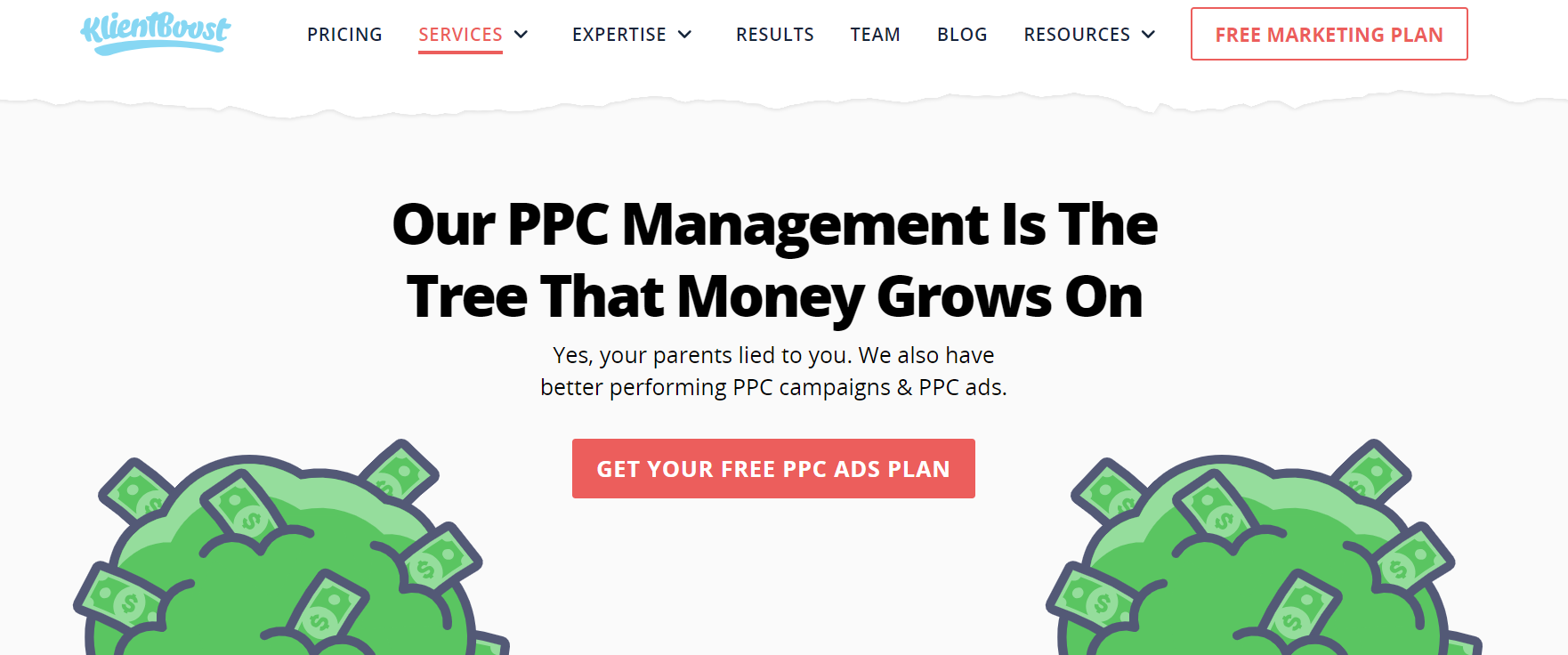 Best for: Enterprises and middlemarketers, with some small businesses.
KlientBoost is esteemed for its comprehensive PPC management services, extending across a myriad of paid advertising platforms, including Google, LinkedIn, and Bing. KlientBoost adopts tried and tested tactics uniquely tailored to enhance brand awareness while ensuring optimized conversion costs, effectively putting more dollars back into the pockets of its esteemed clients.
The agency's prowess in keyword research and ad copy tools is notable, offering clients enhanced confidence in their Google Ads, social media, and eCommerce ad campaigns. KlientBoost doesn't just stop at paid search; they elevate PPC campaigns to encompass leading social media platforms, effectively aiding clients in meeting and surpassing their SaaS, lead generation, and eCommerce goals. They are renowned for identifying and implementing PPC improvements at an impressive pace, leveraging data from their extensive client roster to prioritize ad enhancements effectively.
A hallmark of KlientBoost's service offering is flexibility and adaptability. Clients can engage on terms that align with their goals and pace, whether seeking ongoing management, one-time audit, or consultative engagements. Their array of services extends beyond PPC, including conversion rate optimization, email marketing, and SEO, underscoring their holistic approach to digital marketing. Each client enjoys customized reporting and communication, affirming KlientBoost's commitment to personalized, client-centric service delivery.
---
What Are the Key Benefits of Outsourcing PPC Campaign Management?
Outsourcing PPC campaign management can bring substantial benefits to businesses looking to optimize their online advertising efforts. Some key advantages include:
These agencies specialize in pay-per-click advertising, precisely in managing campaigns. They have experienced professionals who stay up-to-date with industry trends and best practices. This expertise can lead to more effective campaigns. A testament to this claim is the increased adoption of PPC into modern marketing, with 32% of companies using PPC campaigns to sell products. Moreover, PPC agencies have direct access to dedicated Google representatives, offering technical support to manage ad accounts and solve advertising problems faster.
Managing PPC campaigns can be time-consuming. From keyword research and ad copywriting to monitoring and tweaking campaigns, the entire process can be overwhelming for those not familiar with the nuances of PPC advertising. By outsourcing to specialized experts, not only do you get the benefit of their experience, but you also eliminate the steep learning curve that comes with mastering pay-per-click strategies. Moreover, outsourcing frees up your team's time, allowing them to focus on other essential tasks while experts handle your advertising efforts.
Not only do PPC agencies have access to advanced tools and technologies that may be expensive for individual businesses to acquire, but they also have the expertise to wield these tools effectively. These specialized tools often go beyond basic analytics and can delve into the nuances of user behavior, demographic targeting, and more. Furthermore, agencies typically maintain subscriptions and updates to the latest versions of these tools, ensuring that their clients always benefit from the cutting-edge features and most recent data available.
While it may seem counterintuitive, outsourcing PPC management can be cost-effective. Experts can optimize your ad spend, reduce wasted budget, and improve ROI, ultimately saving you money in the long run. It is estimated that outsourcing helps harness PPC's immense 200% average ROI claim more efficiently. 
PPC agencies tailor their strategies to your specific goals and target audience. By deeply understanding your brand, industry nuances, and competitive landscape, these agencies can craft strategies that speak directly to your ideal customers. This customization ensures that your campaigns align with your business objectives and reach the right people at the right time, maximizing the ROI of your advertising spend.
---
What Services Do PPC Campaign Management Agencies Offer?
PPC (pay-per-click) campaign management agencies oversee and enhance the online paid advertising efforts of businesses. Here's a summary of the comprehensive services they offer:
Setup
At the heart of every successful campaign is a strong strategy. PPC agencies initiate with a profound understanding of a client's business objectives and marketing goals, be it driving phone calls, increasing online purchases, or enhancing brand awareness. With this foundation, they embark on setting up campaigns tailored to specific needs, which include:
Establishing ad groups, ads, and relevant extensions like site links and callouts.

Defining keywords, location targeting, and audience demographics.

Designating placements or topics, content exclusions, and dynamic ad targets.

Determining bid strategies, budgets, and landing pages.

Implementing precise conversion tracking to gauge campaign effectiveness.
---
Reporting
Regular, customized reporting is pivotal. While the reporting platforms may vary, from Excel to Google Data Studio, the essence is to align reports with a client's Key Performance Indicators (KPIs). These reports, which could be delivered bi-weekly, monthly, or quarterly, offer a visual representation of data, using graphs and charts, and sometimes provide a holistic view by integrating data from multiple sources like Google Analytics. They enable businesses to grasp their online footprint better and form the foundation for data-driven optimization decisions.
---
Optimization
PPC agencies delve into ongoing optimization to ensure campaigns resonate with set objectives and continually perform. Data-driven adjustments encompass:
A/B testing of ads to determine effectiveness.

Altering bid strategies and budgets.

Setting up ad schedules, refining targeting methods, and incorporating negative keywords.

Leveraging new beta features and adjusting bids.
PPC campaign management agencies are instrumental in strategizing, reporting, and optimizing online advertising, tailoring their approaches based on the unique requirements of the businesses they serve.
---
Conclusion
In this comprehensive exploration of PPC campaign management, we highlighted agencies that exemplify innovation and efficacy. Each combines technology, data analytics, and creativity, transforming clicks into conversions and elevating digital campaigns. They stand as industry sentinels, not just managing ads but crafting success narratives and driving business growth through strategic engagement. 
The essence of their service lies in custom strategies, continuous optimization, and measurable results. As a business looking to thrive in the digital landscape, aligning with such partners means stepping into a future of enhanced visibility, engagement, and conversion, where every click is a strategic step toward exponential growth. Your pathway to maximized PPC campaign success is illuminated.
Frequently Asked Questions
What metrics should I track to measure the success of my PPC campaigns?
To gauge the success of your PPC campaigns, focus on key metrics such as Click-Through Rate (CTR), Conversion Rate, Cost Per Click (CPC), Quality Score, and Return on Investment (ROI). CTR measures ad engagement, while Conversion Rate reflects how many users take desired actions. CPC tracks your ad spend, and Quality Score affects ad positioning and cost. Lastly, ROI is the ultimate indicator of campaign success, showing whether your ads generate profitable results.
Are there any specific industries or niches that benefit most from PPC management services?
While PPC can benefit various industries, competitive niches like law, finance, and e-commerce often see significant returns from professional management services. These industries have higher CPCs and require specialized strategies to stand out in crowded markets.
How do PPC agencies handle ad targeting for international or multilingual campaigns?
PPC agencies employ geo-targeting and language-specific ad creatives for international or multilingual campaigns. They analyze local search behavior, cultural nuances, and competitive landscapes to optimize campaigns for each target audience.