The Real Estate market has traditionally been dependent on realtors' skills to network and make personal connections. However, Facebook, with over 2.6 billion monthly users and advanced targeting filters, represents a unique advertising opportunity for realtors.
It allows an opportunity to reach the most likely prospective buyers in any country, city, or even a ZIP code. But, if you're new to the platform, you might struggle a bit at first and even waste money on costly Facebook ads without getting the desired results. Here are a few actionable tips to help you optimize your Facebook ads and get the best results.
---
12 Tips That Will Generate More Leads:
---
1. Fine tune Your Audience Targeting
The most important tip for any Facebook ad, Real Estate or otherwise, is to utilize the advanced audience targeting options. You can add layers of targeting filters to precisely fine tune your target audience.
For Real Estate Facebook ads, the first layer of targeting should be based on location. Facebook allows you to target as precisely as people living in a particular ZIP code.
Next, you can add demographic filters like age, income, etc. to target your ads to people who can afford to buy a home.
The final layer should be of behavioral targeting filters to show your ads only to people who might be interested in buying or renting a property. You can use interest-based targeting for this.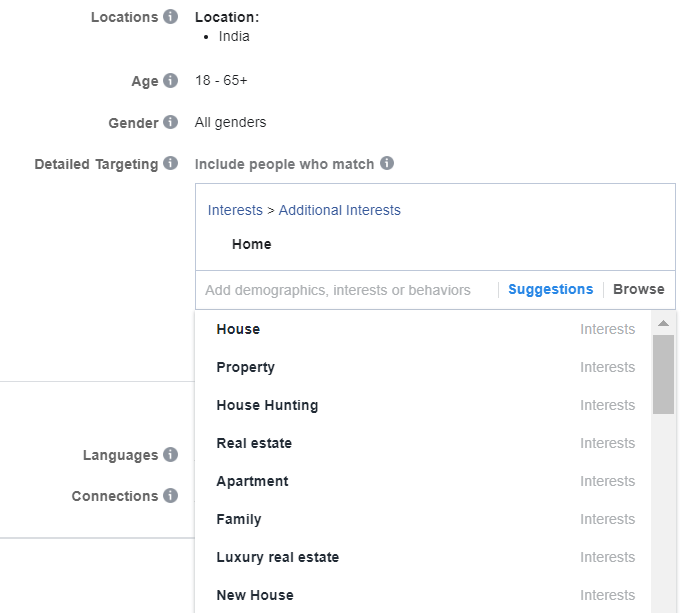 ---
2. Use Attention-Grabbing Visuals
The first thing that people notice in an ad or a Facebook post is the image or visual. They might not even be aware that they're looking at an ad until they read more carefully.
The simple fact is that beautiful pictures of houses, both interior and exterior, attract people. So, adding stunning visuals to your ads will help you grab your audiences' attention. That is the first step.
If your ads are text-heavy or boring, people will just skip past them without even looking once. That is why it is so important to use beautiful images and videos in your Real Estate ads.
Take this housing ad by Zillow, for example. The image that they have used is captivating and would definitely draw the attention of their target audience. After all, who wouldn't want to live in a house like that?
---
3. Place Carousel Ads to Show Different Spaces
When someone buys or rents a property, they look at all the aspects of the house. So, simply posting a picture of the exterior is not enough to get people interested. Moreover, by posting a single picture, you are making people do all the work to find more details.
This problem can be solved with carousel ads that include a series of images that capture the different living spaces of the house. This will give prospective buyers a better idea about the house and whether they are interested in it.
Anyone who clicks on the link after seeing all the pictures is definitely interested in the property. But, if you don't provide enough information upfront, you may also get unqualified leads who just want to check it out.
Here's an example of a carousel ad by Camden Property Trust.
---
4. Clearly Disclose All the Details
Adding to the previous point, you also need to provide all the relevant information about the property in your ad. This includes location, size, type of property, is it for rent or for purchase, and other notable features.
Remember, your aim is to get people interested in it and make it easier for them to make the decision. The more information you provide, the easier it will be for them to decide.
It is also a good idea to paint a picture with your words. A picture of what it would be like to live in that house. Accentuate its notable features and what makes it unique.
If you can mention the asking price, then it would be even better as people who can't afford it will automatically be filtered out.
---
5. Leverage Videos or 3D Tours to Bring Properties to Life
A lot of realtors provide live guided tours or virtual 3D tours of the property to the prospective buyers. This is especially helpful in cases where it is not feasible for them to visit the property in person.
A lot of times, people take a virtual tour first to decide if the property is even worth the visit. This saves them time and effort that they would have to spend on travelling to and from the location.
Again, this is an added step to make it easier for your prospects to evaluate a property and make their decision. Moreover, it is also beneficial for you as it takes less time investment on your part as well.
The Camden example above had the option for both a 24/7 virtual tour and a live tour. However, for that, you have to visit their website.
You can choose to include a virtual tour right in your ad instead of making people go to your website.
---
6. Sell the Lifestyle, Not the House
When it comes to houses, it is as much an emotional decision as it is a practical one. People look more for what the house represents than its actual features.
When writing ad copy for Real Estate ads, make sure that you focus on the emotional aspect as well. When you design Facebook ads, use words that evoke emotions in people and make them want to buy a property.
This ad by The Corcoran Group, for example, paints a picture of the kind of lifestyle that the homeowners of this property will have, Anyone who loves entertaining guests and hosting poolside parties will be immediately interested in this property.
---
7. Make Sure to Highlight the Location
Reas Estate ads mainly cater to a specific audience who want a property in a specific area. Each listing caters to people from a different location. That is why it is so important to highlight the location of the property in your ads.
Just adding a location filter for audience targeting is not enough. You also need to mention the exact location and even the address in your ads.
Anyone who looks at your ad should immediately know if it is something they are interested in or not. And. Location is one major criterion for people when looking for houses.
---
8. Add a Clear and Relevant CTA
This goes without saying that you need to add a clear CTA to all your ads. After all, the whole point of placing an ad is to get people to take the next step.
However, you need to be very clear about what this next step should be. Do you want people to come to an open house? Do you want them to visit your website? Do you want them to call you and schedule an appointment?
Whatever it is that you want people to do next, you should mention it in your ads.
---
9. Create and Optimize Your Landing Pages
The CTAs in your ads should direct to specific landing pages on your website that are designed to get conversions. As soon as a user lands on your landing page they should be able to get more details about the property mentioned in the ad.

Your landing pages should also be optimized for conversions and should have CTAs, contact details, and other relevant information. You should also mention the price of the property and provide more in-depth information about it.
The Corcoran Group's ad above, for example, takes people to the property listing on their website. They not only provide all the information about the property, but also the expected monthly mortgage costs that you'd have to pay. Details like these make it easier for buyers to make a decision.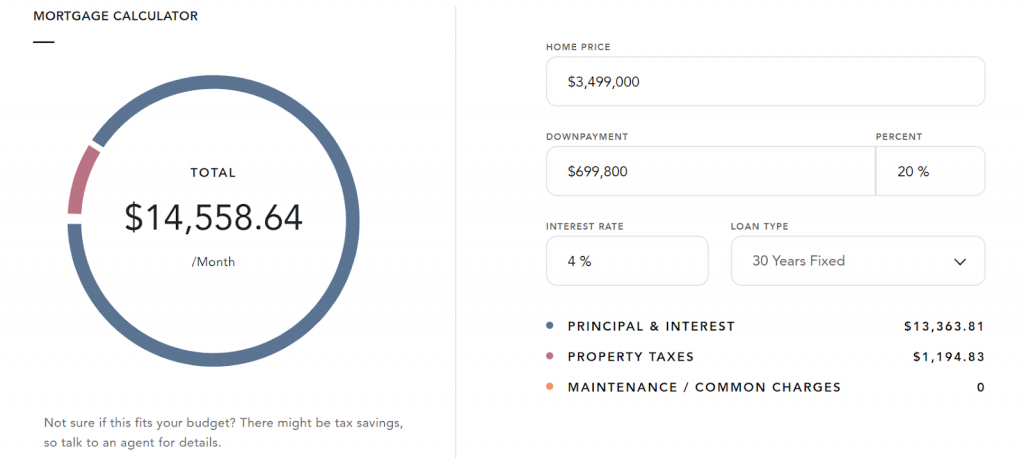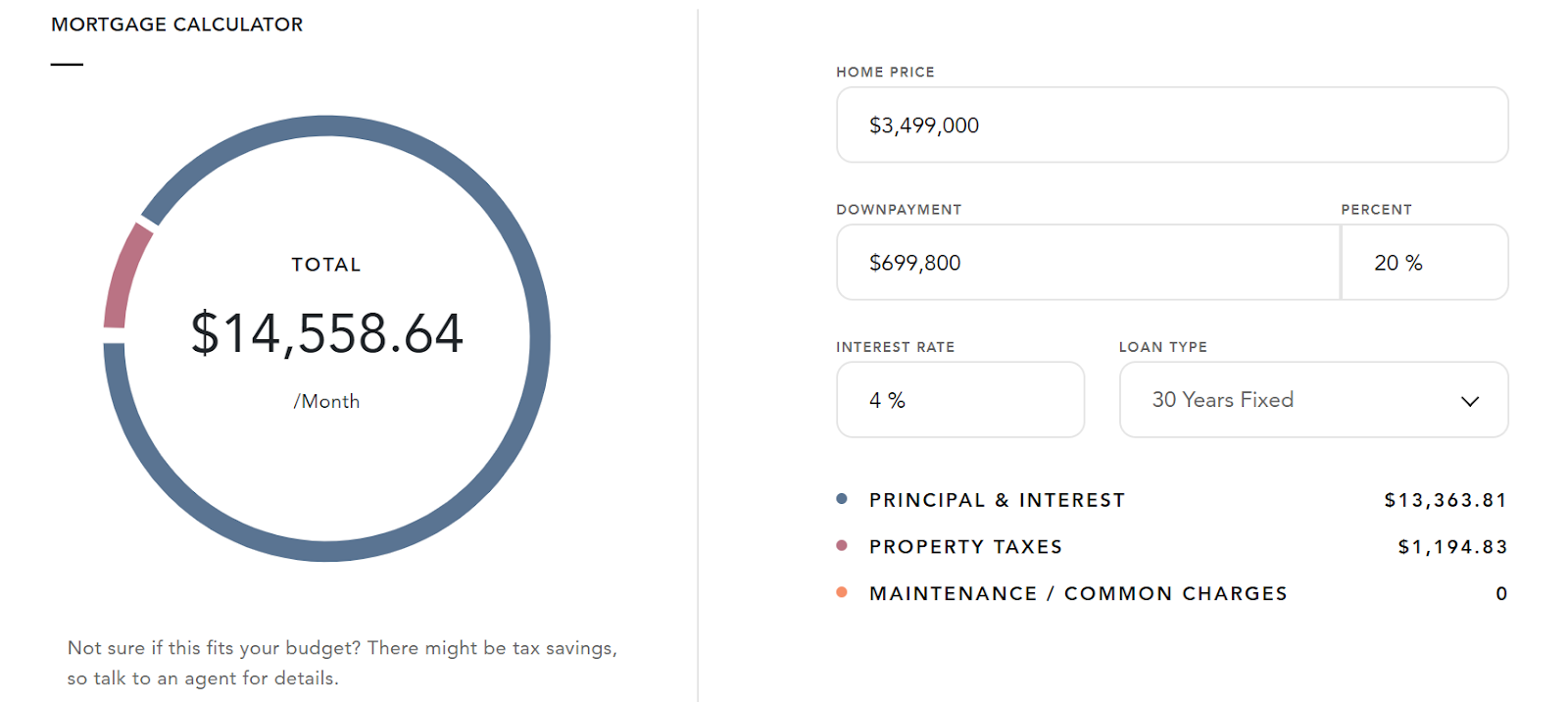 ---
10. A/B Test Your Ads
A/B testing is a technique where you create two versions of an ad and change only one element in each copy. You then show one ad to half of your audience and the other to the other half. The purpose is to determine which copy works better for your audience.
Large companies can afford to create numerous versions of their ads and carry out A/B testing at a more extensive level. This helps improve your ads over time and identify the type of images, CTAs, text, and other ad elements that work for you.
Here's an example of an ad by Sherry FitzGerald Group that has multiple versions for A/B testing.
---
11. Mention Your Contact Details
No matter how advanced the technology you have for virtual tours, most people still rely on traditional buying methods. This includes consulting a realtor and personally visiting the property and taking tours.
Therefore, you should always provide your contact information for people who want a more traditional consultation.
You might argue that once people visit your website they will find that information, so why to waste space on your ad. But, the thing is that by providing contact information in your ad, you cut out one step and give people an option to reach you directly.
This actually shortens your sales funnel and reduces the effort for buyers. So, make space for this important detail in all of your Real Estate Facebook ads.
---
12. Promote Your Open House
Hosting open houses is a popular way of bringing interested people together to view the property. This saves time and effort for relators who don't have to do multiple tours, but just one open house.
You can use your Facebook ads to promote your open houses and reach man potential buyers on the platform.
Here's an example of a Facebook ad that invites people to an open house.
---
Conclusion
Facebook ads can give your Real Estate property listings an edge by helping you show them to the most relevant people. Using the expert tips above, you can make sure that you turn those prospects into clients.
Use these tips for your Real Estate ads and reach prospective clients quickly and easily.