Advertising Disclosure
Advertising disclosure:
Our partners compensate us. This may influence which products or services we review (also where and how those products appear on the site), this in no way affects our recommendations or the advice we offer. Our reviews are based on years of experience and countless hours of research. Our partners cannot pay us to guarantee favorable reviews of their products or services.
With celebrities like Snoop Dogg purchasing real estate in the metaverse, the demand for LAND on The Sandbox has soared. The famous rapper is selling parcels in "Snoopverse," a metaverse he established on the platform where he plans to hold virtual events. Parcels of metaverse real estate near other celebrities are attracting premium rates. In fact, someone just paid $450,000 to be Snoop Dogg's metaverse neighbor.
According to a report, the metaverse real estate industry is predicted to increase at a compound annual growth rate of 31% between 2022 and 2028. It will have a revenue of $828.95 billion in 2028. Metaverse real estate sales topped $85 million in January. It's no surprise that more and more brands, game designers, and content creators are looking into the metaverse to acquire real estate, virtually in this case.
---
The Sandbox Real Estates: Here's the Lay of the Land in 2024:
---
The Sandbox in a Nutshell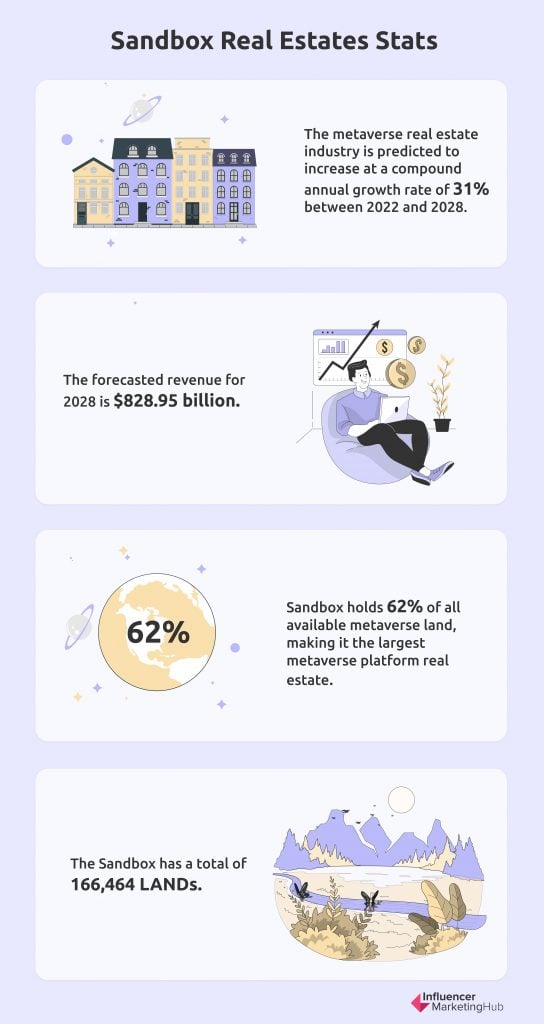 What began in 2012 as an online video game has evolved into a metaverse platform nearly a decade later. The Sandbox is a decentralized gaming ecosystem. It's community-driven, where artists, gamers, and creators can build, trade, and distribute their assets as non-fungible tokens (NFTs). The native asset of the Sandbox virtual economy is an ERC-20 token on the Ethereum network. The Sandbox is well-known for LAND, its virtual real estate. It holds 62% of all available metaverse land, making it the largest metaverse platform real estate. $SAND, which is equivalent to $2.80, is used to purchase a LAND.
---
The Sandbox's Real Estate: LANDs
LAND is the basic Sandbox unit. LAND is an ERC-721 token on the Ethereum blockchain. The LAND owner or another player authorized by the owner can terraform and alter the pre-built, preset terrain. A LAND has a width of 96 meters and a length of 96 meters. It's a perfect square.
The Sandbox has a total of 166,464 LANDs. The public will be able to purchase 123,840 (74%) of the total tokens. The remainder will be offered as rewards to gamers, creators, or partners (16%) or kept by The Sandbox for their use (10%).
LANDs are designed to let users create and publish their own Play to Earn games. You may later monetize the game and earn money on Sandbox. You could also buy the property and rent it out. It is a great way to make passive money.
There are two types of LAND in The Sandbox: regular and premium. Houses are commonly built on regular LANDs, and there are no key partners around them. On the other hand, premium LANDs are bordered by social hubs and major partners.
As a result, premium LANDs get more traffic than regular LANDs. More traffic means more potential revenue from paid games or renting out the LAND to other developers. The increased traffic also implies that more players will see your ads on billboards. You can earn extra cash by renting out billboard space or directing people to your online store.
There are several things you can do with your LAND. You may host and play games, stake and rent the property, organize contests and giveaways, build DISTRICTs, and participate in the metaverse government.
---
The Sandbox's Real Estate: ESTATEs
An ESTATE is a group of contiguous LANDs owned by one person. If you own adjacent 1x1 LANDs, you can form an ESTATE. Buyers can also purchase pre-assembled ESTATEs. These groups of LANDs are typically available in the following sizes:
Small: 9 LANDs
Medium: 36 LANDs
Large: 144 LANDs
X-Large: 576 LANDs
By combining a vast number of LANDs, you can form an extensive ESTATE, one that can be worth a fortune and turned into a money-making machine.
---
The Sandbox's Real Estate: DISTRICTs
A DISTRICT is a form of ESTATE owned by more than one person. A DISTRICT has specific requirements:
The LANDs must be next to one other.

There must be at least two distinct owners.

Each owner is required to stake a particular amount of SAND.

The DISTRICT approval is put to a vote.
As a result, DISTRICTs are decentralized autonomous organizations (DAOs). Their nature allows them to attract more foot traffic. Think of a DISTRICT like Times Square in New York. It's massive and always busy.
---
How to Buy LANDs
You can buy a LAND during Sandbox's public property sales. The platform announces the sale beforehand through the platform's official communities. You may view the available LANDs on Sandbox's official map during public sales.
Before purchasing a LAND, you must have the following:
Sandbox account: Create an account if you don't have one yet. You'll need a crypto wallet like MetaMask or Arkane Crypto Wallet to link your account. Once you've installed your crypto wallet, go to the Sandbox login page, click the sign-in button, enter your crypto wallet, email address, and desired user ID, and click "Done."
SAND and ETH: The Sandbox uses SAND to make purchases and trades. Because SAND runs on Ethereum, ETH is also necessary. You pay transaction fees known as blockchain gas using ETH. Both currencies need a third-party wallet. To make it easier to transact with The Sandbox Marketplace, you can use the wallet you've registered on your Sandbox account.
When you have an account and the necessary currencies, you can start purchasing LANDs. The Sandbox provided a walkthrough on buying LANDs. In a nutshell, these are the steps:
---
Step 1: Open your Sandbox account
Find the "LAND/MAP" button. It's on the screen's left toolbar. Click on it.
---
Step 2: Choose and click the LAND you want to buy
Make sure that the property is available. Regular LANDs available for purchase are gray, whereas premium LANDs on sale are yellow.
---
Step 3: Click on the buy button when the panel appears
The button is blue, and the panel is on the right corner of the screen. The LAND that you intend to buy will be reserved until the deal is completed, canceled, timed out (inactivity after a couple of hours), or if it failed (usually due to inadequate gas). A booked LAND turns purple.
---
Step 4: Confirm the deal and specify the amount of gas you want to use
At this point, your cryptocurrency wallet will appear. Enter the necessary data in the correct currency. The transaction will then be in progress. The completion time depends on the gas you spend and any blockchain congestion.
---
Step 5: Wait for the sale to be confirmed
You will get a notification: "Transaction Succeeded. You Own A LAND." Another indication of a successful transaction is if the LAND you bought turns red.
Color Map Guide
Gray: Regular LANDs for sale
Yellow: Premium LANDs for sale
Purple: LANDs and ESTATEs booked by you or someone else
Red: LANDs or ESTATEs you own
Green: LANDs or ESTATEs others own
Blue: LANDs or ESTATEs owned by The Sandbox for partners and Game Maker Fund recipients
---
Buying LANDs Using OpenSea
If you're unable to buy a LAND directly on The Sandbox, you can use a secondary marketplace that trades a variety of NFTs like OpenSea. To buy LANDs this way, you'll need both an OpenSea and a Sandbox account. You have the option of choosing a payment method with OpenSea. Depending on the seller's preference and demand, you can pay in SAND or ETH. It's best to use the same crypto wallet on both platforms to prevent paying multiple transaction fees.
🌇 10 ESTATEs & 38 1x1 LANDs are now up for auction!

Head to @opensea and find your very own Mega City home in the #Metaverse!https://t.co/hYHmGIoBfZ pic.twitter.com/ewX4iUWwDH

— The Sandbox (@TheSandboxGame) April 28, 2022
To ensure that you're buying unique, authentic LANDs on OpenSea or other secondary marketplaces, keep the following points in mind:
The collection name has a blue verified checkmark next to it.

The platform's name should be "The Sandbox," not just "Sandbox."

The coordinates are in the proper format.

A "Snowflake" symbol should appear, indicating that the Metadata is frozen and the LAND for sale is kept on the decentralized server.
Secondary market LANDs will appear in your inventory on The Sandbox website as long as they are in the same third-party wallet linked to your Sandbox account when you signed up.
---
How to Sell LANDs
Because the Sandbox supports all forms of trading, it's only logical that you can also sell your LANDs. You may market your LAND on The Sandbox Marketplace or third-party NFT marketplaces like Rarible and OpenSea. You will be charged a 5% transaction fee in SAND when you sell your LAND on Sandbox. In addition to the trading cost, you will be charged a gas fee if you sell your land through a third-party NFT market.
Different variables influence the price at which you can sell your LAND. For one thing, the pricing is entirely up to you. The value of your LAND will be determined by its location or how close it is to major partners. Another factor to consider is whether there are any ASSETs in the package. You must also include the properties (such as your virtual house) created on your LAND. Its size is also a strong selling point.
To be fair to you and potential buyers, do some in-depth market research before putting out the sale sign.
---
How to Rent LANDs
Soon, LAND owners will be able to rent out their LANDs in The Sandbox to other creators. When you rent your LAND, you also offer the renter permission to develop something on your property, such as a game. The game creator owns the whole experience that is created on a leased LAND. You have no ownership or control over the experience built on it.
What you can control is the rental price. However, it would be best if you remained competitive to keep content creators motivated to develop and sell their experiences. There are variables to consider when calculating the rental price. On top of the list is the LAND's location. Nobody will rent your LAND if the price is too high for them to earn a profit. Like selling a LAND, if your property is near major brands or The Sandbox property, then you can have a high rental price.
---
The Worth of The Sandbox LAND
Whether you're buying, selling, or renting LANDs, these three factors determine the worth of the real estate.
Location
Like in the real world, the property's location is essential to its value. Certain areas will be more valuable and sought after than others. This is why some real estate investors typically make offers on properties that appear to be in poor condition but are in excellent locations.
The most coveted locations are typically populated by entities you'd like to be affiliated with, such as major brand territory or The Sandbox zone. These entities will generate more traffic, enhancing the value of the surrounding area.
Size
ESTATEs have four categories: small (3x3), medium (6x6), large (12x12), and XL (24x24). Snoop Dogg and Adidas have large ESTATEs, respectively. Multinational companies, like Ubisoft and Warner Music Group, typically own XL ESTATEs.
In general, the larger the ESTATE is, the higher the price to buy, sell, or rent it. And the bigger the area, the more room there is for development.
Value
The reputation of Sandbox's collaboration and applicability is well recognized. The Sandbox has worked with some of the world's most well-known businesses in several fields, including fashion, technology, finance, and gaming. As such, buying LANDs can be a worthy investment. The value of NFT real estate may not be as evident as that of other NFTs, but it has far-reaching effects that go far beyond primary digital assets. This area is still growing, with more to come.
---
The Rewards of Investing in The Sandbox Real Estate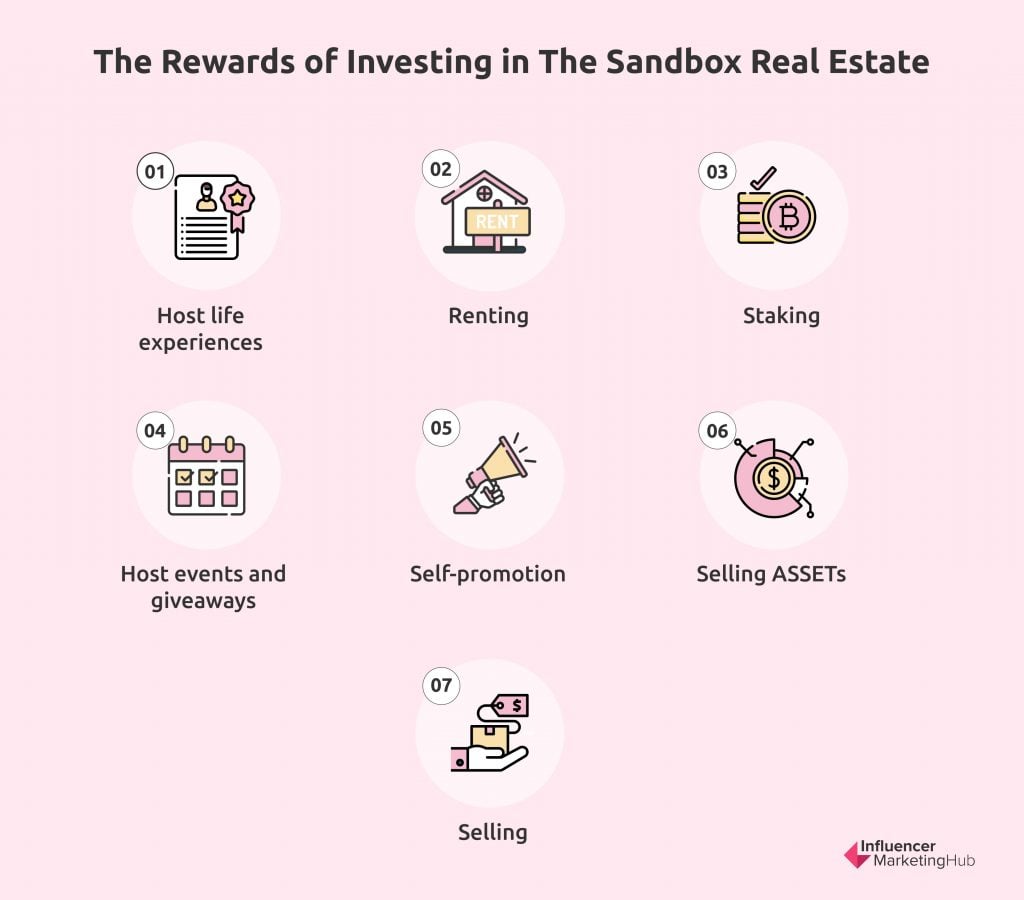 Owning LANDs on the Sandbox will give you several opportunities to generate a steady source of revenue.
Host life experiences
LAND's primary function allows owners to host life experiences on their property. You can host games, concerts, scenes, and art museums, to name a few. These experiences can be constructed using Sandbox's Game Maker and then released on any of the creator's territories.
Renting
As a LAND owner, you can rent your property to others, such as game designers and content creators, who may have missed the public sale of LANDs. When all The Sandbox's LANDs have been bought, the demand for renting LANDs will skyrocket.
Staking
In the future, owners will be able to stake cryptocurrency on their properties for passive rewards. This includes GEMs, an ERC-20 token highly coveted by asset designers. Besides the basic staking benefits, LAND owners may exchange these GEMs. The number of LAND areas you own multiplies the SAND-ETH cash flow you give, boosting your SAND cryptocurrency earnings.
Host events and giveaways
Contests and activities may be held on LANDs, drawing many paying customers to your property. You may even charge people to have tournaments or giveaways on your LANDs to promote themselves for a fee.
Self-promotion
If you're a business owner, content creator, artist, or marketer, you may expand your reach by promoting your brand to gamers by listing some of your ads on your LAND.
Selling ASSETs
If you decide to construct and release an experience on your land, you can add an entry charge to the cost of admission to the experience. For example, you can sell a particular ASSET related to your game, such as purchasing a unique weapon from your NFT gunnery collection.
Selling
Selling your LAND, especially if it's near major brands, can be very lucrative. However, if you keep your LANDs for a longer period, you will most likely earn more money over time by combining the various strategies outlined above.
---
Final Thoughts
The metaverse is the future, and any virtual real estate investment is a win. The Sandbox's LAND has a massive reward-to-risk ratio. There is a high likelihood that LAND prices will rise tremendously in the near future. So, if you have the resources to invest, go ahead and do it. But only after conducting an extensive study on it. Lastly, only invest what you can afford to lose.
Frequently Asked Questions
How Much LAND Is Still Available in The Sandbox?
LANDs are selling quickly. On the secondary market, OpenSea, 31,581 parcels are currently available for purchase. The cheapest parcel costs 1.648 ETH, which is around $4,773. So, if you want to buy a LAND, you still have time.
Are There Any Financial Risks?
The value of a real estate in the metaverse can fluctuate just like it does in the real world. In January 2022, a parcel of LAND was valued $14,099, up from $12,700 the previous month.
There is a financial risk here, as with any investment. So, proceed with caution. The metaverse is still in its early stages and has yet to acquire mainstream popularity. However, given the current trends, a significant drop in the price of metaverse real estate is unlikely. Even if there is, The Sandbox has a lot of potential and traction, so purchasing a LAND is worthwhile.