Advertising Disclosure
Advertising disclosure:
Our partners compensate us. This may influence which products or services we review (also where and how those products appear on the site), this in no way affects our recommendations or the advice we offer. Our reviews are based on years of experience and countless hours of research. Our partners cannot pay us to guarantee favorable reviews of their products or services.
As more companies jump into the digital arena, standing out becomes an uphill battle. Modern businesses often grapple with issues such as dwindling website traffic, low conversion rates, and online obscurity. One major culprit? Poorly optimized websites that don't rank on search engines or meet user expectations. 
Enter SEO web design companies. SEO web design is a holistic approach that combines the aesthetics of web design with search engine optimization algorithms. This results in creating websites that are not only visually appealing but are also primed to rank high on search engines, ensuring greater visibility and user engagement.
Partnering with the right experts is crucial for businesses seeking this dual advantage. In this article, we've curated a list of the top 10 SEO web design companies for 2024 to help you elevate your online presence and achieve your digital goals. Dive in to discover who made the cut!
---
Top SEO Web Design Companies
Top
seo web design companies
2024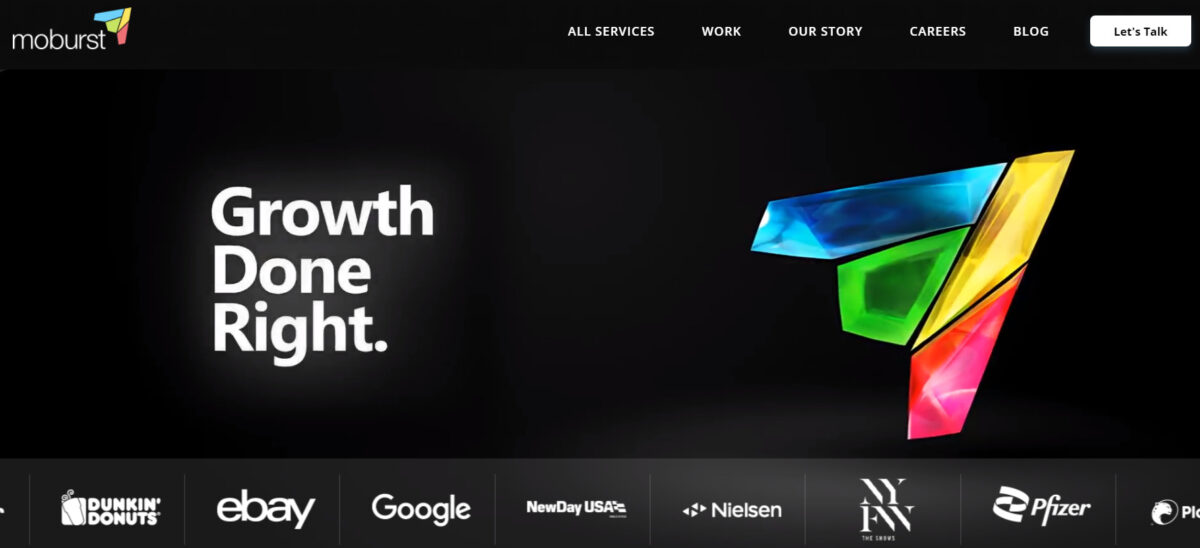 Best for: Comprehensive Digital Marketing Integration
Moburst is a leading responsive web design agency aiming to seamlessly integrate creative ideas with a holistic digital marketing strategy. Recognizing the pivotal moments post-launch, Moburst ensures every facet of your website, from animations to microcopy, is meticulously crafted and optimized for success.
Housing best-in-class departments under one roof, including web design, development, copywriting, and performance, guarantees your website is primed for broader digital marketing needs. This encompasses optimizing your social channels, media, and campaigns, a synergy that positions you as a leader in your domain.
A standout feature of Moburst is their numbers-driven approach, emphasizing CRO and SEO. Their dedicated in-house teams ensure every element of your website adheres to best practices, priming you never to miss a potential conversion, lead, or sale.
Pricing
Moburst's pricing starts with a minimum project size of $25,000+. Their average hourly rate ranges between $150-$199.
---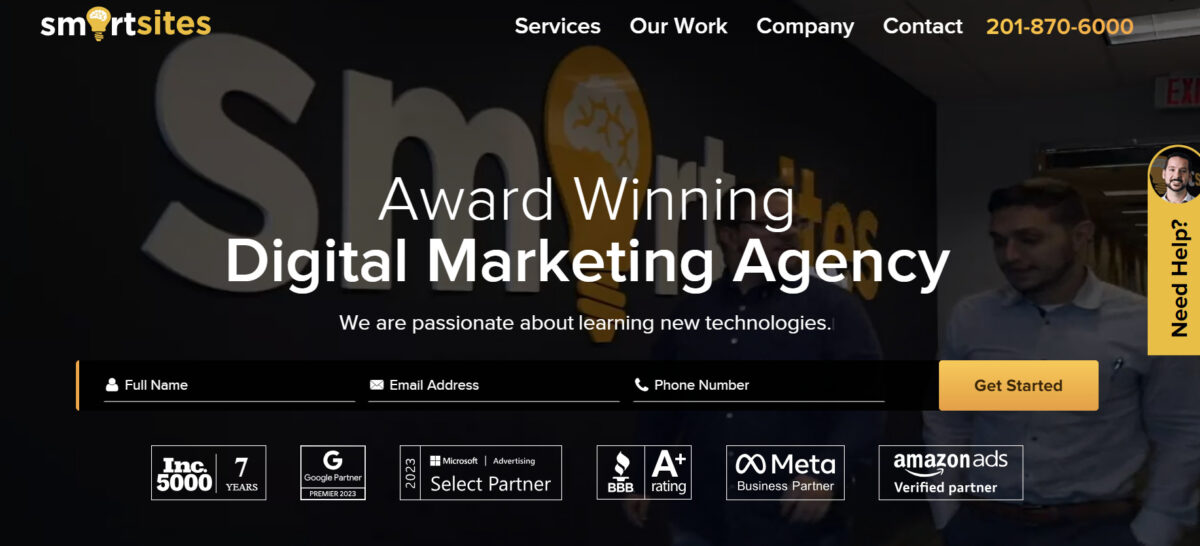 Best for: Tailored Digital Solutions
SmartSites goes beyond the conventional. Their full-service digital marketing solution encompasses content management, outreach, web development, and design, all tailored to resonate with your business objectives. Their emphasis is on driving actionable results, ensuring that from the moment a visitor lands on your site, they are guided through a journey punctuated with clear CTAs.
One of the hallmarks of SmartSites is their commitment to responsive design. Regardless of the device – be it desktop, tablet, or mobile – your website will exude excellence. They also prioritize site speed, understanding its significance in user retention. Their expertise certifies your website is fortified with the latest security measures.
On the other side, SmartSites' approach to SEO is unquestionable. They lay the groundwork with detailed keyword and competitor research, ensuring your site is optimized for search engines. Their offerings also include easy-to-manage platforms like WordPress and Magento, giving you the autonomy to oversee your site. And if you prefer a more hands-off approach, their support plans are both simple and affordable.
Pricing
SmartSites has a more flexible entry point with a minimum project size of $1,000+. Their hourly rate is pegged between $100-$149.
---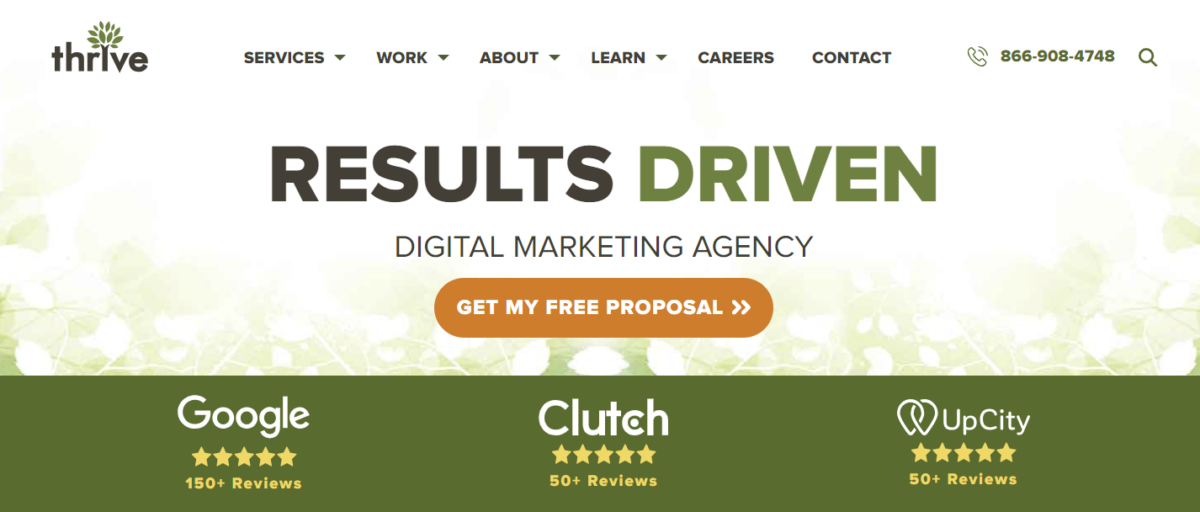 Best for: Comprehensive Digital Presence
Thrive Internet Marketing Agency has firmly established itself as a leading figure in the realm of SEO web design services. Recognizing the internet as a vast reservoir of business potential, Thrive offers an integrated approach that bridges the gap between creating a digital footprint and maximizing its efficacy. With a comprehensive suite of offerings, they provide everything from robust web design and development to advanced search engine optimization and ongoing site maintenance, helping you remain at the top. 
The importance of an intuitive, responsive, and optimized website in today's digital age is paramount. Thrive comprehends the intricacies of this. They recognize that approximately 4.57 billion people, accounting for 59% of the global population, are active online users. Of these, a significant 53% engage in diligent research before affiliating with your brand. This emphasizes that consumers are no longer impulsive but seek validation through web platforms that communicate credibility, relevance, and value.
Thrive excels in responsive web design by enhancing user experience across various devices and aligning with the latest industry benchmarks, such as Google's introduction of Core Web Vitals. These metrics, focusing on real-time user experience, have become pivotal in shaping a website's page experience score.
Pricing
Thrive's services start with a minimum project size of $1,000+. Their average hourly rate is between $100-$149.
---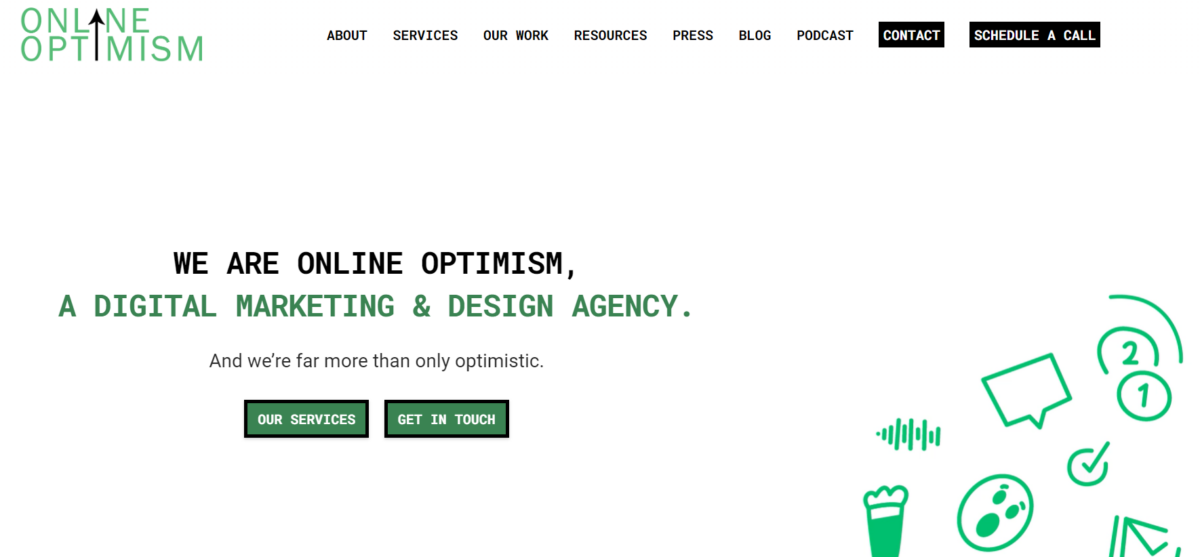 Best for: Holistic Web Design and Marketing Integration
OnlineOptimism believes in the power of collective expertise. Their services, including SEO, website design, PPC ads, graphic design, and social media marketing, are primed to provide you with a comprehensive digital strategy tailored to your unique needs.
The team at OnlineOptimism understands that a great website needs to be backed by robust functionality, ensuring you don't just make an impression but also drive engagement and conversions. So, their approach to web design emphasizes the importance of responsive design, allowing you to deliver a consistent and optimized experience across devices. With the increasing prevalence of mobile browsing, this focus solidifies accessibility irrespective of how users access your site.
OnlineOptimism's offerings go beyond design. They integrate web design with comprehensive strategies aimed at driving long-lasting results. Their commitment to delivering both form and function ensures you have a website ready to battle with industry giants.
Pricing
OnlineOptimism offers its services starting from a minimum project size of $1,000+. Their hourly rates are competitively priced between $50-$99.
---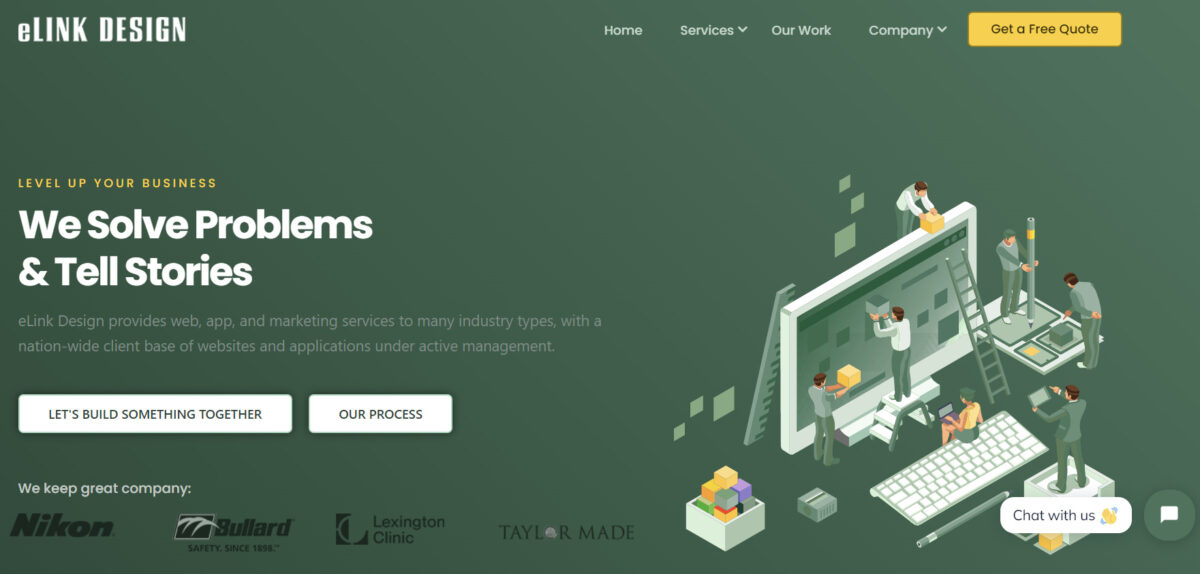 Best for: Comprehensive Web Optimization
Standing out in the vast sea of websites is a challenge. eLink Design understands this challenge and emphasizes the importance of SEO, not just to create your perfect site but to craft one that outshines the competition in search engine rankings. Therefore, their philosophy is rooted in the belief that optimization is about highlighting strengths and minimizing weaknesses more effectively than competitors.
On the other front, they recognize that designing a website is a multifaceted process, evolving from simple HTML to complex scripts. Their approach ensures you get a website that will serve as your main operations hub, is aesthetically pleasing, and is functionally robust.
Their commitment to excellence allows you to establish a strong online presence and leverage the internet's power to its fullest, guaranteeing success in the digital marketplace.
Pricing
eLink Design's services commence from a minimum project size of $5,000+. Their average hourly rate lies between $100-$149.
---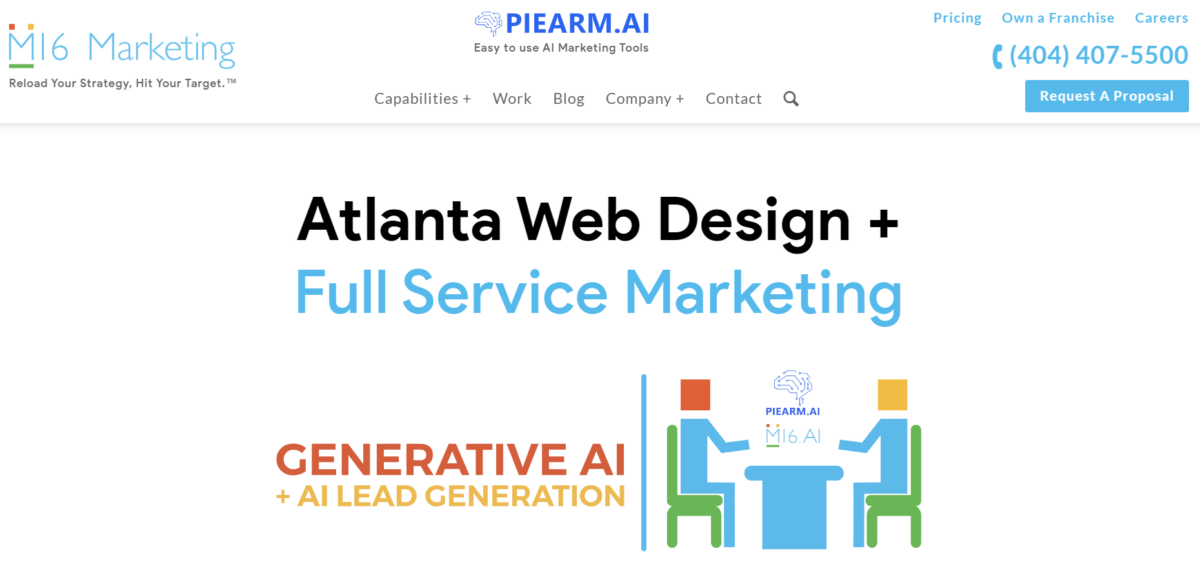 Best for: Integrated Web Design and SEO
M16 Marketing emerges as another prominent player, particularly in integrating SEO within web design. This Atlanta-based agency emphasizes a holistic approach, utilizing their proprietary PIEARM strategy, which seamlessly blends planning, implementation, execution, analysis, reporting, and measurement of key performance indicators (KPIs). Central to their digital strategy is the formulation of SMART —Specific, Measurable, Attainable, Relevant, and Time-based goals. This, combined with market positioning and SWOT analysis, offers you comprehensive insights into consumer perceptions and strategic digital pathways.
M16 Marketing also champions the art of strategic content creation and execution. Their mastery in this arena is manifested in diverse content forms, including websites, social media, videos, and press releases. Moreover, their expertise shines in their ability to align people, processes, and technology, enhancing your revenue through marketing automation, strategic web design, and comprehensive optimization practices.
But what particularly distinguishes M16 Marketing is their commitment to responsive SEO web methodologies. Their designs prioritize both user experience (UX) and search engine optimization, a fusion that has reportedly increased visibility for 80% of their SEO web-designed sites by over 400%. 
Pricing
M16 Marketing's offerings start from a minimum project size of $1,000+. Their hourly rates range between $150-$199.
---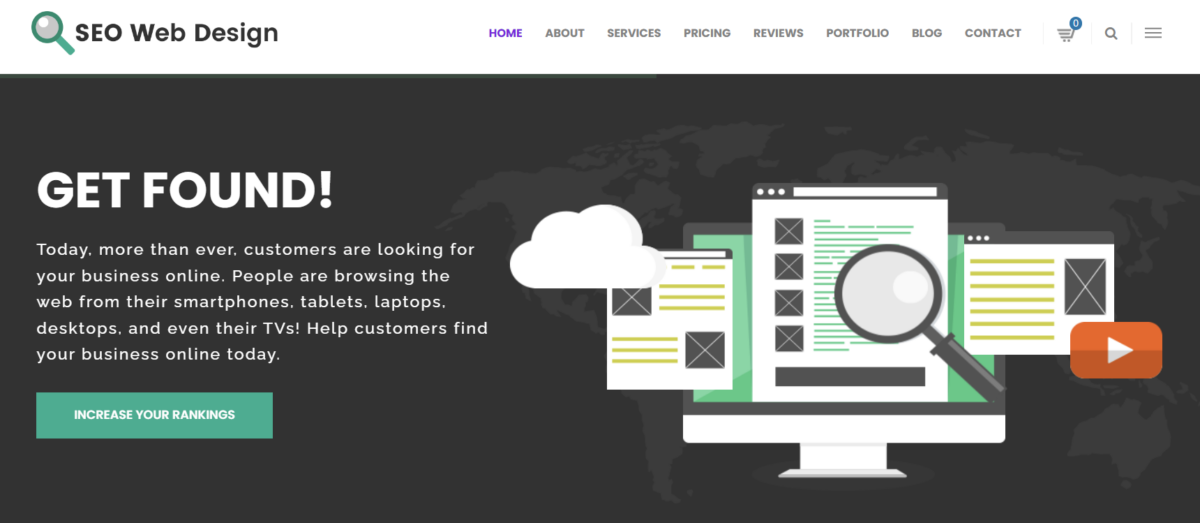 Best for: Holistic Web Optimization
In the digital realm, a website's success is determined not just by its design but also by its visibility. SEO Web Design, LLC stands out by offering professionally optimized websites tailored for businesses, organizations, or individuals. Their approach is rooted in the belief that a website should look great, be functionally robust, and be SEO-optimized.
Their innovative ideas are geared towards ensuring success in the digital world. From increasing your online exposure through site optimization to harnessing the power of social media and generating leads, they cover all bases. Their unique and relevant content marketing strategies allow you to remain at the forefront of your industry.
SEO Web Design, LLC is committed to delivering solutions encompassing the most advanced web design and internet marketing technologies. Their pledge to you is clear: honesty, integrity, transparency in pricing and a guarantee of high-quality deliverables.
Pricing
The starting project size is $1,000+. Their hourly rates range between $100-$149.
---

Best for: Comprehensive Digital Solutions
Stratosphere Networks goes beyond conventional web design services. They offer a myriad of B2B marketing software, partnering with top-tier solution providers to ensure you get the best of both worlds: impeccable looks and robust functionality.
Their web design services are tailored to meet your unique needs, from preliminary website audits to responsive optimization for all platforms and screen sizes. This dual approach is deeply rooted in the company's culture, which primes them for success in every project. On the other hand, their SEO strategies are primed to enhance website visibility, driving more traffic and sales opportunities.
But Stratosphere Networks doesn't stop there. They also offer pay-per-click optimization that puts you at the top of search results for targeted keywords. Their comprehensive approach includes keyword research, ad creation, campaign monitoring, and conversion tracking. With regular analysis of both your competitors and industry trends, they make sure you stay ahead of the curve.
Pricing
Stratosphere Networks' services begin from a minimum project size of $10,000+, charging an hourly rate between $100-$149.
---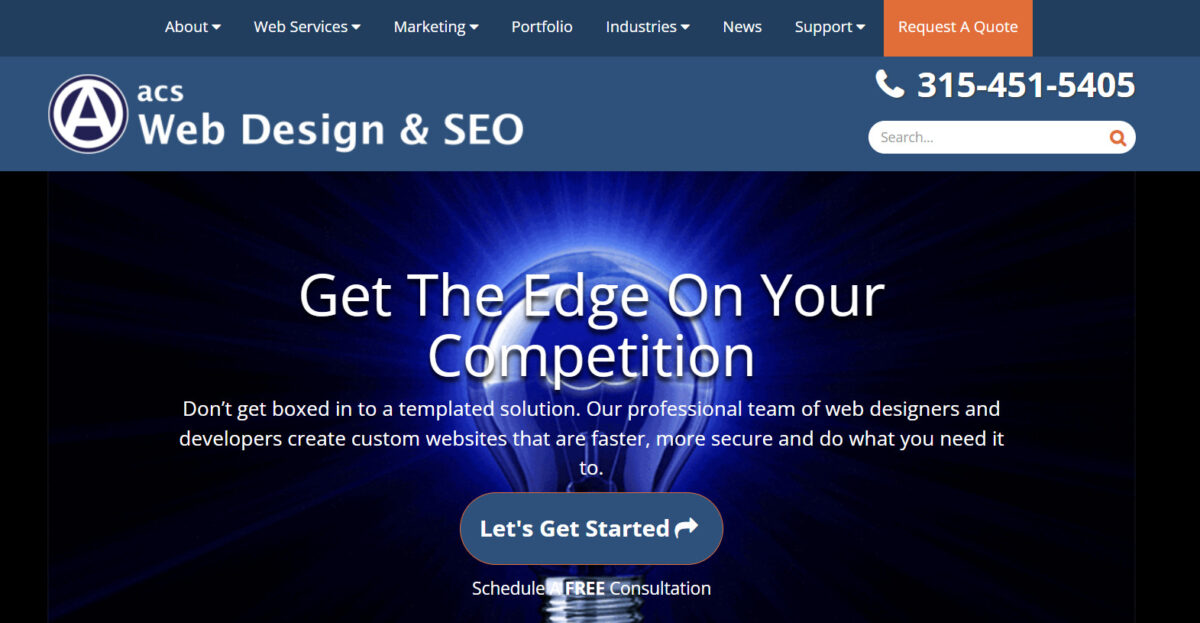 Best for: Comprehensive Web Strategy
ACS Web Design & SEO understands the intricate balance between design, functionality, and visibility. So, their tailored offerings are priming you for success, regardless of your industry. Whether you're a small startup or an established enterprise, ACS ensures your online presence resonates with your target audience.
Their expertise goes beyond mere web design. They emphasize the importance of a comprehensive strategy, which allows them to create websites that reach their intended audience. Their internet marketing services are geared for measurable, trackable results, promising to get you the best value for your advertising spend.
With over 4 million searches made daily, ACS acknowledges the potential of tapping into this vast audience. Their Search Engine Optimization services are designed to place you right in front of these potential customers. Additionally, their professional copywriting services permit the creation of content that is both engaging for users and optimized for search engines.
Pricing
Their services start from a project size of $1,000+. Their hourly rate ranges between $100-$149.
---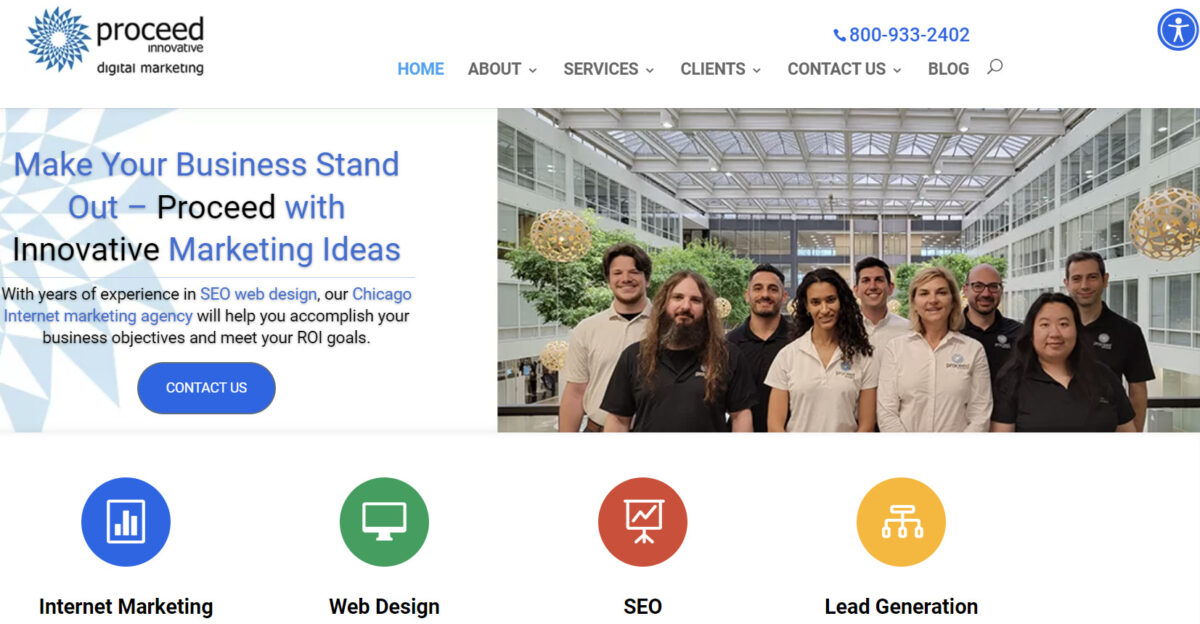 Best for: Data-Driven Web Design
The digital landscape is ever-evolving, and Proceed Innovative is at the forefront of harnessing the power of the internet to boost your website's ROI. If your website feels outdated or isn't ranking on search engines, Proceed Innovative's SEO web design services are tailored to address these challenges.
They do this through a holistic approach deeply rooted in the creation of fast, quality websites that elevate brand awareness and generate tangible leads. With the rise of mobile browsing, they emphasize the importance of having a mobile-friendly design, ensuring you have a seamless experience across devices.
But what truly sets Proceed Innovative apart is their commitment to data. From the initial discovery and research phase, where they evaluate your brand's positioning and study competitor tactics, to post-launch evaluations, they rely on data to inform their strategies. Their SEO and tracking integration optimizes your website to attract organic traffic.
Pricing
Proceed Innovative, located in Schaumburg, IL, starts their projects at a minimum size of $10,000+.
---
Why is SEO Web Design Crucial for Businesses?
In the vast expanse of the digital realm, where countless websites clamor for attention, the significance of emerging prominently on search engine results pages (SERPs) cannot be downplayed. A meticulously optimized website holds the potential to ascend the ranks of SERPs, positioning your business at the forefront, often ahead of competitors.
Delving deeper into the nuances of modern web design, it's evident that it transcends mere visual appeal. The essence lies in sculpting an intuitive user journey, one that captivates and retains. Through the lens of SEO web design, this translates to crafting platforms that resonate with user-friendliness, adapt seamlessly across mobile devices, and boast swift loading speeds. Such attributes not only anchor visitors but also amplify conversion rates.
On the marketing front, the spectrum of strategies is vast. Yet, nestled within this array, organic search emerges as a beacon of cost-effectiveness. An investment in SEO web design paves the way for heightened online visibility, a feat achieved without the continual financial commitments that shadow many alternative marketing avenues.
---
Selecting the Right SEO Web Design Company: Key Considerations
Selecting the appropriate company for your SEO web design requirements is a pivotal choice. One essential thing to do is to delve into the company's portfolio and case studies, assessing their expertise through the prism of diverse designs and their track record in search engine rankings. 
Equally crucial is the agency's technical understanding; they must be adept with the latest in web design technologies and conversant with contemporary SEO best practices, ensuring your website stands resilient and aligned with the ever-shifting paradigms of search engine algorithms. Communication stands as another cornerstone. 
An esteemed company will champion transparency, fostering a dialogue punctuated with regular updates and receptiveness to feedback, fostering a synergy that allows the end product to mirror your business aspirations. Lastly, in a world where every business carries its distinct identity, your website should be no different. Prioritize companies that embrace the ethos of customization, steering clear of generic, one-size-fits-all solutions.
---
Conclusion
As the digital realm becomes increasingly competitive, the role of SEO web design companies becomes ever more crucial. For business owners aiming to establish a robust online presence, understanding the importance of SEO web design and selecting the right company can make all the difference in achieving sustainable growth and success.
Frequently Asked Questions
Will SEO web design affect the user experience of my website?
Not at all! In fact, SEO web design enhances the user experience of your website. The focus is on creating a user-friendly interface, intuitive navigation, and engaging content. SEO web design ensures that visitors can easily find the information they need, improves website loading speed, and provides a seamless browsing experience across different devices.
Can SEO web design increase conversions and sales?
Absolutely! A well-designed website optimized for SEO has the potential to significantly increase conversions and sales. By targeting the right keywords, optimizing landing pages, improving call-to-action elements, and enhancing overall user experience, SEO web design guides visitors through a seamless journey, making it easier for them to convert into customers.
Can SEO web design improve my website's loading speed?
Yes! Website loading speed is an important factor in both user experience and search engine rankings. With SEO web design, your website will undergo optimization techniques such as image compression, minification of CSS and JavaScript files, and caching to improve its loading speed.
What ongoing SEO services are included with SEO web design?
Ongoing SEO services are an integral part of SEO web design. Once your website is launched, it requires continuous optimization to maintain and improve its performance. These services may include regular content updates, keyword monitoring and adjustments, technical audits, link building, performance tracking, and other services that web design agencies might provide.