Advertising Disclosure
Advertising disclosure:
Our partners compensate us. This may influence which products or services we review (also where and how those products appear on the site), this in no way affects our recommendations or the advice we offer. Our reviews are based on years of experience and countless hours of research. Our partners cannot pay us to guarantee favorable reviews of their products or services.
The public has become overly familiar with social media that various content—"the good, the bad, and the ugly"—proliferate on each platform. As social channels can tell a lot about people's points of view, interests, and activities, checking the social profiles of job applicants is now part of the recruitment process.
Zippia reported that 92% of employers do a background check of candidates' social media accounts. Moreover, 54% of companies excluded applicants from their hiring rounds based on this type of profiling.
---
Top Social Media Screening Platforms to Boost Your Pre-Hire Checks:
---
What Employers Typically Look for in Candidates' Social Media
Top sites screened
LinkedIn, Facebook, Instagram, TikTok, and Twitter are the social channels typically included in pre-employment social media checks.
Content
Recruitment managers or teams tend to look for the groups that applicants are following, the posts they like, and their comments. They check for warning signs indicating a person's mental and emotional readiness for the role they're applying for. By finding out red flags early, companies can avoid hiring people who would put the organization or their colleagues in trouble. The red flags in social media include:
Complaints about co-workers or supervisors

Toxic or obscene language, bullying, or threat of violence

Negative statements about gender, race (hate speech), or religious beliefs

Unlawful activities

Confidential information

Intimate or sexually explicit images

Violent or aggressive images or behavior
---
Top Social Media Screening Platforms
Top
social media screening platforms
2024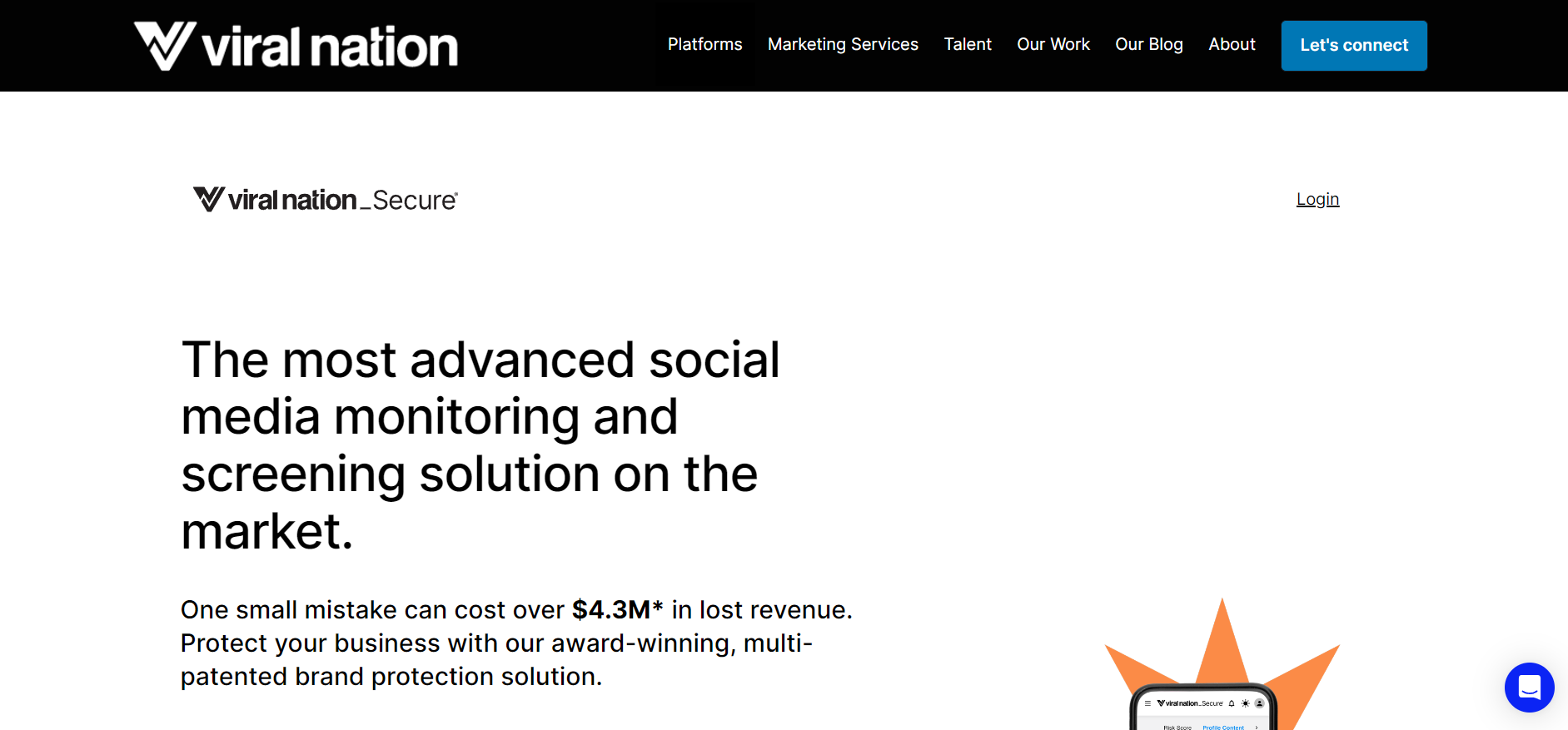 VN Secure, a product of Viral Nation, allows you to customize your background check to align with your brand's guidelines. The platform uses AI to search and report flagged social posts according to your selected text categories. The software also conducts sentiment and emotion analysis in 13 languages. VN Secure's analysis goes beyond your prospects' messages and images—it also screens their transcribed videos and the posts and comments where others tagged them. The platform's social media audits for potential talent hires can be generated in less than 24 hours.
You can even activate its 24/7 real-time monitoring of your chosen social handles, a feature that can stay on to track future activity after hiring. When you do, VN Secure will send instant alerts about non-compliant posts to your inbox.
VN Secure's moderation feature is another unique automation capability—it flags and deletes social media posts that contradict your tolerance levels or the standards you set in your social media policy.

Key Features: Influencer Analysis, Moderation Tolerance Feature,
Channels: TikTok, Instagram, Facebook, Twitter
---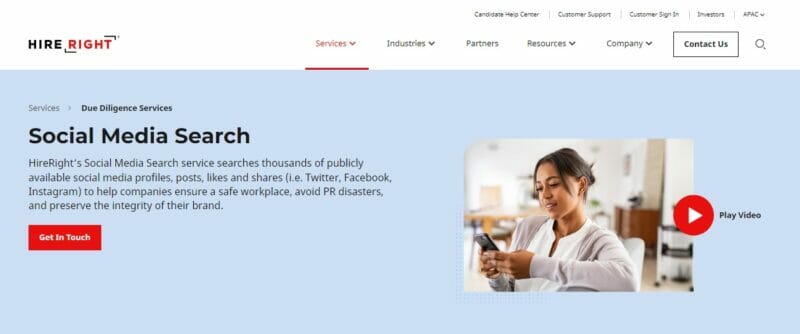 HireRight is a consumer reporting agency covered by the Fair Credit Reporting Act (FCRA). The company believes that efficient due diligence requires more than verifying educational and previous employment records. Checking other credentials, including social media, can help determine whether a prospective employee is on a government watch list or facing a lawsuit. Its Social Media Search goes through publicly accessible profiles, likes, shares, and posts across various social channels. HireRight combines human analysis and AI to confirm that social records belong to an applicant so they can furnish you with a comprehensive, position-relevant report in 48 hours.
Closely related to the social accounts search feature is HireRight's Adverse Media Search engine, which can scour through over 20,000 established English-language media sources on the web to check for adverse comments, which could damage your brand's image.
HireRight has integrations with popular applicant tracking systems (ATS), such as Bamboo HR, Greenhouse, Jobvite, JazzHR, and Zoho Recruit, among others.
---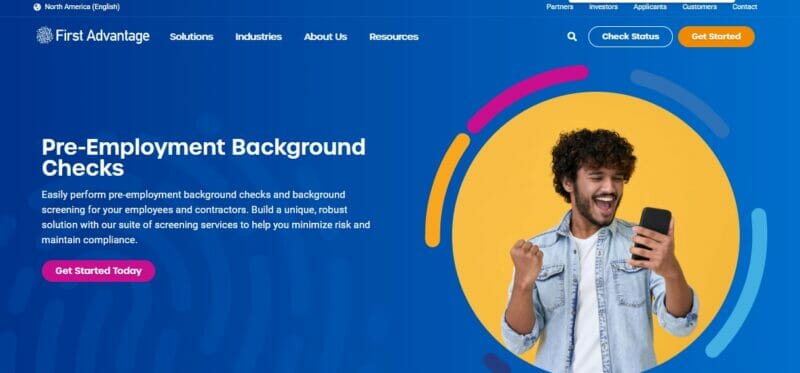 First Advantage tied up with AI screening provider Fama Technologies Inc. to ensure that its customizable social media screening service is FCRA-compliant. Fama supports 90% of the background screening sector and the majority of executive search providers.
The platform displays posts relevant to your screening needs, such as bigotry, drugs, and violence-related text, images, and videos. Generated reports exclude protected characteristics under the Equalities Act, such as pregnancy, religion, and sexual orientation, in your search results.
You can choose the First Advantage plan that suits your organization's size. Multilingual support is available for companies that will require international background verification. Depending on your plan, you can receive the service provider's report "in minutes" instead of days. You get links to confirmed social media profiles, the content of all posts based on your search criteria, indicators for any red flags appearing in news and web items, and reasons why the platform flagged the posts.
---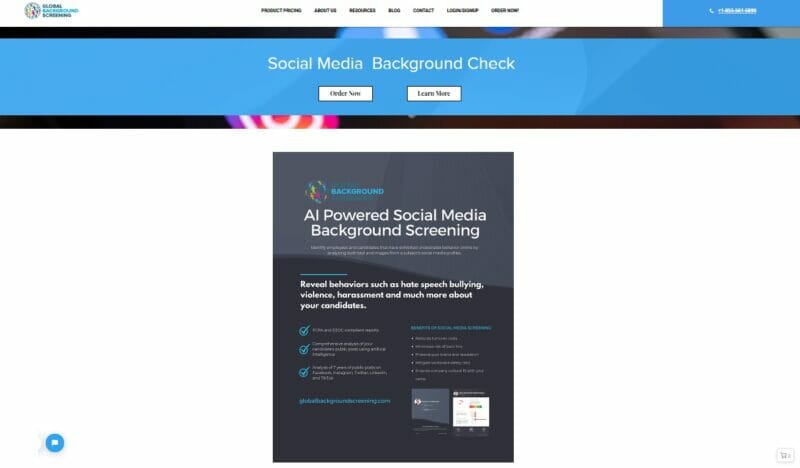 GBS generates social media screening reports that comply with the FCRA and the US Equal Employment Opportunity Commission (EEOC). You can choose between a 3 or 7-year-search—both take 1-2 business days to complete.
Although GBS uses AI for this search, a human team of analysts will be involved in the report that will reach your company. Profiles will undergo analysis for derogatory indicators, specifically potentially unlawful or violent activity, sexually explicit content, racism, and demonstration of intolerance. The report will include supporting content and sources for any derogatory indicators found. GBS can also customize searches for your company to include specific keywords you're looking for.
---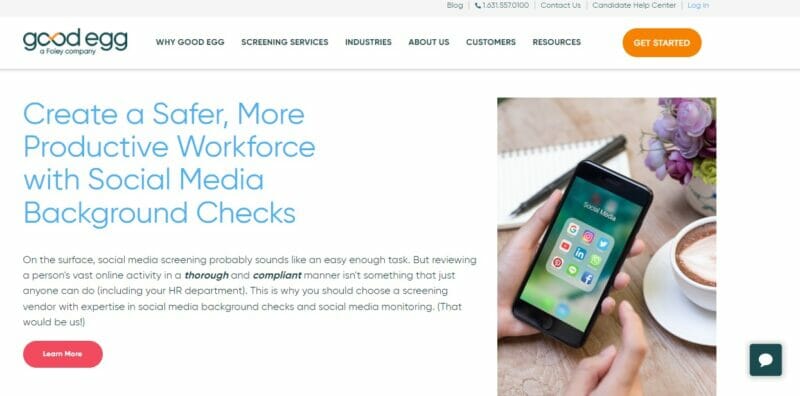 Good Egg can conduct social media checks for pre-employment or post-hire monitoring as a one-time or a continuing service, which you can bundle with its other background check types.
Its social media screening solution uses several identifiers: name, birth date, and email, among others. Good Egg spots and flags language and images related to the warning signs discussed above. The background report excludes protected class information from its search results to comply with state privacy laws, the FCRA, and EEOC.
Good Egg supports integrations with selected ATS such as iCIMS, Greenhouse, Workday, Lever, JobDiva, Kenexa, Jobvite, and Oracle Taleo.
---

Peopletrail renders its FCRA and EEOC-compliant social media screening services on the research-backed premise that people with troublesome online behavior are more likely to act irrationally in real life.
Describing itself as "human experts with powerful AI," the company typically submits social media checks in 1-3 business days. The report covers obscene language, self-harm behavior, violence, illicit content, and sexual content.
Peopletrail is an accredited partner of the Professional Background Screening Association (PBSA). It integrates with over 100 ATS solutions.
---
Sterling, which also partnered with Fama, allows its users to check candidates' social media accounts and detect signs of potential risks, such as violent behavior, racism, and sexist leanings. Sterling can furnish a report based on publicly available data in 24 to 48 hours. Subscribers can customize screening criteria.
Sterling is an accredited member of the National Association of Professional Background Screeners, the original name of the PBSA. The company is also an American Staffing Association member.
---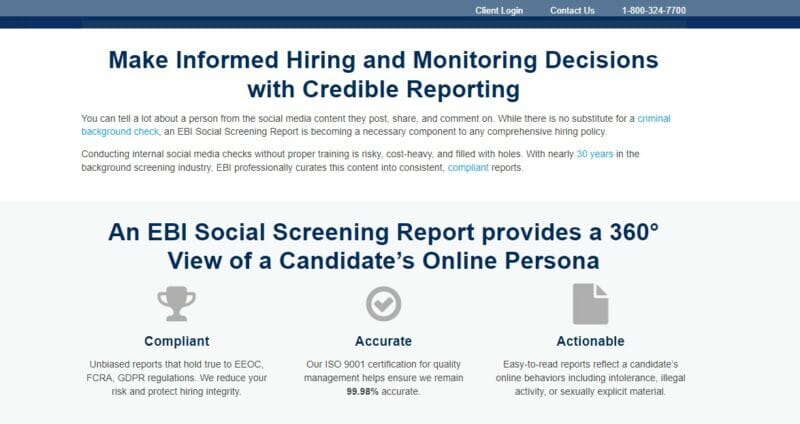 EBI doesn't consider online information about a person as encompassing and complete. The platform offers tools and 55,000 customizations to help businesses look through more commonly used public records.
However, the company also acknowledges that people's social media posts aren't "anonymous" due to their impact and meaning. Its social screening reports focus on potentially illegal or violent behavior, intolerance or racist remarks, and sexually explicit material.
EBI became a part of the Sterling family in 2021. It is a founding member of the NAPBS.
---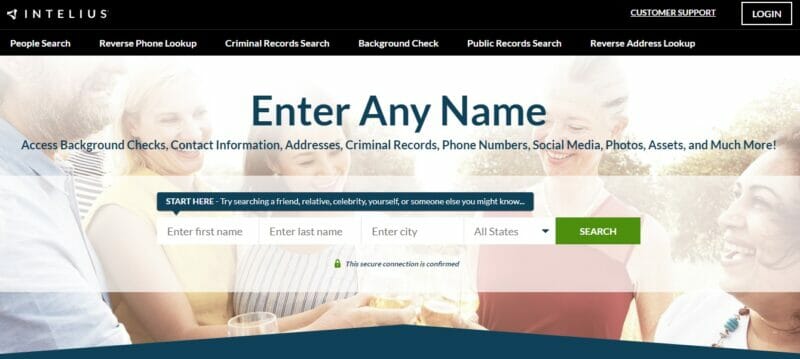 Your company can use Intelius to search potential hires safely with its 256-bit encrypted connection. Besides collecting people's age, birthday, and location data, the platform can also gather known aliases, professional licenses, assets, criminal and traffic records, finances, and more.
You can subscribe to its Reverse Phone Lookup plan, which includes access to social media checks. The package comes with 6-day free access to Intelius' People Search plan. The platform also offers one-time social media screening with downloadable reports.
Although Intelius warns that its service won't serve FCRA-compliance purposes, Investopedia recommends it for quick insights.
---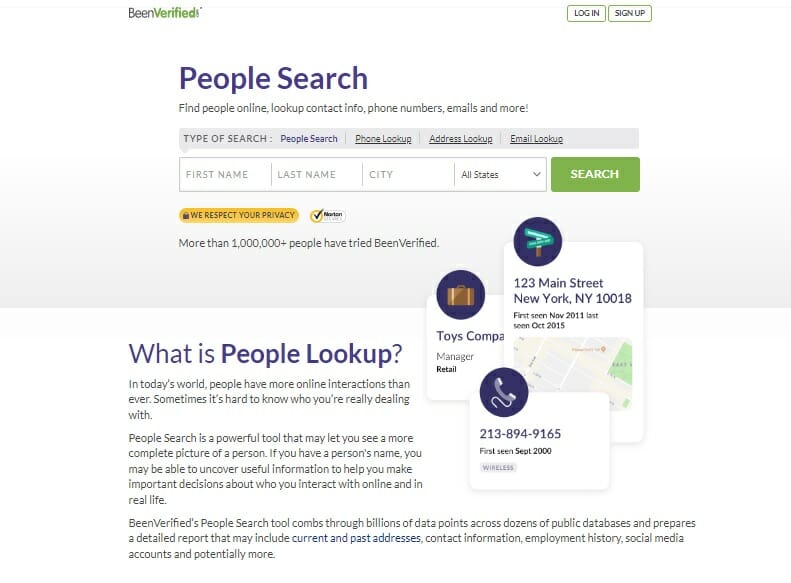 BeenVerified's People Search feature helps you discover a person's social media handle by keying in their first and last names and their location (city and state) in the search fields. The platform guarantees HTTPS and 128-bit encryption for your searches. BeenVerified's mobile app version lets you search while on the go.
The platform's billing page does not show its subscription rates, only a phone number to contact for further information.
---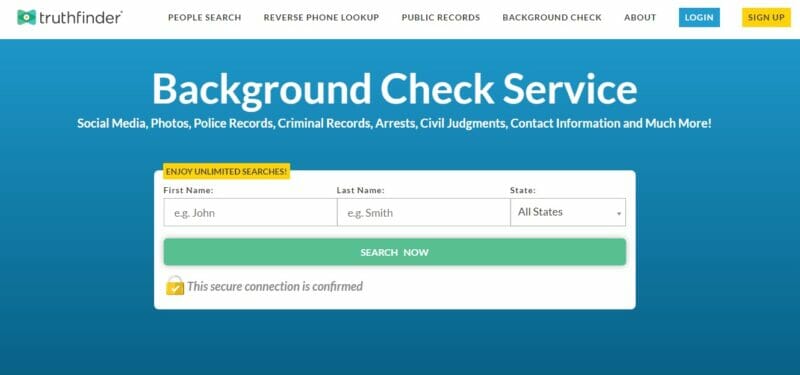 Discover the social media profiles of your job applicants by typing in their names in TruthFinder's People Search tool. Their social accounts will appear when you click the "Social" tab on the left-hand menu.
TruthFinder's Reverse Email Lookup and Reverse Phone Lookup tools also let you find out these individuals' social networks when you type their first and last names plus their location.
Would you like to know if anyone has leaked your company's trade secrets or other confidential information on social media? This platform's Dark Web Scan tool allows you to do that when you include the service in your subscription plan.
TruthFinder, which has a mobile app version, uses 256-bit encryption. Get unlimited person reports by enrolling in the platform's People Search plan or Reverse Email Lookup plan.
---
---
Benefits of Social Media Screening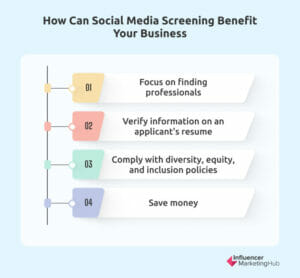 Screening applicants' social media profiles helps talent teams with the following:
Focus on finding professionals with the credentials they're seeking. Some platforms listed above allow you to customize your search and scout for people with specific degrees or skills.

Verify information on an applicant's resume

Comply with diversity, equity, and inclusion policies

Save money and other resources by minimizing risks of future disciplinary action, turnover, or damage to the company's reputation
---
Best Practices for Social Media Screening
Professional and lawful social media screenings involve: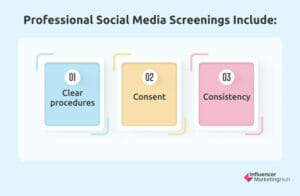 Clear procedures
Create written policies about this process, including stating that one's employment requires a successful review. Here are some extra tips:
To avoid forming prejudices about job applicants, don't review their social profiles until after their interview. Social media checks should ideally support—not replace—your real-life encounter with the person. Remember that people are free to share their views on social networks. Don't mix your personal biases with that of your organization.

Consider outsourcing your social media screening to eliminate subjectivity. This will remove legal risks and free up time for your hiring teams.
Service providers (platforms or agencies) that comply with the FCRA "redact" or remove protected class information (age, race, gender, sexual orientation, pregnancy, disability, medical history, or religion), which aren't valid predictors of job performance. If you prefer your internal team to conduct this, get as much information and support from your legal counsel.
Social media profiles, posts, and comments can't provide an accurate picture of the whole person. Document findings, but approach everything with a grain of salt. You may stumble upon fake or hacked accounts, so beware. Counter-check with references and give candidates a

pre-adverse action notice

. This notification allows them to respond to information in your background report.
Consent
Inform candidates about this step, specifically in writing. They should know that you will not ask for their passwords and that your screening will cover only data that is publicly accessible.
Consistency
Practice fairness—if one candidate undergoes social media screening, you must do the same for the rest of your applicants. Use the same platforms and procedures for everyone.
---
Social Media Screening for Business Partnerships
Come to think of it, other business relationships—including what you share with your influencer or marketing consultant—are crucial to your brand's reputation, making them worthy of background checks.
Although social media profile screening primarily serves to watch out for problematic behavior, the process can also help you discover positive qualities about your future collaborators. By establishing what you intend to achieve with the social media review, you can glean insights that would hasten the search for the most suitable candidate, not just cancel out potential troublemakers.
Enhance your recruitment process while cultivating a positive online presence for your organization through social media background checks.
If you're new to partnering with influencers, you can get helpful search tips from our guide: "23 FREE Influencer Marketing Tools to Find Influencers."
Frequently Asked Questions
What is a social media screening?
A social media screening is a pre-employment social media screening, or social media background screening. Researching a job applicant's social media profiles and social media activity involves looking at platforms like LinkedIn, Twitter, Facebook, Instagram, WhatsApp, and more.
How does Ferretly work?
Ferretly is a social media background check platform that makes background checks effortless. Their AI tool analyses up to 7 years (or 10 years for non FCRA) of public posts from social media platforms like Facebook, Instagram, LinkedIn, TikTok and more. In addition, Ferretly analyzes web and news articles into an easy-to-understand score.
What do potential employers look for on social media?
When employers review social media channels from their job candidates, they look for smart, funny, insightful, interesting and creative content. Job candidates can show companies they are the full package instead of just their resume.
Is social media screening illegal?
Social media background checks are more common. Employers must take their applicants' privacy rights into consideration when they conduct social media screenings. Social media background checks, however, are legal.